Good morning, everyone! To kick off the week I wanted to share a quick recap of my long weekend in New York City and a few highlights of our whirlwind trip. We had a 6AM flight on Thursday morning, which required setting my alarm for 3:30. I believe this redefines an "early start" to the day. By 9:00 we had landed, gotten into Manhattan and checked into our hotel before heading off to breakfast with event planner Lisa Green of Anderson Green Events at the adorable Alice's Teacup. We had tea, there were little girls wearing fairy wings, and it was absolutely delightful.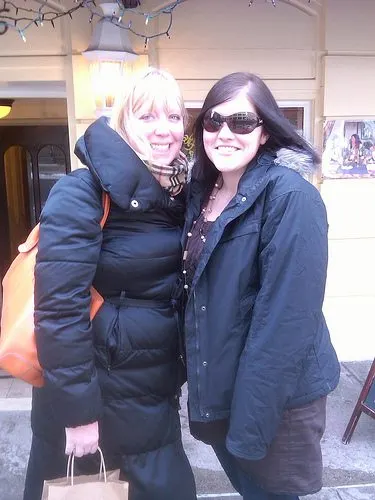 After breakfast, we popped over the Kate's Paperie on 57th to visit with some of the ladies in the custom printing department where we work with them quite regularly on Smock orders. We had so much fun roaming through all of the pretty paper goods and walls lined with gift wrap. From there, it was time for lunch with one of my favorite fellow bloggers, Anne-Marie of Perfect Bound. We ate right across the street from Bryant Park so we were able to partake in some of the hubub of Mercedes Benz Fashion Week, which was wrapping up its final season at Bryant Park. We saw Kalyn Hemphill, winner of the first season of Models of the Runway and she's absolutely gorgeous in person.
After lunch it was time to get changed for our trunk show event with our friends Judy Paulen Designs at Bloomingdale's. Lindsy and I had so much fun working with couples on their invitation designs and loved the experience of interacting with them in such a unique way for us. Following the trunk show we returned to the hotel where we donned yoga pants and hoodies and headed out in search of pizza. All in all, it was a long but really fun day.
Friday morning we were up early once again and had breakfast with the adorable Jackie of Merci NYC at Balthazar. Following breakfast we couldn't resist a short shopping jaunt in Soho. We hit up Bloomingdale's because Lindsy and I were both in desperate need of flats to wear for Saturday's event. In a random Soho gift shop we saw this amazing tote bag proclaiming Michelle Obama as the First Lady of Fabulous. I couldn't resist taking a photo to share with you.
We then spent the afternoon at the New York Palace getting set up for The Wedding Party by The Wedding Library on Saturday and had the chance to chat with Wedding Library mastermind Claudia Hanlin as we setup for the following day. Claudia and her team at the Wedding Library are fabulous and a wealth of knowledge and ideas – an incredible resource for NYC brides and grooms that you don't want to miss. Also, it has to be noted that the courtyard at the Palace is absolutely amazing and the view across Madison Avenue is simply breathtaking.
Saturday was all about The Wedding Party event, where Smock was featured among many other incredible wedding vendors. The fun officially kicked off with Darcy Miller of Martha Stewart Weddings speaking to brides about current wedding trends, followed by a talk by event planner extraordinaire Colin Cowie.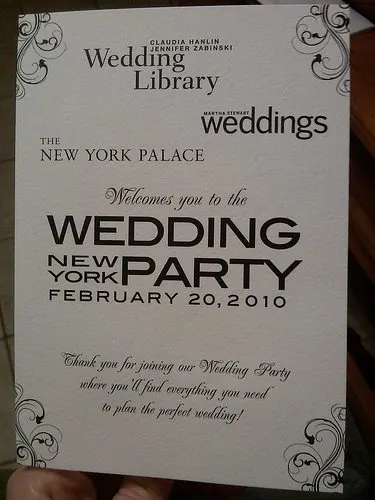 Some of my personal favorite moments of the day – meeting Ron Ben-Israel whose cake confections could make you cry they are so delicious. He's also incredibly kind and personable and I loved speaking with him. Lindsy and I also both adored Jen of Jen Huang Photography who was showcased in the same room as Smock. (Jen took photos of the event that I'll be sharing later on, too!)
Fabric flowers and bouquets from Handle & Spout –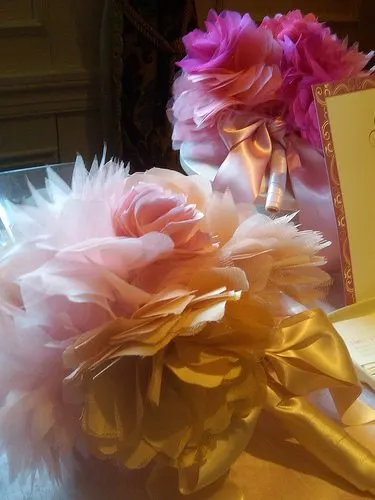 Gorgeous dresses from Mark Ingram Bridal Atelier –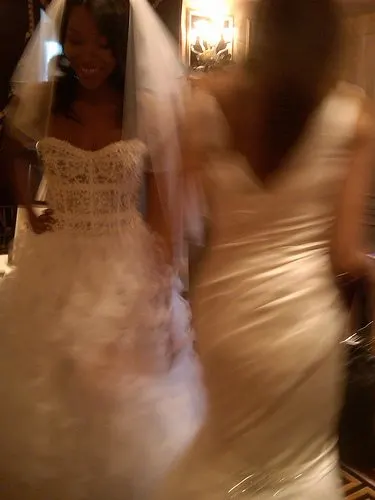 Festive party decorations from Confetti System –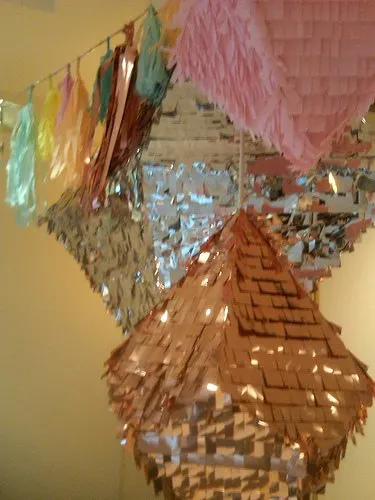 Photobooth photos that turned Lindsy, Vané of Brooklyn Bride and I into cover models –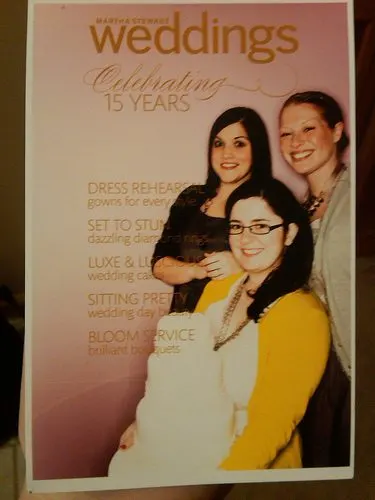 For many more details about The Wedding Party, you can read Darcy's post on The Bride's Guide where she recapped the entire event in great detail. If you look closely at photo 37 in the slideshow, you can catch a glimpse of me and my orange purse in front of the pizza truck in the Palace courtyard as captured on Darcy's iphone. Vané will also be covering the event on Brooklyn Bride so be sure to keep an eye out for her post.
At the end of a very long day of chatting with vendors, brides and friends, it was time to bid the Palace adieu. The staff there is incredible and made every part of being there for an event absolutely wonderful so a big thanks to them on behalf of Lindsy, myself and Smock for being so awesome. After packing up all our Smock goodies to ship back to Syracuse, Lindsy and I had dinner and headed to JFK for our flight home. It was pushing 2 o'clock in the morning as I jumped into bed, incredibly happy to be home with my husband and our pup. (I'm pretty sure they both missed me desperately the last few days.)
{All photos compliments of my mad photography skills and my Blackberry Storm.}