Words can't really express how happy I am to have our next guest blogger pop over to share some of her gorgeous inspiration -Gia from Flights of Fancy is a continual source of gorgeous, inspiring ideas, and amazing stationery designs at betsywhite stationery. It's a true honor to welcome her to The Sweetest Occasion today. Thanks, Gia!
Hi there! I'm Gia from Flights of Fancy and betsywhite stationery. Cyd has asked me to stop by while she's at the stationery show this week and I'm thrilled to be here!
Well, it's been a couple of weeks but for some reason, I still have Cinco de Mayo on the brain. I figured I would put this temporary obsession to good use and decided to create a little inspiration board for you. Rather than going for the typical bright colors and sombreros, I wanted to make a Mexican-inspired theme a bit more modern and elegant.
I imagine this being a pre-wedding fiesta for a couple having a destination wedding in Mexico. Party flags and paper lanterns hanging from palm trees, dining al fresco with your feet in the sand and the sounds of the ocean and acoustic guitar in the background…the perfect prelude to an elegant, laid-back wedding.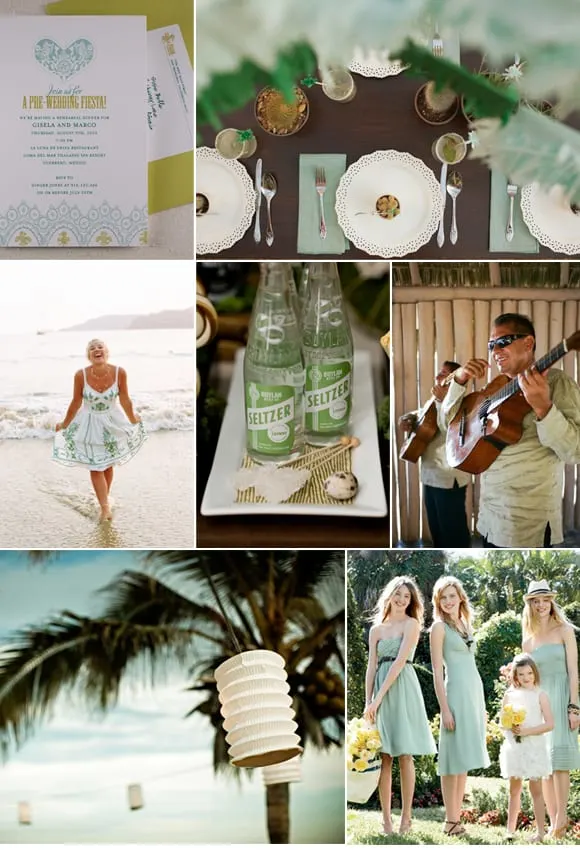 To help you bring this fiesta to life (even if it's just in your own backyard), I've created a free invitation template especially for you!
Click here to download a PDF template of the invitation and address labels shown above. I hope you're inspired to create a fabulous fiesta of your own! xoxo
Photo Credits –
row 1: Pre-Wedding Fiesta invite by betsywhite stationery | Our Labor of Love via Once Wed
row 2: Lisa Lefkowitz | Oh, Darling! via Design Sponge | Q Weddings via Style Me Pretty
row 3: Leigh Miller Photography | J. Crew
Invitation design and photography by Gia Graham of betsywhite stationery