Hello hello! It has been a crazy busy week for me (even crazier than usual!) as I prepare for the Boxcar Press Open Studio tomorrow. If you happen to be in the Syracuse area (or even a short drive away) you should definitely come check it out! Come for shop tours, printing demonstrations, free giveaways, a little holiday shopping featuring Smock, refreshments and more. Letterpress lovers of all ages are welcome – we'll have lots of fun activities for kids, too! I would love to meet you so please come see us and say hi. In the meantime, I have hardly had time to read any blogs this week so I don't have any link love to share, but check out a little tour of Boxcar's newly expanded print shop when you have a chance. (It's really cool.) I've got lots of lovely stuff on deck for next week so have a great weekend and happy Friday!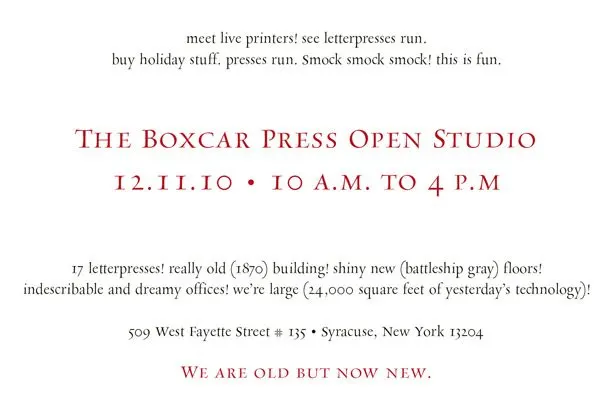 I am an employee of Boxcar Press/Bella Figura/Smock.
Read more about The Sweetest Occasion's editorial policies.