Today I want to show you how to make the world's cheapest party decoration – paper towel flowers! I was decorating cookies when I noticed how nicely the paper towel absorbed the food coloring on the table. When it had a bit of extra water, the color flowed gorgeously, just like watercolors. (Which I am still obsessed with, for the record.) So, I played around with it and created pretty little flowers that can be used on all kinds of projects. Ready?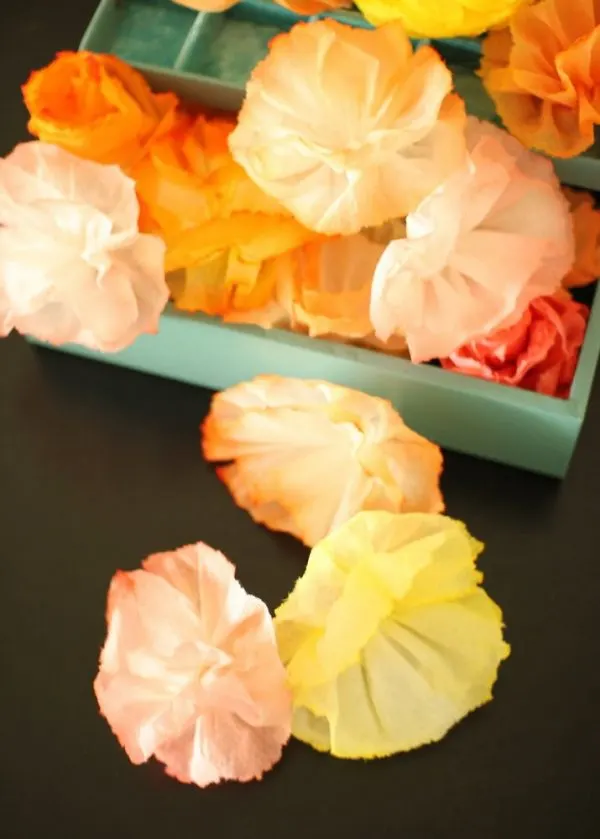 Supplies –
plain paper towels
food coloring
water
jars
parchment paper
hot glue gun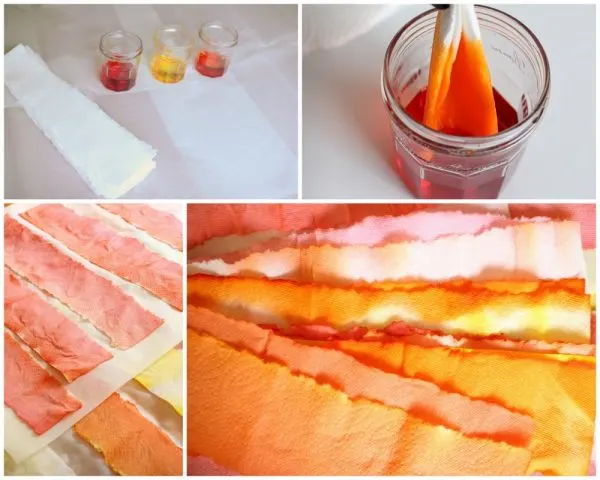 Fill jam jars with water (I have a collection of Bonne Maman), and add food coloring to tint. Take sheets of paper towels and tear gently into strips. I used the edge of the kitchen counter. Tear each sheet into four strips. Fold each strip and dip the edge in the water ever so lightly. The paper towel is absorbent, so as it dries it will suck up the color. After a few, you will get the hang of it. I topped my dining room table with parchment paper. Lay out each sheet flat on the table. Let dry overnight. If you are only making a few, you can dry them with a hairdryer, just be extra careful not to get the color on anything and hold them down so they don't blow a way and land on the carpet.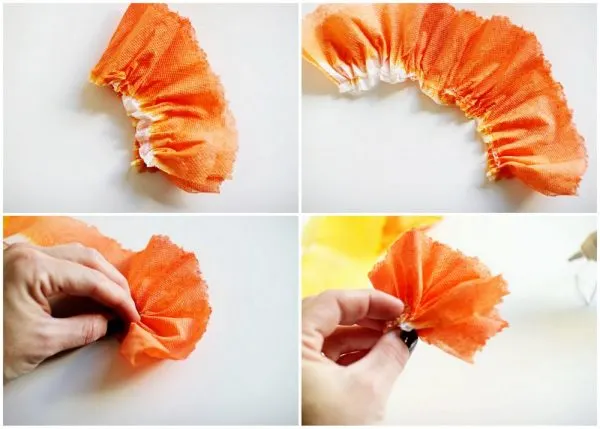 To make a flower, run a very thin bead of hot glue down the white edge of a strip and add a second strip, forming two layers, then scrunch forming a ruffle. Run another thin bead of glue, fold in half and scrunch that edge together to form a flower. Use extra spots of glue to help stick together if necessary.
From there, turn these lovelies into garland by stringing them together with a needle and fishing line. Or, use Glue Dots or hot glue to attach to a wreath form.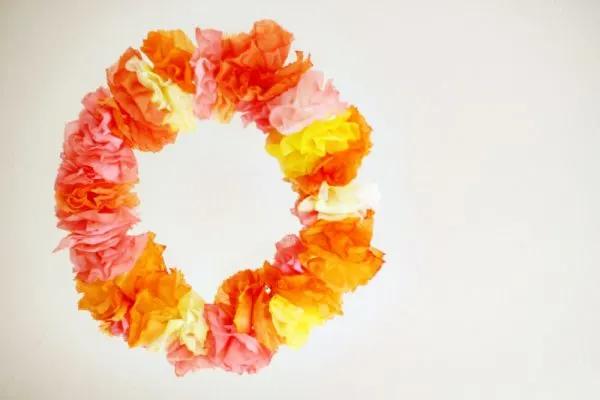 You can also hot glue together a few flowers and decorate a package.
Whatever your fancy, these are cheap, peppy and really pretty! The best part is that you can make these any color your heart desires. Enjoy!
{Photos by Hank + Hunt for The Sweetest Occasion.}