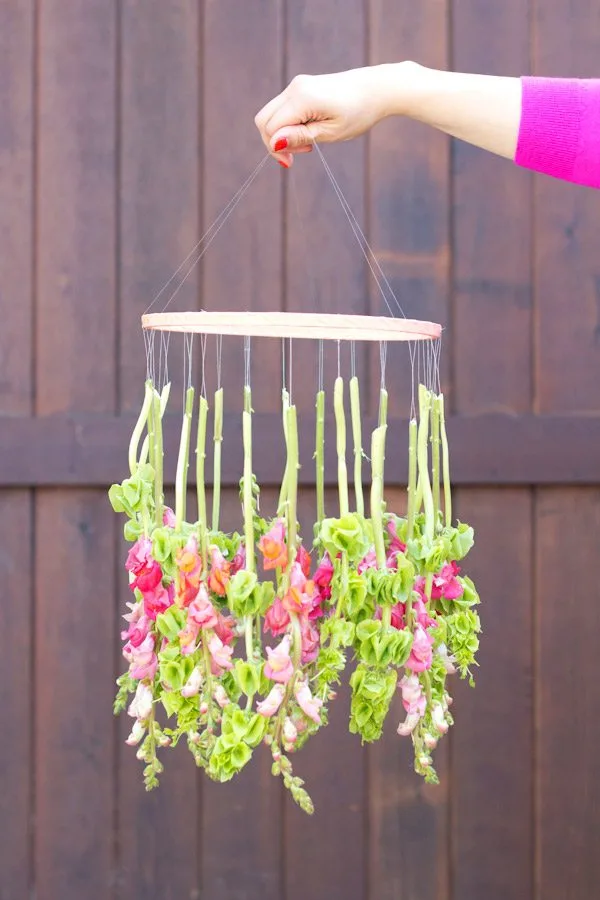 On a recent trip to Amsterdam, I came across the most incredible flower market. It was floating in the middle of the Amsterdam canals, and the shops there had rows and rows of dried flowers hanging upside down from the ceilings. I thought it was the coolest thing I'd seen in a long time, and I came back home wanting to experiment with upside down flowers! So what better to do than make a floral arrangement that you can hang?! This little flower chandelier is perfect for hanging over the dinner table, in an entry way or any place that needs a little brightening.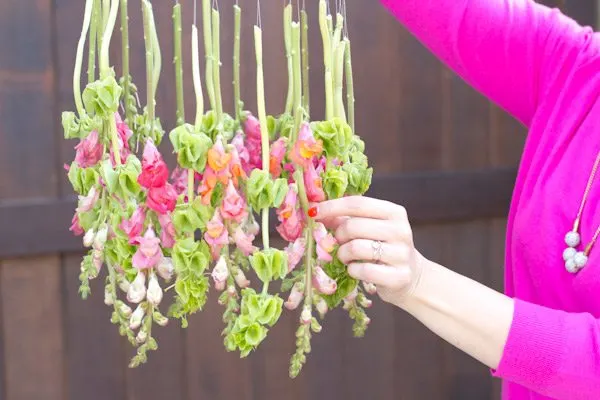 Long floral stems, like these Snapdragons and Bells of Ireland
Inner ring of a 10″ embroidery hoop
Washi tape
Clear thread
Needle
Small metal ring or clip
Scissors
Start by wrapping the embroidery hoop in washi tape. Wrap the tape around until the plain hoop is covered with your favorite washi color.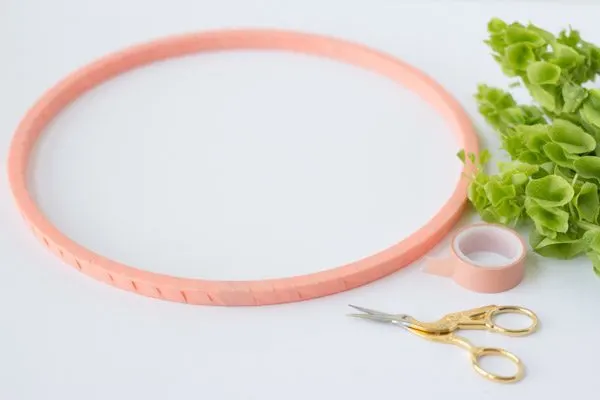 Next, clear the leaves from the stems of your flowers. Then trim each stem to about 4″ from where the blooms end.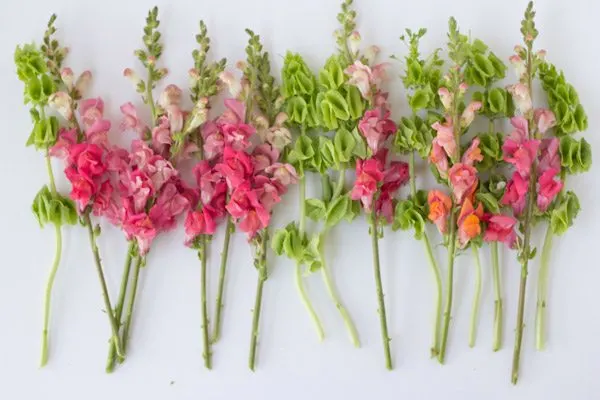 Thread a needle with clear thread. Insert the needle through the end of the first stem. Pull the thread all the way through.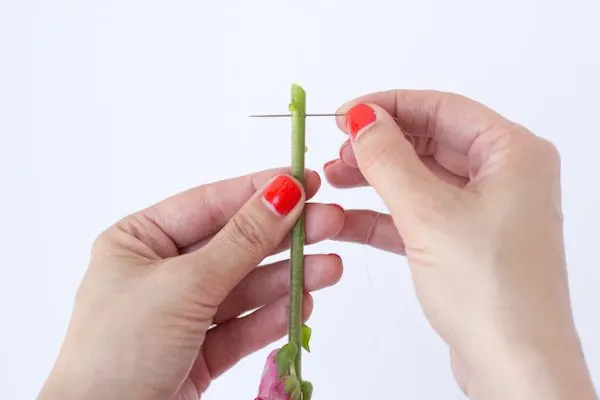 Tie the thread around the embroidery hoop so that the flower hangs a little below the hoop. Secure with a double knot and trim the ends of the thread. Continue in this way until you're happy with the amount of stems tied to your hoop.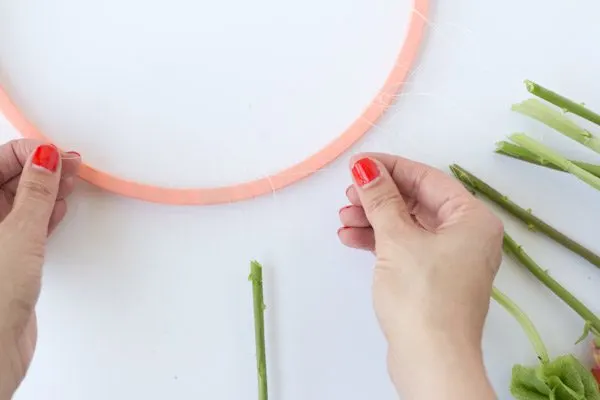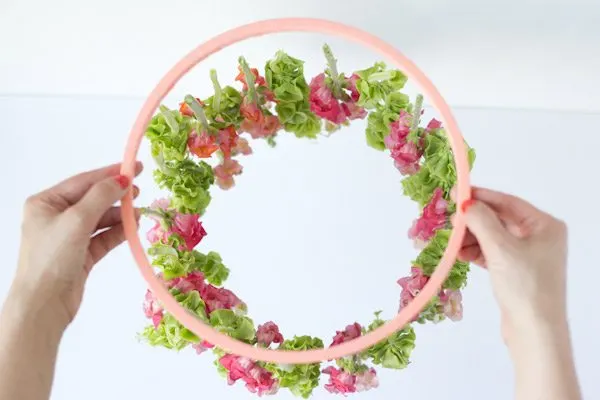 Cut three long pieces of clear thread. Tie them around the hoop equidistant from each other so that the hoop is supported at three points. Bring the three pieces together at the top and tie them to the metal ring or clip, being sure that the hoop of flowers stays level. This will ensure that the chandelier hangs evenly.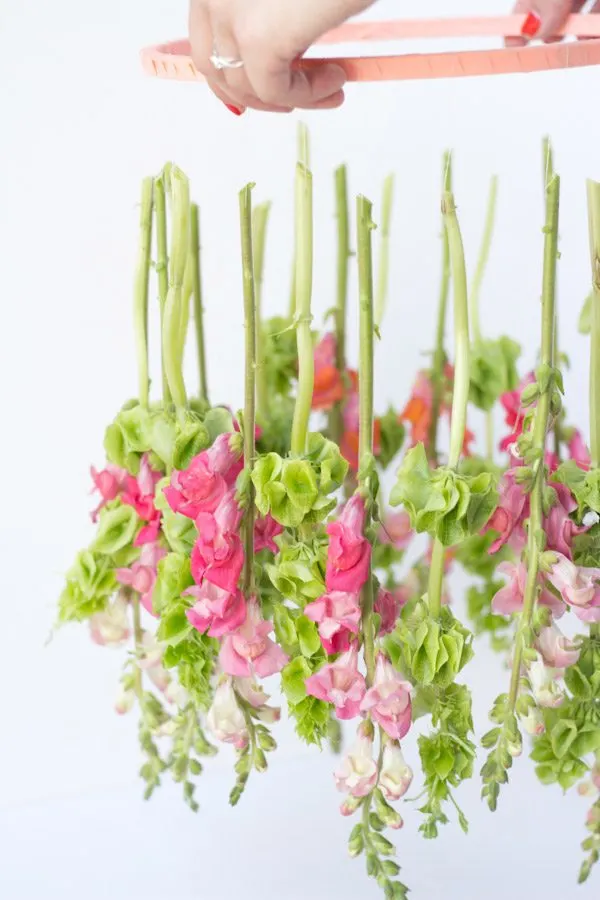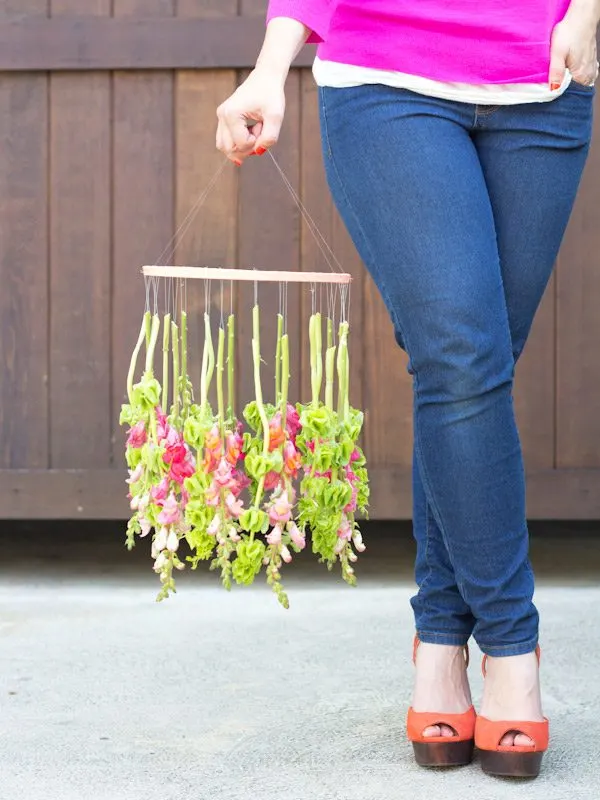 Hang your chandelier wherever you like! These would be perfect for a Mother's Day or Easter brunch. Ours stayed fresh for a full day, so you can make it in the morning and enjoy it all day long! xoxo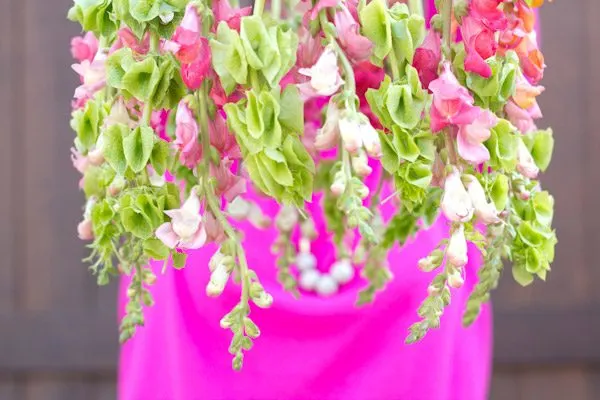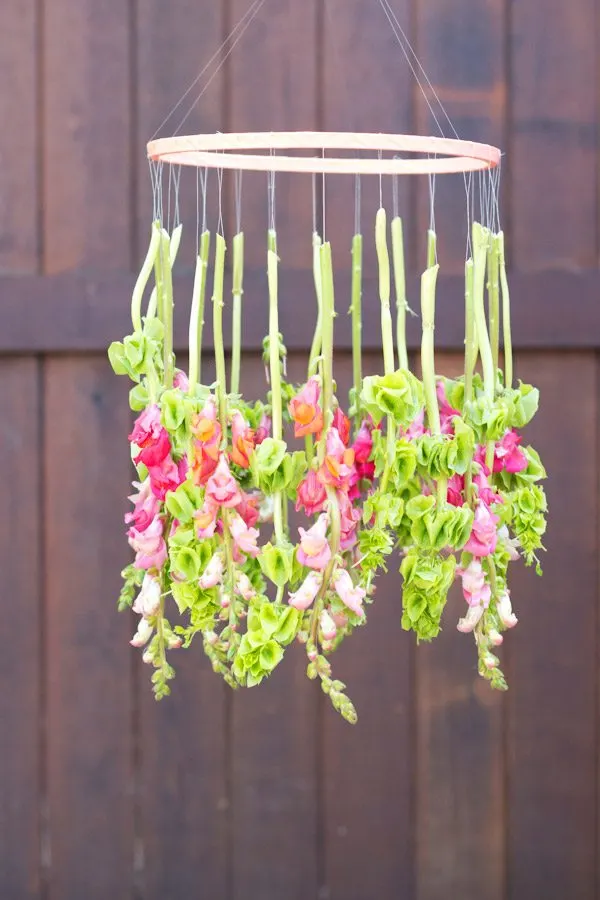 [Photos by Lovely Indeed for The Sweetest Occasion.]

Sources –
Stork Scissors from Gingher
Embroidery Hoop from Joann Fabrics
The fine print: Please link with love! As with all of our posts, DIY projects featured on The Sweetest Occasion may not be copied, distributed or reproduced without permission. Love and links are always appreciated! If you'd like to share this post, please link to this post directly for the DIY tutorial and do not include the instructions in your own post. Thanks so much! xoxo