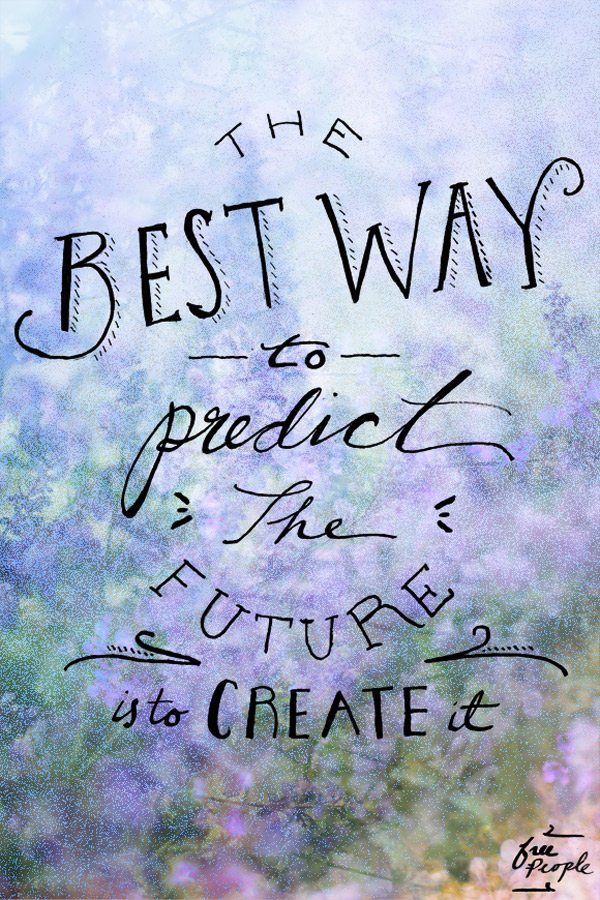 [Inspirational quote from Free People.]
Hands down one of the most frequently asked questions I get is how I got to where I am today. Whether it's from readers, family, or random people I meet, people always wonder how on earth, of all things, I became a blogger. I've been planning to write this post for a couple of weeks now and have received a few more reader emails inquiring in the meantime, so I thought maybe today it would be a fun day to share as we all ease back into the real world following the long weekend. The abridged version? My path has certainly been circuitous, but I truly believe when I look at my life in snapshots over time I absolutely ended up right where I'm supposed to be.
It's no joke when I tell people that I've been obsessed with design and photography my whole life. As a kid I used to bust out my crayons and construction paper to draw floor plans detailing how I wanted all my bedroom furniture placed, which I would then pass off to my father to execute. (Oh, gosh, I have a great dad. He must have moved my furniture a trillion times in my youth.) Creating little vignettes throughout my room and making everything look just so was kind of my favorite way to pass time. (Aside from writing and reading…my nose was never too far from a book to be sure.) Needless to say, when I was asked in fifth grade what I wanted to be when I grew up I declared with no uncertainty that I was going to be an interior designer. Heck, for my 11th birthday I had outright begged my parents for House Beautiful and Better Homes & Gardens subscriptions. I was just that kid. (Also, I may have been and likely still am kind of weird, but we'll let that go for now, ok?)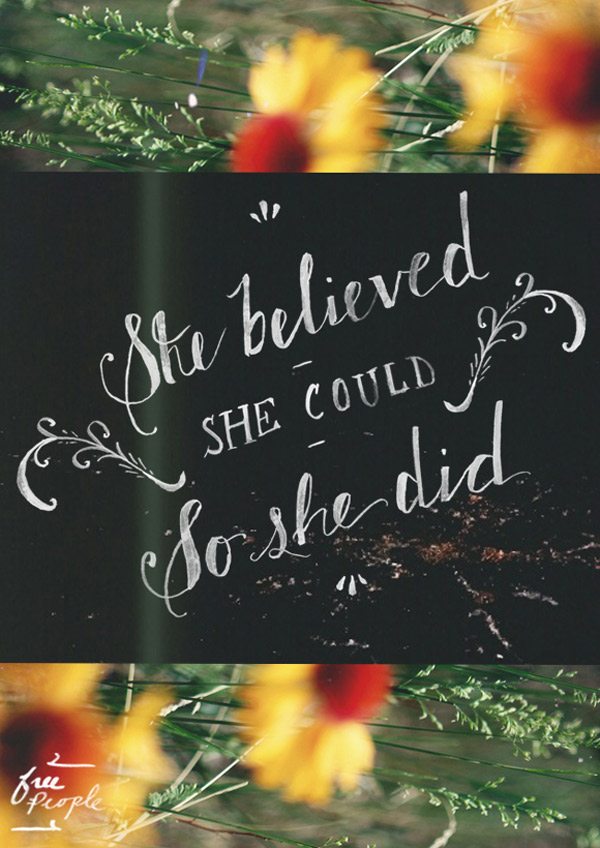 [Inspirational quote from Free People.]
Now, picture yourself one of my cousins or, better yet, my little sister circa 1993. There's a 100% chance that I would have you dressed up in some random outfit I put together or made from clothespins and bedsheets posing for my highly artistic photographic pursuits. Oh how I wish I could dig up some of those photos right now. But suffice it to say, I became a little obsessed with photography at a ripe old age of approximately 10 years old. After years of shooting what literally must have been millions of photos with my cheap little 35mm point and shoot camera and subsequently begging my parents to cough up the cash to have the film developed, I formalized my obsession by working my way through every photography course our high school offered. During my senior year my dad actually built me a darkroom and we filled it up with an old, secondhand enlarger and everything I could ever want to pursue all my photographic adventures. From that point forward, every spare moment I had was spent shooting, developing and printing. (Duh.)
Enter the college years when somehow all of my obsessions lead me to receiving two undergraduate degrees in architectural engineering. In so many ways architecture was the perfect blend of all my passions and yet after five years of interning for a prestigious architecture and engineering firm I'd kind of had enough. Even though I excelled at the work and in so many ways was in love with the entire process of designing, drawing and detailing buildings, those summers spent in such a formal and conservative environment stuck behind a computer doing the work of a self-described CAD monkey allowed me to realize that pursuing a traditional career in architecture was sucking the life out of me. I had begun to dread going to work each day and after a while that dread turned into straight up anxiety. So with just weeks before I was due to start my masters degree in architecture at the second ranked architecture school in the country (an acceptance letter that had literally served as a dream come true for me just a year before), I followed my heart and blew the minds of just about everyone I knew when I bailed. I was staring down the tunnel of another two years of school and countless more thousands of dollars in student loan debt to do what? Be ridden with anxiety on the way to work every morning after investing seven years and hundreds of thousands of dollars? Not happening. So I did what came naturally to me instead. I threw myself into an intensive 12-month Master of Business Administration program and graduated with my MBA at 24 years old, not knowing exactly what I was going to do with it, but confident that somehow my architecture background and my graduate education would get me somewhere that I wanted to be.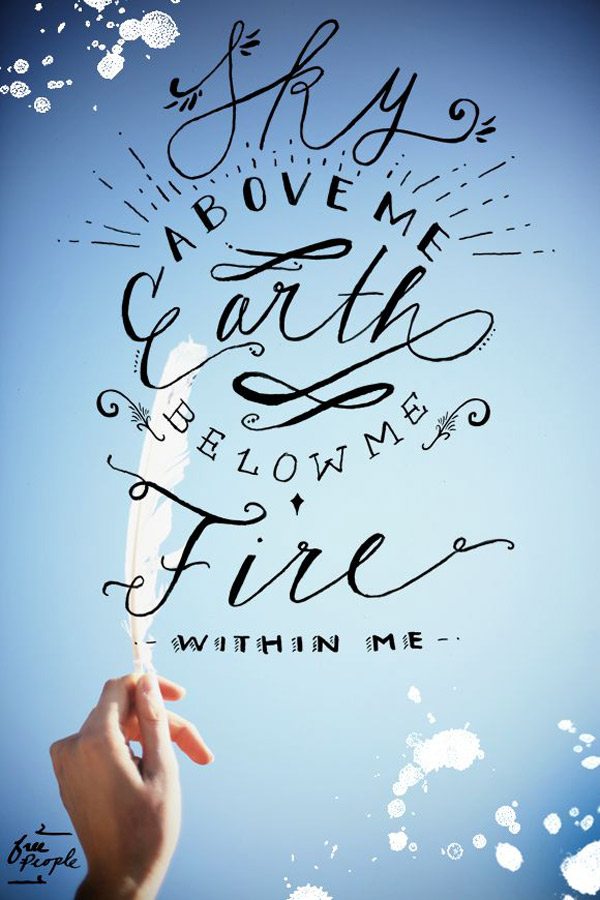 [Inspirational quote from Free People.]
Coming out of graduate school at the end of 2007 was just about pretty awful timing. The economy was poised to implode within a matter of months and also I still kind of had absolutely zero idea of how exactly I would blend my education into a career after derailing my dreams of becoming the next Frank Lloyd Wright. By 2008 I had spent a year at a crap job I hated, relocated closer to my family, spent some time unemployed and started a blog. I was engaged by that point and planning a wedding and also trying to figure out exactly what I wanted to be when I grew up and the blog became my outlet. It was my creative outlet, it was my escape from the stresses I was feeling personally and financially and it was a way to pass the time when I had already sent out literally hundreds of resumes in a given week. Along the way, as I was developing my marketing chops and also writing a blog and figuring out what blogging was all about (keeping in mind this all pre-dates social media as we know it today), I landed a job in marketing and public relations, a door that was opened to me essentially because of the blog. That was in early 2009. It was the break that let me know I was finally headed in the right direction.
Over the next two and a half years I continued blogging. At my day job I was immersed in marketing, blogging and social media on a daily basis. Twitter was born, social media became a player and as I learned to leverage all of those outlets for the company I was working for, I was also meeting so many people and making so many friends both in the blogging world and in the design community. The blog was growing by that point. I moved off of Blogger to a self-hosted WordPress site with a custom domain. I worked with my dear friend Carolynn of Two Brunettes to design the first of TSO's site makeovers. I dragged my tired butt through the door after work each night and I would stay up writing posts and planning photo shoots until 1 or 2 in the morning. Every single day. Then I'd be up at 6, making my way to the office and doing it all over again. Weekends? They were practically unknown to me in those early days. My Saturdays and Sundays were spent almost exclusively hanging out on the couch with my two sweet pups working on the blog in some fashion. And it was during that time that I started to dream. Could it maybe somehow be possible to turn my blogging passion into a job? Into an actual career? Could I somehow spin my passion for design, photography and parties into the thing I did every day?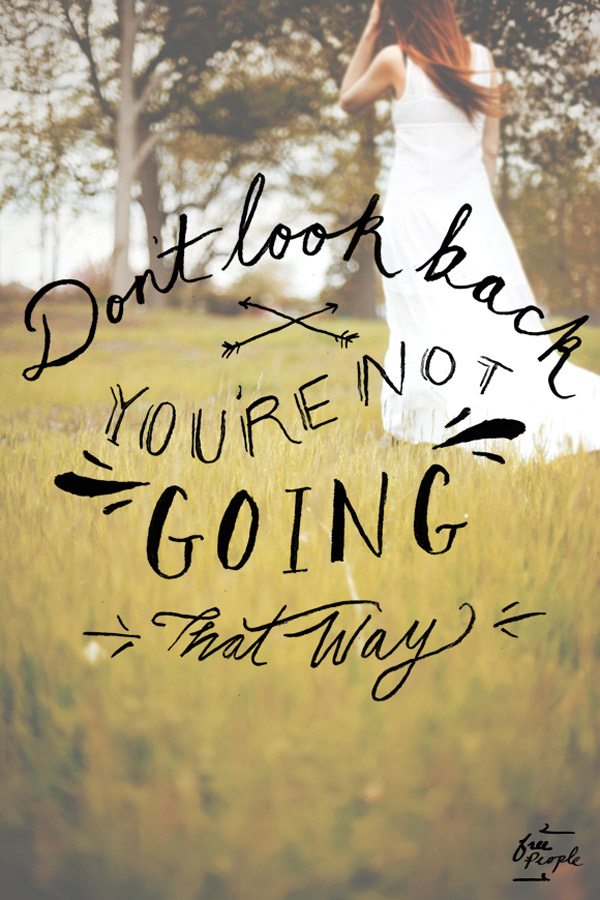 [Inspirational quote from Free People.]
Recognizing that this post is quickly becoming the longest thing ever written in the history of the world, there's much I'm leaving out here. How while in grad school I stumbled my way through the end of a nearly eight year relationship and the end of an engagement to the guy I thought for sure I would marry. How in 2008 my grandmother died not long before I started my blog and how losing her still drives me to this day. How I got married at 26 and then divorced just two years later. How after years of being obsessed with parties and weddings I began a side business as an event designer and planner in 2007 that I ultimately folded in 2012 after juggling that and the blog got to be just too damn much. How along the way B went from being a lifelong friend to the love of my life, and how he has been inspiring me every minute of every day of the last three years to chase my dreams and make them come to life. How my parents, my family and my little sister are my biggest fans and, in turn, my biggest heros as they've encouraged all of my wild whims and lifted me up into every success I've ever had. There's so many pieces to my story. But to keep it simple, in 2011 I moved on my from day job just about three years ago today to the day and since then I've been here, rambling on your computer screen and trying to inspire you to live the way I personally believe life is supposed to be lived. In celebration. In beauty. In hope. And in dreams. Bigs ones and little ones. Celebrating milestones, celebrating the everyday and celebrating the stumbling blocks we face along the way.
So this is where I end this epic tale of one crazy girl with a head full of dreams and turn this conversation to you. What did you want to be when you grow up? What do you want to be when you grow up? And, please ,if you have any specific questions about how I started a blog and turned into my career, please chime in with a comment below! I'll do my best to respond to each and every question, sharing as much insight as I can. Each and every one of you are the reason I get to do what I do every day, so I'd love to share or help out in anyway I can. And, as always, thank you for being awesome. xoxo

p.s. All of these quotes and images are from the Free People blog. Do you follow it? It's really quite lovely and the Monday Quote series is one of the most inspiring things to me right now. See more words and letters that inspire me here on Pinterest, too!