I'm really happy today to share Erica and Sean's wedding with you. Any opportunity I get to work with a great couple is one I love and more often than not my clients are more like good friends by the time the wedding rolls around. Nothing could be more true of Erica. I loved spending the last year trading emails with her about everything from bridesmaid dresses to escort card ideas to whether or not menus for the tables were really necessary. (The decision? No. Just skip them and save your sanity, which she was happy to do at that point.) So when I sent Erica off down the aisle to meet Sean, I looked at her and said, "Next time I see you, you'll be married!"…and then tried my hardest not to cry. (It didn't work.) Erica and Sean's wedding also meant another chance to work with one of my favorite photographer friends Megan Dailor so I knew the photos would be fabulous and, as always, Megan delivered the goods.
Erica chose a gorgeous color palette of shades of purple with gray, one of my all-time favorite color combinations. All of the flowers were created by Fiorvanti Florist who go down in my book as the best florists I've worked with to date. Their attention to detail both before the event and during setup blew me away.
Erica's mom Cindi walked her down the aisle and they were without exaggeration two of the happiest, most beautiful women I've ever seen. Erica's face in this photo says it all.
Erica's bridesmaids all wore dresses by J.Crew in different shades of purple. Her shoes were killer purple pumps by Stuart Weitzman. Later in the evening she slipped into bright purple Kate Spade flats.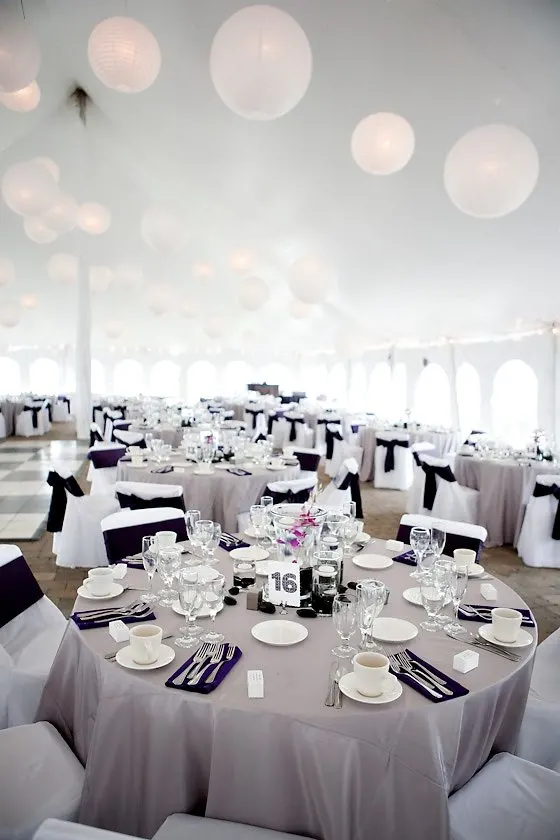 Erica and Sean's reception took place in a big tent overlooking Canandaigua Lake at The Inn on the Lake. The ceiling of the tent was strung with oversized white paper lanterns in varying sizes with tables draped in elegant gray and purple linens.
Erica surprised Sean, a big beer fanatic, by sneaking a bunch of his favorite beers in for the reception. She had a friend create an authentic custom pub sign listing the beers on the menu for the night. Sean loved it and all the beers were a huge hit with guests.
Megan takes some of the best dancing action shots I've ever seen. She always seems to capture the mood of the crowd. In this instance, the crowd was rocking all night and Sean's dad was the star of the show.
A big congratulations to my friends, Erica and Sean. I am so so happy for you guys and so grateful to have been able to share in your joy!
Vendors:
Coordination – Sweet Occasions Studio
Photography – Megan Dailor Photography
Videography – Clark + Walker Studio
Venue – The Inn on the Lake
Hair/makeup – Park West Hair Design + Spa
Flowers: Fiorvanti Florist
Invitations: Hello! Lucky
{Photos by Megan Dailor Photography.}