I think most longtime readers know that I'm a travel junkie. There's nothing I love more than spending hours dreaming up a vacation. Where to go, what to wear, what I'm going to eat when I get there. Hopping a plane and setting off to someplace new and exciting is one of my favorite things to do. With that said, I love how easy Traveler's Joy makes it to plan the honeymoon of your dreams! A leading online honeymoon registry service, Traveler's Joy allows you to set up a personalized registry page to share your travel plans with your loved ones. You log all the activities and experiences you're dreaming of and your friends and family visit your registry page to contribute to your trip. Sounds pretty perfect, right?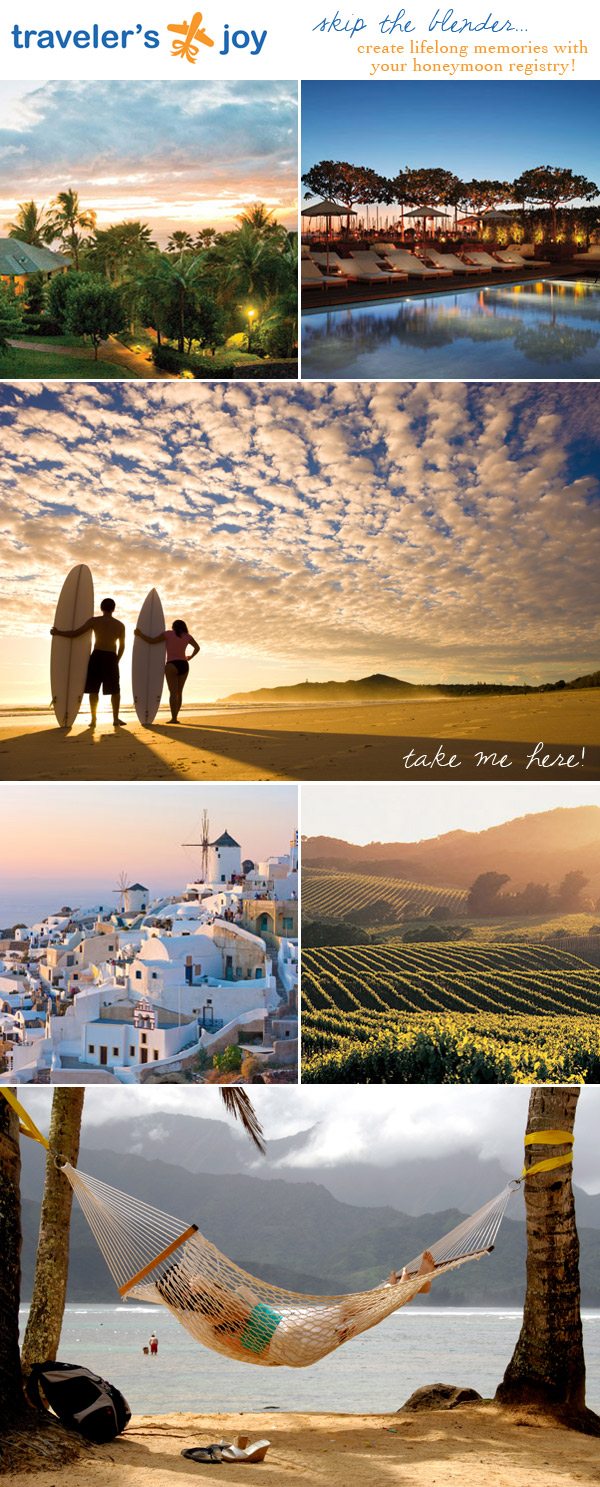 Traveler's Joy's new and improved registry sign-up allows for easy registration in just minutes. To get started, you can choose from vacation themes such as lounging beachside or cruising the high seas, or specific destinations including more than 40 of the top honeymoon destinations worldwide. In addition to snorkeling and kayaking adventures, your guests can even contribute goodies like travel guidebooks, cameras and luggage to help bring your honeymoon to life! Personally, I love Traveler's Joy's popular real member stories, which are loaded with inspiring stories of exciting trips other couples have taken. Camel ride in Morocco, anyone? If you're one of those couples that has every kitchen gadget and gizmo you could ever want, check out Traveler's Joy and get on your way to seeing the world!
This post was sponsored by Traveler's Joy. Read more about our editorial policies.
{Photos provided by Traveler's Joy.}