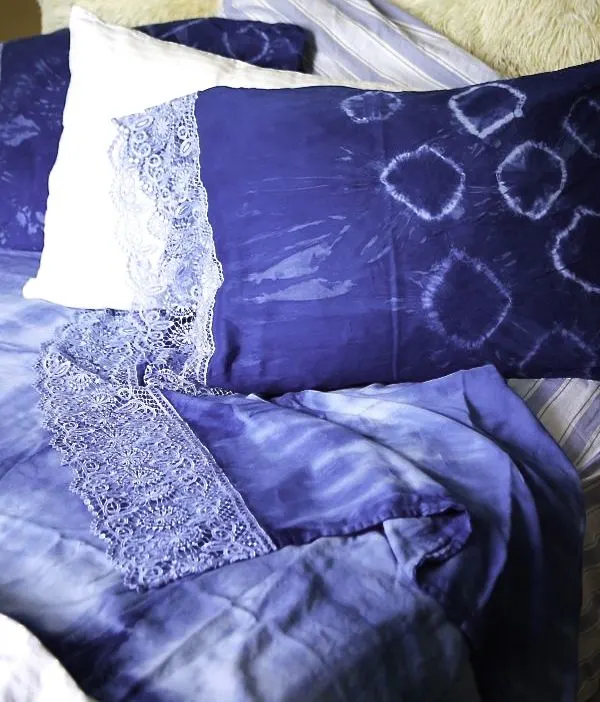 Remember Cyd's indigo love not long ago? Well, she's not the only one crushing on the dark moody blue. Recently I played around with indigo dye, trying out several traditional Shibori techniques on pillow cases, sheets and hand towels. This is definitely a project you can't mess up – the results look cool no matter how it turns out! Just remember to wear big rubber gloves. Because blue Smurf-like hands are not so cool.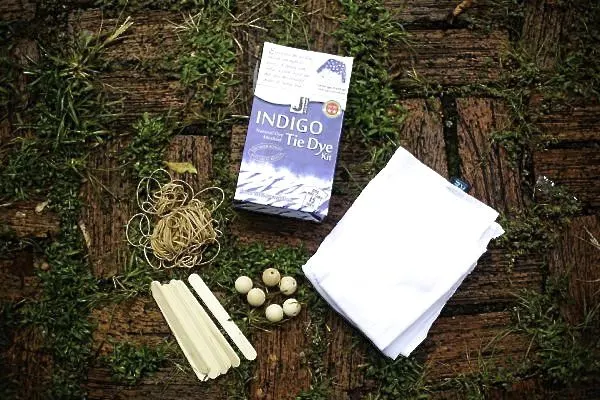 Supplies –
Something to dye like pillow cases, sheets, hand towels – pretty much anything works!
Rubber gloves. (Use big dishwashing gloves instead of the ones that come in the kit. Trust me. The blue takes forever to come off your nails.)
Rubber bands
Popsicle sticks
Beads or rocks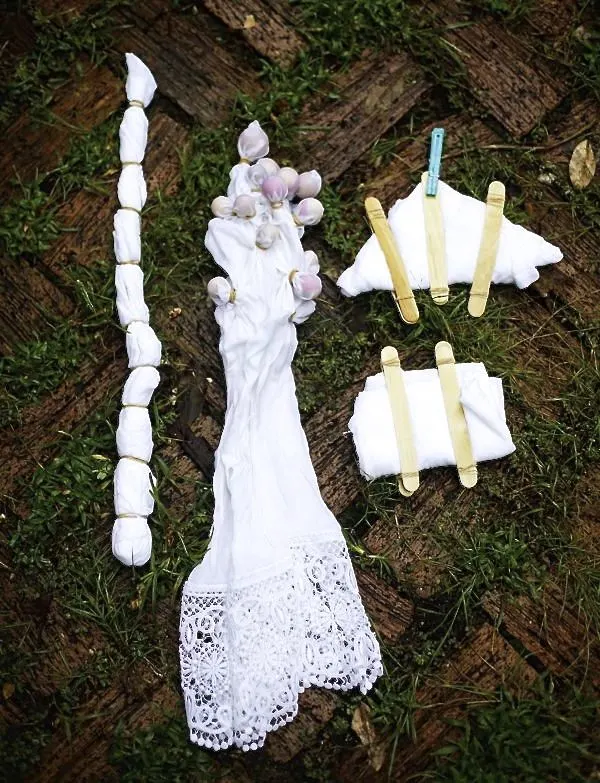 First set up your indigo vat. Follow the package instructions to get the dye ready, and while it is settling (takes about 1/2 an hour) you can prepare the material. This is the fun part! You can fold, tie or bind the material in lots of different ways.
To make circles, pull the fabric into a point and put a rubber band around it. I used a few different sized wooden beads to vary the circles. You can also use rocks or beans or put more than one rubber band around the fabric.
I also tried the accordion method, which is a simple back and forth fold of the fabric. After folding, place wooden blocks or popsicle sticks on the outside and clamp in place with rubber bands. Again there are a ton of ways to vary the folding and clamping, and each one produces a different result.
The instruction kit has great pattern ideas to get you started, and you can also use basic tie dye methods. Just roll the fabric and use rubber bands to resist the dye.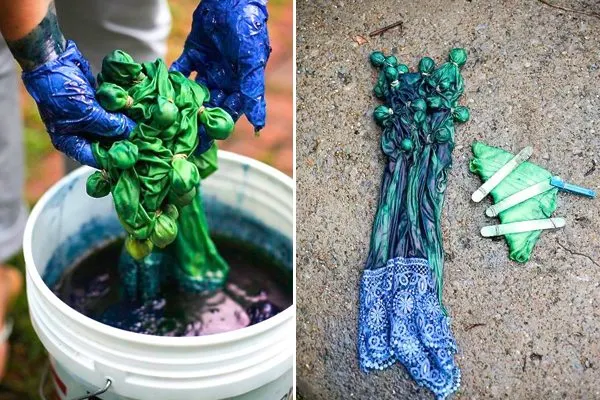 Now you're ready to dye! Note that this is best done outside as it can be a bit messy. Wet the fabric first and then, with your gloves on, submerge it into the dye bath. Keep it in the dye 1-2 minutes, moving it around gently. Take out the fabric and watch as it goes from green to blue as oxygen hits it. So cool! Let it oxidize for about 20 minutes and then rinse, untie and wash.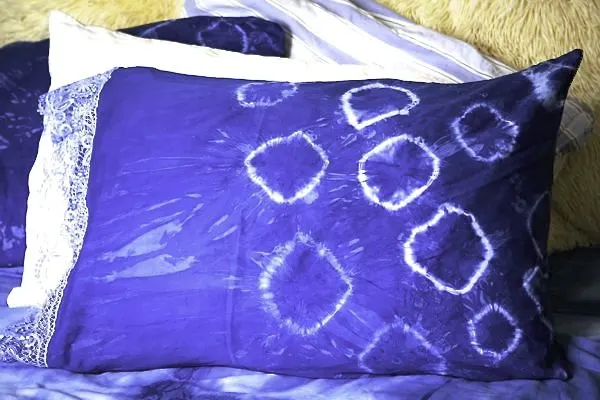 Two things to remember. First, if you want darker shades of blue you can dye the fabric more than once. Also, the indigo vat keeps for several days. I went back about a week later and dyed a pair of old white jeans – and they came out a gorgeous shade of blue.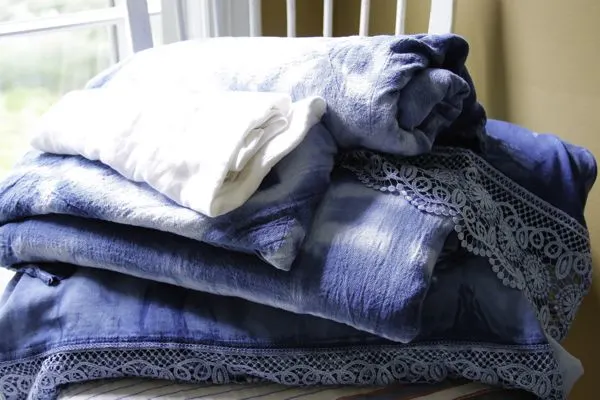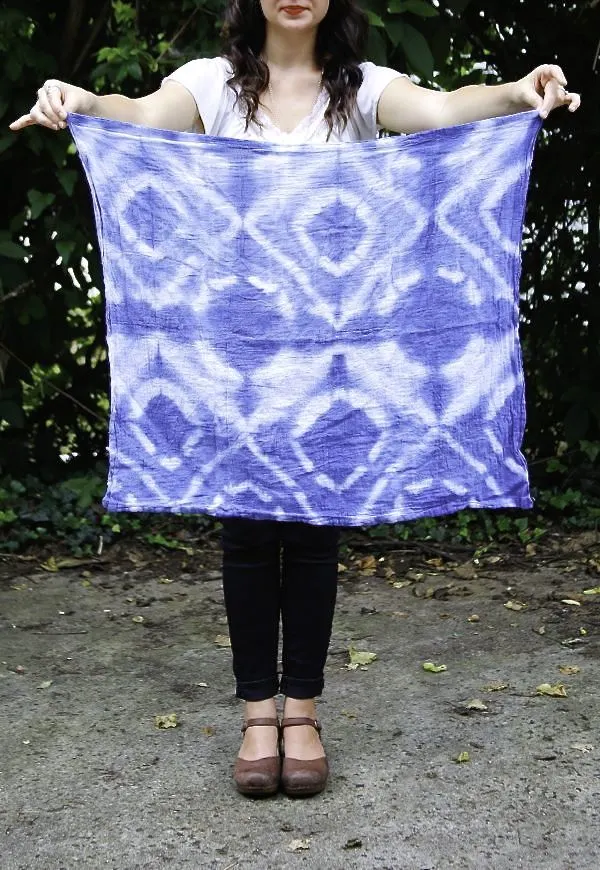 So keep the dye around a few days because the more you look, the more things you'll find that just might look better a moody blue. No old sheet is safe!

[Photos by Henry Happened for The Sweetest Occasion.]
The fine print: Please link with love! As with all of our posts, DIY projects featured on The Sweetest Occasion may not be copied, distributed or reproduced without express written permission. Love and links are always appreciated! If you'd like to share this post, please link to this post directly for the DIY tutorial and do not include the instructions in your own post. Thanks so much! xoxo