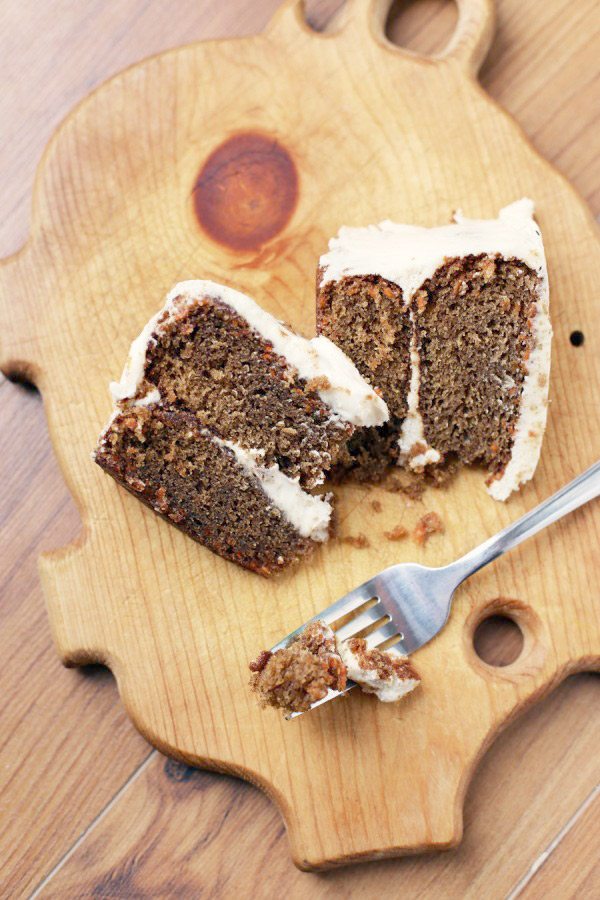 Last week I made homemade carrot cake for the very first time. I've long made all my cakes from scratch, amassing a catalog of dusty flour-covered recipe cards in a tin box. But for whatever reason, carrot cake had never made it into my repertoire. However, it was B's birthday last week and his special request was carrot cake and because I'm in the habit of fulfilling the confectionary requests of birthday boys, I was all over this one. In fact, just recently I had bookmarked two carrot cake recipes by Hannah over at Honey & Jam and Kristina of Lovely Morning, so when it got to be carrot cake baking time I took inspiration from both of their recipes, mixing and matching the parts I liked best from each. And now I'm dubbing this The Perfect Carrot Cake. It was that good. B has declared that I will be making it all time. I think you should make it, too!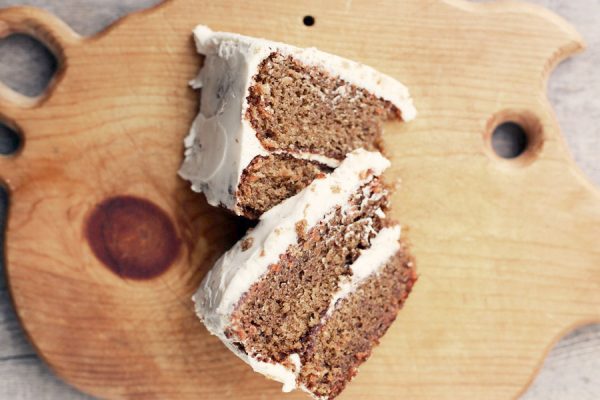 I skipped the walnuts and dried fruit typical of carrot cake, namely because B is allergic to walnuts and not a massive fan of raisins. So for this first go I decided to just stick with a simple, delicious cake loaded with that rich spiced flavor that makes carrot cake so darn good. At the last minute I decided to add a little extra something-something to the cream cheese frosting by adding a dash of Baileys Hint of Caramel so feel free to play with the flavor profiles a bit and see what strikes your fancy. I doubt I'll make it exactly the same way twice!

For the Cake | Makes (1) two-layer cake
2 cups all purpose flour
2 T baking powder
1-1/2 t baking soda
1 t salt
2 T cinnamon
2 t ground nutmeg
2 cups packed dark brown sugar
1 T vanilla
1-1/2 cups vegetable oil
4 large eggs
3 cups grated carrot (6 – 8 large carrots)
For the Frosting | Makes enough for (1) two-layer cake
1/2 cup unsalted butter (room temperature)

(2) 8-oz. packages of cream cheese (room temperature)
1 T vanilla
1-1/2 oz. Baileys Hint of Caramel (optional)
1-1/2 cups sifted powdered sugar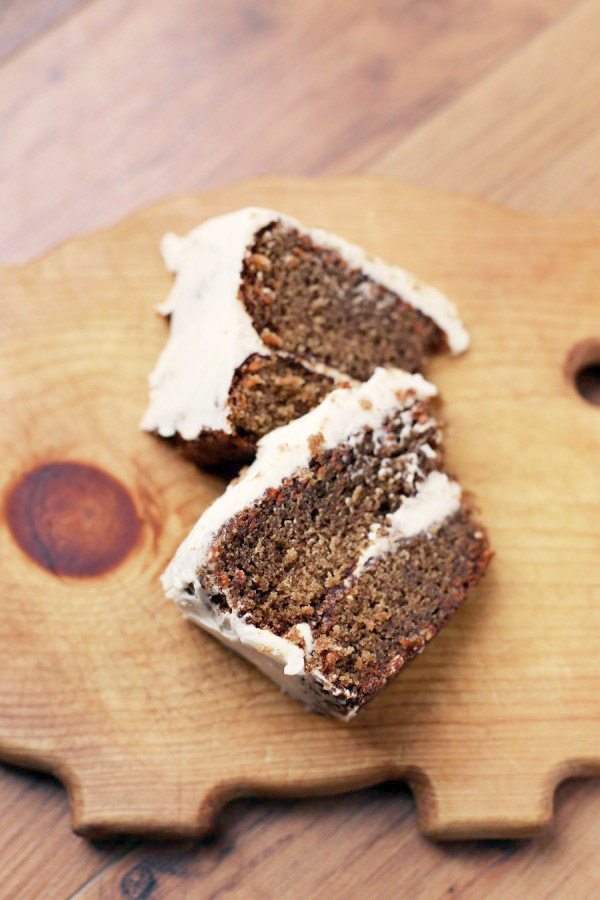 Preheat oven to 350°. Line (2) 9″ cake pans with parchment paper, then butter and flour each liberally.
In a mixing bowl, sift flour, baking soda, baking powder, salt, cinnamon and ground nutmeg. Set aside. In a stand mixer or larger mixing bowl, beat eggs with brown sugar until well blended. Then add vegetable oil and vanilla, combining well. Add dry ingredients and mix well, then add carrot and mix to combine. Split the batter, pouring half into each of your cake pans. Bake for 30 – 38 minutes, baking just until a toothpick inserted in the middle comes out clean. Allow to cool for 10 – 15 minutes, then turn out of the pans onto a baking rack and allow the cakes to finish cooling.
While the cakes are cooling, whip together the butter, cream cheese and vanilla until light and fluffy. Add the powdered sugar and vanilla and continue whipping to combine well. When your frosting is made and the cakes are completely cooled to room temperature, frost your cake and enjoy, being sure to add a generous helping of frosting in between the layers. Bon appetite!

[Photos by Cyd Converse for The Sweetest Occasion.]