by Caitlin, Marla and Manda of The Merrythought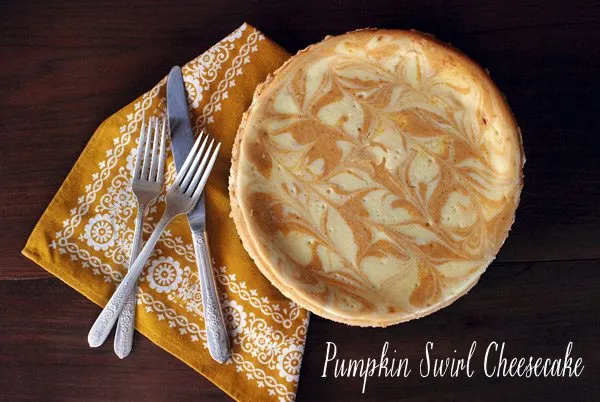 Oh cheesecake…it's simply divine. My favorite cheesecake recipe is the New York Style Cheesecake from Cook's Illustrated. It's heavenly – so smooth and creamy and always perfect, no matter what it's topped with or what you add to it. With Thanksgiving just about a week away and pumpkin everything on everyone's mind, I thought I'd give my favorite cheesecake a nice fall kick and pumpkin it up!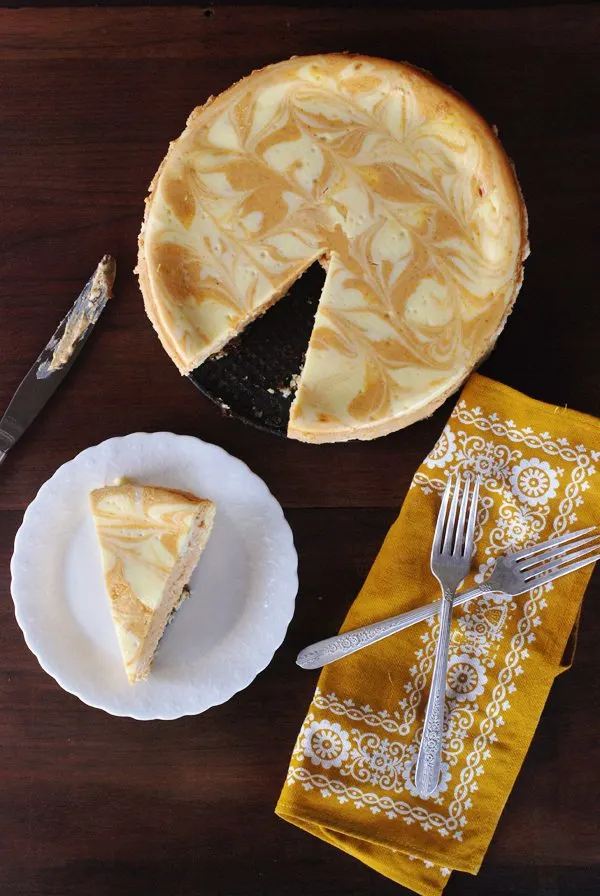 For this pumpkin swirl cheesecake, the pumpkin batter is swirled with the plain cheesecake batter, giving it a nice pumpkin flavor without being over the top. It's paired with a gingersnap crumb crust. Pumpkin and gingersnap are just perfect together, aren't they? (If you're not a fan of gingersnaps, use graham cracker crumbs or my favorite, Nilla wafer crumbs instead). This cheesecake is absolutely delicious and a perfect way to round out your Thanksgiving feast!

For the crust:
1 cup gingersnap crumbs
4 tbsp unsalted butter, melted
2 tbsp sugar
Preheat oven to 350°F. Lightly grease a 9-inch springform pan. Mix together the gingersnap crumbs, butter and sugar in medium bowl until well moistened. Press mixture onto bottom of springform pan. Bake crust 10 minutes. Cool on wire rack while making filling.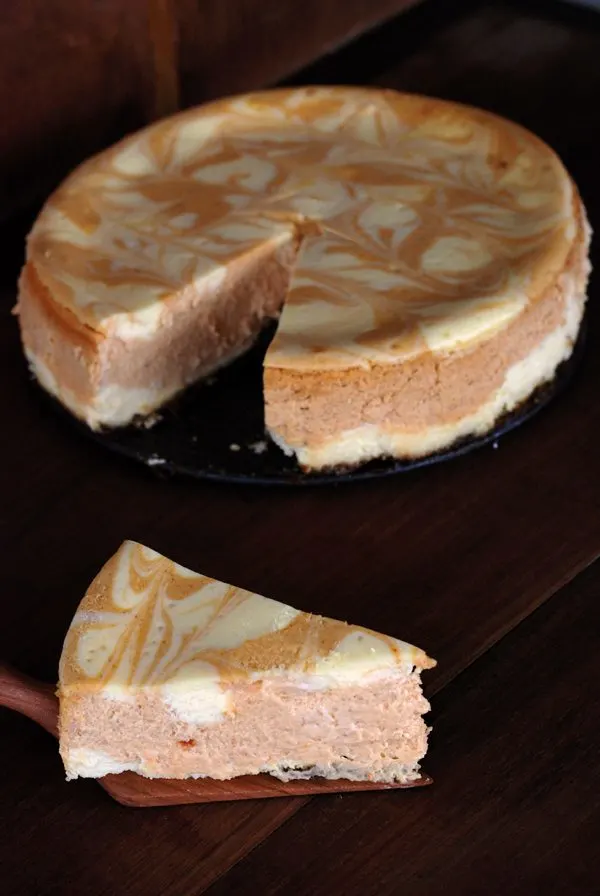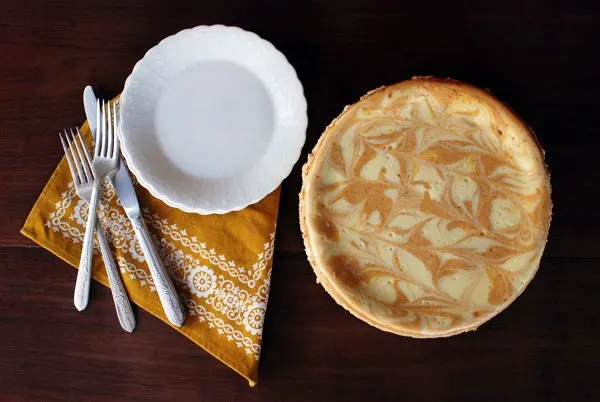 For the filling:
(5) 8-oz. pkgs. cream cheese, softened
1-1/2 cups sugar
1/3 cup sour cream
2 tsp. lemon juice
2 tsp. vanilla extract
2 large egg yolks, at room temperature
6 large eggs, at room temperature
1 cup canned pumpkin puree
1 tsp pumpkin pie spice
Increase oven temperature to 500ºF. In stand mixer fitted with paddle attachment, beat cream cheese at medium-low speed to break up and soften slightly, about 1 minute. Scrape beater and bottom and sides of bowl well with rubber spatula; add about half of sugar and beat at medium-low speed until combined, about 1 minute. Scrape bowl; beat in remaining sugar until combined, about 1 minute. Scrape bowl; add sour cream, lemon juice and vanilla, and beat at low speed until combined, about 1 minute. Scrape bowl; add yolks and beat at medium-low speed until thoroughly combined, about 1 minute. Scrape bowl; add whole eggs two at a time, beating until thoroughly combined, about 1 minute, and scraping bowl between additions.
Pour out 2 ½ cups of the batter into a separate bowl, set aside. Mix the pumpkin puree and pumpkin pie spice into the remaining batter at medium-low speed until thoroughly combined.
Pour 2 cups of the white batter onto the baked crust, then pour the pumpkin batter on top of that.
Drop the remaining white batter in small spoonfuls on top of the pumpkin batter, pushing it down slightly as you go. Using a knife, cut through the batter a few times, just until white swirls appear. Do not push the knife too deep, just far enough to swirl the top layer.
Bake 10 minutes; without opening oven door, reduce oven temperature to 200 degrees and continue to bake until instant-read thermometer inserted into center of cheesecake registers about 150 degrees, about 1 1/2 hours. Transfer cake to wire rack and cool 5 minutes; run paring knife between cake and side of springform pan. Cool until barely warm, 2 1/2 to 3 hours. Wrap tightly in plastic wrap and refrigerate until cold, at least 3 hours. (Cake can be refrigerated up to 4 days.)
To unmold cheesecake, remove sides of pan. Slide thin metal spatula between crust and pan bottom to loosen, then slide cake onto serving plate. Let cheesecake stand at room temperature about 30 minutes, then cut into wedges and serve.

[Photos by The Merrythought for The Sweetest Occasion.]
The fine print: Please link with love! As with all of our posts, recipes featured on The Sweetest Occasion may not be copied or reproduced without permission. Love and links are always appreciated! If you'd like to share this post, please link to this post directly for the recipe and do not include the instructions in your own post. Thanks so much! xoxo