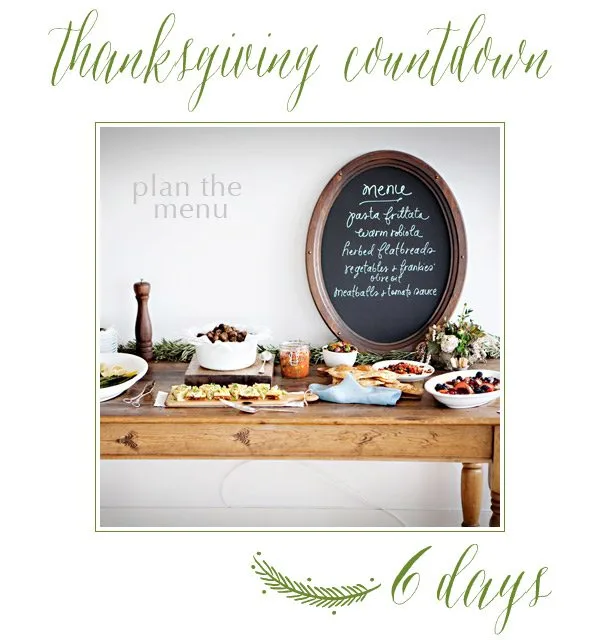 We're one day closer to Thanksgiving and I'm telling you right now, I'm already excited. We're actually eating at my mom's house this year, which in and of itself is pretty awesome, because that lady is one heck of a cook. Also, she always makes vegetarian-friendly versions of all the Thanksgiving favorites for me so she earns extra awesome points for that, too. Which is not to say we're free from the cooking entirely – B and I have been assigned a few side dishes and my mom insists I make the apple pie since my recipe is kind of stellar. Which brings us to 6 days out and today's Thanksgiving countdown tip!

If you haven't already started to do so, today is the day to curl up on the couch with a glass of wine after work and plan your Thanksgiving menu. Having a menu established in advance will translate into a road map that will help with all of your shopping and prep work. Don't be afraid to delegate! If you love your sister's mashed potatoes, put her on potato duty. If you prefer your mom's pumpkin pie, ask her to bring one along. Once you have your menu set and the work assigned, break that menu down into a shopping list. Figure out what you need for each dish and then compare that to what you already have in the pantry. This will help you avoid those pesky last minute Thanksgiving morning runs to the market when you discover you're short on butter or flour.
If you're feeling ambitious, you can whip up a pretty menu to accompany your feast now that you have the meal all planned out. I love the chalkboard menu above and these printable Thanksgiving menus are pretty great, too. You can download the PDF and edit the text to suit your particular spread.

[Graphic by Cyd Converse for The Sweetest Occasion. | Photo by Sunday Suppers via A Cup of Jo.]