Following on the footsteps of yesterday's egg nog and linzer cookie recipes, our girl Andrea Harper of Gray Harper Event Maker is back with two last minute quick and easy holiday DIY projects for you today! It's no secret that one of my favorite parts of the holidays are those little homemade details that make everything feel especially merry. Putting a little love into your gift wrap or decor is such an extra special touch this time of year and it's always appreciated by family and friends. So while you're working on wrapping, decorating and baking this weekend, here are two such DIY ideas to get you inspired!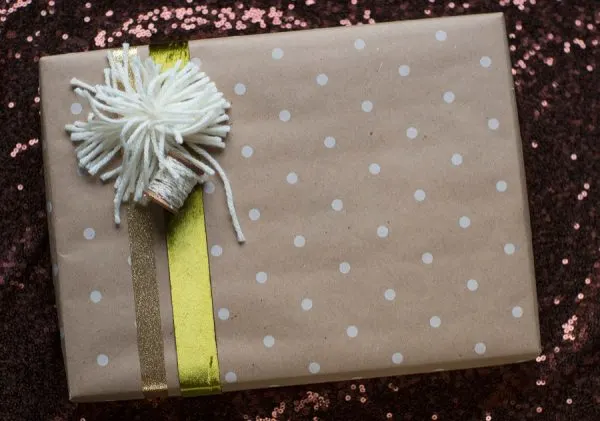 I love handmade gifts, don't you? Why not take the gift giving to the next level and make some fun DIY pom pom yarn bows to adorn all your pretty packages? These pom pom bows are a cinch to make and really jazz up a package in no time. Use them for presents under the tree or to give a tray of cookies a touch of something fun and merry.

Yarn
Card stock cut to 2″x6″
Scissors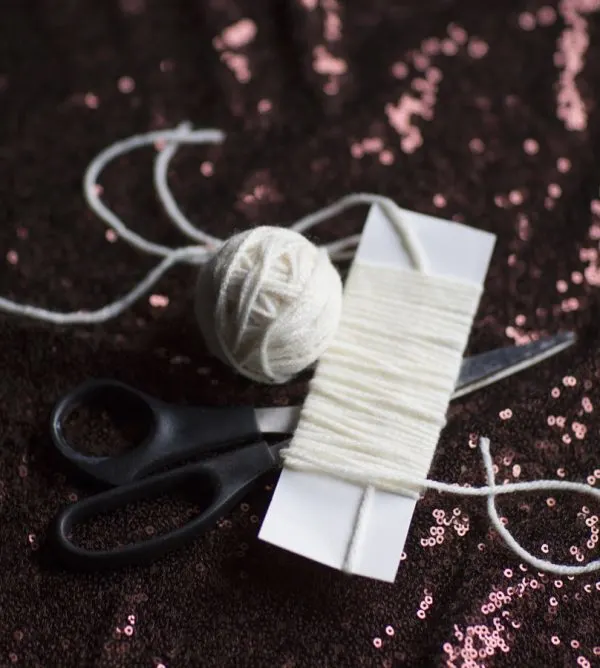 Take a piece of yarn about an arm's length long and lay it on top of the piece of cardstock. Using the same piece of yarn, wrap the cardstock, making sure to overlap the end of the yarn. Once you've covered most of the cardstock, use your scissors to cut along the wrapped threads.
Tie all the new loose threads with the original strand of yarn. You now have a cute little yarn bow to place on top of your gifts!

Thread (I used cotton thread with a little gold in it)
Wooden spools
Metallic spray paint
This project is very simple! Begin by first giving your wooden spools a coat or two of metallic spray paint in your choice of color. Allow them to dry completely. Take your thread and a spool and wrap the thread around the spool until it's full, make sure to leave enough thread on the end so that you can tie it when you're done.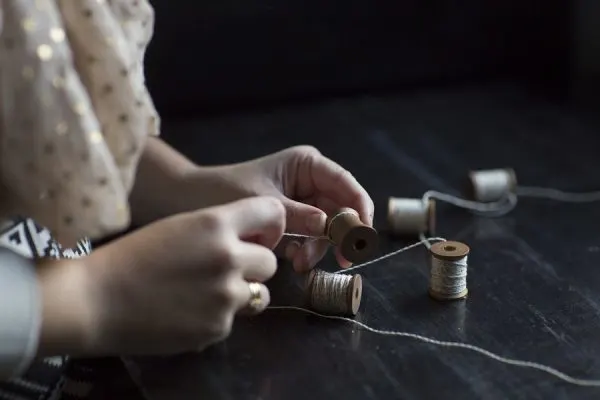 Tie a knot around the spool to keep the thread from unraveling. Move along the thread about 5 inches and repeat the steps with additional spools. Continue until you've reached the desired length, or until you run out of spools! Hang on your tree or above your fireplace, and enjoy!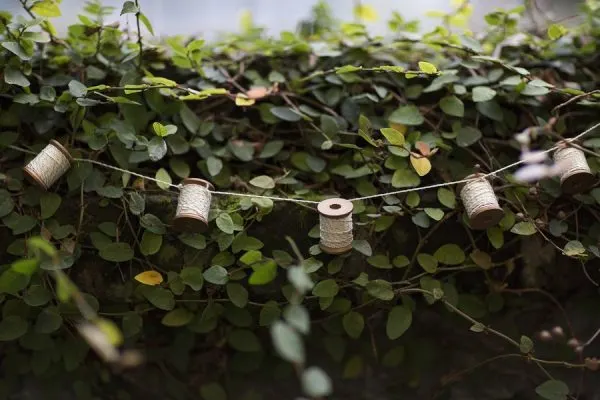 [Styling by Andrea Harper of Gray Harper Event Maker | Photos by Jade + Matthew Take Pictures.]