You guys may remember how the lovely Melina of Sugary & Buttery popped by last summer to share her amazing Sky High Raffaello Cake recipe with us. Melina is one of those bloggers who is always amazing me with her sweet confections and her gorgeous photography, so I'm pretty thrilled to have her joining us again. Today we're talking banana cake topped with a honey cream frosting. Which translates to a whole lot of awesome. Bonus! This cake is seriously simple to make and will basically wow your guests at a weekend dinner party or serve as the perfect mid-week treat. Or want to whip up a yummy homemade cake for a friend's birthday without slaving in the kitchen for hours on end? Consider this cake a winner!

For the cake:
1-1/2 cups oat flour (or all purpose flour)
1/2 teaspoon baking soda
1/2 teaspoon baking powder
pinch of salt
1/4 teaspoon cinnamon
1/8 teaspoon nutmeg
1 cup granulated sugar
1/4 cup coconut oil (or canola oil)
1/2 cup unsweetened apple sauce
2 eggs
2 teaspoons vanilla extract
2 large bananas, mashed
1/2 cup shredded coconut
For the frosting:
8 oz cream cheese
4 tablespoons honey
1/4 cup powdered sugar
Preheat oven to 335°F / 190°C. Spray an 8×8 square dish or a 8 inch round cake pan with non stick cooking spray and set aside.
In a large bowl, combine all the dry ingredients except for the sugar. Set aside. In a second bowl, whip sugar, oil, eggs, vanilla extract and applesauce together. Mash the bananas with a folk and mix into the wet ingredients. Add the shredded coconut. Slowly incorporate the dry ingredients into the wet until just combined.
Pour the batter into your greased dish and bake for 25-30 minutes or until toothpick comes out clean when inserted. Cool completely before frosting. Adjust baking times if you use a different sized pan.
To make the frosting, whip the cream cheese, honey and sugar with a mixer until well combined and creamy. Scoop the frosting in a piping bag with a large round tip attached and decorate the cake with dollups of frosting.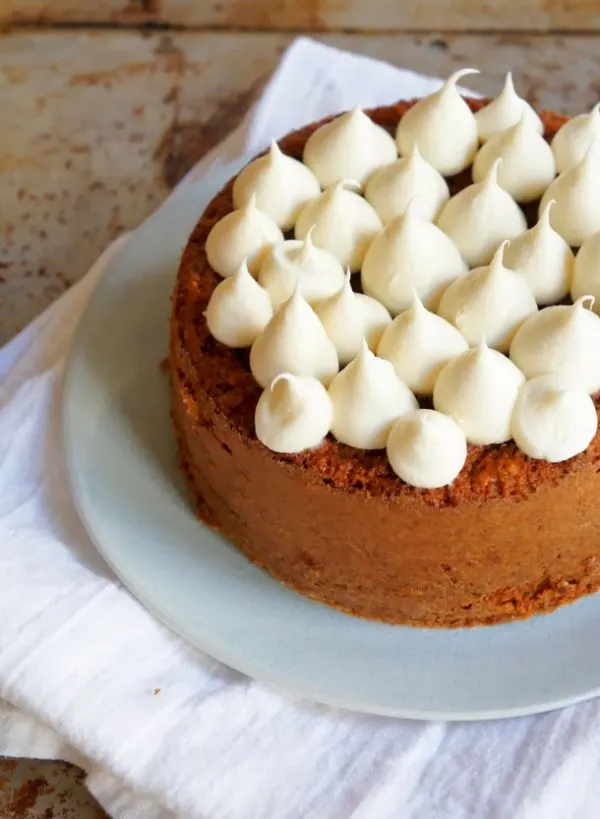 Many thanks to Melina for sharing this awesome cake with us today! Be sure to pay her a visit over at Sugar & Buttery where she's constantly wowing me with her baking wonders. Like this triple layer chocolate marzipan cake. Holy cow. Sign me up for a slice of that one!

[Photos by Melina of Sugary & Buttery.]