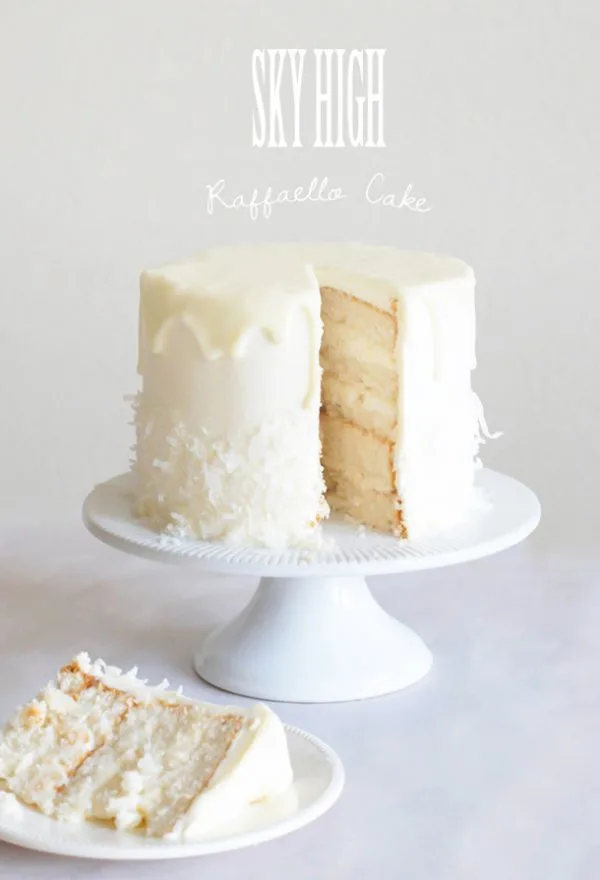 To say I am ecstatic about sharing this recipe would be an understatement. Shared by the incredibly sweet Melina of Sugary & Buttery, it's a towering layer cake loaded with coconut, almond and white chocolate. Shut the front door. Just, seriously, stop it right now. Can we get together and share a slice over coffee? (Because, you know, if you drink coffee with your cake it instantly makes it an acceptable breakfast. You knew that, right?) While we're at it, we should take a moment to gush over Melina and her many talents. German born and bred (but a recent Texas transplant), Melina is a baker, recipe genius and food photographer whose blog has shown up on my Pinterest boards more than once. Before getting started, pop over and check out Melina's tips for how to frost a layer cake and be sure to visit her for a printable version of the cake recipe!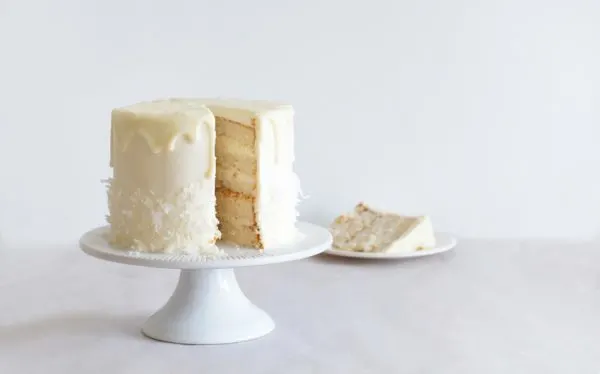 For the cake:
5 large egg whites
1/2 cup / 120 ml whole milk
1 tablespoon coconut flavoring
2.5 cups / 300 g cake flour
1 cup ground almonds
2 cups / 450 g sugar
2 teaspoons baking powder
1/2 teaspoon salt
1 cup / 2 sticks / 230 g unsalted butter, room temperature
1.5 cup / 360 ml unsweetened coconut milk
For the cream cheese filling:
1 pack / 8oz / 250 g cream cheese
0.5 cup / 1 stick / 120 g unsalted butter, room temperature
1 cup coconut flakes
2 cups sifted powdered sugar
For the buttercream:
6 egg whites
50 g sugar
150 ml water
0.5 cup powdered sugar
1/4 teaspoon cream of tartar
2 cups unsalted butter, room temperature
1 teaspoons coconut flavoring
For the ganache:
6 oz / 170 g white chocolate
5 tablespoons condensed milk

Preheat the oven to 350°F / 180°C and grease two 6-inch cake pans (They should be a minimum of 3 inches high since the cakes will rise quite a bit. Melina recommends a 6 x 3 inch cheesecake pan.)
Put the egg whites in a bowl and whisk slightly. Add the 1/2 cup milk and coconut flavoring and mix thoroughly. Set aside.
In the bowl of a stand mixer fitted with a paddle attachment, combine the flour, almonds, sugar, baking powder and salt. Add the butter and coconut milk and combine on low speed until moistened. Increase speed to medium and beat until light and fluffy, about 2 minutes, scraping down the sides of the bowl as needed. Add the egg white mixture in 3 additions, scraping down the sides of the bowl and mixing just long enough to incorporate between additions.
Divide the batter among the prepared pans and bake for about 60 mins or until a toothpick inserted into the center comes out clean. Allow the cakes to cool in their pans for 10 minutes, then turn them out onto cooling racks to cool completely.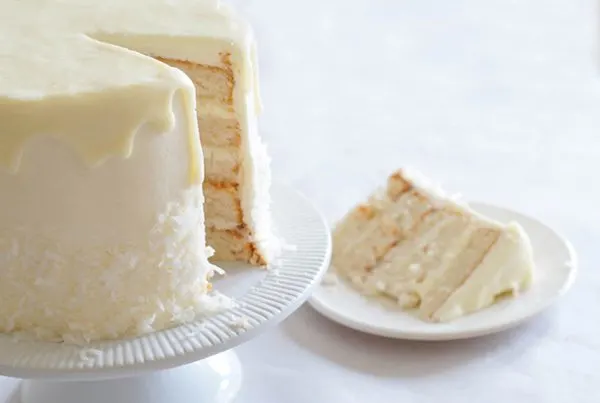 Cream Cheese Filling
Whisk the butter on high speed until fluffy. Add the cream cheese and sugar and keep mixing until well combined, mix in the coconut flakes. Set aside.
Buttercream
Whisk the egg whites with your stand mixer on medium-high speed. Add the cream of tartar and a pinch of salt. While the egg whites are whisking, start the sugar syrup by bringing the water and 50g sugar to a boil. Once the syrup reaches 230°F / 110°C on a candy thermometer and the egg whites are stiff, pour the syrup into the egg whites while running the mixer on low speed. Increase the speed to medium-high and whisk until glossy, for about 10 minutes.
The meringue should now be cool to the touch. Cut the butter into cubes and add them one by one with the mixer on medium speed. Add the sifted powdered sugar, then turn the mixer on high speed. The buttercream will start to curdle but don't worry, just keep mixing and it will all come together. After 2-3 minutes the buttercream should be creamy and fluffy. Set aside.
White Chocolate Ganache
Simply melt the chocolate over a double boiler and stir in the condensed milk. Set aside.
Now it's time to assemble the cake. Cut both cakes in 3 even layers and put the first layer on your cake stand, fixating it with a dab of buttercream underneath. Spread 1/5 of the coconut cream cheese filling on top and cover with the second layer of cake. Repeat this with the remaining 5 layers.
Once your cake is assembled, you need to crumb coat it before you cover it in frosting. This is necessary to lock in all the little cake crumbs and keep them from working their way to the surface of your frosting. It pretty much just means applying a thin layer of buttercream on the entire cake. Let the cake cool for at east 30 minutes in your fridge.


[Photos by Melina of Sugary & Buttery.]