These easy 4th of July party ideas are perfect for a festive at-home family celebration. I'm sharing tips for 4th of July decor as well as fun 4th of July food and menu ideas.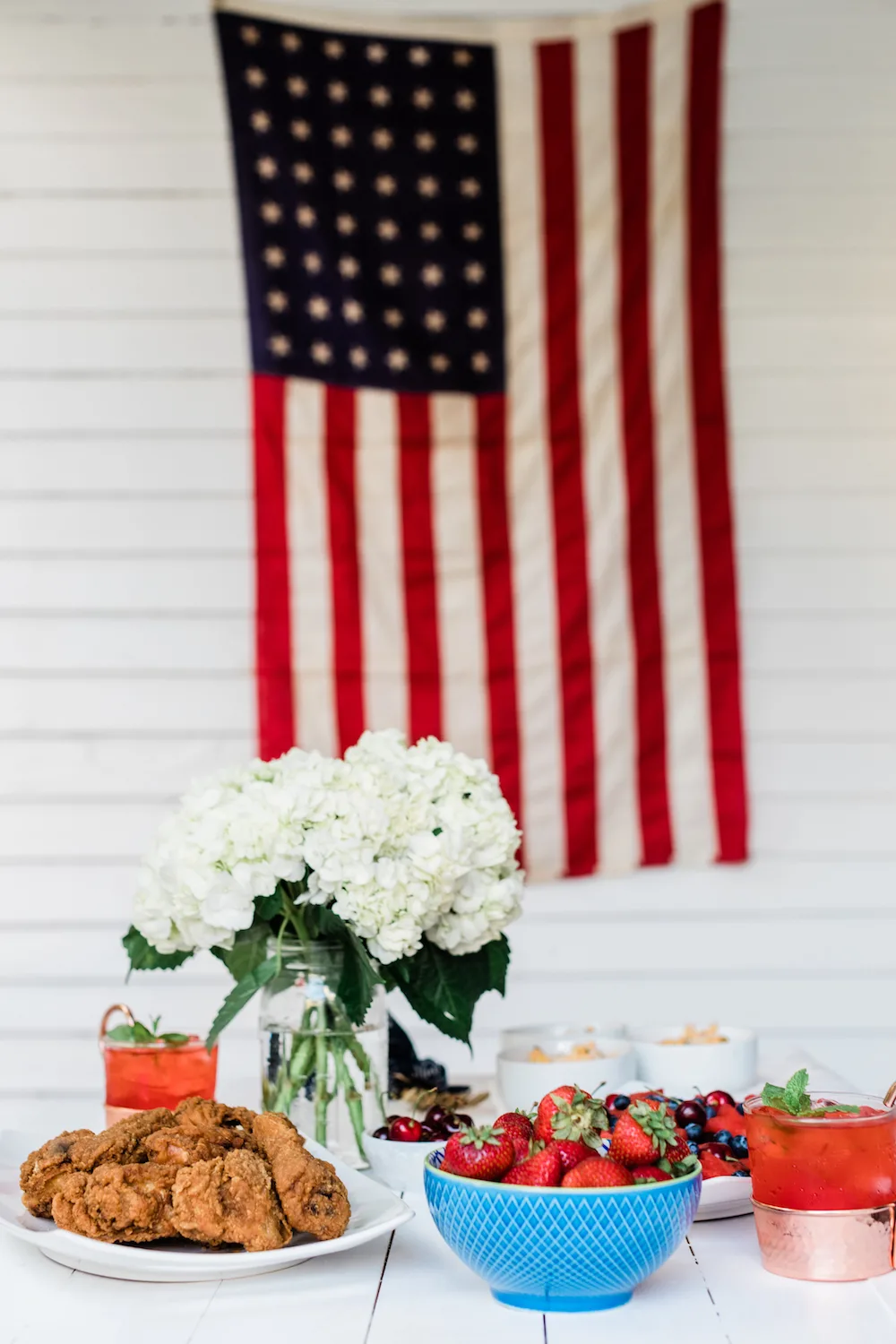 This is a sponsored conversation written by me on behalf of Tyson Foods, Inc. The opinions and text are all mine.
The 4th of July is one of my very favorite days of the year, which is why I'm excited to share a few easy 4th of July party ideas with you today! These ideas are simple yet festive, and perfect for an intimate at-home celebration.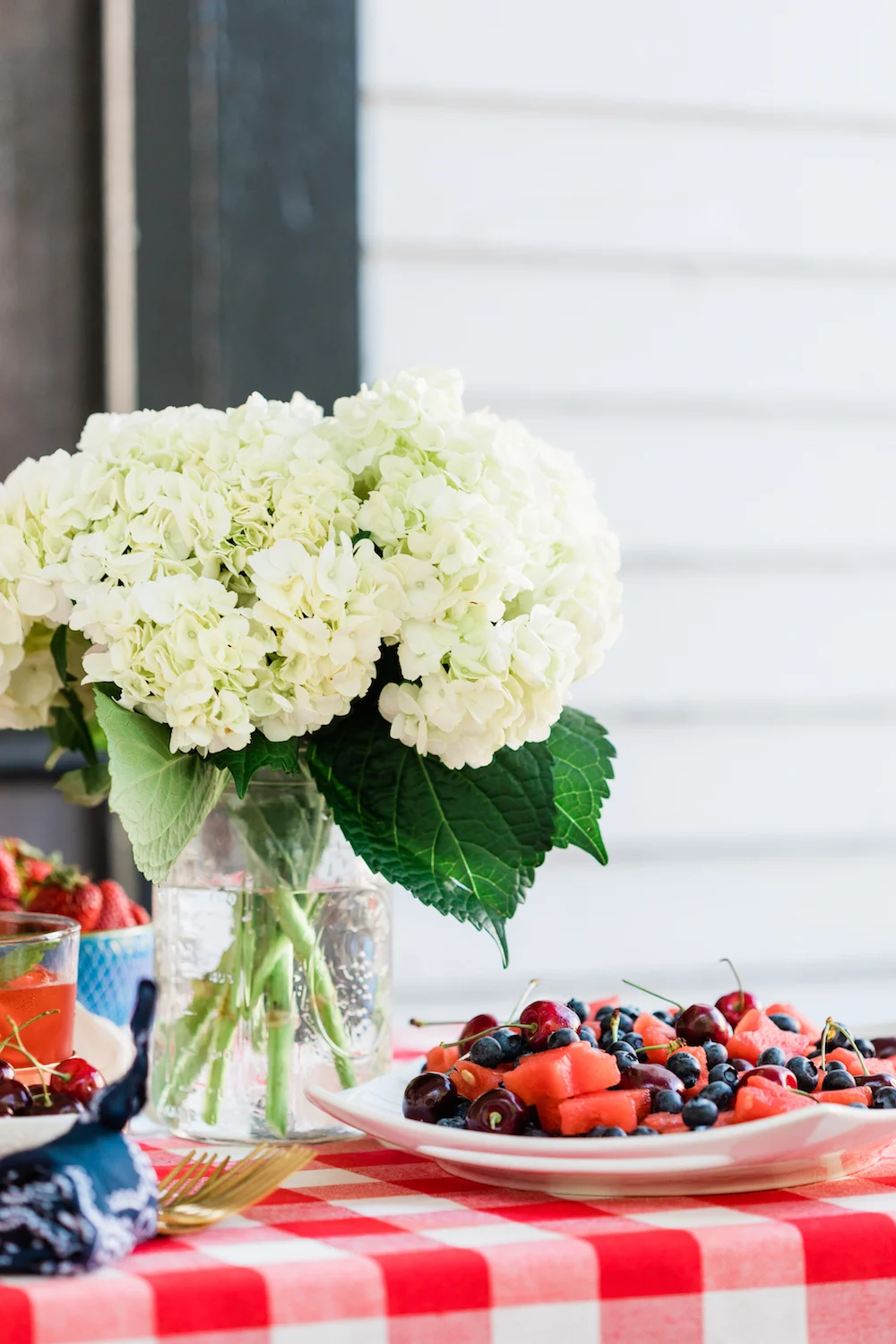 There is no denying that things are a lot different this year. We're social distancing, staying home more and generally not throwing big parties.
All of that to say – you can absolutely have a really beautiful and memorable get together with close family with a few 4th of July party ideas to bring a little wow to your day. While you're at Walmart picking up your weekly essentials, throw a few extra goodies in your cart and you're all set!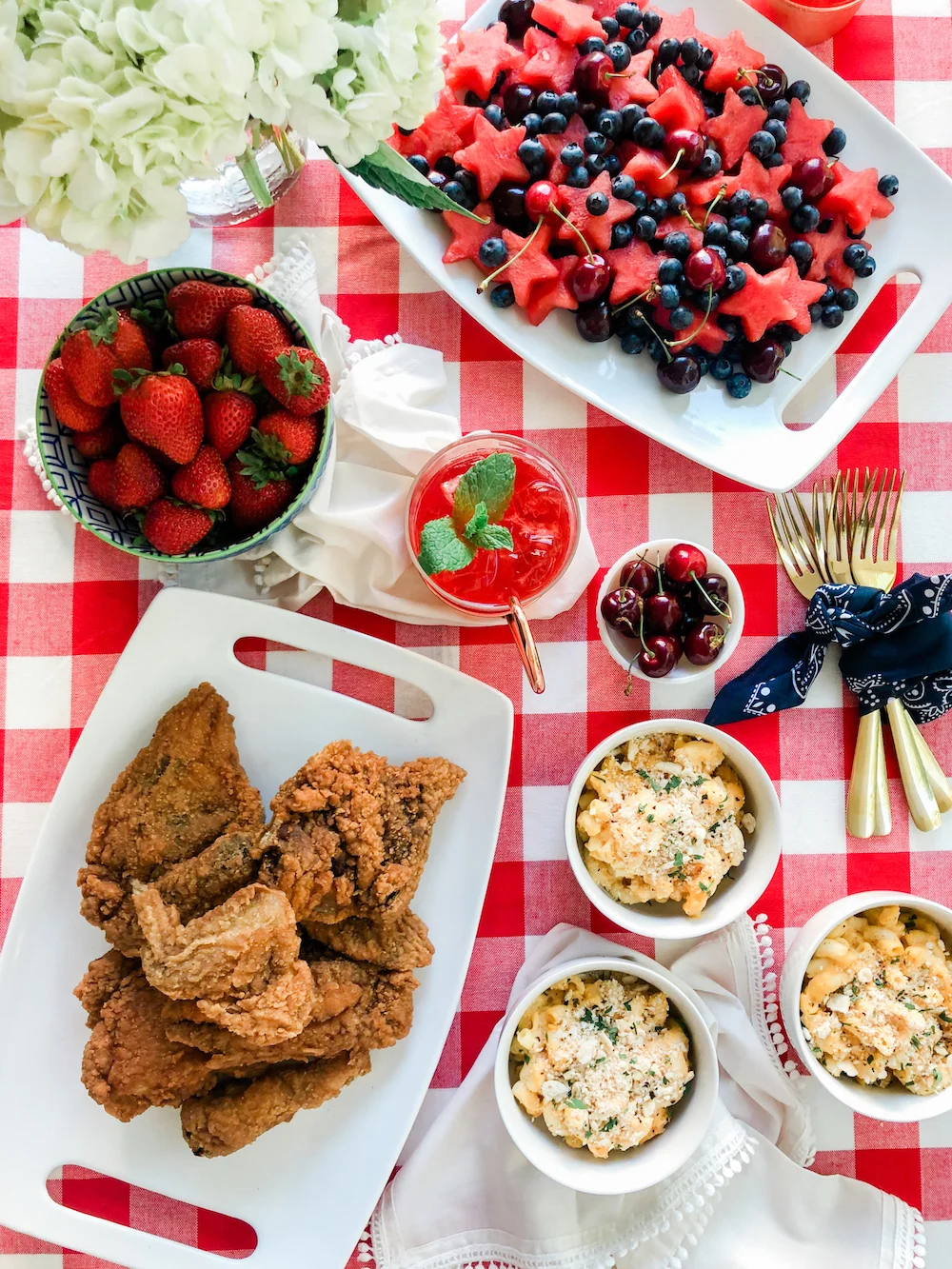 While I really enjoy prepping food for parties, I also really appreciate the ease and convenience of the Walmart hot deli. Bob and the boys love their fried chicken and I love that I don't have to heat up the house making it homemade on a hot summer day – they swear it tastes every bit as good!
Our four year old is crazy about the signature macaroni and cheese. It's made with semolina pasta, five cheese and milk – and all of the ingredients are made and raised right here in the USA.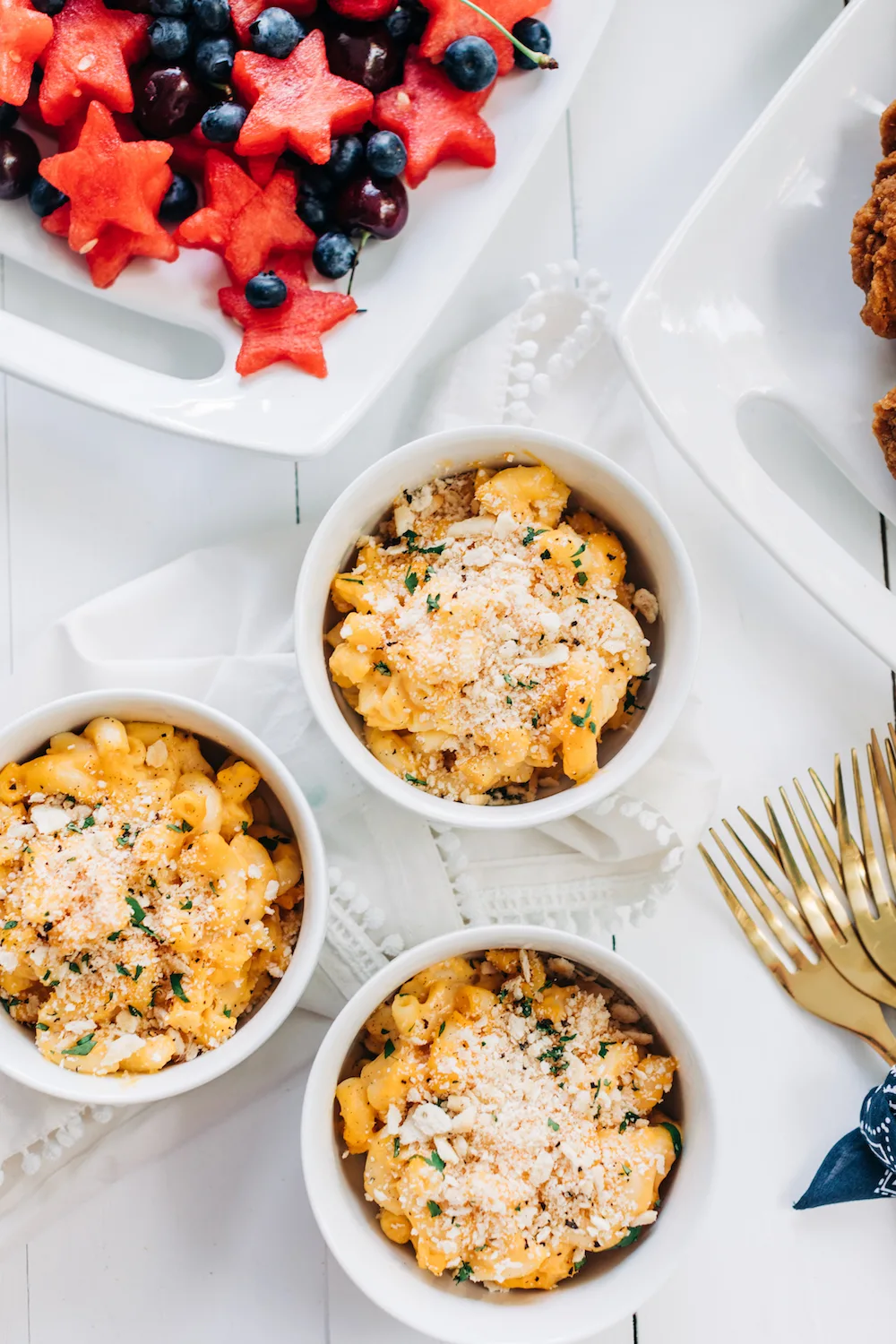 4th of July Menu Ideas
Pop by the Walmart hot deli and pick up easy to grab bone-in fried chicken and tenders
While you're there, grab a few pounds of signature macaroni and cheese – I topped ours with crushed cracker crumbs and fresh parsley
Visit the produce department for a watermelon and some strawberries, blueberries and cherries, which I used to create a cute 4th of July fruit salad using a little star-shaped cookie cutter
Keep the red, white and blue vibes going by serving fruit punch or cherry soda for an extra bit of fun
Finish the day with strawberry swirl ice cream served in sugar cones or make a pit stop in the bakery while you're at Walmart for red, white and blue cupcakes or cookies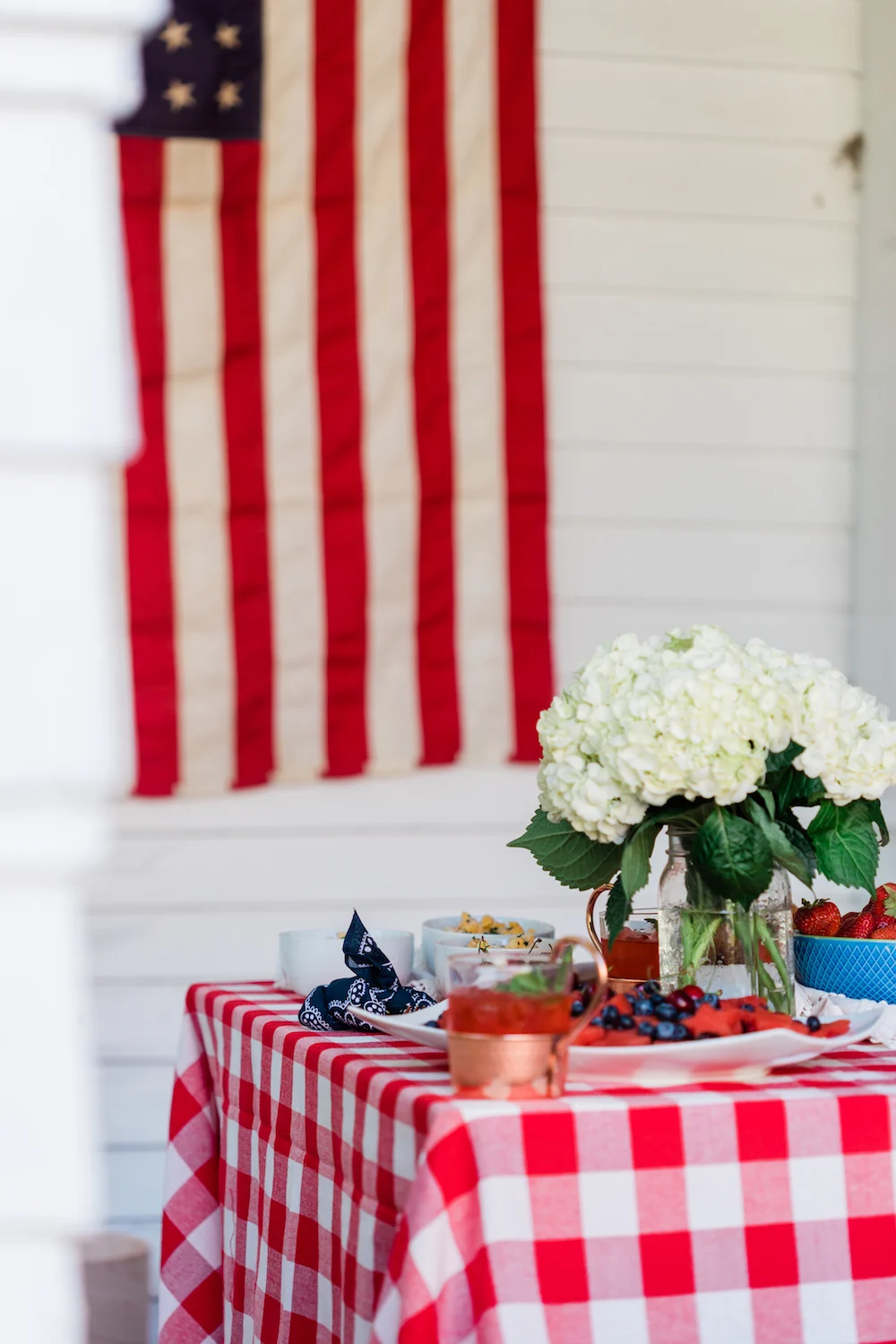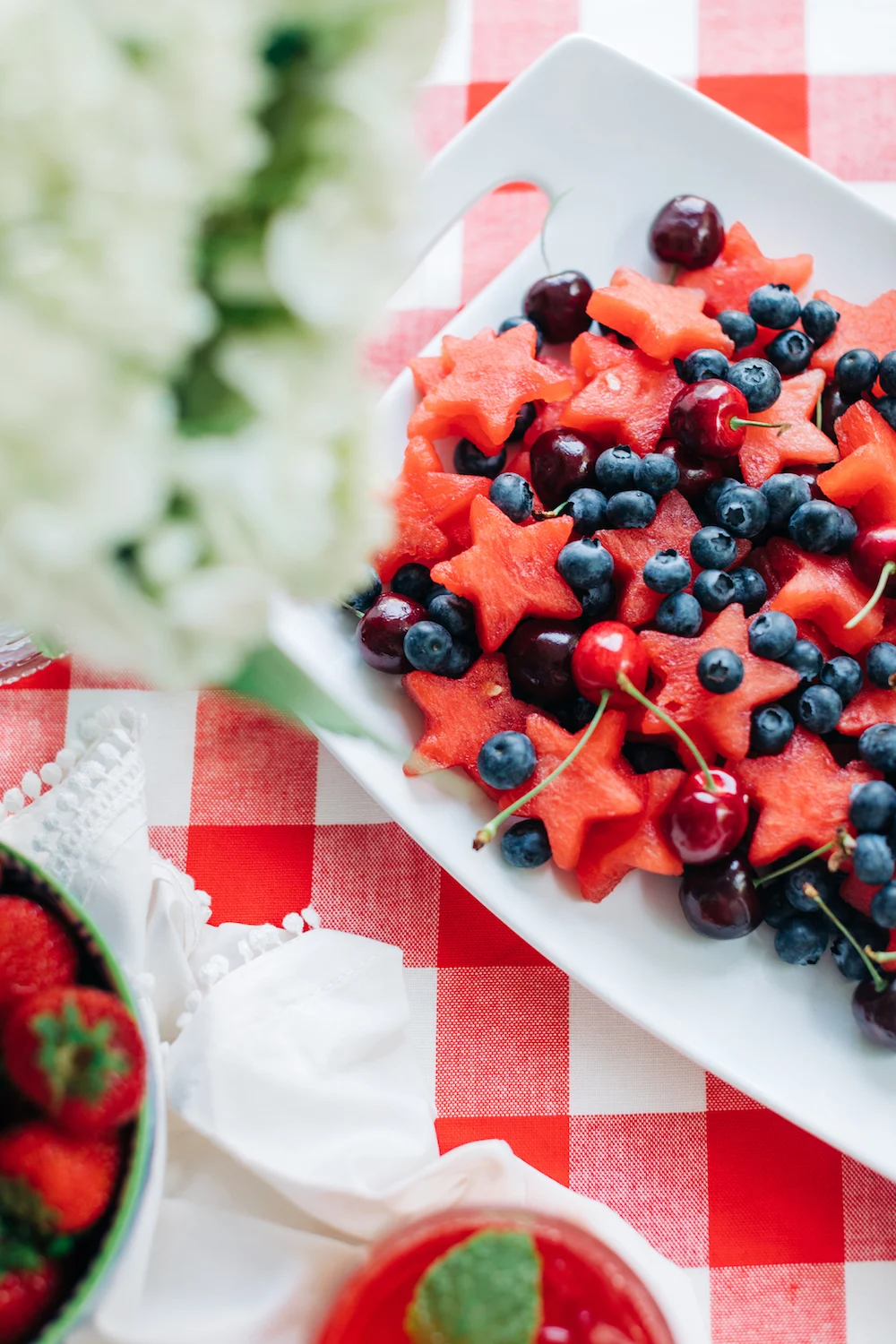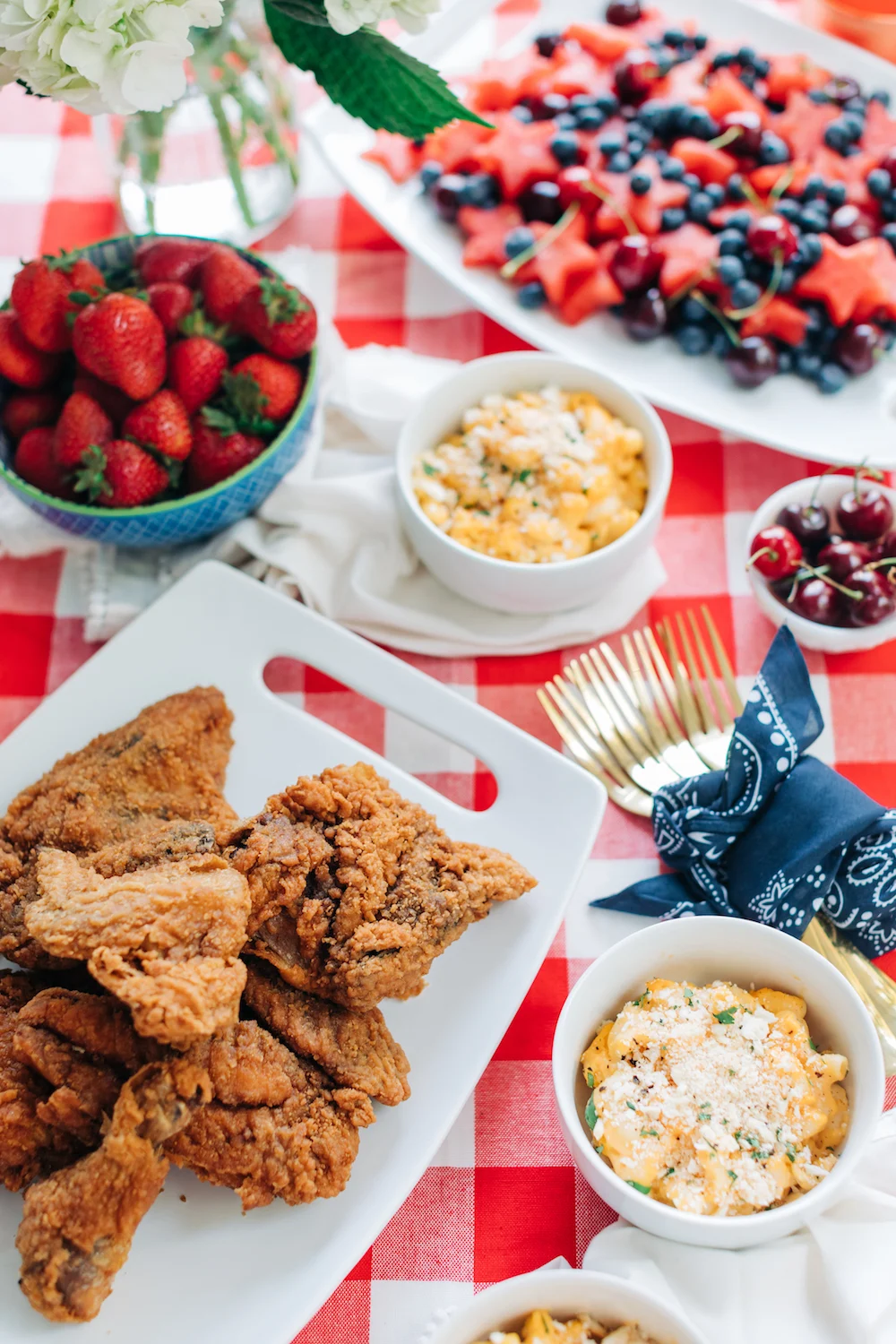 4th of July Party Ideas – Decorations
Even if you're celebrating with just a small gathering of family as we keep CDC guidelines and social distancing protocols in mind, an attention to a few small details while evoke a sense of pomp and circumstance entirely appropriate for the 4th of July.
Cover the table with red and white gingham (this tablecloth is also from Walmart) and transfer your fried chicken to a pretty platter or tray. Dress up macaroni and cheese with the addition of cracker crumbs, fresh cracked black pepper and a pinch of fresh herbs like parsley, cilantro or basil.
Something as simple as using a star-shaped cookie cutter to cut slices of watermelon evokes a light hearted and playful vibe, while paying homage to the stars and stripes. It only takes a few extra minutes and makes such an impact on the dinner table.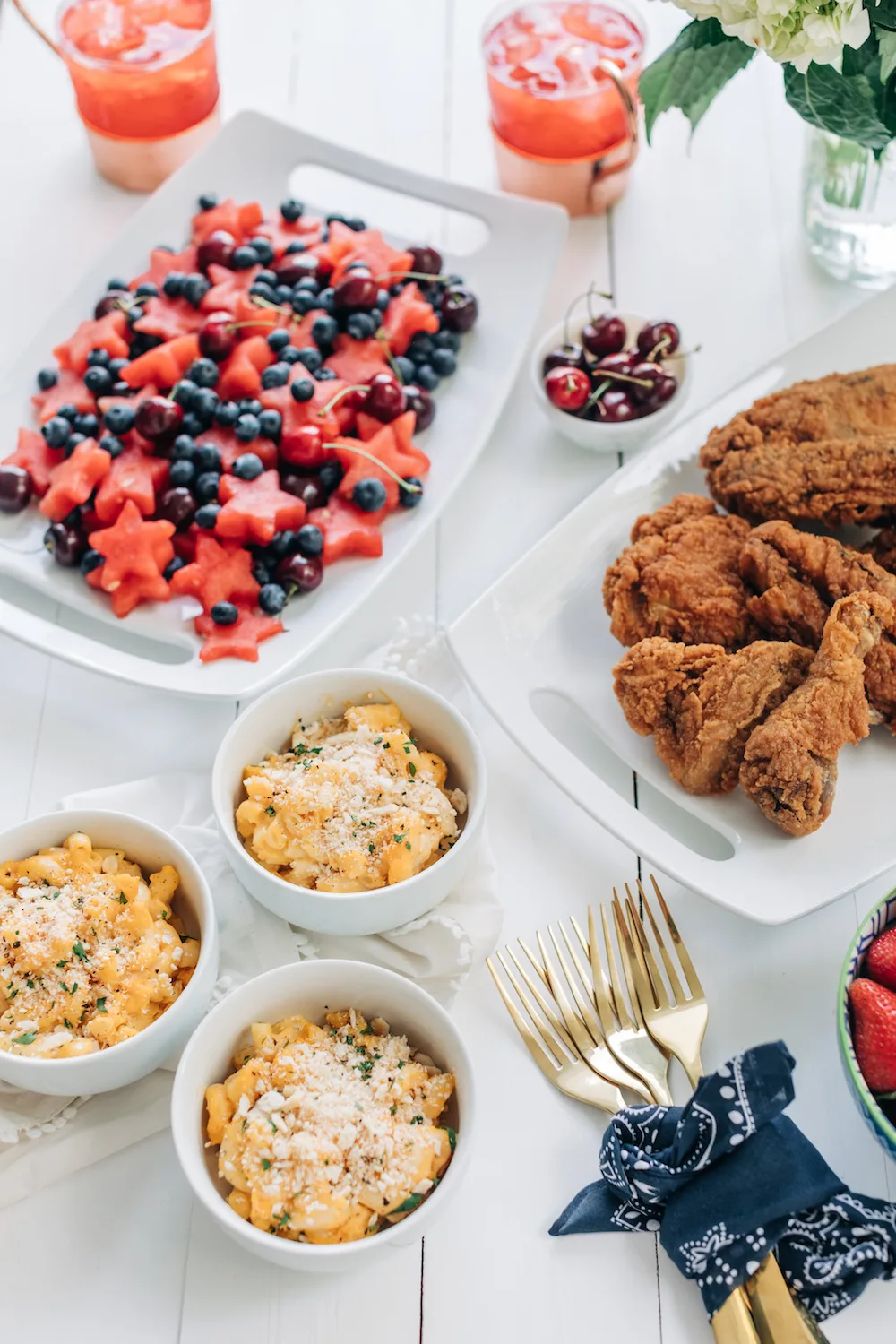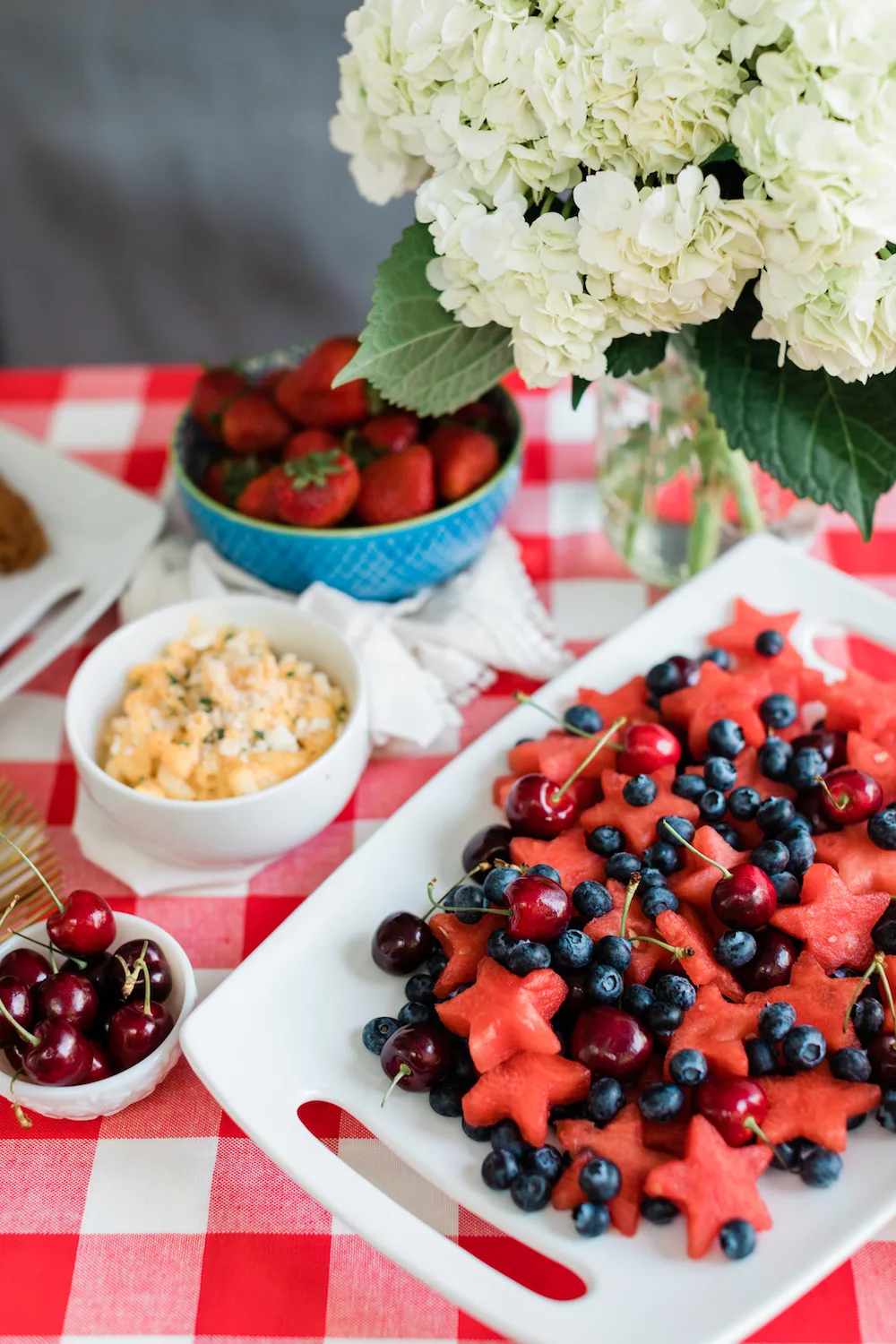 While you're picking everything up at Walmart, save room in your cart for a few fresh flowers. I went with white hydrangeas tucked into a mason jar for a look that to me feels like classic American summer chic.
Stick to an Americana color palette in shades of red, white and blue by layering lots of simple white dishes with cloth napkins for a little touch of formality that makes any dinner feel more special. Pick up inexpensive navy blue bandanas at Walmart to use as napkins for a cool patriotic vibe.
I moved my beloved vintage flag to the back porch to lend a sweet vibe to the space. If you don't have a cool flag, you can add one of those to your Walmart shopping list too!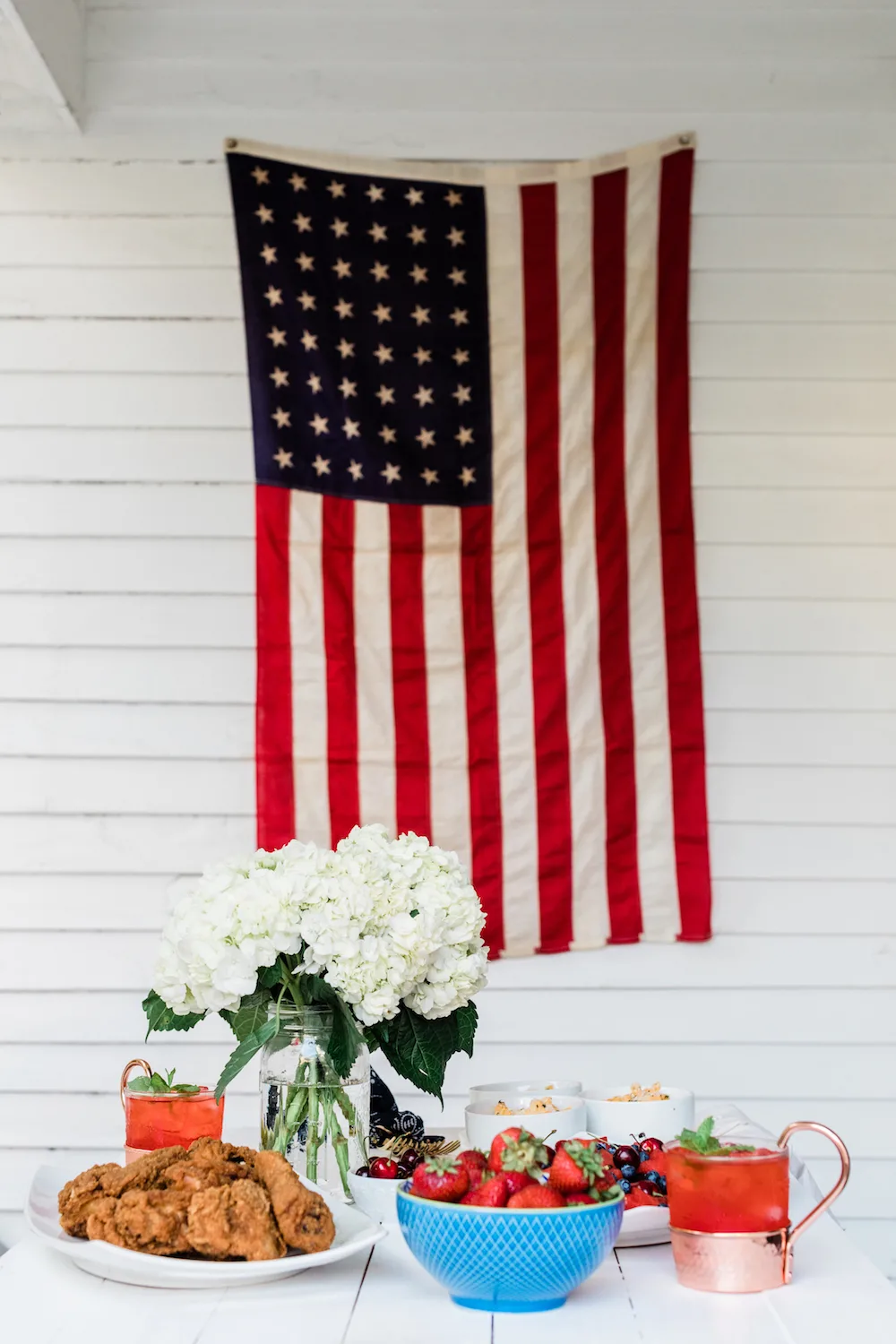 Despite all the changes this year, the 4th of July is the perfect reason to take a moment to pause and celebrate. You can even easily create a chic celebration that's totally worthy of your Instagram feed while you're out shopping for all the essentials on your list.
Wishing you all a beautiful 4th of July and a happy and safe summer.
[Photos by Cyd Converse for The Sweetest Occasion.]