Planning an Oktoberfest party at home is fun and easy. Here you'll find Oktoberfest party ideas including all the Oktoberfest foods you should include!
This is a sponsored conversation written by me on behalf of Snyder's of Hanover Pretzels.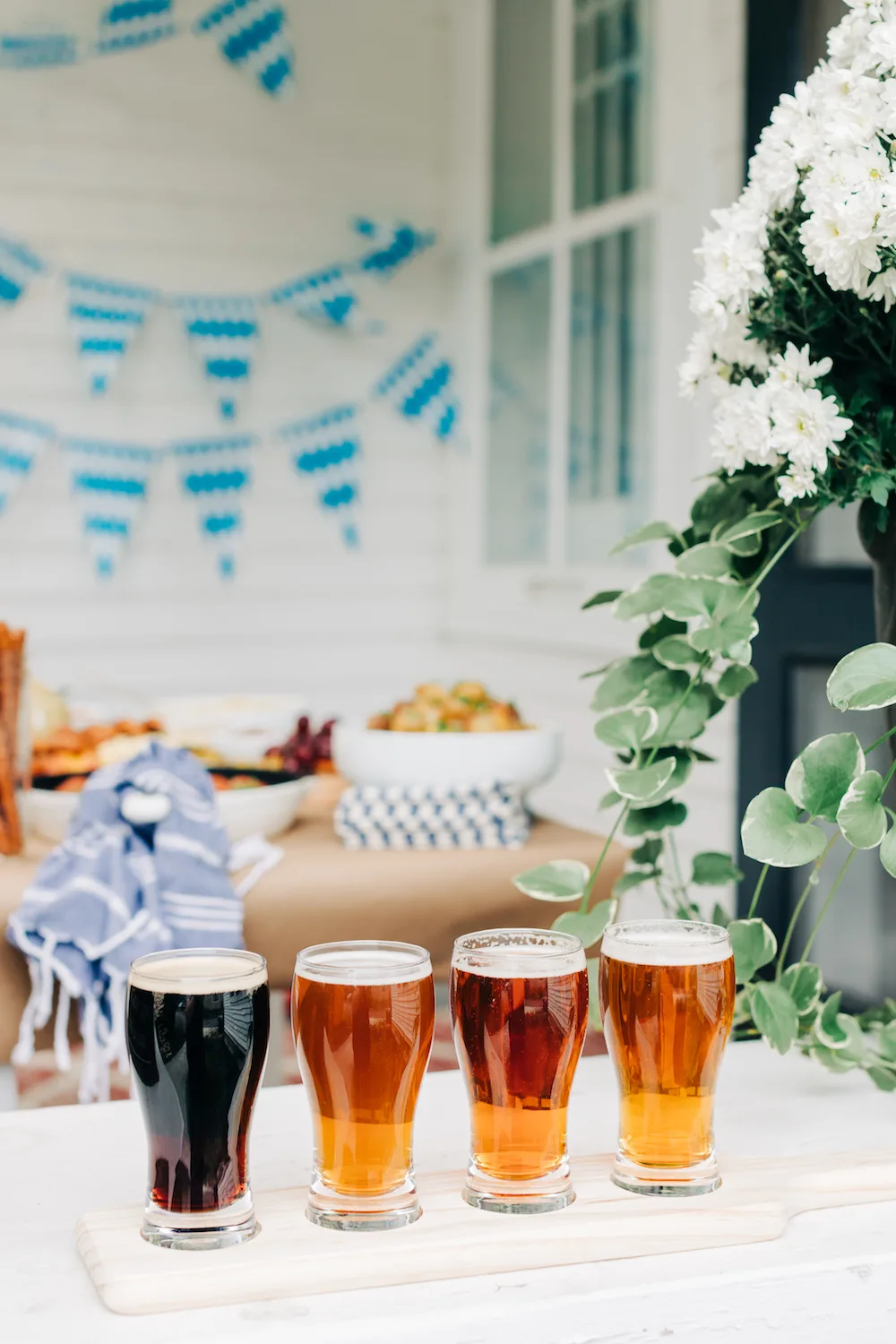 Ever since my first visit to a biergarten many years ago, I've had a soft spot for a good Oktoberfest celebration. In collaboration with Snyder's of Hanover Pretzels, I am sharing my tips for how to plan an Oktoberfest party at home – complete with all the essential Oktoberfest food!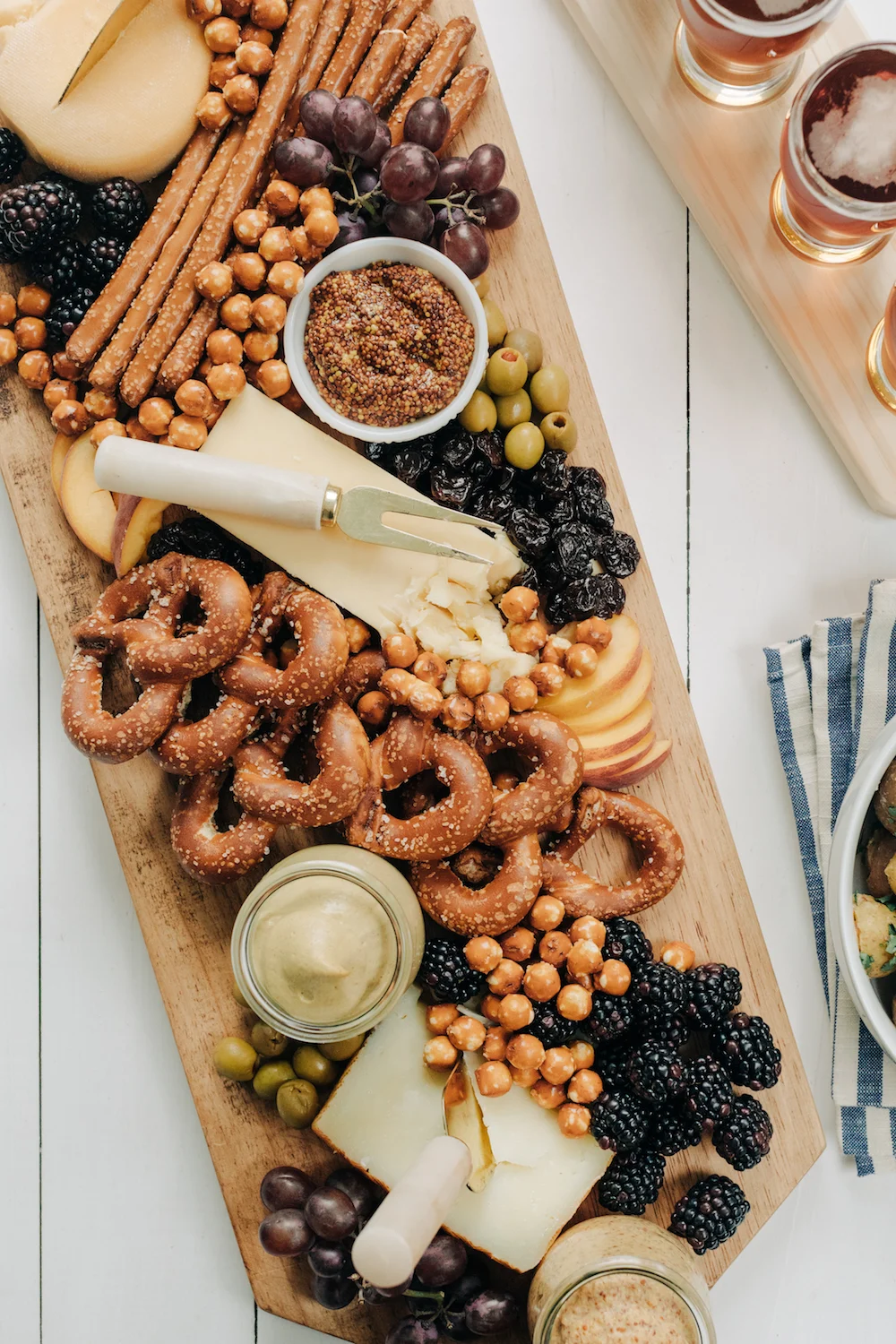 Are you suffering from FOMO – that is, fear of missing Oktoberfest? Even during a time of social distancing you can enjoy all the fun and flavors of Oktoberfest by celebrating at home and I'm excited to show you how!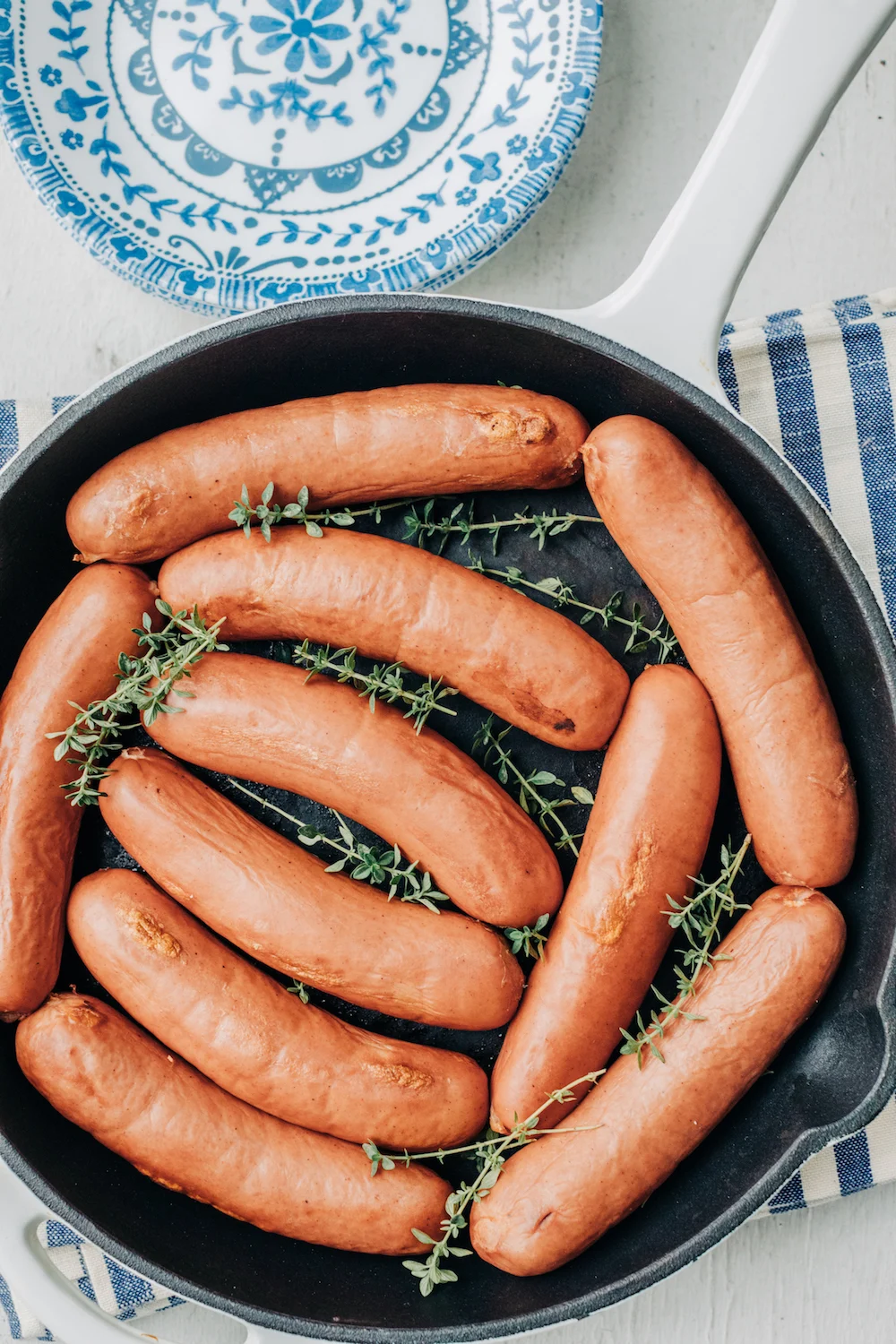 The cornerstone of any great Oktoberfest party is, of course, the menu. Snyder's of Hanover Pretzels are essential to Oktoberfest, and I love a good cheeseboard, so I created a pretzel snack board loaded with Snyder's Pretzels, mustard and cheeses to serve as the star of the show – it did not disappoint.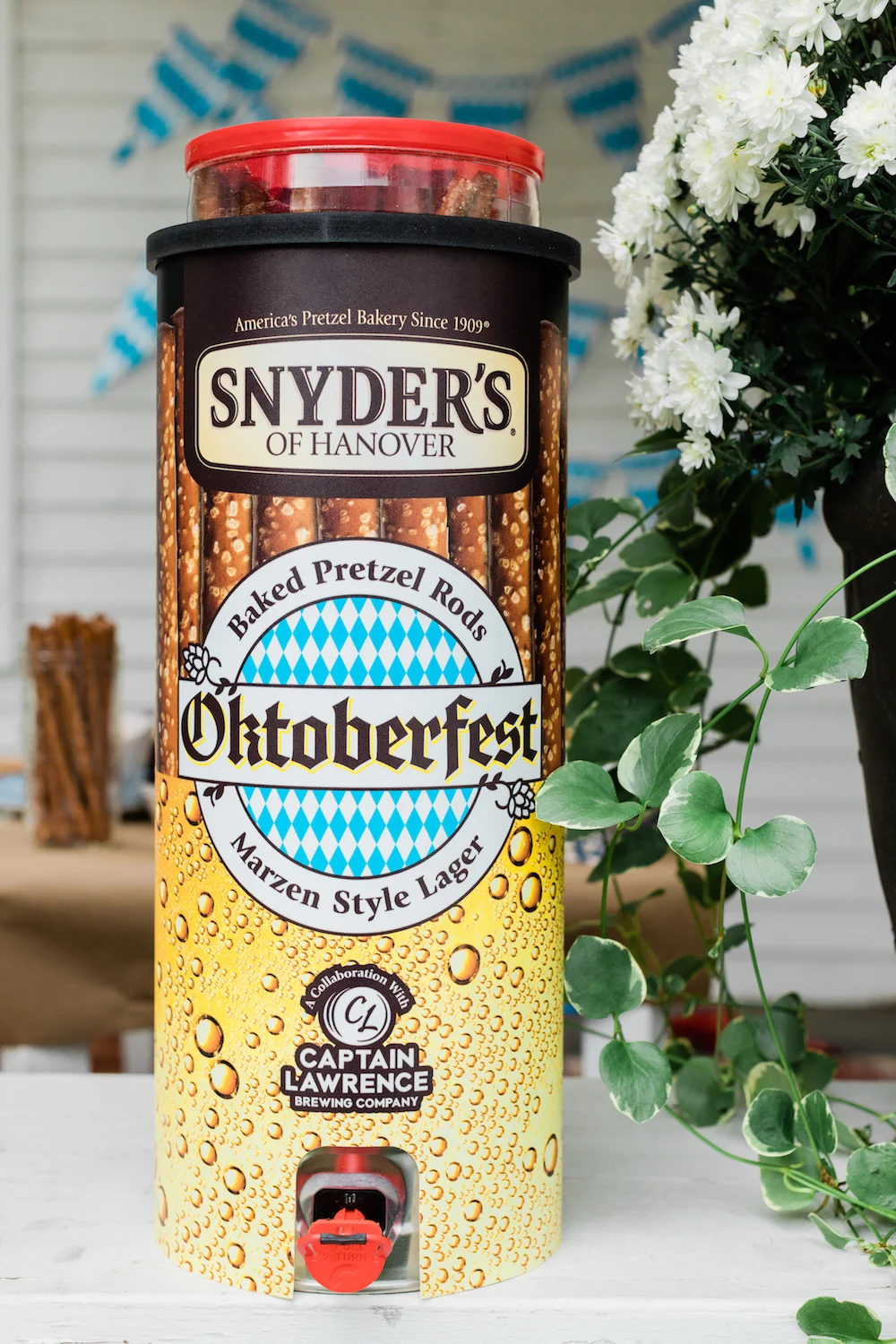 We also had so much fun with the Snyder's Pretzel Keg! It's an awesome collaboration with Captain Lawrence Brewing Co. pairing their epic Oktoberfest brew with Snyder's of Hanover pretzels. It's so cute and a great novelty for an at-home celebration.
I'm a big believer that small, at-home celebrations can be just as fun as the big parties we're used to attending. Add a few special elements like great decor, a unique menu, and a little something unexpected (like a pretzel keg!) to make it feel more festive than your typical weekend hangout.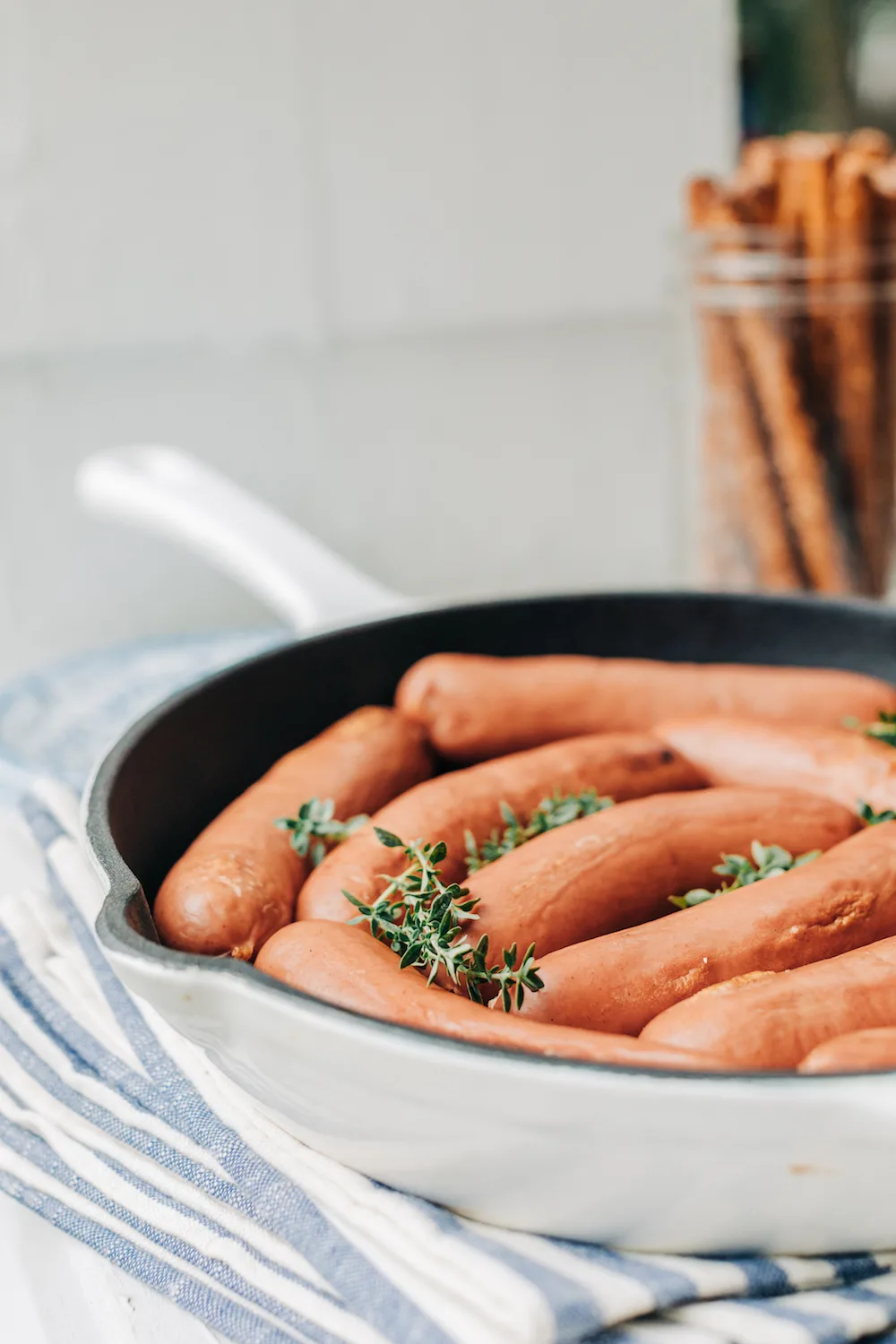 Planning the Menu: The Best Oktoberfest Food
Pretzel snack board – The crown jewel of my Oktoberfest menu was a pretzel snack board loaded with a variety of Snyder's of Hanover Pretzels, cheese, fruit and olives.
Snyder's Pretzel Keg – In a super fun collaboration with Captain Lawrence Brewing Co., Snyder's of Hanover created the Snyder's Pretzel Keg which includes 5-liters of Oktoberfest beer and a 27oz pretzel canister! It's the perfect way to kick off your Oktoberfest.
Traditional Oktoberfest sausage – Knockwurst, weisswurst or bratwurst are all traditional Oktoberfest options.
German potato salad – Made with a warm, mustard-based dressing it's the perfect complement to pretzels and sausage
Sauerkraut – No Oktoberfest menu is complete without sauerkraut – make it your own or buy it pre-made and serve it in a big bowl alongside your choice of sausage.
Assorted mustards – I included a trio of fancy mustards with my pretzel snack board – pretzels taste best with mustard, you know!
Cheese dipping sauce – I also love Synder's of Hanover pretzels dipped in cheese sauce, so a dipping sauce was required
Seasonal beers – A selection of seasonal beers served up as beer flights add a fun, festival-inspired touch that will make you feel like you're in a biergarten.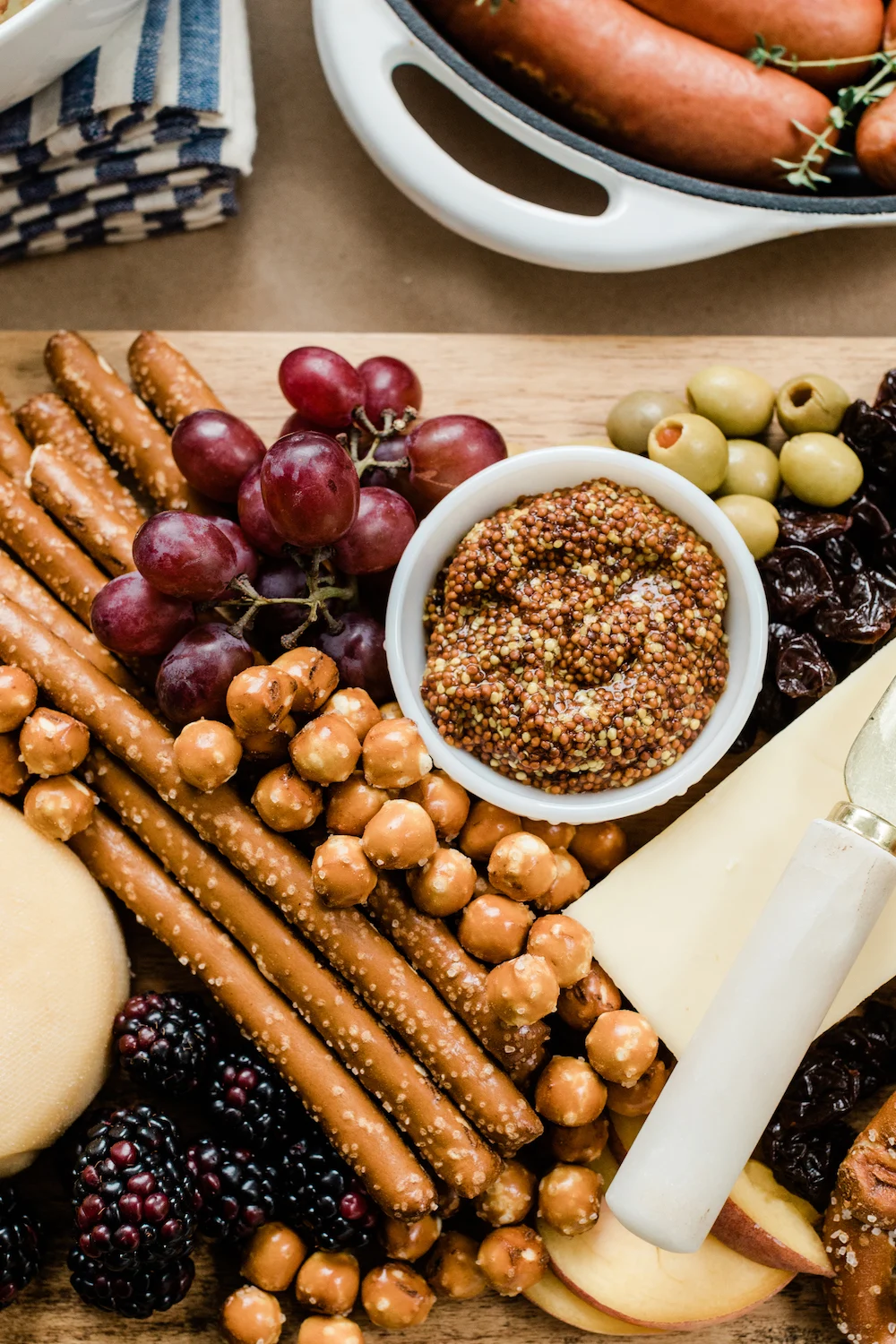 Ingredients for a Pretzel Snack Board
Assorted pretzels from Snyder's of Hanover – I love love love pretzels so I chose three varieties for my pretzel snack board – the Snyder's of Hanover Rods, Rounds and Sourdough Hard Pretzels. (I am now totally obsessed with the Rounds!)
Cheese – I suggest two to three kinds of cheese for your snack board. I opted for a manchego, an extra sharp white cheddar and a smoked gouda.
Mustards – A variety of tangy mustards is a necessary addition alongside your pretzels. I choose a smooth dijon mustard, an old style grain mustard, and a brown mustard.
Fruit – Because it's Oktoberfest, I went with fruits that were a bit more autumnal inspired. Grapes, sliced peaches, fresh blackberries and dried cherries paired nicely with the other flavors of cheese, pretzels and mustards.
Olives – No snack board is complete without olives (in my opinion) so simple, briny green olives were the perfect finishing touch.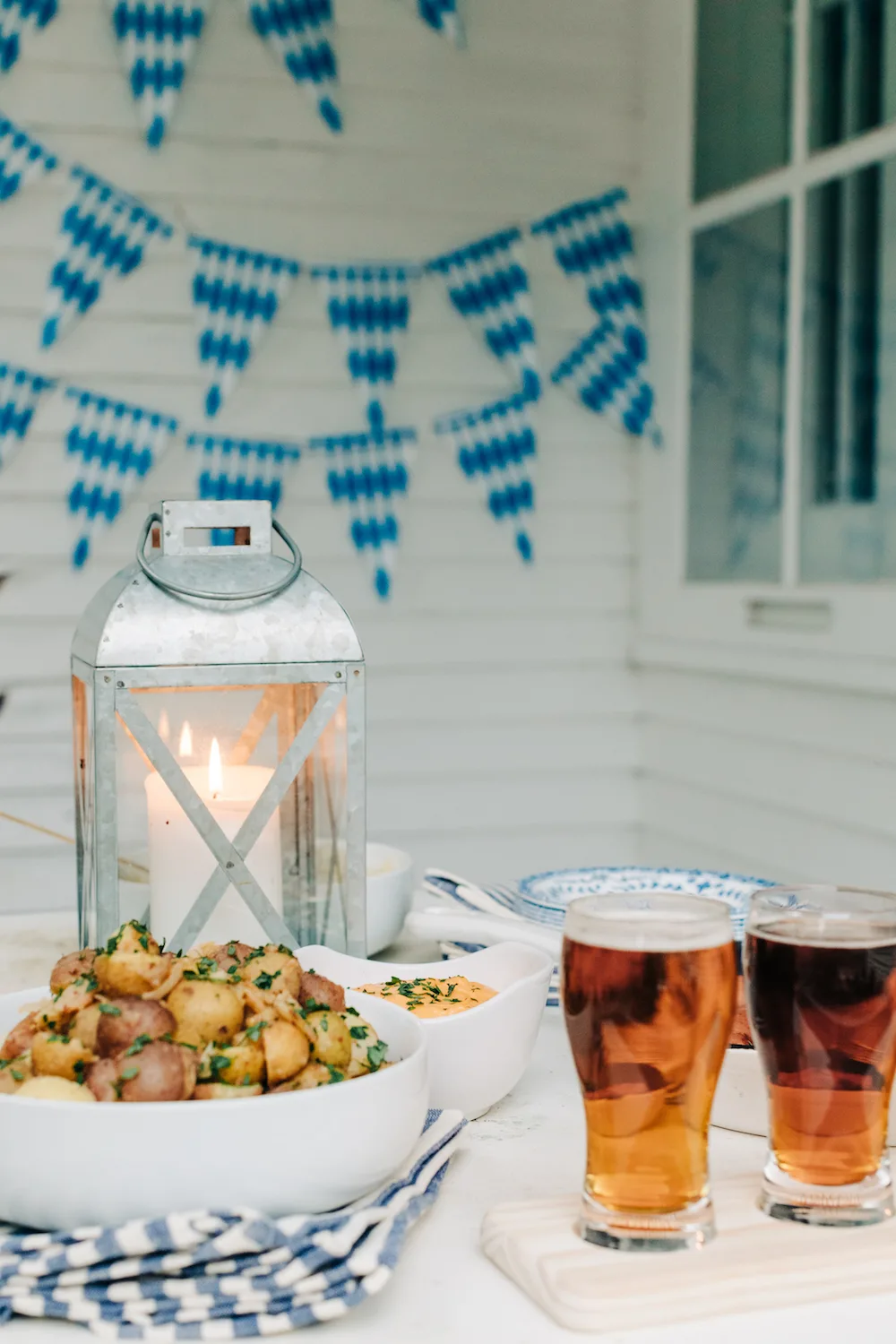 Keeping to a small guest list (and observing social distancing best practices) allows you to create a really fun Oktoberfest party without a lot of fuss. Experiment with a few new dishes, pick up some seasonal beers to play around with a beer tasting, and spend a little time elevating your experience to create an Oktoberfest that is really memorable, without the crowds.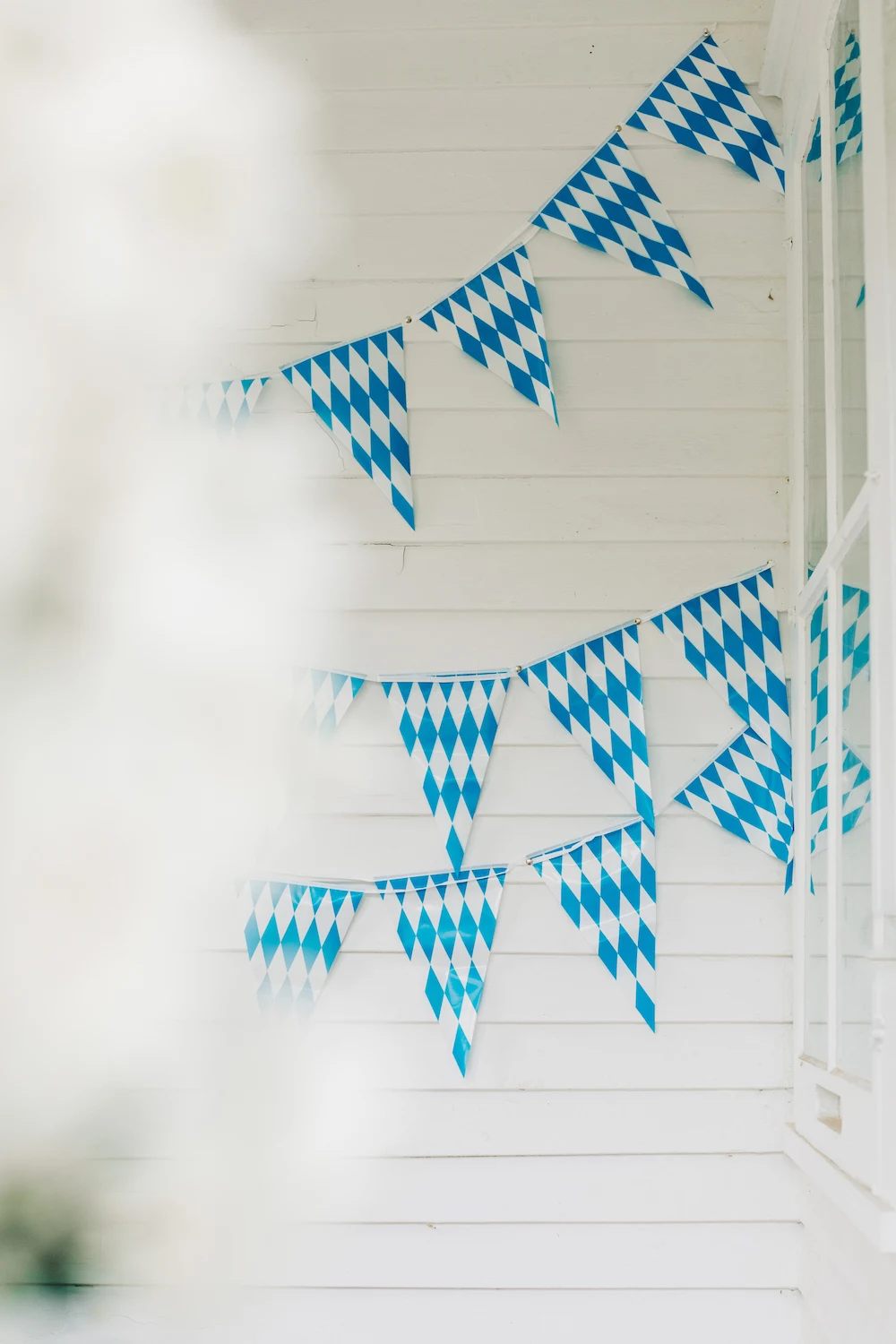 Choosing Oktoberfest Party Decorations
Blue + white color palette – The Bavarian flag features a blue and white lozenge or diamond pattern that shows up at most Oktoberfest celebrations. Your interpretation doesn't have to be literal, but layering linens and tablewares in shades of blue and white will pay homage to a traditional Oktoberfest.
Bavarian lozenge bunting – Keeping in mind my note above about not having to be literal, I was able to find very inexpensive Bavarian lozenge bunting that I hung up as a backdrop on our back porch that totally dressed things up very quickly and easily.
Seasonal flowers – I reused big posts of white mums from our patio, but any seasonal flowers or any basic white flowers like carnations are a nice extra touch for your outdoor Oktoberfest party.
Galvanized lanterns – Any outdoor lanterns would work, but I opted for galvanized lanterns I already owned to add a bit of warmth to our back porch while playing off old school German beer stein vibes.
Wood boards + serving platters – Many biergartens feature long wooden tables, so I made sure to include some touches of wood in the pretzel snack board, the menu and the beer flight paddles to add a bit of warmth.
Kraft paper runner – Use inexpensive kraft paper to create a table runner and a white paint pen to write the word 'prost' which is German for cheers! Use a pencil to practice your lettering before going back over with the paint pen.
Menu board – I've included a few tips below for how to create a menu board similar to mine, but you could also create a menu on the computer and print it onto kraft paper to keep it even simpler.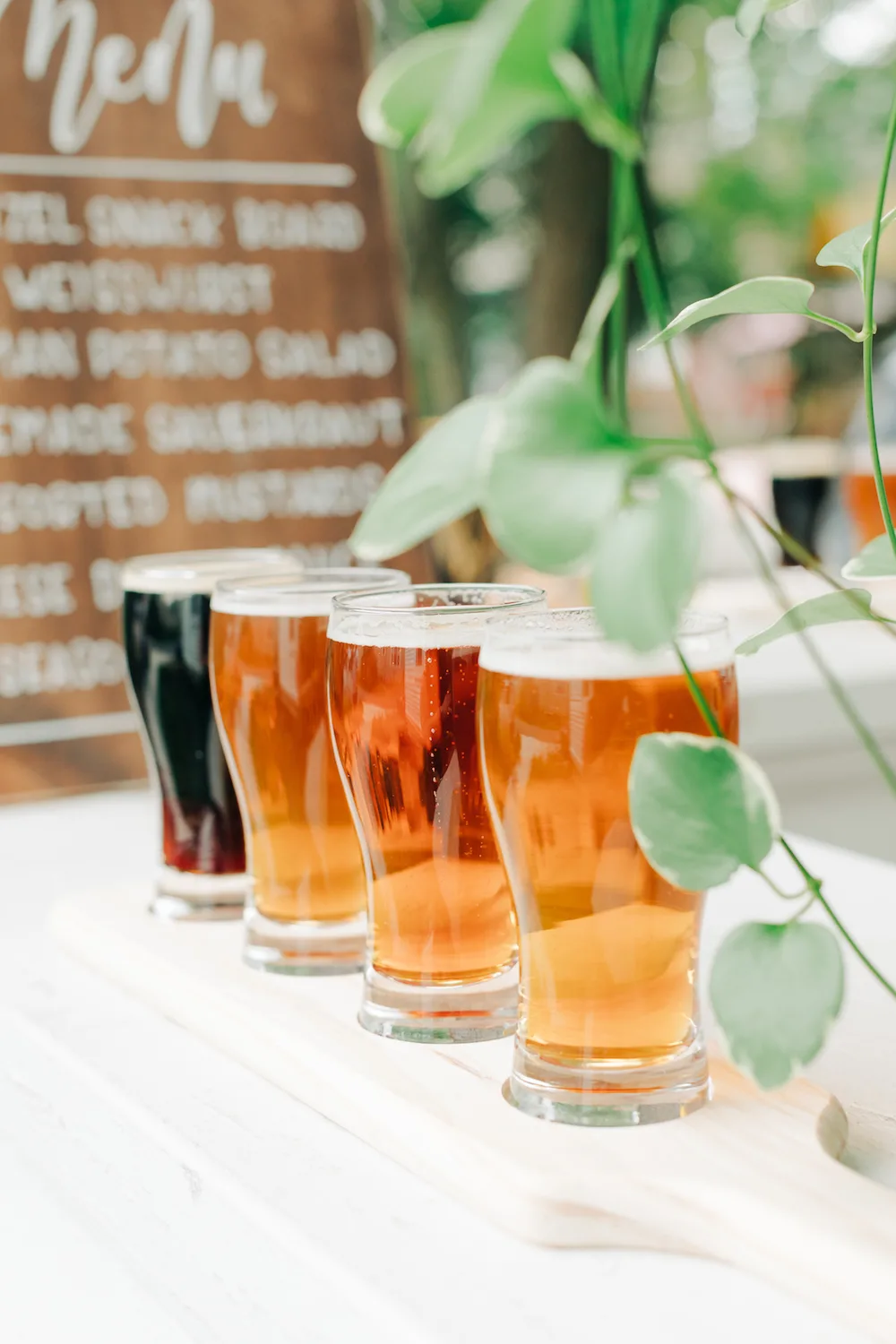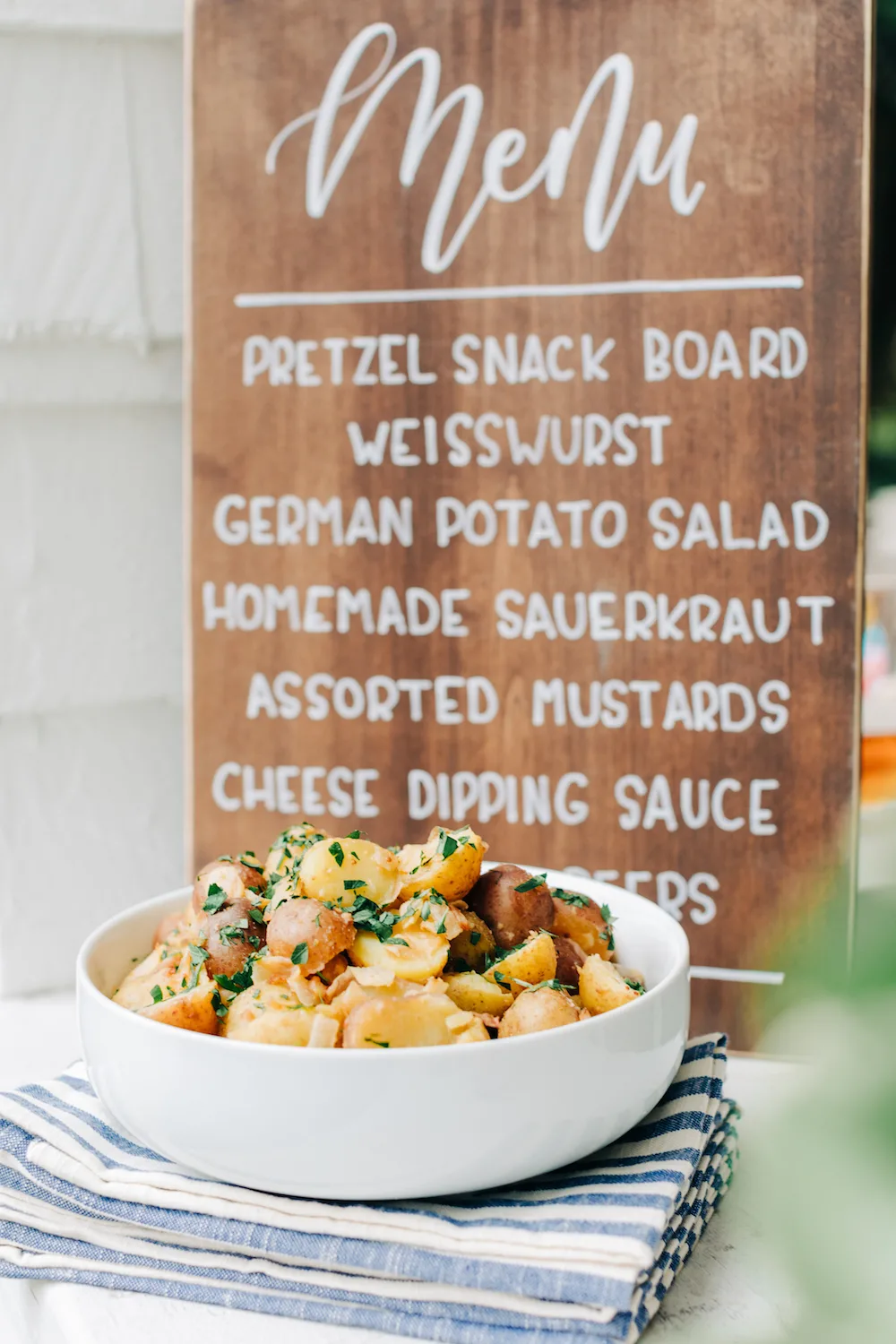 How to Make a Menu Board
While I had a very talented friend help with creating the lettering for my menu board, you could create a similar look using a vinyl cutting machine if you don't love your handwriting. Alternately, pick the person with the nicest handwriting to write the menu items out on a board with a paint pen after first blocking everything out lightly with pencil.
My board was created with a scrap piece of wood that was already stained, which you can also easily do. You'll want to make sure the surface is nice and smooth for the best results when using your paint pen.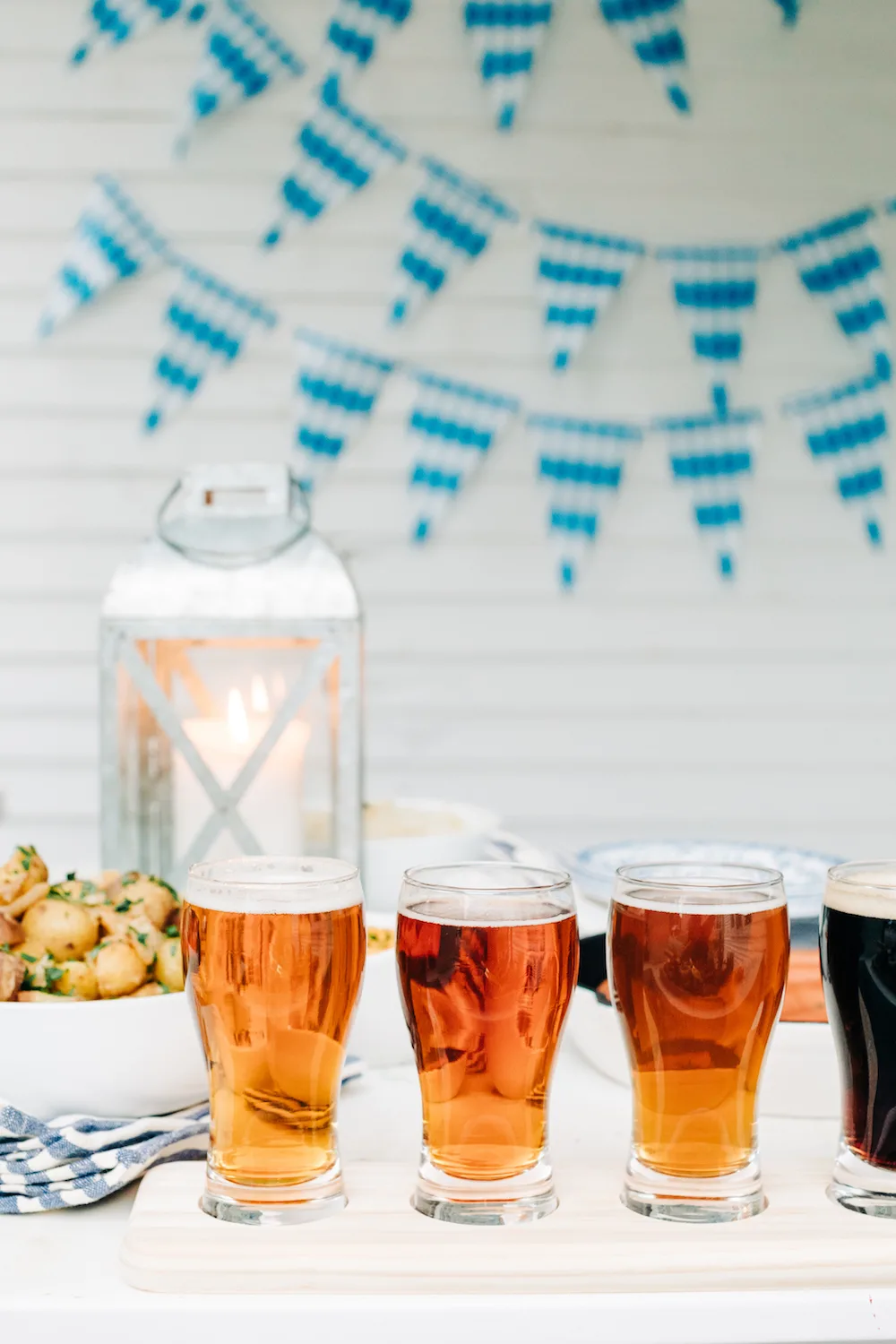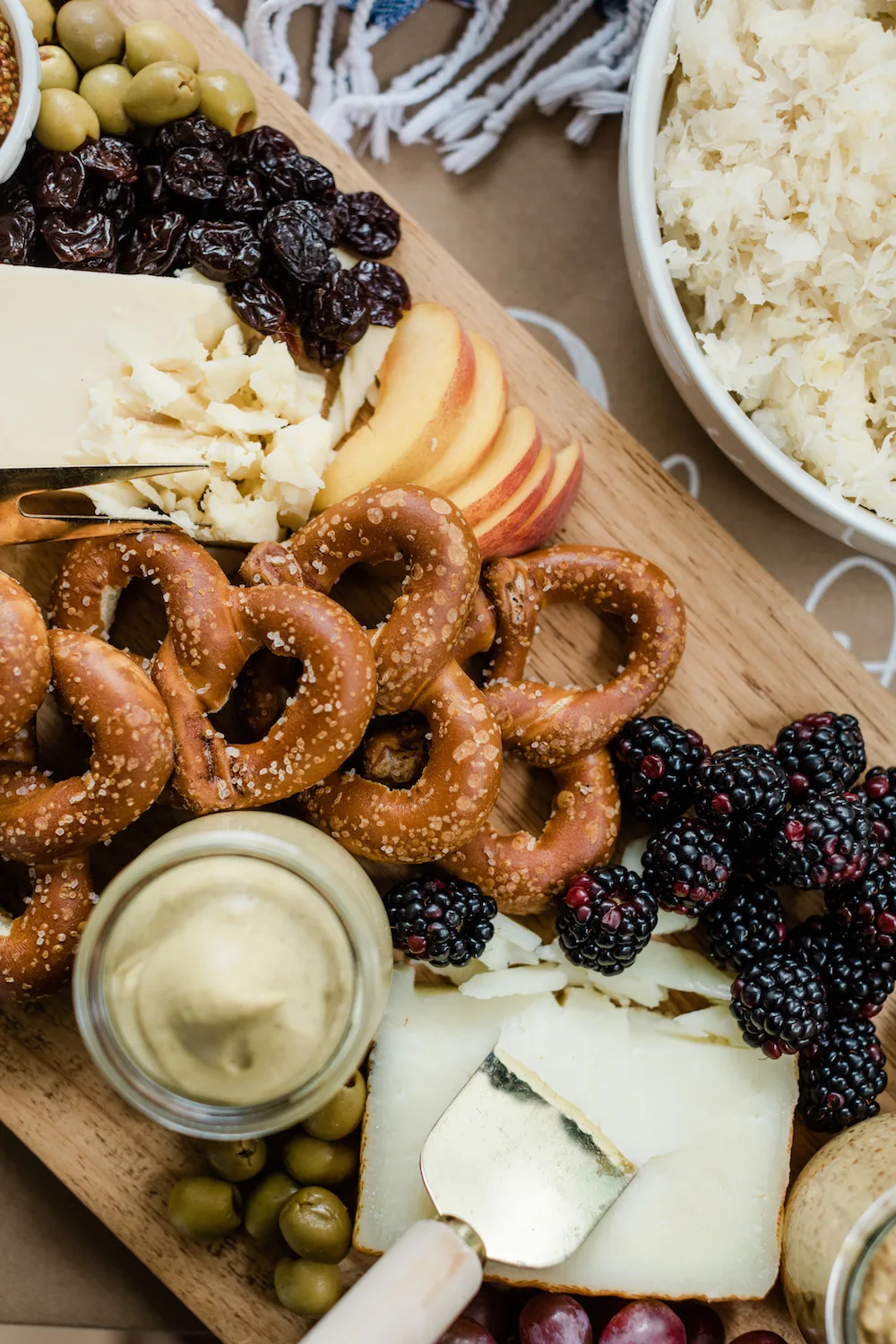 Say goodbye to your FOMO (fear of missing Oktoberfest), grab a couple of friends from your bubble, pick up a pretzel keg and a few bags of Snyder's of Hanover pretzels (don't forget the mustard, cheese and beer!) and you can have an easy, chic and festive Oktoberfest party that you'll talk about for years to come. Prost!