This easy tomato tart recipe is the perfect way to use your summer tomato haul. It features a light, flaky puff pastry crust and a flavorful ricotta cream cheese filling, packed with great summer flavor.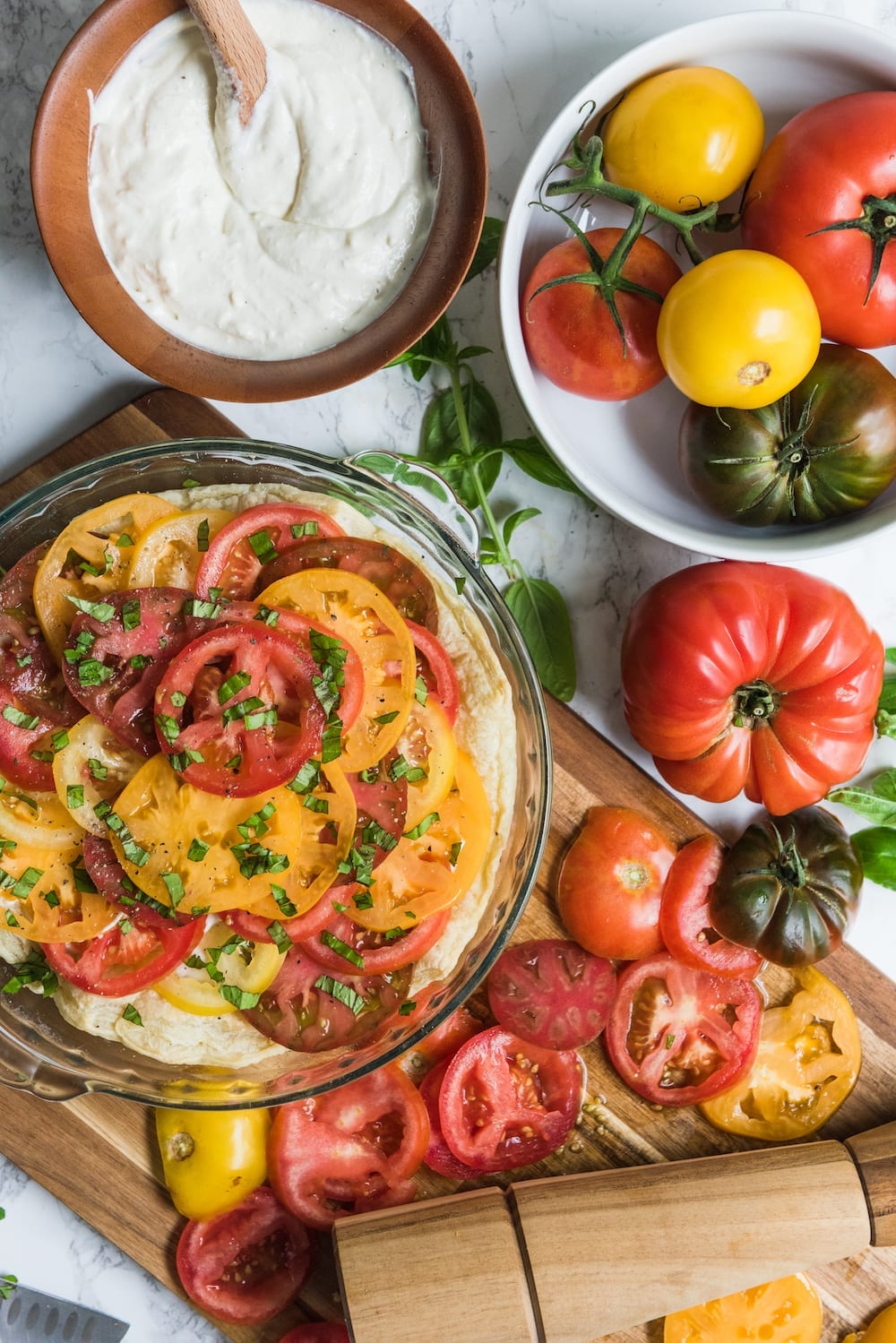 I love an easy recipe for summer parties, easy weeknight dinners and just generally maximizing my time spent enjoying summer versus being tethered to the kitchen. This fuss-free tomato tart recipe is just such a dish!
It makes the most of ripe tomatoes fresh from the garden or farmer's market. It's light, tasty and perfect for bringing to a summer potluck.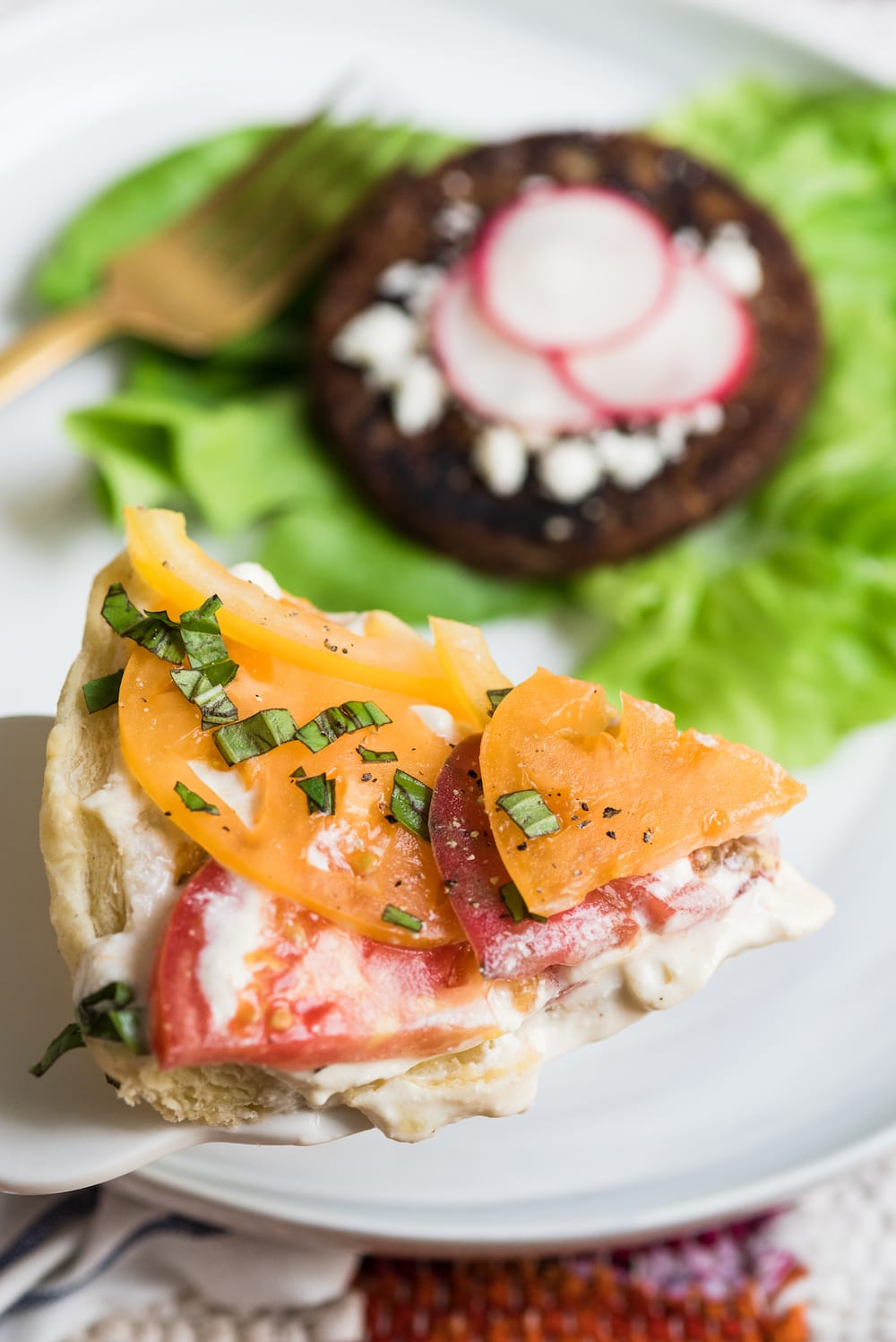 I don't love turning my oven on during the summer – or honestly even the stove when I can avoid doing so. I prefer cooking on the grill or eating things that are cold.
That said, this tomato tart recipe is totally worth turning the oven on for, especially since it doesn't have to bake long and shouldn't heat the house up too much.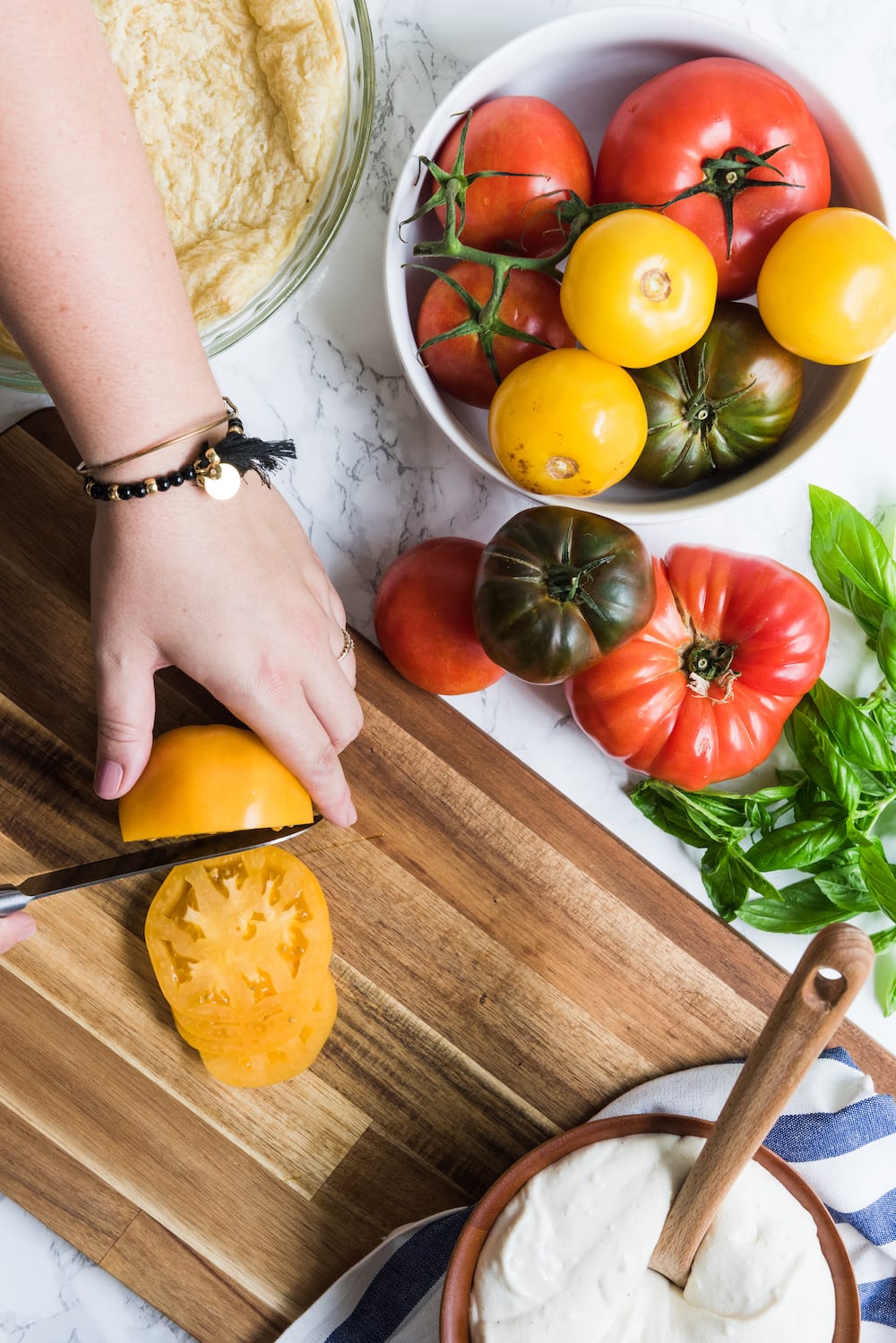 If you can get your hands on heirloom tomatoes, all the better. If not, no worries – just find the juiciest beefsteak or roma tomatoes you can find.
Fresh basil is a must! The base of the tart is puff pastry from the freezer section at the grocery store holding a creamy ricotta and cream cheese filling.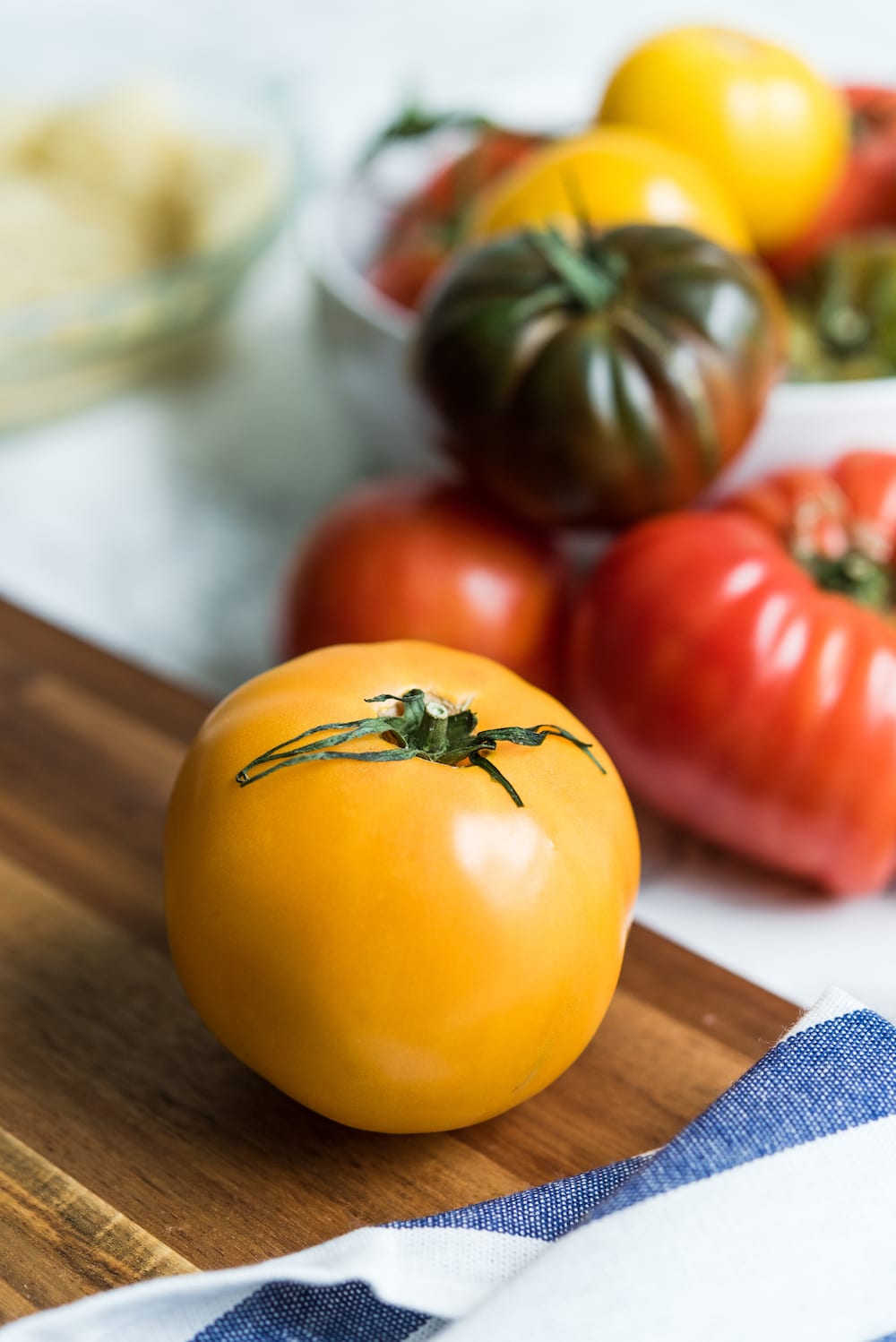 Tomato Tart Ingredients
Puff pastry – For this recipe I use frozen puff pastry to keep things as simple as possible
Ricotta – Homemade ricotta is always the way to go (and it's easy to make) but ricotta from the grocery store totally works
Cream cheese – Mixed with the ricotta, the cream cheese imparts a great creamy texture to the base of this tomato tart recipe
Honey – A touch of honey adds a light sweetness to the creamy filling
Salt and pepper – Classic salt and pepper seasons the tart and helps balance all the flavors
Heirloom tomatoes – Large, juicy heirloom tomatoes make the best tomato tart but beefsteak tomatoes also taste great
Basil – In this and almost every other situation, fresh basil is the way to go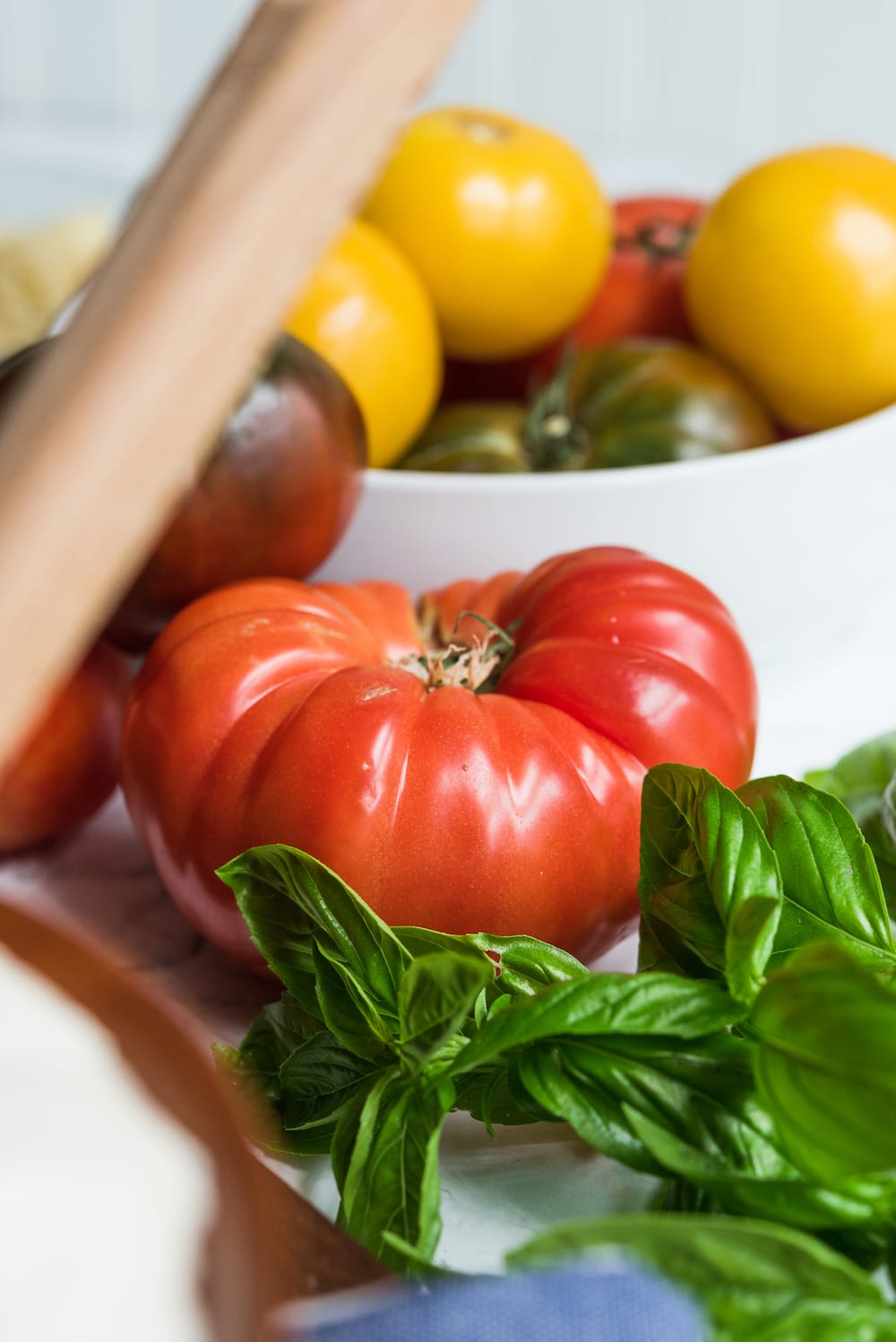 How to Make an Easy Tomato Tart
Begin with puff pastry baked into a pie dish or tart pan. Allow the puff pastry to thaw to room temperature (or just slightly cooler) before baking until just golden.
Puff pastry general comes in a box containing two crusts so you can easily make two tomato tarts if you're feeding a crowd. Alternately, reserve the second crust to use at a later time.
The filling is a mixture of cream cheese, ricotta and honey. It's creamy, the tiniest bit sweet and a touch salty.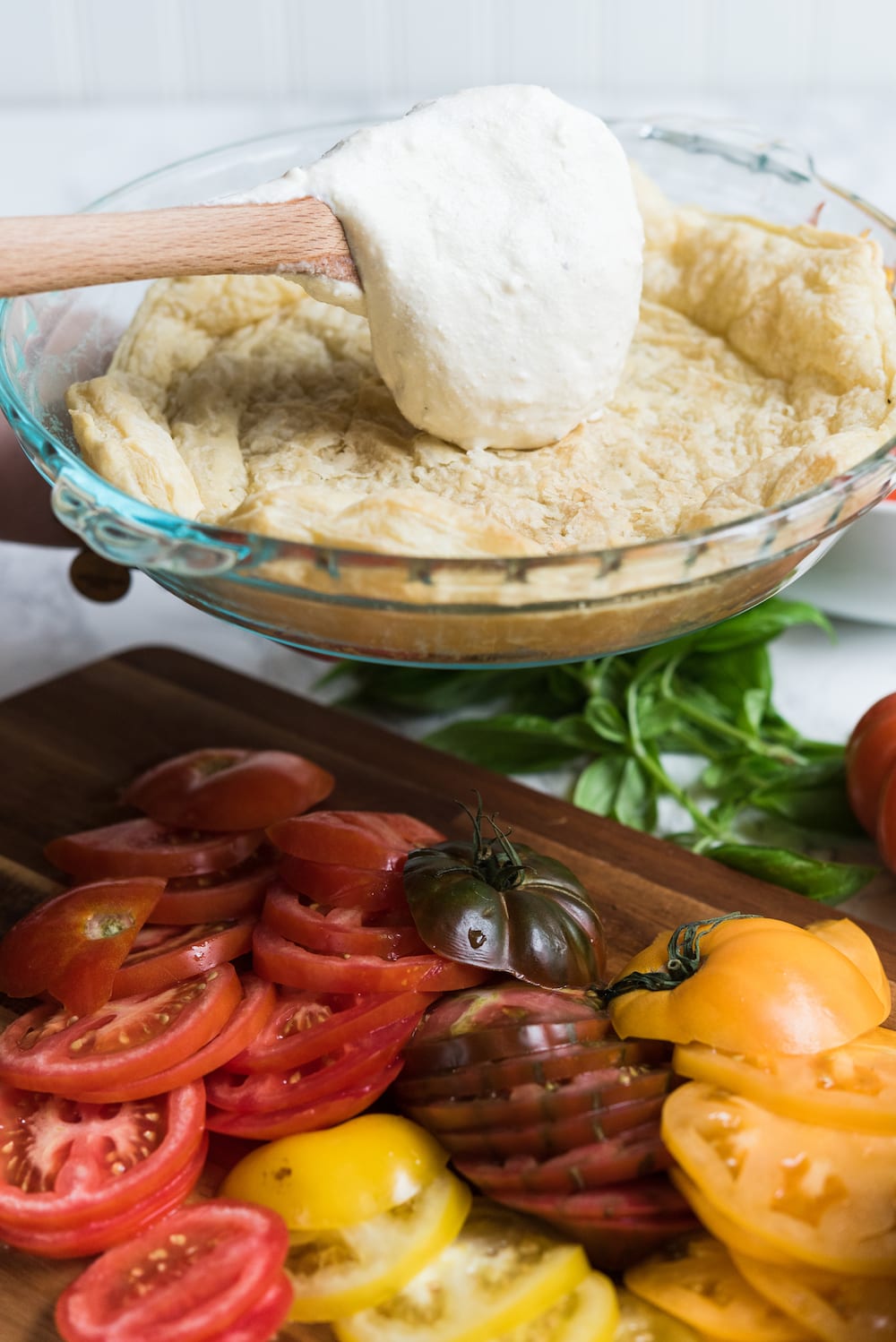 Once baked, allow the puff pastry crust to cool to room temperature before assembling. Then spoon a bunch of the filling into crust, filling it nearly full.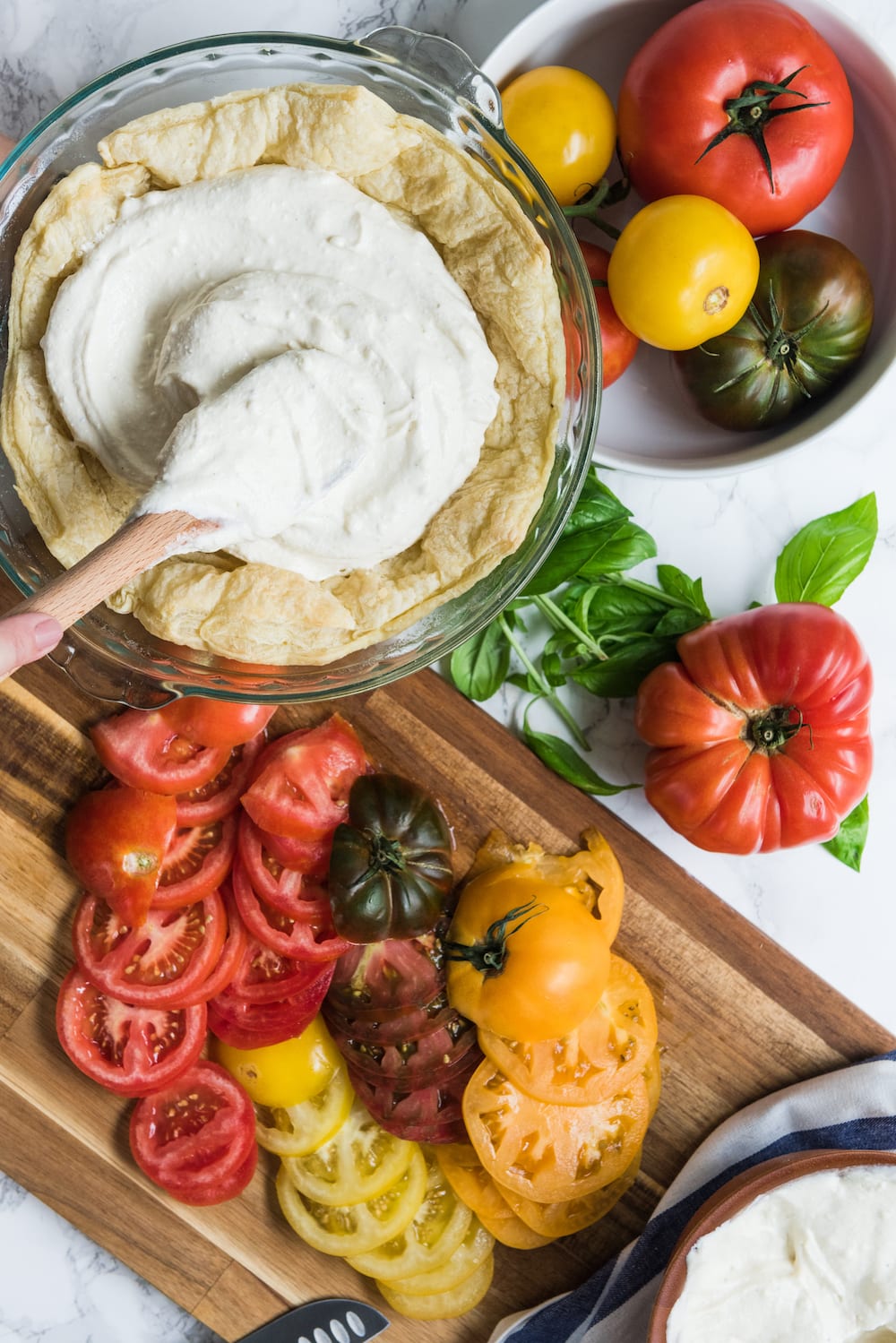 Spread the filling across the crust, making sure to allow just enough room on top to add the tomatoes. The combination of the filling and the tomatoes is decadent but somehow light at the same time.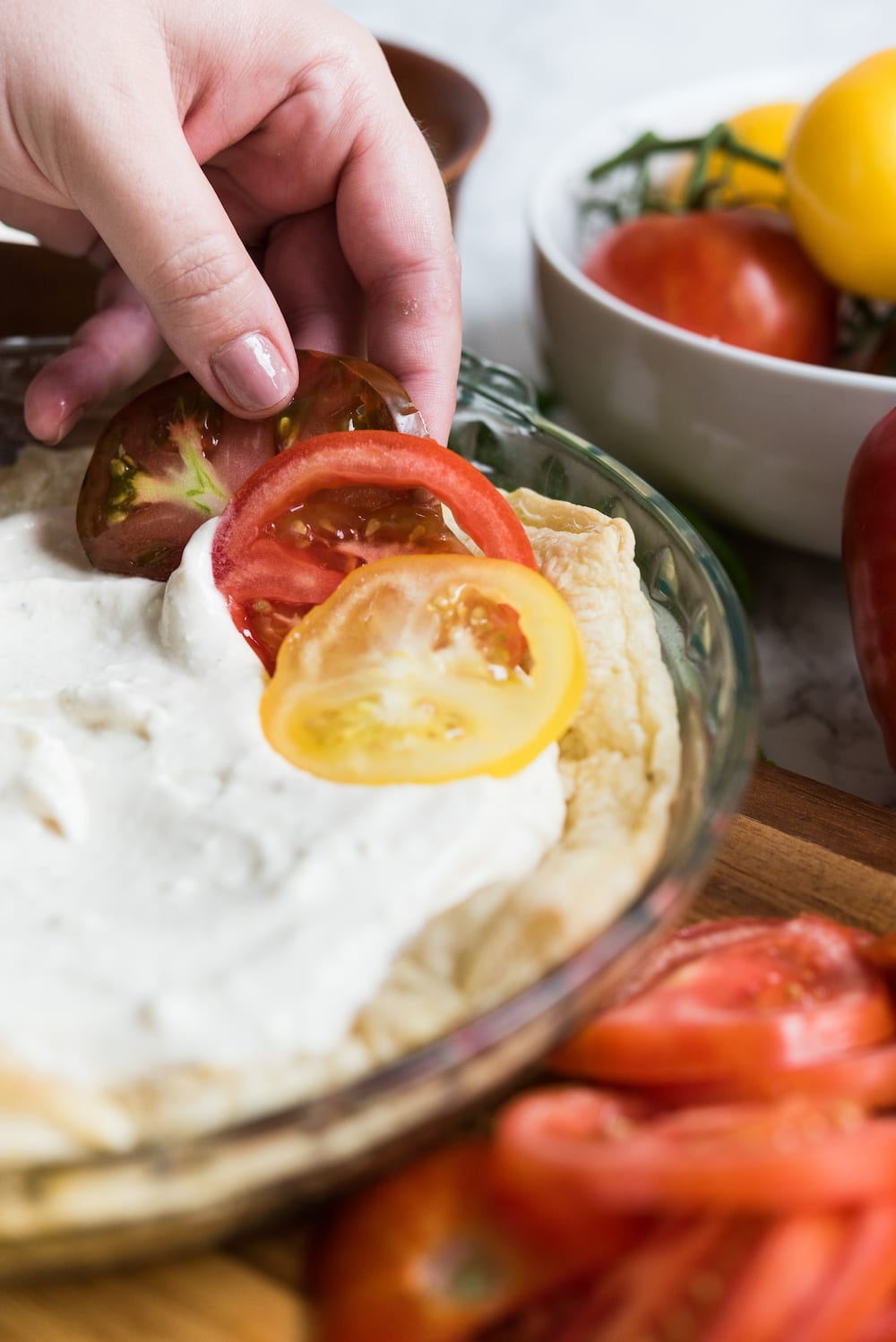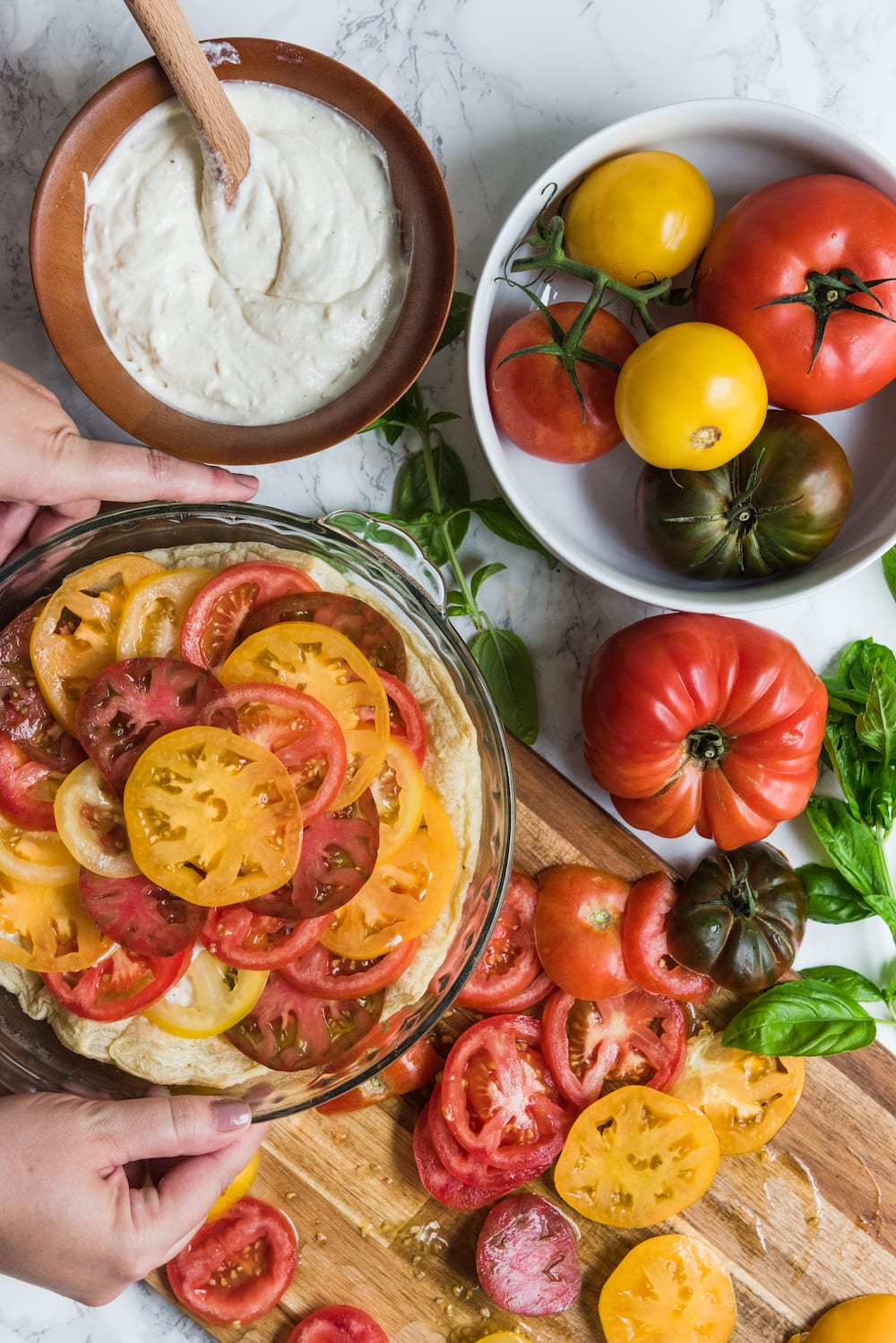 Layer the tomatoes by overlapping them slightly as you fill the filled tart crust starting from the outside and working toward the center. If you have tomatoes of various colors you can alternate colors as you stack the tomatoes into the tart.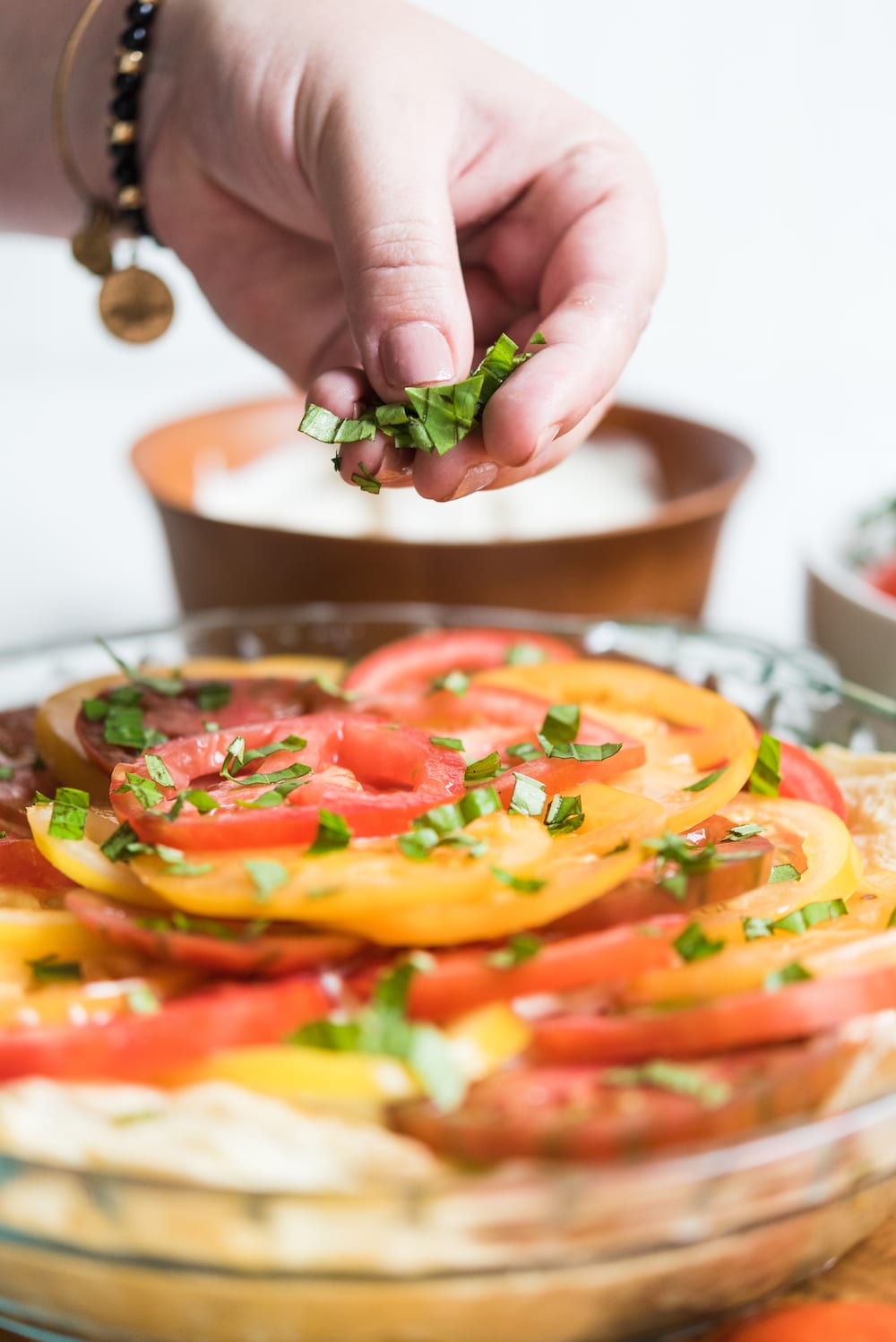 Top everything with a generous amount of fresh basil! No fresh summer tomatoes should ever be without fresh basil.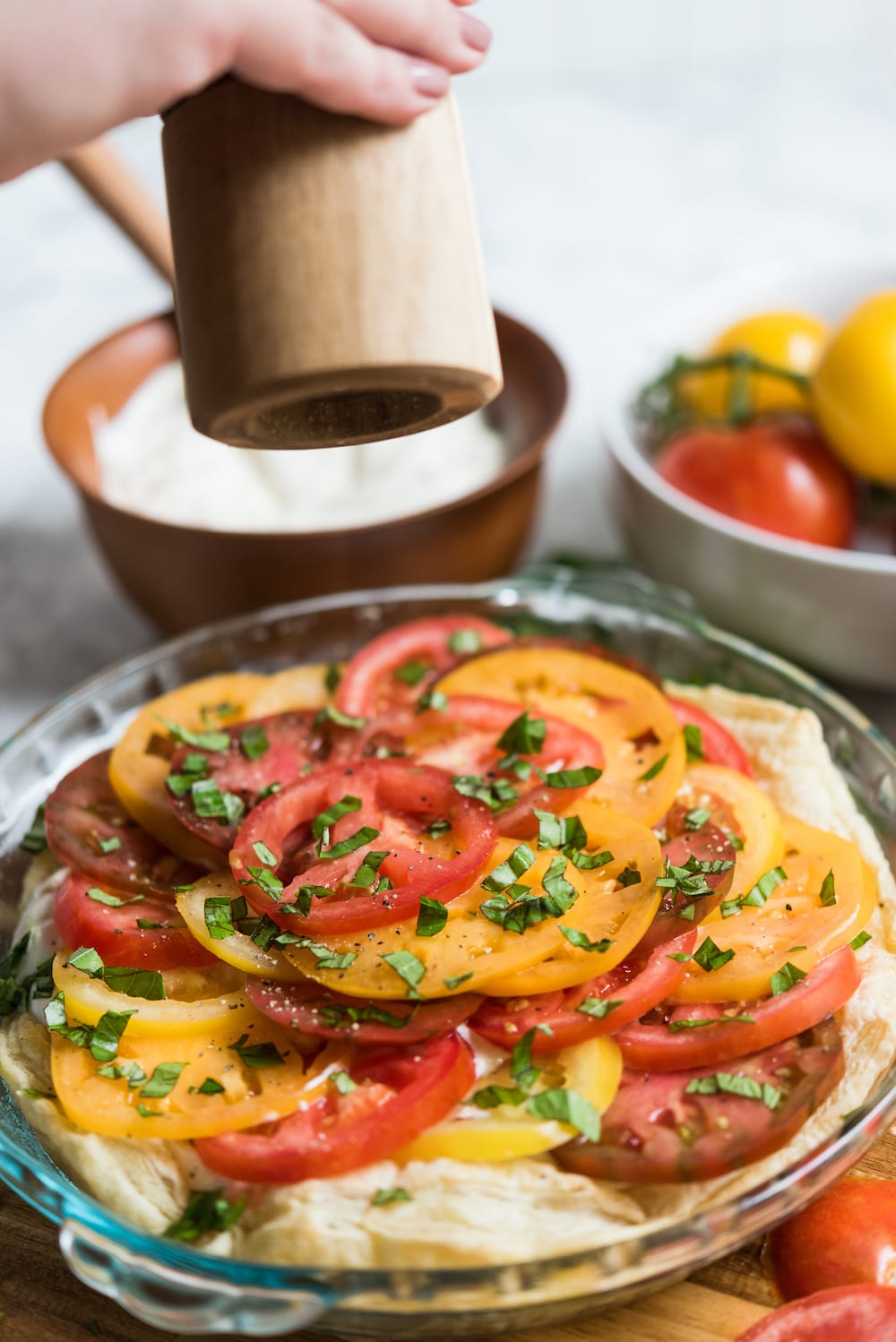 I like to add a big sprinkling of fresh cracked black pepper over top. That said, you should season to taste!
Add more or less to your preference. A big pinch of coarse ground finishing salt also won't make you mad, I promise.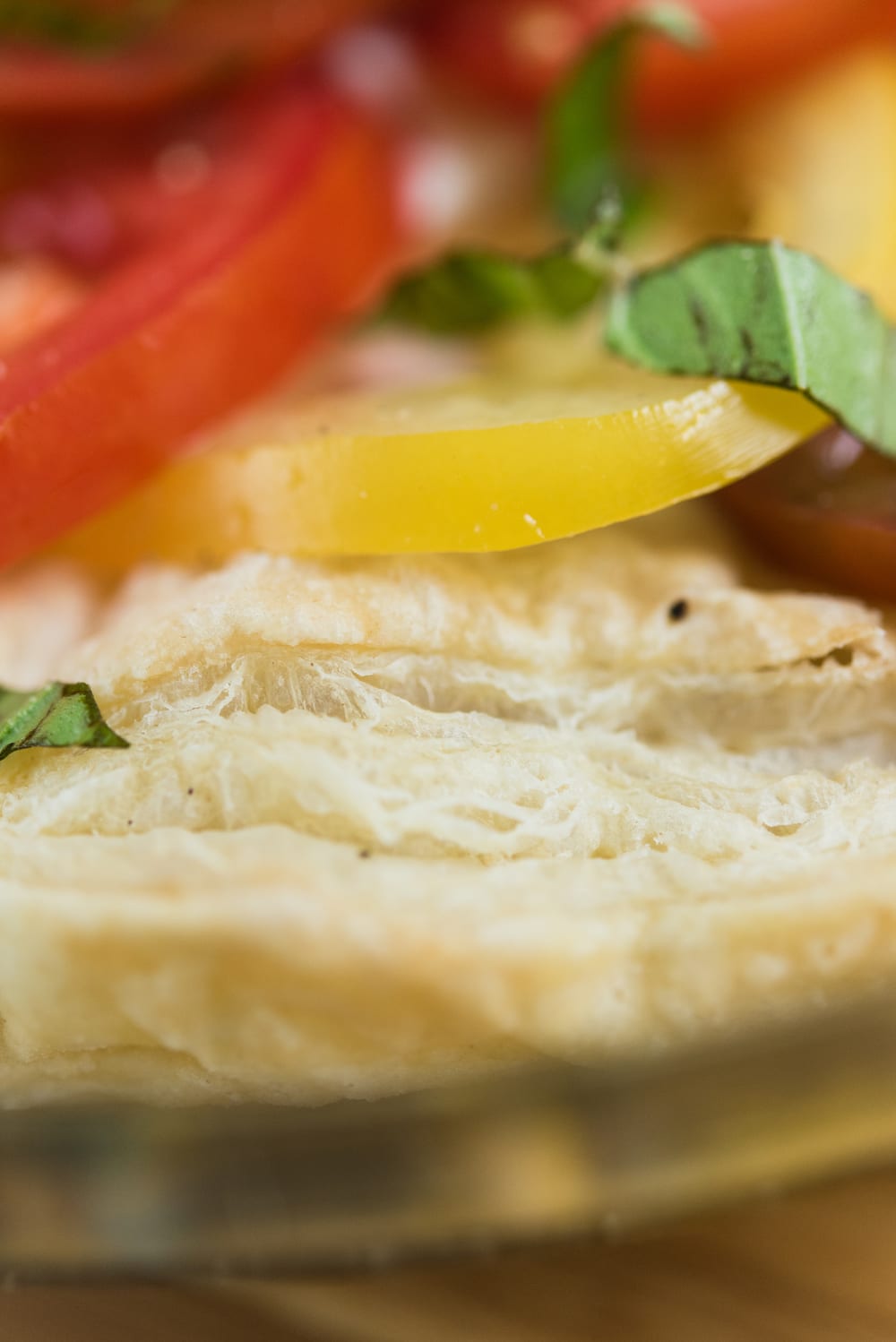 How Long Does Tomato Tart Keep?
This tomato tart recipe is best eaten within several hours of assembling. Over time the tomatoes soften and the texture of the dish takes on a different quality.
Can You Prep a Tomato Tart in Advance?
Generally I recommend serving this tomato tart recipe within an hour or two of assembling. That said, you can prep the crust in advance and assemble with the filling and tomatoes right before serving to help with prep times.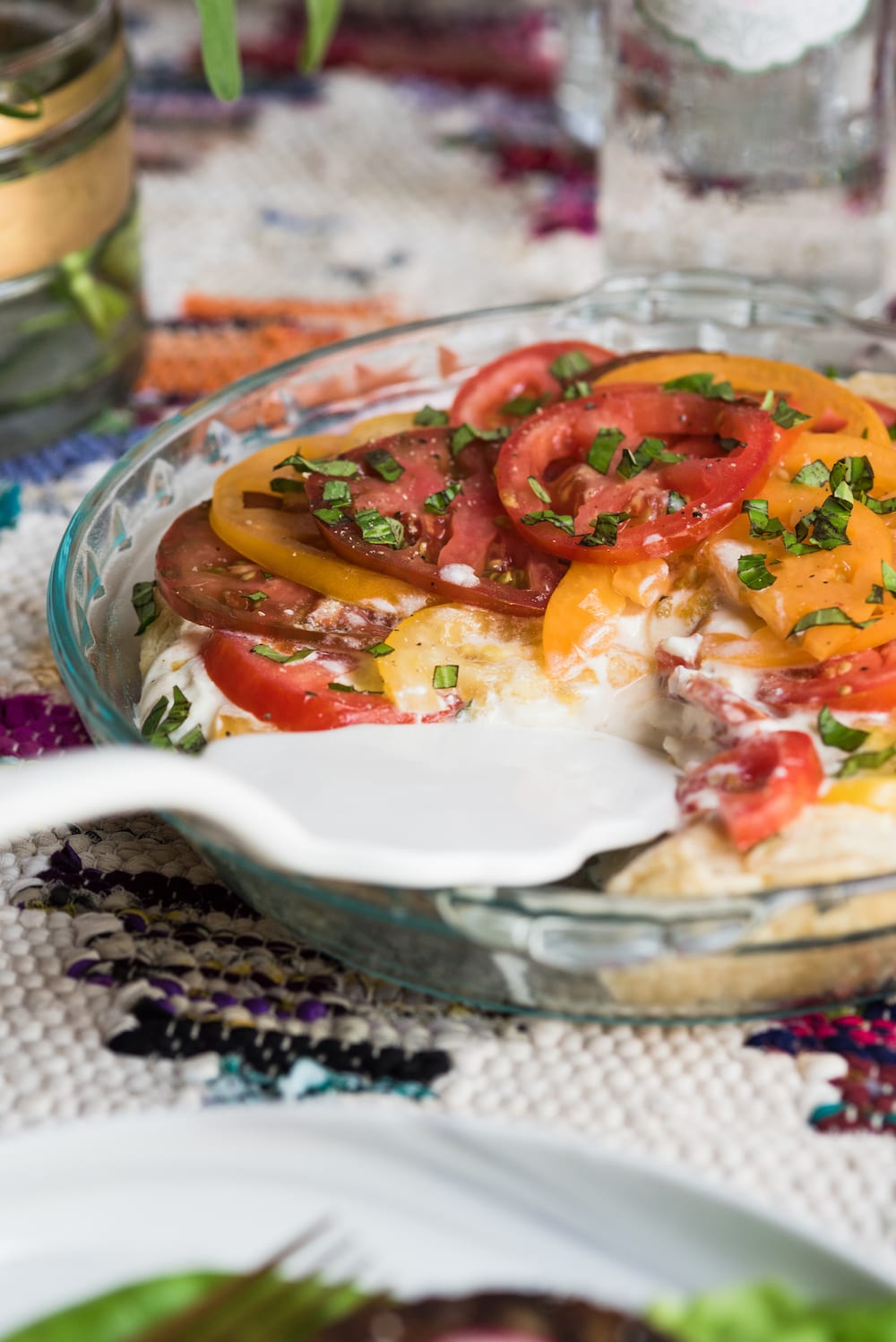 And there you have it, friends! The complete recipe is below.
Looking for More Great Summer Party Recipes?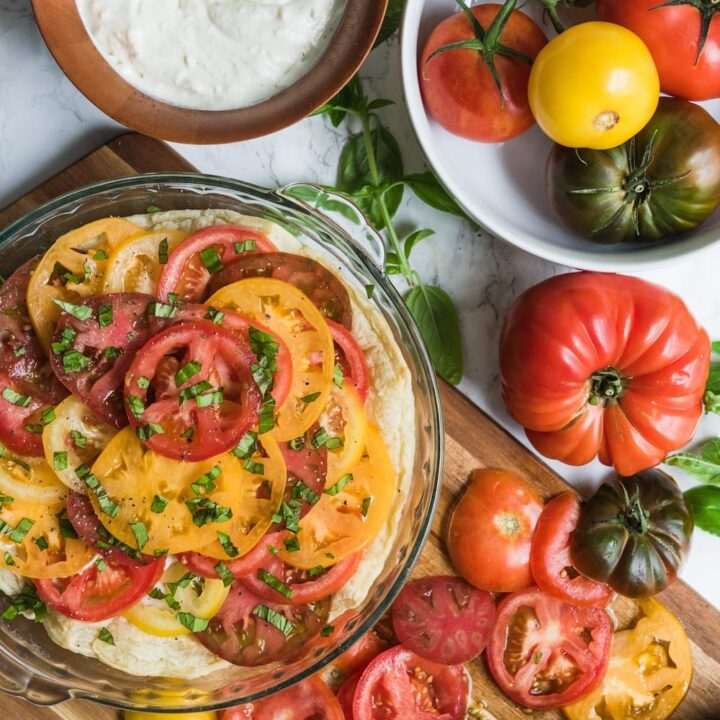 Summer Tomato Tart
Additional Time:
20 minutes
This easy tomato tart recipe is the perfect way to use your summer tomato haul. It features a light, flaky puff pastry crust and a flavorful ricotta cream cheese filling, packed with great summer flavor.
Ingredients
1 puff pastry sheet, thawed
2 cups ricotta
1 cup cream cheese
1/4 cup honey
Salt and pepper to taste
3 large heirloom tomatoes
Fresh basil to garnish
Instructions
Preheat oven to 400°F
Gently unfold and place thawed puff pastry sheet into a 9" round pie dish or tart pan
Use a fork to generously poke the middle of the puff pastry, then bake for 10 - 12 minutes until golden
Meanwhile, prepare the ricotta cream cheese mixture by combining ricotta, cream cheese, honey, salt and pepper in a mixing bowl with a hand mixer and mixing until smooth
Slice tomatoes approximately 1/8" thick - 3 large tomatoes should be enough, or use more tomatoes if smaller
Once the pastry tart cools completely to room temperature, gently push down the center.
Add the cream cheese and ricotta mixture, filling nearly to the top and smoothing out with a knife or spatula
Layer sliced tomatoes on top, completely covering the top of the cream cheese mixture
Sprinkle with chiffonade basil and add more fresh cracked black pepper on top if desired
Serve immediately or chill for up to two hours before serving
My Favorite Summer Picnic Recipes
[Photos by Alice G. Patterson for The Sweetest Occasion.]