These bacon and jam pinwheel appetizers make a simple yet delicious game day snack! They're sure to be your new favorite tailgate food or unexpectedly fun addition to brunch.
Friends, let's chat about Super Bowl weekend. It is hands down one of my favorite weekends of the year! My parents always hosted a big party each year so it always felt like a holiday as a kid.
Now that we host the game each year, I'm all about serving up a few good game day recipes. Today I'm sharing these bacon and jam pinwheel appetizers – they are the perfect Super Bowl party food!
Bacon and Jam Pinwheel Appetizers
Ok, full disclosure. You guys know I'm a vegetarian and it's rare that I feature a recipe with meat here since I don't personally eat such things.
Sort of like my most popular recipe ever for Million Dollar Bacon. It is widely known and accepted that I have never ever tried it…annnnd I never will.
However, this easy recipe for bacon and jam pinwheel appetizers is a crowd favorite around our house and with our friends, so it seemed only appropriate to share it here with you.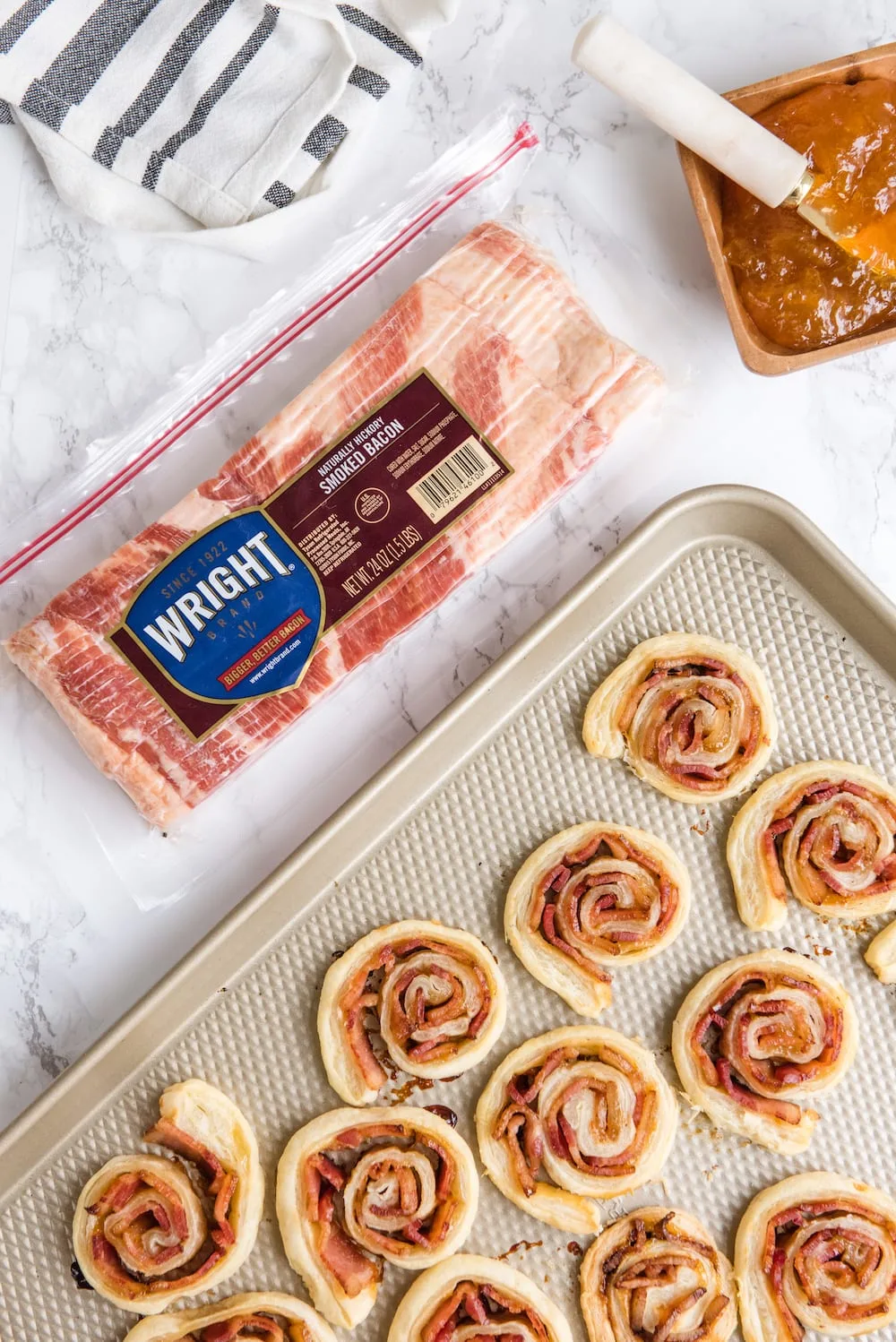 Bacon and Jam Pinwheel Appetizers Ingredients
You need all of three ingredients for this Super Bowl worthy snack, which makes it even better since I loooove a simple appetizer recipe.
Thick cut bacon – The thick cut bacon results in the most decadent pinwheel and it's less likely to burn.
Jam – Get a good quality jam, I suggest something like apricot or fig to pair with the bacon.
Puff pastry – You can find sheets of puff pastry from the freezer section at your local grocery store.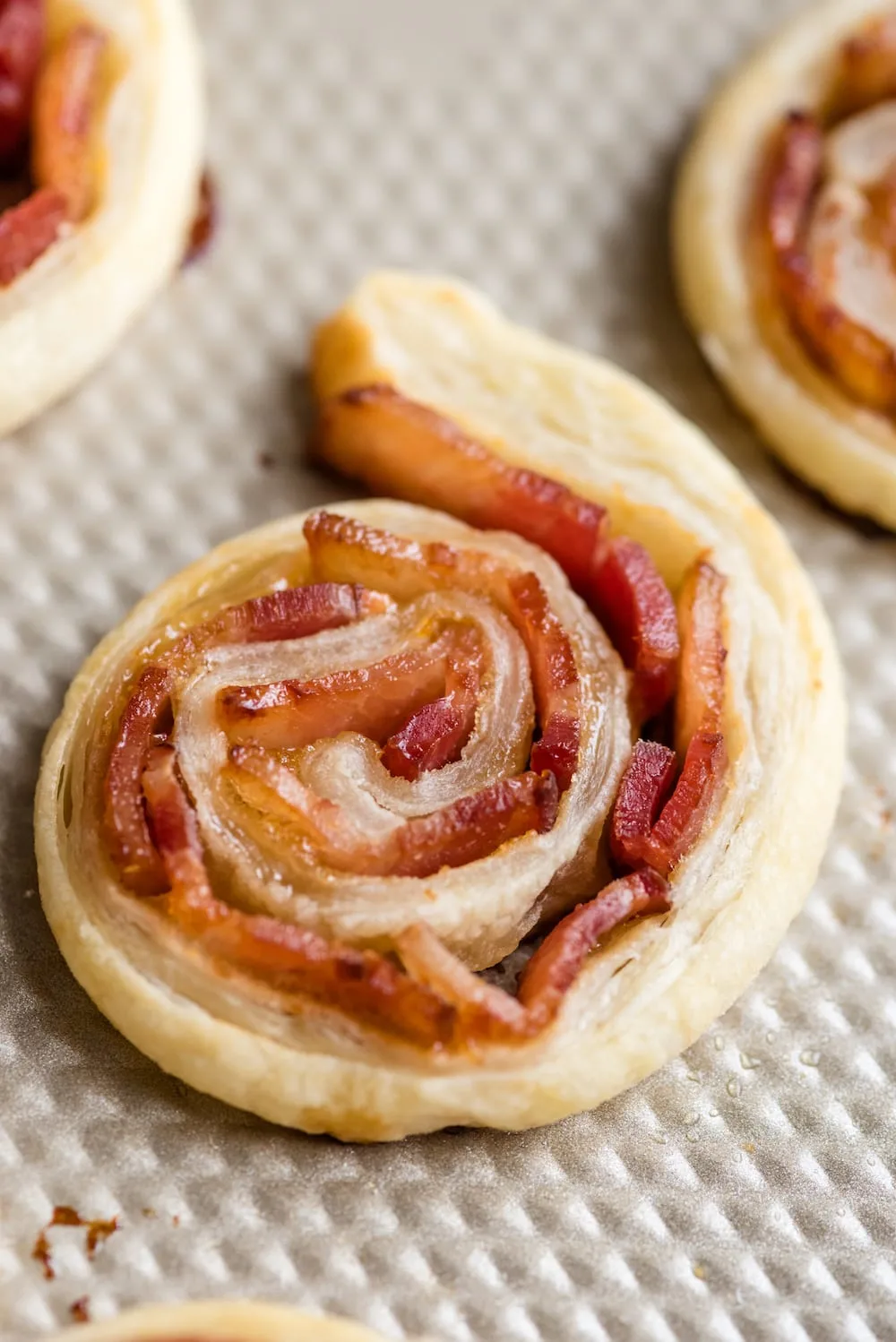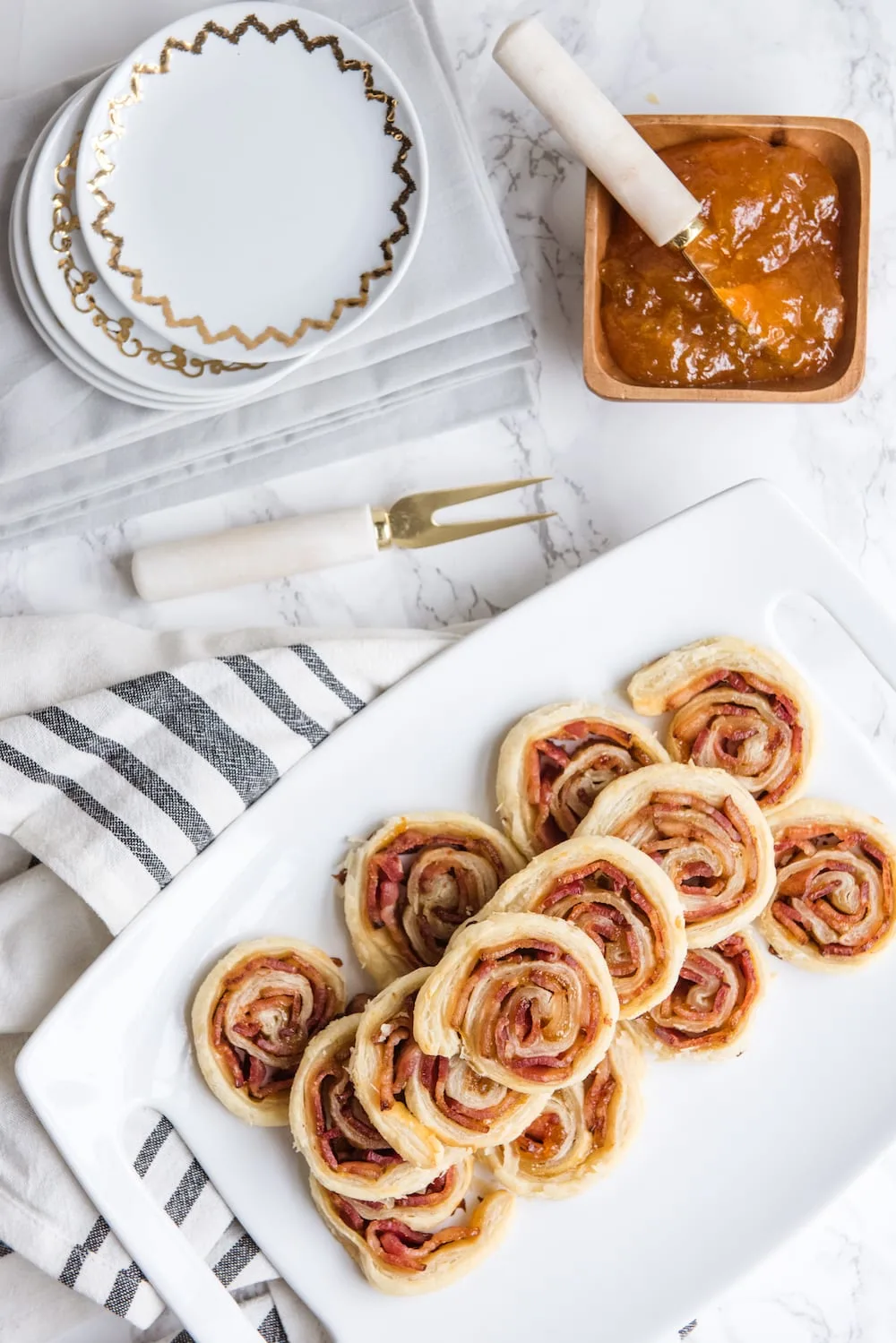 How to Bake Bacon
For best results here, I strongly suggest par baking your bacon on a cookie sheet lined with parchment.
I believe the parchment helps prevent any burning, but it also makes clean up so so much easier.
Lay the bacon out in strips in a single layer, then bake in an oven preheated to 400° for about to 20 minutes to cook it fully, or for 7 to 9 minutes or so to par bake it for this recipe.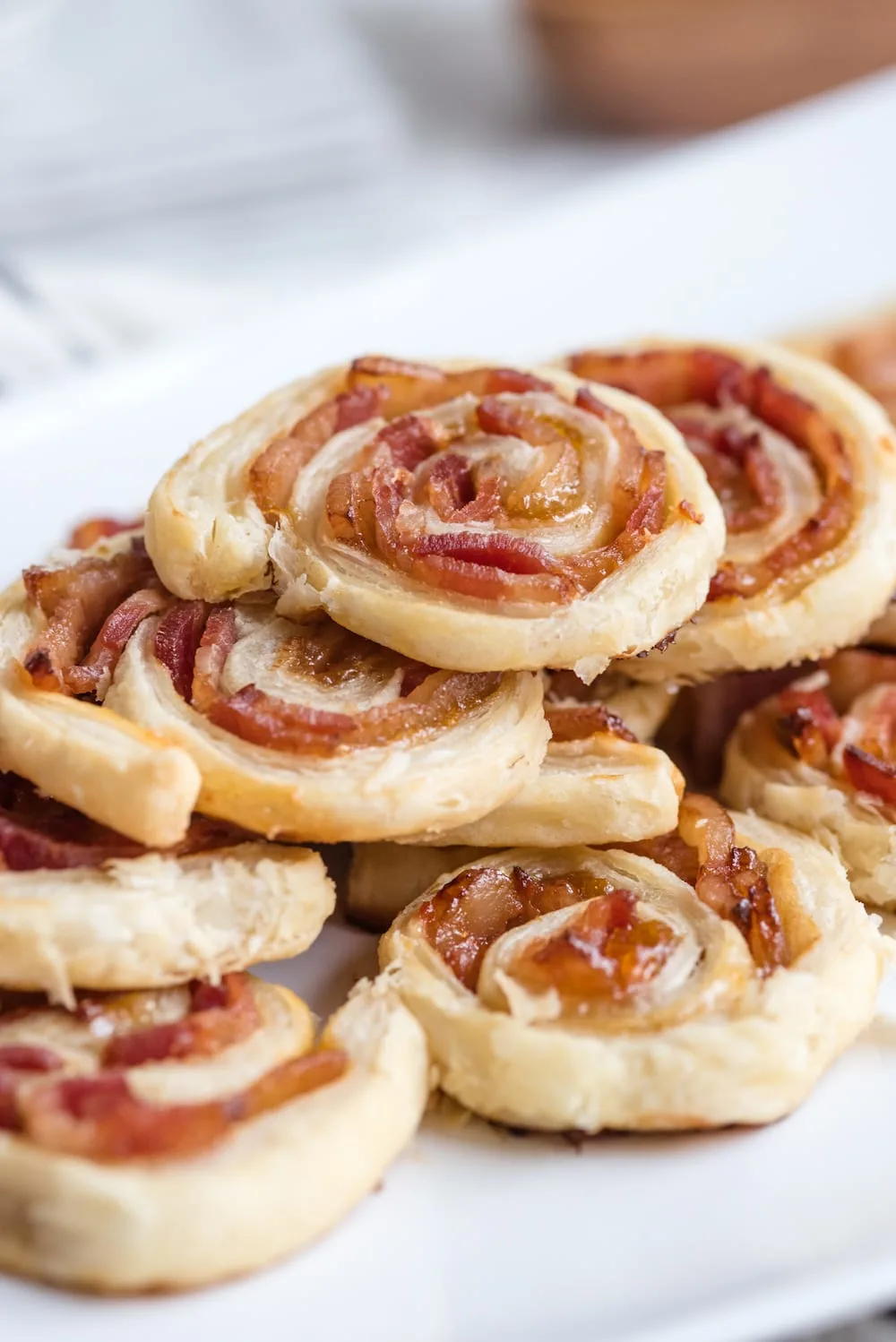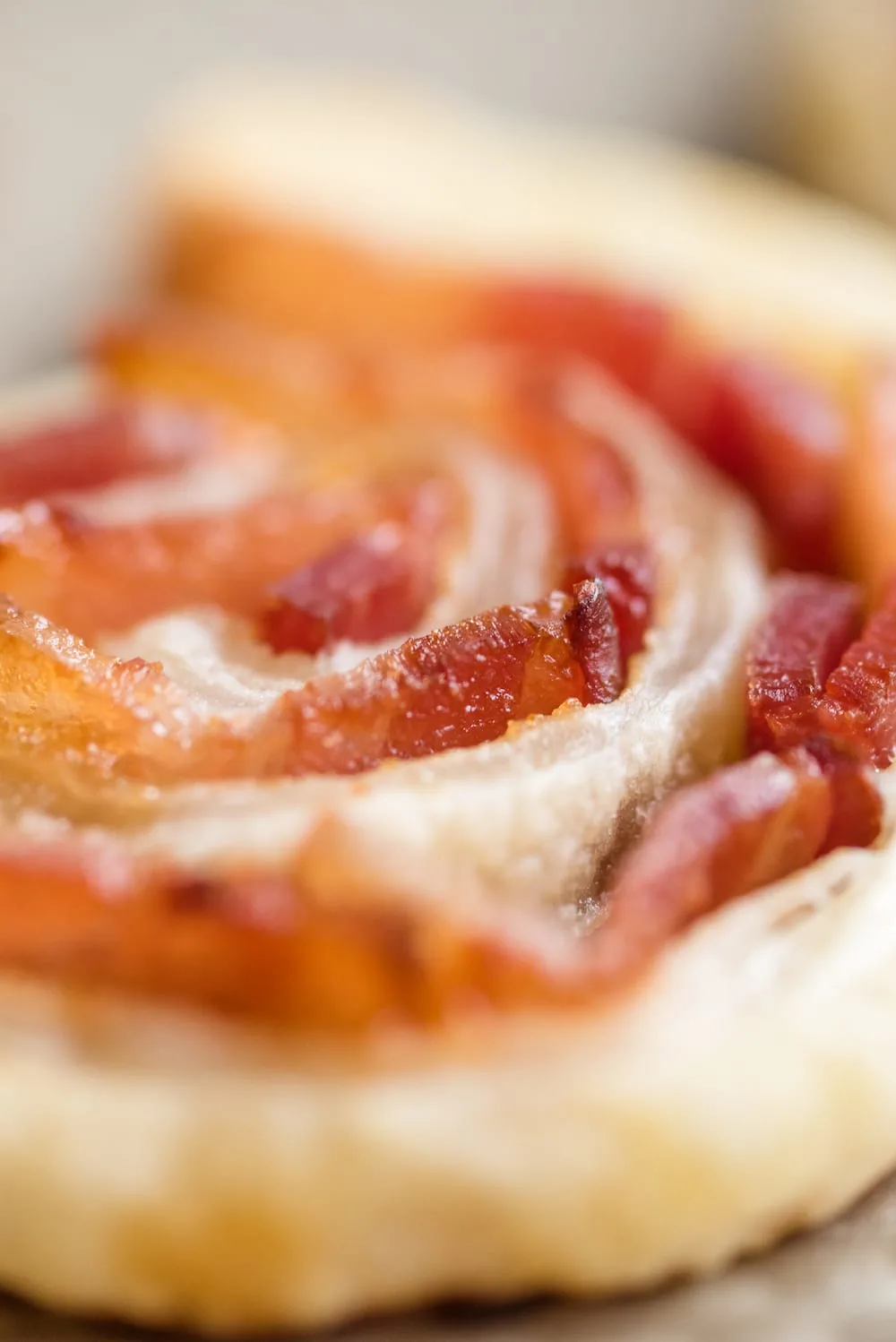 How to Make Pinwheel Appetizers
While your bacon is baking, you can spread the jam on your puff pastry. You'll then add the bacon and gently roll the puff pastry up into a log.
Wrap the log of puff pastry and bacon tightly in plastic wrap, then toss that bad boy in the freezer for about an hour.
Remove it from the freezer, pull off the plastic wrap and then slice into pinwheels and bake. Easy easy easy, just how I like it.
You'll find the complete recipe below or check out more of my favorite, easy Super Bowl recipes such as my favorite cheese meltaways.
My loaded nacho tots served with queso blanco and my mac and cheese stuffed jalapeño poppers are also perfect for game day, too!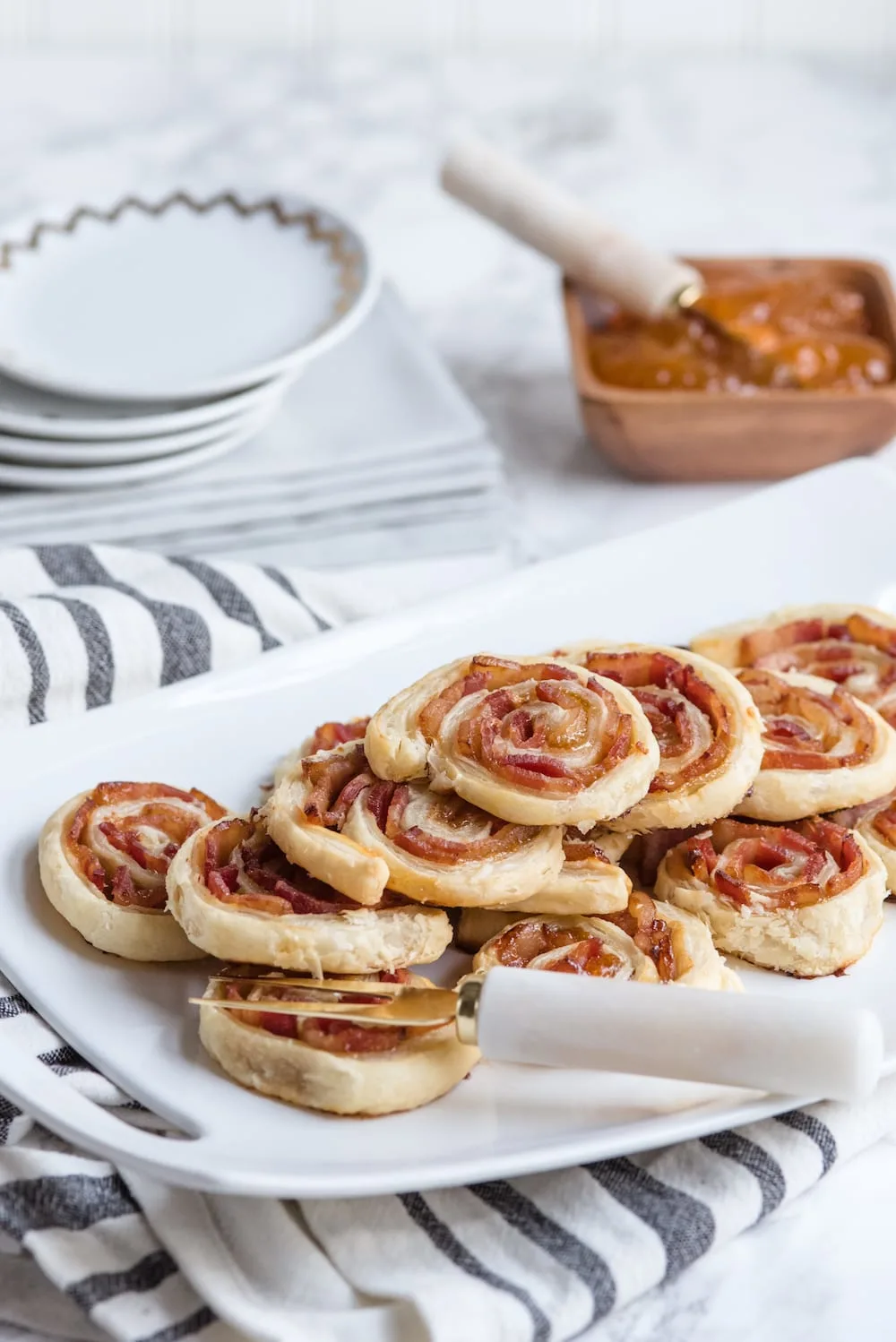 [Photos by Alice G. Patterson for The Sweetest Occasion.]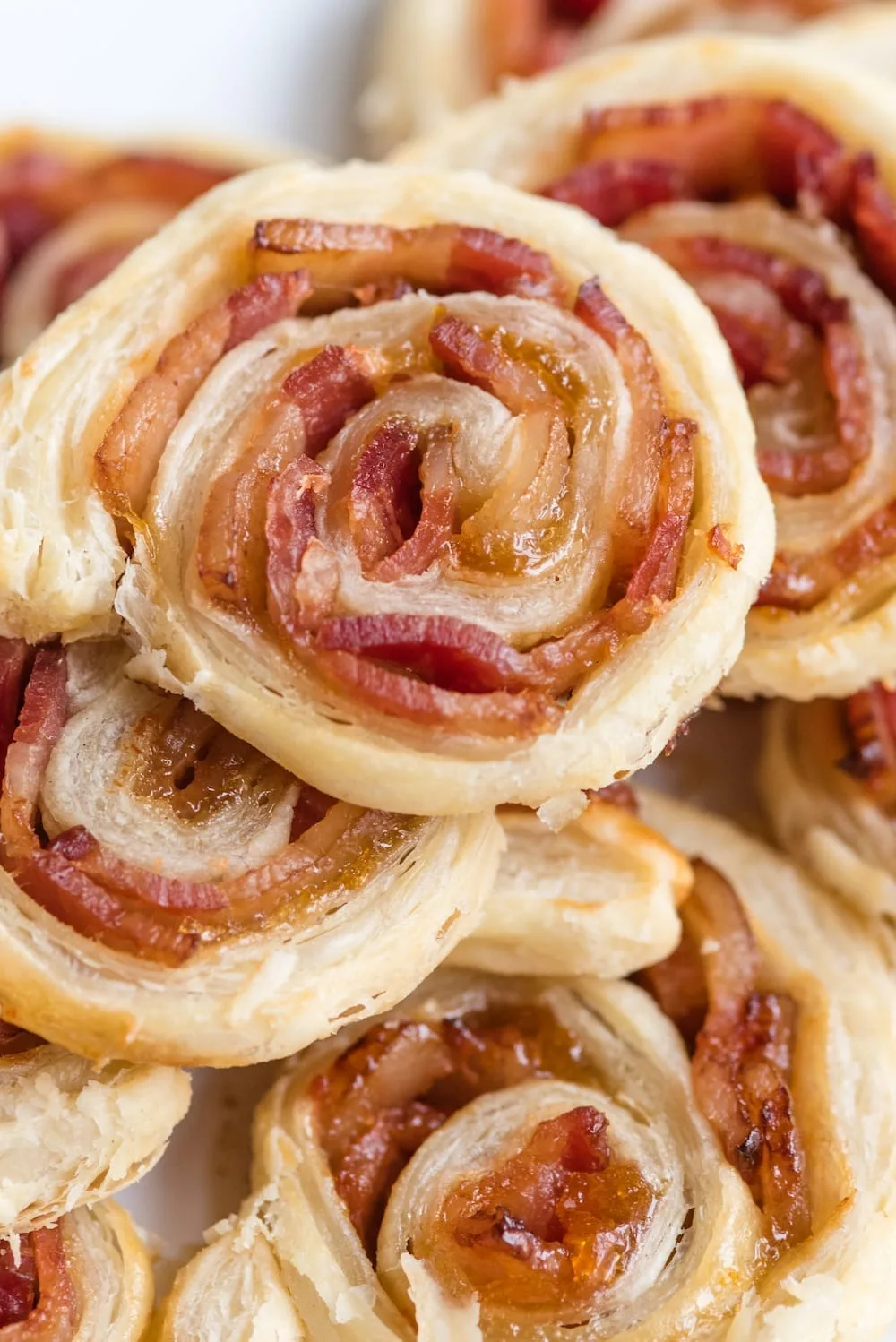 Bacon and Jam Pinwheel Appetizers
These simple bacon and jam pinwheel appetizers make the perfect game day appetizer or party appetizer for any occasion!
Ingredients
1 sheet puff pastry, frozen
1 pound thick cut bacon
2 tablespoons jam (apricot or fig)
Instructions
Preheat oven to 400° and remove puff pastry from the freezer and allow to warm up a bit
Line a baking sheet with parchment paper, then lay bacon out in a single layer
Par bake bacon for 7 to 9 minutes or until just about halfway cooked through
While the bacon is baking, gently unfold and lay the puff pastry flat
Use a small spatular or knife to spread jam across the entire puff pastry in an even layer
Remove bacon from the oven and use paper towels to dab off the excess grease
Lay strips of bacon along the puff pastry, on top of the jam, in a single layer
Starting on one end, gently roll the puff pastry up into a log shape
Wrap tightly with plastic wrap and place in the freezer for 1 hour
Preheat oven again, this time to 375°
Remove from the freezer and cut into 1/4" thick slices, laying the slices in a single layer on a fresh baking sheet lined with parchment paper
Pop into the oven and bake for about 10 - 12 minutes or slightly golden, serve warm
Notes
Using too much jam can result in oozing which may burn on the edges of the pinwheels, so I've found that 2 tablespoons is an ideal measurement for the jam
Favorite Easy Party Appetizer Recipes
Simple and easy party appetizers perfect for game day parties, tailgating, and any excuse to have a party.