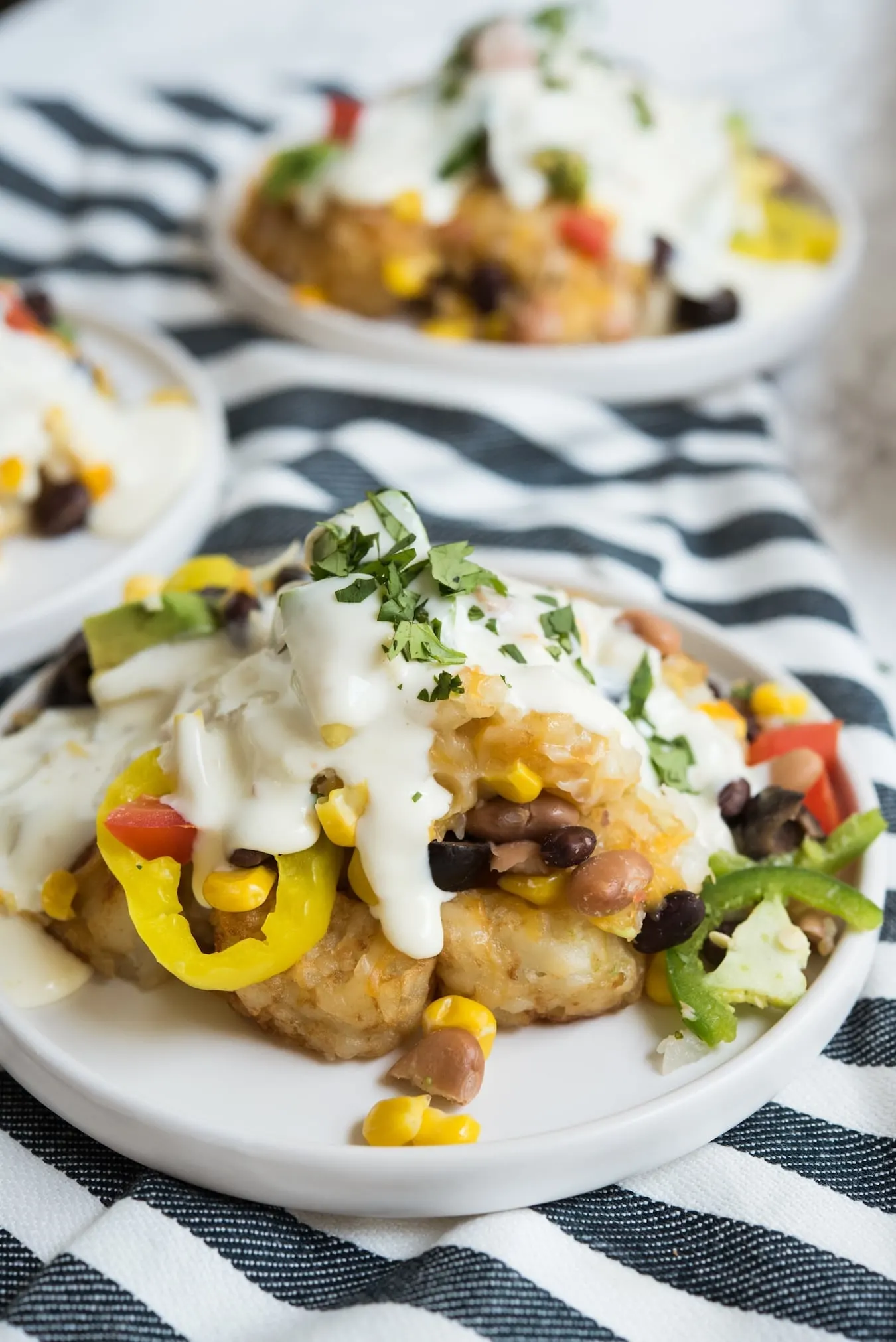 When we were kids our parents used to throw killer football game day parties. I wasn't so much into the game back then (although I totally am now), but I found the energy and the fun so exciting and I grew to love Sundays! The food was always the best, too, which is why I'm a sucker for a good game day recipe. Today we're talking loaded nacho tots smothered in the easiest, creamiest Crockpot queso blanco. Even if you aren't an enthusiastic or skilled cook, these nacho tots are about to make you the talk of the town!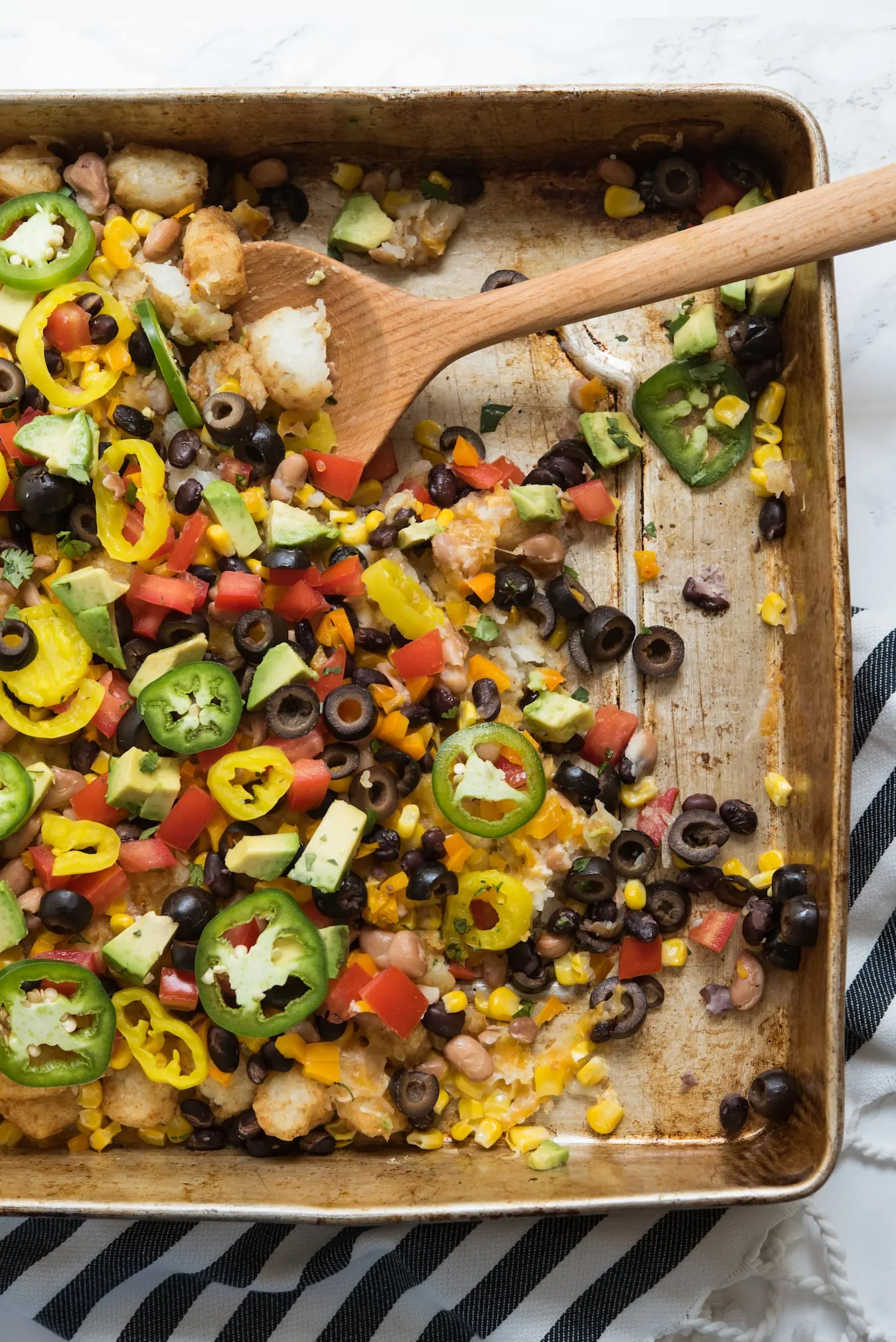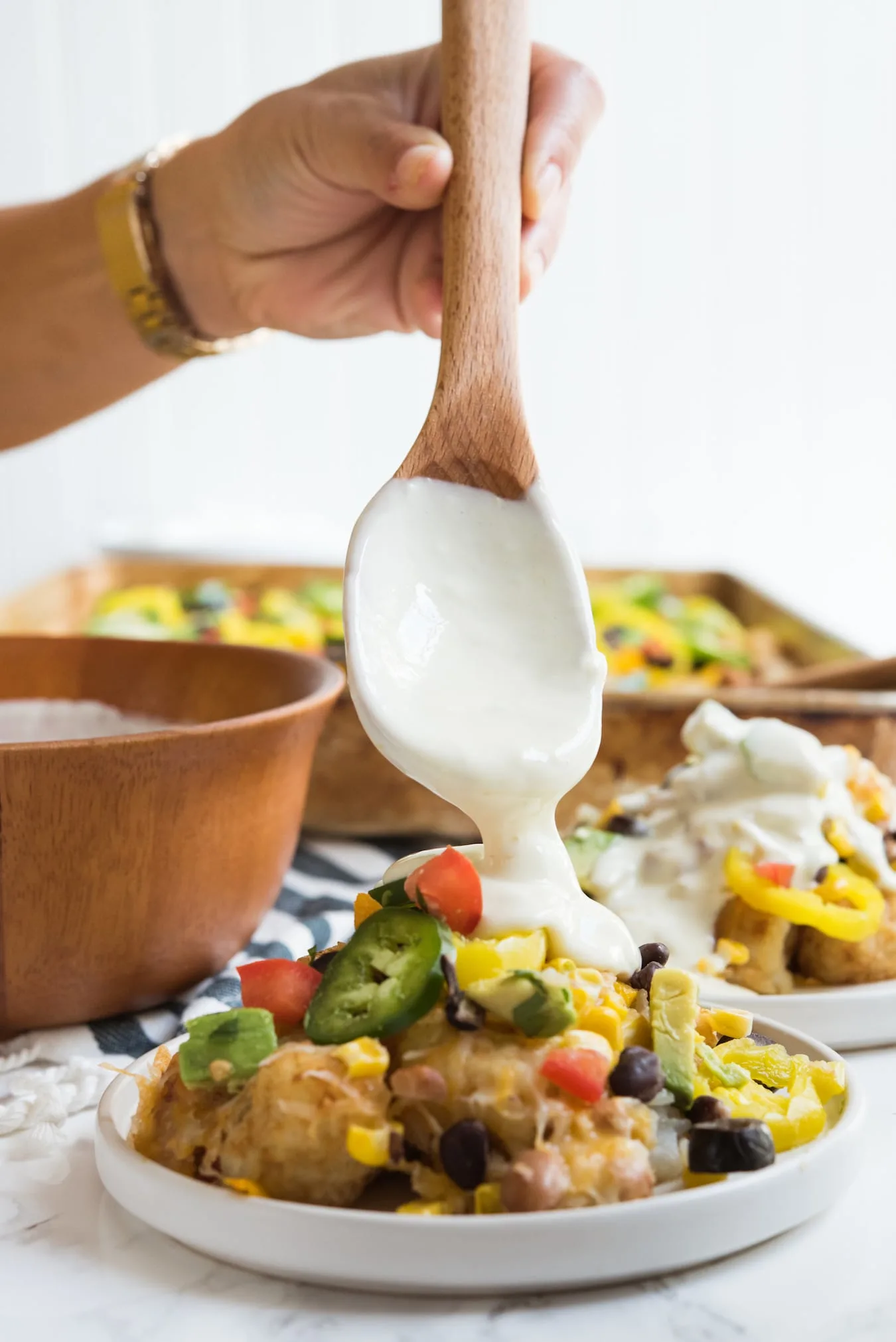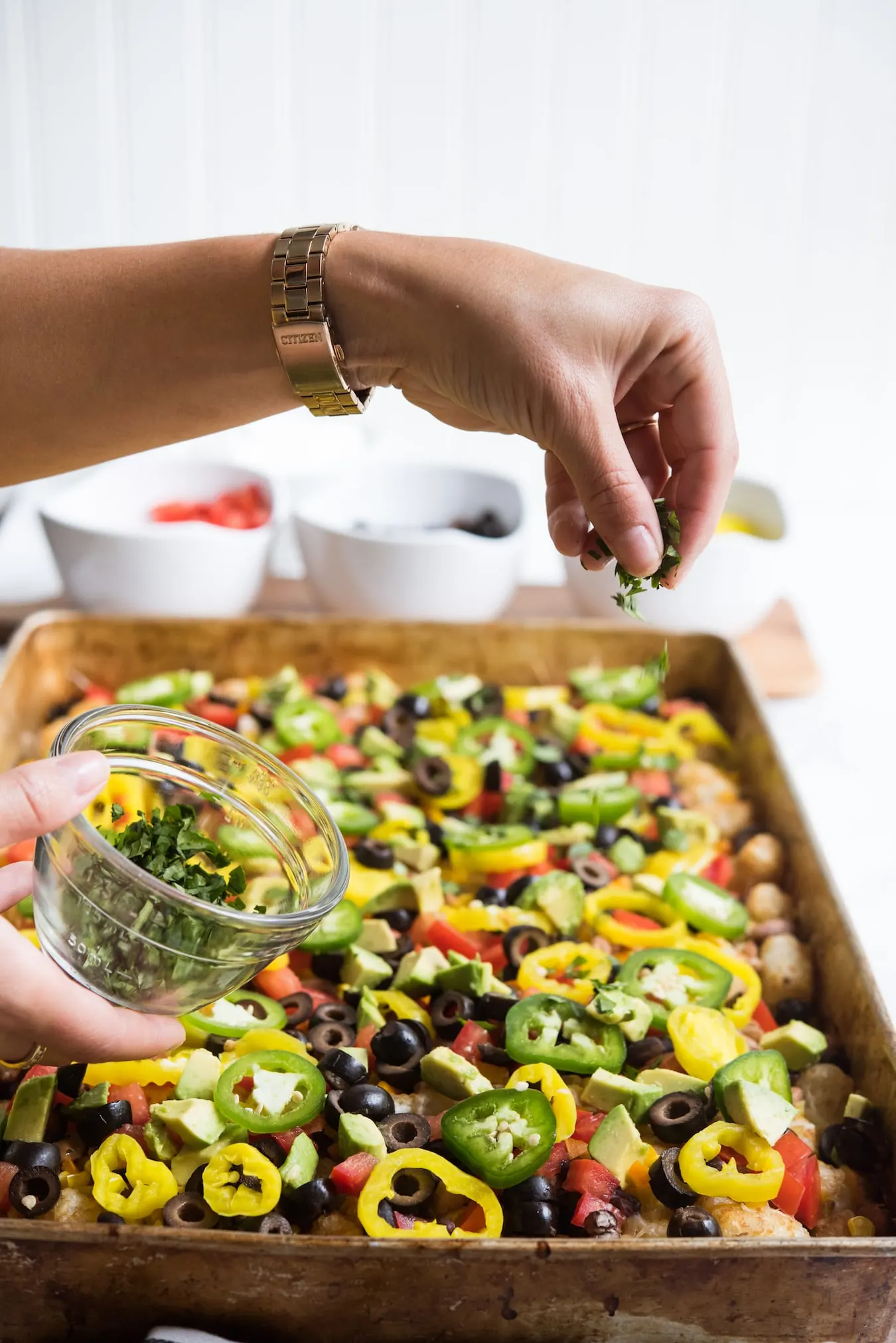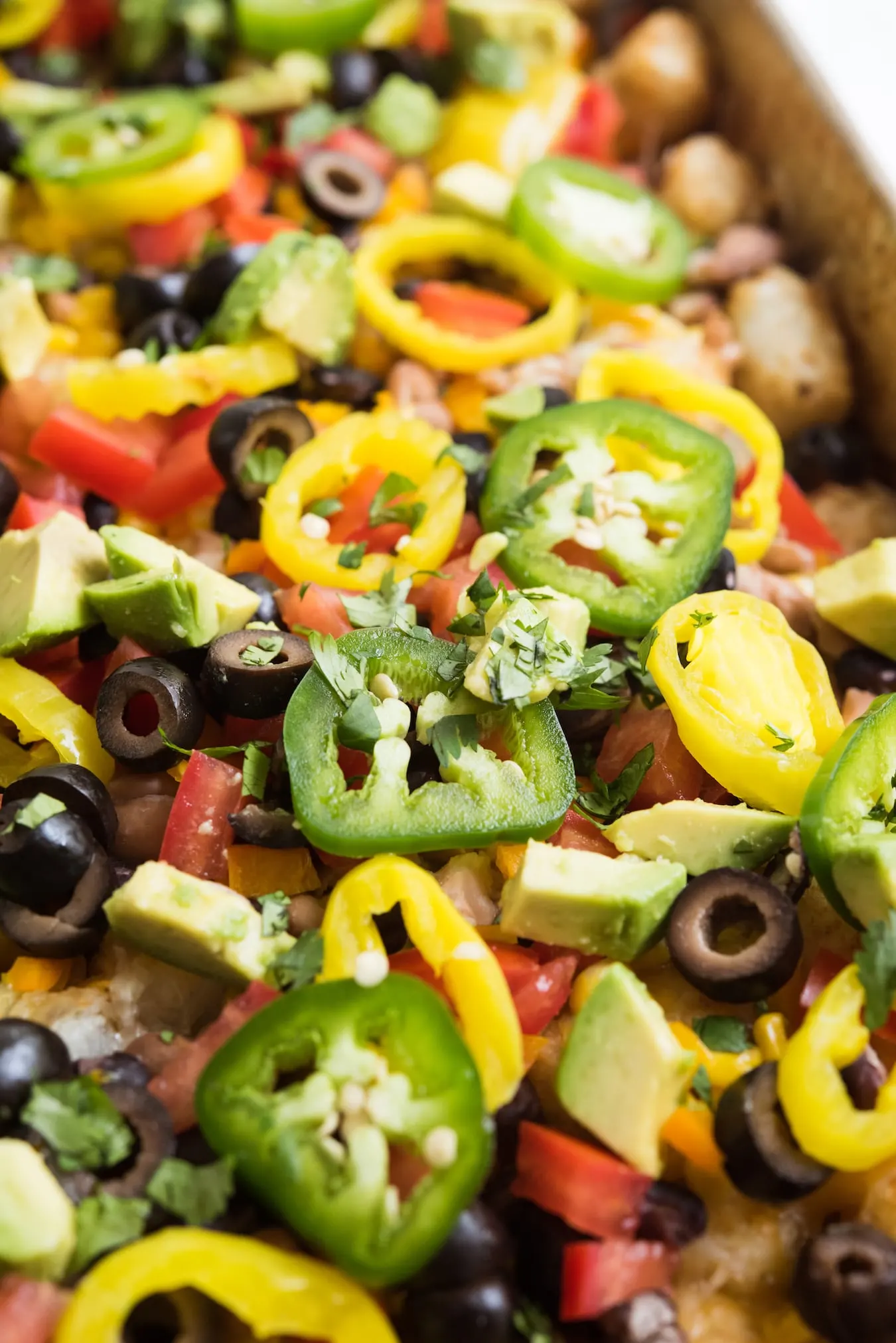 The basics here are a cinch! If you can bake up a bag of potato tots, you can make these nachos. I've made them a few times since I started messing around with this concept and they seriously fly out of the pan. Speaking of the pan, use a nice deep sheet pan and serve them up just like that. It's game day – ain't nobody got time for fussy presentation! Bonus points – these tots are hearty and filling enough to act as a meal so I won't judge if you decide to make them and call them dinner, game or no game.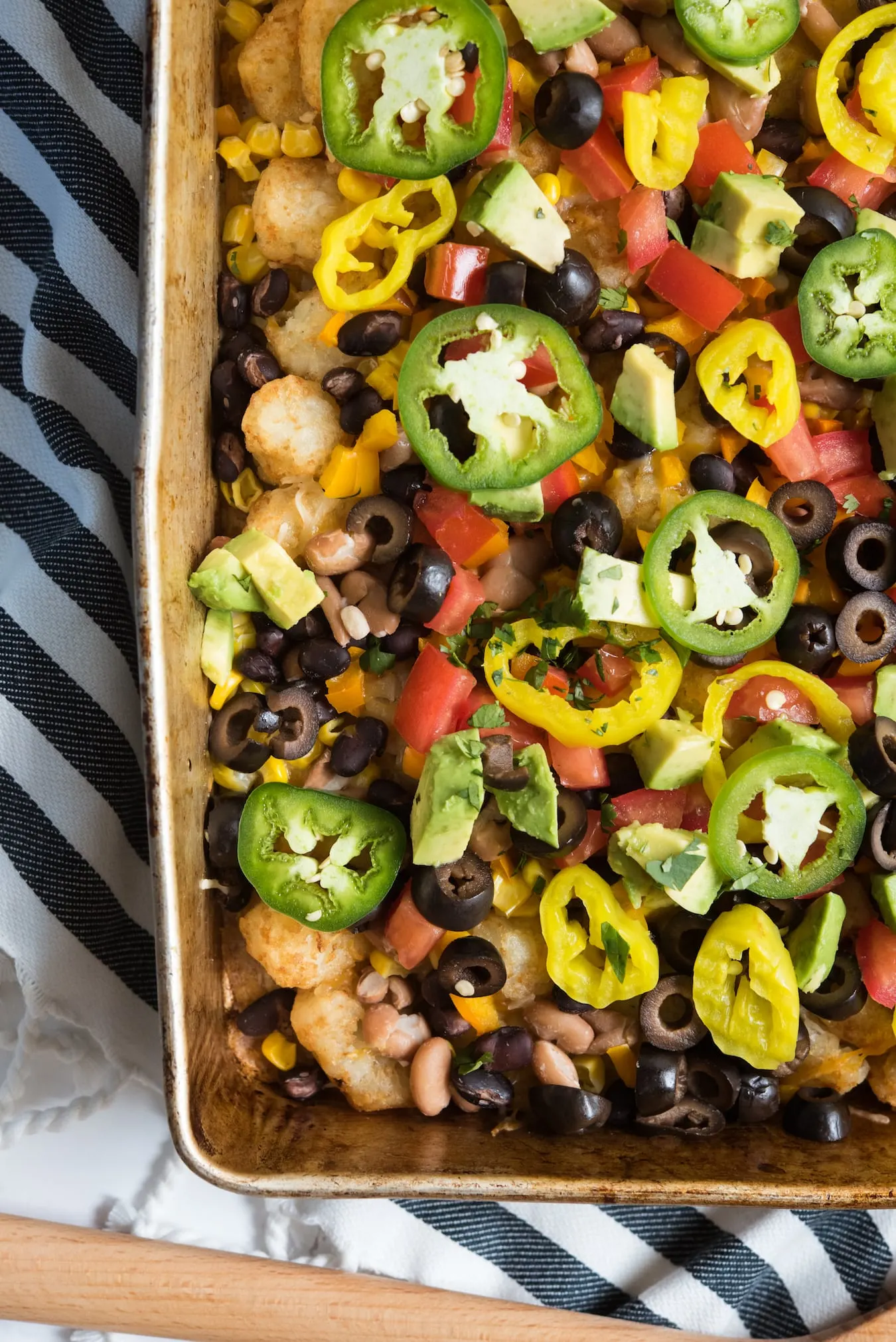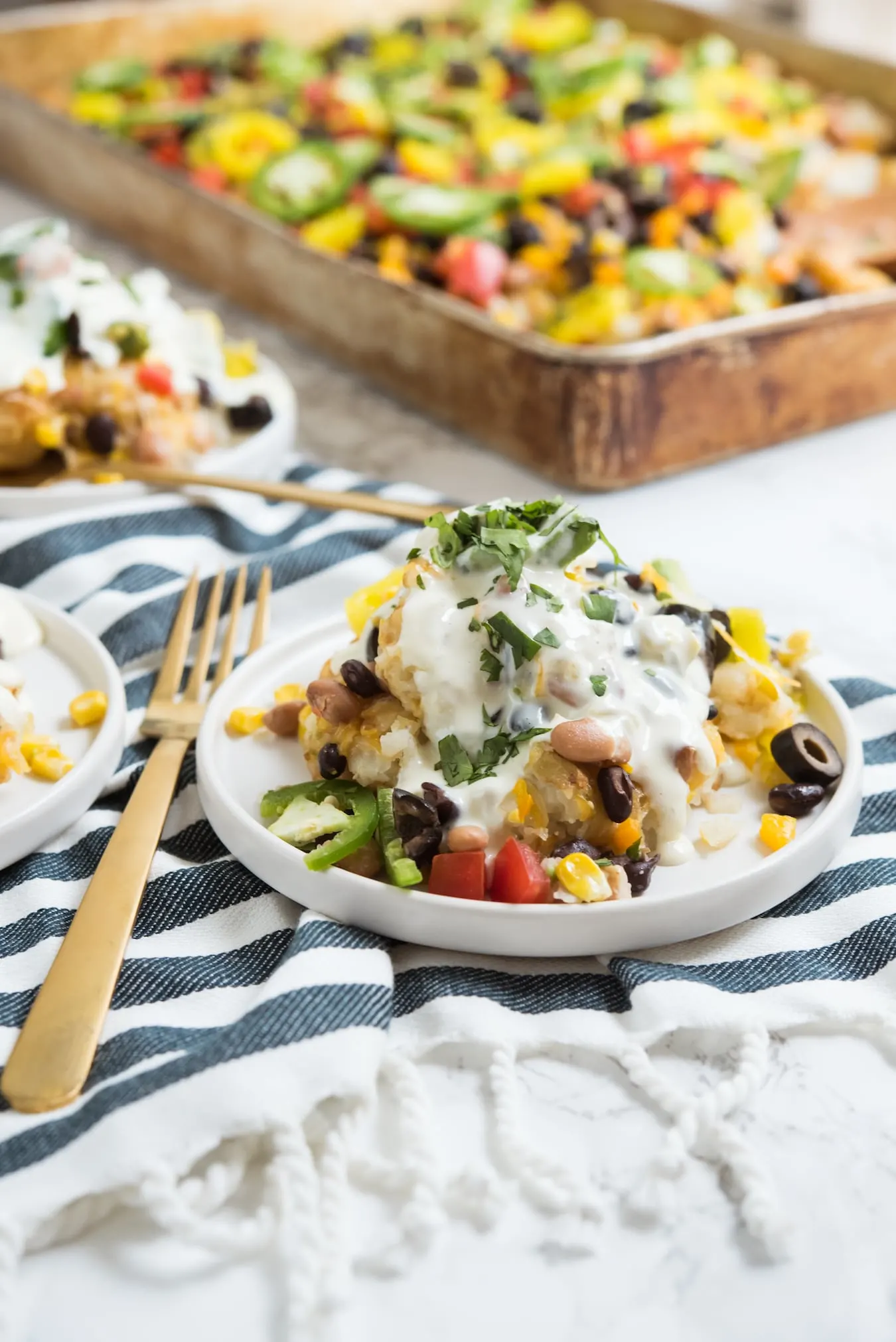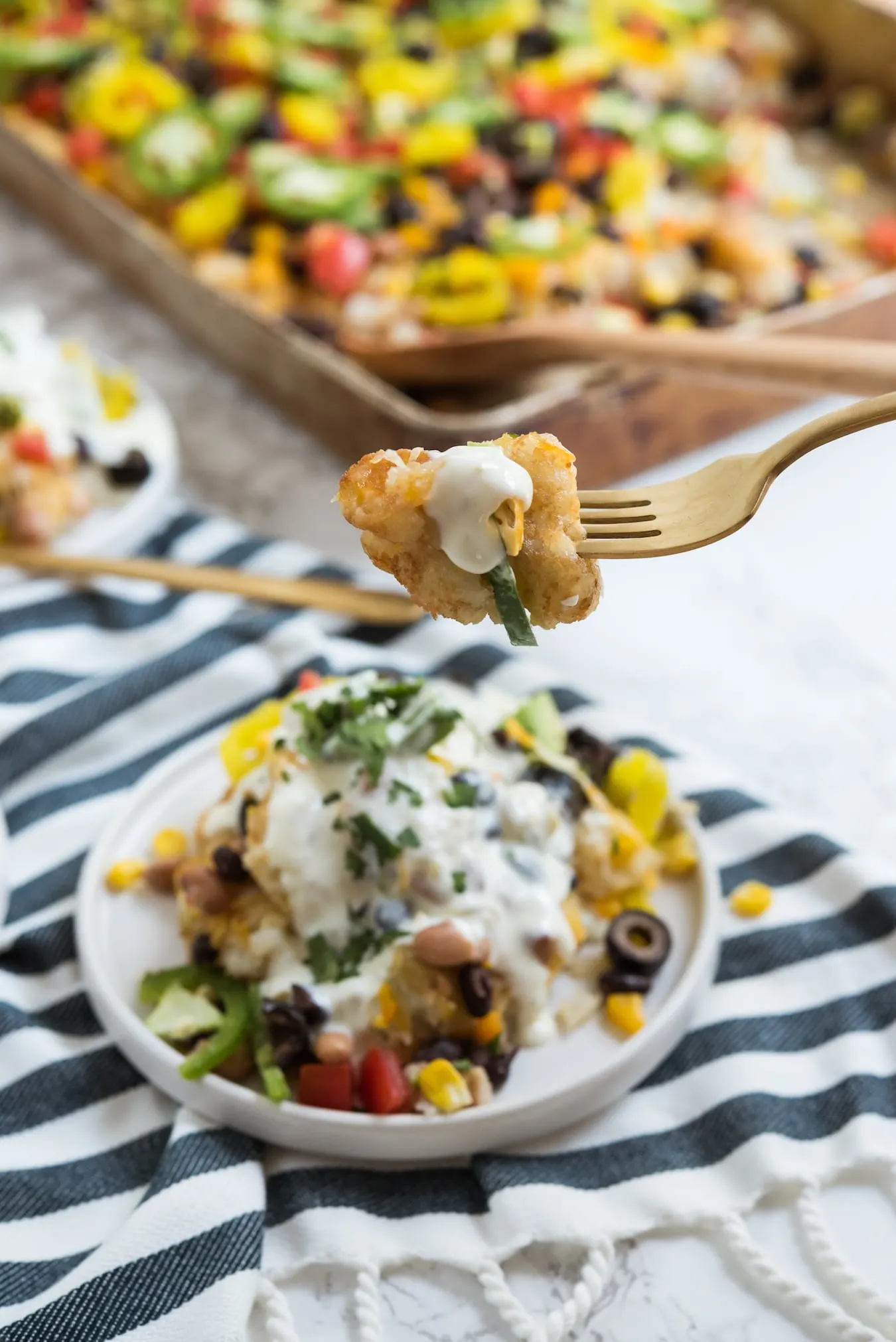 The queso blanco here is honestly the star of the show. It's made with five ingredients and cooks up in your Crockpot or slow cooker while your tots are crisping up in the oven. It's so easy to make and because the base is American cheese (yup, good ol American), it won't break so it doesn't require a roux or anything fancy. I told you this was simple!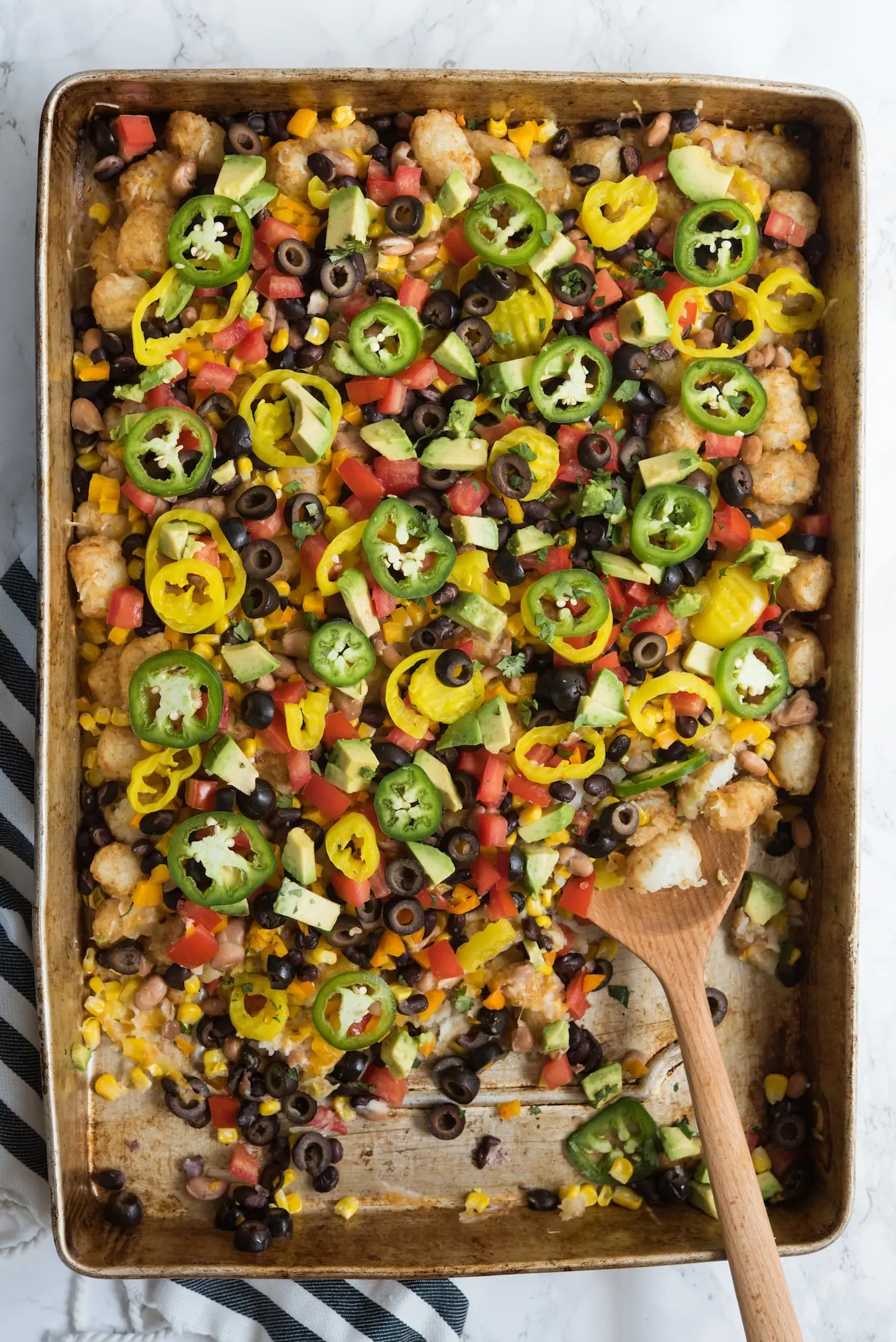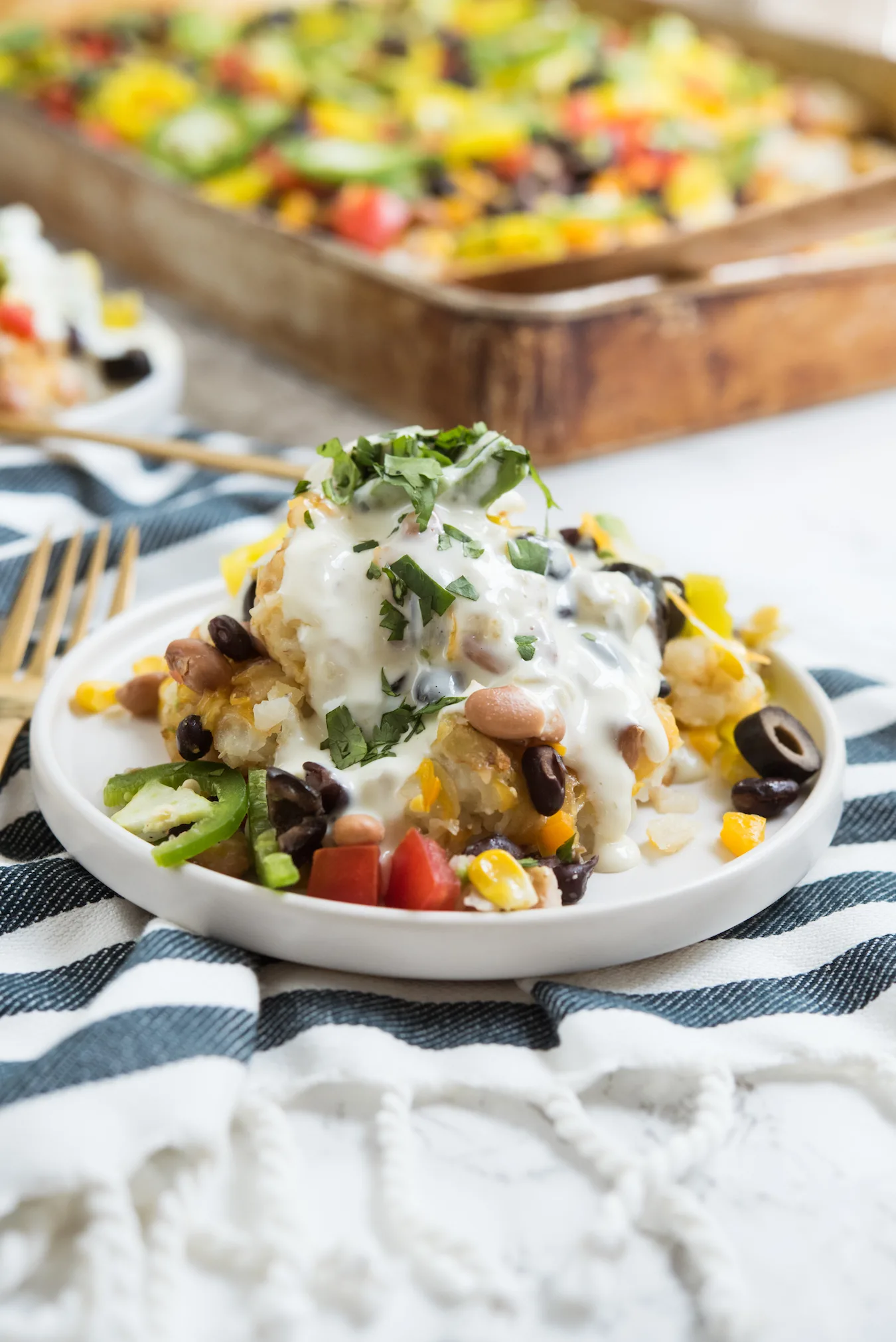 Loaded Game Day Nacho Tots with Creamy Crockpot Queso Blanco
Ingredients
For the Loaded Nacho Tots
1 large bag potato tots (approximately 5lbs)
15 oz can black beans, drained and rinsed well
15 oz can pinto beans, drained and rinsed well
2 cups frozen corn, thawed
1 small bell pepper, diced
2 cups shredded Mexican cheese
2 cups fresh tomatoes, diced
16 oz jar banana peppers, drained and patted dry
(2) 4 oz cans sliced black olives, drained and patted dry
2 large avocados, diced
2 fresh jalapeños, sliced
3 tablespoons diced fresh cilantro
For the Queso Blanco
2 lbs American cheese
16 oz cream cheese
1 stick salted butter
(2) 4 oz cans green chiles
½ cup whole milk
Instructions
For the Loaded Nacho Tots
Preheat oven to 425°
Spray a deep sheet pan lightly with nonstick spray, add tots to the pan
Bake tots for 25 minutes
Remove from the oven and add black beans, pinto beans, corn, bell pepper and shredded cheese over top
Bake for an additional 10 - 12 minutes
Remove from the oven and allow to cool for 3 - 5 minutes before topping with tomatoes, banana peppers, black olives, avocado, jalapeños and cilantro
Serve covered in queso
For the Queso Blanco
Add American cheese, cream cheese, chiles and butter to a slow cooker previously sprayed with nonstick spray
Cook on low for one hour, stirring frequently to prevent sticking
Add whole milk slowly, whisking vigorously to thin out the sauce and make it creamy
Add more or less whole milk to achieve your desired thickness and consistency (I prefer my queso blanco on the thinner side so it's very smooth and easily covers my nacho tots)
[Recipe + styling by Cyd Converse | Photos by Alice G. Patterson.]