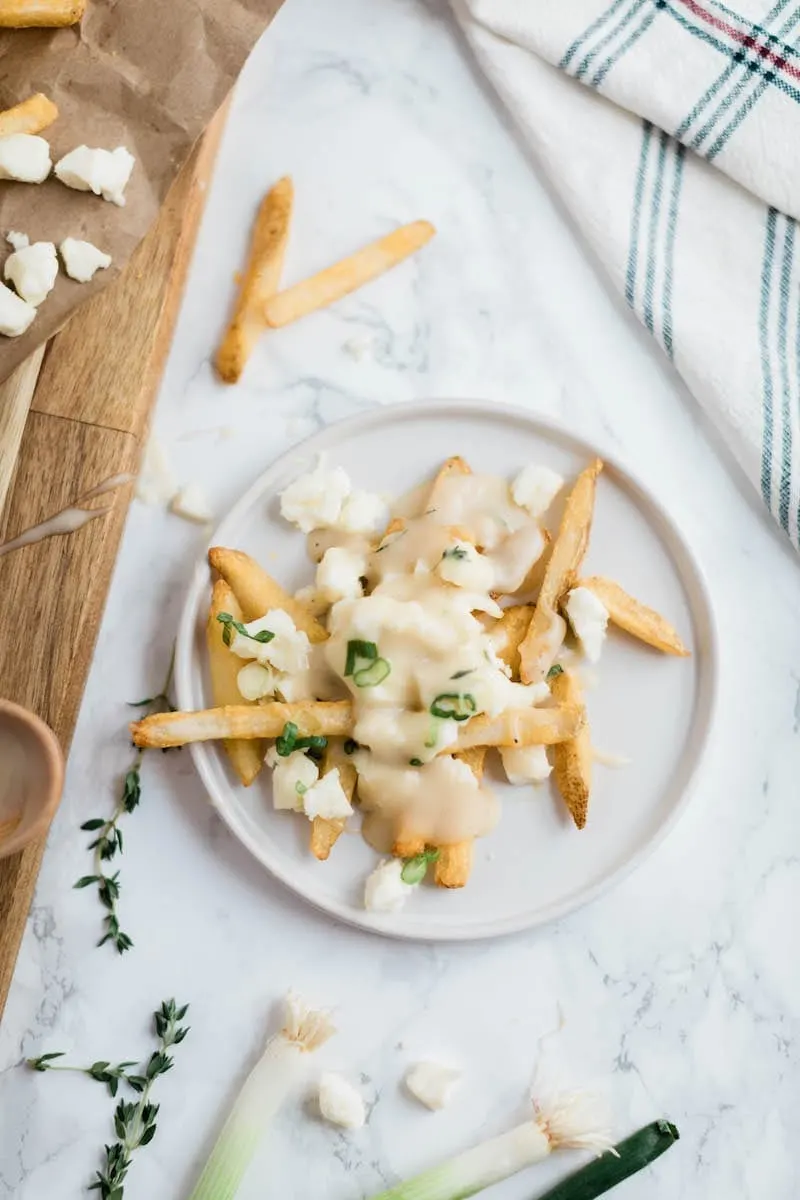 It's Monday, so it feels like a good day to talk about poutine. Vegetarian poutine, specifically, made with an easy homemade vegetarian gravy that will leave you wanting for none of the flavor you love about gravy.
Some of you may be wondering, "What the heck is poutine?!" In short, it's a Canadian dish featuring fries layered with cheese curd and then smothered in gravy. Usually it's beef gravy, but often it's chicken gravy.
Today we're making it with vegetarian gravy so that your vegetarian pals (like me) can get down with the poutine goodness, too.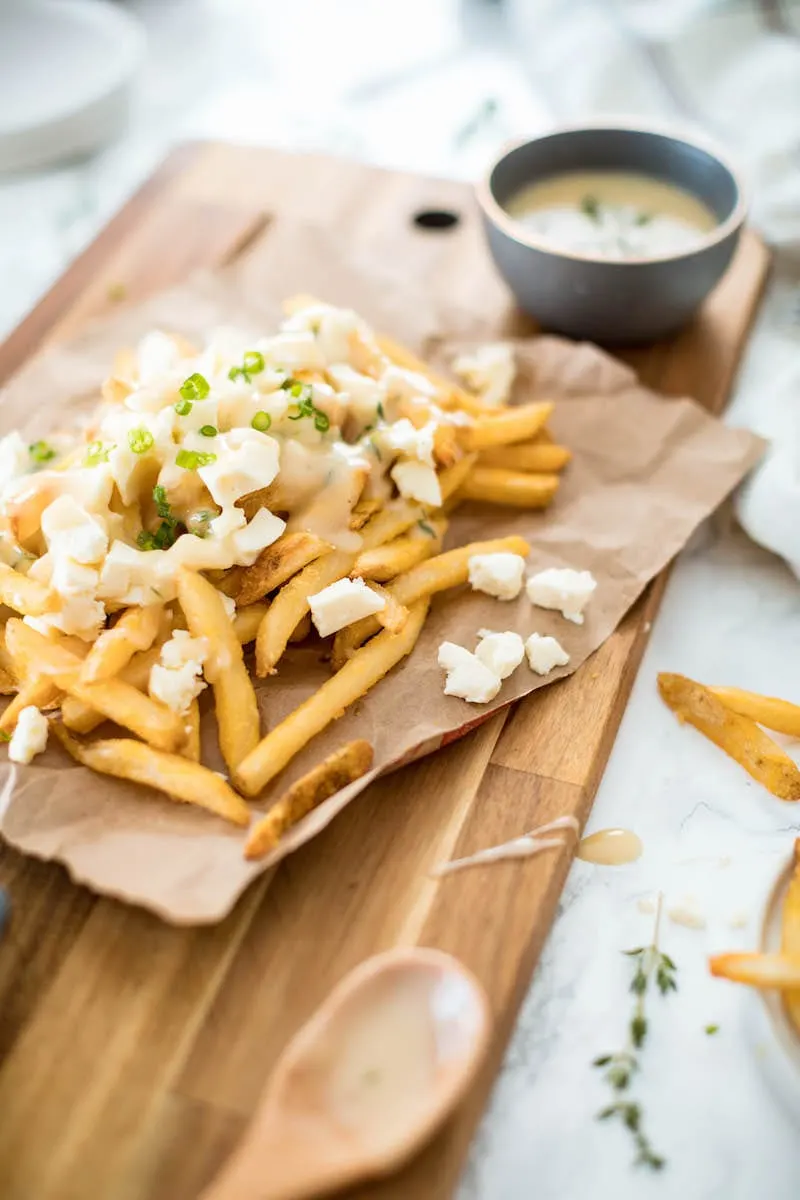 We live in a small city in upstate New York, nestled in the beautiful region where Lake Ontario (one of the Great Lakes) meets the St. Lawrence River. We're less than 20 miles to the Canadian border and we're just a few hours from Quebec, so our area is a popular tourist destination for our Canadian friends.
It makes sense then that our love for poutine has trickled down from our pals to the north. The only problem? I can almost never find a vegetarian poutine, so I decided to take matters into my own hands and then share the love with all of you.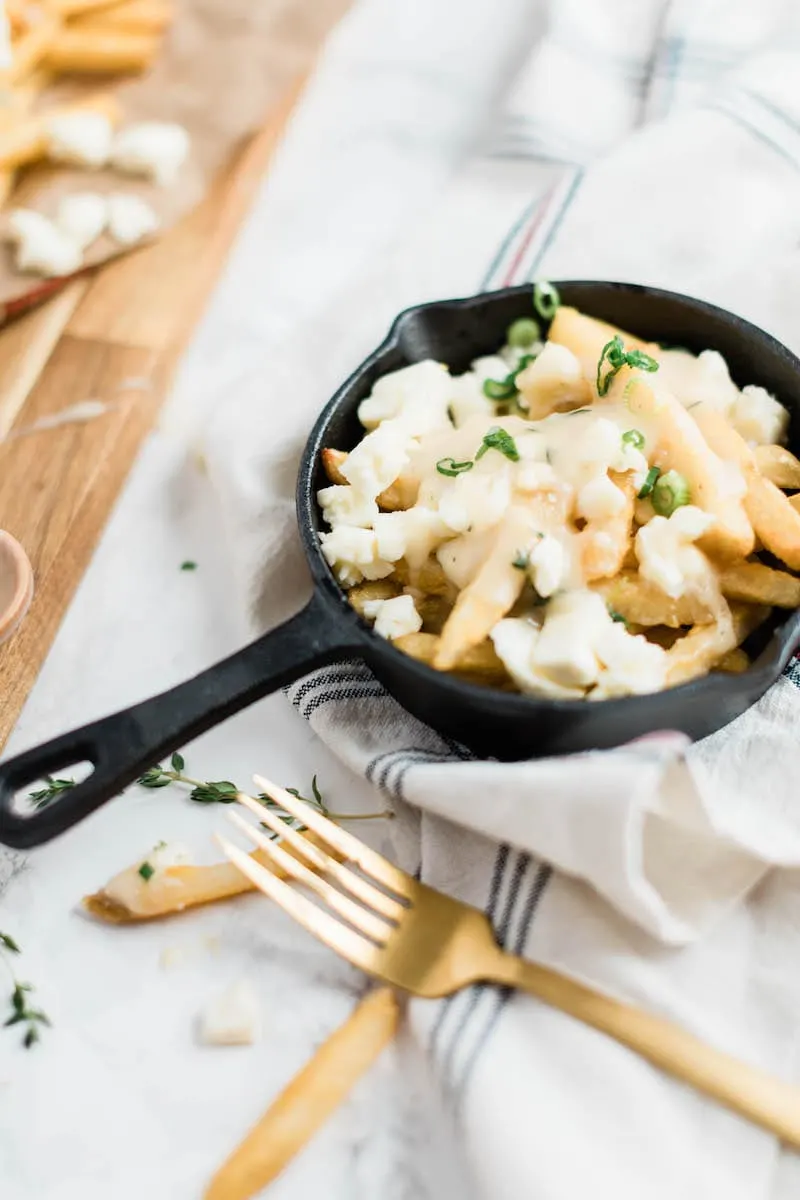 The vegetarian gravy recipe here is very simple! It's made with just five ingredients – veggie stock, butter, flour, salt and fresh thyme. Because all veggie stocks have a different sodium content, I specifically mention in the recipe that you should season your gravy with salt to taste.
Keep in mind you'll be pouring the gravy over cheese curd, which has a tendency to be salty too, so while you want the gravy nicely seasoned you don't want it to taste like a salt bath either. If you don't have cheese curd availability to you in your area, cheddar cheese crumbles make a perfect substitute!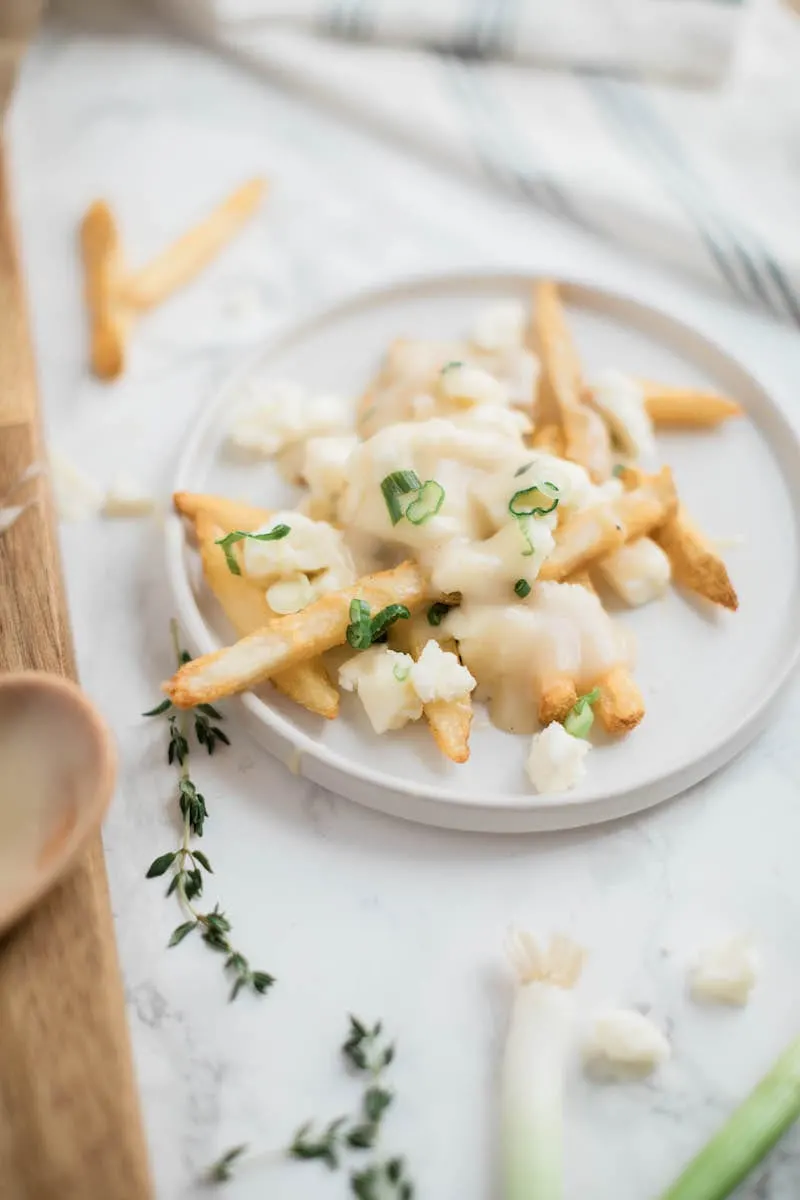 The result here is gooey, savory comfort food the likes of which you've never experienced. Unless you're a poutine lover already, that is! (This poutine recipe actually might give my loaded nacho tots recipe a run for it's money as my current favorite.) If you give this a try, let me know. I would love to know what you think of it!
It makes a perfect side dish, or a really fun dinner by itself, let's be honest. The vegetarian gravy would also be totally bomb poured all over some mashed potatoes or as a base to vegetarian chicken and biscuits. Yum!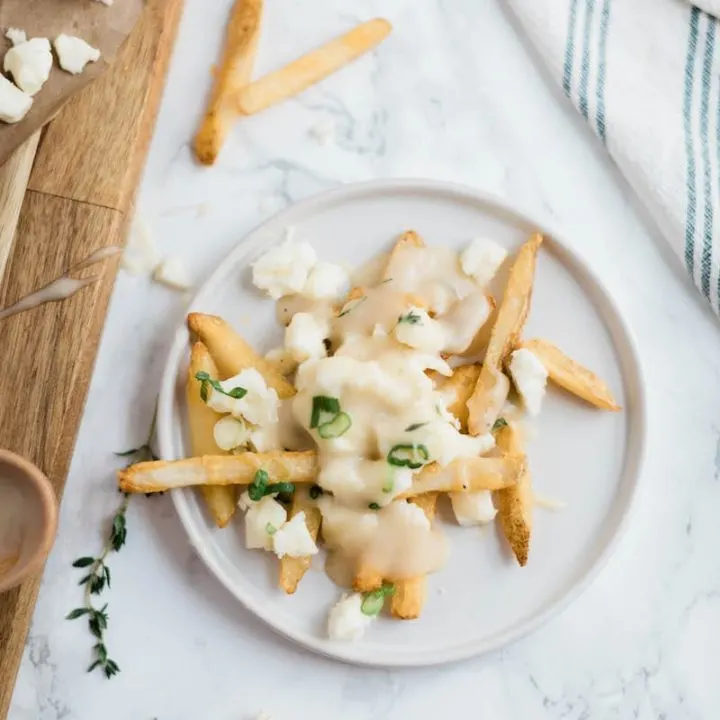 Vegetarian Poutine with Easy Vegetarian Gravy
Vegetarian poutine made with an easy homemade vegetarian gravy that puts a fun meat-free twist on the classic Canadian comfort food!
Ingredients
For the Vegetarian Gravy
4 tablespoons butter
4 tablespoons flour
2 cups veggie stock
1/2 tablespoon fresh thyme, roughly chopped
Salt to taste
For the Poutine
French fries (frozen are fine)
8 oz cheese curd
Vegetarian gravy
Diced green onions (optional)
Instructions
For the Vegetarian Gravy
Melt butter in a heavy bottomed saucepan over medium heat
Add flour and whisk until smooth and bubbling
Slowly pour in veggie stock, whisking quickly to combine
Allow mixture to simmer for 12 - 15 minutes, until thickened
After 7 - 8 minutes, add salt to taste and fresh thyme
Stir and allow gravy to continue to simmer until the 12 - 15 minutes are up and everything is smooth and nicely thickened
For the Poutine
Bake fries per the package instructions, until golden and crispy (generally about 30 minutes)
Plate fries, top with cheese curd and ladle gravy over top
Sprinkle green onions over top if desired
[Photos by Cyd Converse for The Sweetest Occasion.]