These crowd pleasing antipasto skewers make an easy party appetizer or a fun addition to a charcuterie board. Make your antipasto skewers a day in advance to make party prep even simpler – they come together in just minutes!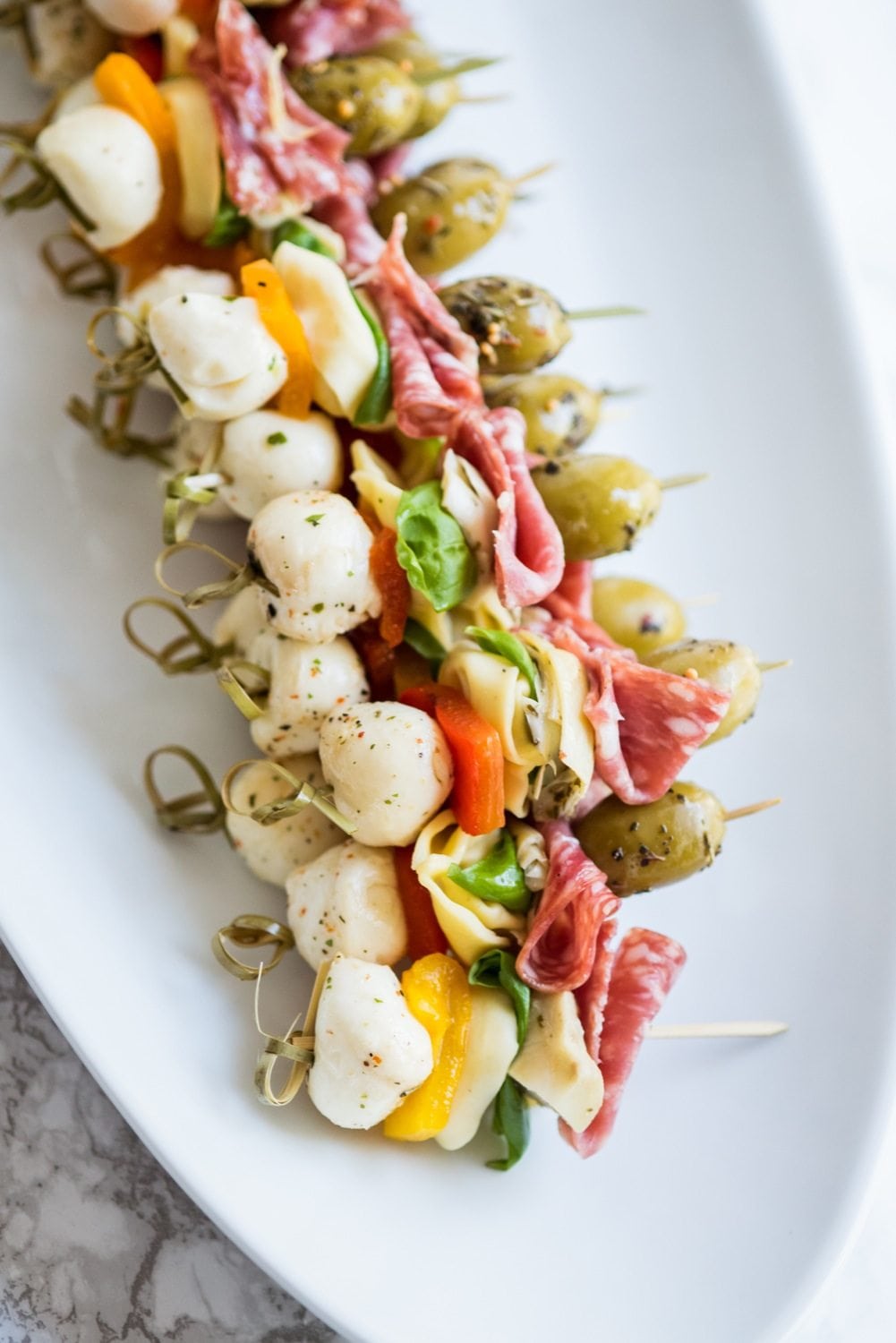 This recipe was created in collaboration with Dr. Oetker Virtuoso Pizza. Thank you for supporting the sponsors that help make The Sweetest Occasion possible!
Antipasto Skewers
At our recent housewarming party, I wanted to create a couple of great party appetizers to serve our guests. These antipasto skewers were a major hit! I loaded them up with mozzarella, roasted peppers, salami and olives, but you can alter them to suit your personal taste. For the vegetarians in your crowd, skip the meat entirely and serve up vegetarian antipasto skewers that are just as delicious!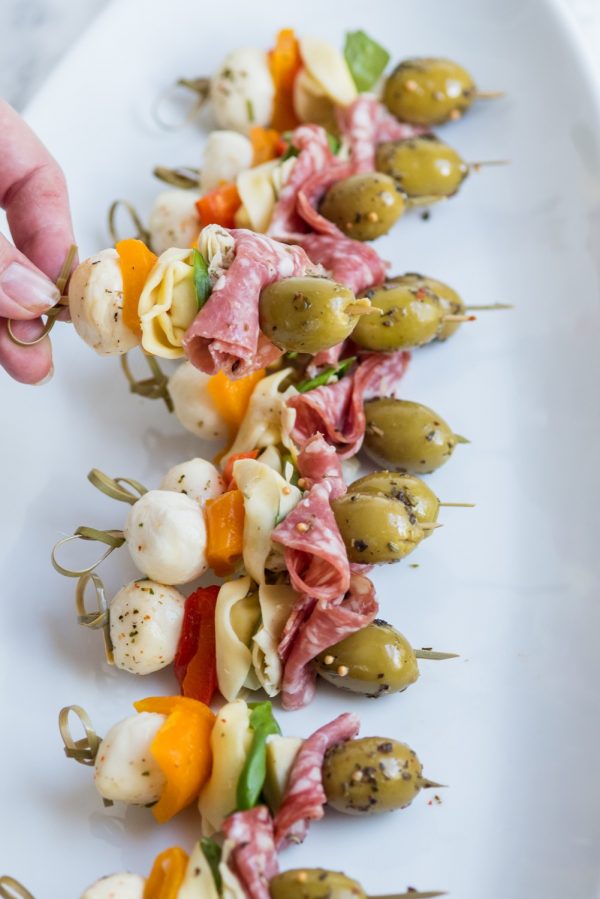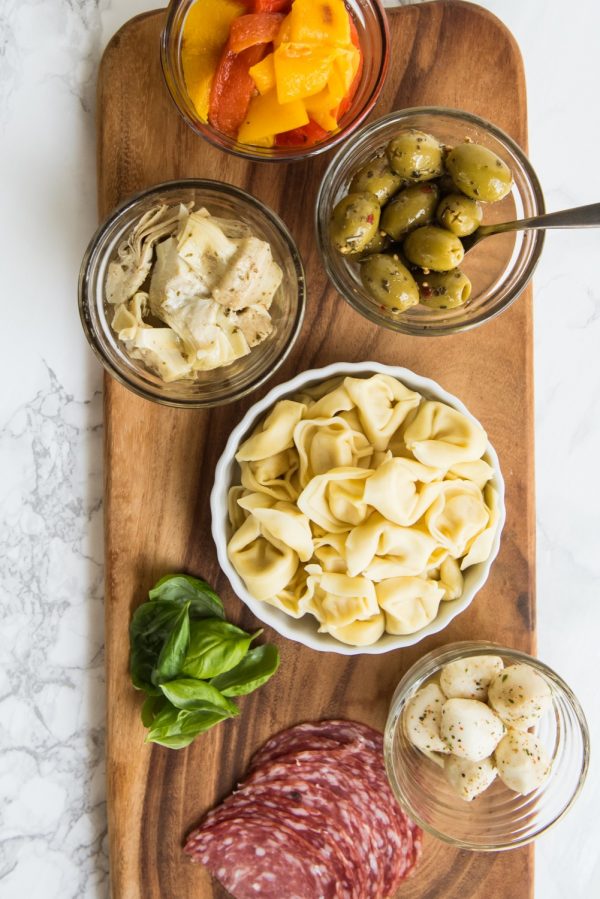 What to Put On Antipasto Skewers
Mini fresh mozzarella balls – Mozzarella is the perfect cheese for antipasto skewers! If you can, opt for the marinated mozzarella balls.
Olives – I like using green olives for the brined flavor, but black olives or Greek kalamata olives would also work.
Salami – I always use salami on antipasto skewers, but other options include prosciutto, capicola or even thinly slice pepperoni.
Fresh basil leaves – Fresh basil adds a vibrance to the flavors that is really really yummy!
Roasted red peppers – It's easy to roast your own peppers, or pick some up in a jar to keep things even easier.
Artichoke hearts – Artichokes have a great texture that really adds to these antipasto skewers. Marinated artichoke hearts are a great option here!
Fresh tortellini – Fresh tortellini cooked and drained/dried well. Skip the tortellini for a lower carb option.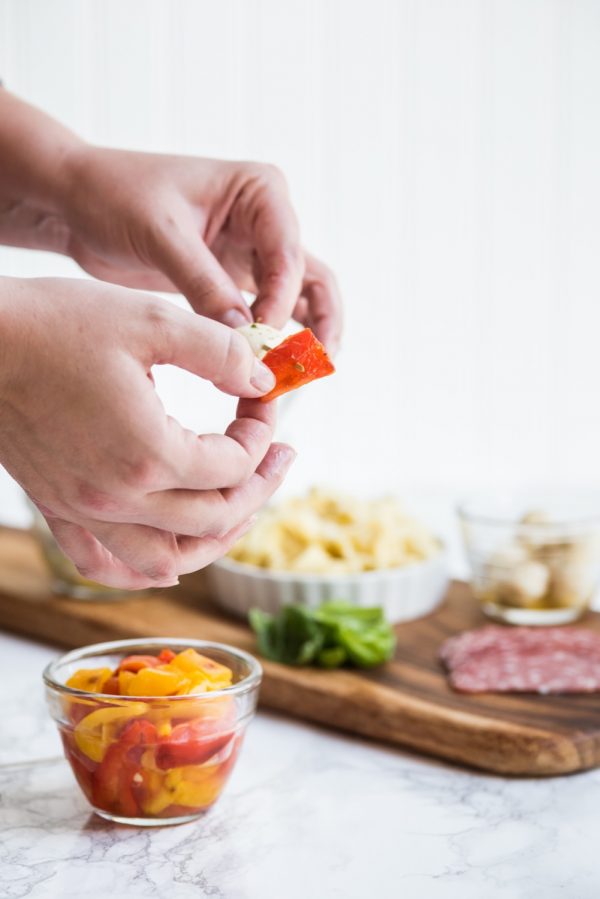 Being a vegetarian, I always make sure to make a handful of antipasto skewers without meat. You can absolutely play with different kinds of meats and olives, or swap out the mozzarella for burrata. The possibilities and flavor combinations are endless! People love appetizers on a stick so these are a guaranteed hit.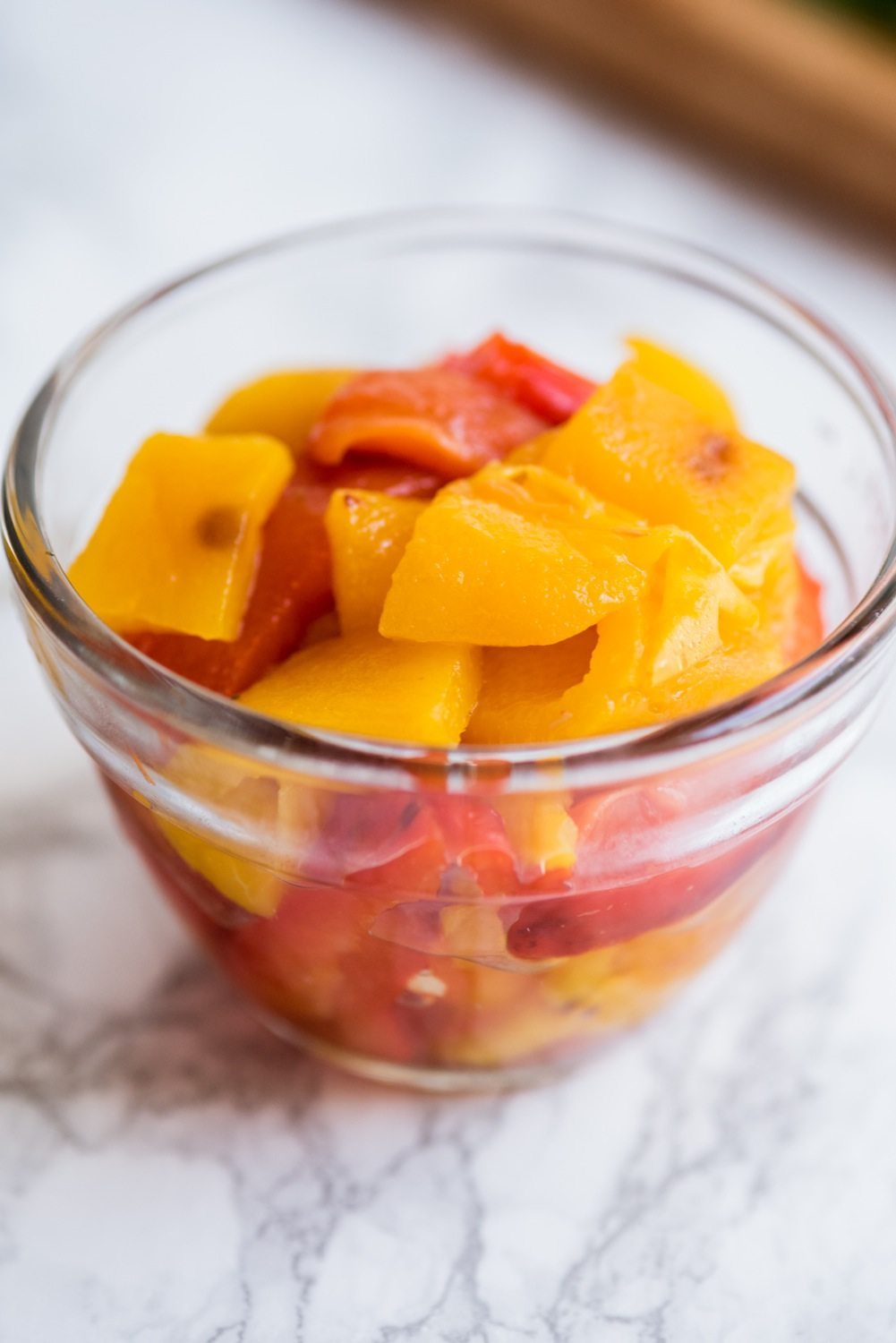 How to Make Antipasto Skewers:
To make antipasto skewers I use 3″ bamboo skewers with a knot on the end to keep your ingredients from sliding off the end. Long toothpicks also work to make antipasto skewers if you're not able to source bamboo skewers locally and don't have time to ship. Amazon has many options for appetizer picks.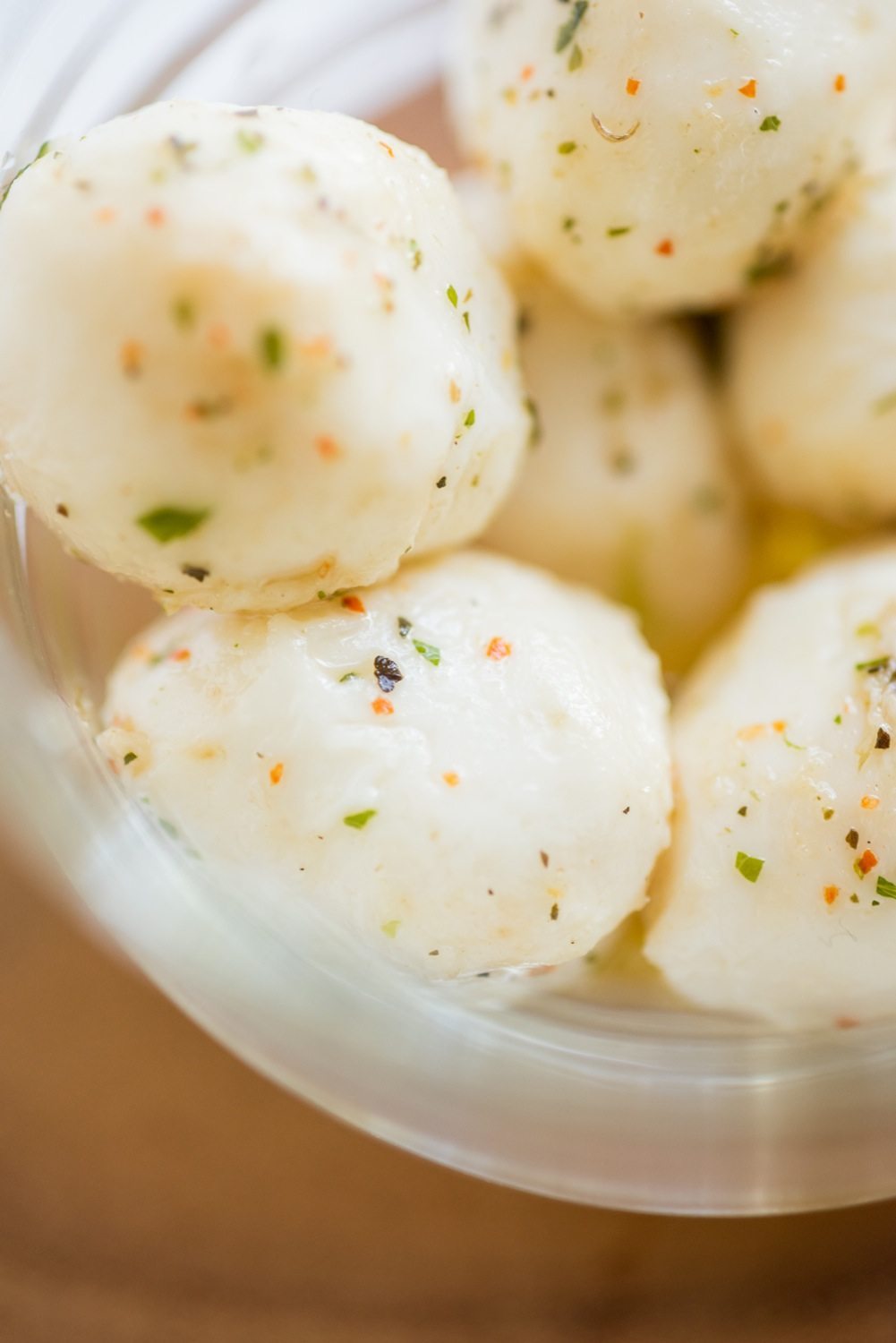 Whenever possible I like to use marinated mozzarella balls for these antipasto skewers. If you aren't able to find them at your grocery store, mix a few tablespoons of olive oil in a small bowl with Italian seasoning. Drain your mozzarella balls, then place them into the olive oil seasoning mixture and toss to coat. Let them sit for 20 minutes or longer before assembling your antipasto skewers.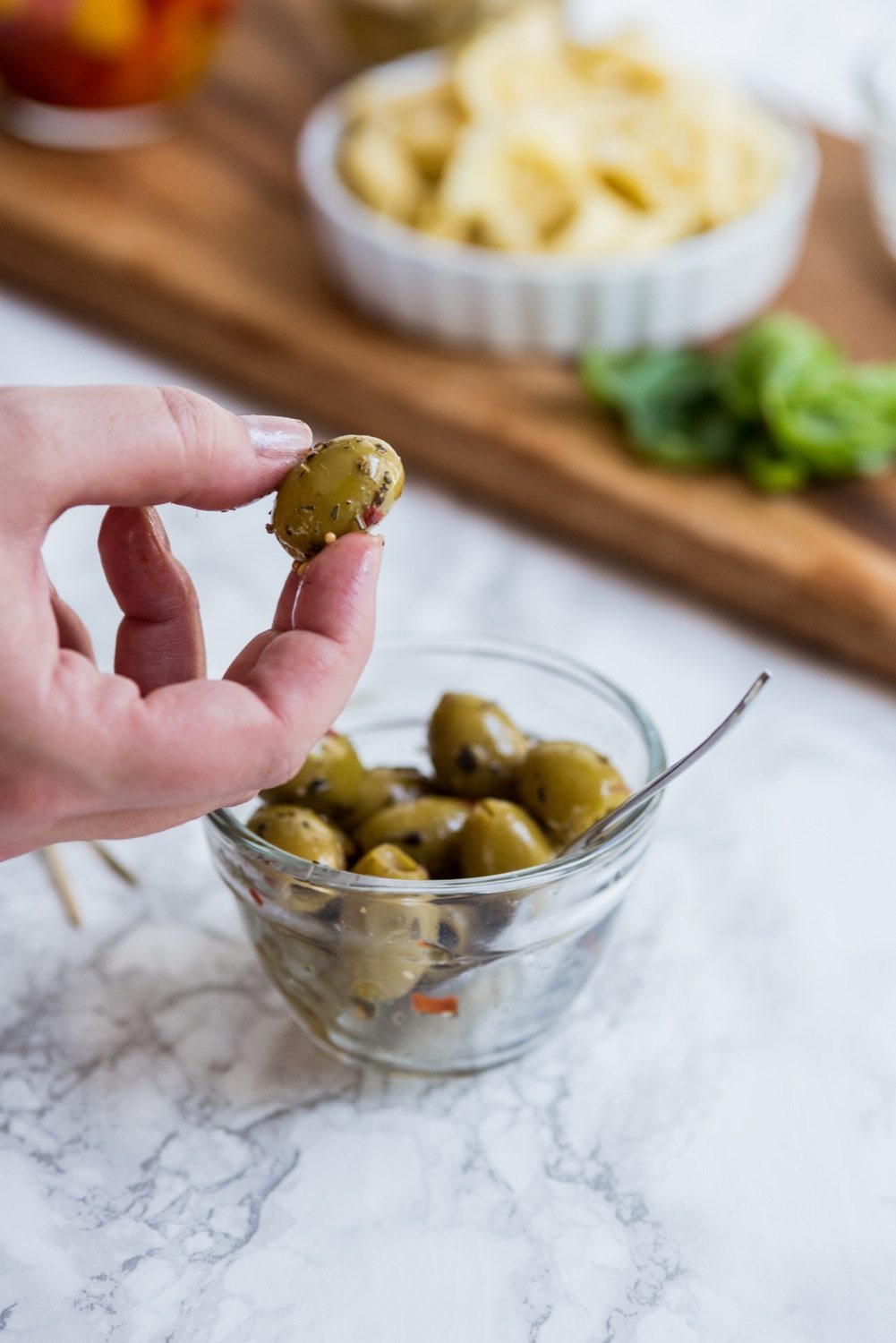 The same process above can be used to marinate your olives if you'd like! I generally do the same thing and look for seasoned green olives, but it's definitely not strictly necessary. Olives stuffed with blue cheese or pimentos or even garlic cloves are also delicious options for these appetizer picks.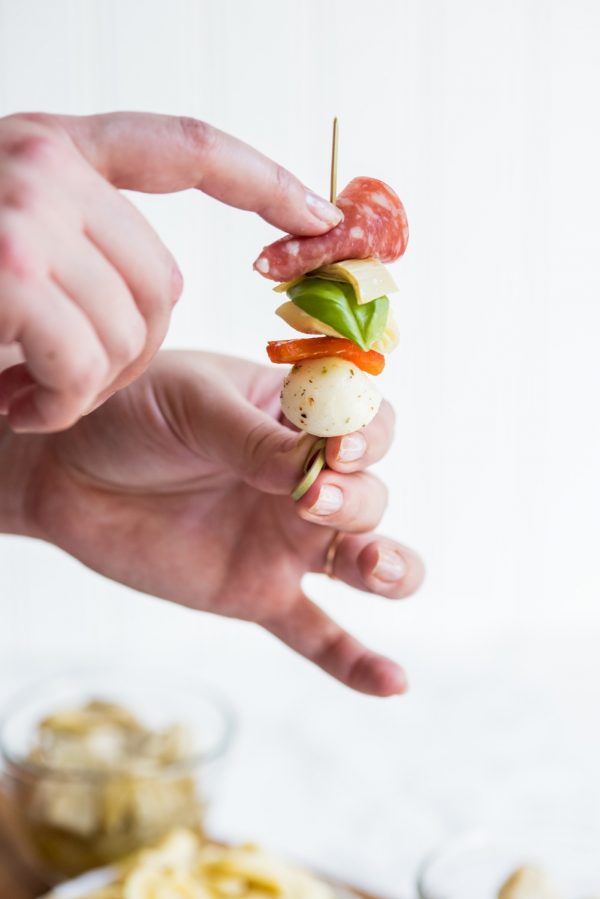 Once your ingredients are all assembled, you just start skewering each one onto a pick. I always start with the mozzarella balls and tend to keep the same order for each little skewer so they look nice on a platter all together. I slice each piece of salami in half and then fold it to place it on the skewer and I also generally find that it makes sense to slice up the roasted bell peppers, too.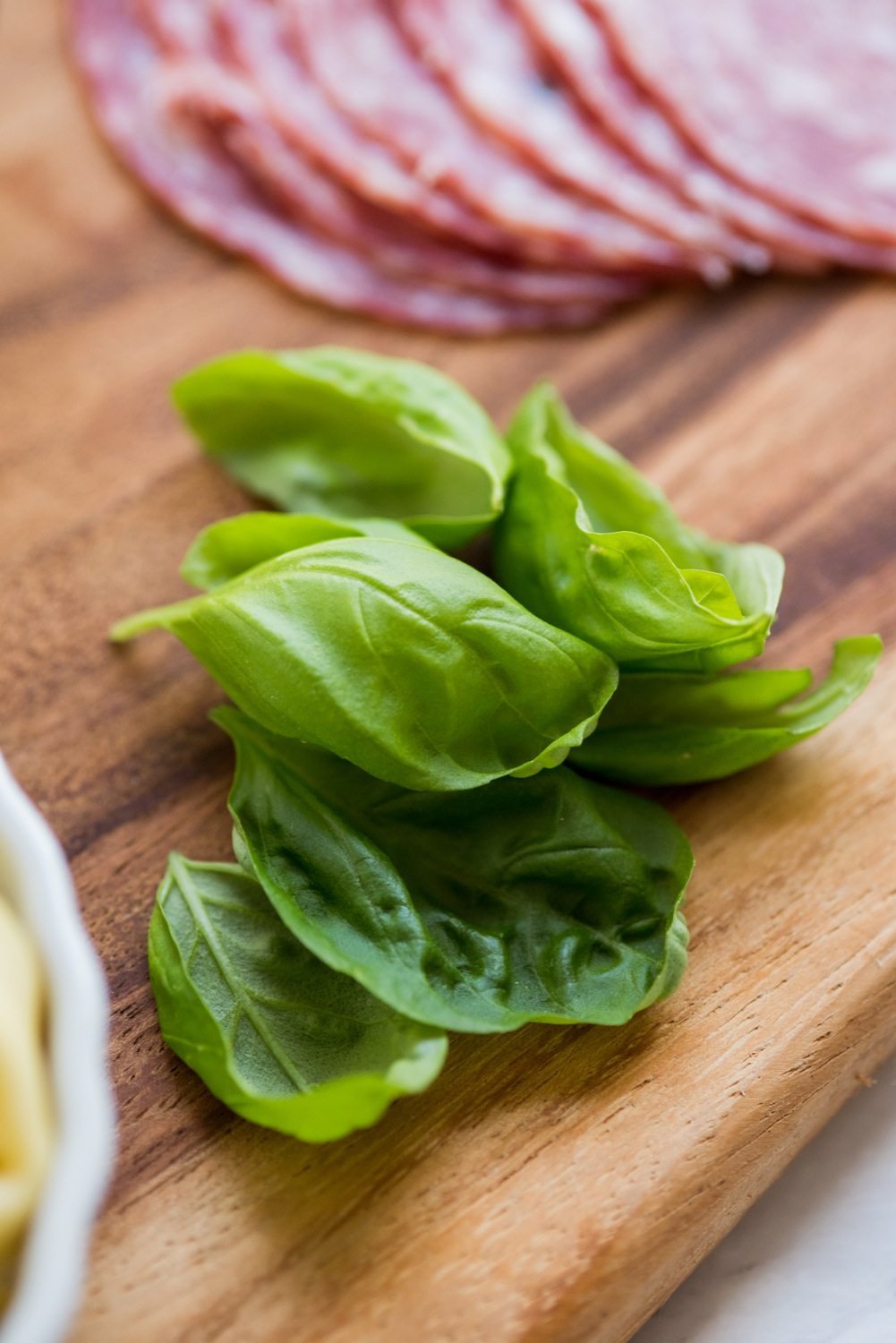 Fresh basil really brings these antipasto skewers to life! The brightness of fresh basil adds so much aroma and flavor and helps to balance out the other briny, salty notes of the other ingredients. The bell peppers add a touch of sweetness that helps round everything out.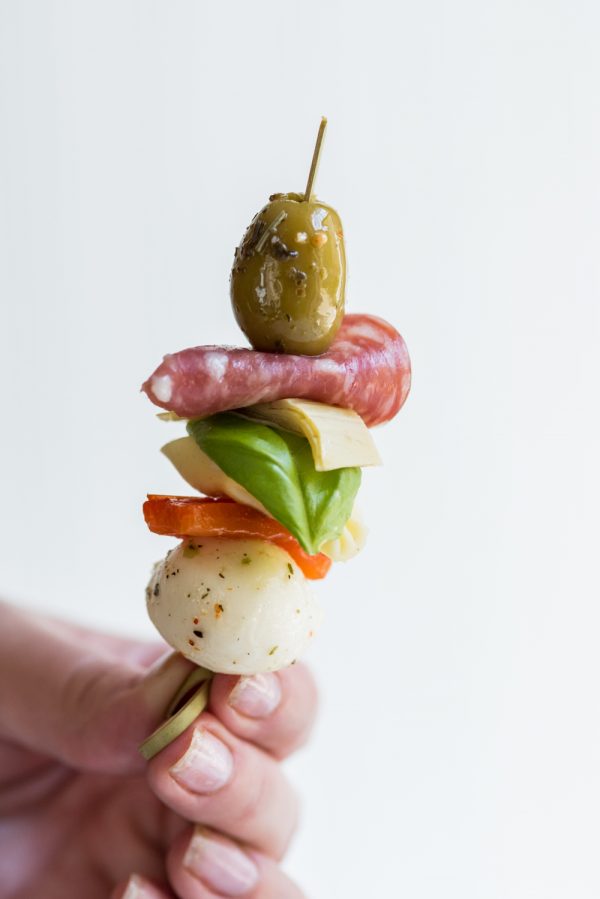 Can You Make Antipasto Skewers in Advance?
When I'm hosting a party I love prepping as much of the food as I can the day before. Antipasto skewers are perfect to make in advance! They're very simple to make but can take a little bit to assemble if you're making a whole bunch for a big crowd, so I generally make them the night before a party and store them in the fridge in an air tight container overnight. The next day I'll arrange them on a platter or a cutting board before serving.
Likewise, antipasto skewers will keep in the fridge for 2 to 3 days when properly stored in an airtight container. If you have leftovers you can pop them back in the fridge or you could even prep a bunch at the beginning of the week to munch on as snacks throughout the week!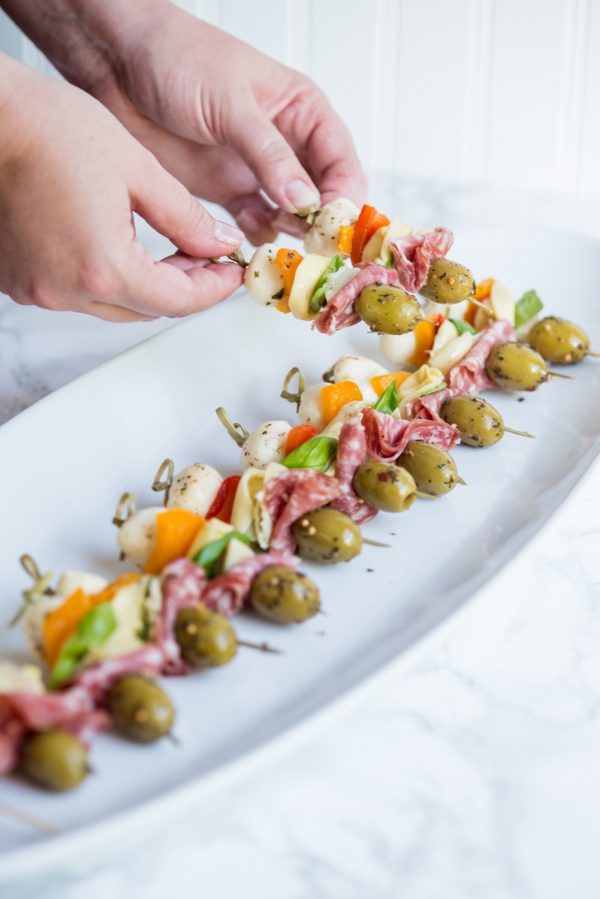 More Great Party Appetizers
If you're looking for more great party appetizers to pair with these antipasto skewers at your next gathering, give these appetizer recipes a try: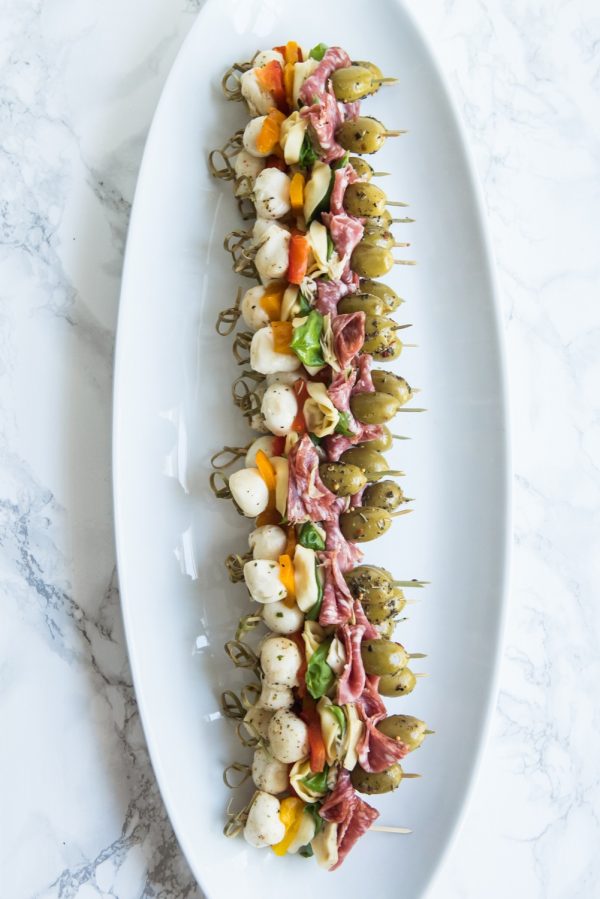 What Cocktails Are Good with Antipasto Skewers?
If you're serving these skewers as a party appetizer, here are a few fun suggestions for cocktail recipes that will pair well: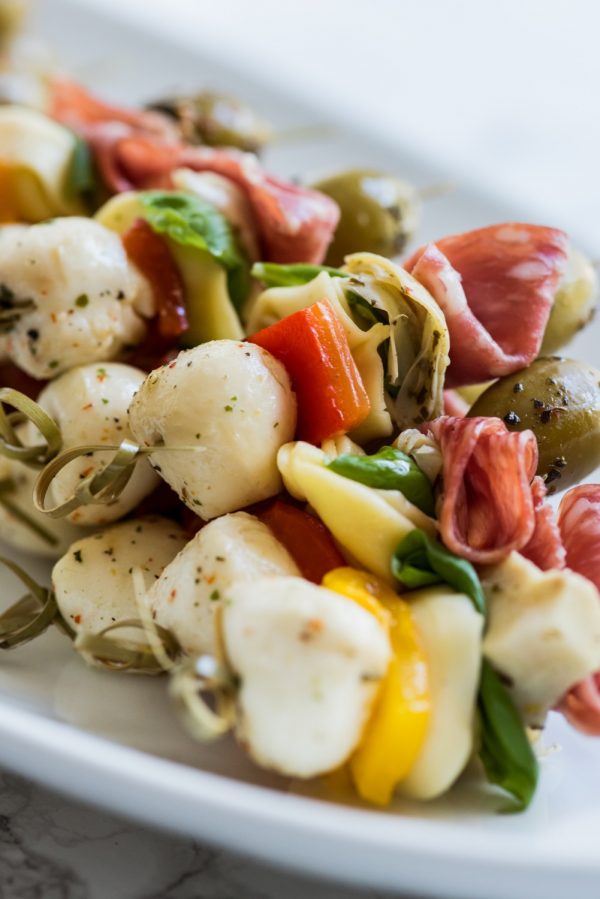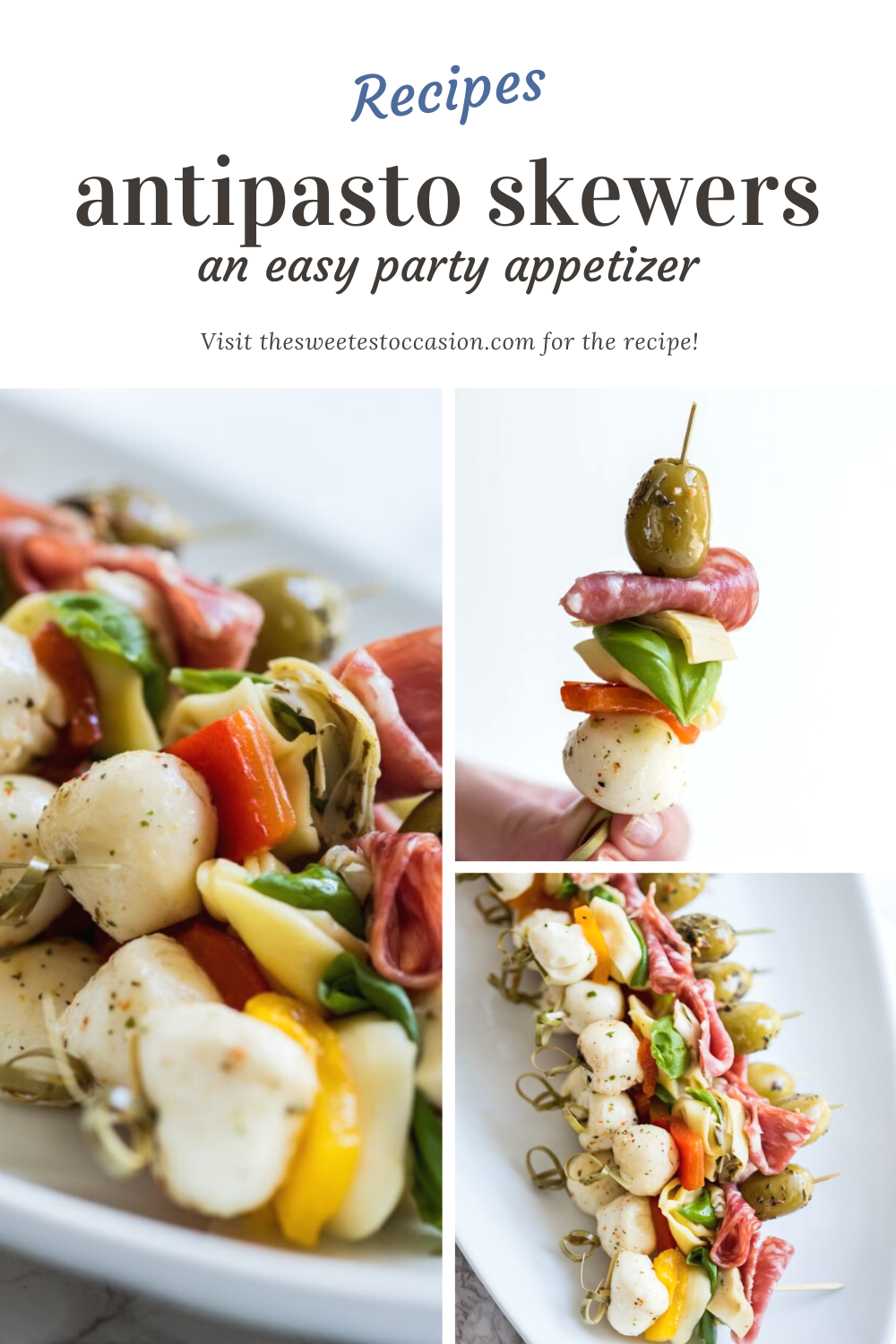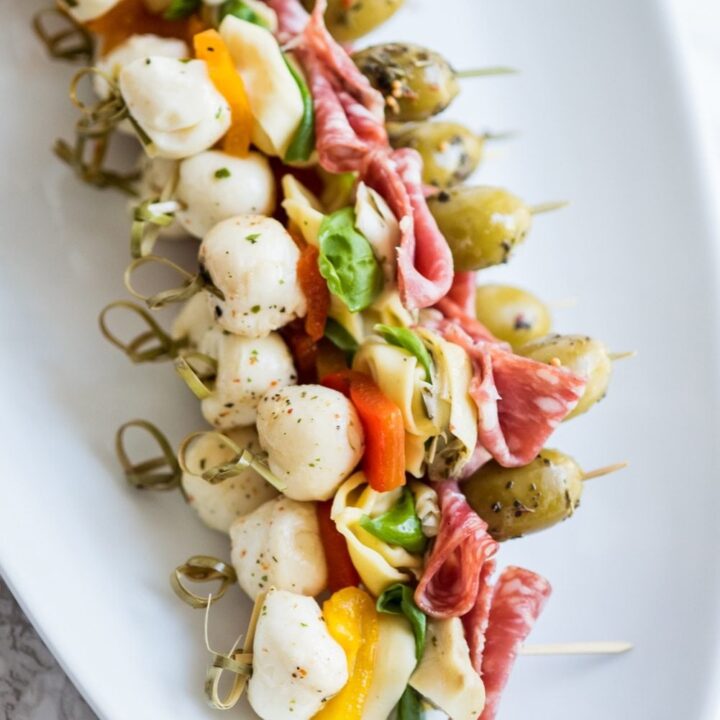 Antipasto Skewers
Yield: 24

Prep Time: 20 minutes

Total Time: 20 minutes

These crowd pleasing antipasto skewers make an easy party appetizer or a fun addition to a charcuterie board. Make your antipasto skewers a day in advance to make party prep even simpler – they come together in just minutes!
Ingredients
24 mini fresh mozzarella balls
24 olives
12 slices of salami, cut in half
24 small basil leaves
2 roasted bell peppers, sliced (or 1 jar)
1 jar artichoke hearts
½ pound fresh tortellini, cooked
Bamboo skewers
Instructions
Using 3″ bamboo skewers or similar, layer your ingredients starting with the mozzarella balls, then the roasted peppers (I used a mix of red, yellow and orange), tortellini, basil, artichoke heart, salami and olives.
I also roasted my own peppers, but you can easily pick up a jar to make things simpler.
Line a tray with your finished skewers and refrigerate until serving.
Make them the night or the morning before and keep chilled. (Leftovers will keep for a few days!)
Plan for 2 - 3 per person.
Notes
I generally use mozzarella balls and olives that are already marinated and seasoned, but I would suggest tossing yours in a bit of olive oil with a big pinch of Italian seasoning if you can't find those that are already pre-seasoned.


[Art direction + styling by Cyd Converse | Photos by Alice G. Patterson for The Sweetest Occasion.]
This recipe was created in collaboration with Dr. Oetker USA LLC as part of our housewarming party. Read more about our editorial policies.