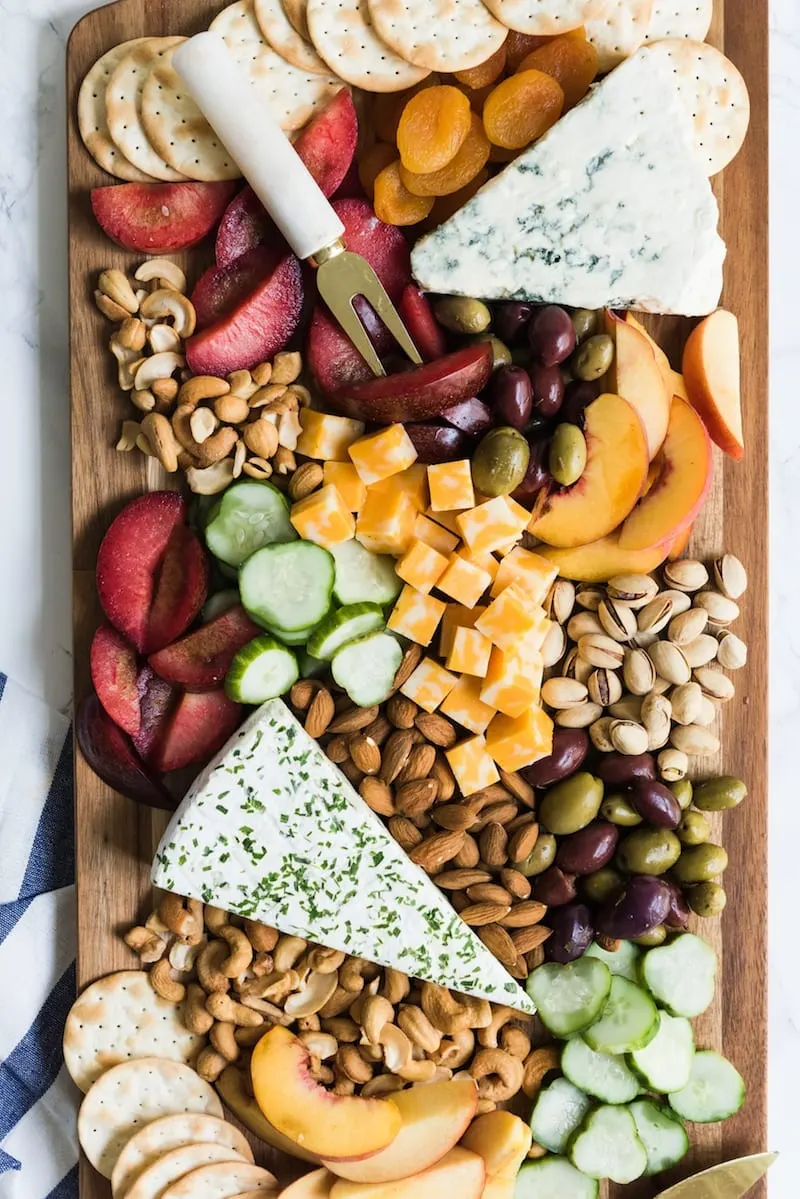 I'm pretty sure that a great cheese board makes the perfect party appetizer no matter the occasion. I'm convinced of it, in fact. In full disclosure, I actually think a cheese board makes the perfectly easy dinner, too! Just give me all the cheese, please. This cheese board is sort of an ode to late summer and the fruits and veggies spilling out of gardens and farmer's market bins right now.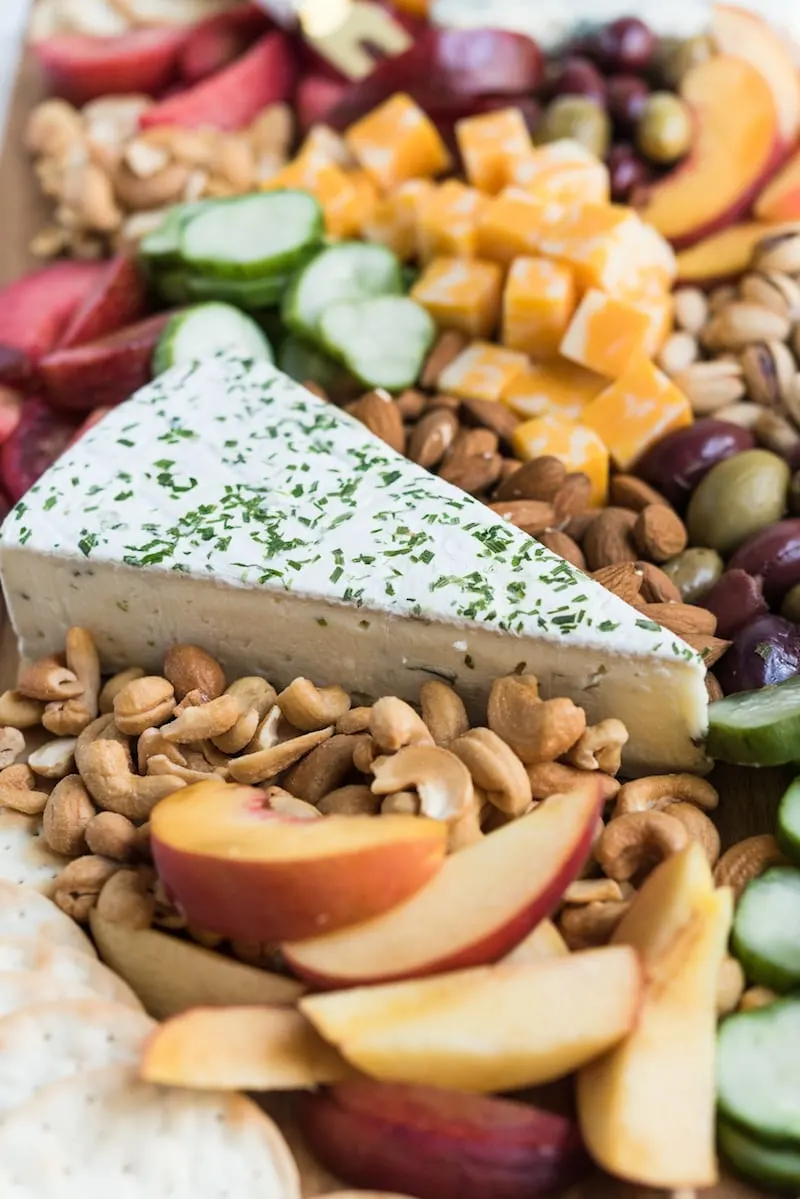 I make cheese boards a lot. They're one of my default party appetizers, in fact. I get asked a lot by family and friends how I make them look so good, so I thought I would share a few tips today! It's so much easier than you might think. Spoiler: Basically you just shove everything on there. Scroll through the photos below to see!
How to Make a Cheese Board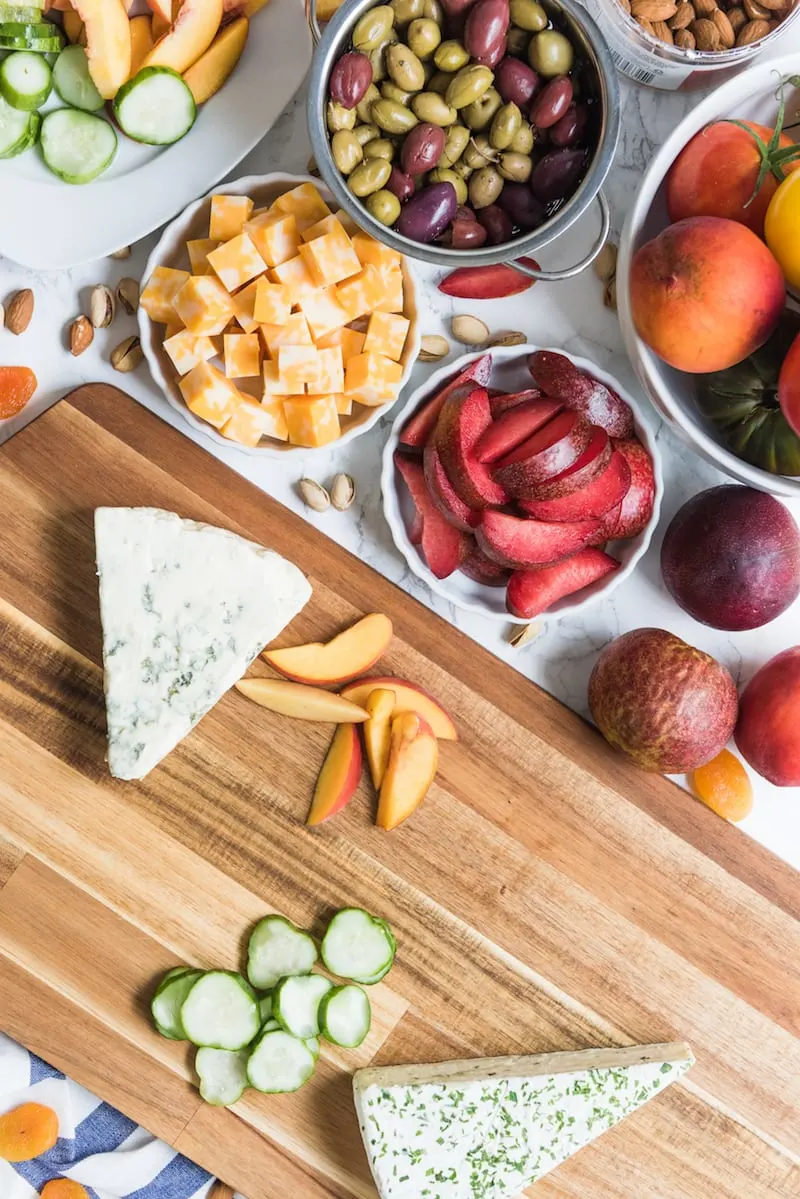 When building a cheese board, I like to start with at least 3 kinds of cheese, depending on the size of my crowd. I start by placing any blocks or wedges of cheese on a large board and then begin layering in little piles of my other elements.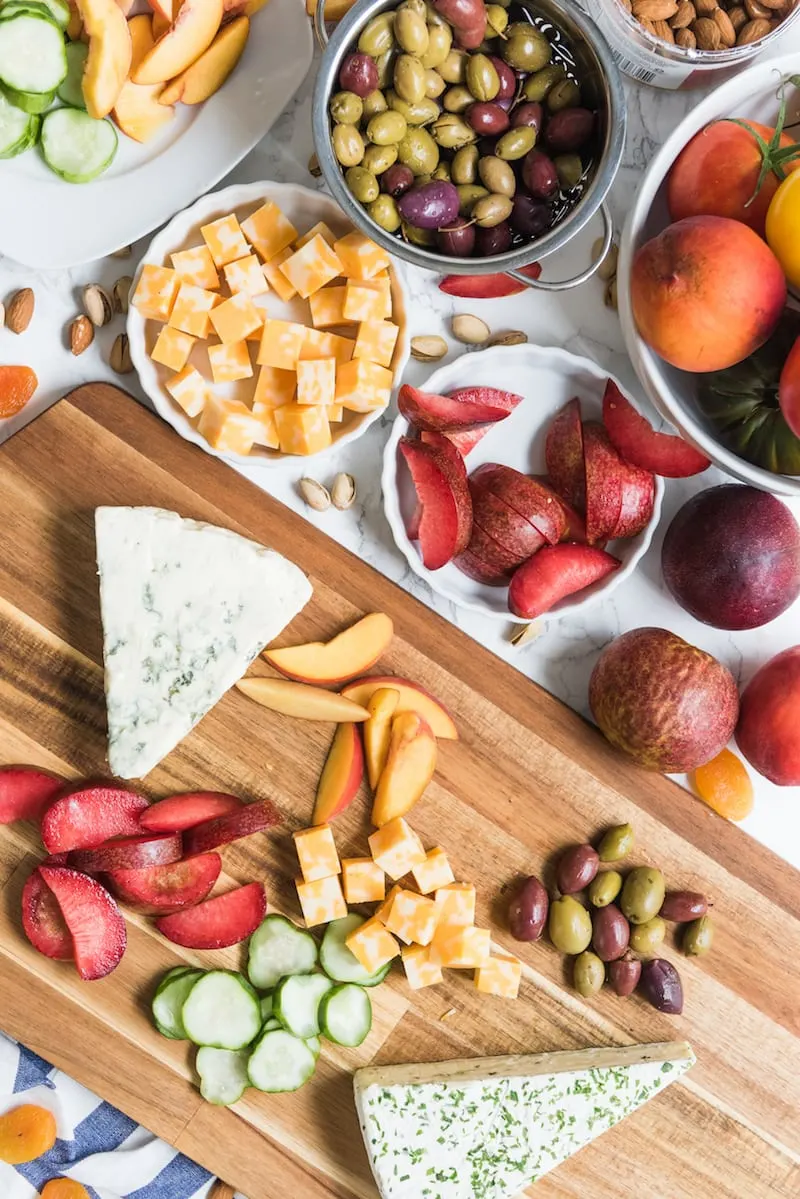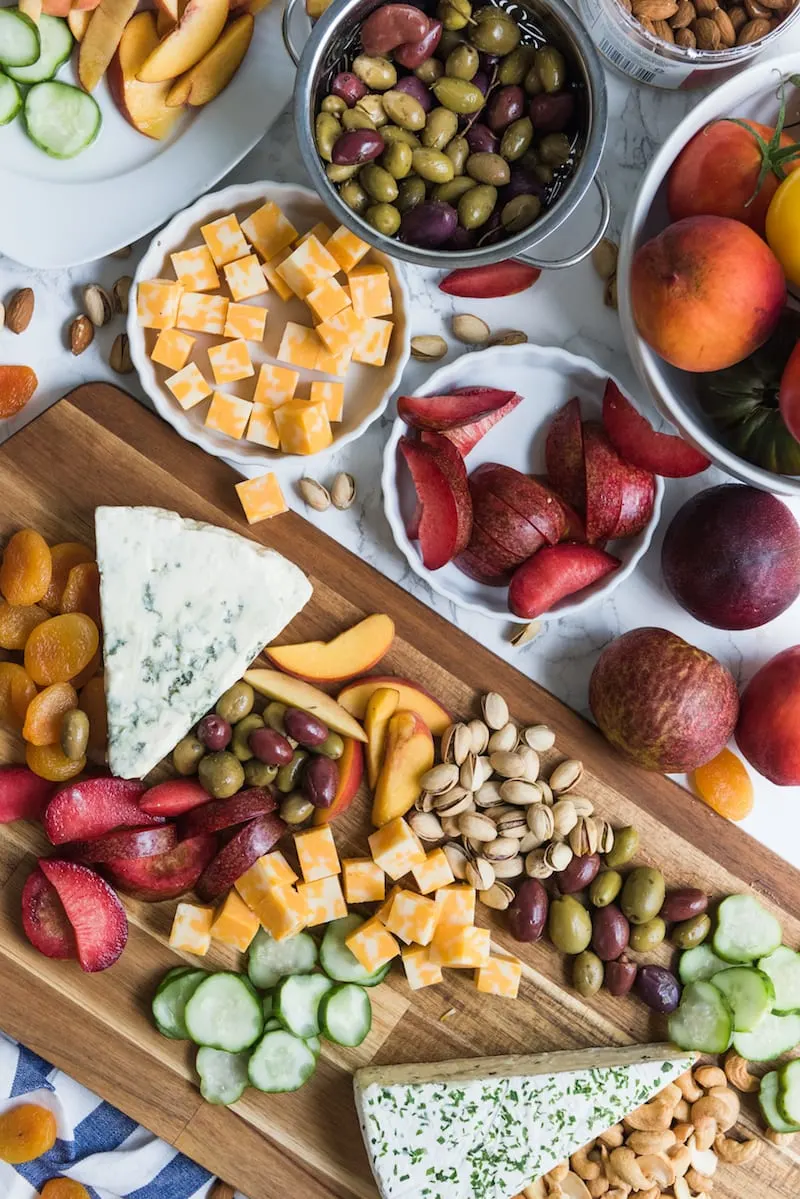 The trick to making a cheese board look amazing is to just pack it full. Make small piles of your various cheeses, nuts and fruits and keep layering and filling in until you have something really full and delicious looking. The ingredients should touch one another and spill into each other so they look abundant.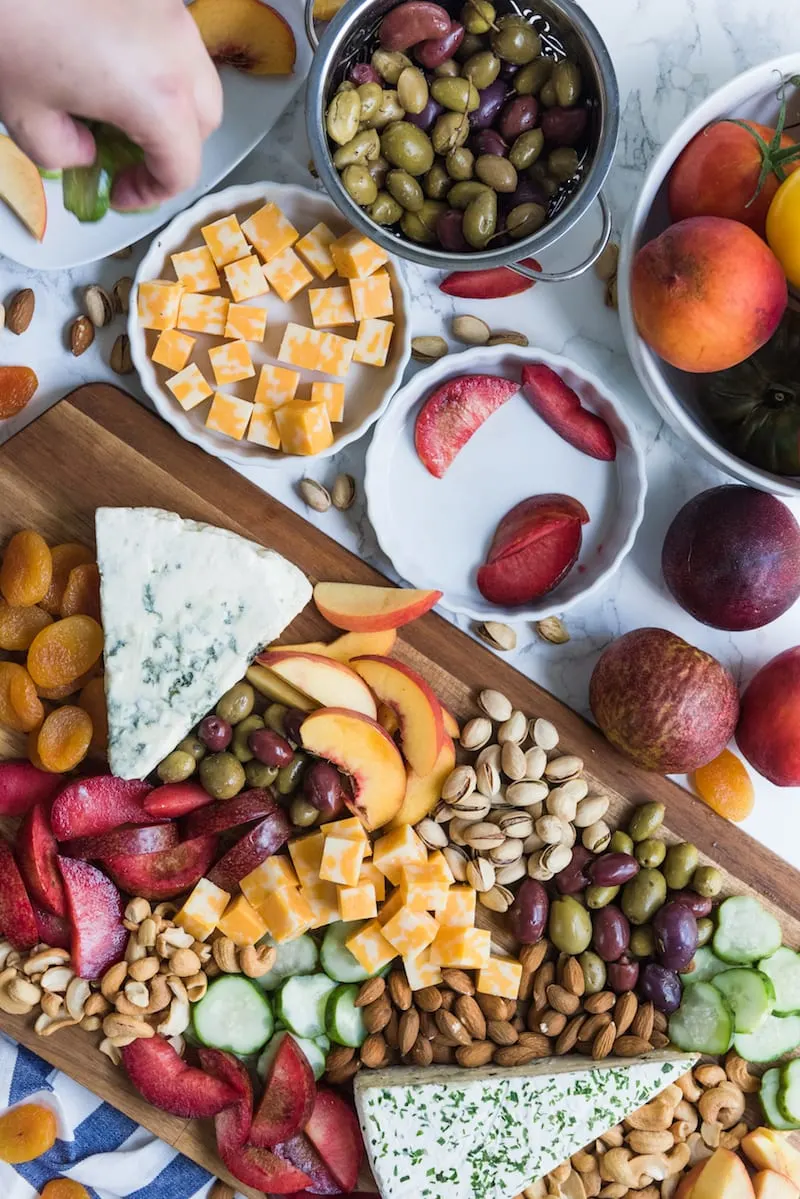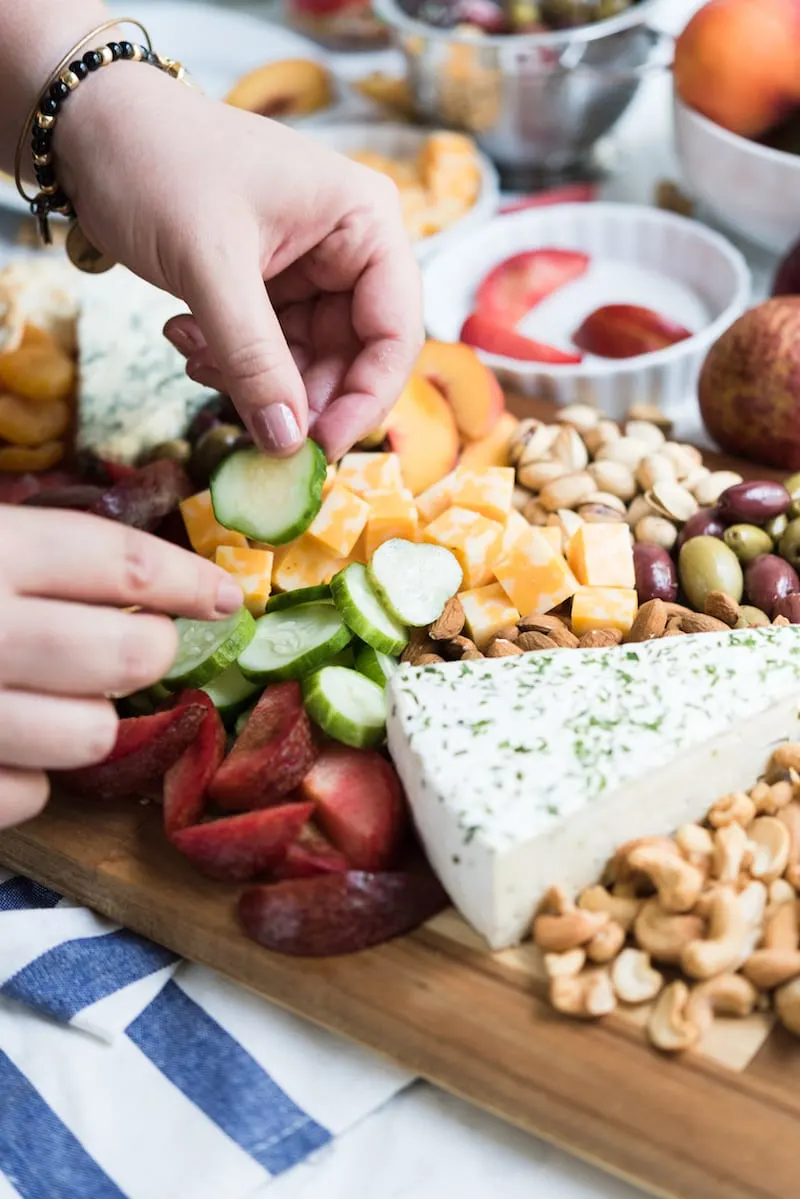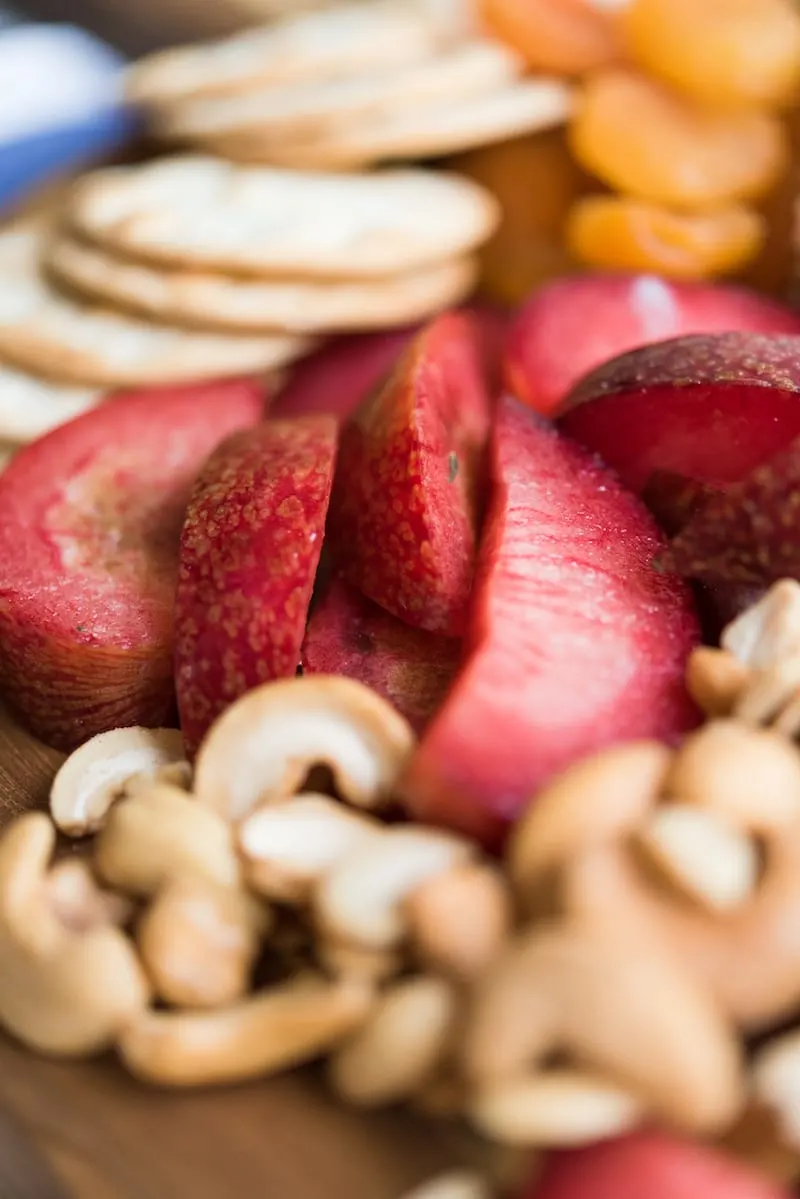 For a summer cheese board, I really like to make the most of seasonal produce. Slice up those cucumbers you have in excess from the garden. Add in chunks of stone fruit or local tomatoes. You always want something tart or brined like olives or pickles! A few kinds of nuts are also a requirement.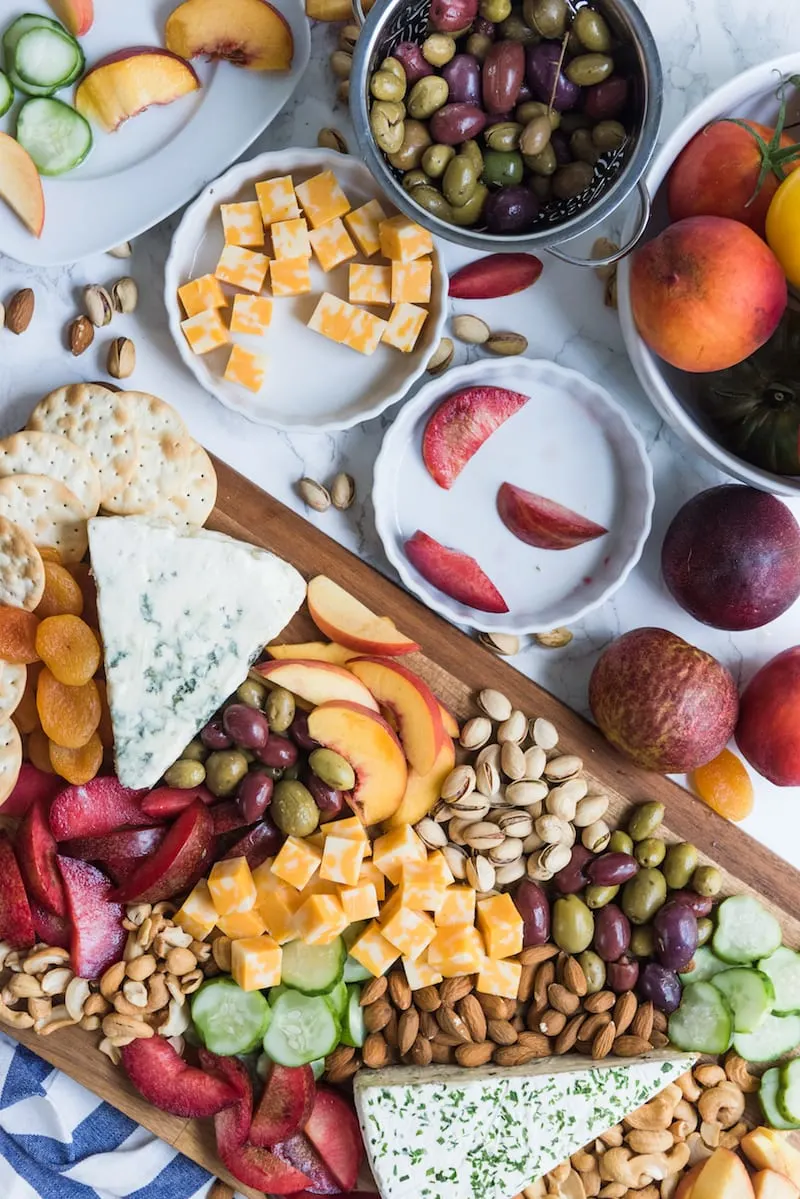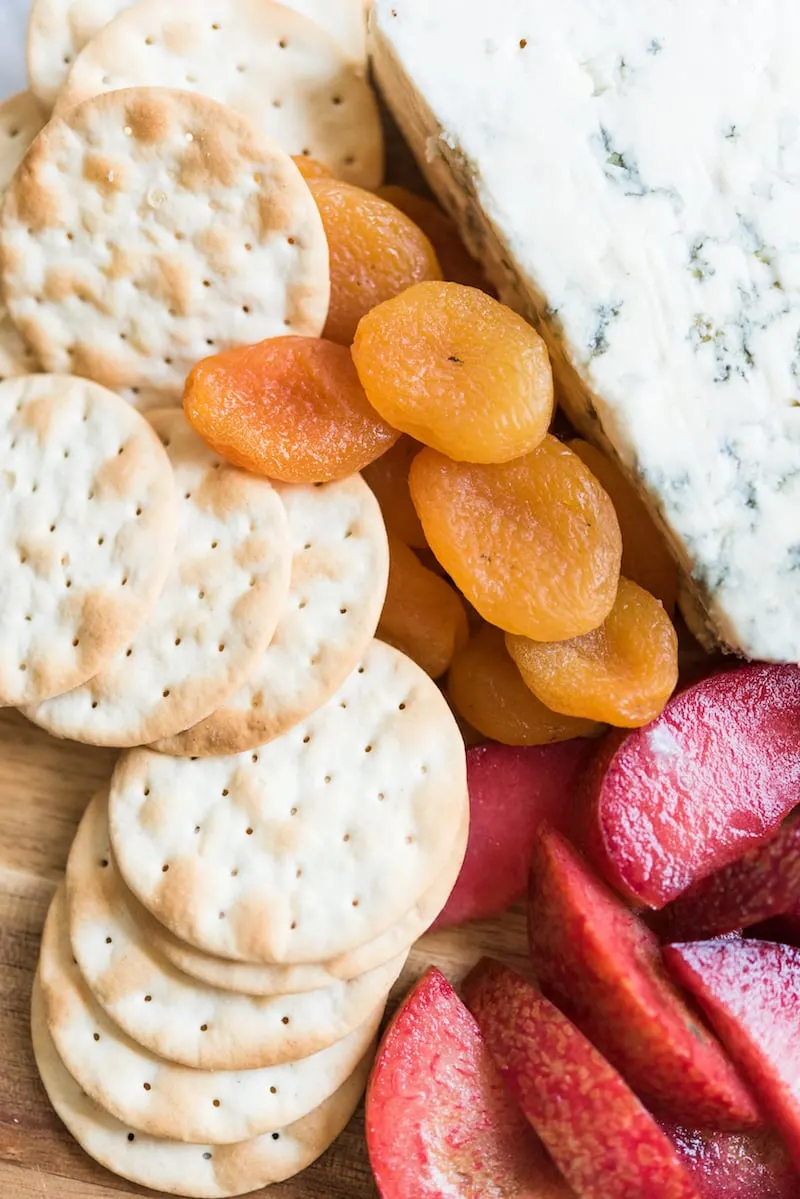 Dried fruit is always great on a cheese board – this time of year I love apricots! A few crackers or wedges of pita bread are always a nice idea. You can add jams or honey to your cheese board, too, just think about seasonal flavors to really make the most of the summer harvest.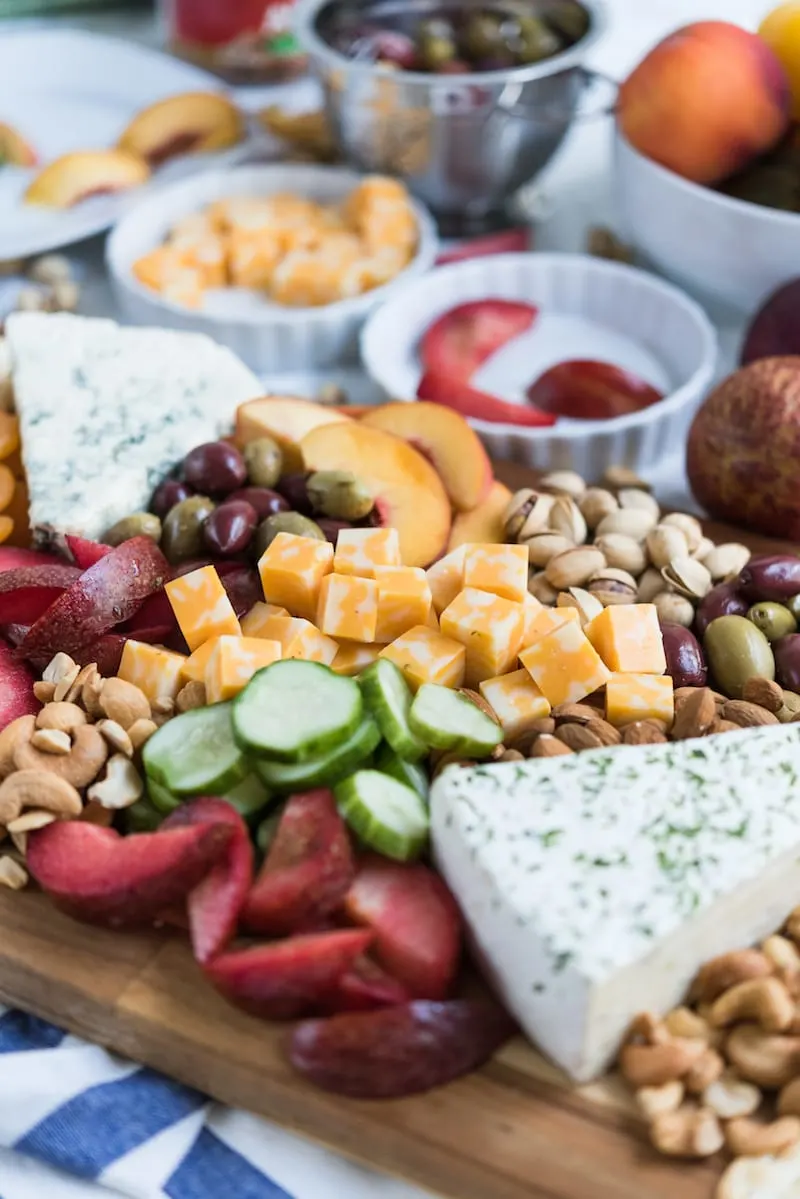 With this cheese board I used local plums, peaches and cucumbers and a combination of blue, brie and colby jack cheeses. Cashews, pistashios, almonds are always favorites in the nut department! Then crackers, dried apricots and olives round it all out. Cheese boards do not need to be overly complicated or expensive to be really really pretty and a guaranteed crowd pleaser!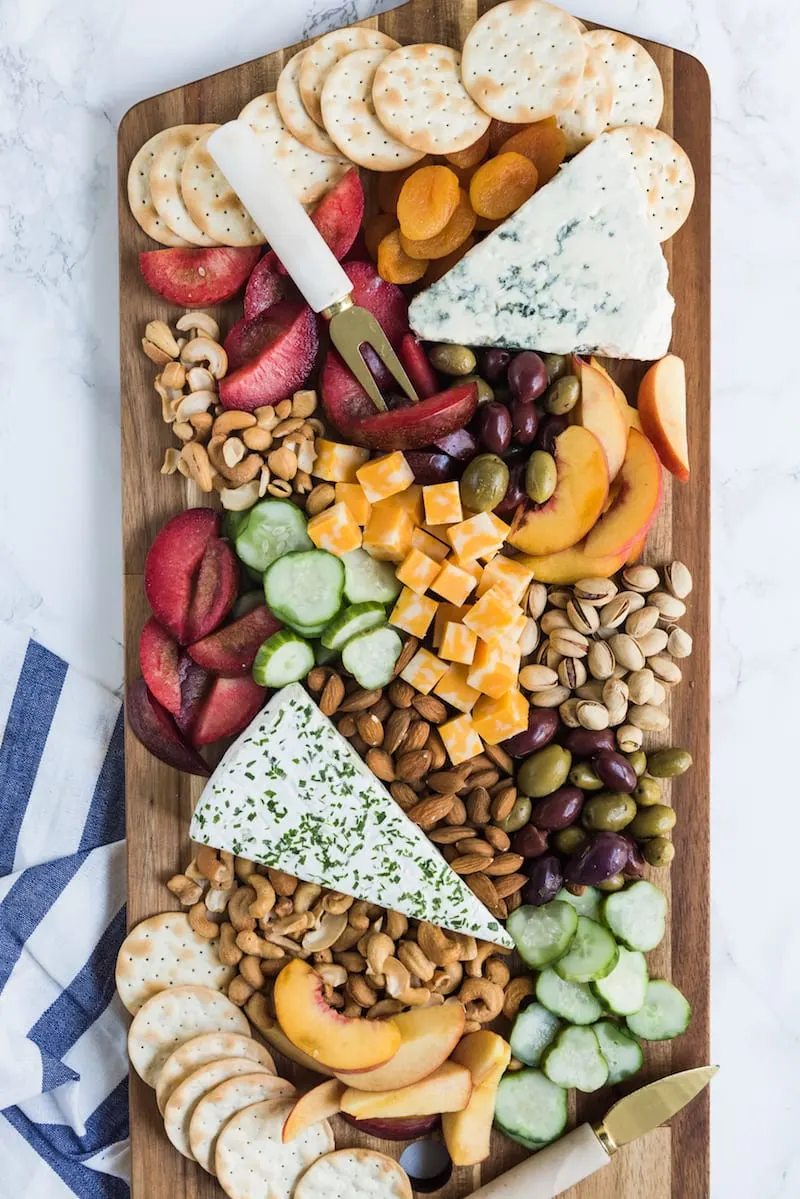 Need More Cheese Board Ideas?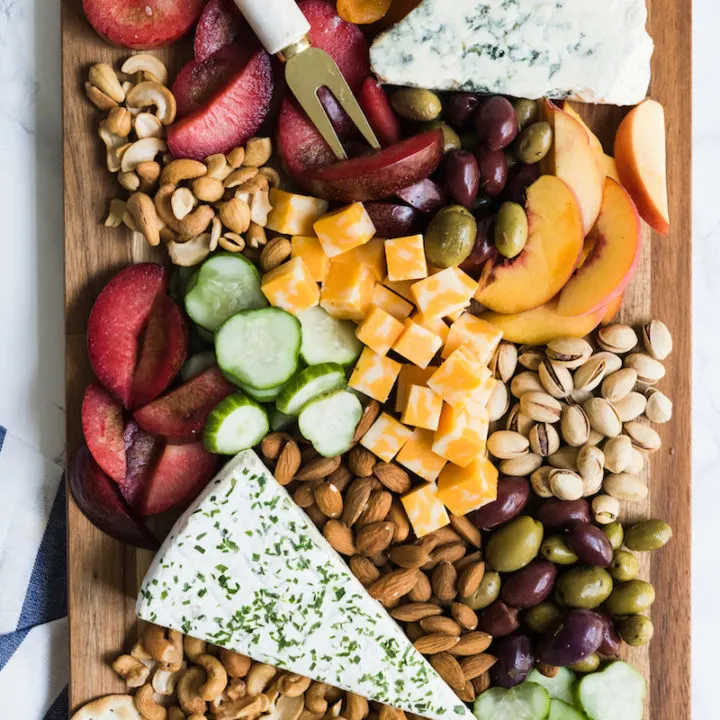 How to Make an Easy Cheese Board
Prep Time: 10 minutes

Total Time: 10 minutes

Create an easy cheese board as a quick party appetizer or an easy weeknight dinner idea using seasonal summer produce and local ingredients!
Ingredients
2 - 3 varieties of cheese
2 - 3 fresh fruits, sliced
1 - 2 dried fruits
1 - 2 fresh veggies, sliced
2 - 3 varieties of nuts
1 - 2 varieties of olives or pickles
1 - 2 cracker or bread options
Instructions
Begin with a large wooden board or platter, placing any blocks or wedges of cheeses on either end
Add in each ingredient incrementally in small piles across the board, layering and adding until the board is packed and full
Avoid leaving spaces between the various components - allowing them to spill into each other creates the full look that is so visually appealing
Fill the board right out to nearly the very edge in both directions and keep adding until all of the ingredients are used up
Serve right away or cover and refrigerate for up to a few hours
[Photos by Alice G. Patterson for The Sweetest Occasion.]