=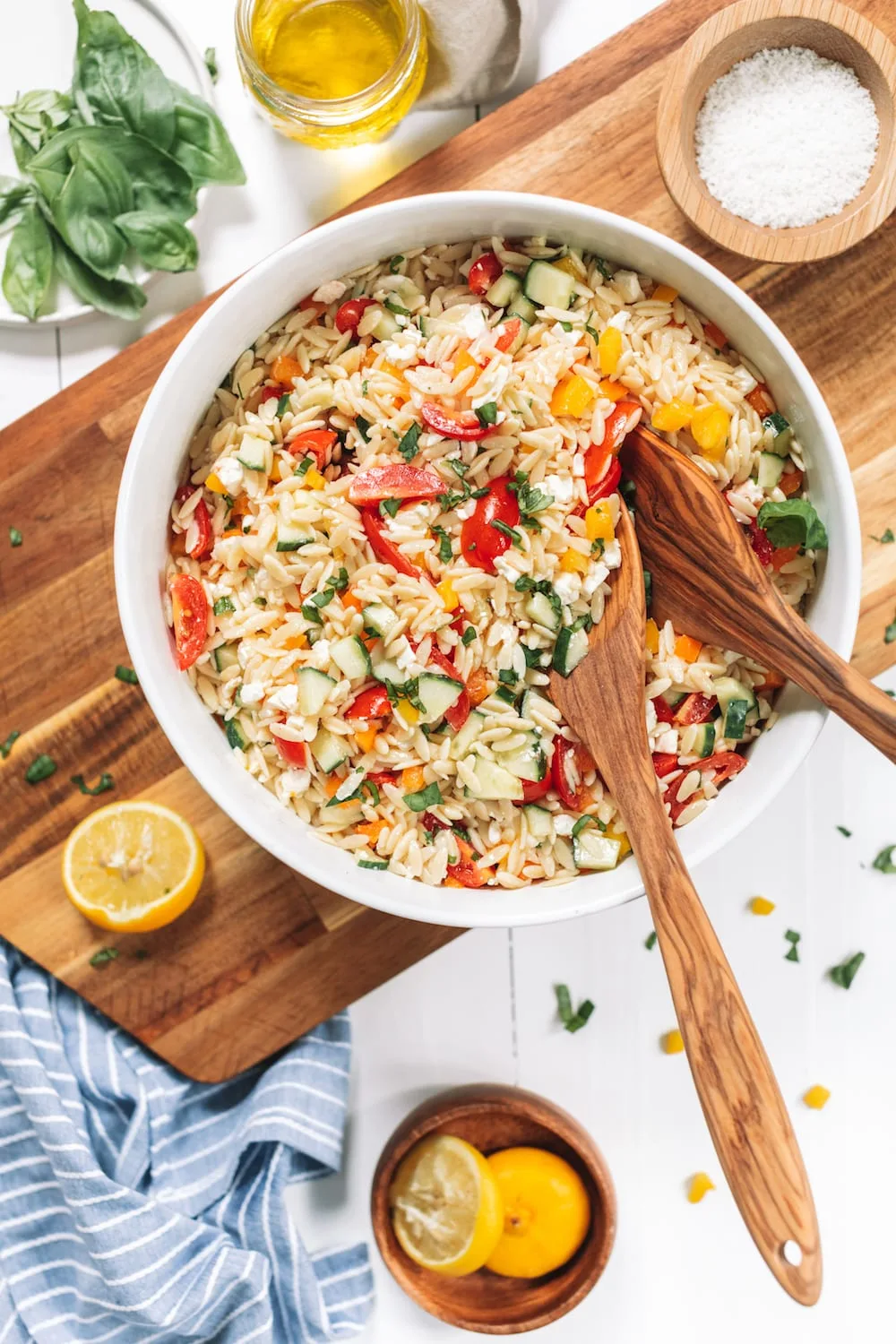 This Mediterranean orzo salad with feta is owning summer in our house. I can't stop making it, my family and friends basically beg for it, and after a bunch of tweaking and experimenting, this orzo salad is damn near perfection. Also, it's really really easy to make.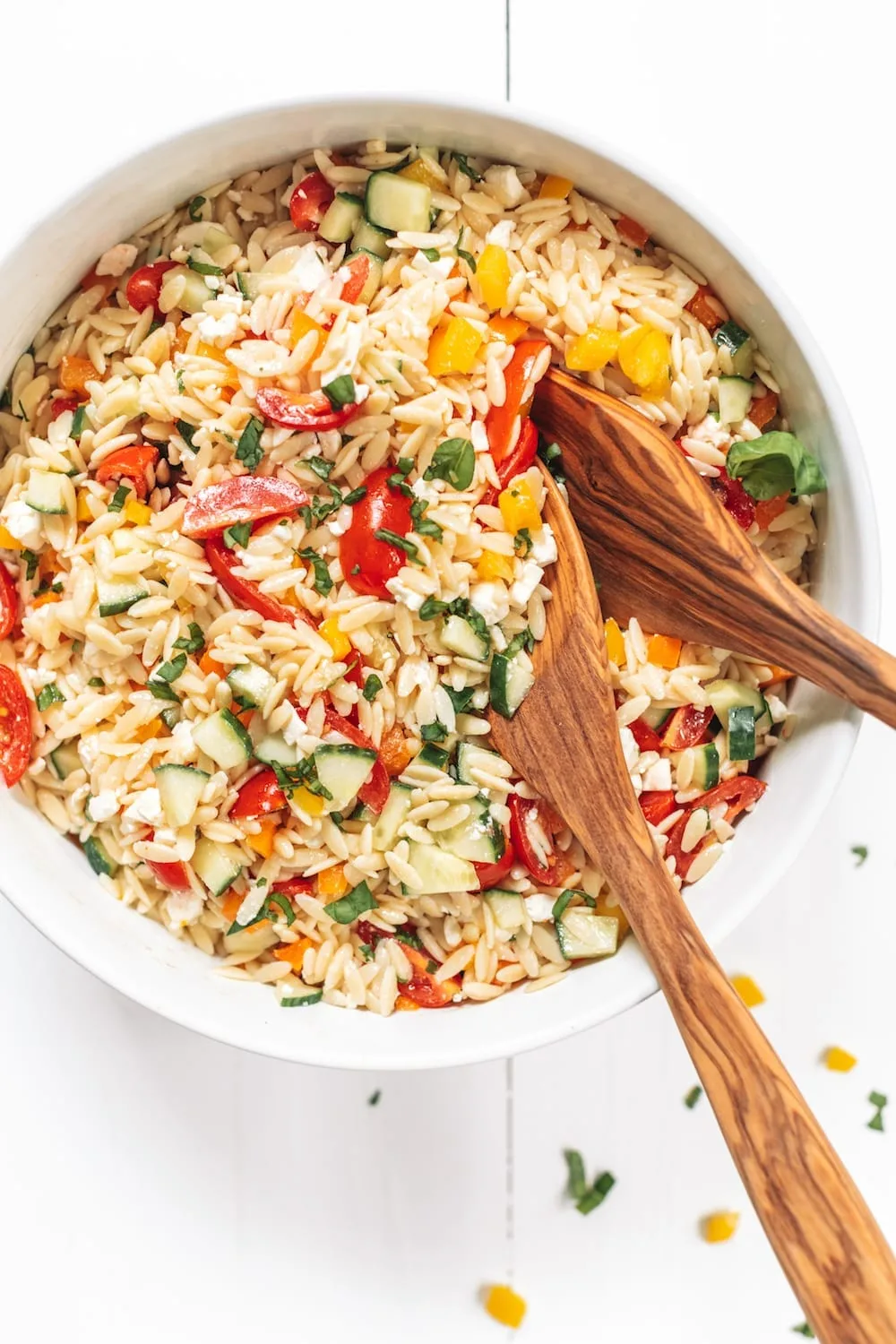 I'm going to go on record and proclaim that this is the perfect summer party salad. It's light, flavorful, super unfussy and really makes the most of summer produce. Add onions, scallions, fresh zucchini or anything else you might love to switch up the flavors.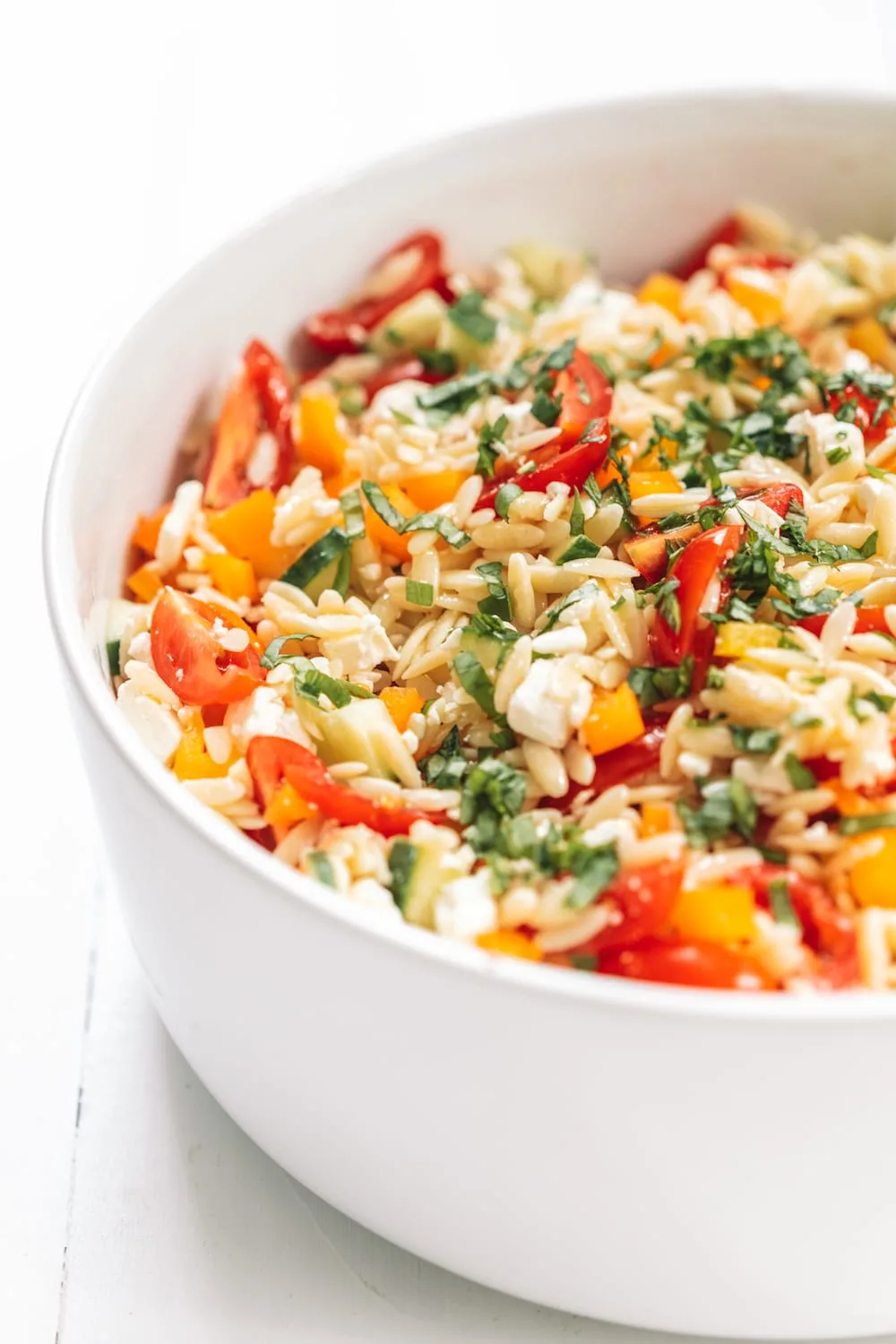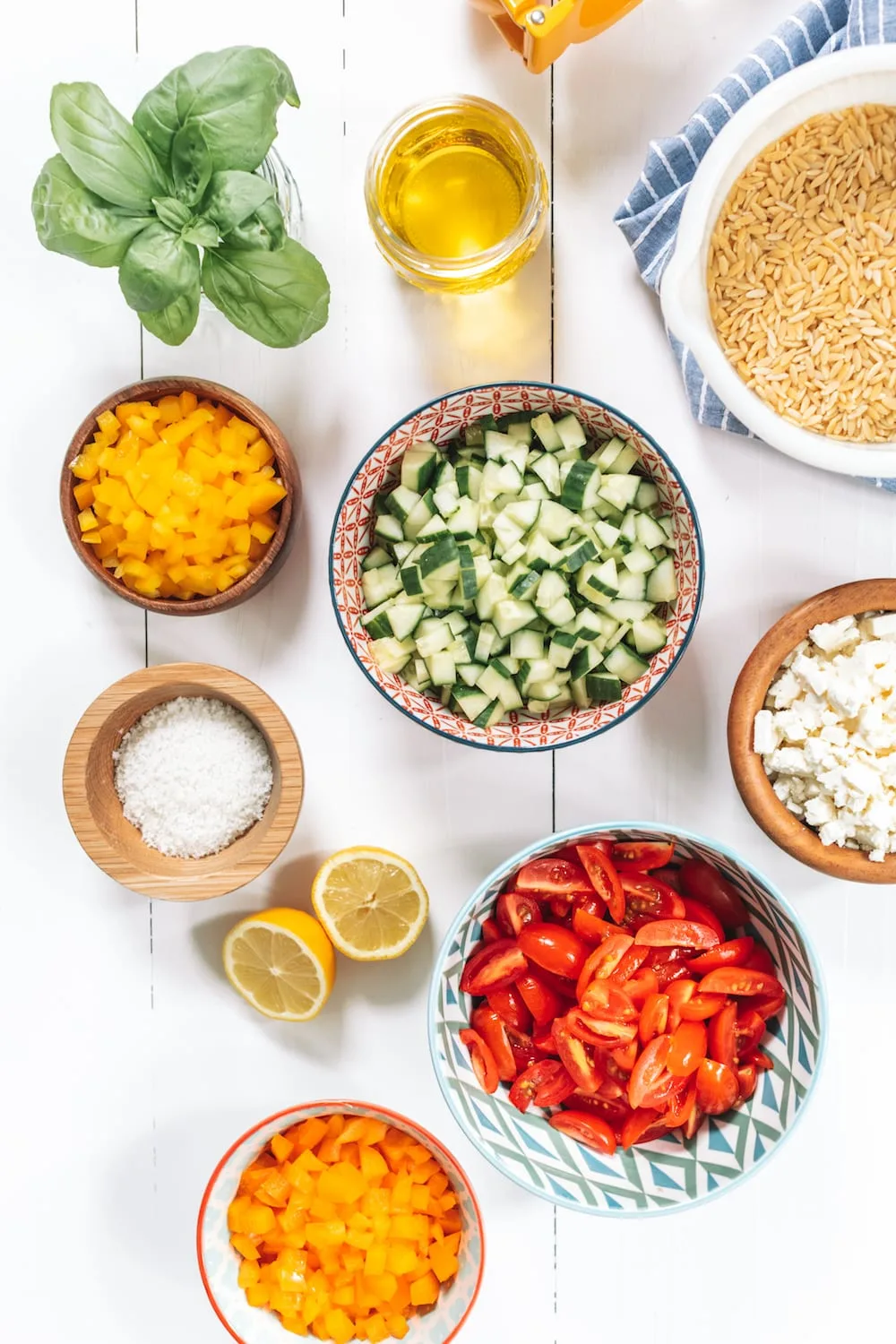 How to Make Mediterranean Orzo Salad with Feta
This recipe is really straight forward, but there are a couple tips I wanted to share when making your orzo salad. First, cook your orzo and allow it to cool completely to room temperature before moving along. I think it lends to a better texture for the salad, but it will be delicious either way.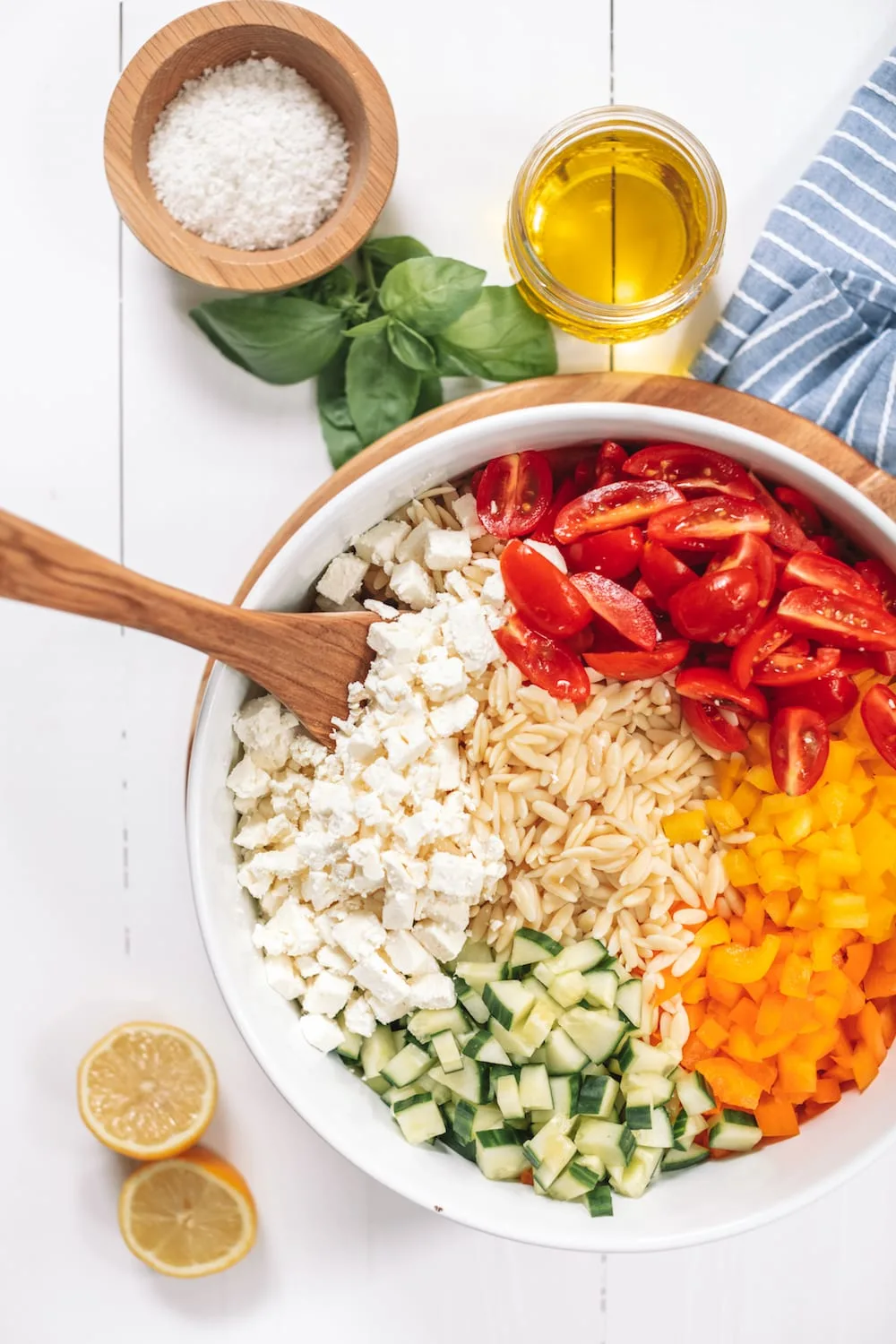 Also, buy your feta in the big block. It's generally fresher, more flavorful and when cut into chunks it'll avoid being as crumbly as the pre-chunked kind. If you already have chunked feta in your fridge, use it! There are no hard and fast rules here.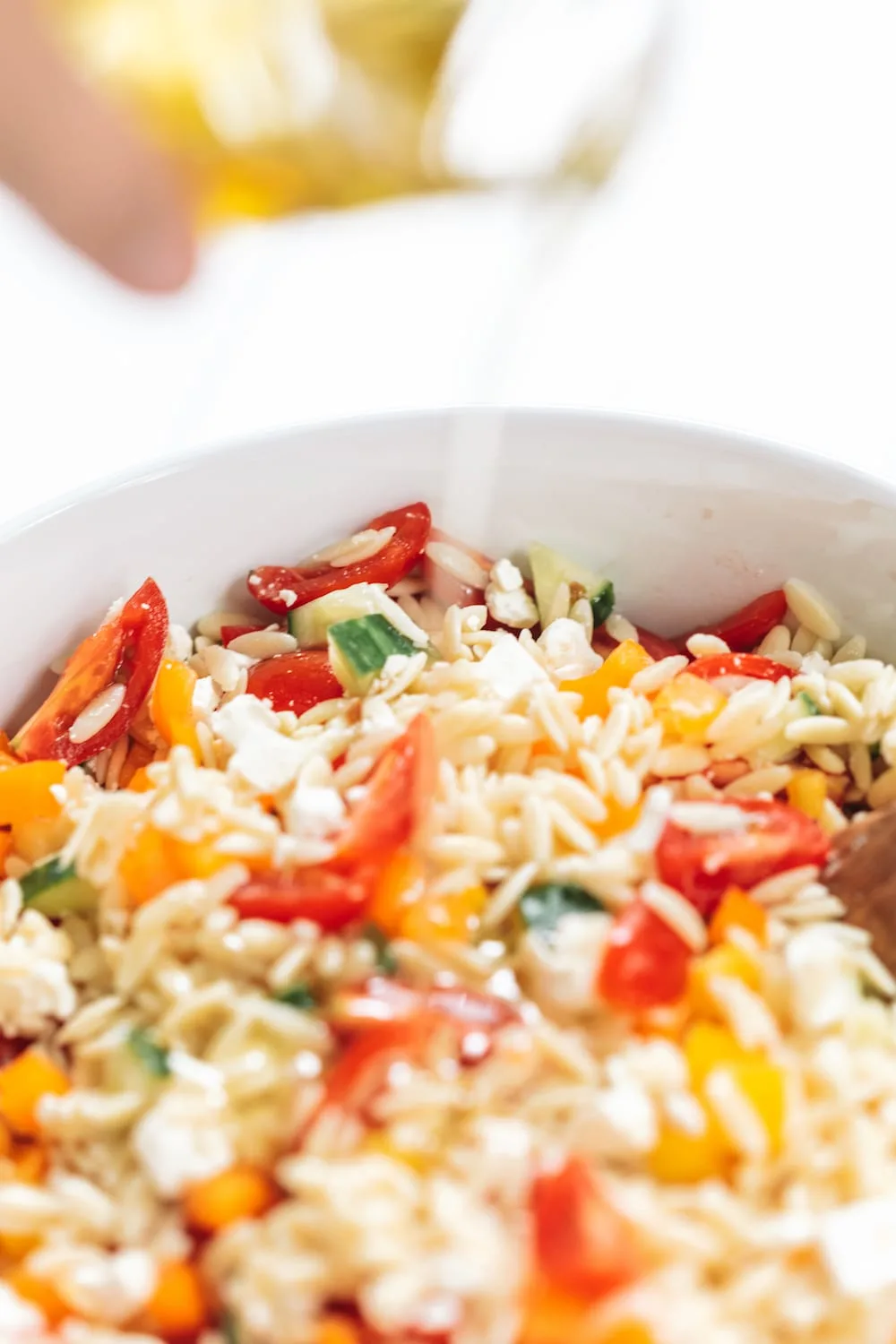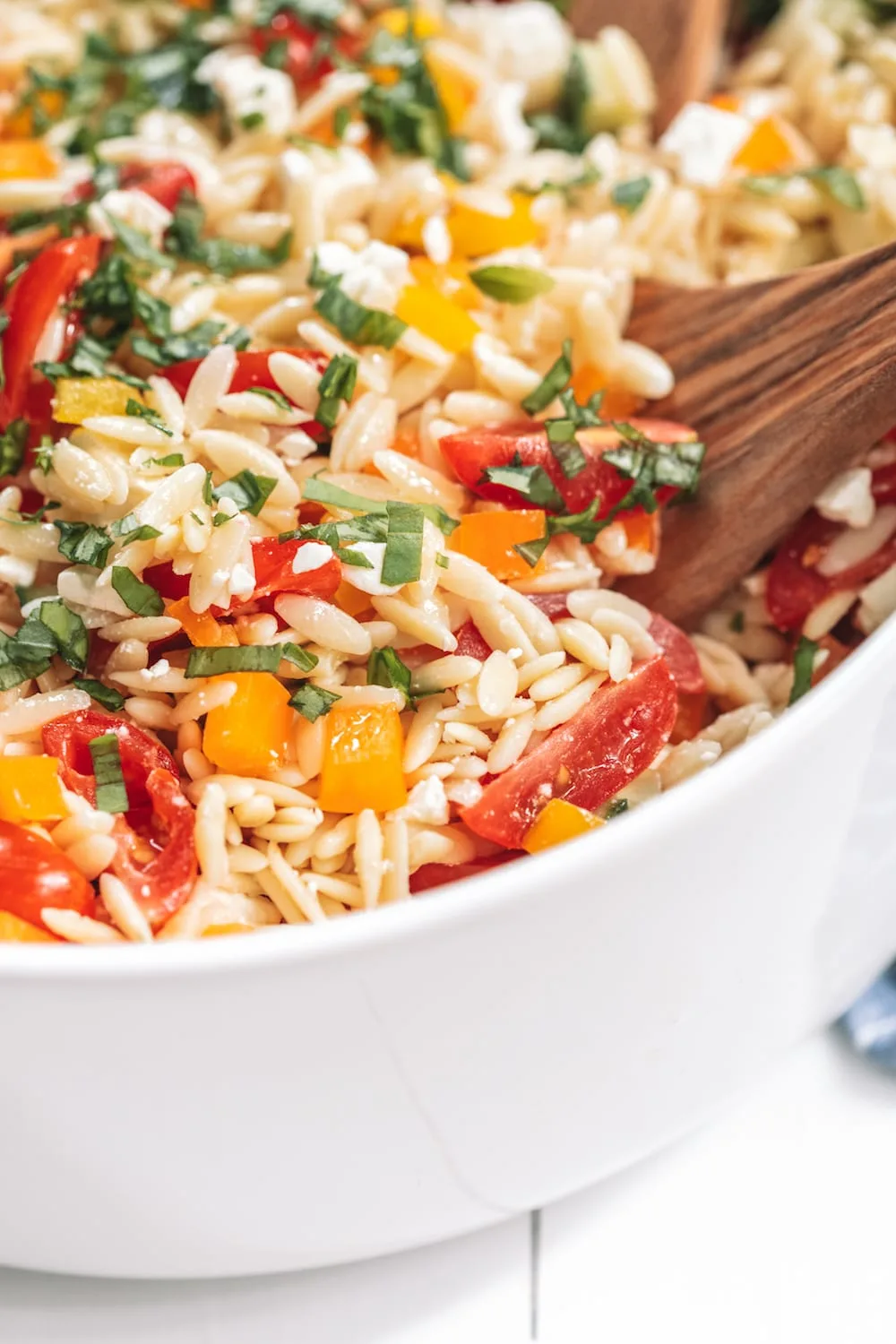 Finally, make sure to use regular or light olive oil. Extra virgin olive oil has a much stronger flavor that is super overpowering in this salad. I know because I've tried it! Stick to the lighter flavored olive oil here and the balance will be much better.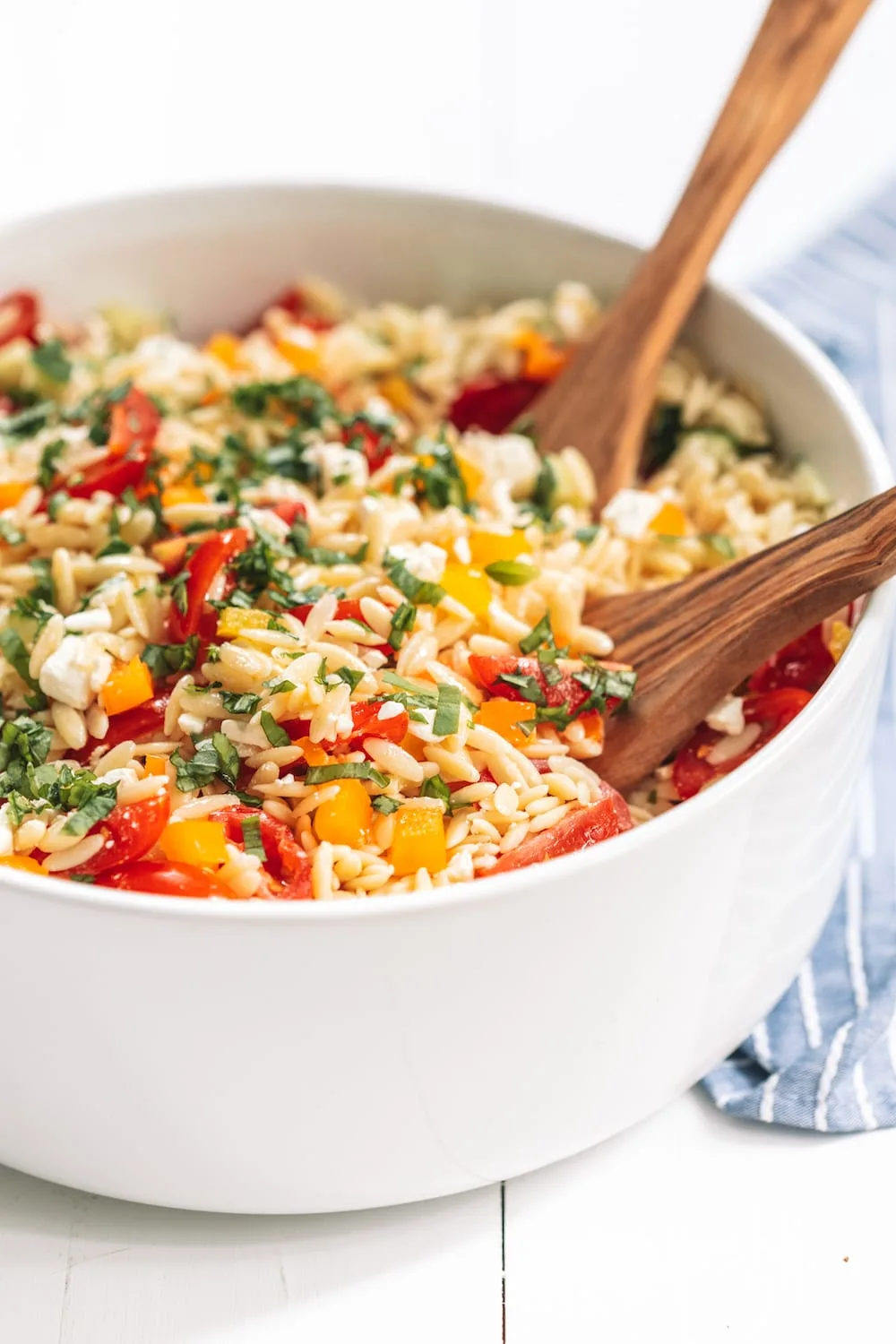 How to Cook Orzo
I get so many questions about how to cook orzo, that I thought it bears sharing. It's so easy! Just bring a big pot of water to a boil and dump in the orzo. This recipe uses a full pound of orzo. It will need 8 – 10 minutes at a low boil to be cooked perfectly.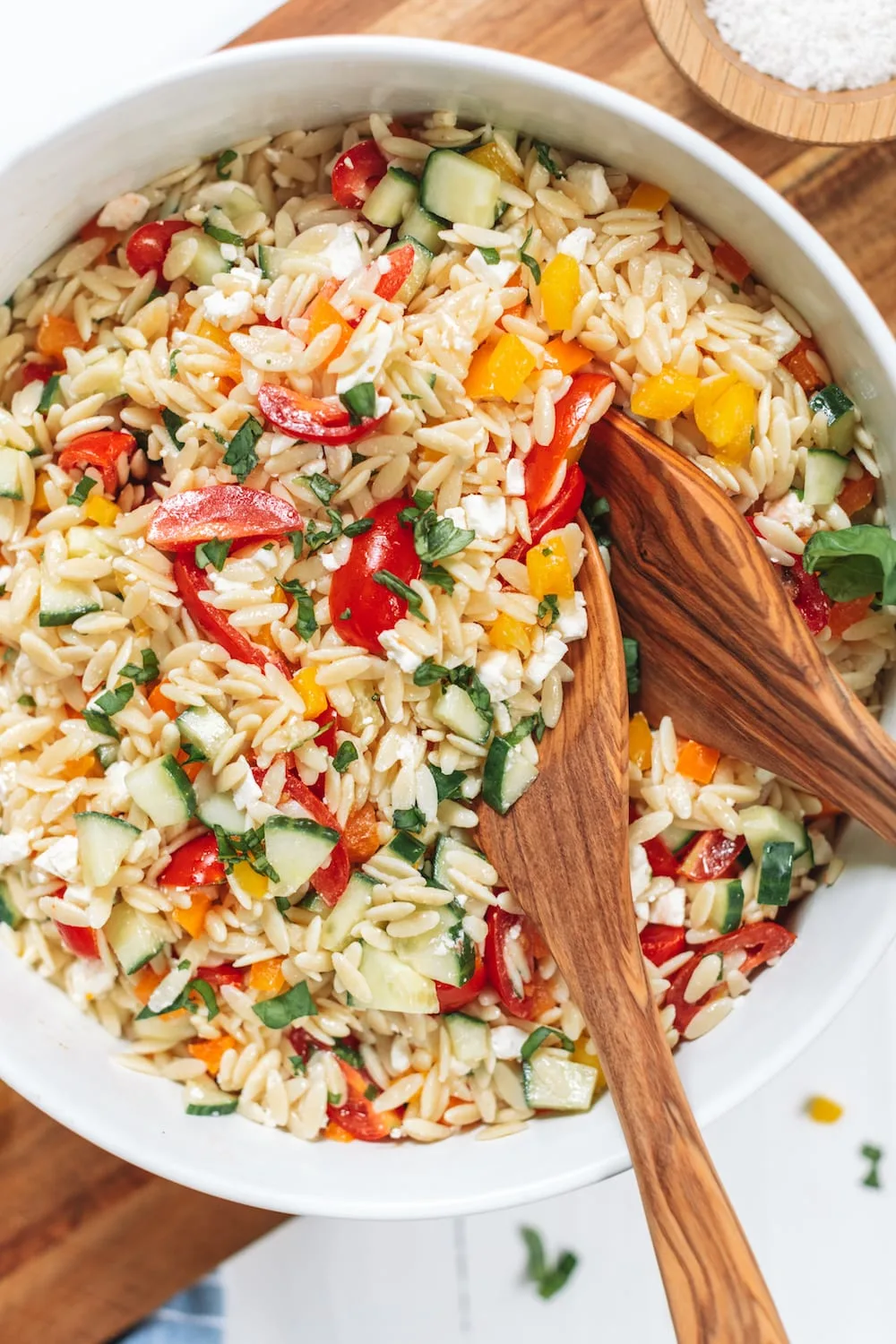 I don't bother salting the water, because I like to rinse the orzo in a colander under cool water when it's done. It helps stop the cooking so the orzo doesn't get mushy. Then I let it rest in the colander until it reaches room temperature before mixing up my salad. If you're in a rush just rinse it with cold water continuously until cooled.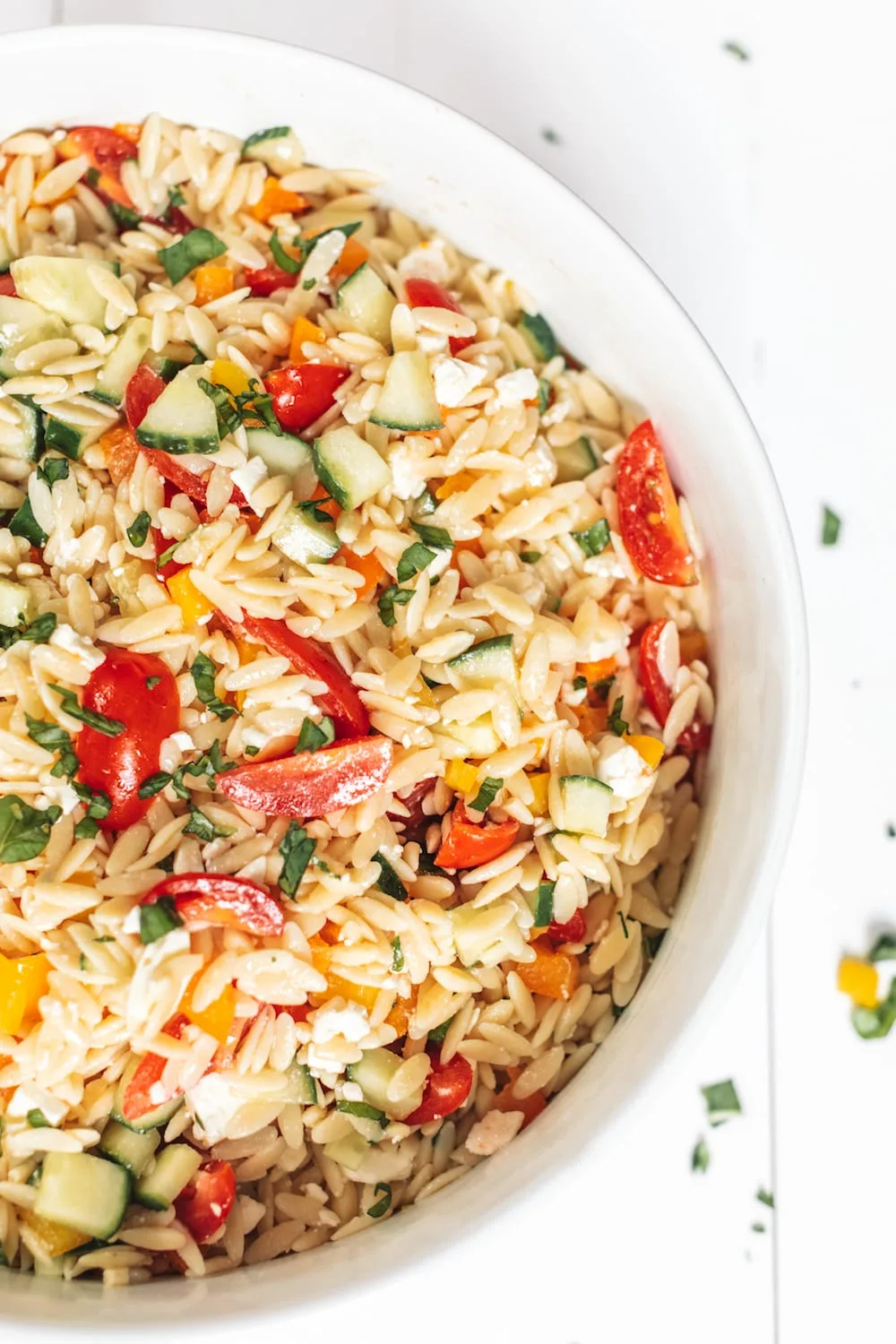 I love this orzo salad recipe so much! I really hope you give it a try this summer. It's one of those summer salads that is totally classic and sure to be a crowd pleaser at all your summer parties. That said, I also love making it for easy weeknight dinners or to have for lunches during the week.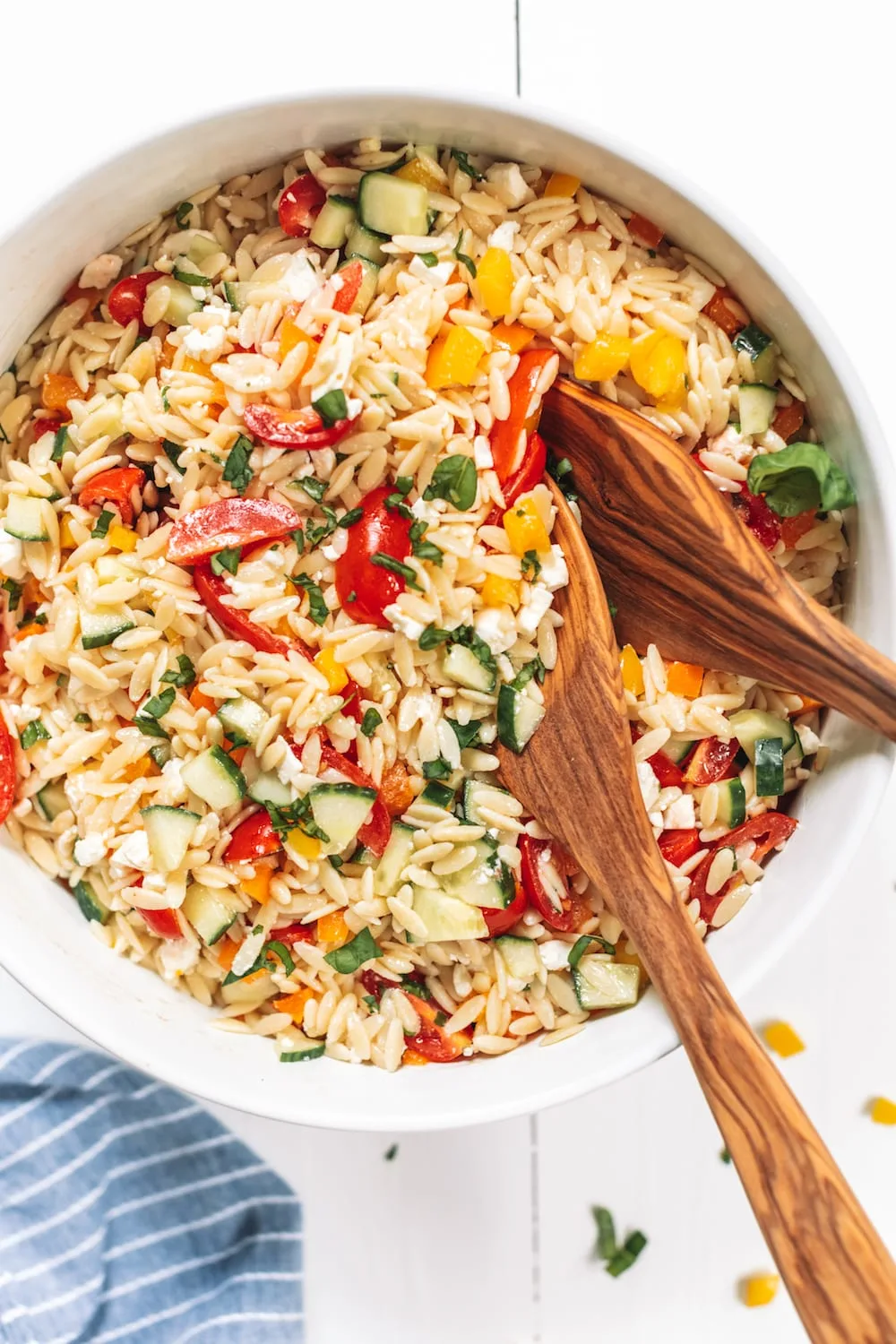 Looking for Summer Salad Recipes?
Check out my favorite potato salad recipe, this basil lemon pasta salad from my pal Julie or my sweet friend Michael's amazing panzanella recipe!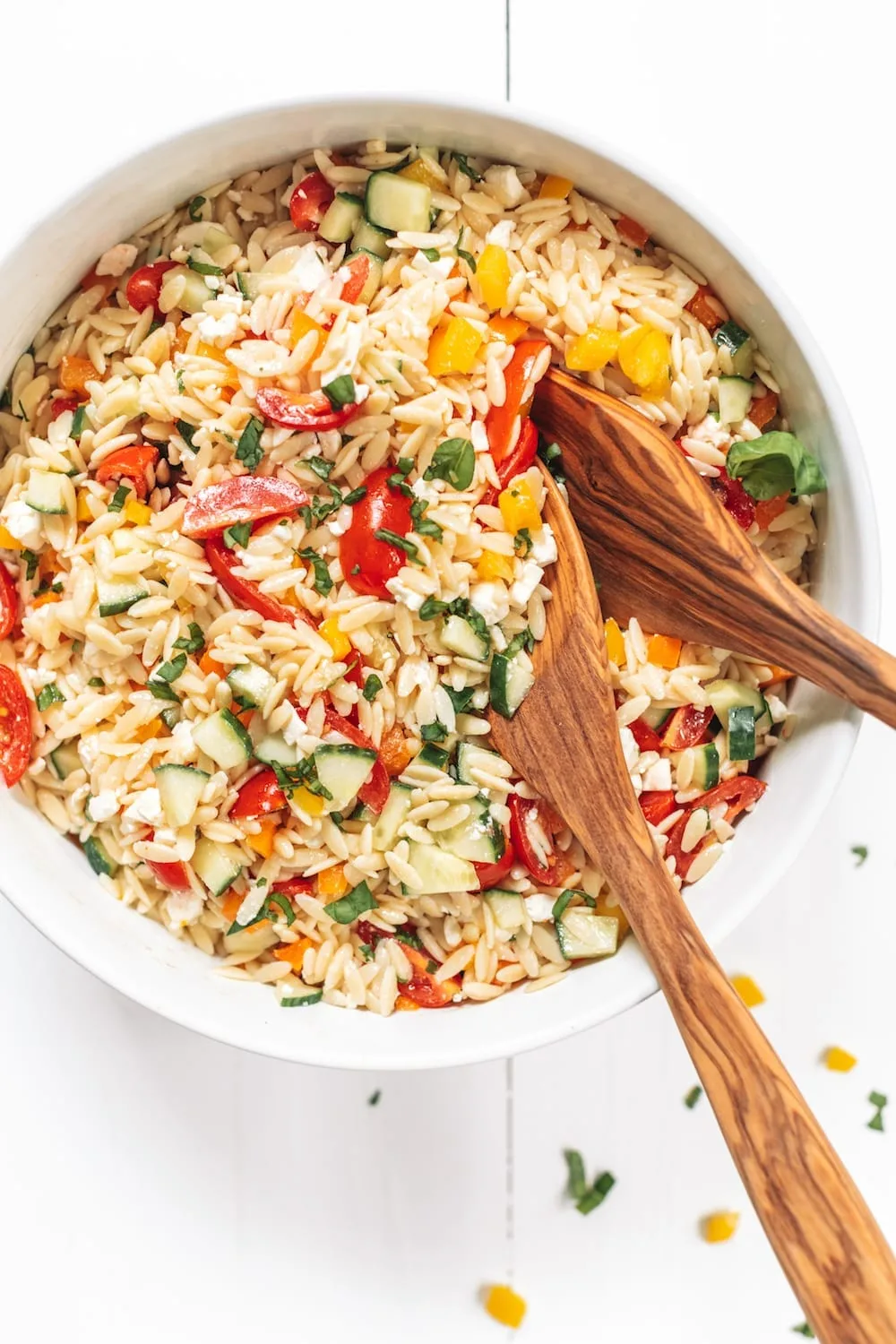 Mediterranean Orzo Salad
Yield: 12

Prep Time: 15 minutes

Cook Time: 10 minutes

Total Time: 25 minutes

An easy Mediterranean orzo salad with feta that is perfect for summer parties, backyard barbecues and easy weeknight dinners.
Ingredients
1 pound orzo
1 English cucumber, diced
1 orange bell pepper, diced
1 yellow bell pepper, diced
1 pint grape tomatoes, halved
8 ounces feta cheese, chunked
3/4 cup olive oil
3 lemons, juiced
Salt and pepper to taste
3 tablespoons chiffonade basil leaves
Instructions
Bring a large pot of water to boil. Add orzo and cook for 8 - 10 minute until tender, but not mushy. Strain into a colander and rinse well with cool water to stop the cooking. Allow to finish cooling completely to room temperature.
Transfer orzo to a large mixing bowl. Add cucumber, bell peppers, tomatoes and feta then mix gently to combine.
Drizzle with olive oil and lemon juice, then mix again.
Add salt and pepper to taste, mixing well.
Finish with fresh basil and mix one final time.
Serve immediately or refrigerate until serving.
Notes
I prefer to use a block of feta and cut it into chunks myself. You get larger chunks of feta this way, versus a bunch of tiny crumbles.

Rather than prescribing a set amount of salt and pepper, I think it's important to taste this one yourself and season it to your liking. Every brand of feta cheese will have more or less salt, so one size will not fit all when it comes to seasoning measurements.
My Favorite Summer Picnic Recipes
[Photos by Cyd Converse for The Sweetest Occasion.]