I'm excited to check in on the progress with my One Room Challenge makeover! (Follow the One Room Challenge to see more than 300 room makeovers!) I'm making over our home office/den and the adjoining powder room. This week I made a bunch of progress with design direction and painting. We'll talk about the latter in a moment, but first – here's a peek at the mood board I put together this week showing off some of the elements that will be appearing in each room and starting to focus the color palette a bit more after kind of getting distracted away from my original vision.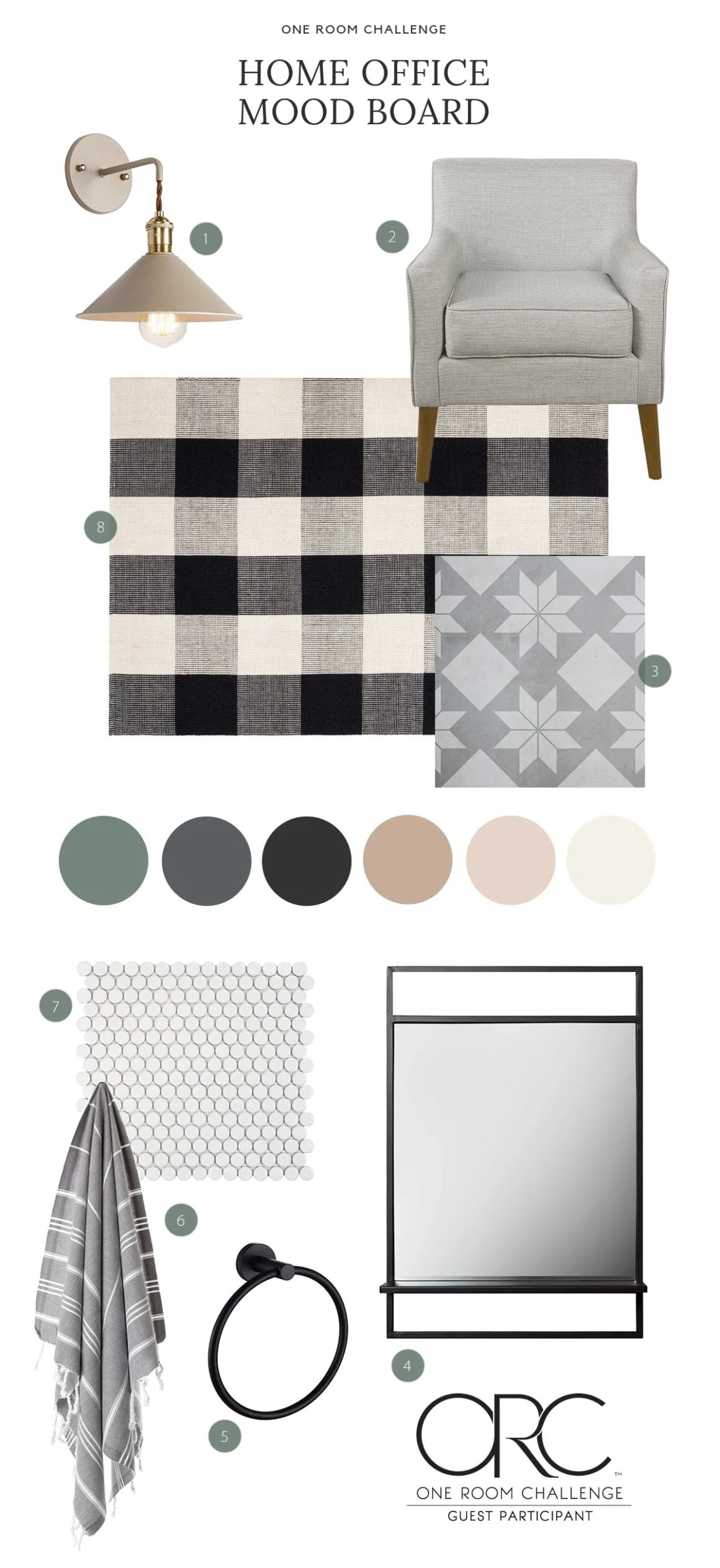 SHOP | 1: Wall sconces | 2: Gray arm chair | 3: Star floor stencil | 4: Bath mirror with shelf | 5: Towel ring | 6: Turkish hand towel | 7: White penny tile | 8: Buffalo plaid rug
Home Office Decorating Ideas
If you visit my Instagram you can check out my ORC Stories highlights to see a full walk through of the room and the updates I've been making this week. The room was last renovated in 1960 so it has a few mid-century modern elements that aren't original to the house that I love so I'm choosing to honor that history and keep them. There's an accent wall of thick, rich mahogany vertical paneling and matching built-ins throughout the room. I am keeping those and working with the cozy, warm vibes they lend to the space.
There's a patch of flooring that originally is where the back staircase in our home came down and entered into the kitchen, which is now on the other side of the wall. It doesn't flow with the rest of the original hardwood flooring throughout the house, but we're not planning to do any hardwood repairs or refinishing until we've finished everything else we want to do in the house. For now I'm considering doing something fun like painting it and adding a stencil treatment to add a touch of interest and whimsy. I'm choosing to see the messed up floor as a fun design opportunity instead of of as something that messes up the whole room.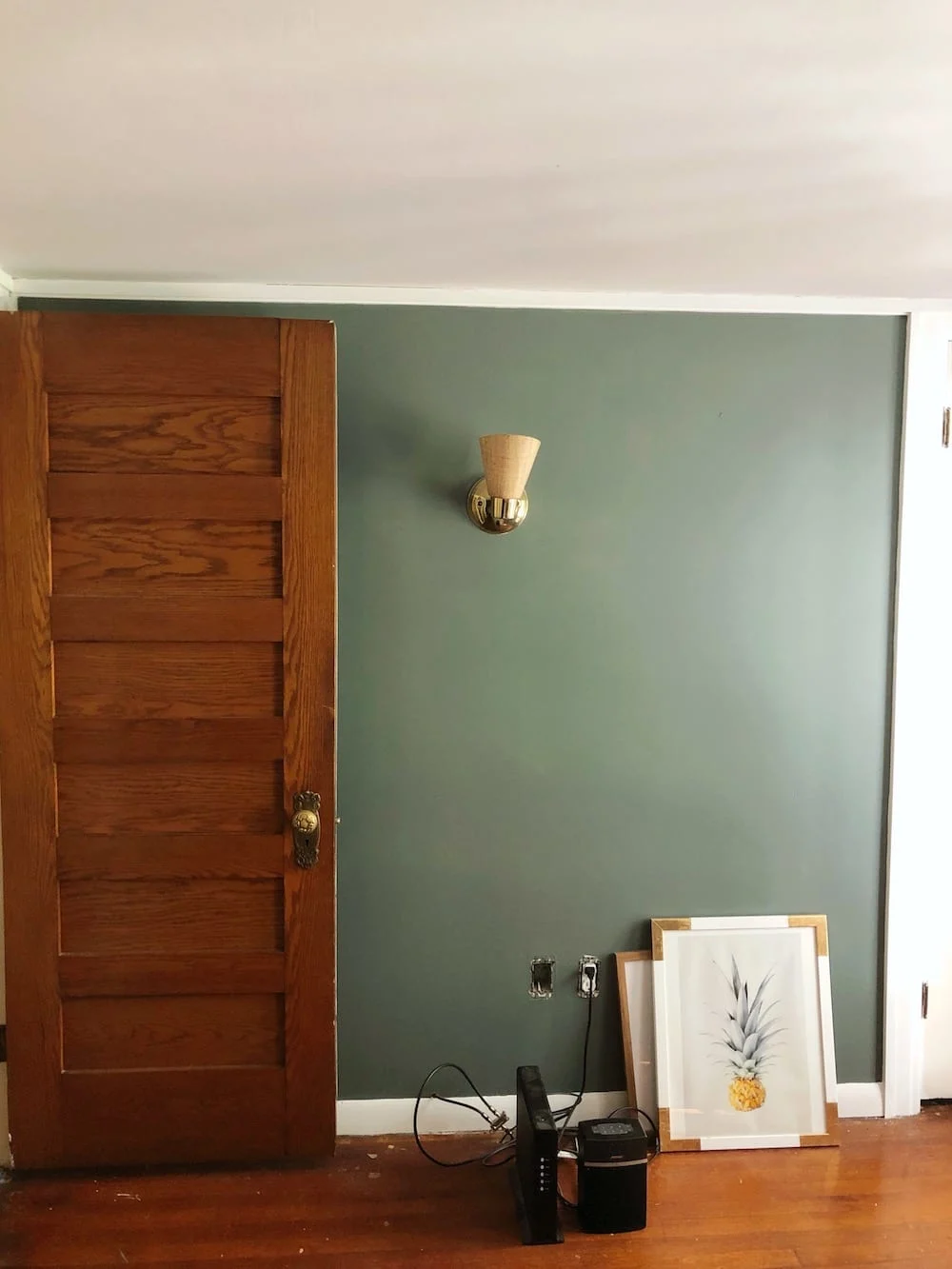 My original vision of the room has always involved rich green walls. Somewhere along the way I started leaning toward deeper teal tones, but when I tested out swatches I felt like the lack of natural light made the colors read black in this space. You could barely see any pigment to the gorgeous color! At that point I decided I'd go the complete opposite direction and go light and bright, but I still wanted color so I decided to use perennial favorite paint color, Sea Salt by Sherwin Williams.
Spoiler alert: It didn't work. It's such a gorgeous color and I think most people would have just walked in and loved it, but it wasn't matching the feel I wanted for the room. So I quickly changed course (after only painting one wall, luckily) and found a new paint color and I'm so so happy about it! The room is now painted Coastal Dusk by Valspar and it's basically perfect. This weekend we're going to work on updates to the lighting and beef up the crown molding a little bit to add a little extra oomph to the room. Otherwise I've ordered furniture, tile for the powder room and I'm finalizing decisions on hardware.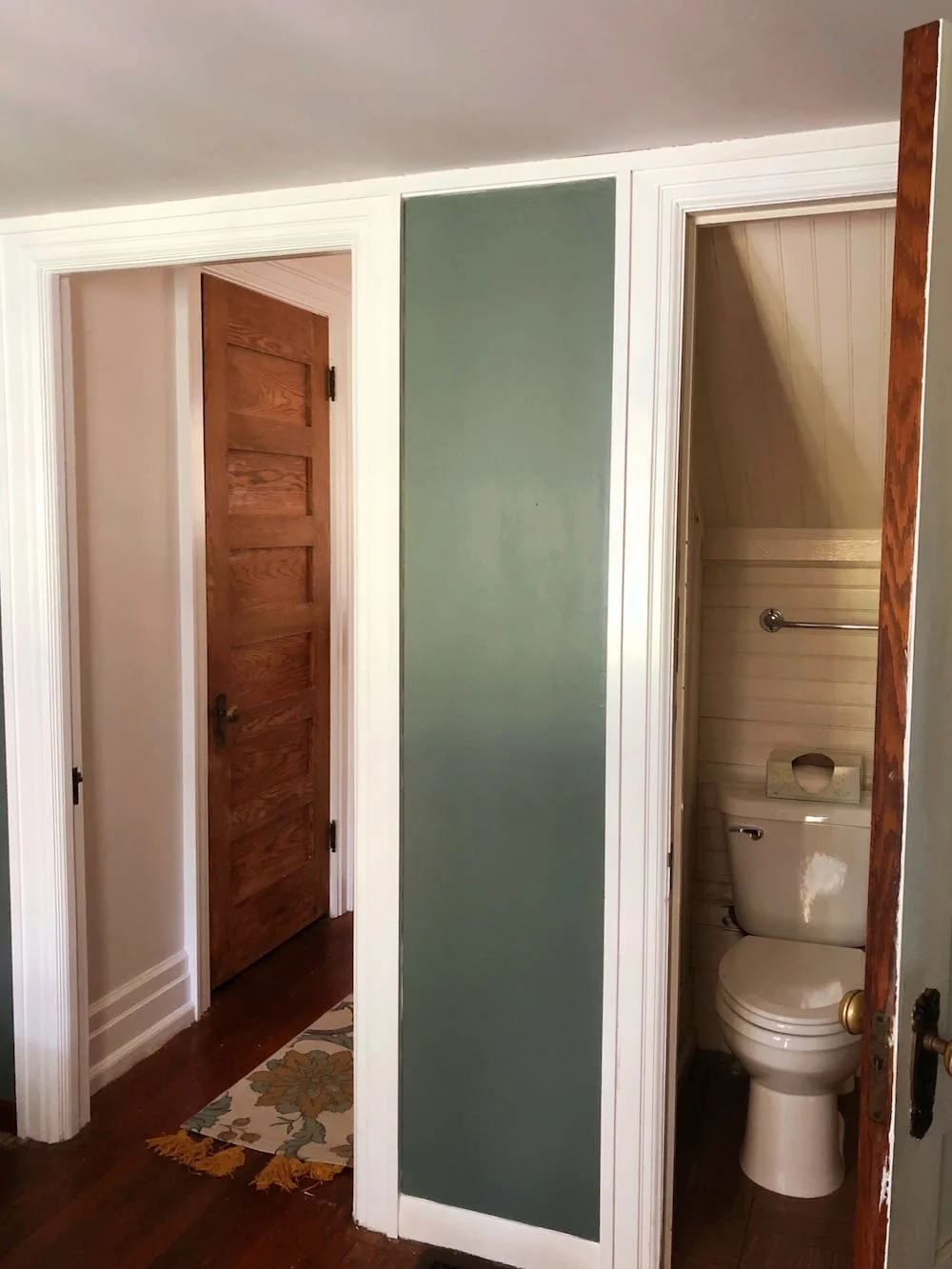 I do update on Instagram regularly as I'm working around the house. I'll be sharing our weekend projects over the next few days so follow along!