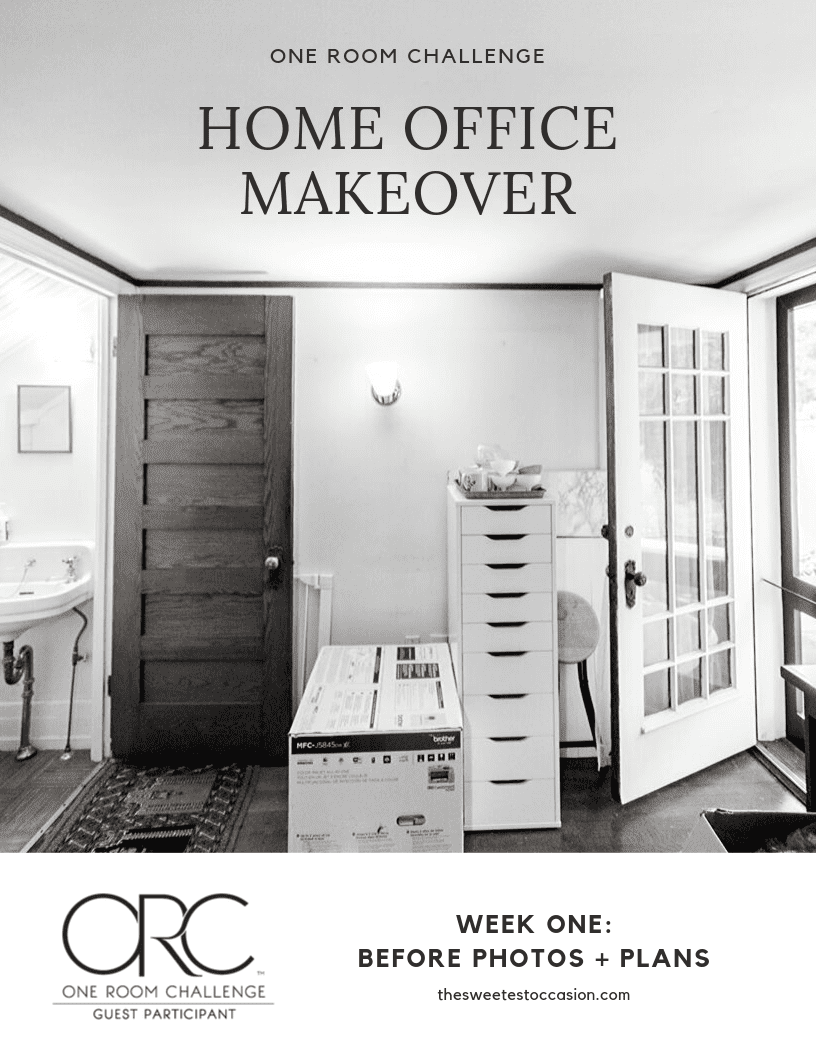 I am so excited to be joining my first One Room Challenge as a guest participant! If you're not familiar with the One Room Challenge, it's a semi-annual design extravaganza where bloggers, content creators and Instagrammers make over a room in their home in six weeks while sharing weekly updates. I've toyed with the idea of doing it in the past, but this time I'm officially on the bandwagon and so excited.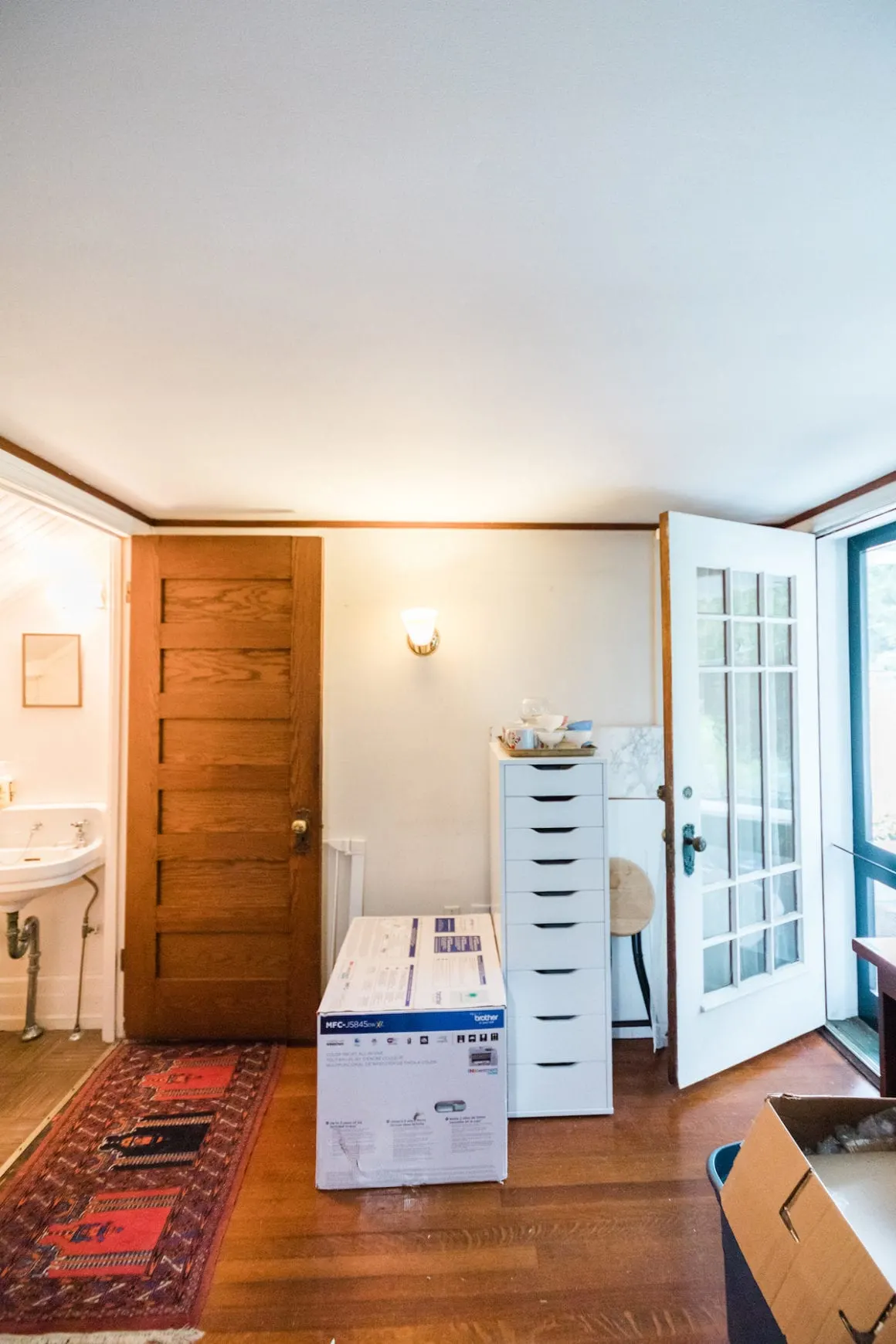 One Room Challenge: Home Office Before Photos
When we bought our house three years ago, I loved that there was a dedicated home office on the main living floor. Our house is a 1910 Craftsman colonial hybrid and the den (as we usually refer to it) is actually tucked at the back of the office under the big central staircase that is the crown jewel of our home. It was modified circa 1960 when the original kitchen and butler's pantry was reorganized and the back staircase was closed off to allow for a larger kitchen. At that time the den got expanded and earned itself some great built-ins and a feature wall made of thick, dark mahogany paneling. These photos are completely uncensored and unstyled. Oof.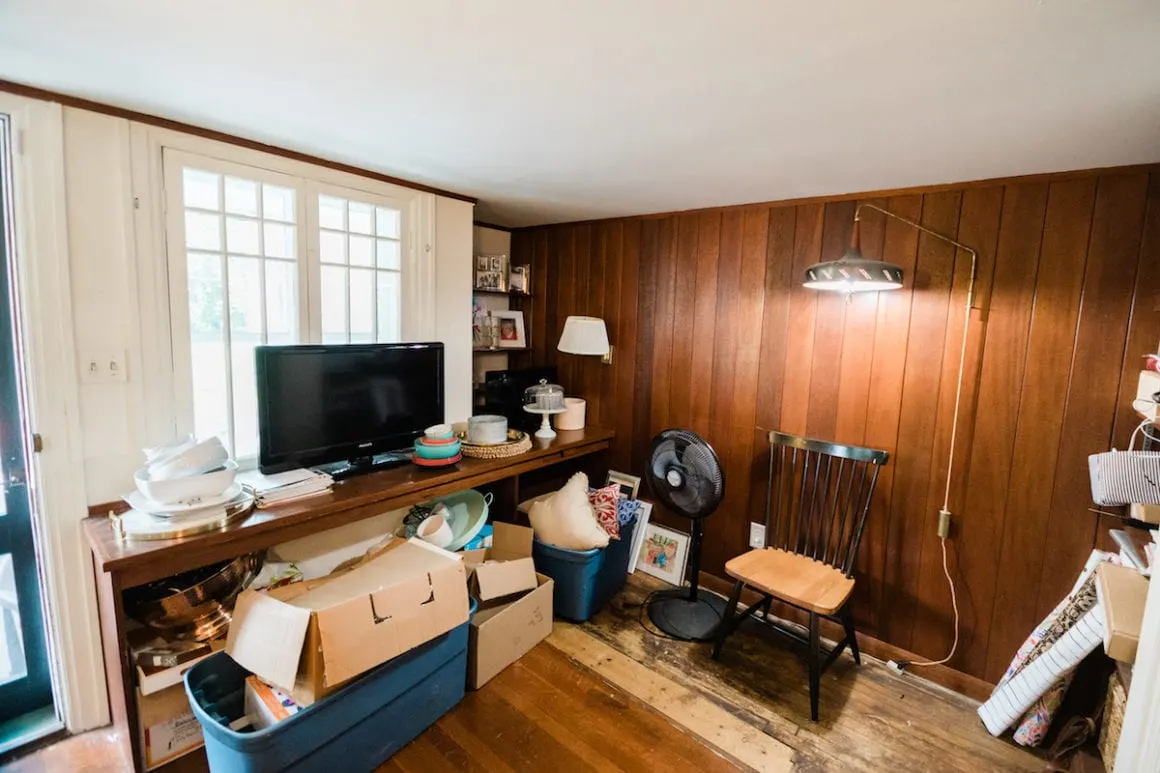 I always assumed that I would get to decorating this room soon after moving in. Instead, I moved in with a six month old while renovating the main public rooms of the house and it just never happened. For the longest time my miniature human was simply too little to have me tucked away in a private work space since she never went to daycare. So the den became a very unglamorous storage locker and the frequent haunt of teenage boys wanting a space to play xbox until almost dawn on the weekends. I set up my desk in our oversized living room where I could play and keep eye on the baby all day…and than a heartbeat later, it had been over three years and the den has never been touched.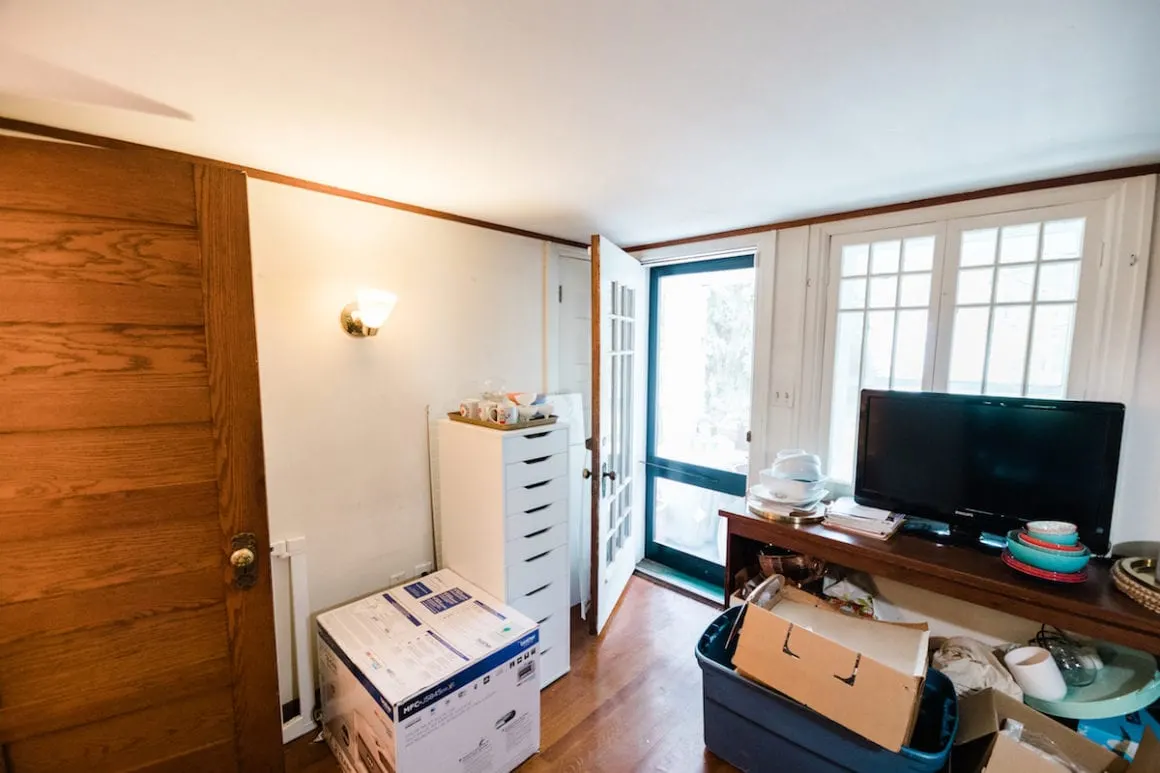 When we first moved in, there was thick stained blue carpet throughout the entire first floor and up the stairs. The only thing we've done in the den is remove that carpet when we removed it elsewhere. At that time we uncovered an area of flooring that had once been behind a wall where the back staircase came down so it's worn, damaged, unfinished and doesn't match the rest of the floor. I'm still brainstorming a solution for that patch of flooring since I won't be tackling any major flooring repairs until we eventually refinish the floors throughout the house years from now. Below you can see one of the listing photos to show how the den looked decked out in blue and floral.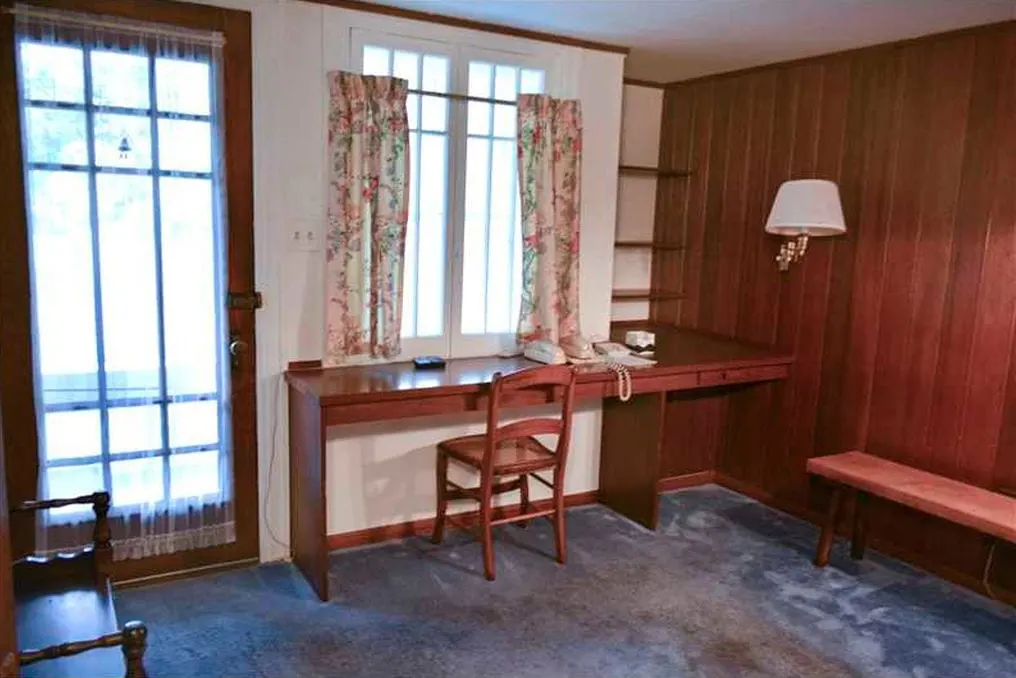 Functionally, I want the den to primarily serve as my home office. It's where I'll edit photos, write blog posts, tackle email and generally set up my home base, even though much of my work happens throughout the house. I want it to feel cozy, warm and inviting so all the random props, dishes, photo backdrops, half finished or discarded work projects will need to be organized, stored, passed on or move down to our basement where I also have basically two full rooms lined with shelving to hold such things. Eleven years of blogging comes with a LOT of baggage, friends!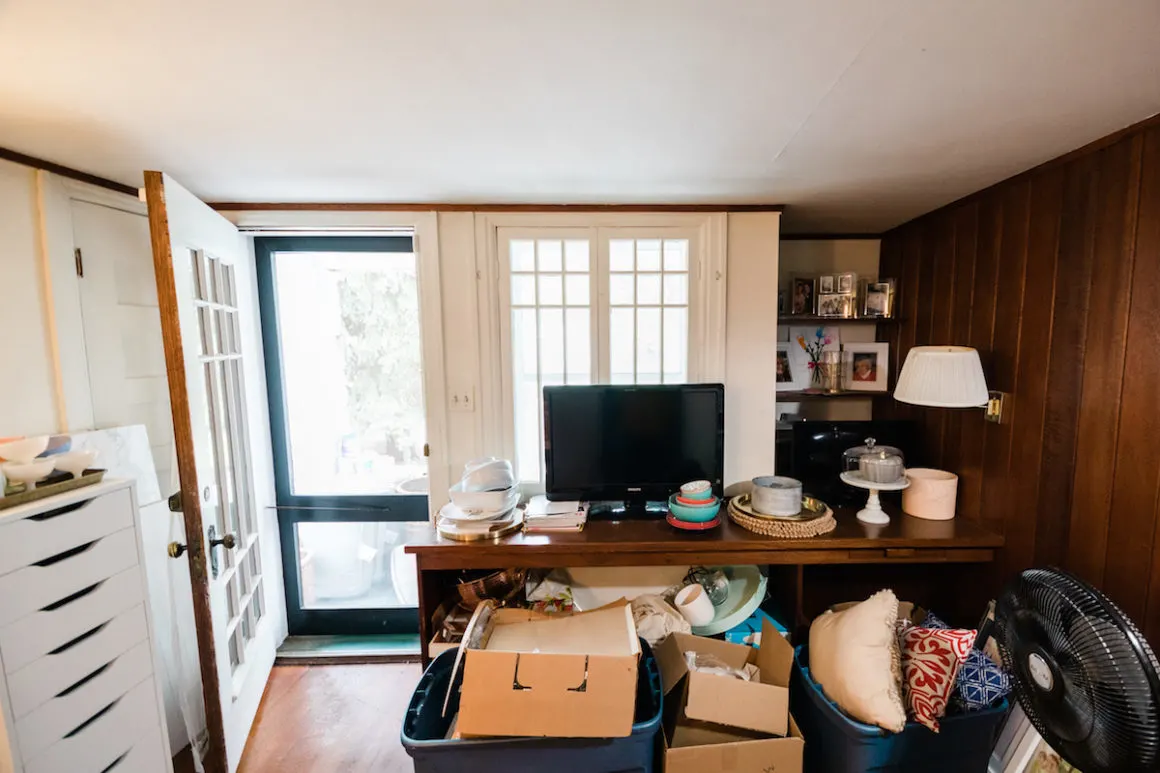 Since the den is in view from our foyer, I want it to be a space that flows well with the rest of our downstairs. It has amazing details like gorgeous wood doors, original brass hardware, a beautiful door out to our back porch, pretty little swing-in windows and the world's tiniest little powder room! I'll also be tackling the powder room as part of this six week challenge since the spaces are adjoined and I've been needing an excuse to finally pull up the old brown tile and do something pretty in there.
One Room Challenge: Powder Room Before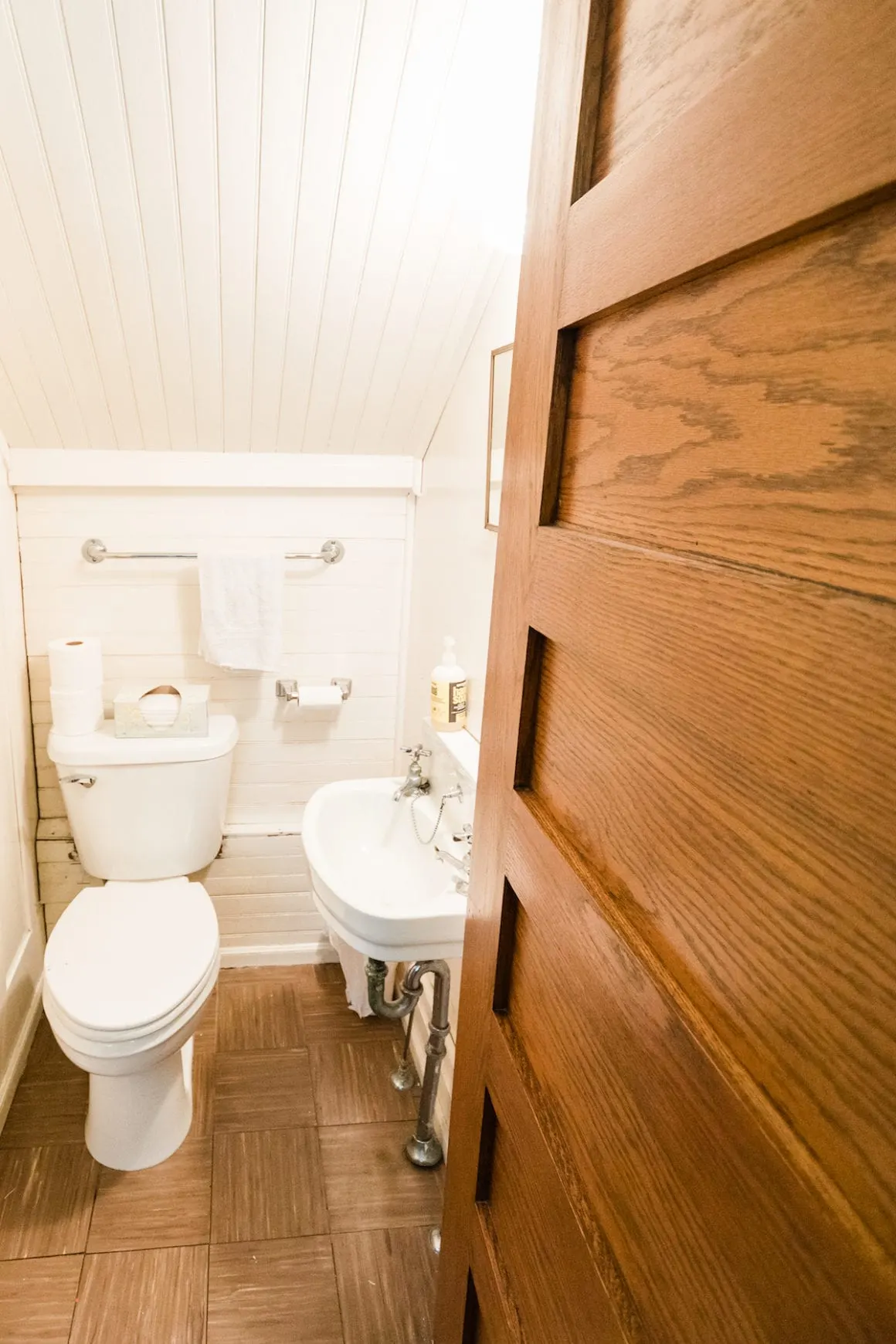 The powder room is built under the stairs and it measures a whopping 37 by 38 inches. I'll keep the bead board, but give it a good caulking, cleaning and paint job. The original petite sink will stay also and I'll likely keep the original light fixture. Otherwise the tile, mirror and other hardware will be swapped out. I want it to feel fresh, pretty and like a tiny little surprise instead of just a laughably small space. (Although it will always be that.)
This first week I'll be tackling paint color selections and painting, while also firming up my other design plans. For the next several Thursdays I'll be sharing updates here and on Instagram where I've also shared a lengthy walk through tour of the space that is saved to my Instagram Stories highlights. Go check it out and I'll be sharing there as I'm working, so don't miss out on the fun. Also be sure to follow along with the One Room Challenge to see all the other designers getting to work on their respective rooms! I'm so excited to see everyone's spaces unfold.