This post was sponsored by Seattle Chocolates. Thank you for supporting the sponsors that
so generously allow The Sweetest Occasion to keep on keepin' on!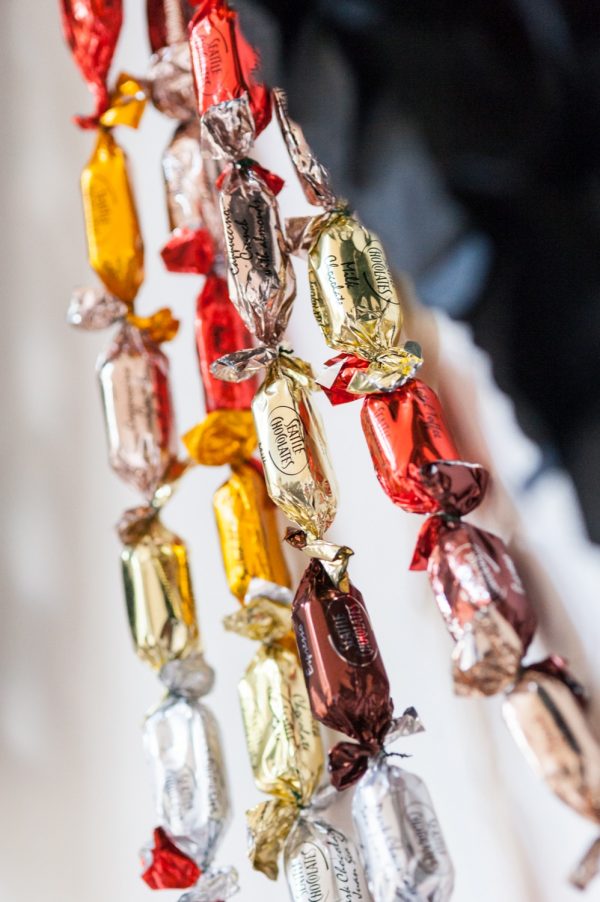 In the spirit of my love for fun and easy holiday crafts, today we're making a Halloween candy inspired chocolate truffle party garland! This started as a quick, off the cuff idea for a DIY tutorial and quickly evolved into one of my favorite Halloween party ideas of the season. Inspired by the flavors and gorgeous packaging of my favorite Seattle Chocolates truffles, this is the ultimate homage to Halloween candy, bringing together the most decadent of chocolate flavors and super cute party decor. It's really easy to make, too! You just need a whole big stash of your favorite truffle flavors, floral wire and ribbon. (Make sure to have extra truffles handy for snacking, too!)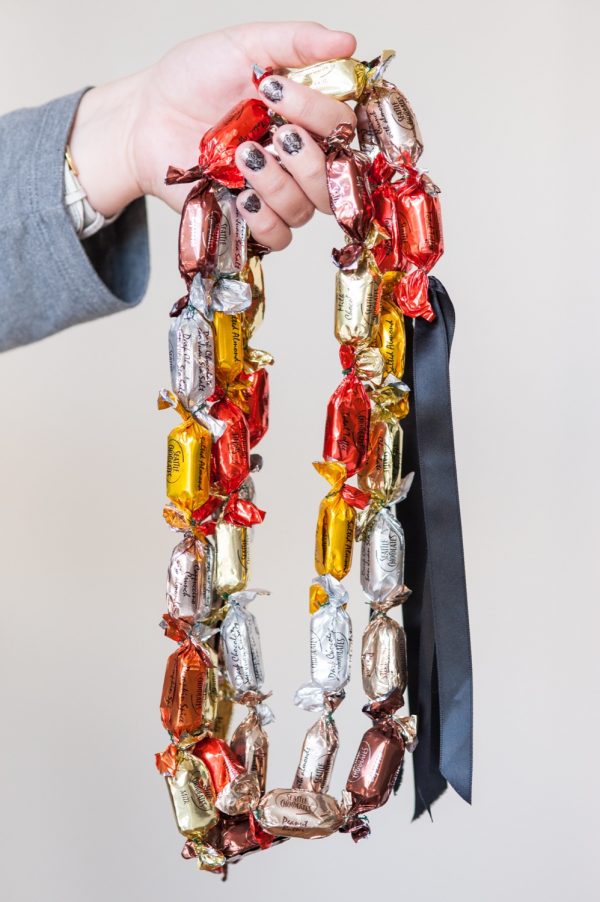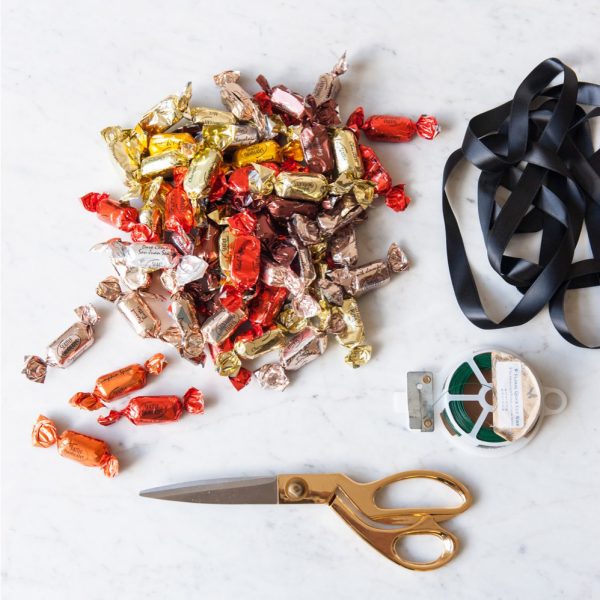 Assorted flavors of Seattle Chocolates truffles
Thin floral wire
Wire snips
Ribbon in your color preference
Scissors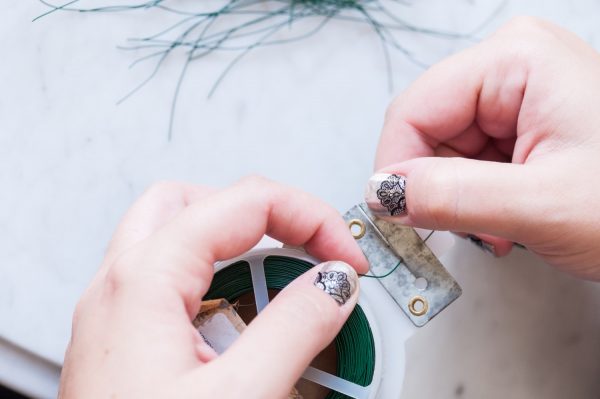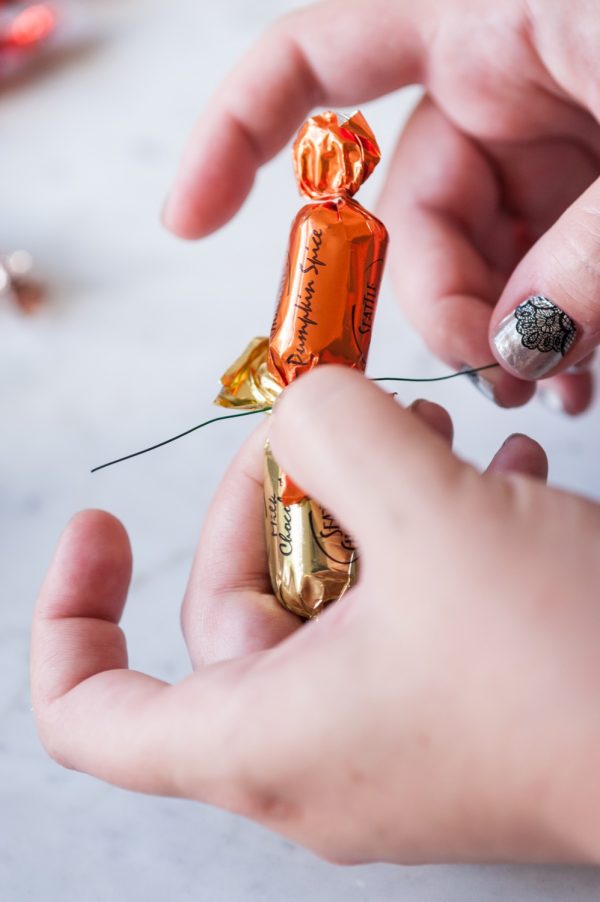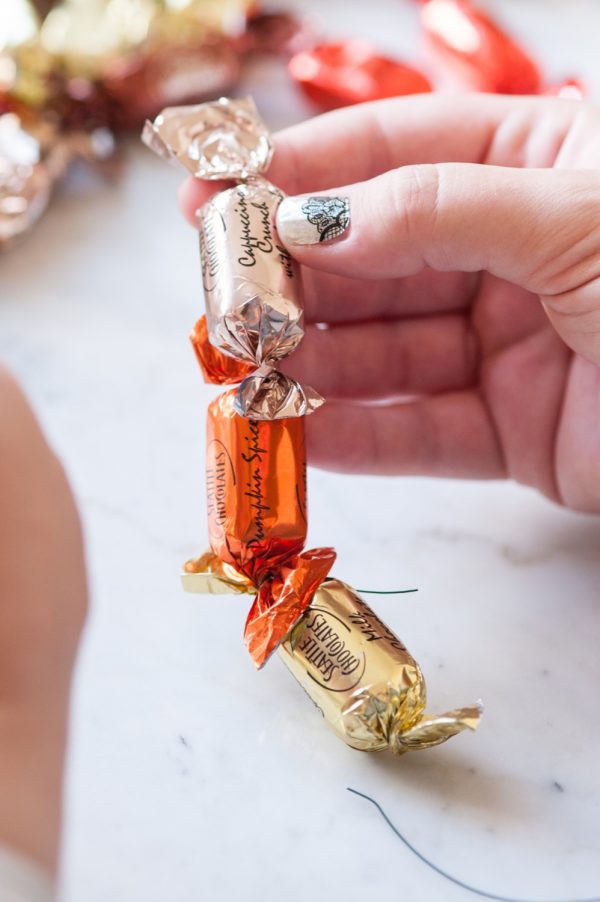 First you'll need to determine how long you'd like your garland to be. I made several garlands at approximately 5′ in length a piece, which required about 60 chocolate truffles each. I used an assortment of chocolate truffles with fall-inspired flavors and packaging. The Pumpkin Spice? It is everything that is delicious about pumpkin. The silky smooth Milk Chocolate variety? Classic and over the top good! Of course, the Total Toffee flavor is always my favorite. I just can't get enough of that toffee! Once you've selected your flavors and colors, cut several pieces of floral wire to about 3″ in length. Place two truffles end to end, overlapping the wrapper and use a piece of floral wire to hold them together securely. Twist the wire tightly and then snip the ends to trim so the wire doesn't show.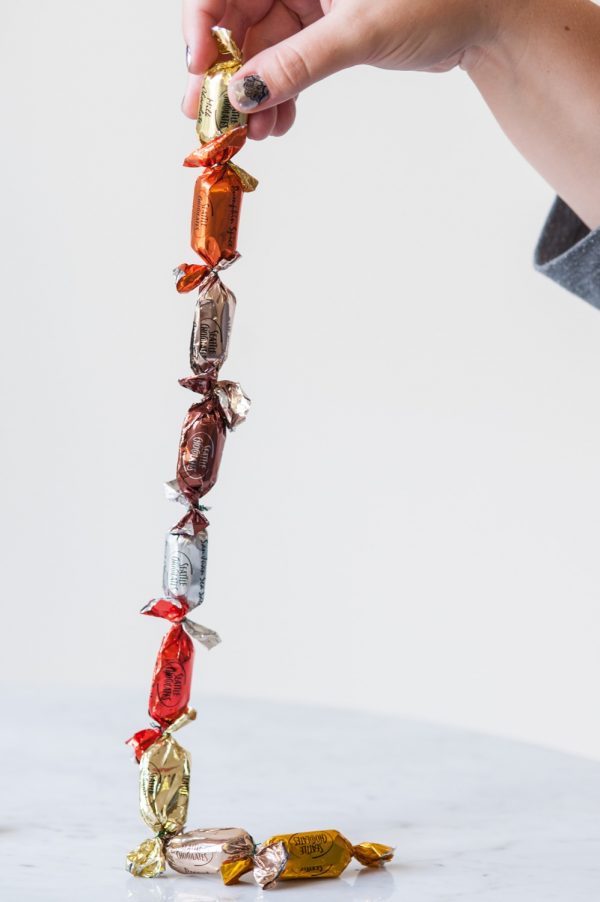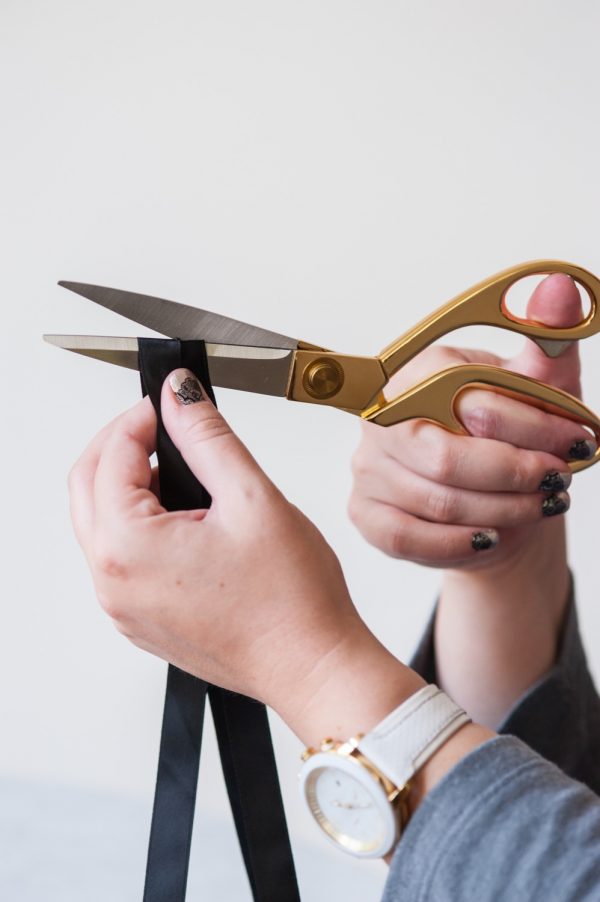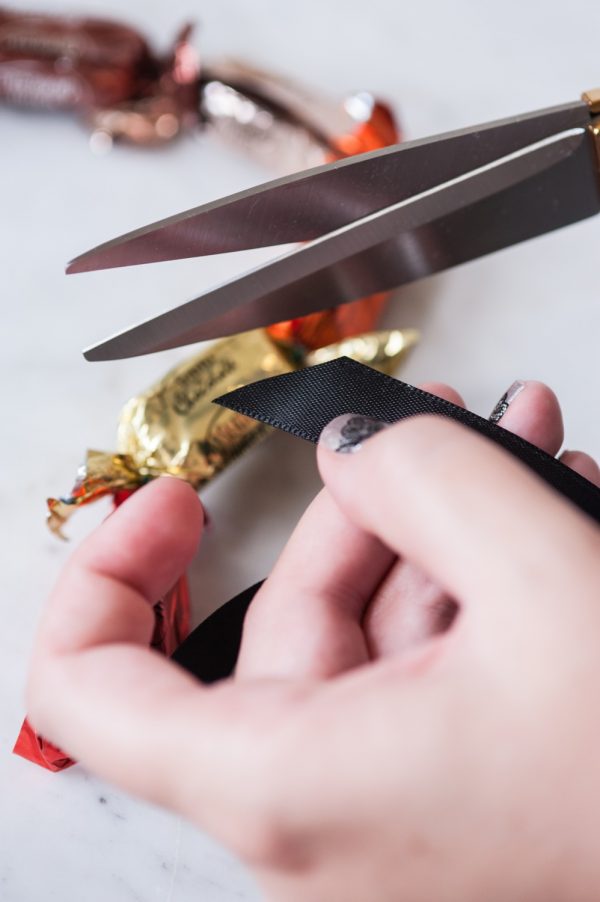 Keep working along in this fashion until you achieve your desired garland length. At that point, cut two lengths of ribbon, each about 12″ each. Fold the ribbon in half and use another piece of floral wire to attach the ribbon to the end of the garland by twisting the wire around the middle of ribbon. Repeat on the other end. Then trim the ends of the ribbon neatly at an angle so everything looks nice, pretty and tidy and you're all done! Hang your garland as a party backdrop using removable wall hooks or swag it across the room to create a focal point in your party space.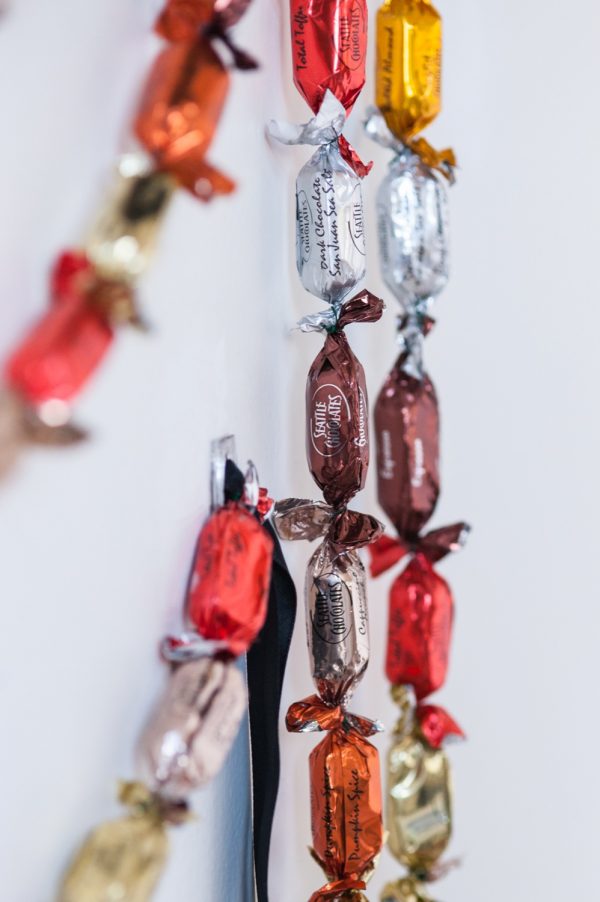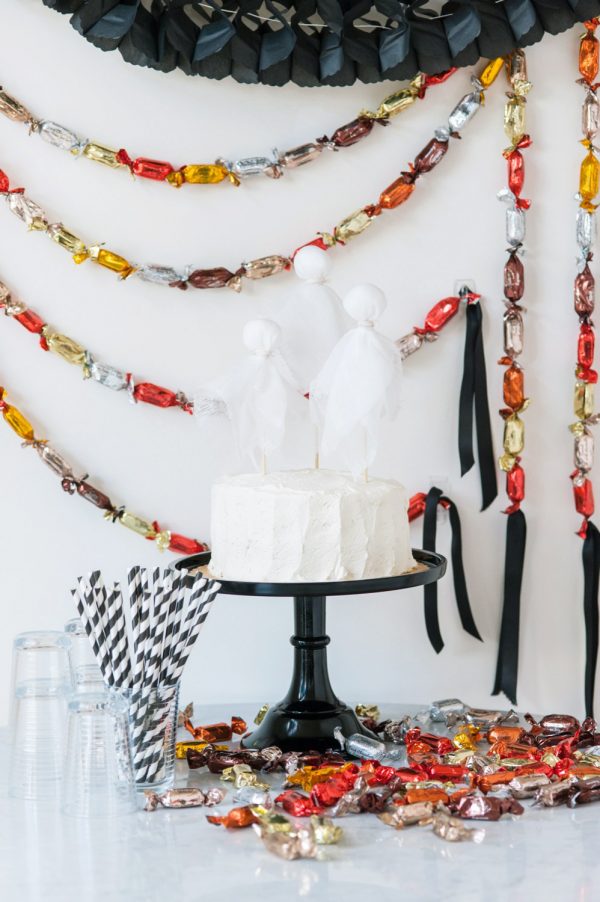 Isn't this the cutest garland ever? And I love that it doubles as a chocolate lover's dream! Guests can grab a handful of truffles from the garland at the end of the night and take them home as a sweet treat. What's not to love? To get started, visit Seattle Chocolates to pick out your favorite chocolate truffles, then be sure to follow them on Facebook, Instagram and Twitter for more chocolate inspired ideas. Also, be sure to stay tuned for a mini Halloween giveaway this week featuring Seattle Chocolate's incredible Halloween inspired truffle bars!
p.s. Loving those ghost cake toppers? Check out the super simple DIY tutorial!


[Art direction + styling by Cyd Converse | Photos by Alice G. Patterson for The Sweetest Occasion.]
The fine print: Please link with love! As with all of our posts, DIY projects featured on The Sweetest Occasion may not be copied, distributed or reproduced without express written permission. Love and links are always appreciated! If you'd like to share a maximum of 1 – 2 images from this post, please link to this post directly for the DIY tutorial and do not include the instructions in your own post. Thanks so much! xoxo
This post was sponsored by Seattle Chocolates. Read more about our editorial policies.