While I'm continuing to recover from the flu, my sweet friend Maddy of Splendid Supply Co. was a gem and created this awesome printable art print to share with you guys. I just love it – thanks, Maddy!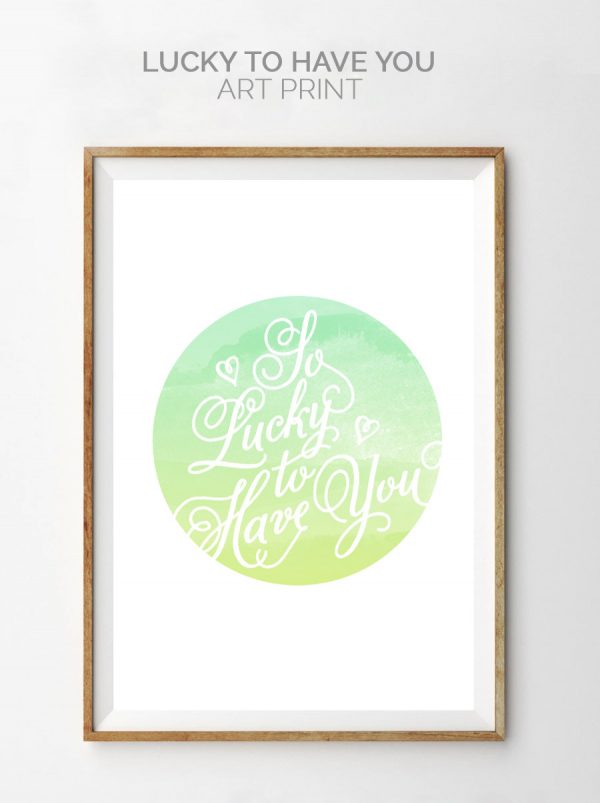 Hello, everyone – Maddy from Splendid Supply Co. here. My dear pal Cyd is a little under the weather (thanks, never ending winter!), so I'm stepping in to help out since pretty homes and pretty parties are sort of my "thing."
I can't believe it, but we're in March already! MARCH. What?! That means, of course, it's time for St. Patty's. Now, I love the green and gold pairing that happens around mid-March every year, but let's face it: St. Patrick's Day is only one day. I wanted to gift you guys a little somethin' that was perfectly seasonal but, at the same time, could be used year round. So here it is: my So Lucky to Have You printable poster, exclusively for The Sweetest Occasion. (Click here to download.) Fresh shades of green for the holiday, paired with soft watercolor textures and lovely calligraphy typography to make it perfect for everyday. Enjoy!

[Art print design by Splendid Supply Co. for The Sweetest Occasion.]