This fruity and refreshing strawberry mojito is the perfect summer cocktail. Made with homemade strawberry simple syrup, this is the ultimate strawberry mojito recipe.
When we travel to Florida to visit family, there's this open air restaurant we love to frequent where you can sip cocktails overlooking the water and where time moves a little bit slower. Said restaurant is known for their insanely delicious strawberry mojitos and we never order anything else.
This strawberry mojito recipe is fully inspired by those exact cocktails, only now I can make them at home all summer long. They're made with a homemade strawberry simple syrup that will knock your socks off!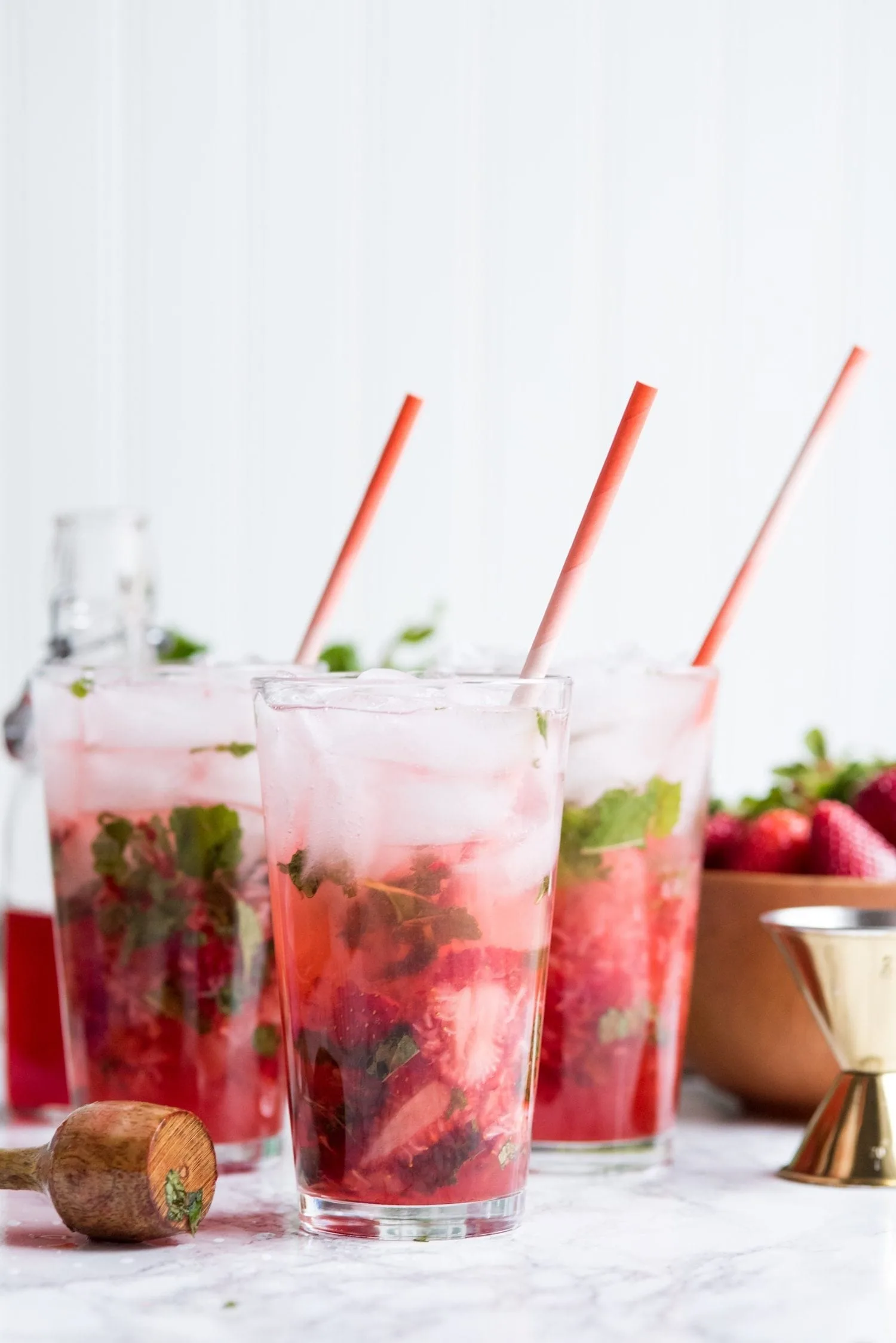 Prior to landing on this recipe, I had been playing around with strawberry mojito recipes for a bit and hadn't been able to nail one that's as good as theirs. But this version? It's every bit as goood!
When we last went to Florida one time, I finally figured out what makes them tick. It's a combination of loads of fresh strawberries muddled with a big fistful of mint and then a homemade strawberry syrup that packs a ton of strawberry flavor.
These are over the top refreshing and perhaps a bit dangerous for that reason! But nothing else quite says strawberry season like this mojito recipe.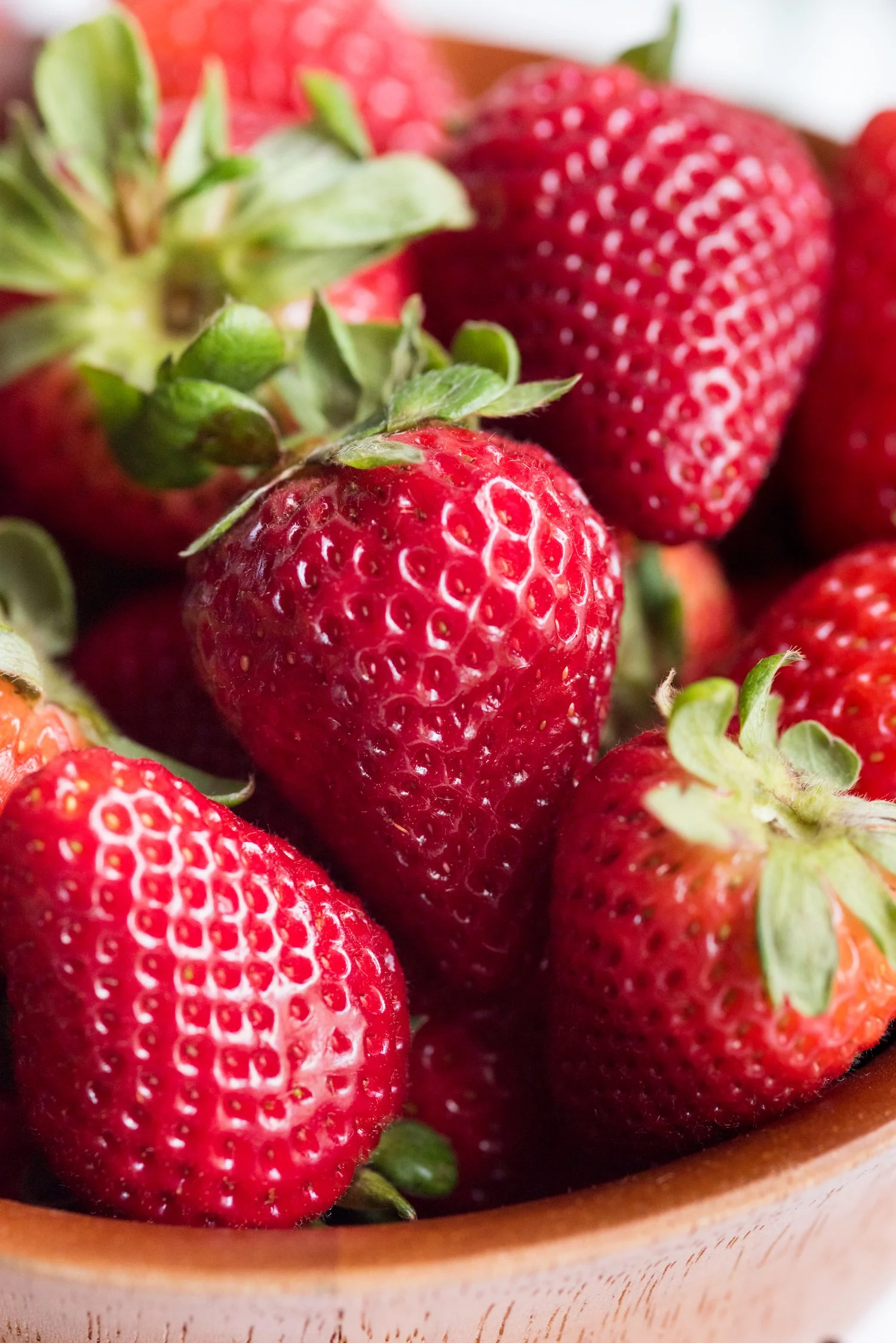 Strawberry Mojito Ingredients
Strawberries – You'll need fresh strawberries for both muddling in your cocktail glass and for making the homemade strawberry simple syrup.
Mint – Like any classic mojito recipe, lots of fresh mint is a must!
Rum – I prefer silver rum for mojitos, but technically any rum will do. Or you can even sub it out for your favorite vodka!
Club soda – The fruit, mint and rum is topped off with club soda for the perfect fizzy finish.
Sugar – You'll need basic sugar (white or raw), which is used 1:1 with water to create the base of the simple syrup.
Water – Finally, you also need water for the simple syrup.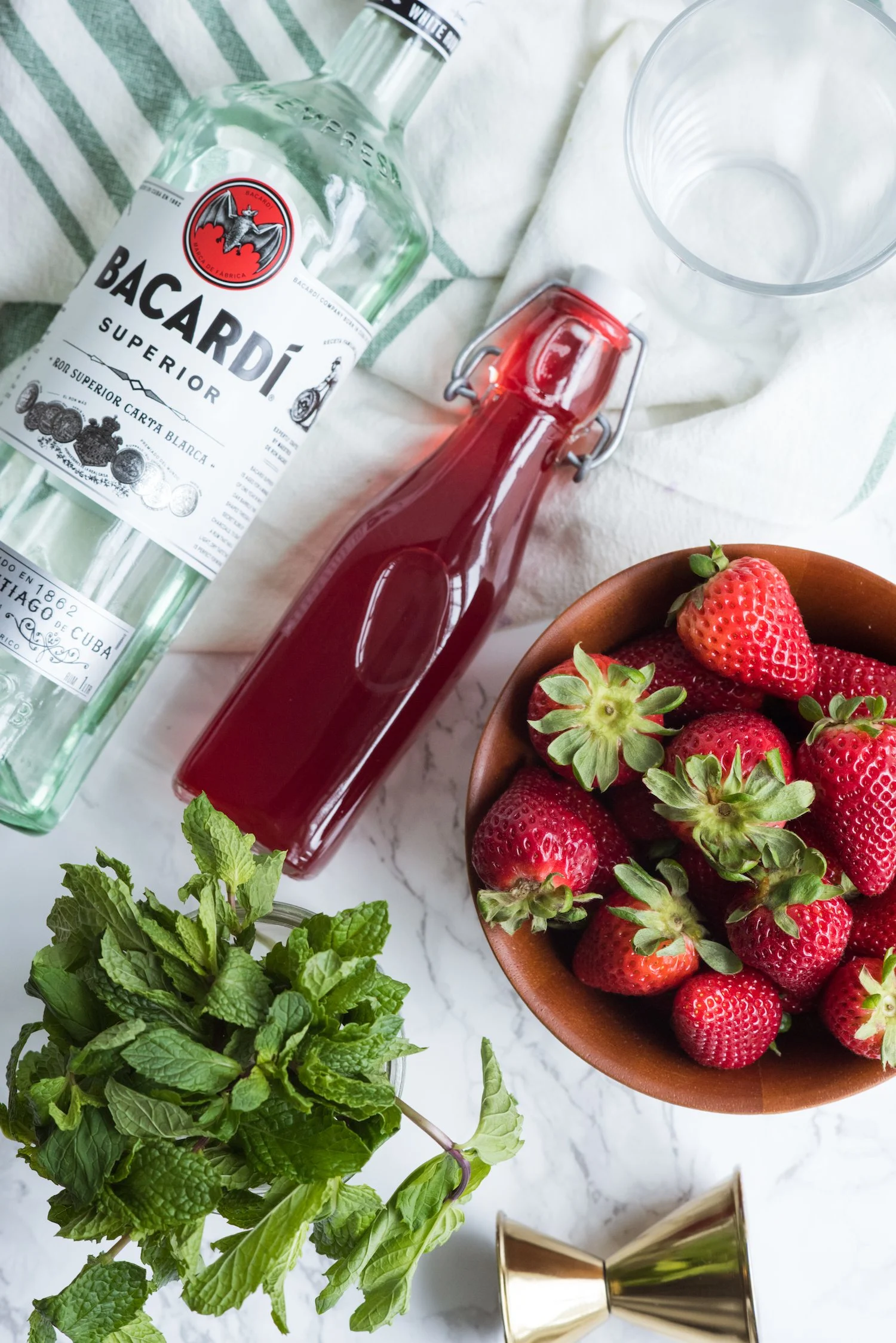 How to Make Strawberry Mojitos
I've preached about making your own simple syrup before, but prepare yourself for more preaching! If you can use a knife and boil water, I swear you can make your own simple syrup.
The strawberry simple syrup recipe below will make several cocktails or you can use it for making homemade Italian sodas or drizzling over pancakes or Belgian waffles.
Once you start making your own simple syrups, your cocktails will taste brighter, fresher and all around yummier. You'll never go back!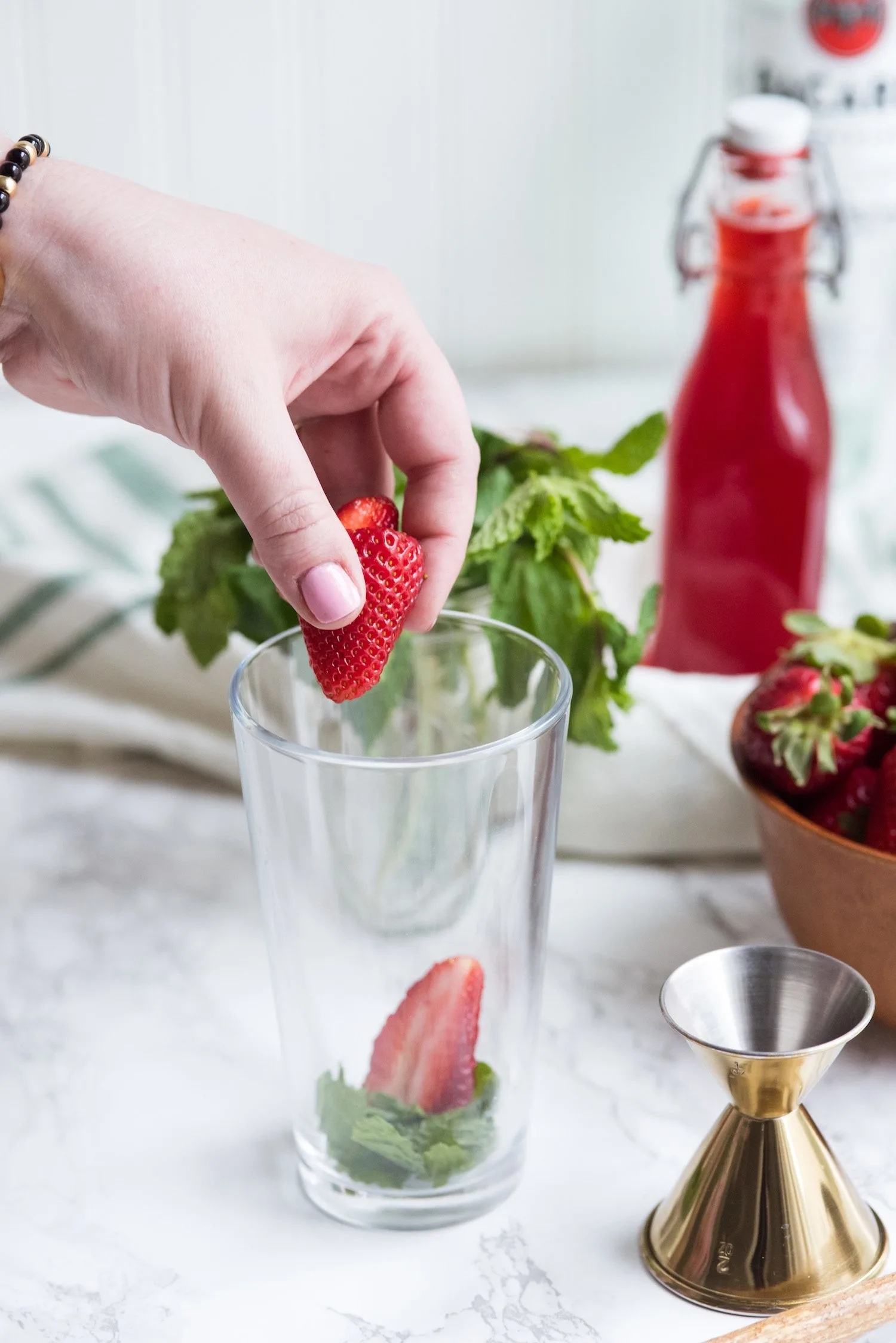 Step 1. Make the strawberry simple syrup using the recipe below, then set it aside to cool. Then, add sliced strawberries and mint to the bottom of a cocktail glass.
For these mojitos I like using a classic pint glass so have lots of room for the berries, mint and ice.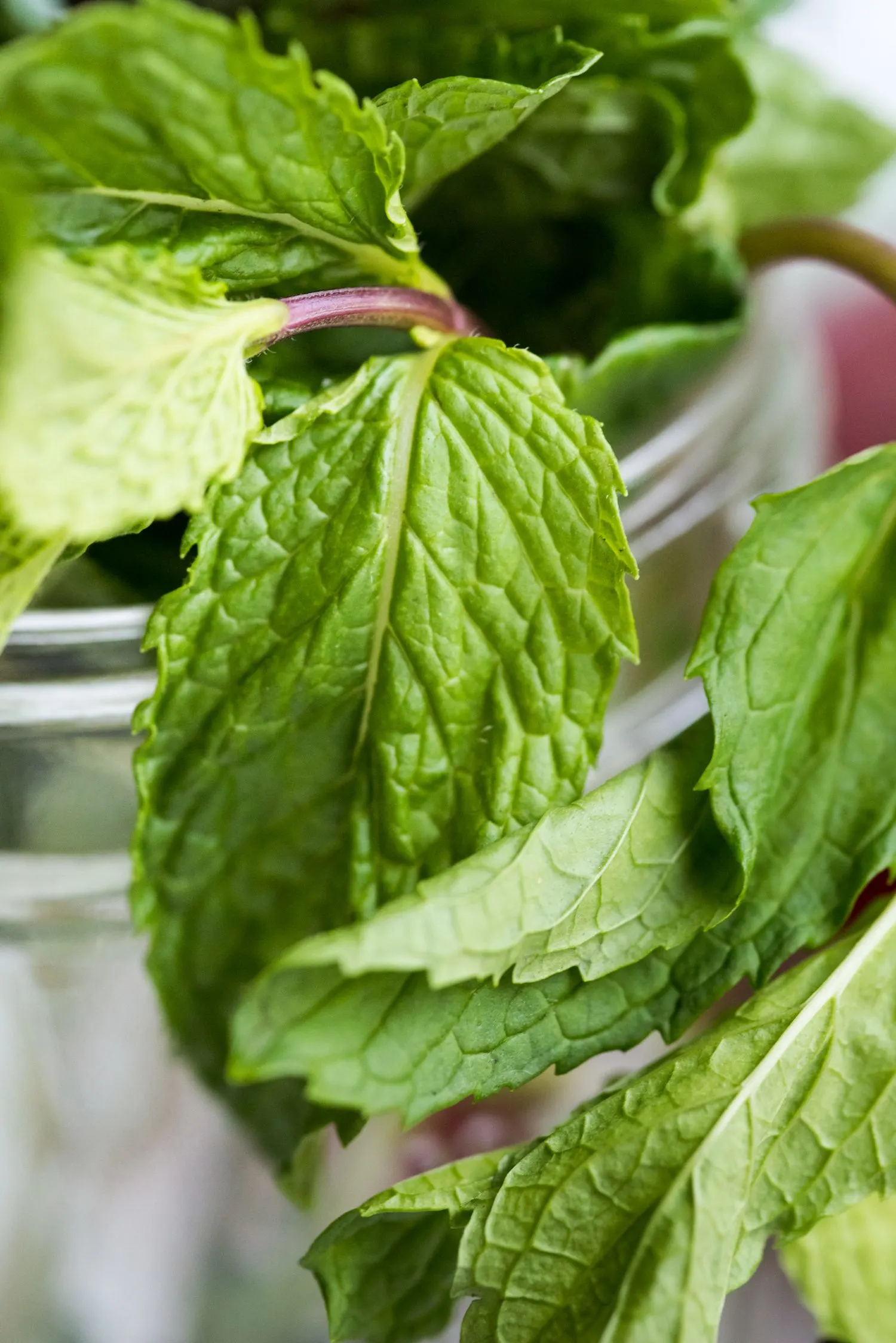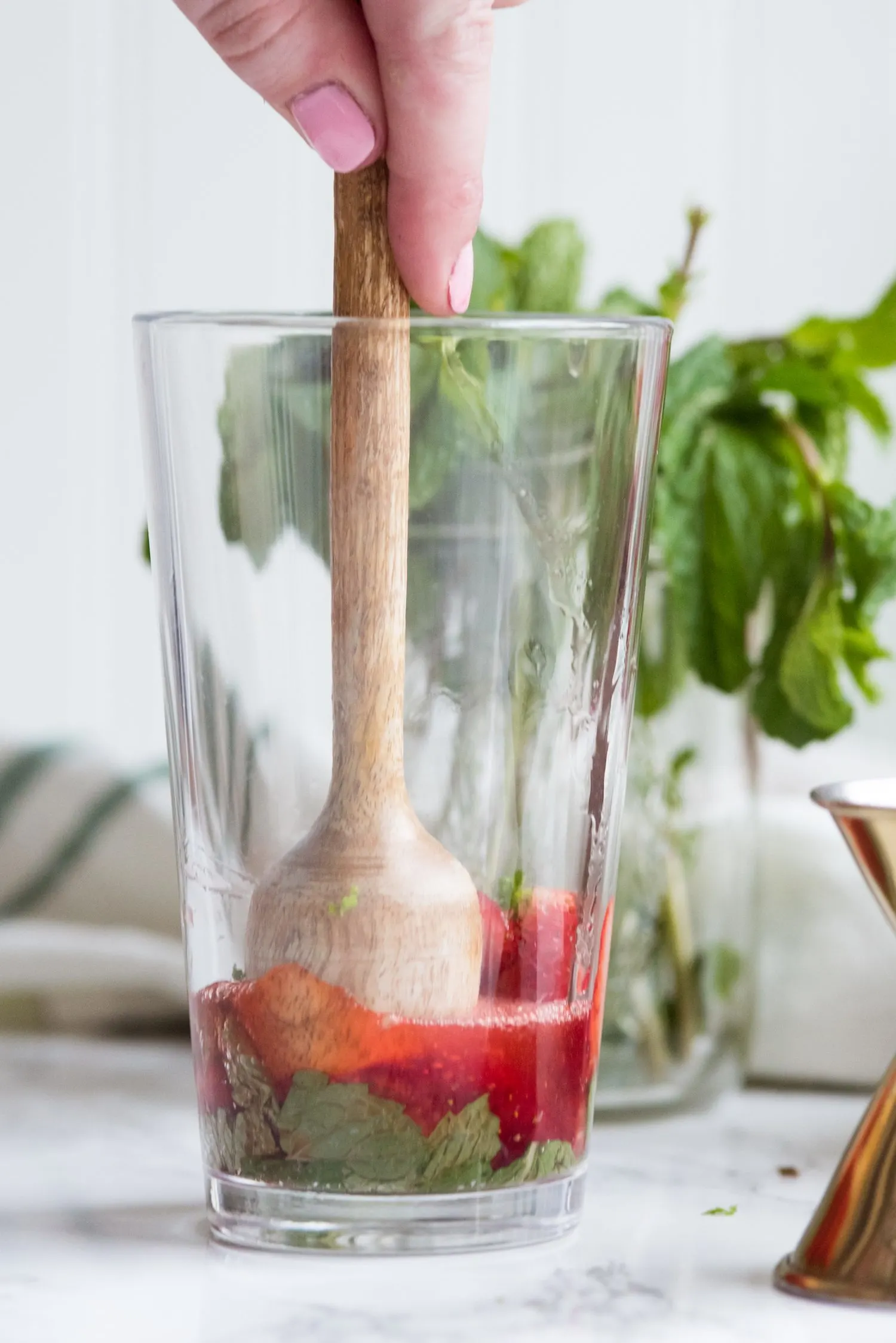 Step 2. Muddle the berries and mint in the bottom of your glass until the fruit is smashed up and the mint is good and bruised. This helps to release the flavor into the cocktail.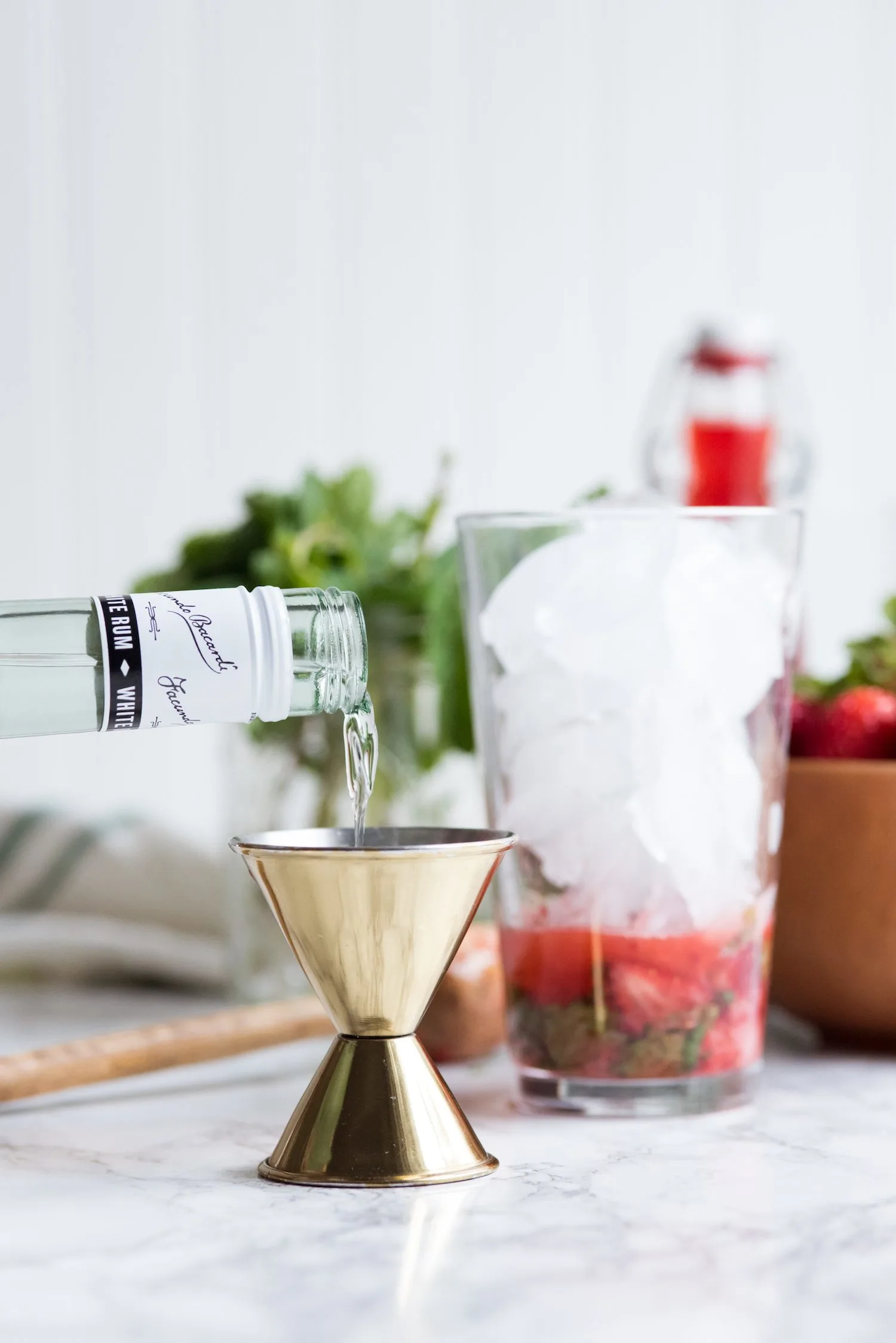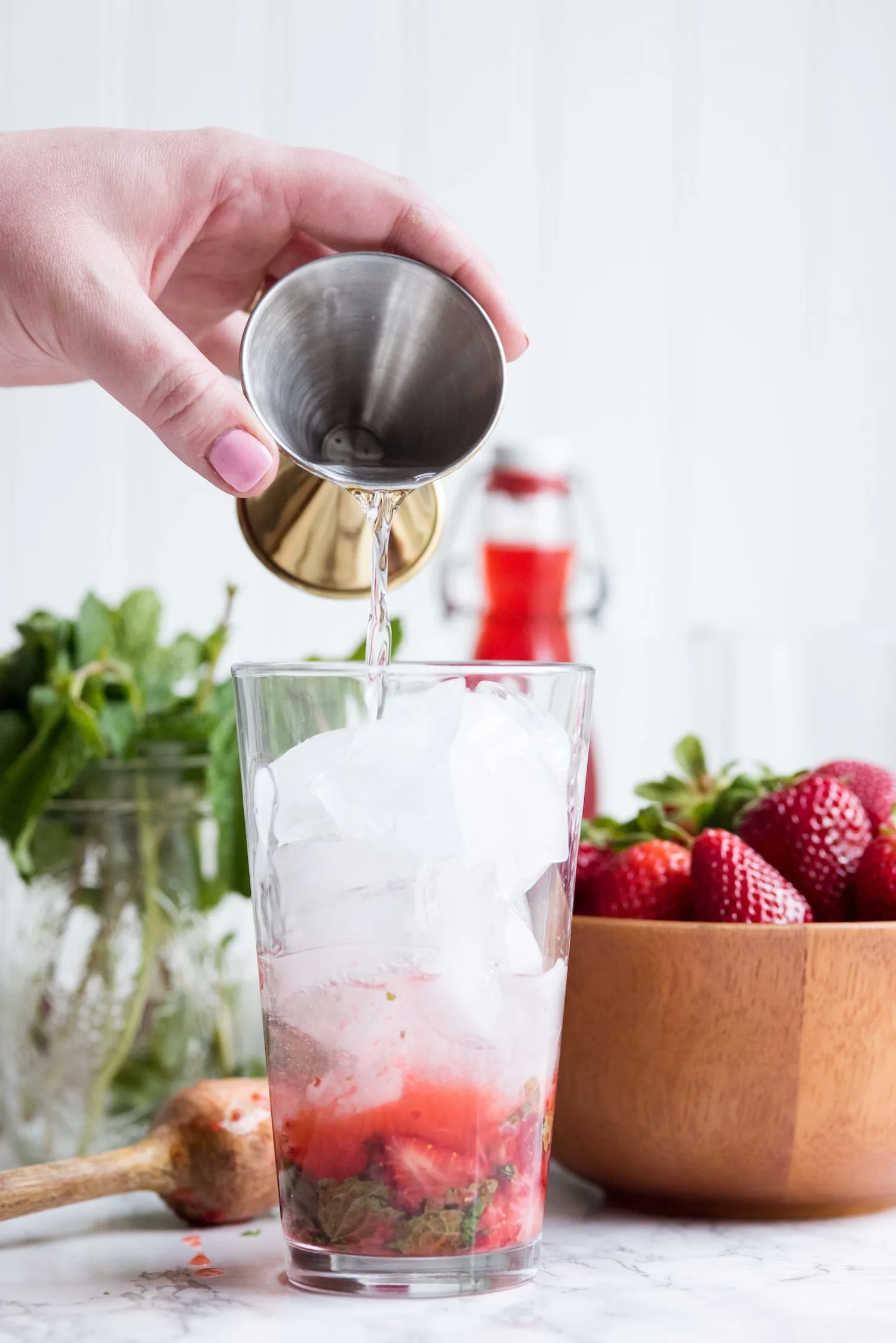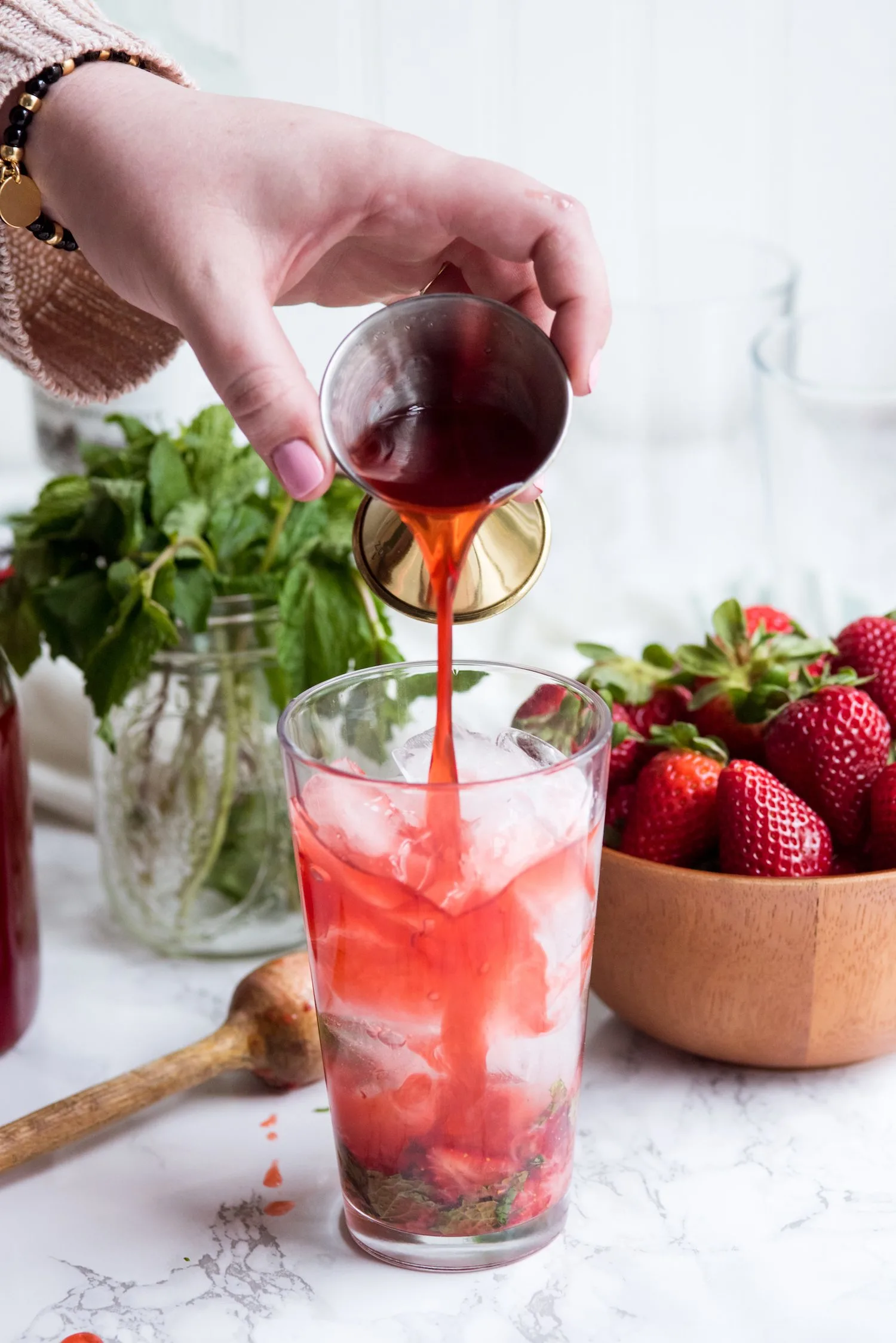 Step 3. Fill the glass to the top with ice, then add the rum and simple syrup.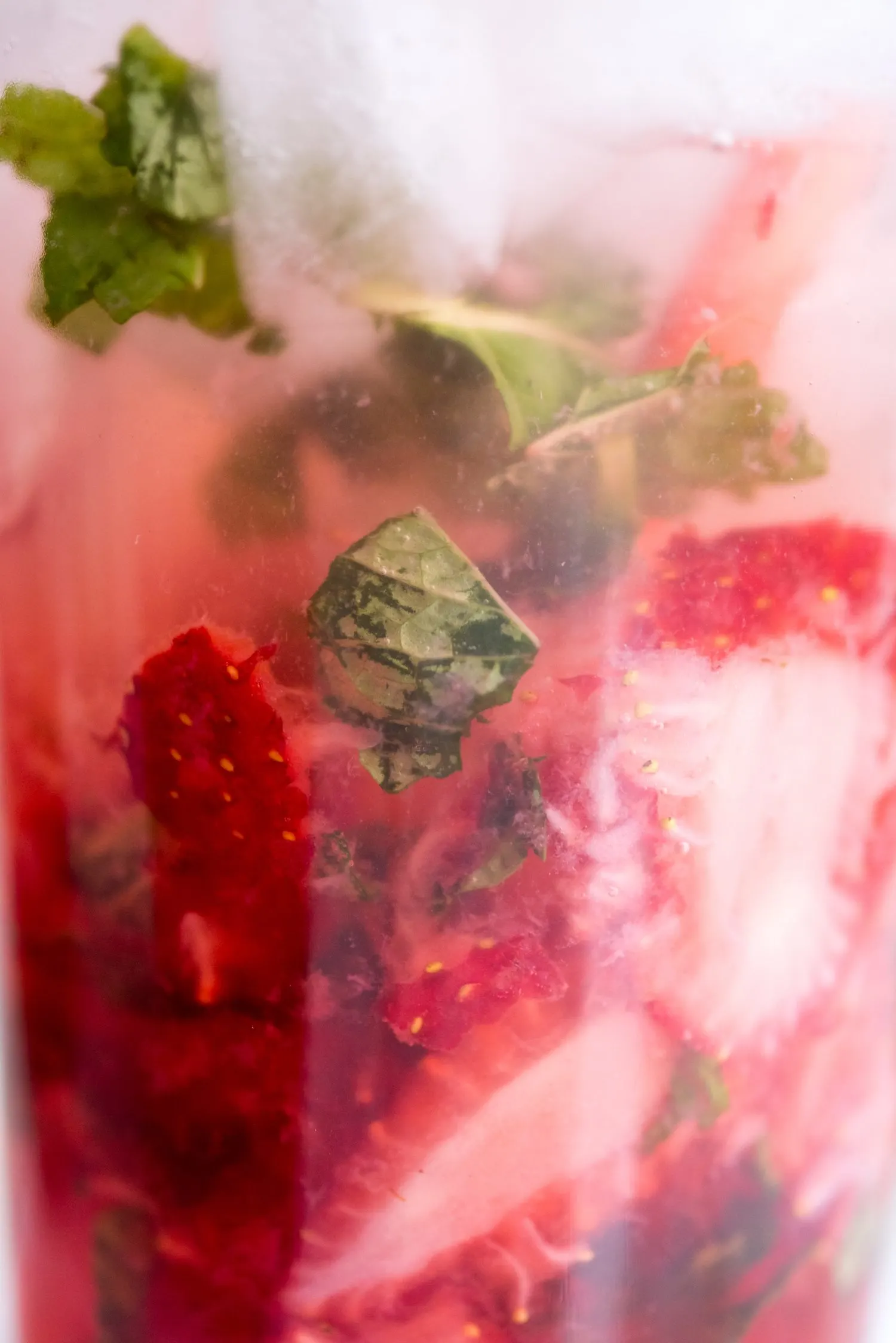 Step 4. Top with club soda and then stir gently to combine. Grab a straw and sip the day away!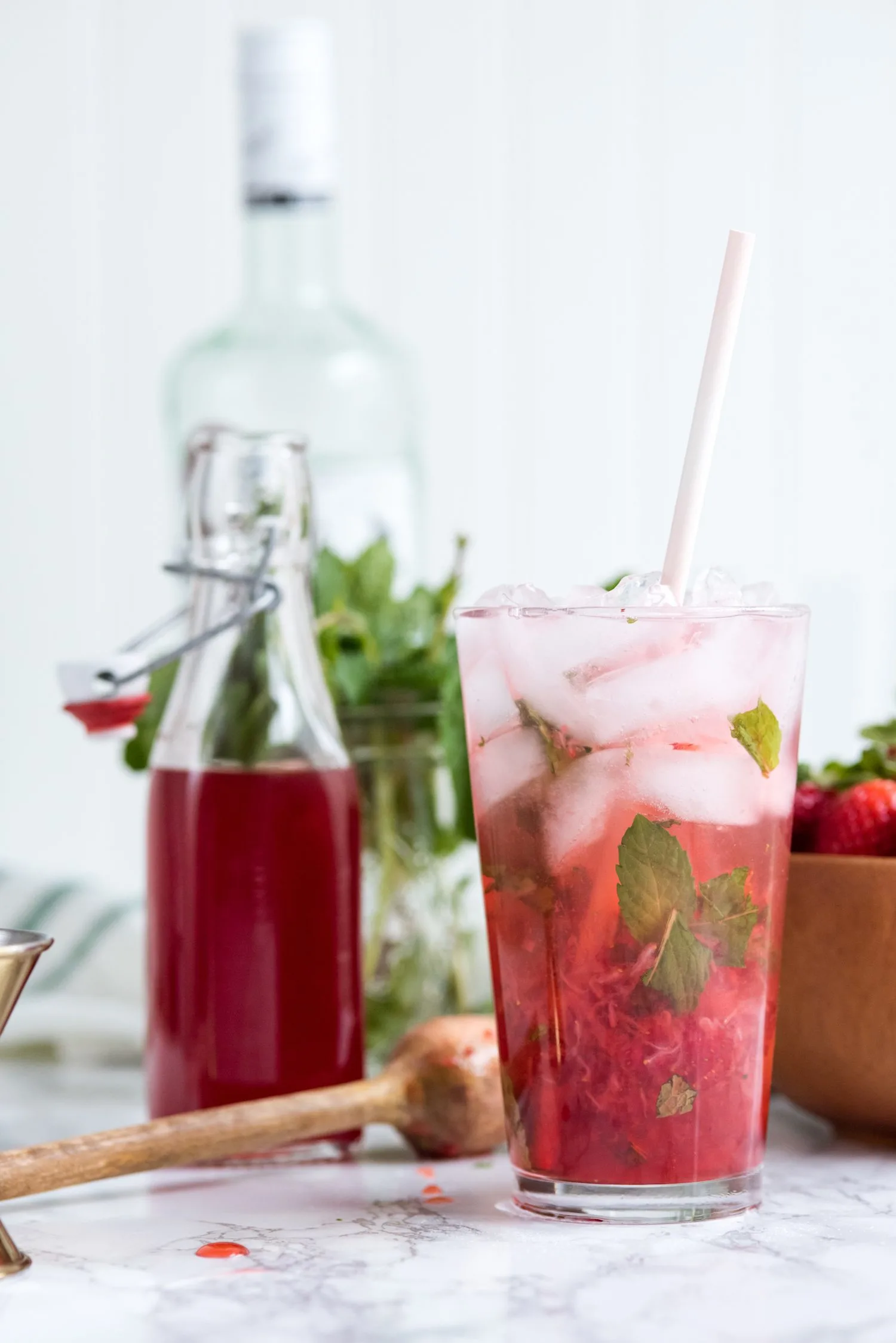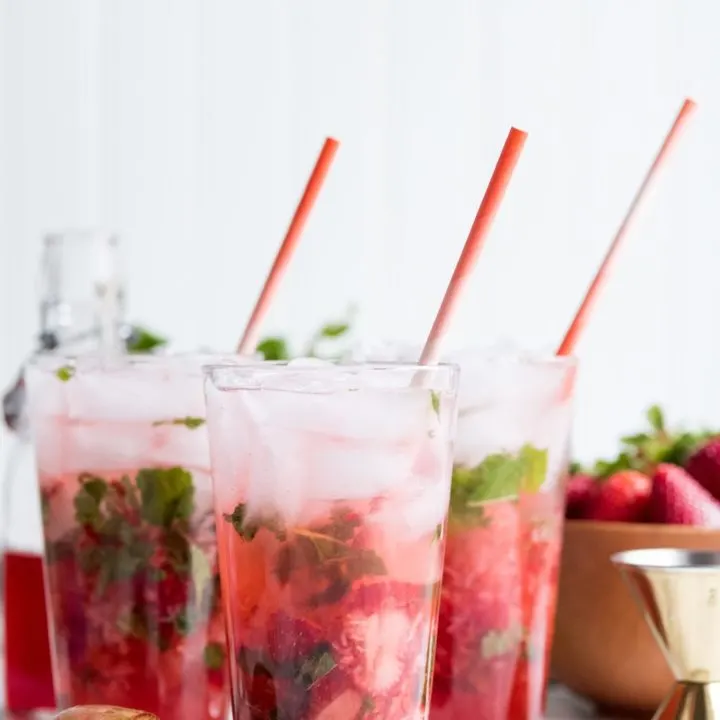 The Ultimate Strawberry Mojito
Yield: 1

Prep Time: 3 minutes

Cook Time: 15 minutes

Total Time: 18 minutes

This fruity and refreshing strawberry mojito is the perfect summer cocktail. Made with homemade strawberry simple syrup, this is the ultimate strawberry mojito recipe.
Ingredients
For the Mojitos
6 strawberries, hulled and quartered
6 - 8 mint leaves, torn
2 oz silver rum
2 oz strawberry simple syrup
4 oz club soda
For the Strawberry Simple Syrup
1 cup sugar
1 cup water
2 cups fresh strawberries, washed and destemmed
Instructions
For the Mojitos
Add fresh strawberries and mint to a large glass and muddle until the berries are smashed and juicy.





Fill glass to the top with ice cubes.



Add rum and strawberry simple syrup then top with club soda






For the Simple Syrup
Add sugar and water to a saucepan and boil over medium-high heat until sugar is dissolved.
Add strawberries and continue to boil at a low boil for 12 - 15 minutes being careful not to let it bubble over.
Remove from the heat and strain through a sieve into a bowl or similar.
Use the back of a spatula or wooden spoon to push as much of the juice through the sieve as possible, then toss the remaining mushed up berries.
Allow the syrup to cool completely before using.

[Art direction + recipe by Cyd Converse | Photos by Alice G. Patterson.]
Our Best Summer Cocktails
Try these refreshing and festive cocktails - these are some of our best summer cocktail recipes!