These tropical frozen pineapple mango margaritas are finished off with a raspberry swirl making them the perfect frozen cocktail for backyard parties or breezy nights on the front porch. These mango margaritas are easy to make with frozen fruit!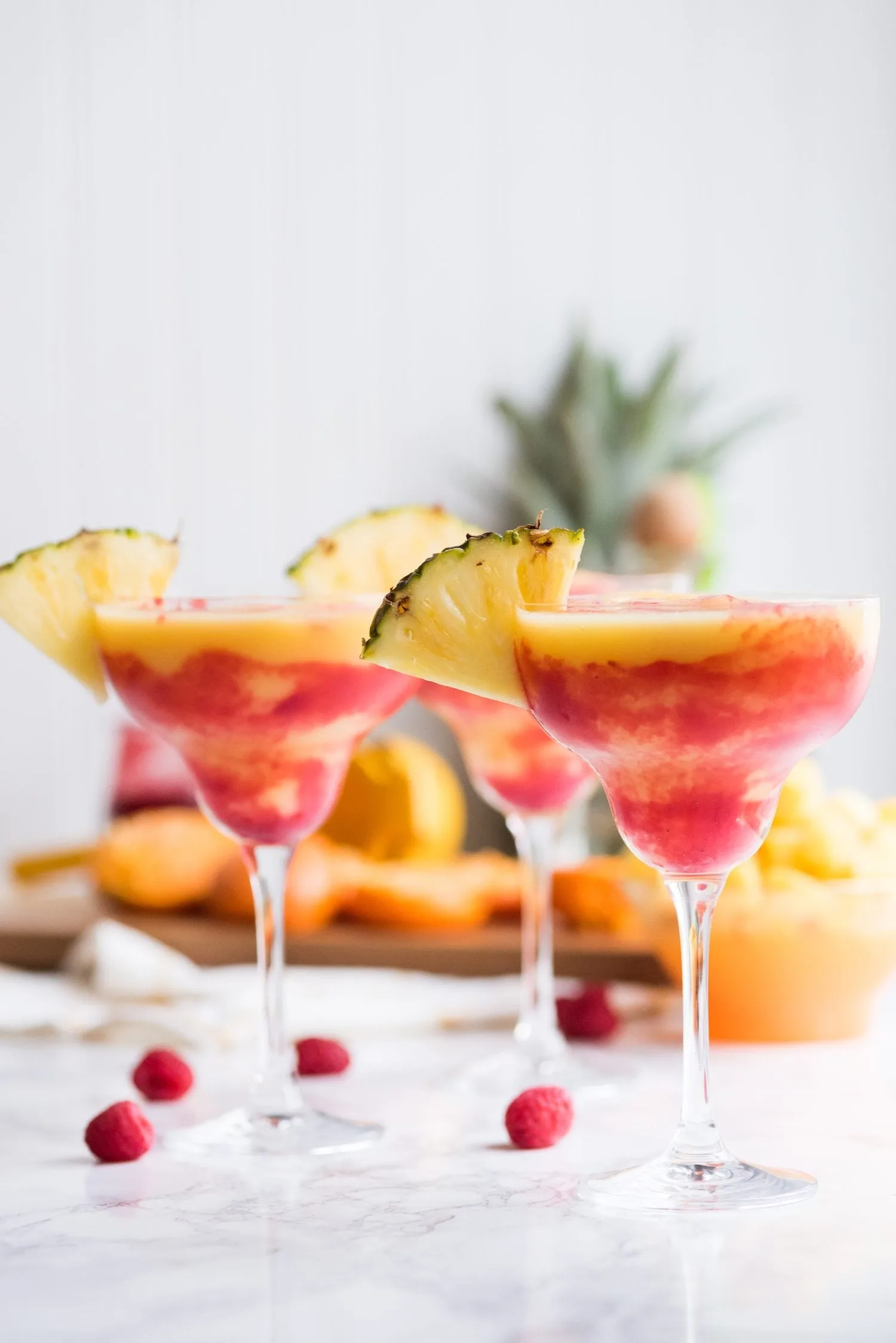 Raspberry Swirl Pineapple Mango Margaritas
With Cinco de Mayo in just a few days, shouldn't we be talking about margaritas? Might I suggest pineapple mango margaritas at that? Well, you're in luck! These raspberry swirl pineapple mango margaritas are everything you're craving.
I am such a fan of frozen cocktails, especially when I'm trying to channel those tropical vibes that make us all so happy. These margaritas are where it's at!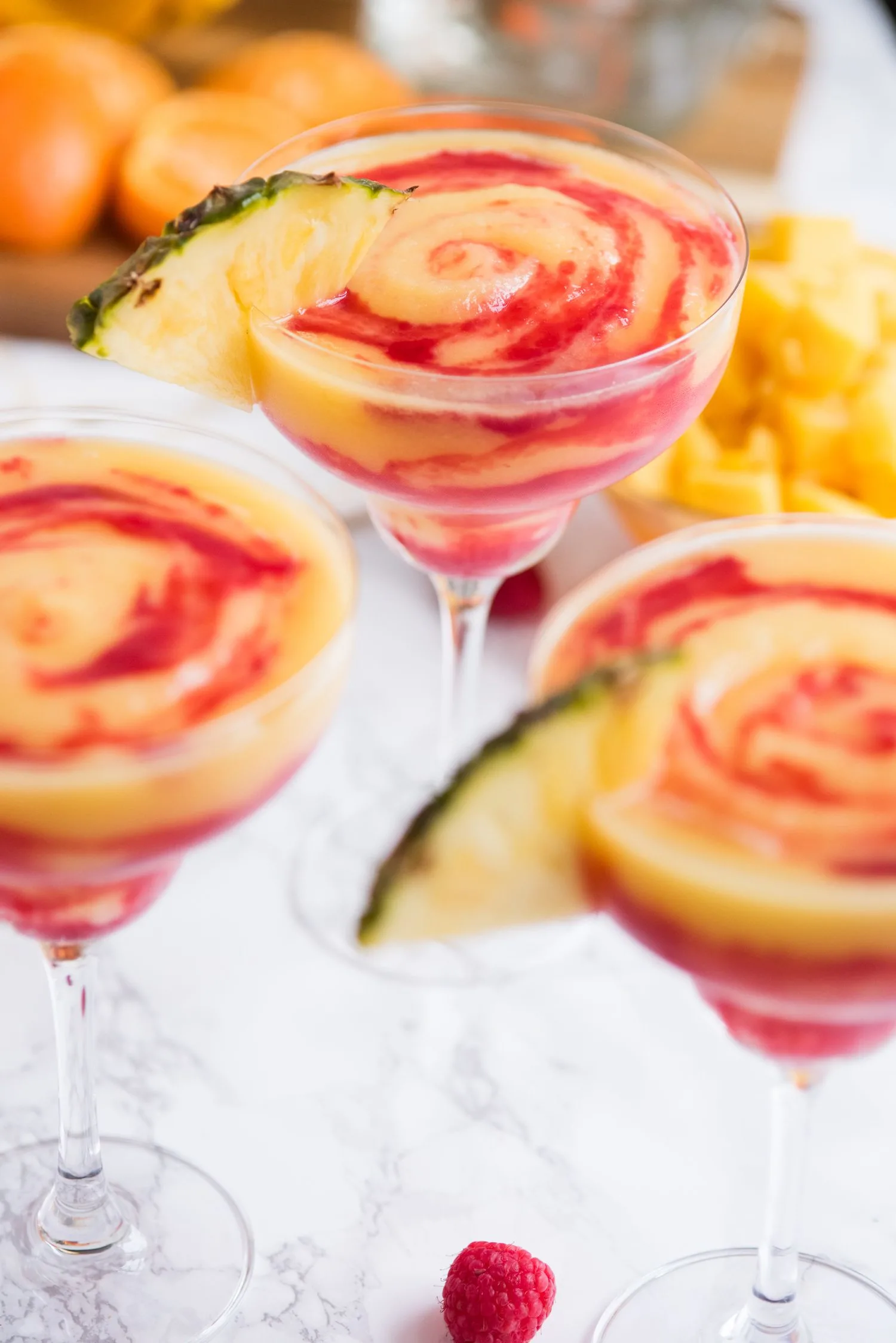 Ingredients in Pineapple Mango Margaritas:
Frozen mango chunks
Frozen pineapple chunks
Clementine or orange juice
Simple syrup
Silver tequila
Ice
I prefer to use frozen fruit when making these pineapple mango margaritas, because it allows you to use less ice and end up with a very cold, frothy drink. You can buy frozen fruit from the grocery store, or chop it and freeze it in advance. Alternately, you can use fresh fruit and add a lot more ice to reach your desired consistency.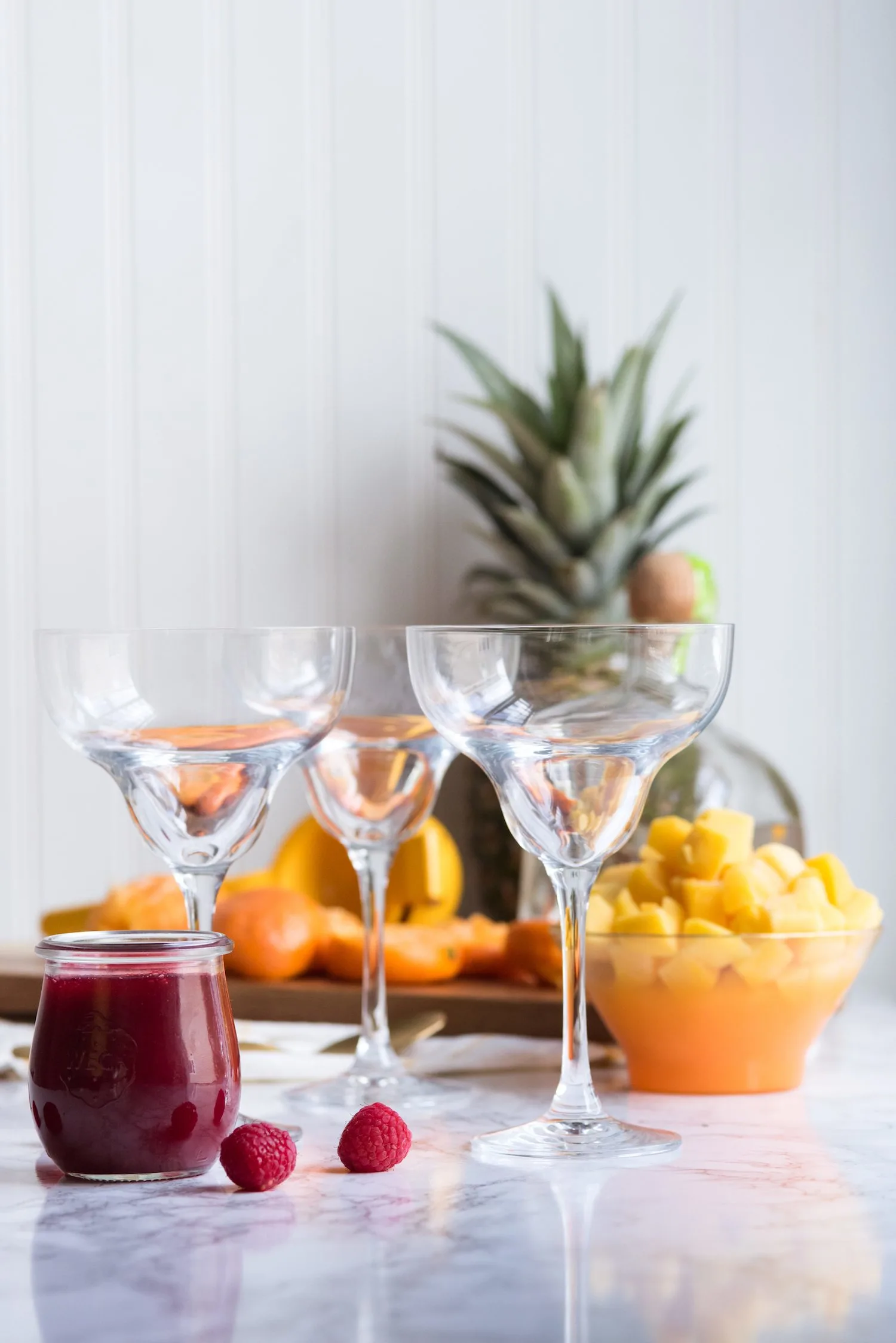 To Make Raspberry Sauce, You Will Need:
Fresh raspberries
White sugar
Lemon juice
I made a fresh homemade raspberry sauce here because it really takes the drink to the next level. If that's feeling like too much work though, skip it and use a good raspberry jam instead! It will still be insanely delicious.
All of that said – don't fear the sauce! I think cocktails with homemade ingredients are just that much better, and certainly if you're entertaining it's worth the extra effort to really wow your friends.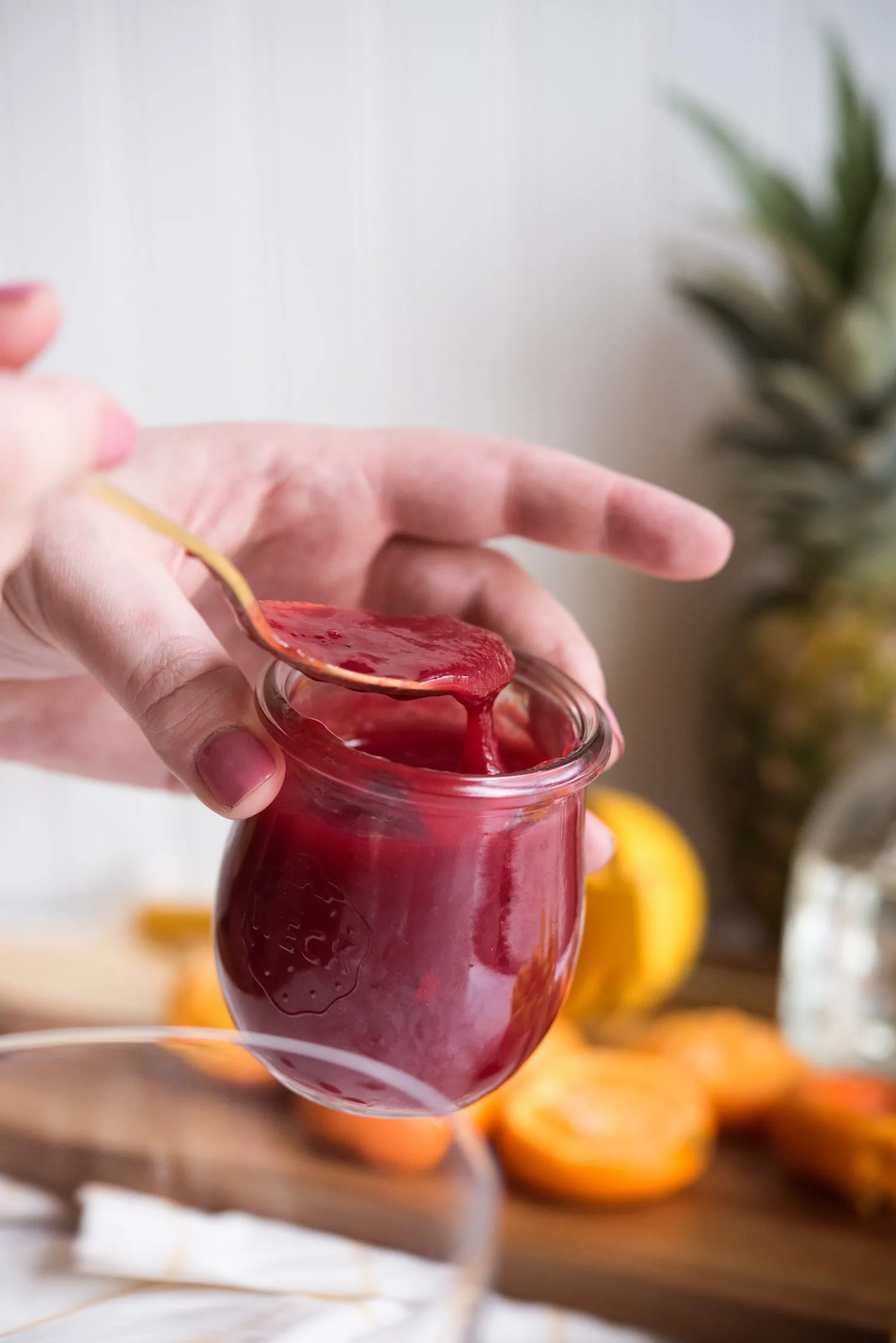 The rest of the ingredients come pre-chopped from the freezer aisle in the grocery store because it's all about the balance, friends. Oh! And you'll notice above that there's a video for this one. We all know how much I love my face appearing on the internet (aka not at all,) so this was a big step for me, but a lot of fun to try something new.
Make yourself a pitcher of these mango margaritas! Your tastebuds will thank you.
How to Make Pineapple Mango Margaritas
Swirl the raspberry sauce or raspberry jam around the inside of a margarita glass
Add all the other ingredients (except for the ice) to a blender and blend on high until fruit is no longer chunky
Add the ice to the blender and blend, blend, blend again until nice and smooth
Pour frozen pineapple mango margarita mixture into your margarita glass
Top with more raspberry sauce and swirl it into the top of your mango margarita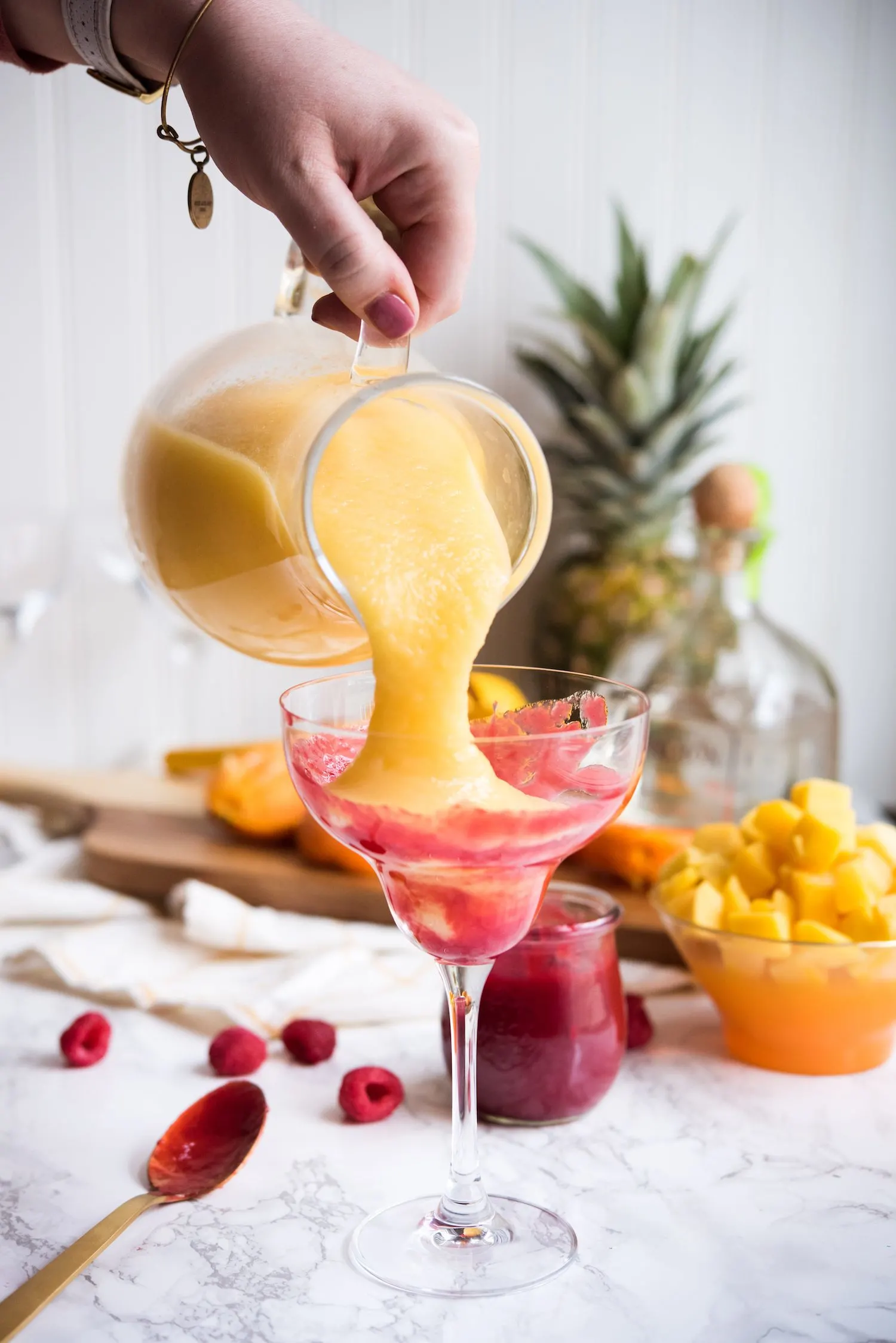 How to Make Non Alcoholic Margaritas:
This frozen cocktail recipe is very easy to make non alcoholic! In this case, simply skip the tequila when adding all of the ingredients to the blender. You'll then have a delicious non alcoholic margarita recipe perfect for kiddos, expectant mommas or the non drinkers in the crowd. So easy!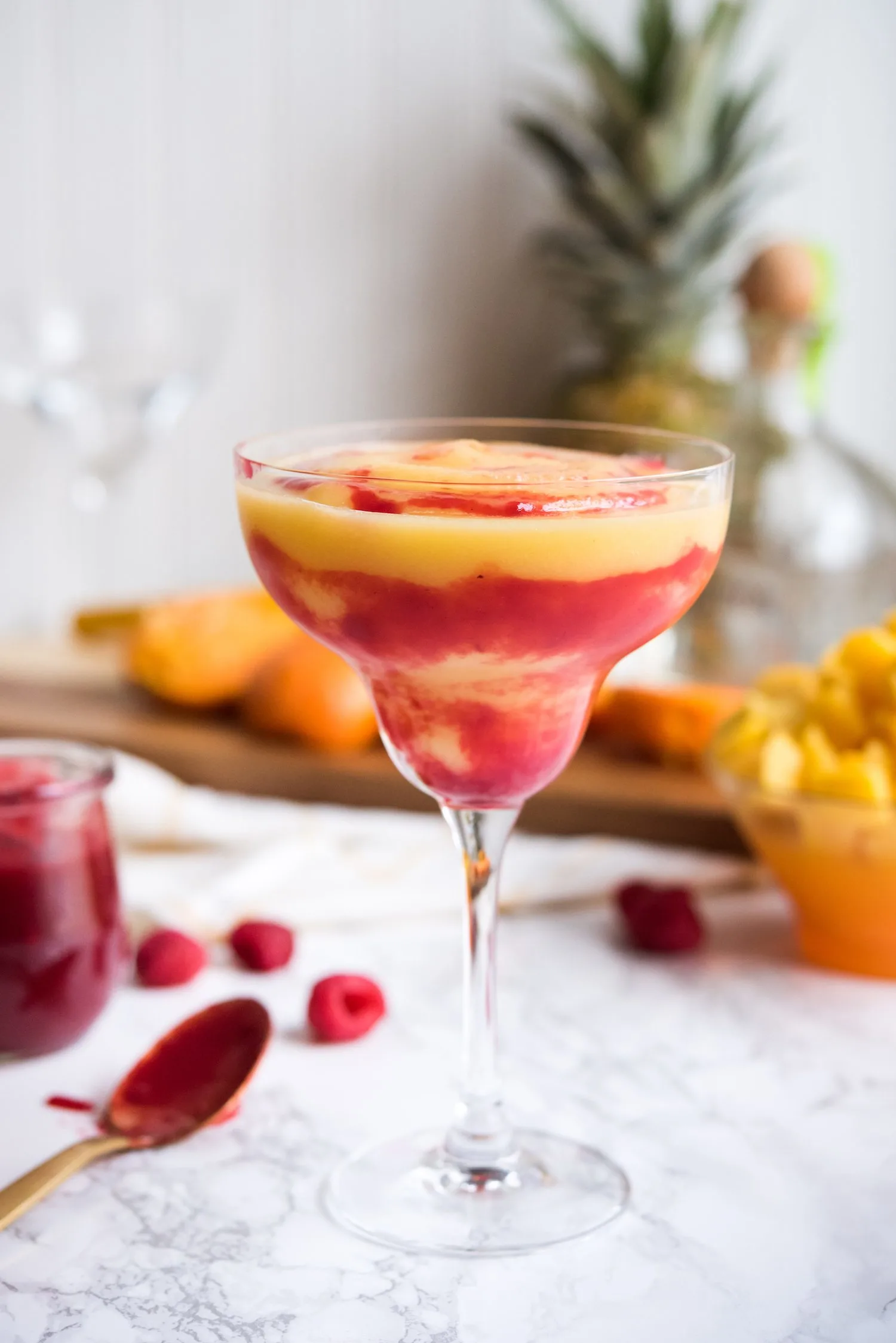 Which Tequila is Best for Margaritas?
This answer is totally subjective, but here's my general rule of thumb. For classic margaritas, which are less sweet and generally served on the rocks, I suggest the best tequila your budget allows. I always prefer a silver tequila for my margaritas.
For frozen margaritas, which tend to be sweeter, I feel like a more middle of the road tequila is totally passable as the sweetness of the drink will cover a magnitude of sins.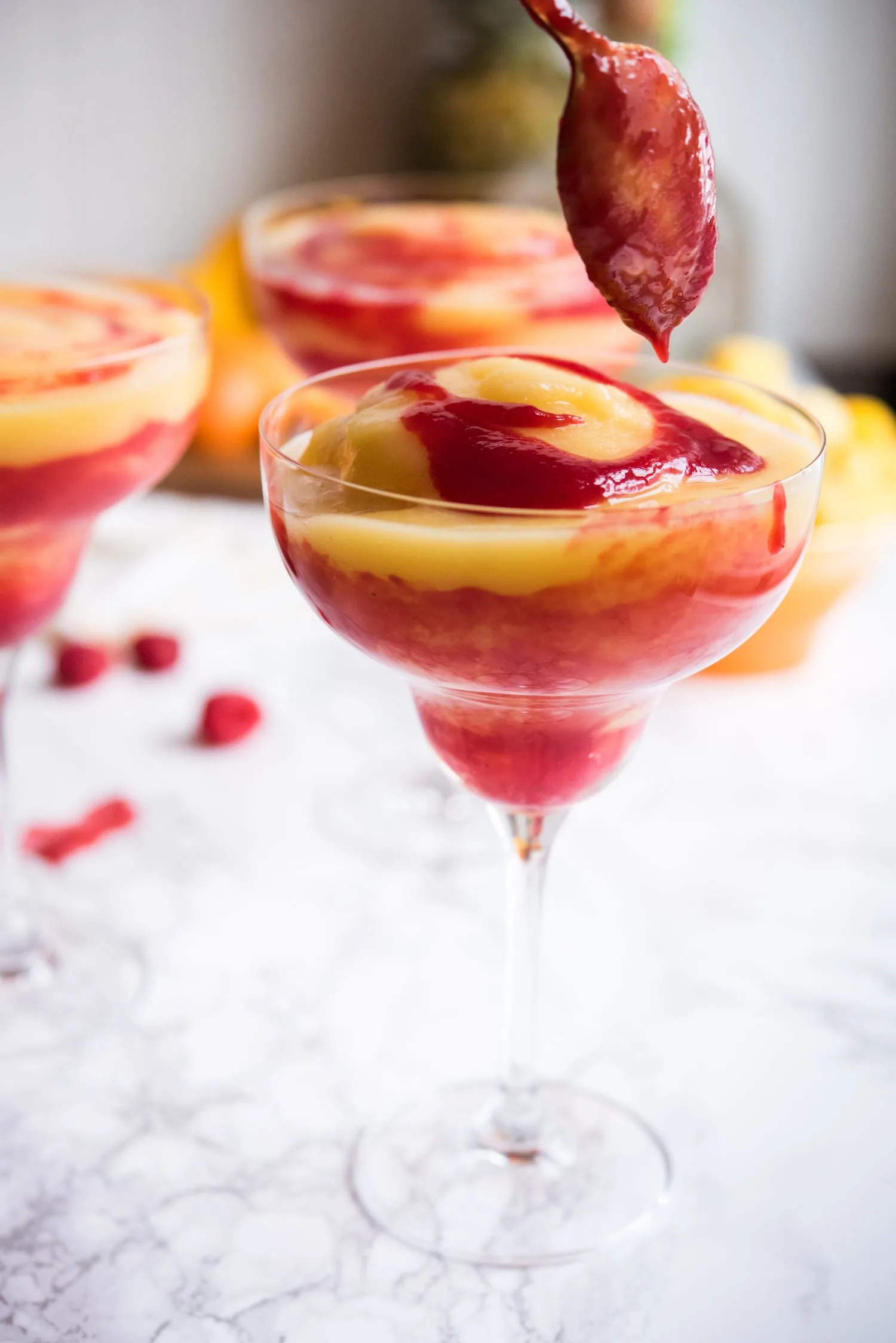 Can Margaritas Be Made with Vodka?
I get this question a lot, because many people really don't like tequila! Or maybe you just don't have any on hand at home. I get it, I really do. In this case – yes! This frozen margarita recipe would be delicious using vodka.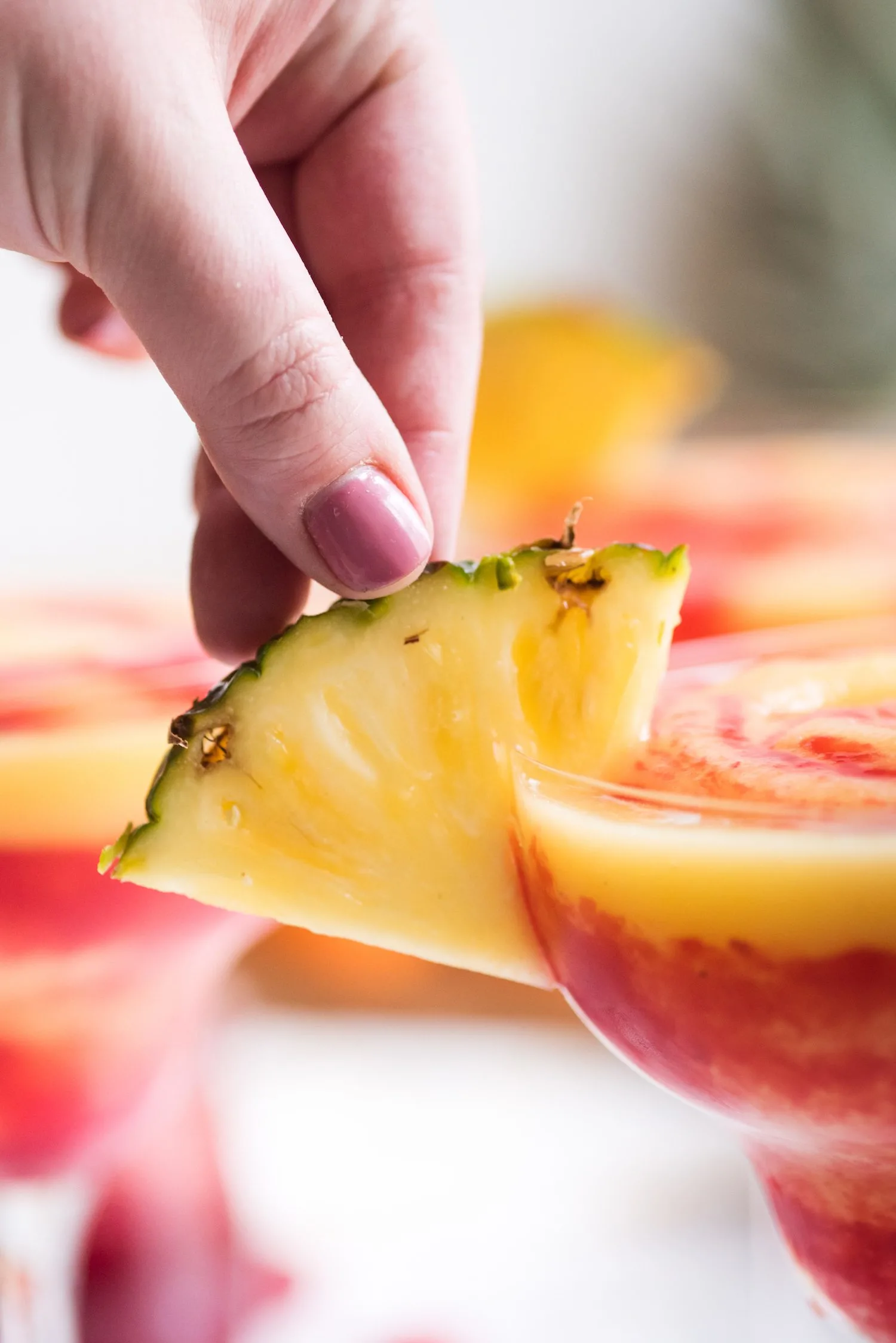 What to Serve with Margaritas: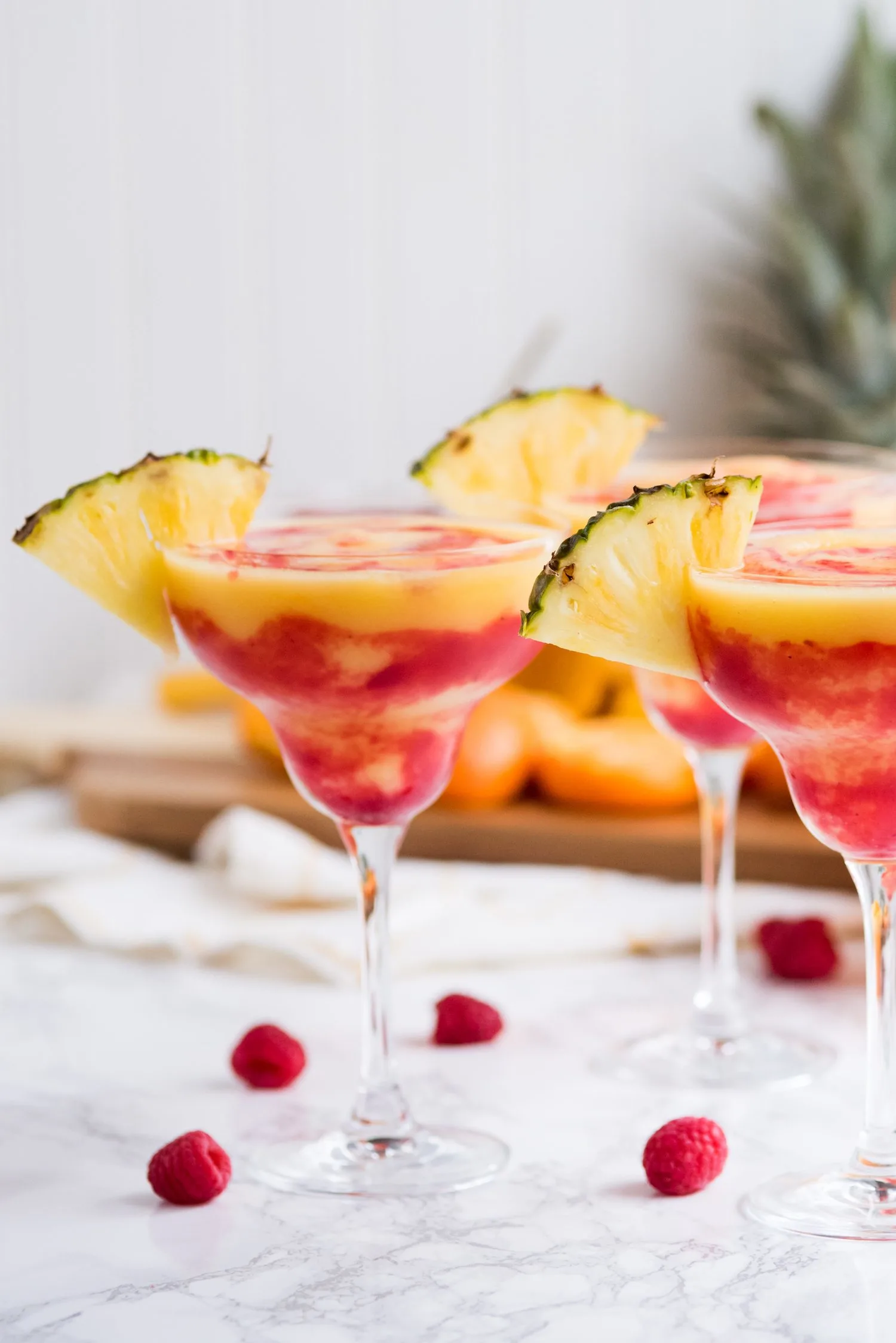 Looking for More Margarita Recipes to Try?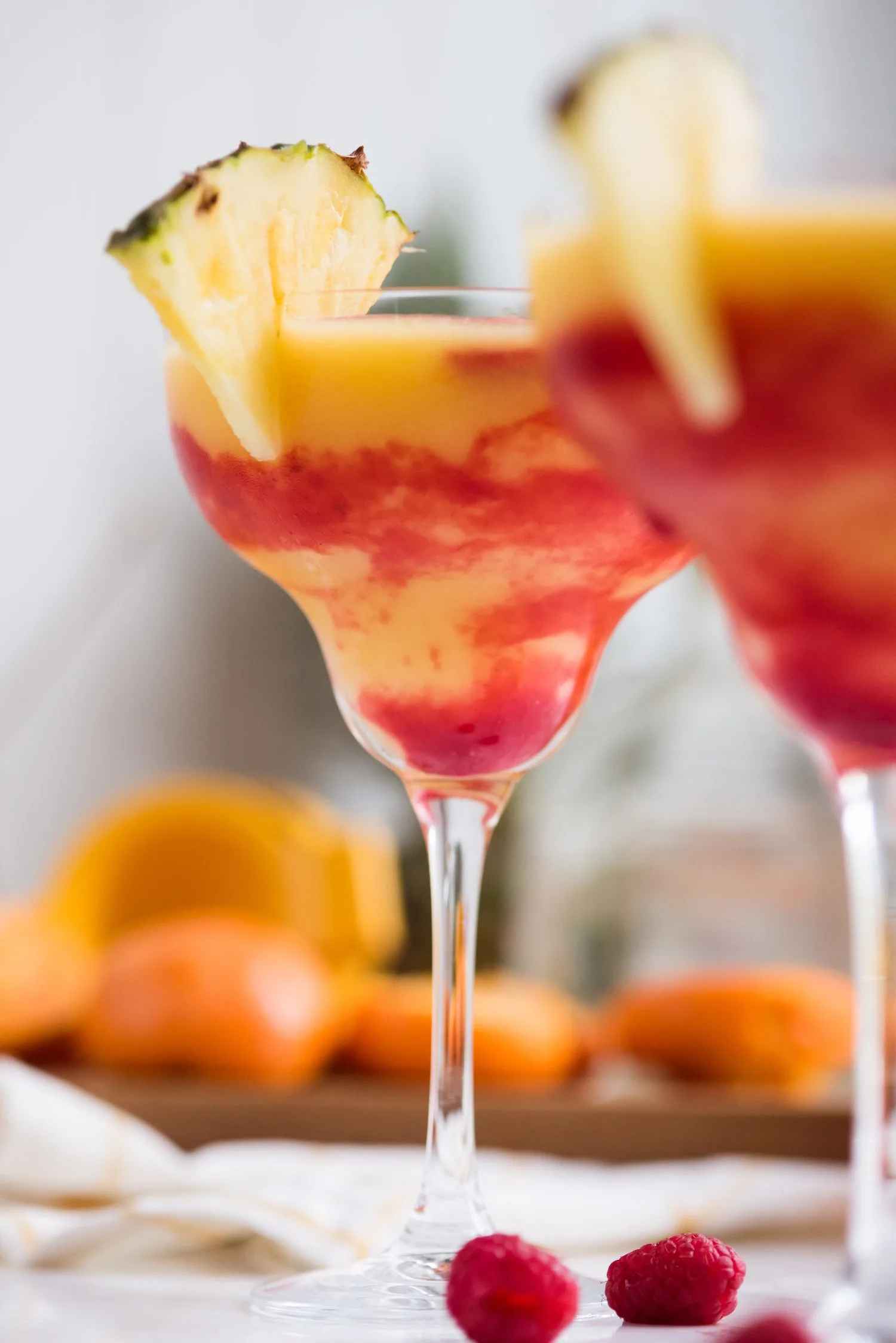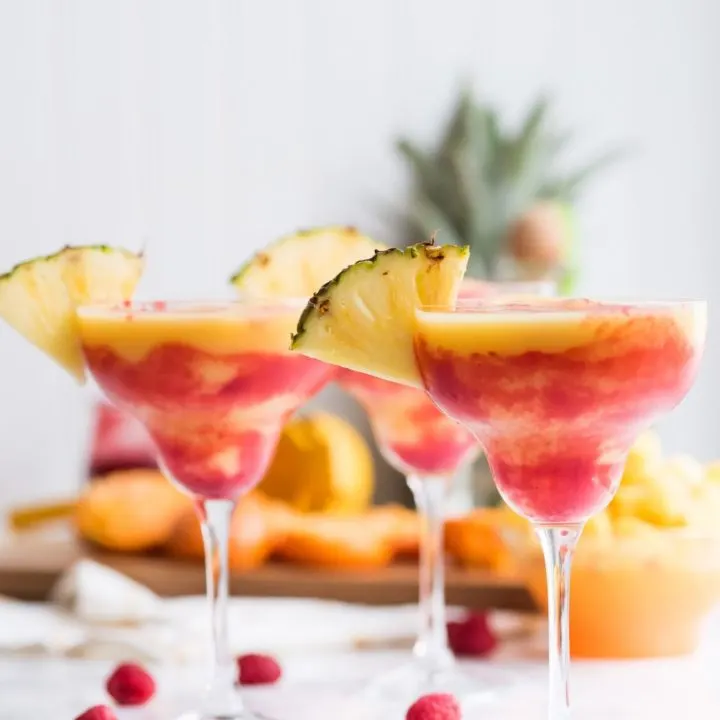 Raspberry Swirl Pineapple Mango Margaritas
Yield: 1

Prep Time: 10 minutes

Cook Time: 15 minutes

Total Time: 25 minutes
Ingredients
For the Margaritas
2 cups frozen mango chunks
2 cups frozen pineapple chunks
2/3 cup clementine juice
1/3 cup simple syrup
8 oz silver tequila
2 cups ice
2 tablespoons raspberry sauce
For the Raspberry Sauce
3 cups fresh raspberries
1/2 cup sugar
Juice of 1/2 lemon
Instructions
For the Margarita
Add mango, pineapple, celementime juice, simple syrup and tequila to a blender. Blend on high until smooth.
Add ice a handful at a time, and blend on high until smooth and frothy.
Using a spoon, swirl most of the raspberry sauce around the inside of a margarita glass.
Pour margarita mixture into the glass, top with the remaining raspberry sauce.
For the Raspberry Sauce
Start with cleaned, dry raspberries. Add them to the bowl of a food processor and blend until smooth.
Strain raspberry puree through a sieve into a medium saucepan to remove the seeds.
Whisk in sugar and lemon juice, then bring to a low boil over medium-high heat.
Reduce to medium heat, skimming the foam from the top for five minutes.
Reduce to low heat and reduce down to about half, approximately 10 minutes.
Pour into a small heat-safe jar and allow to cool before using.
[Recipe + art direction by Cyd Converse | Photos by Alice G. Patterson.]
Our Best Summer Cocktails
Try these refreshing and festive cocktails - these are some of our best summer cocktail recipes!