A few weeks ago marked Em's inaugural plane flight when we flew to Florida to visit her baby cousin Marley. I was a little worried about the trip because our girl (who is now a few months over two years old) is a mover and a shaker. She's not a big fan of sitting still for any real length of time and she's known to be a little feisty. (I'm mean, there's a reason why her nickname is Felicia. For real.) I wasn't so much worried about the flights themselves as I was about the down time in airports, but the flight time was obviously a concern, too. To prepare for our trip I sent out a blast on my personal Facebook page asking all of my toddler parent friends to serve me up their best tips for traveling with toddlers. Luckily, they delivered en masse. We put a bunch of their tips to the test and overall (despite some serious travel delays), we survived the trip relatively unscathed and feel mostly prepared for our next trip whenever it may be. When we knew we were having a baby, we adopted a "have baby, will travel" policy. Sure, it can be easier said than done, but it's really important to us that our little sidekick join us on lots of adventures, near and far, so the timing now is perfect to get us all in the swing of things, especially since many of her cousins live out of state. Here are some of the best tips that were shared by friends and what worked for us, including links to some of the best toddler travel gear ever made! (A resounding endorsement if ever there was one.)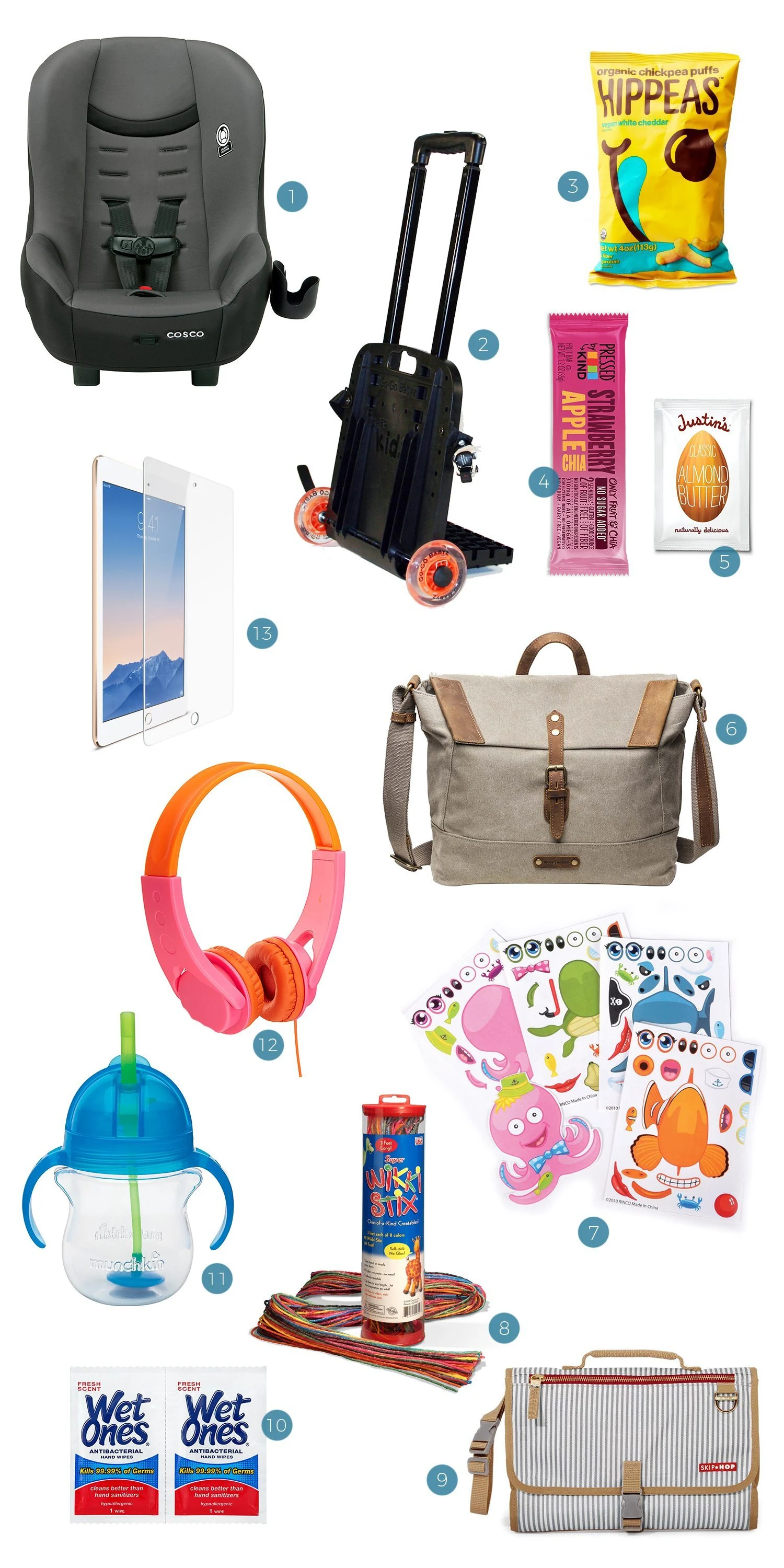 1. Think About Your Car Seat + Stroller Situation
This part of the equation is what I most felt I needed help with going into our first flying trip with our tiny wild woman. This child of mine has zero interest in staying put. She is a go-go-go kind of kid, so I was really fretting over the thought of her unbuckling her airplane seatbelt and screaming while trying to wrestle her way past us and through the aisles. I was pretty sure early on that I wanted her in a car seat both for that reason and for the fact that in general I just truly believe it's the safest way for little kids her size to fly. (She's still rear facing in our car at over two years old, because I'm definitely one of those super pro carseat safety moms.) By popular referral, I bought the Cosco Scenera NEXT convertible carseat for this and future trips. It came in at under $40 with shipping and it's incredibly lightweight, making it so much easier to carry around and manage on a plane than her bulky, much heavier carseat that we use in our vehicle. Having the car seat also allowed us to not have to worry about whether or not the rental car company would have one, and once she outgrows it we'll send it down to her big cousin Marley for when she's flying back and forth. Also by popular recommendation, we ordered a Go-Go Babyz Travelmate, which is a device that allows you to strap the car seat onto a base and then wheel it through the airport like a roller bag, thereby eliminating the need for a stroller. The thing is genius – check it out in action in my Instagram Stories travel highlights! It works amazingly well, is super simple and we had so many parents stop us to ask about it in the airport. I can't recommend it enough and I'm so grateful to my pals for tipping me off on its heavenly existence.
2. Pack Ample Snacks
When you're traveling with a toddler, snacks are key. We loaded up large Ziploc bags with packs of snacks. Things that aren't insanely messy but also really exciting for them to snack on and stay happy throughout the airport and on the plane. Em loves these Hippeas chickpea puffs, little packets of Justin's almond butter and the Pressed by KIND bars. I also packed carrot sticks, apples and bananas, and in the airport she was all about snacking on hummus and pretzels. You'll have to pull all the snacks out when you go through security, so that's why I suggest stashing them all in gallon size bags so you can easily pull them out of your carry on, instead of having to fumble with a bunch of individual packages.
3. Carry On Light
Because we were already dealing with a kid and her carseat (and her stuffed BFF, George), we opted to check our primary luggage and deal with just the essentials for carry-on purposes. We carried on her regular diaper bag, a second bag (a messenger style tote bag) for her snacks, toys and entertainment, and then my carry-on. I recently bought this gorgeous canvas messenger bag from Kelly Moore Bag and it's amazing because it can carry my computer (a 15″ MacBook Pro), my camera (the Canon 5D Mark IV), an extra lens, all relevant chargers, travel documents and my wallet and it allowed me to keep us all organized, while still having tabs on my expensive gear. I love that it doesn't look like a gear bag and the strap was super comfortable for hauling all of that stuff through the airpot. I highly recommend it if you have similar travel needs, especially if you're also traveling with a kid since it allows you to pack a lot in a really streamlined way that's not torturous to wear on your arm all day.
4. Pack Loads of New Toys
A few days before we left, you could have found me at my local Target absolutely ransacking the Dollar Spot for new toys for our trip. I had several friends recommend bringing a stash of loads of new-to-her goodies that would keep her entertained and pull them out one at a time. Another friend suggested sticker pads (like these cute ones, which are so inexpensive) so she could stick stickers all over the place and then it's just easy to peel them all off and toss them as you're nearing the end of the flight. Both tactics were genius! We also found while at a restaurant on our trip that she loves these Wikki Stix, so we saved the ones they gave us and brought them on the flight home. We'll definitely be bringing those along on our next flight or long car trip for sure. We also packed a couple small books, some flashcards and my scores from the Dollar Spot like a set of felt money and a plain notebook with crayons packed in a little plastic container so she could color.
5. Stock the Diaper Bag Appropriately
For the flight itself, we packed roughly four more diapers than what we thought would be the max we'd go through while traveling and a fresh pack of wipes. We put a handful of diapers in our suitcase and then just bought a small pack of diapers to use while we were in Florida. Don't forget a couple of extra outfits, even if your kid doesn't usually soak through their clothing, because the last thing you want is to be stuck in an airport with a kid who is a mess with no way to clean them up. Nightmare! You'll also want to make sure you have a changing pad of some kind, because airports can be crazy and you don't know where you'll end up having to do a diaper change so at least you'll have the peace of mind of them having a clean place to lie down. Which brings me to, Wet Ones wipes! Or your germ-fighting wipe of choice. Airports and planes are disgusting, especially right now during flu season, and toddlers touch every damn thing, so these will help you keep their little fingers clean. You also have to take all wipes out of the diaper bag to go through security, so I stashed all of the diaper wipes and Wet Ones wipes in a large plastic bag so I could just pull it out of the bag and put it into the bin to make things simpler.
6. Bring Along Beverages
Did you know that the TSA liquids rule largely doesn't apply to small children? We traveled with two of these straw cups (which we've used since Em switched over from a bottle), each filled to the top with her usual unsweetened almond milk. That gave her one cup for take off and one for landing to help her ears adjust to the pressure, which worked really well for her. Keep in mind that TSA will need to do additional screening on any milk, water or breastmilk you may carry on, so just show up prepared for that and you'll be good to go. We had very friendly people at all of the airports who had no problem doing the screening for us so we could go along our way.
7. Bring an iPad for Movies + Games
Even if you're not big on screen time for kids, save yourself and bring along an iPad or similar for movies and games. Our girl had never used an iPad in her life before we went on our trip. I loaded it with a couple of puzzle style educational games suggested by a friend and I also got the Netflix app so we could download a handful of movies for the flight in advance. Make sure you have a good case and especially a glass screen protector, since toddlers are occasionally tyrannical punks who like to smash things just because they can smell they're expensive. (Please tell me it's not just my toddler?!) Also, over the head headphones made for kids so they're appropriate both in size and volume are a good idea – these headphones from Amazon get the job done nicely and inexpensively.
8. Get to the Airport Early + Ask for Early Boarding
It likely goes without saying, but traveling with a toddler is like traveling with a loose cannon, so be sure to give yourself a lot of extra time at the airport. If you have to deal with diaper changes or unexpected potty breaks, or when it takes extra time to get through security, you'll be able to do so without feeling flustered or stressed out. Something I did't know? Some airlines no longer offer pre-boarding as a standard boarding call for those traveling with small children so make sure you ask the gate agent once you're in the gate area. There is nothing more miserable than dealing with a sobbing, exhausted toddler while trying to stash bags and get a car seat strapped into place to make you never want to leave your house again. Not that I'm speaking from personal experience. Nope, that never happened. While most of the other passengers were so sweet to us and understanding, it was still insanely stressful so after that we made sure to always ask to get on early and didn't have any issues again.
And that's it, friends! I'm sure I could think of a hundred more little things to share, but these were the big items for us that really helped our travel go as smoothly as possible, especially once we started getting delayed. (That's a story for another day!) In some ways I think plane travel with toddlers is like a Band-Aid you just have to rip off and then once you've managed it once, you'll feel like an old pro in no time. Or so I tell myself! Have any other tips to share? Chime in below! I'll take all the toddler tricks I can get these days.
Shopping Guide –
Some of these links include affiliate links
1: Cosco Scenera NEXT convertible carseat | 2: Go-Go Babyz Travelmate | 3: Hippeas chickpea puffs | 4: Justin's almond butter | 5: Pressed by KIND bars | 6: Kelly Moore Pioneer bag | 7: Ocean creature sticker pads | 8: Wikki Stix | 9: Skip Hop travel changing pad | 10: Wet Ones single wipes | 11: Munchkin straw cups | 12: Kids headphones | 13: iPad glass screen protector