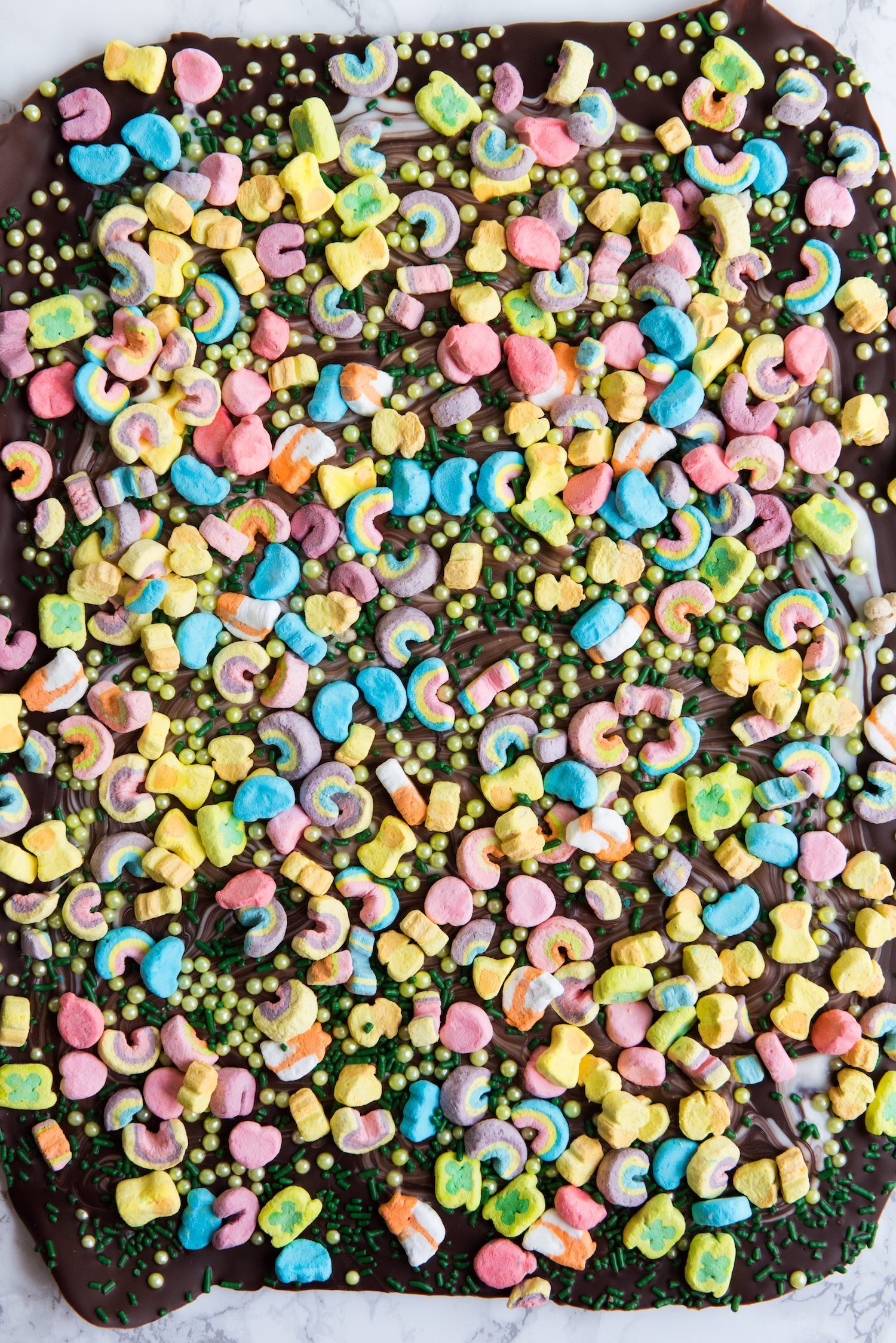 Well, friends, I am certifiably obsessed with making bark. If that wasn't already self-evident, here's another chocolate bark recipe, loaded with Lucky Charms and sprinkles just in time for St. Patrick's Day! Why do I love bark so much? In short, it's incredibly easy and really fun to make. It's such a sweet, simple novelty and people go crazy for it whenever I make a fresh batch. Our kids love to help sprinkle the toppings and after I make a big batch (if it's not specifically for a party), I just tuck it into an airtight container in the fridge where it keeps for a couple of weeks without a problem. You can divvy it up into little cello bags for gifting to co-workers or neighbors, or send it to school for a special St. Patrick's Day treat for the little leprechauns in your life! Basically, it's inexpensive and quick to make, so you don't have to plan it out days in advance, and you can switch up the flavors and colors however you want. Have I made the case for bark yet? If you haven't given one of my many bark concoctions a try yet, there's no time like the present! I promise you'll be hooked.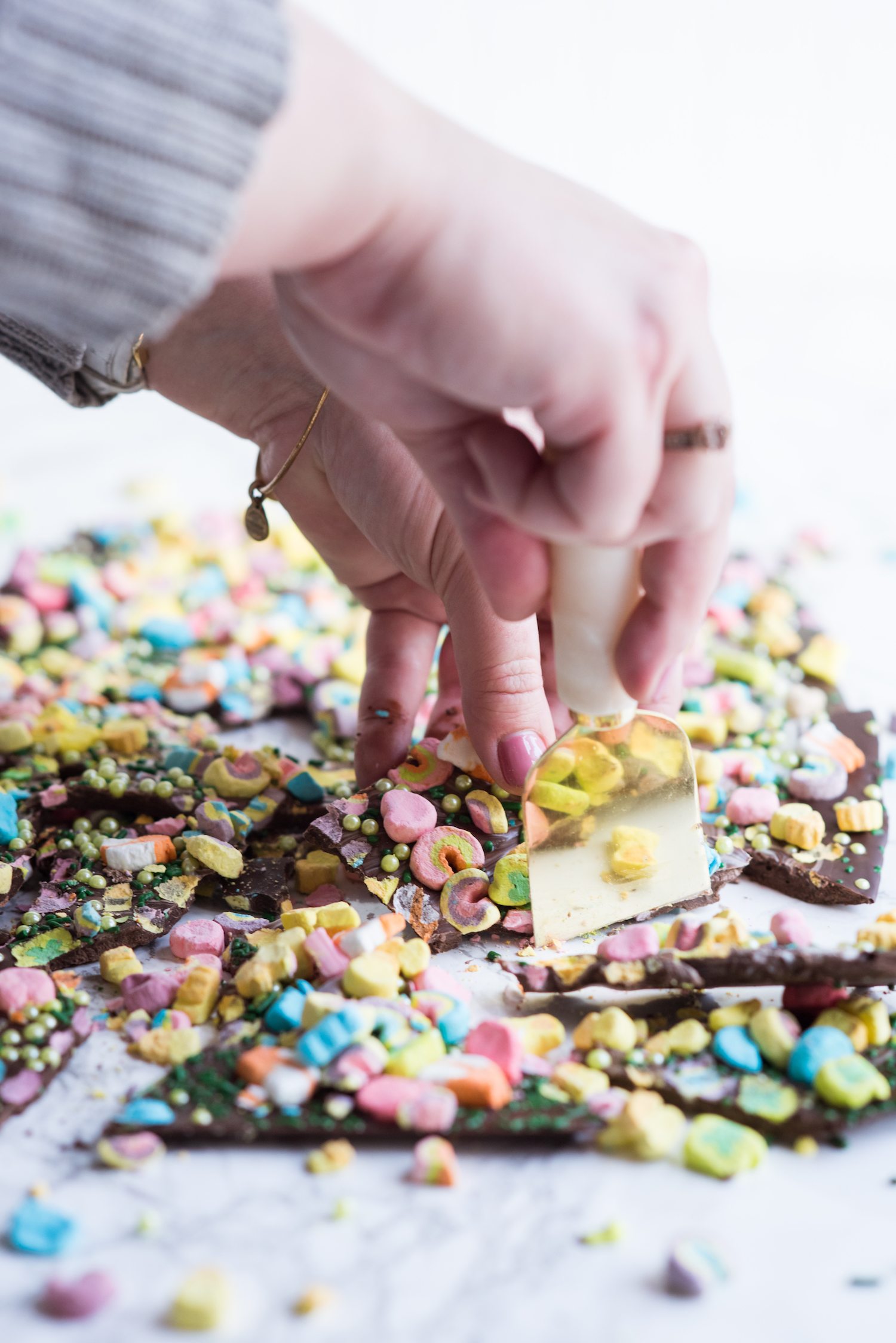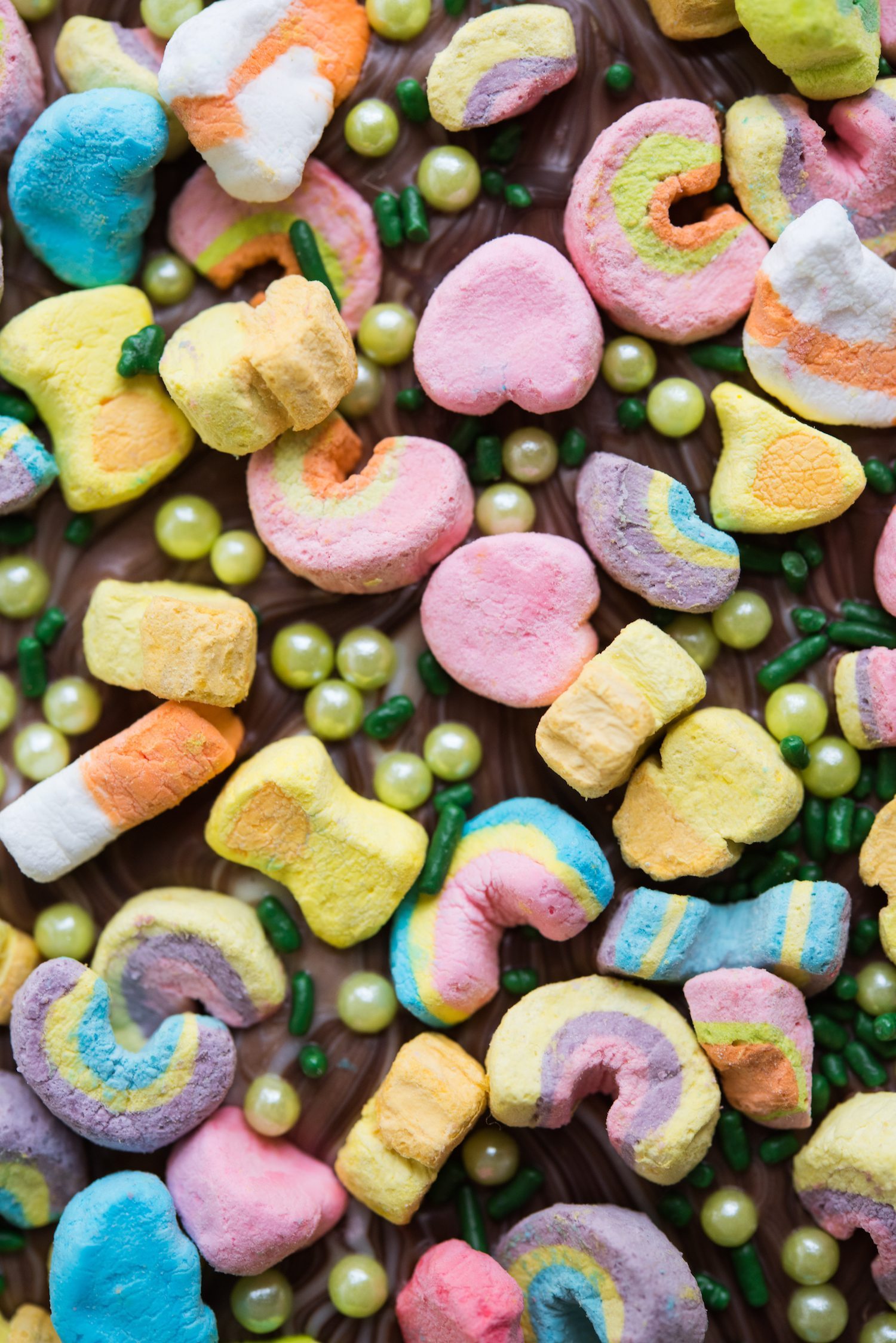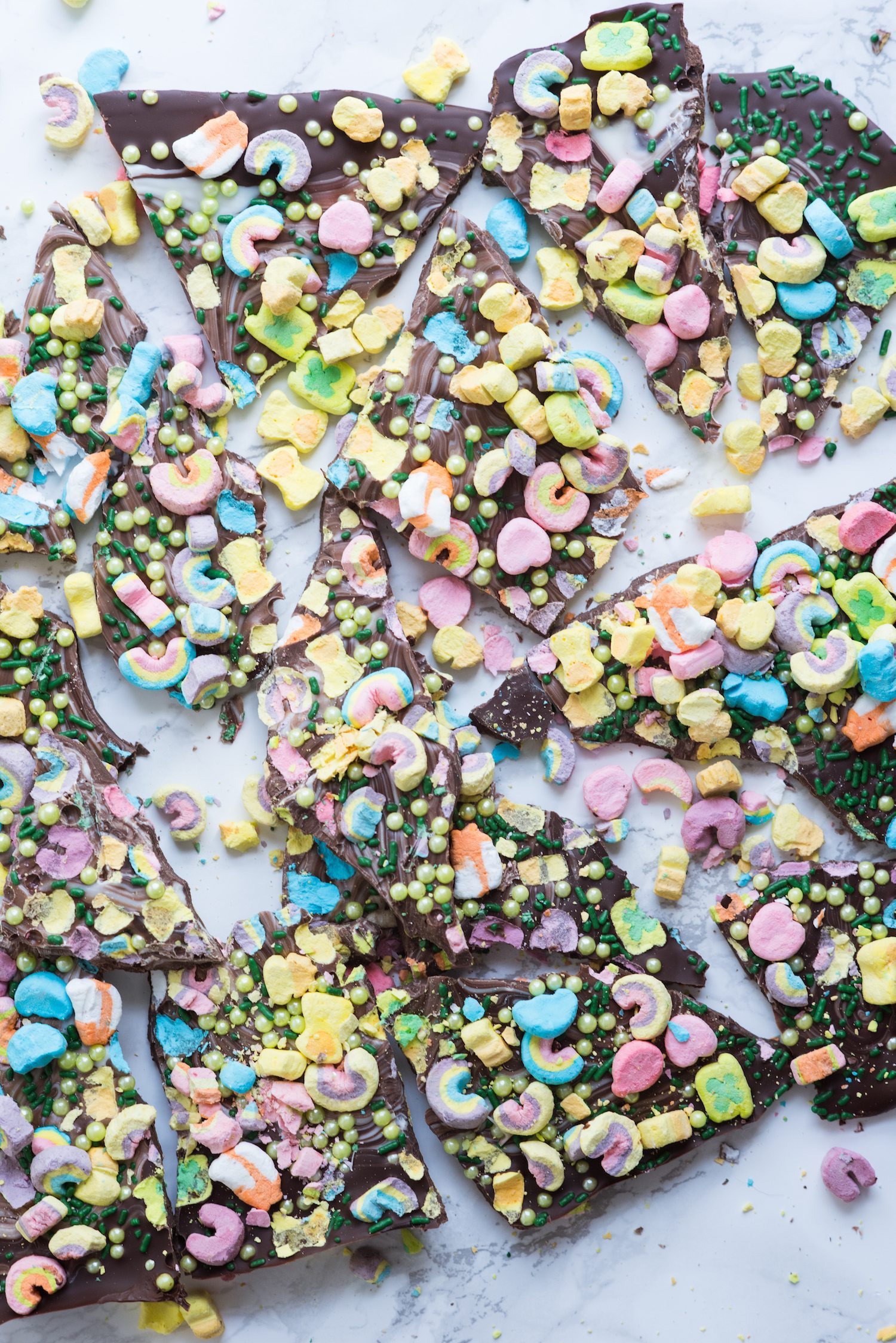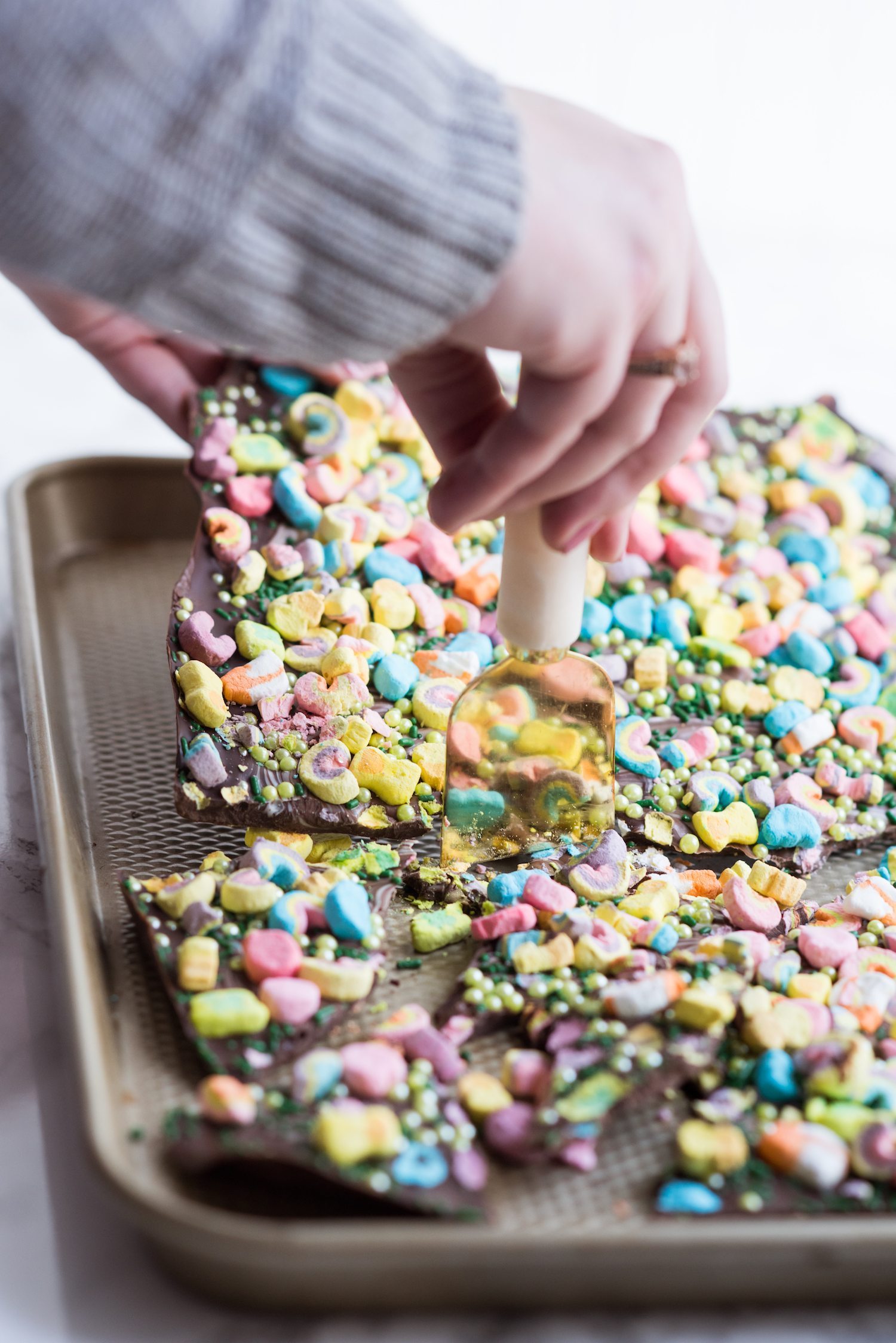 Loaded St. Patrick's Day Lucky Charm Bark
Ingredients
4 cups milk chocolate morsels
2 cups white chocolate morsels
2 cups Lucky Charms (marshmallows only)
½ cup green pearl sprinkles
½ cup green jimmies
Instructions
Line a baking sheet with parchment paper and set aside.
Carefully melt each of the chocolates over separate double boilers, mixing often with a rubber spatula until fully melted and smooth. Alternately, you can microwave in a heat seat bowl, microwaving in 15 – 20 second intervals and stirring in between to ensure even heating.
Once fully melted, carefully pour melted milk chocolate onto the center of your baking sheet, then use a rubber spatula to gently smooth out until approximately ¼" thick.
Pour the white chocolate on top of the milk chocolate in a zig zag pattern. Take a bamboo skewer (or similar) and use the tip to swirl the two chocolates together.
Sprinkle the Lucky Charm marshmallows over top of the chocolate, and follow up with each of the sprinkles before the chocolate begins to harden.
Transfer the baking sheet to the fridge and chill for at least one hour or, ideally, overnight. Remove from the fridge and use the back of a spoon or similar to smash the bark into pieces.
[Recipe + art direction by Cyd Converse | Photos by Alice G. Patterson.]