Take a look at our newly renovated den and powder room! This home makeover project was completed as part of the One Room Challenge.
After six weeks and much ado, I am thrilled to be sharing our den and powder room makeover with you! With the completion of these two rooms, nearly the entire downstairs of our home has been transformed since we moved in three and a half years ago.
It feels so good to have finally shown this area some love. Before scrolling, revisit the before photos and my original mood board!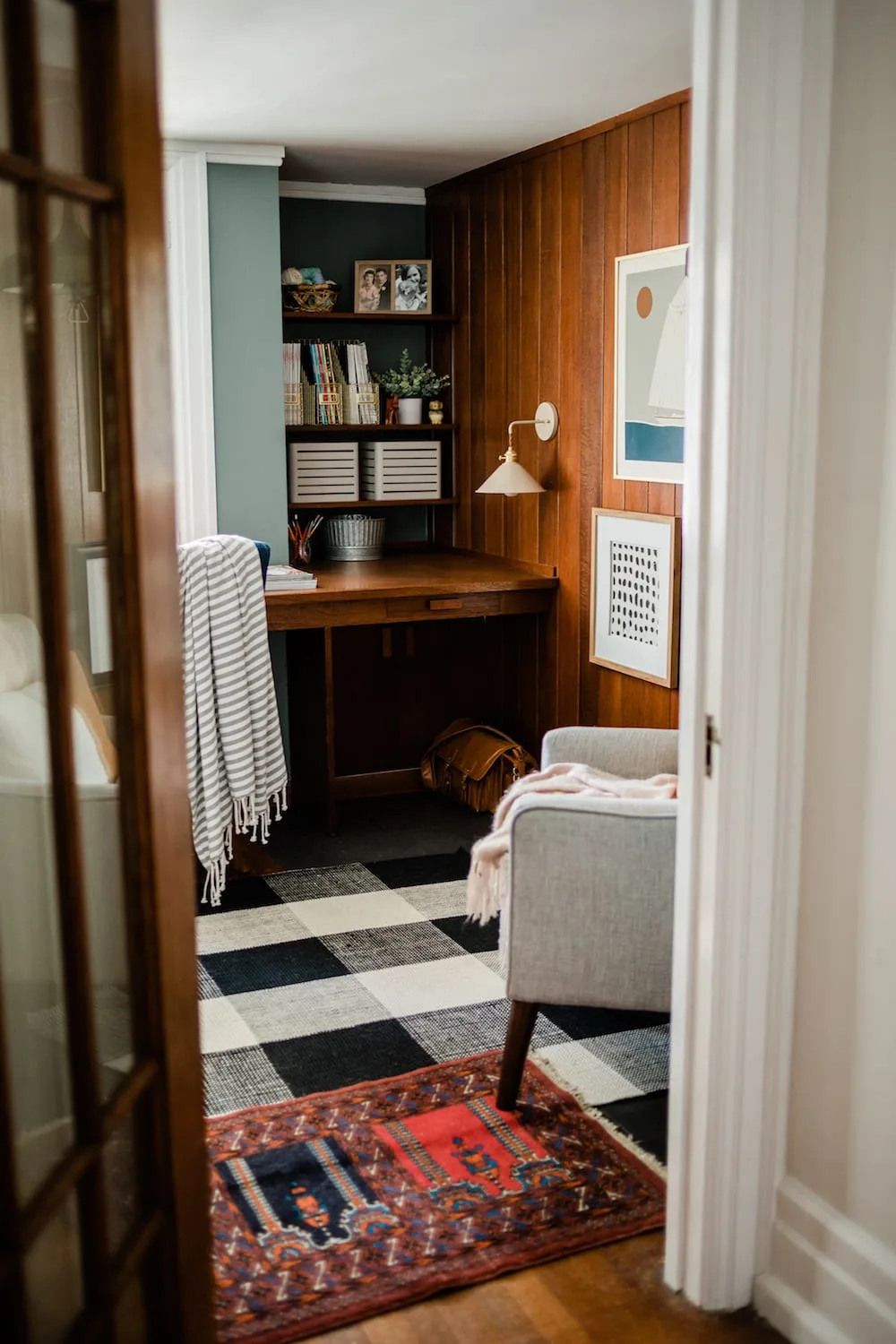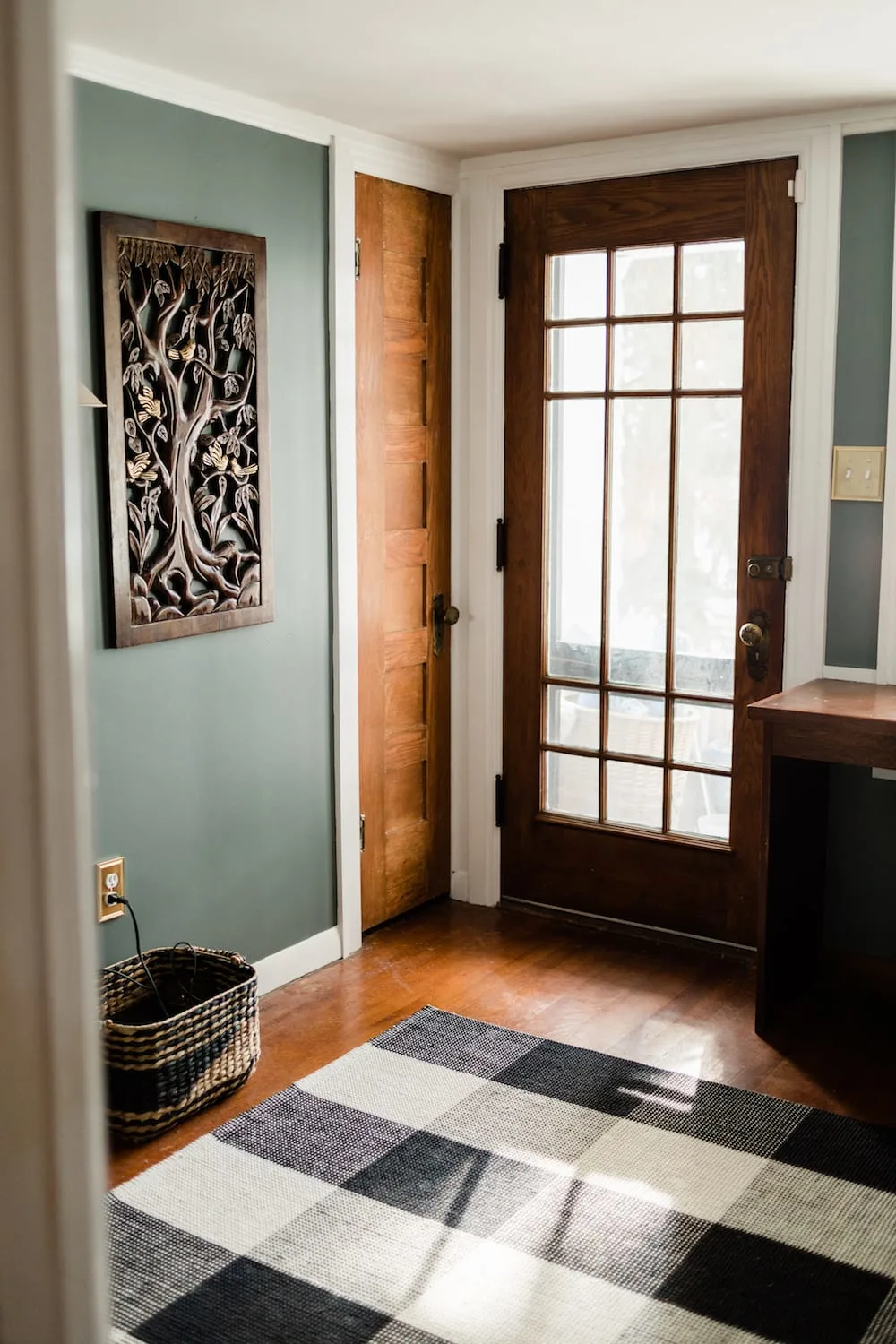 When I decided to tackle these adjoining spaces as part of my first ever One Room Challenge, I expected to be able to write weekly update posts. Because of unforeseen situations in my personal life, I ended up doing much of the daily/weekly updates over on my Instagram Stories.
If you want to see the room truly transform and come to life, you can find it all saved on my profile under ORC (Den) – I hope you'll go take a look!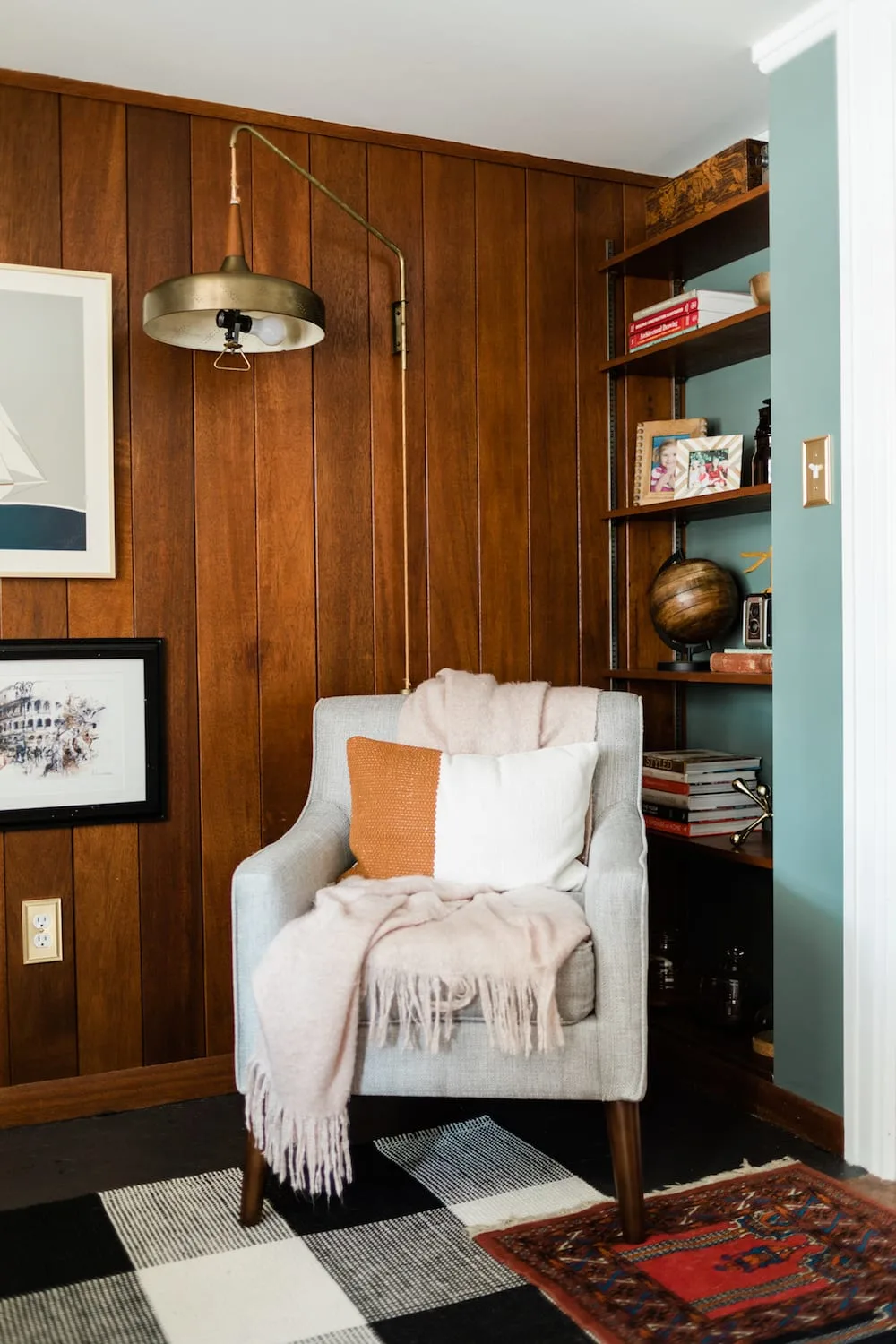 Choosing a Home Office Paint Color
If you followed along, you'll know that it took a tiny bit of trial and error to land on the perfect paint color for our home office makeover. Choosing a home office color that was just right was going to be in everything in this space.
The first color I picked is lovely and looked good, but it wasn't giving the room the feel I was hoping to achieve. I painted one small wall and immediately knew I had to switch directions.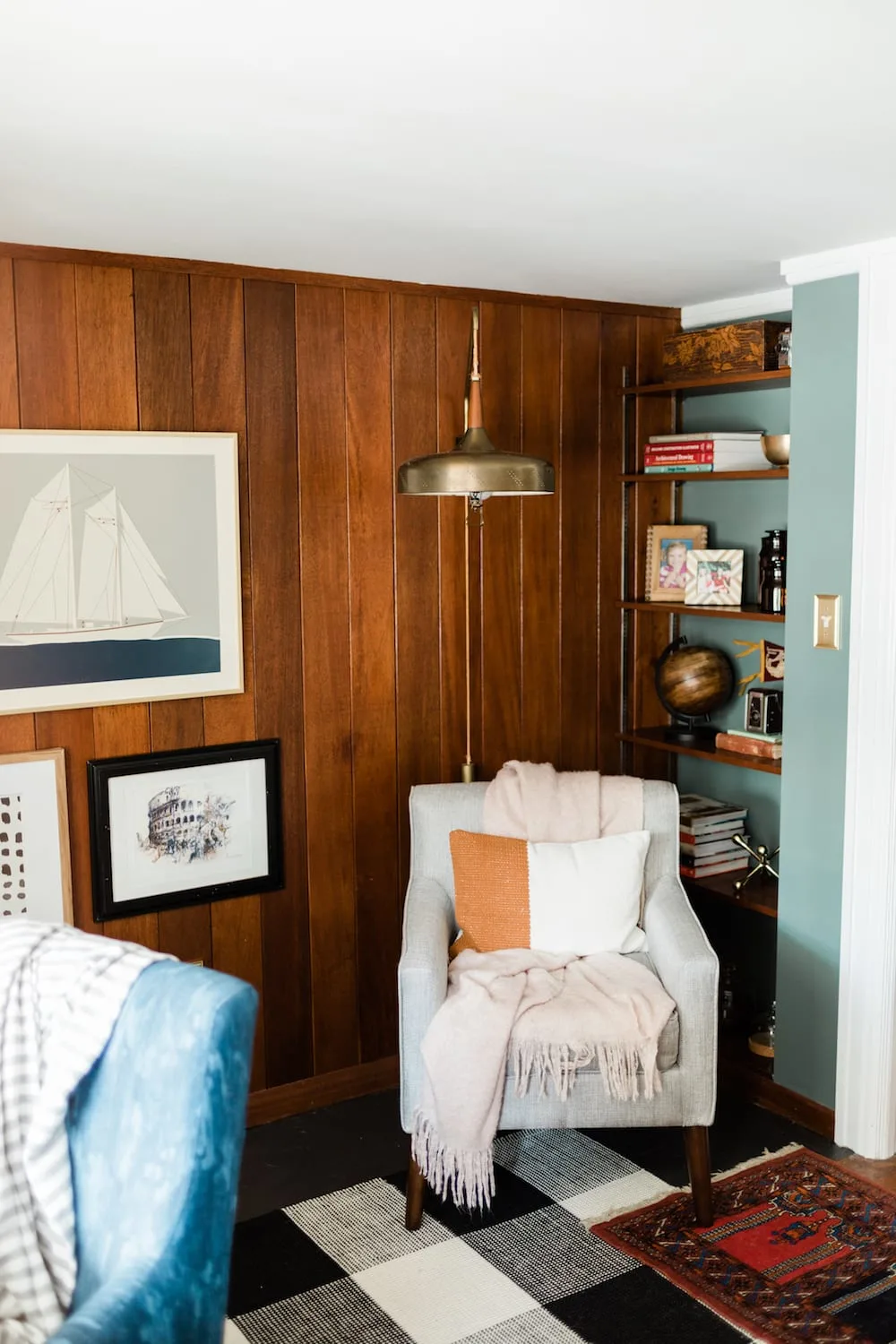 The new paint color, Coastal Dusk by Valspar, is perfect. It's a medium-dark green that pairs beautifully with the original mahogany feature wall and built-ins that I knew I would be keeping.
Because this room is small, with lower ceilings (since it's nestled under the landing of our massive center hall staircase) and doesn't get a ton of light, it felt best to work with a very warm, cozy feel for the room.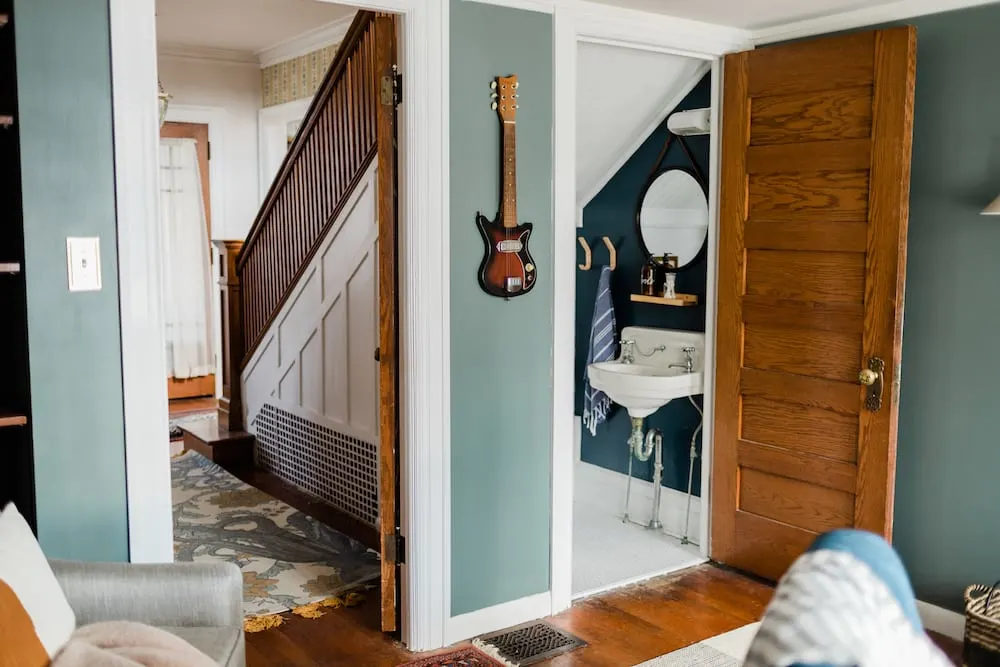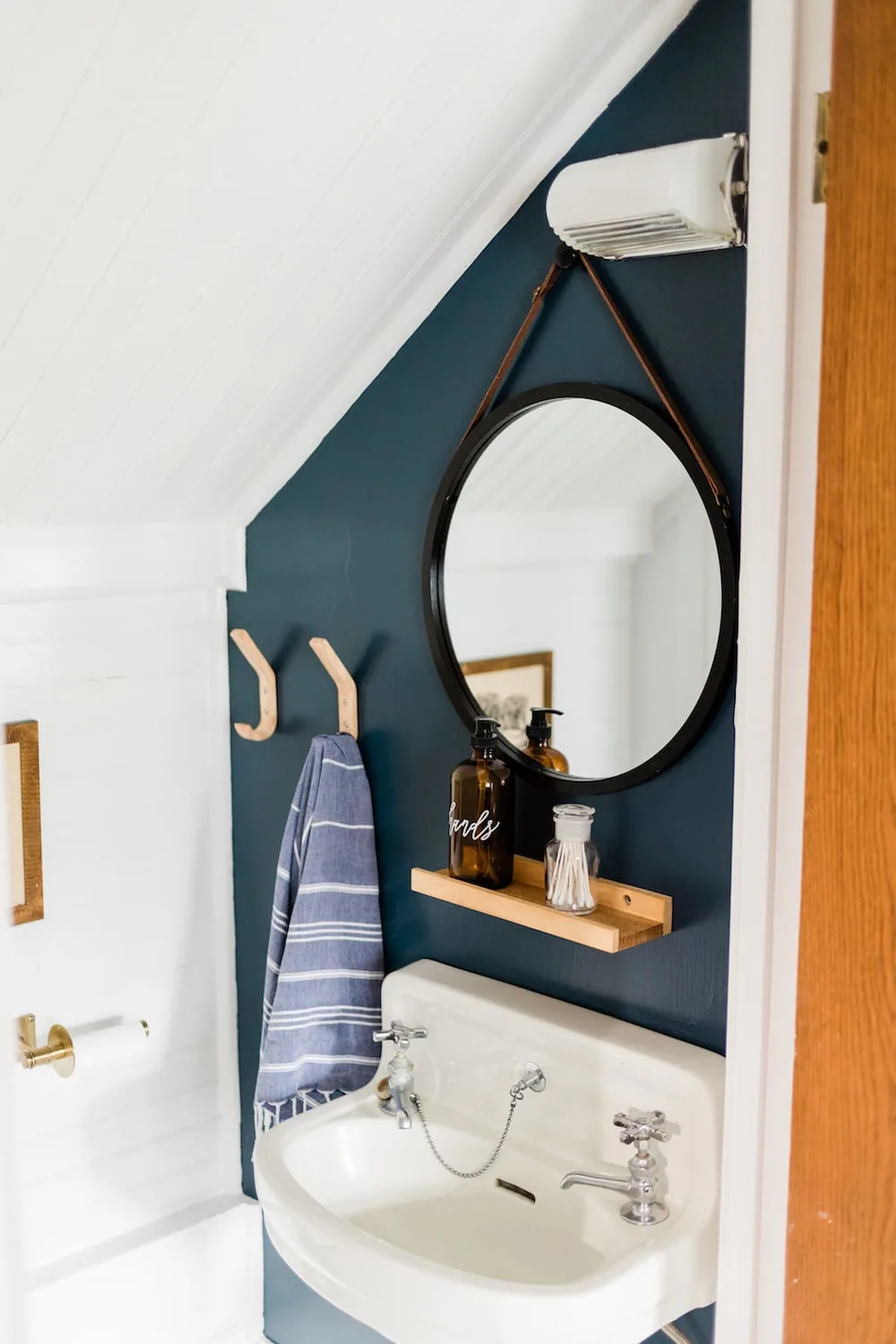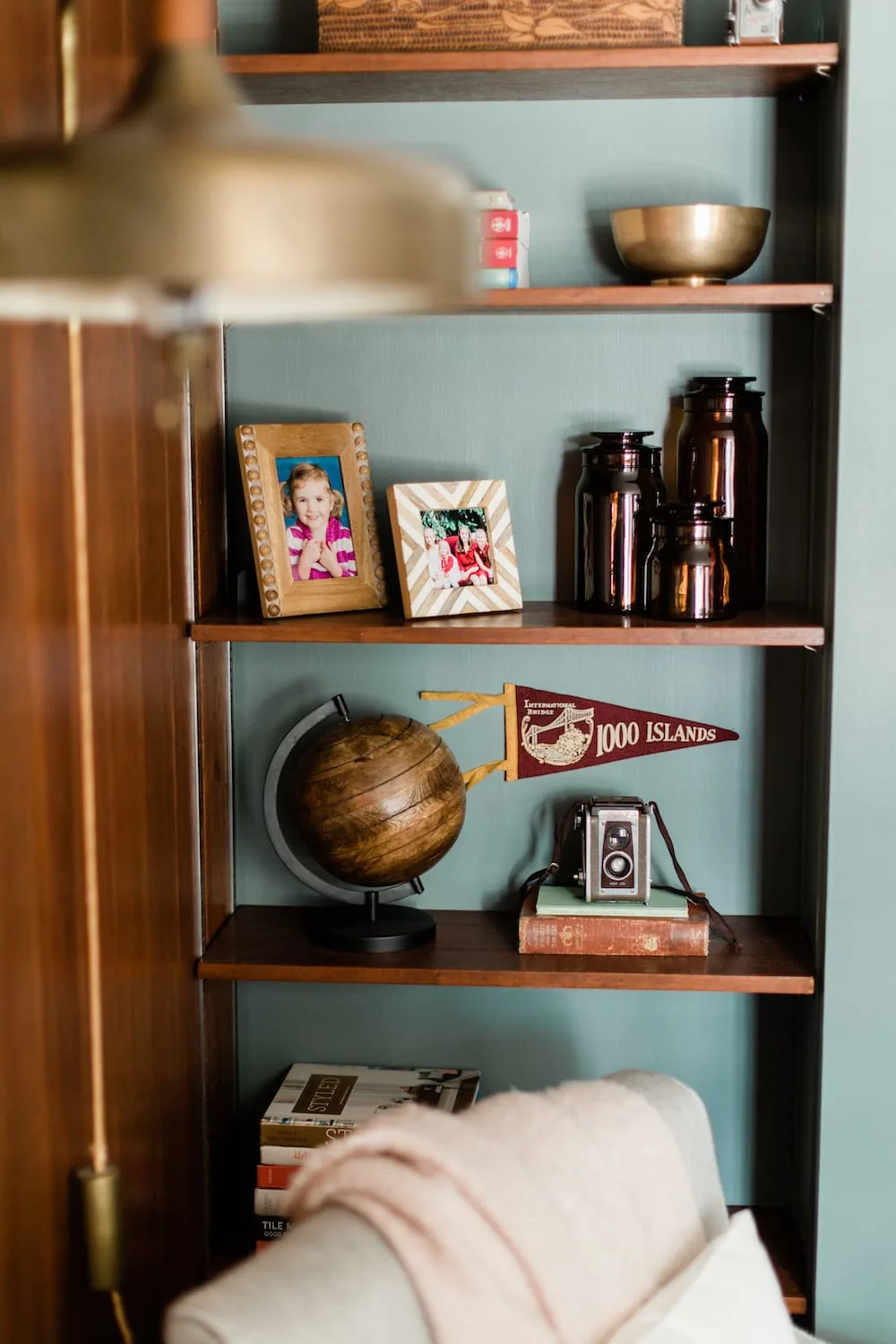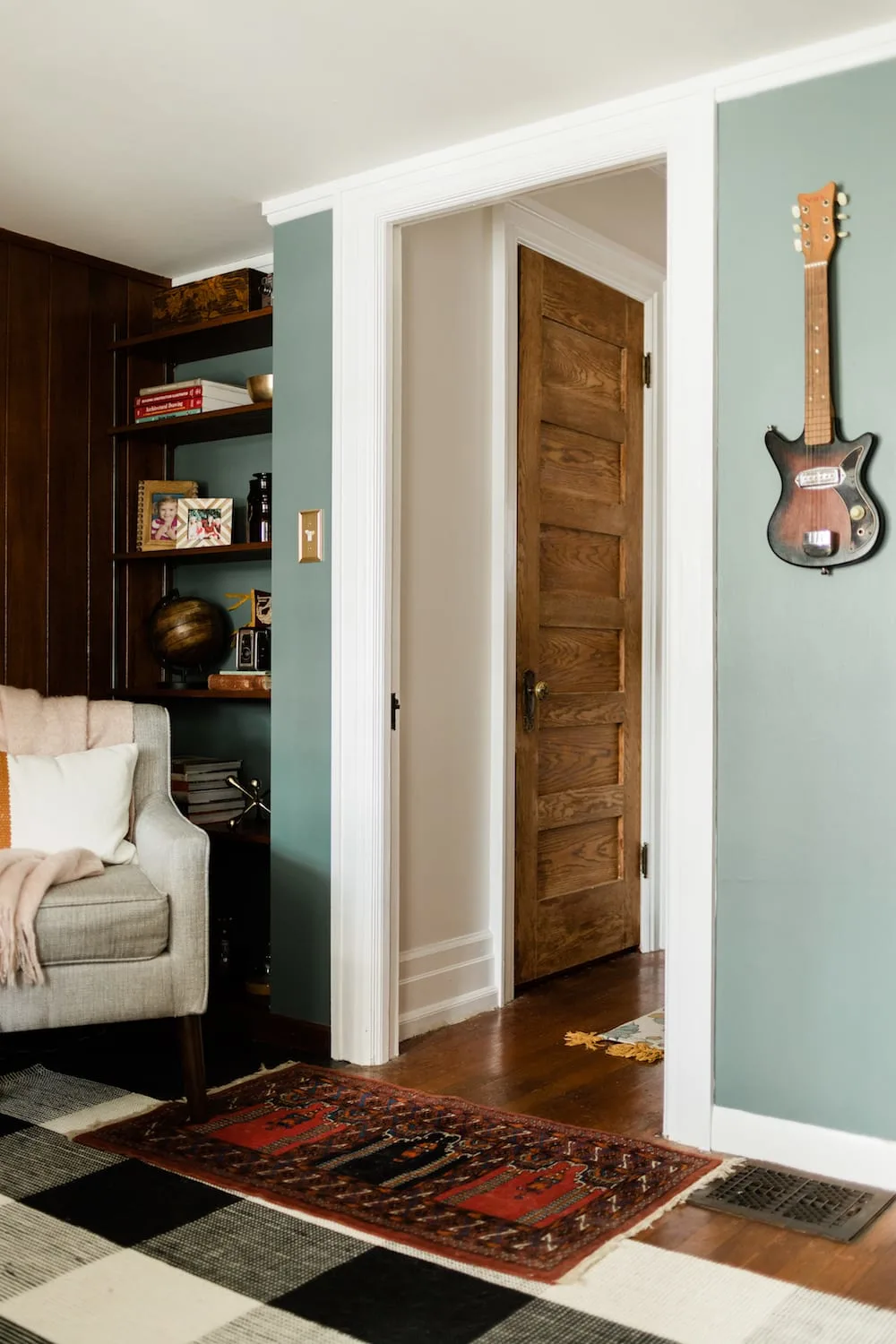 Decorating a Home Office
The black and white Buffalo check rug was the first decor decision I made for the room. I really wanted to add a big swash of pattern to ground the room, but I didn't want anything that felt too farmhouse.
The oversized scale of this rug, which is actually a flat weave sisal rug, makes it feel a bit more modern. Over top I added an antique rug from Pakistan to act as a bit of welcome into the room.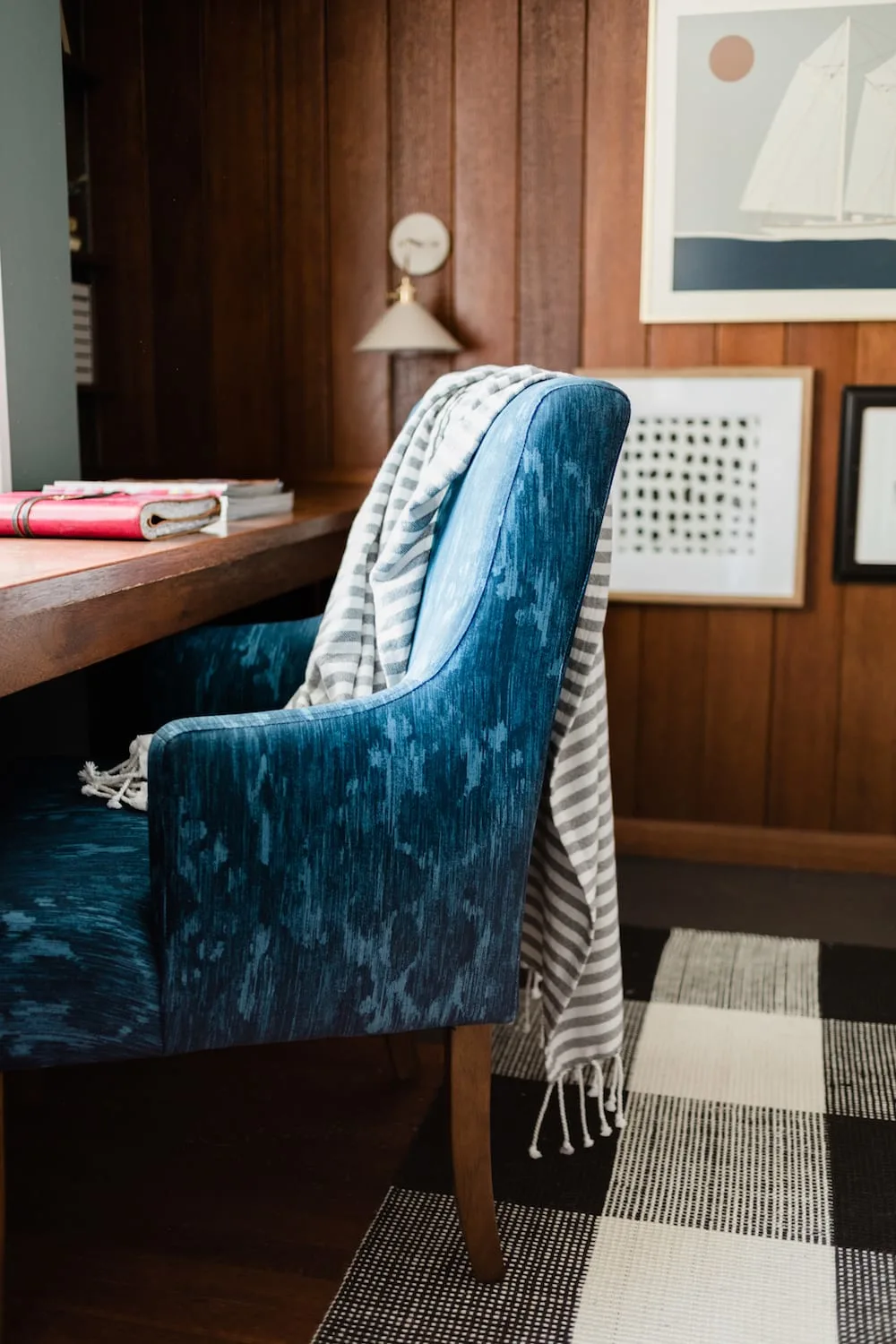 I knew I wanted to include a little reading corner with a chair anchoring the corner of the room under the existing mid-century modern hanging lamp we inherited with the house. I've been waiting to read a book in this corner since we first saw the house!
Home Pop was awesome enough to send along both chairs for the room, and this textured gray fabric looks so good with the other textiles in the room. Home Pop has a great selection of beautiful accent furniture pieces, which really helped to bring the room together.
I found out years ago that a pretty upholstered dining chair with a taller back and short arms work amazingly well as a desk chair. This blue chair (also from Home Pop) with the rich, tonal indigo pattern added a life to the room, and I love that it doesn't feel too matchy matchy with the other chair.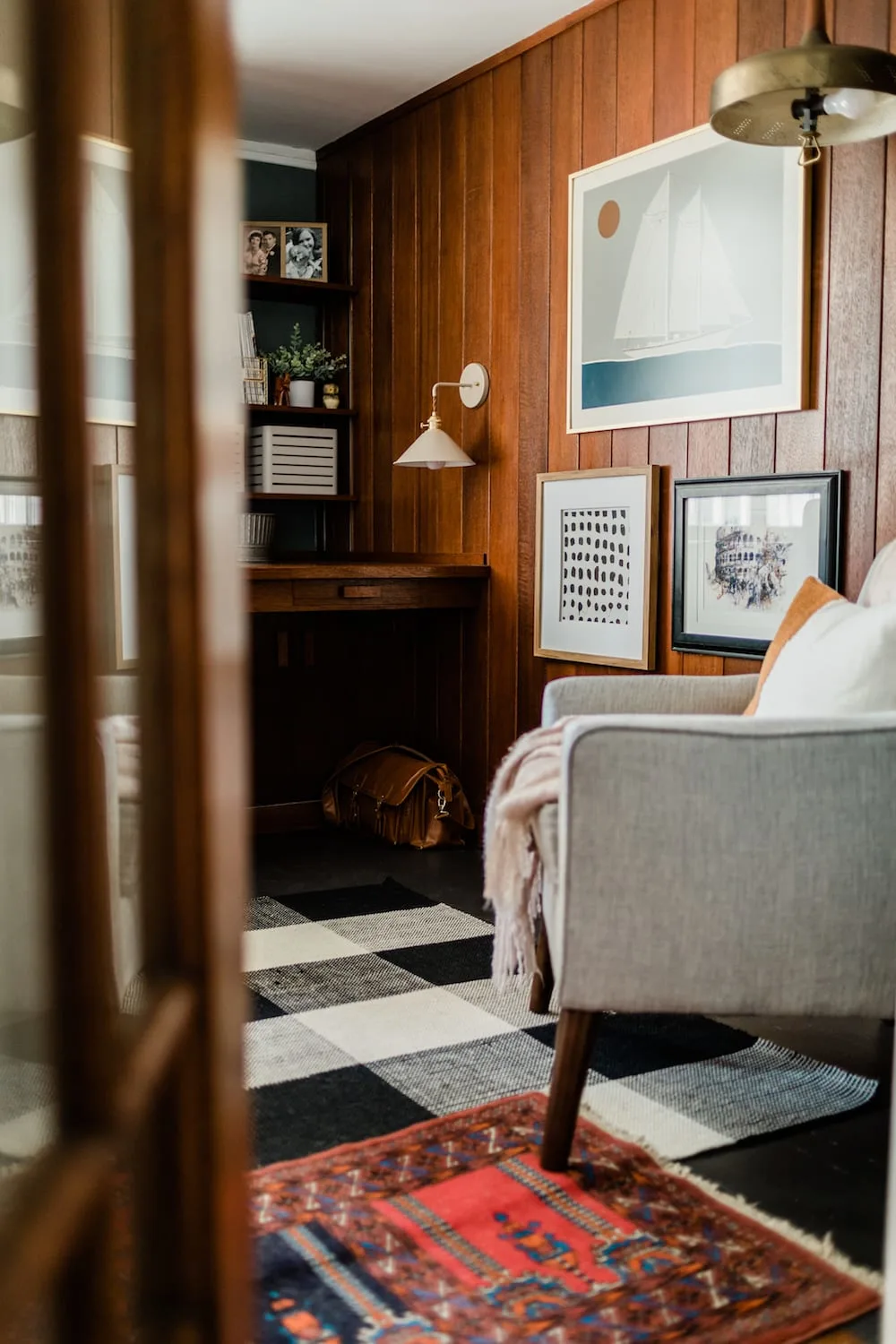 Choosing Art for a Home Office
When it came to art, I knew I wanted to find a space for the sailboat screenprint that I found at a vintage shop six months ago or more. I pulled it out of the old cheap frame and put it in a custom frame from Frame It Easy, which totally transformed it into a super unique, one of a kind piece of art.
Once it was hung I knew it needed something else, so I shopped my own stash of bits and bobs stored in our basement and pulled out these other two pieces for a little art grouping that I love so much.
The lesson here? Save your old wall art. Sometimes you find the perfect space for it years later.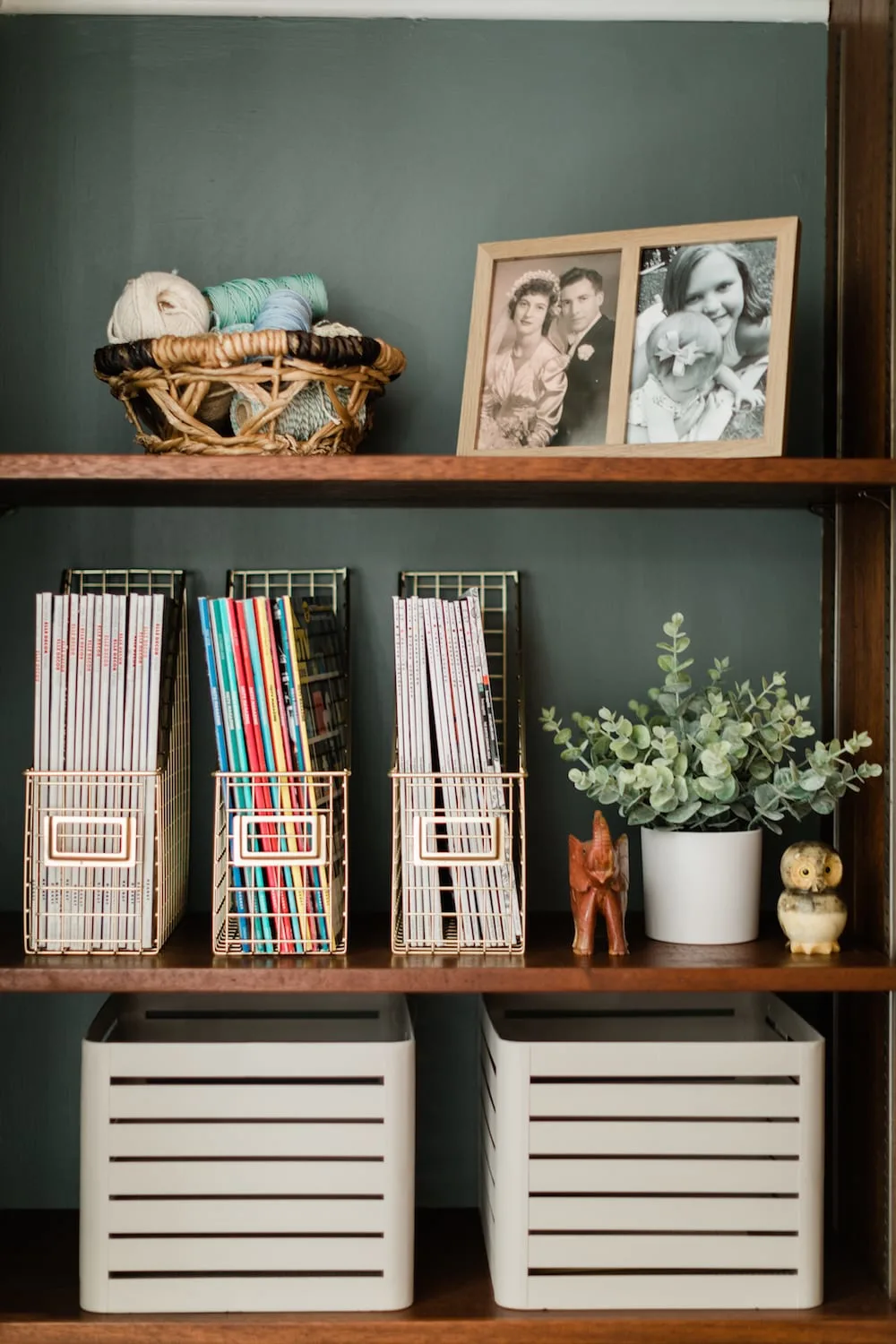 Many of the overall accessories in the room were vintage pieces I either scouted out once the room was coming together, or that I had been collecting (aka hoarding) for a while now. The beautiful tree and bird wood carving was a $40 find that looks like it was made for the room.
The small guitar hanging on the wall belonged to my grandfather who inherited from a buddy with whom he served in the Korean war. It's one of my most prized possessions.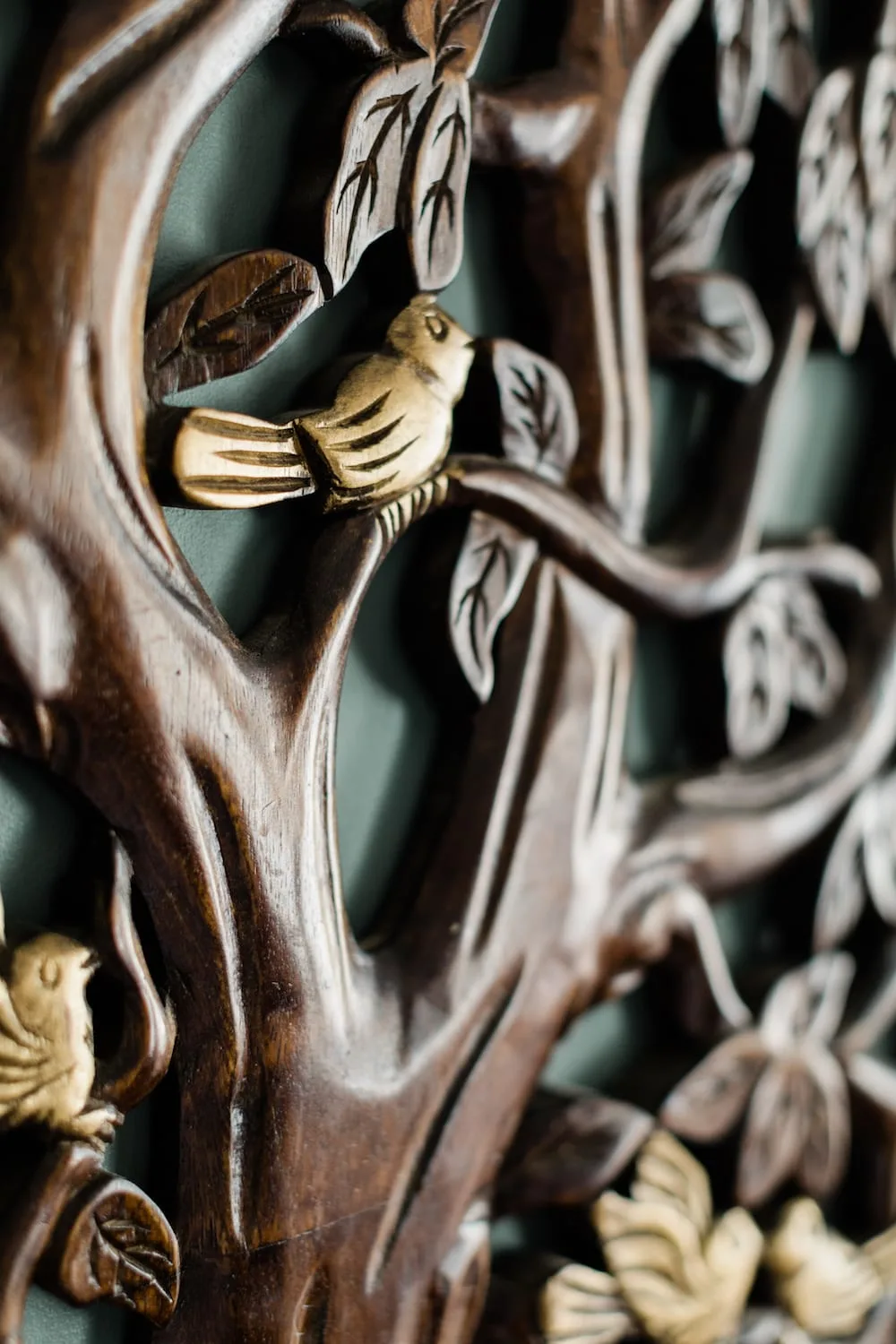 I really wanted this room to feel soulful, so layering new pieces, family treasures and vintage finds brought the space to life. It is going to be the perfect space for me to work, especially as we head into the dark dark winter months.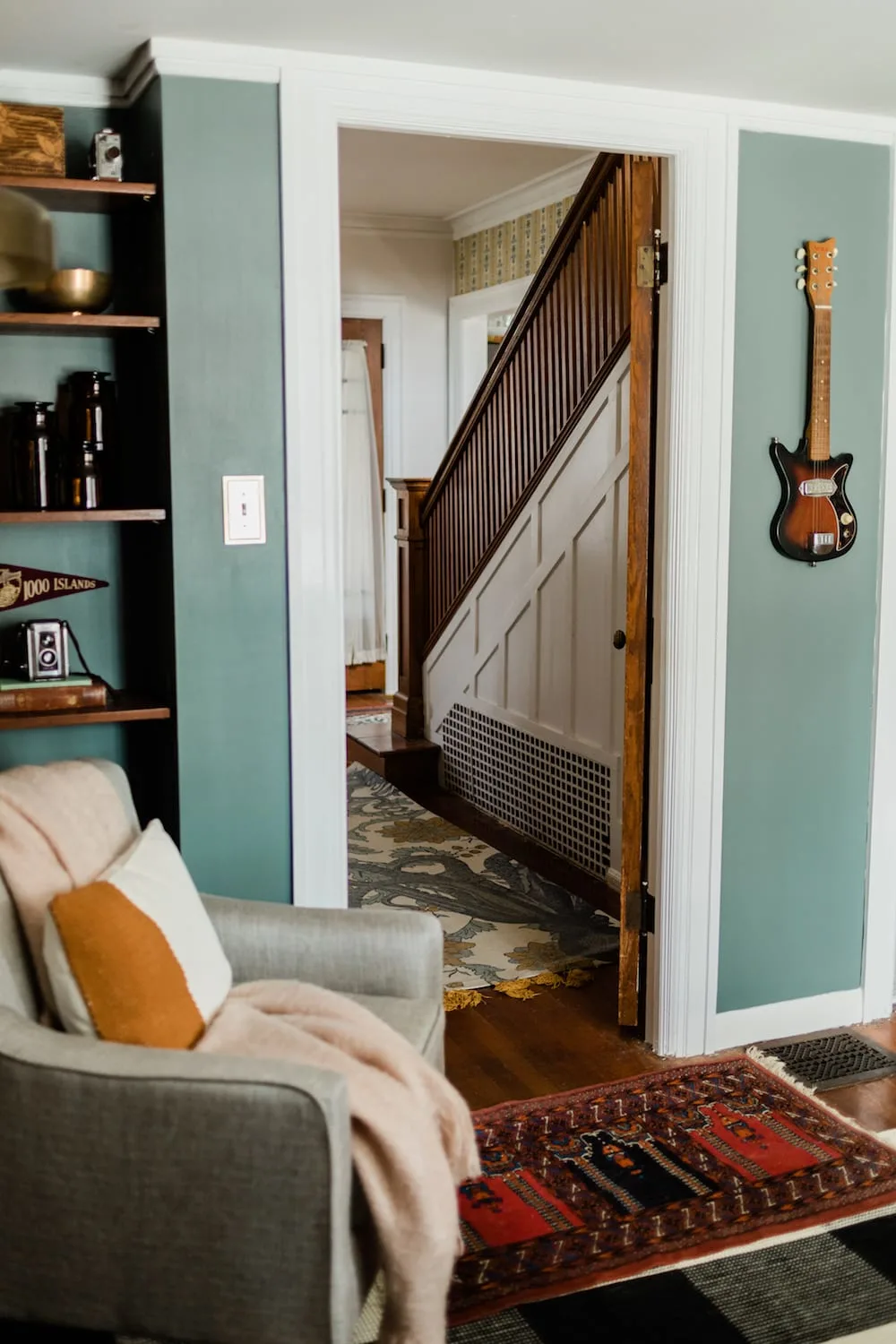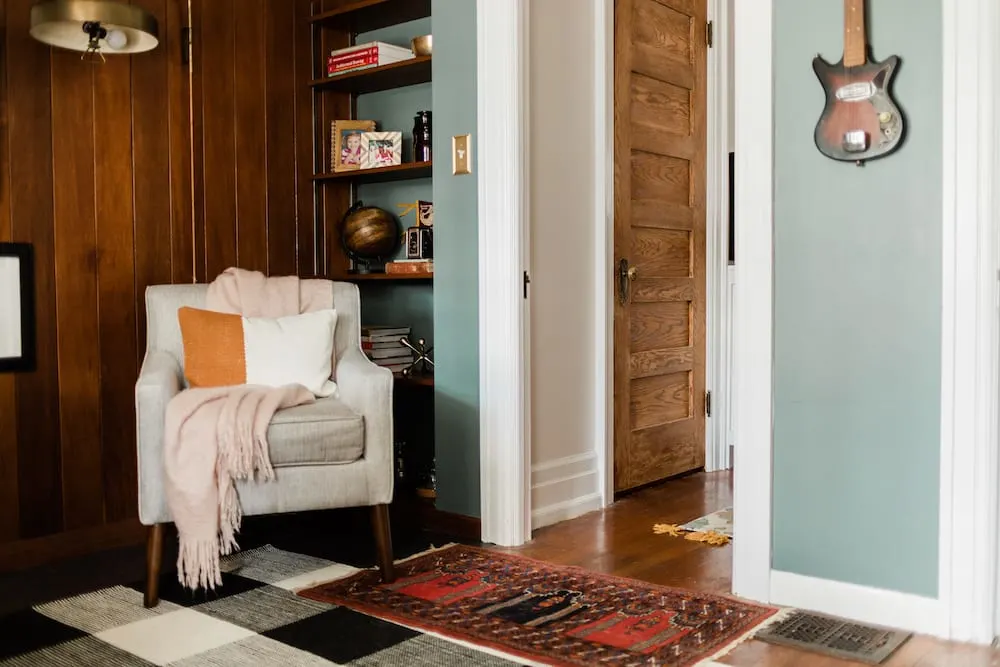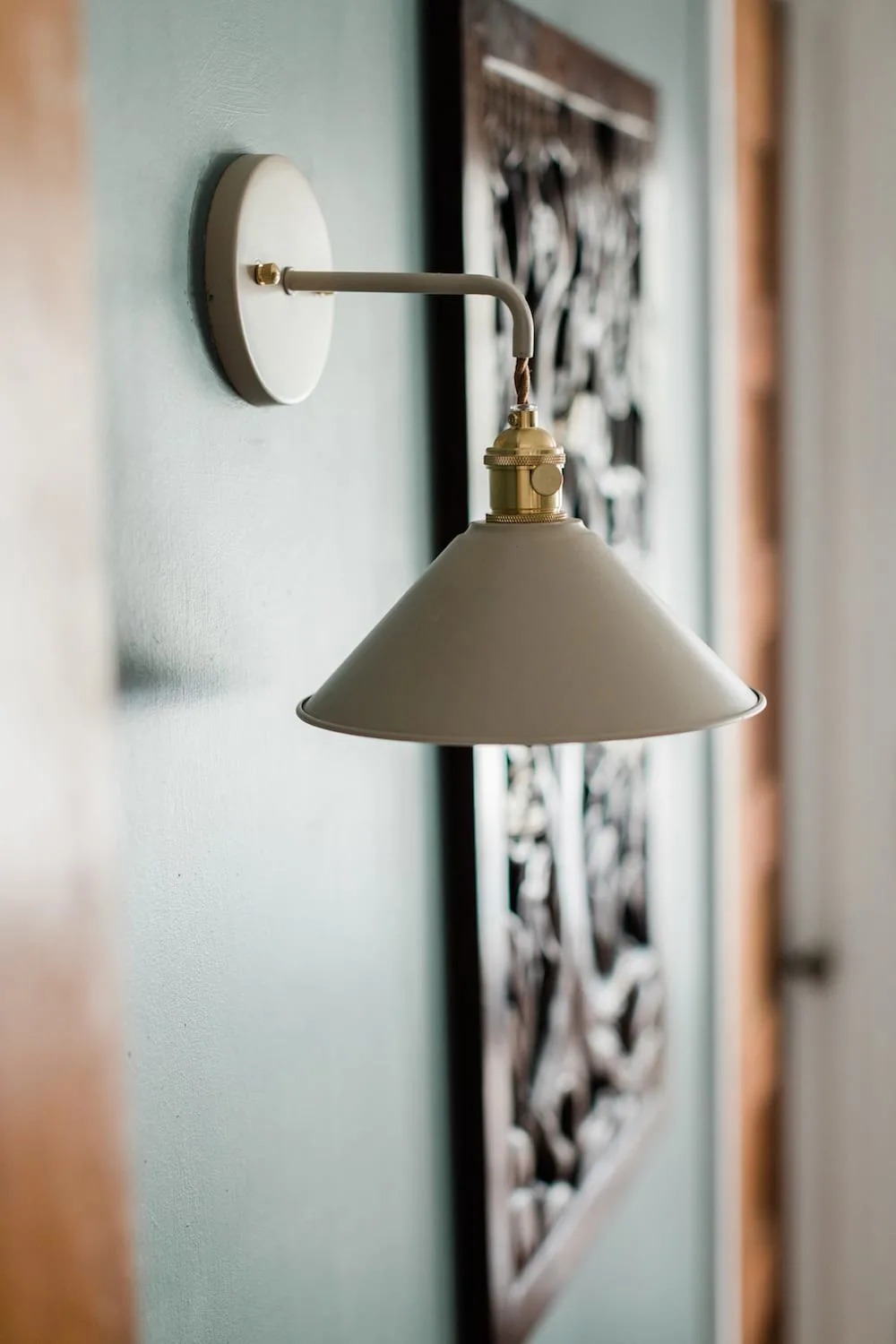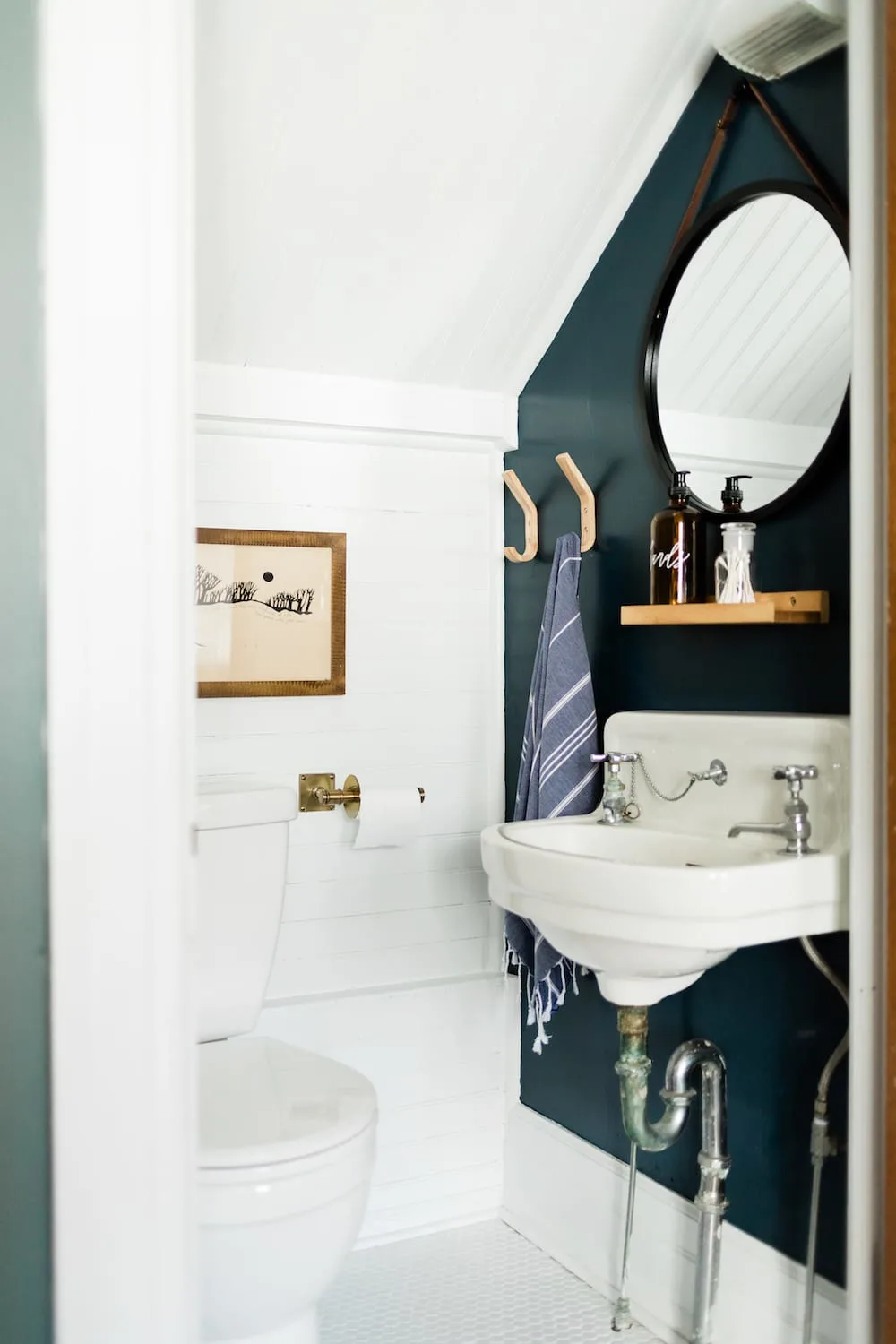 Powder Room Makeover Ideas
To refresh your memory, our powder room is precisely 37 by 38 inches. It is tucked under our stairs and it is teensy.
It has bead board and board and batten on three walls and the ceiling, so I started by caulking the seams, cleaning that up a bit and painting everything crisp white with Porch Swing by EasyCare Ultra Premium Paint.
The wall behind the sink felt like it was begging to be a different color. Rather than buying an entire gallon of paint, I decided to work with paint I already had around the house.
Midsummer Night, also by EasyCare, was the perfect color. It's a deep navy that is perfect with the white walls and white penny tile.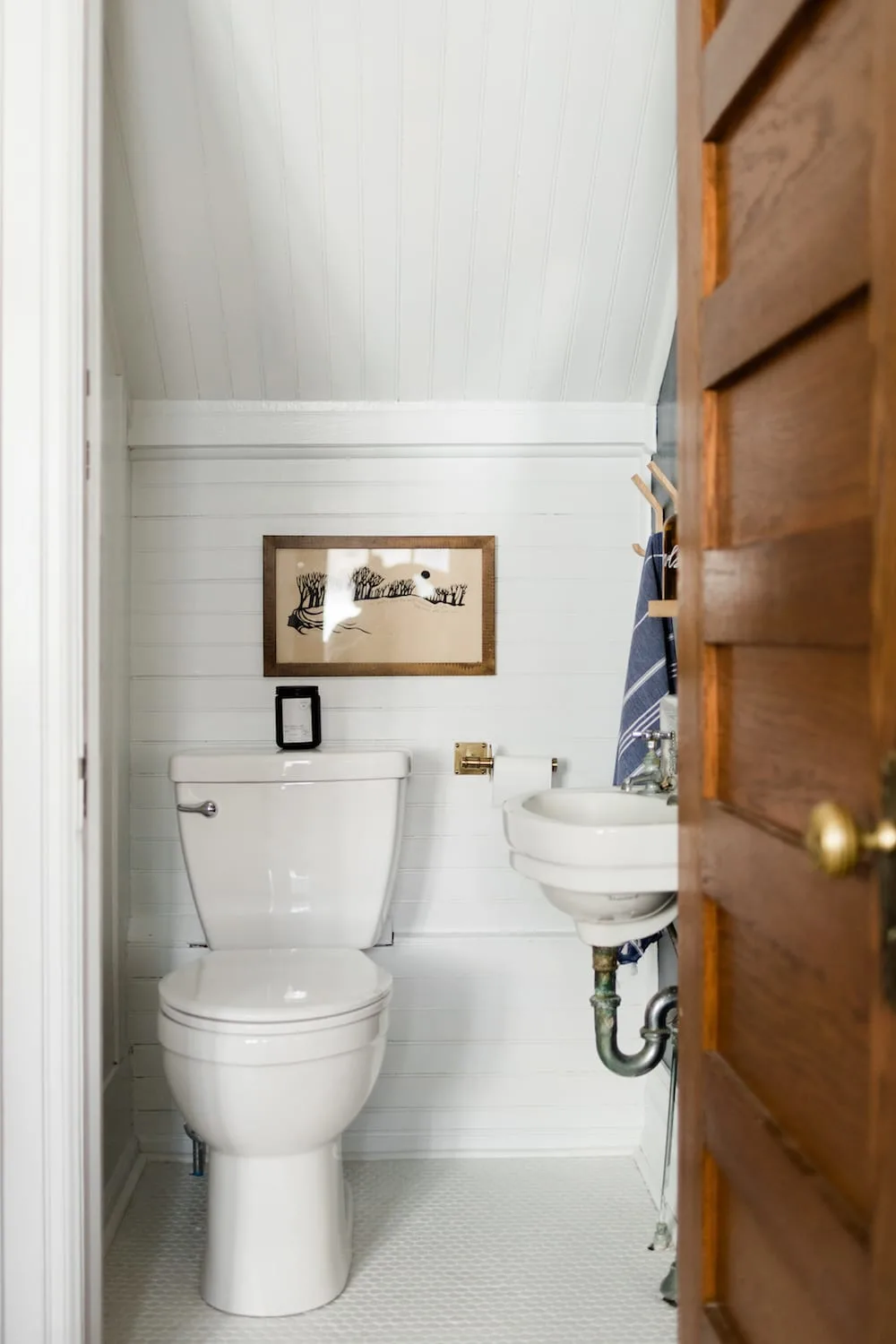 The mirror, hooks and shelf are all Amazon finds! I didn't want to compete with the existing chrome features in the room by adding too many metal finishes into the room so I went with wood.
The little shelf adds function to the space, finally giving me a space to keep a bottle of soap without it falling into the sink constantly!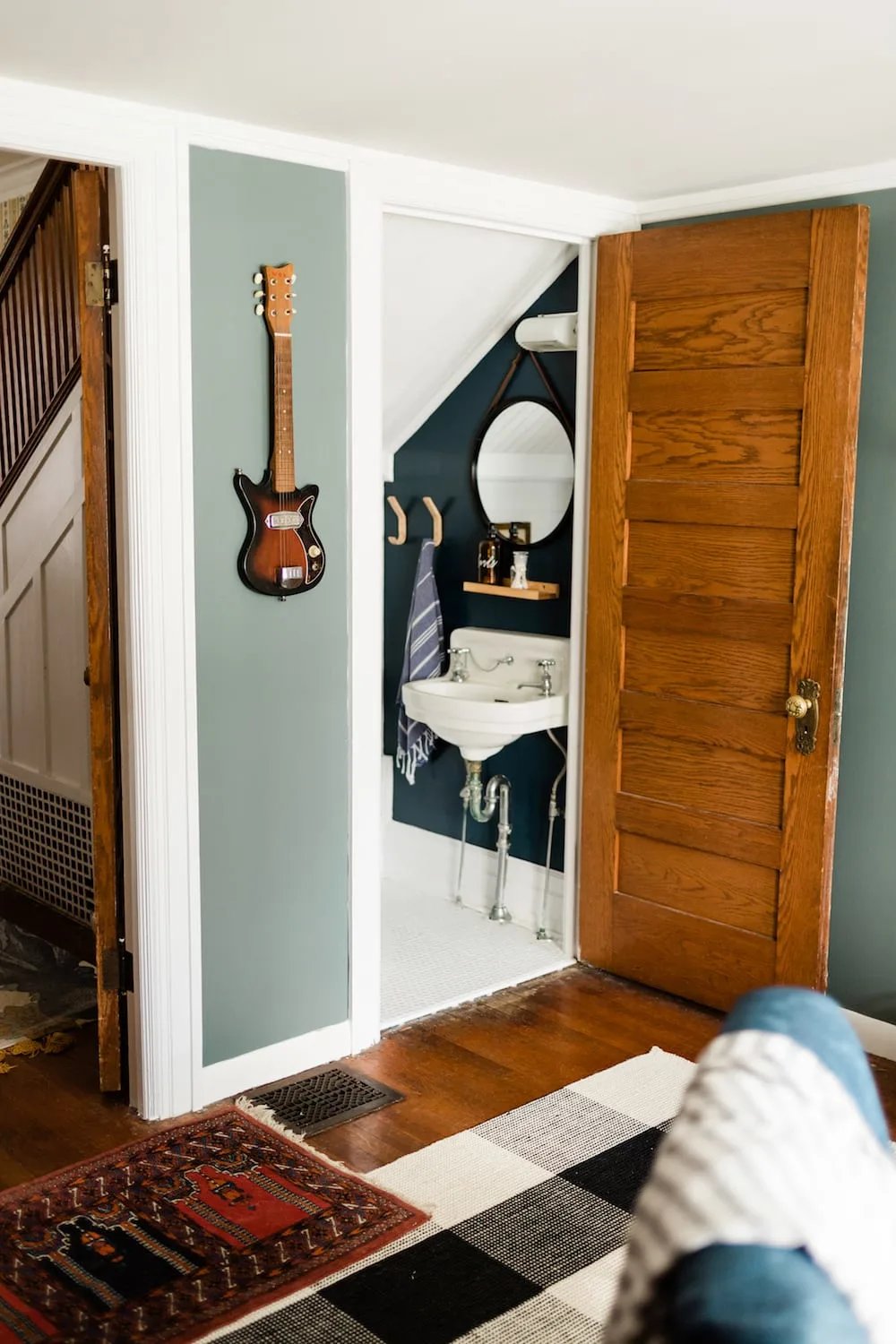 While finishing up this room we realized that the exposed plumbing is more corroded than we realized when the room wasn't looking as crisp and fresh. We didn't have time to tackle it in this phase of the project, but we left space when tiling so we can pull out and replace the plumbing sometime soon.
I'll definitely share updates when we do that!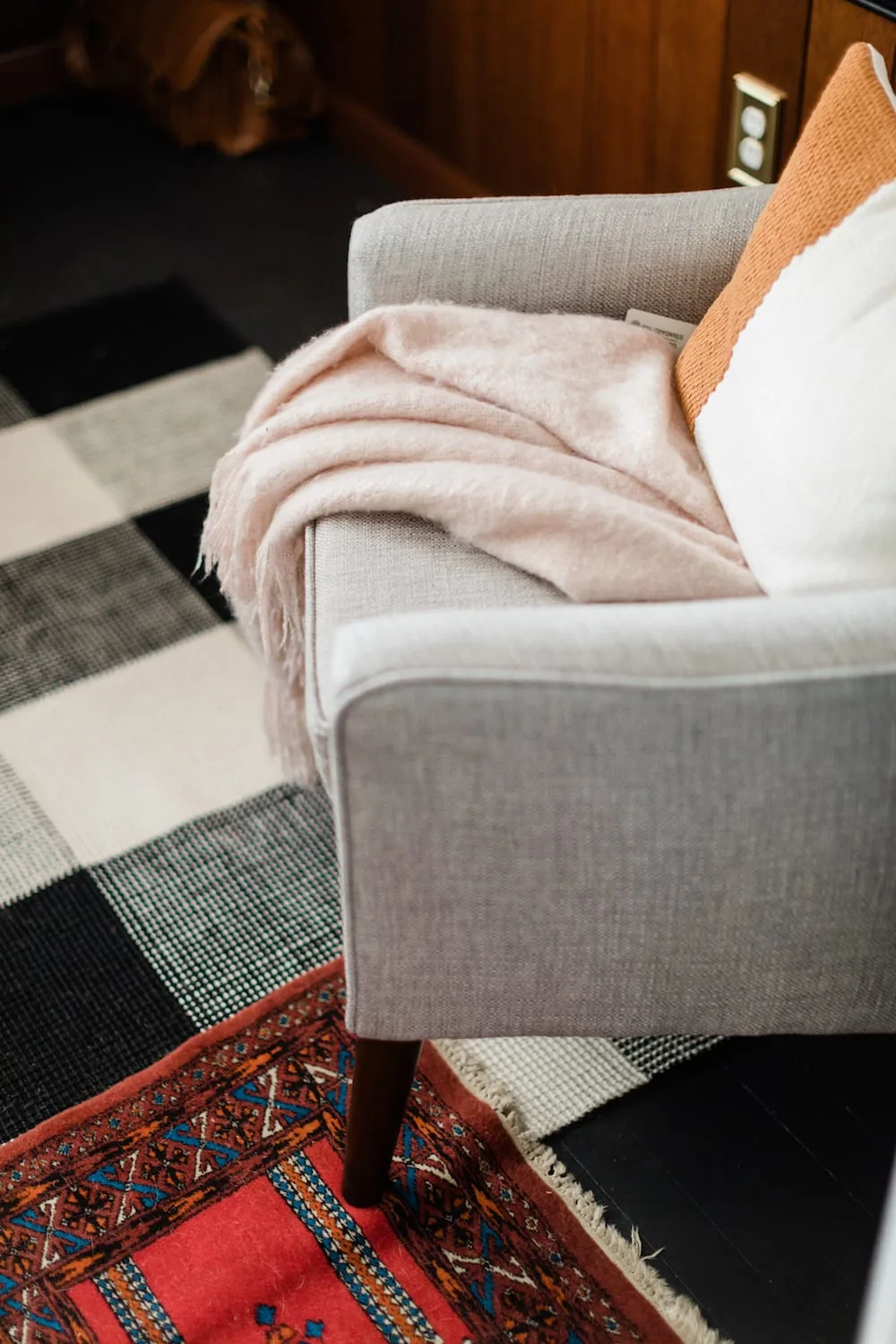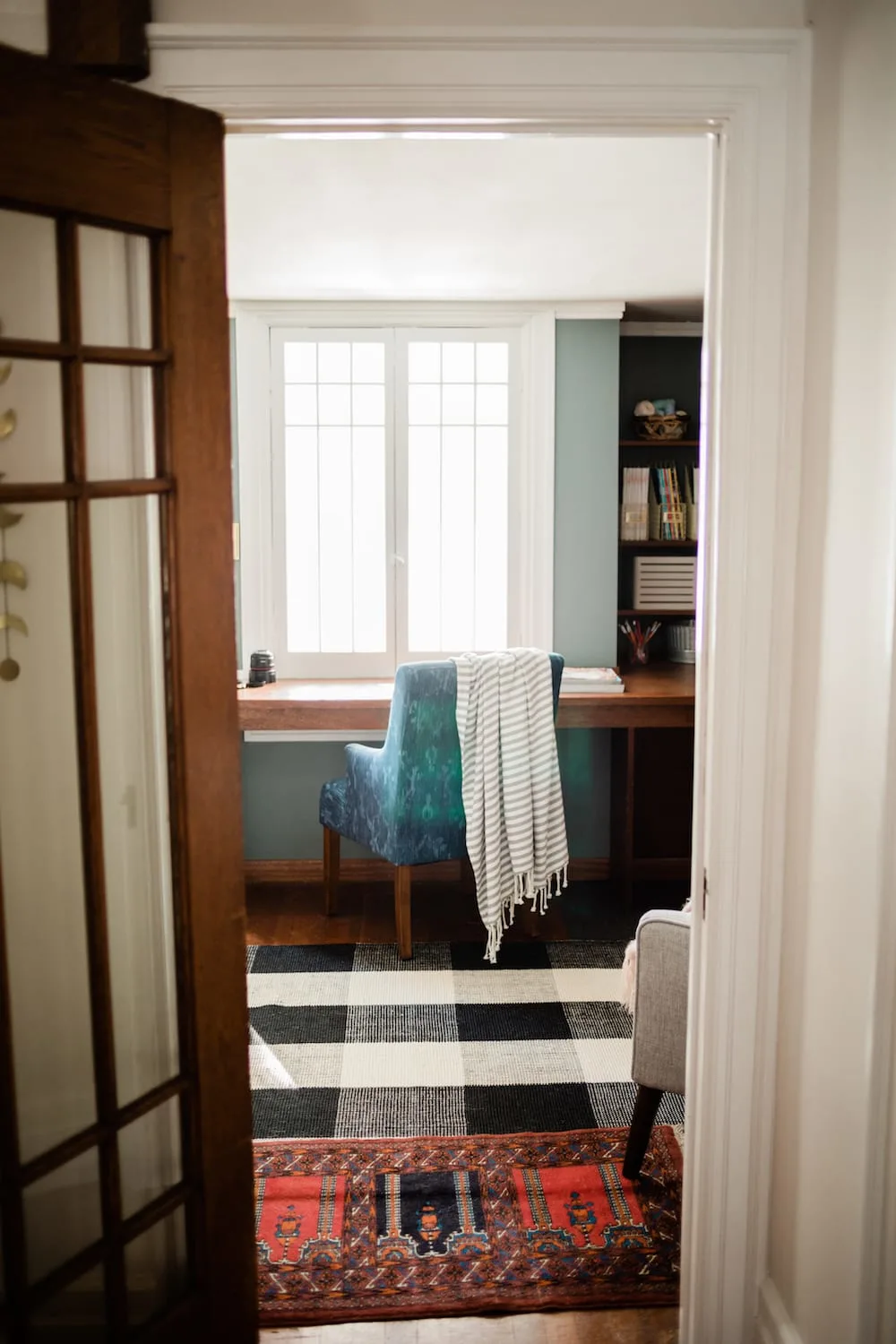 Other Updates We Made
In addition to all the above, we stripped old yellowing paint from the backs of the powder room and closet doors. Adding the warmth of the wood back into the space felt like medicine.
On the patch of bad flooring, where the old back staircase used to come down and enter into the kitchen, I had plans to paint and stencil a pattern.
I painted a few coats of floor paint in an off black color then pulled the tape up with intentions to stencil the next day. Overnight the paint dried and looked so great that I fell in love with it as is.
I moved the rug in to see how I felt and it was settled – I scrapped the plans to stencil. A couple coats of paint ended up with an easy transformation while we wait to refinish the floors in the whole house someday many moons from now.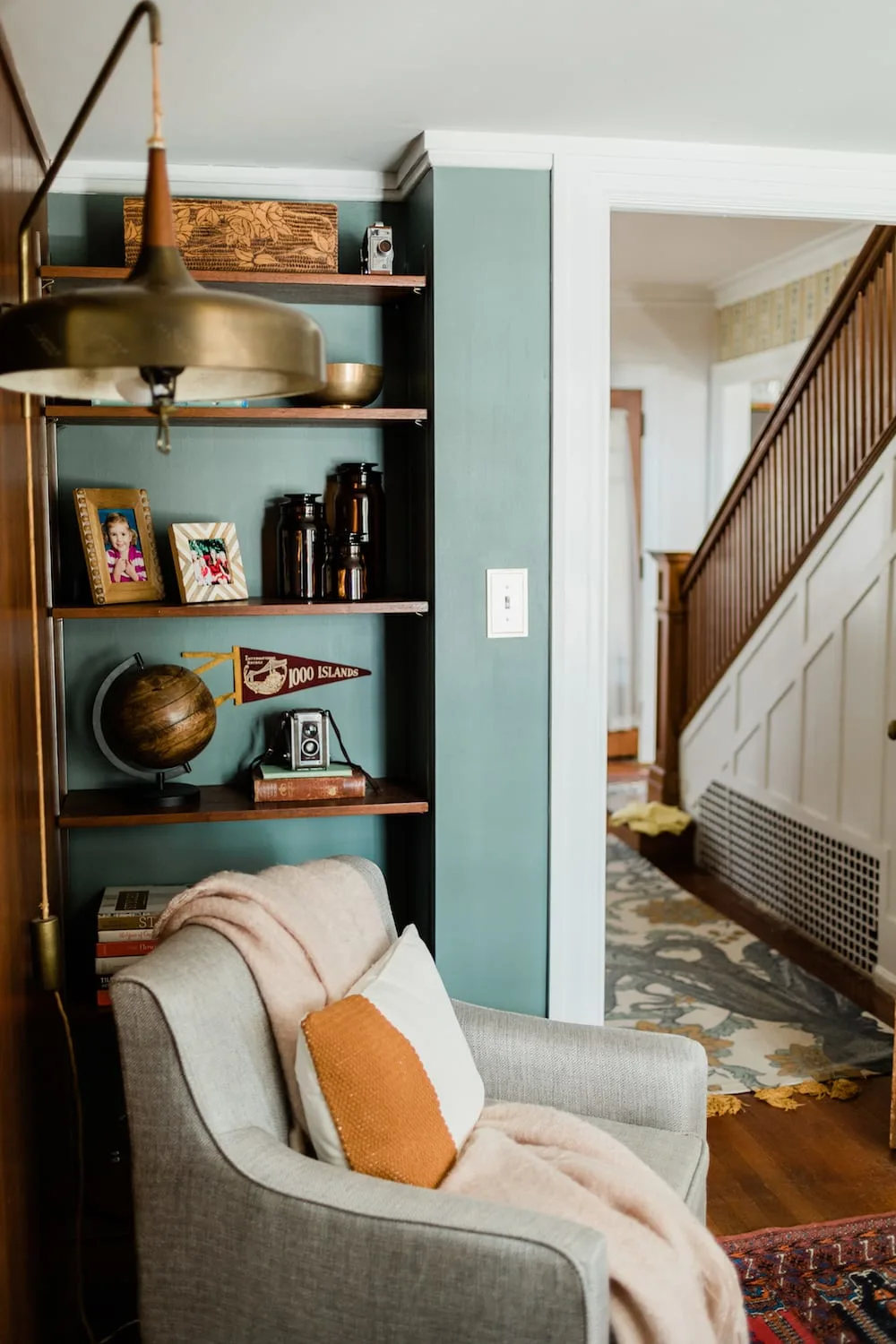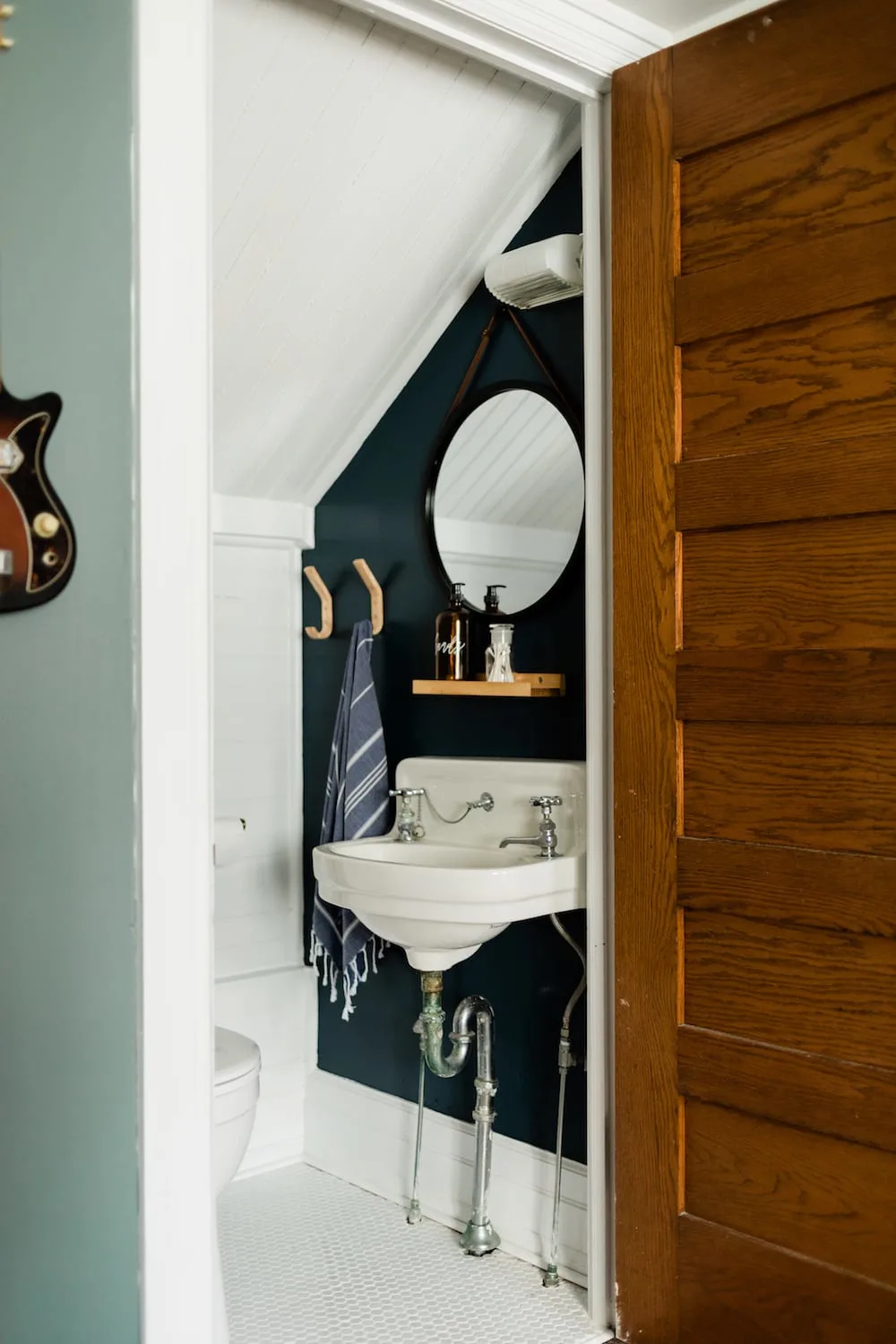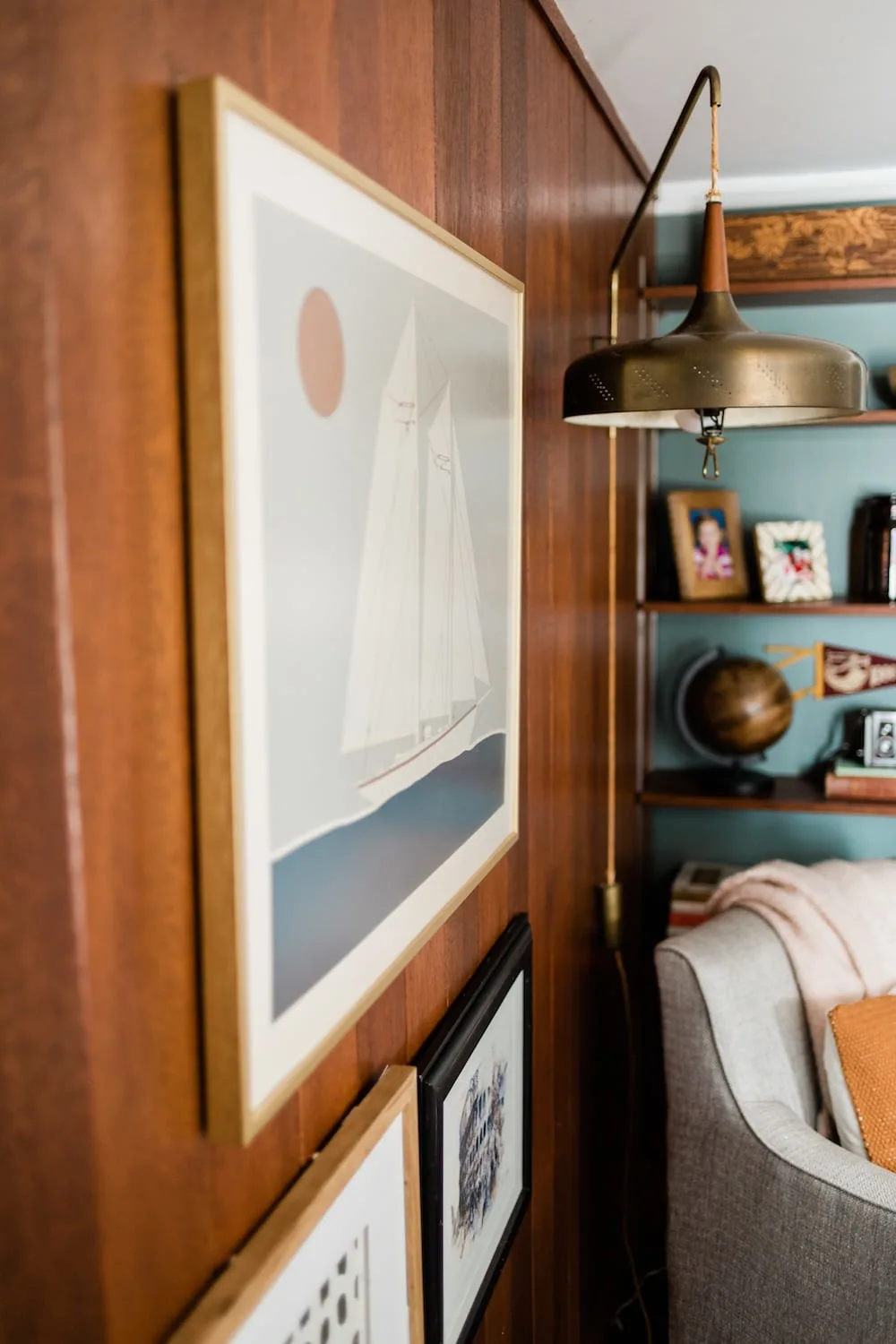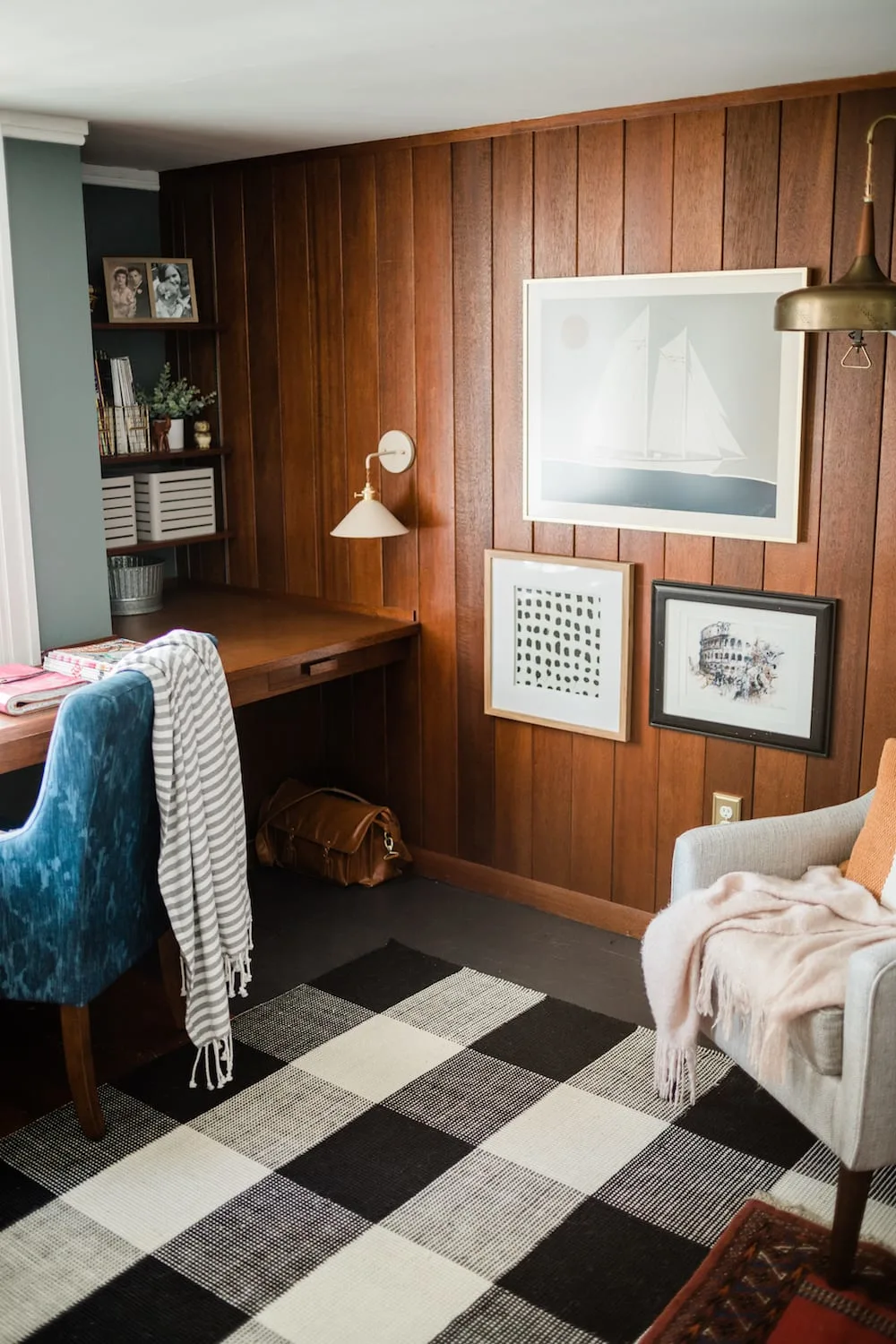 All in all, I am honestly ecstatic about how my first One Room Challenge came together. I loved the structure of having a timeline to work with and it helped me to manage my time by breaking up all the various pieces of the project into smaller chunks.
I can't wait to take on another room this spring. For more amazing room makeovers, check out all the room reveals from this installment of the One Room Challenge!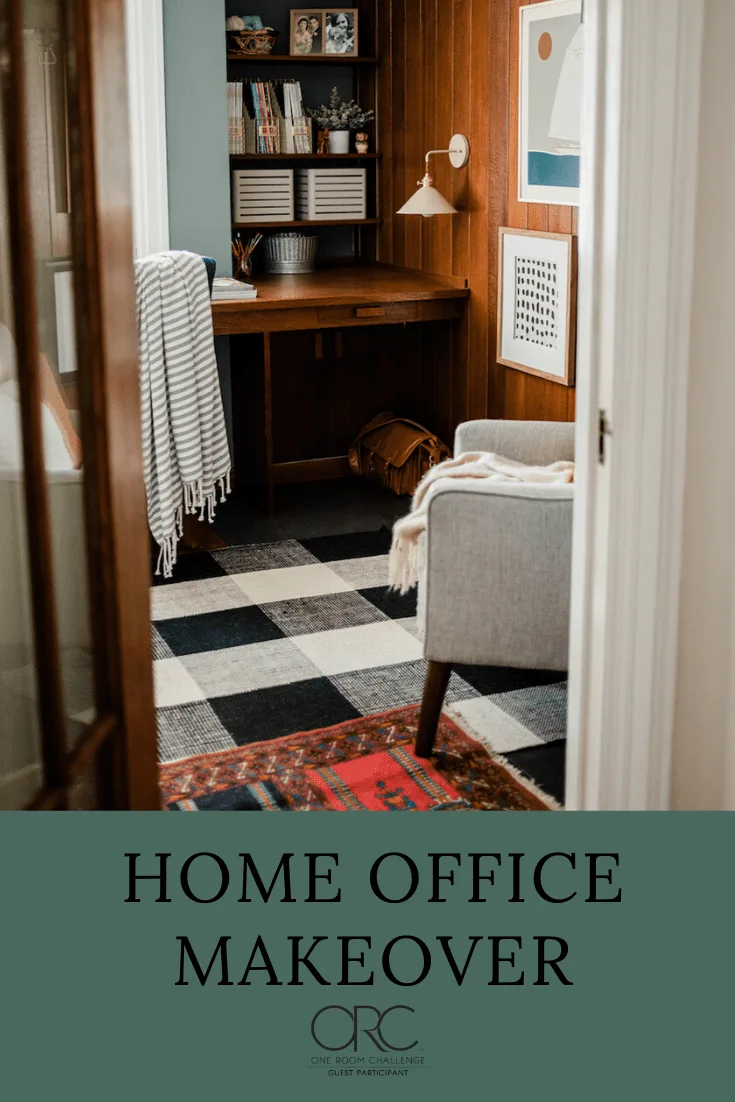 Some of the following links contain affiliate links meaning I make a small commission if you make a purchase through this link, at no additional charge to you.
Den/Home Office Source List
Wall paint color: Coastal Dusk by Valspar
Floor paint color: Cracked Pepper by Behr
Gray chair: c/o Home Pop
Blue chair: c/o Home Pop
Buffalo check rug: Overstock
Wall sconces: Amazon
Hanging lamp: Vintage (inherited with the house)
Magazine holders: Target
Metal baskets: Target
Elephant + owl: Vintage (from my grandmother)
Mini guitar: Vintage (from my grandfather)
Wall carving: Vintage
Red area rug: Vintage
Throw pillow: Target
Sailboat screenprint: Vintage
Brass sailboat frame: c/o Frame It Easy
Coliseum charcoal drawing: Purchased from a street artist in Rome
Power Room Source List
Wall color: Porch Swing by EasyCare Ultra Premium Paint
Accent wall color: Midsummer Night by EasyCare Ultra Premium Paint
Mirror: Amazon
Toilet paper holder: Pottery Barn
Hooks: Amazon
Shelf: Amazon
Soap bottle: Etsy
Turkish hand towel: Amazon
Apothecary bottle: Target
White penny tile: Home Depot
Toilet: Home Depot