This post was sponsored by P-touch Embellish Ribbon & Tape Printer. Thank you for supporting the sponsors that help make The Sweetest Occasion possible!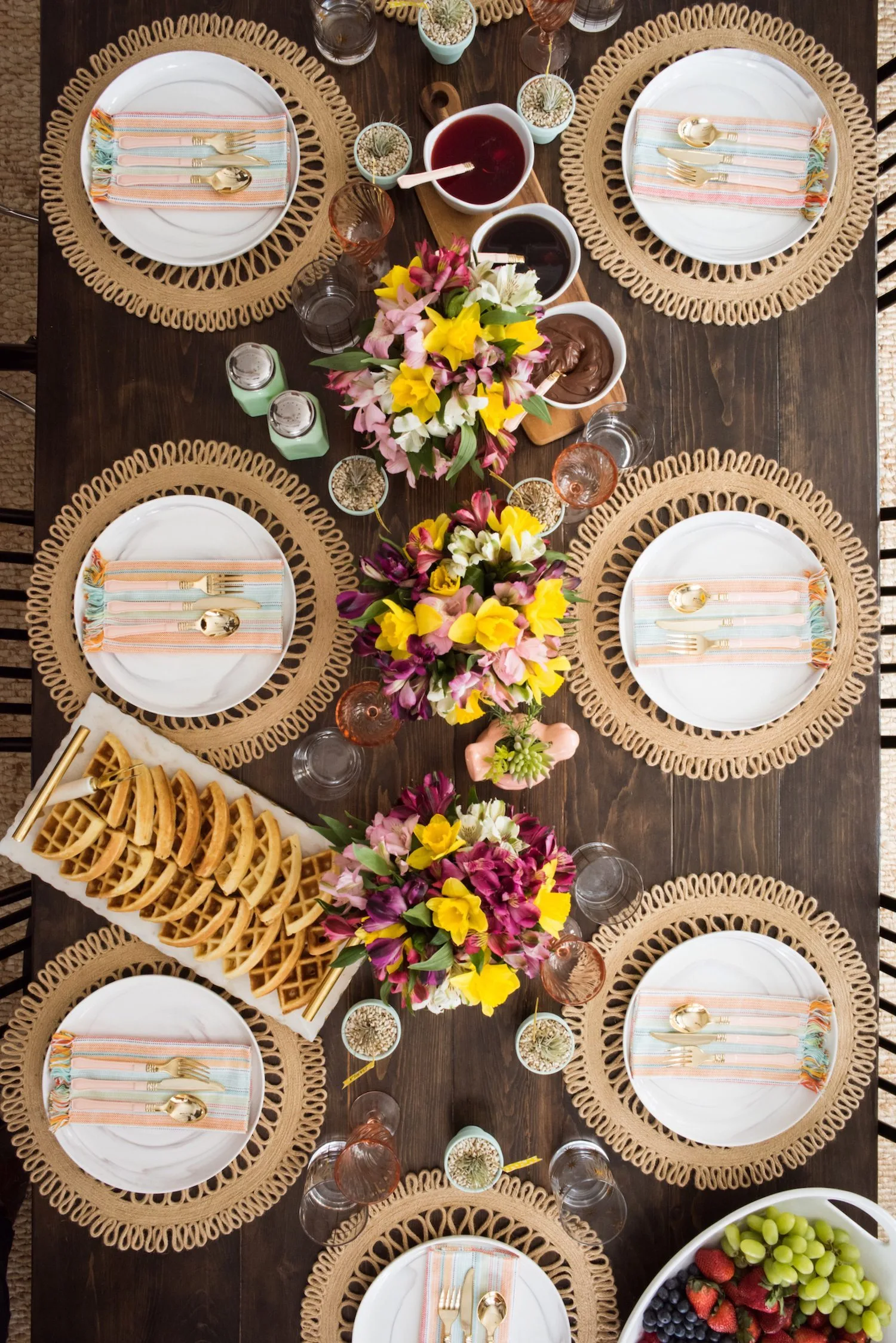 Now that spring is finally here (at least officially), let's talk brunch! It seems that there are so many brunch-worthy occasions over the spring months between Easter, Mother's Day, bridal showers and just the joy of sunshine and birds chirping, so I couldn't resist pulling together a fresh and colorful spring brunch table to share with you. As I was deciding on the color palette and other pieces, I was inspired by the P-touch Embellish Ribbon and Tape Printer to create a few sweet little details to really bring things to life. I also picked up big bunches of alstroemeria and daffodils at the grocery store and tucked them into pretty planters, then layered marble patterned plates with jute chargers, the prettiest peach and gold flatware, and colorful napkins to make things feel special and festive, without involving a ton of prep work. Brunch is about coming together with people you love to share an hour or two of food, mimosas and laughter, not about spending hours stressing out over setting the table. You can work with the pieces you already own, layer in a few touches created with the P-touch Embellish and you'll have the perfect brunch table set and ready to go when friends arrive!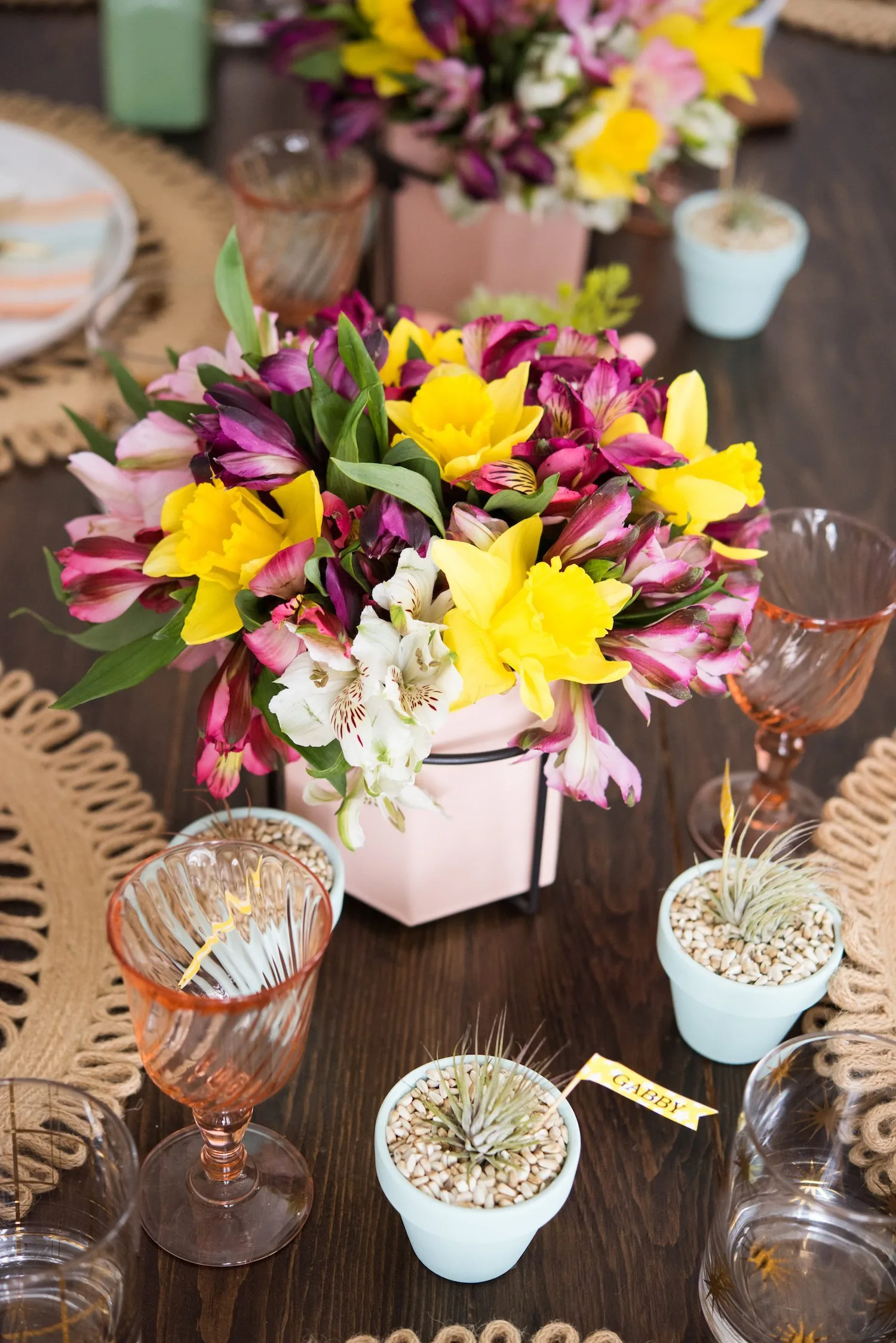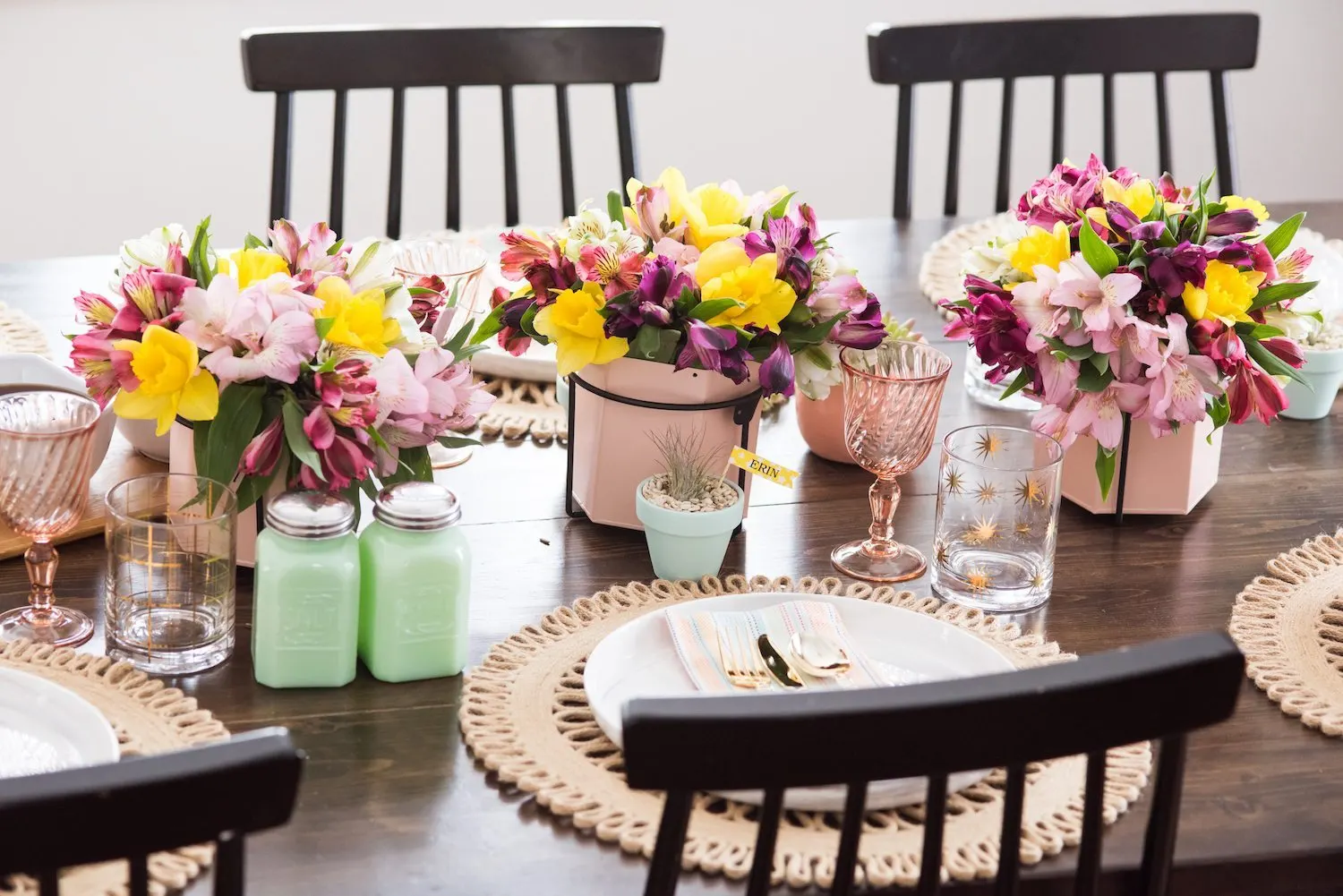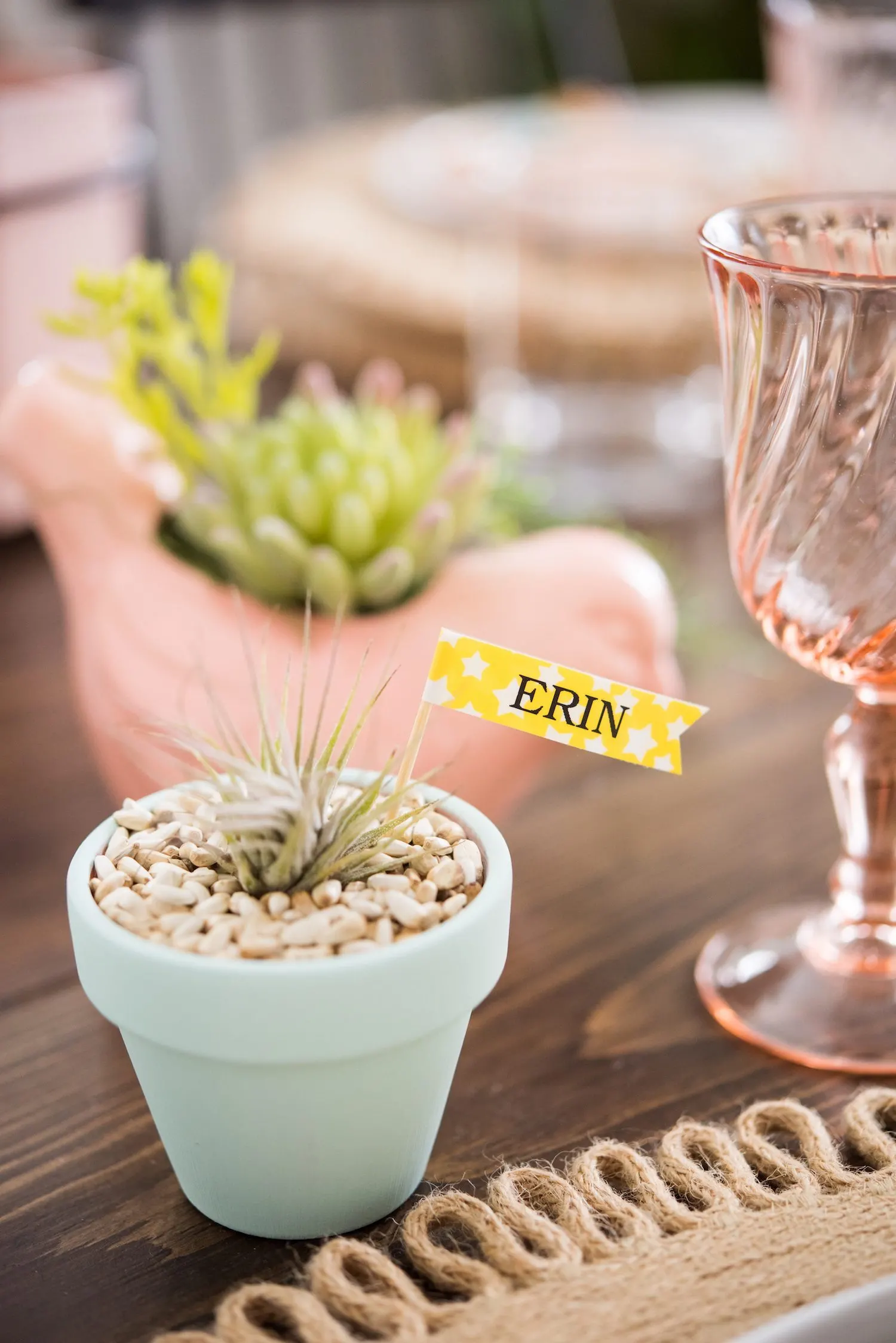 I don't always assign seats when I'm hosting, but sometimes I think it makes for an extra element of fun to create pretty place cards. It makes your guests feel really special before you've even served up the food! Here I painted tiny terra cotta pots with mint colored chalk paint, then tucked safflower seeds (from the bird seed aisle at your local hardware store) and little air plants inside. I used the P-touch Embellish to create little tape name tags that I wrapped around long toothpicks and then tucked them into the pots. The result is so lovely! (Tip: If your pots have a drain hole on the bottom, just cover it up with a little piece of tape to hold your seeds inside!)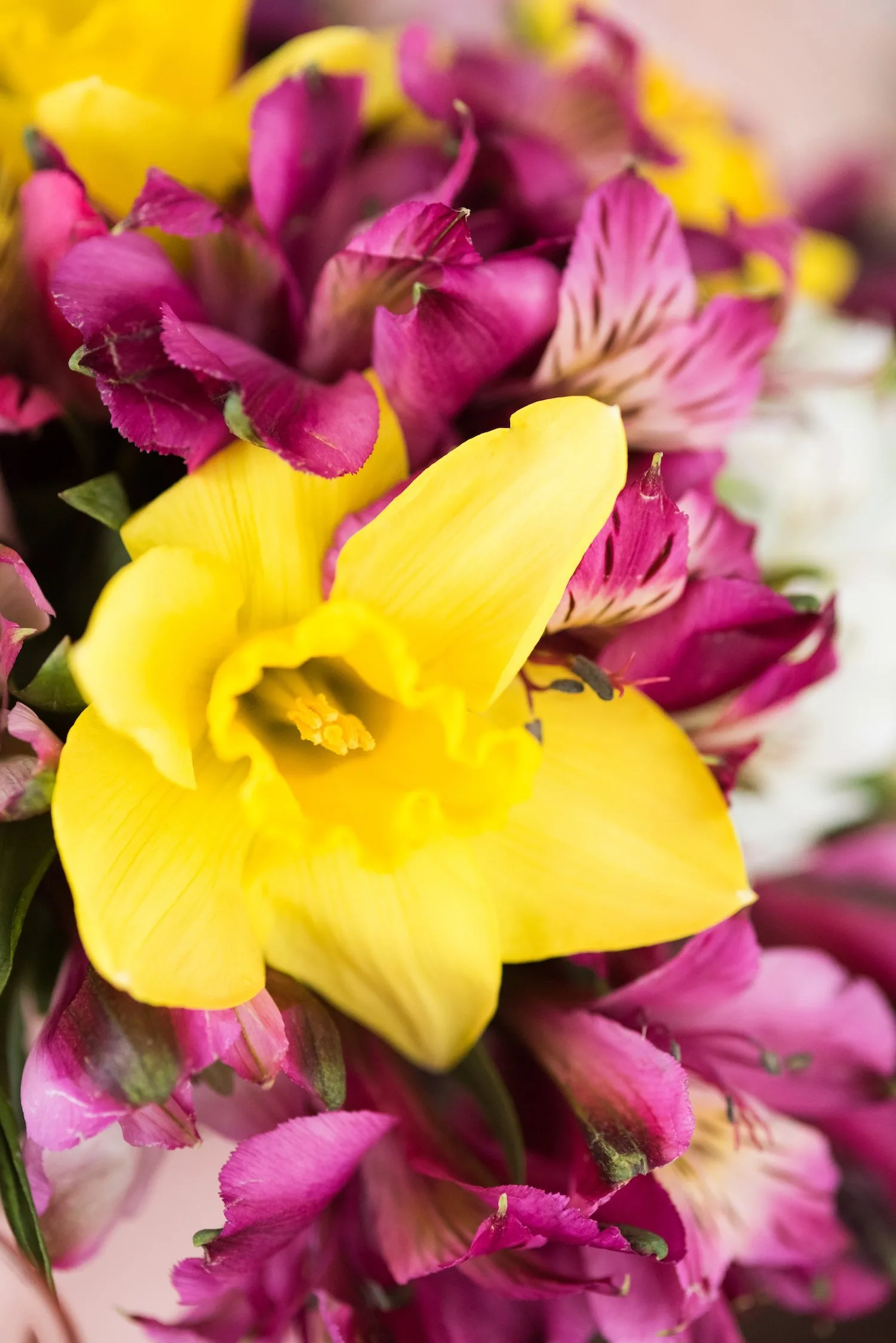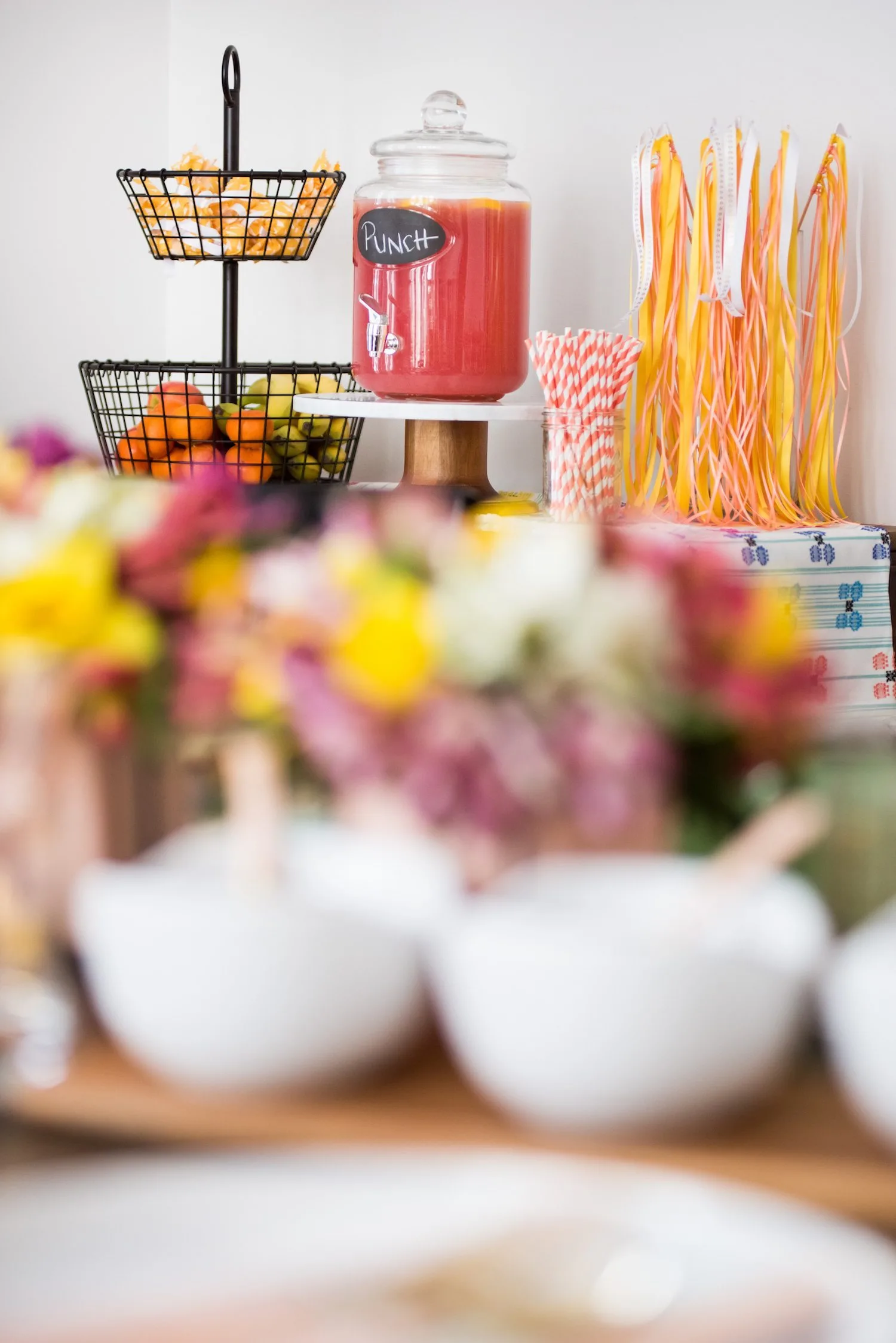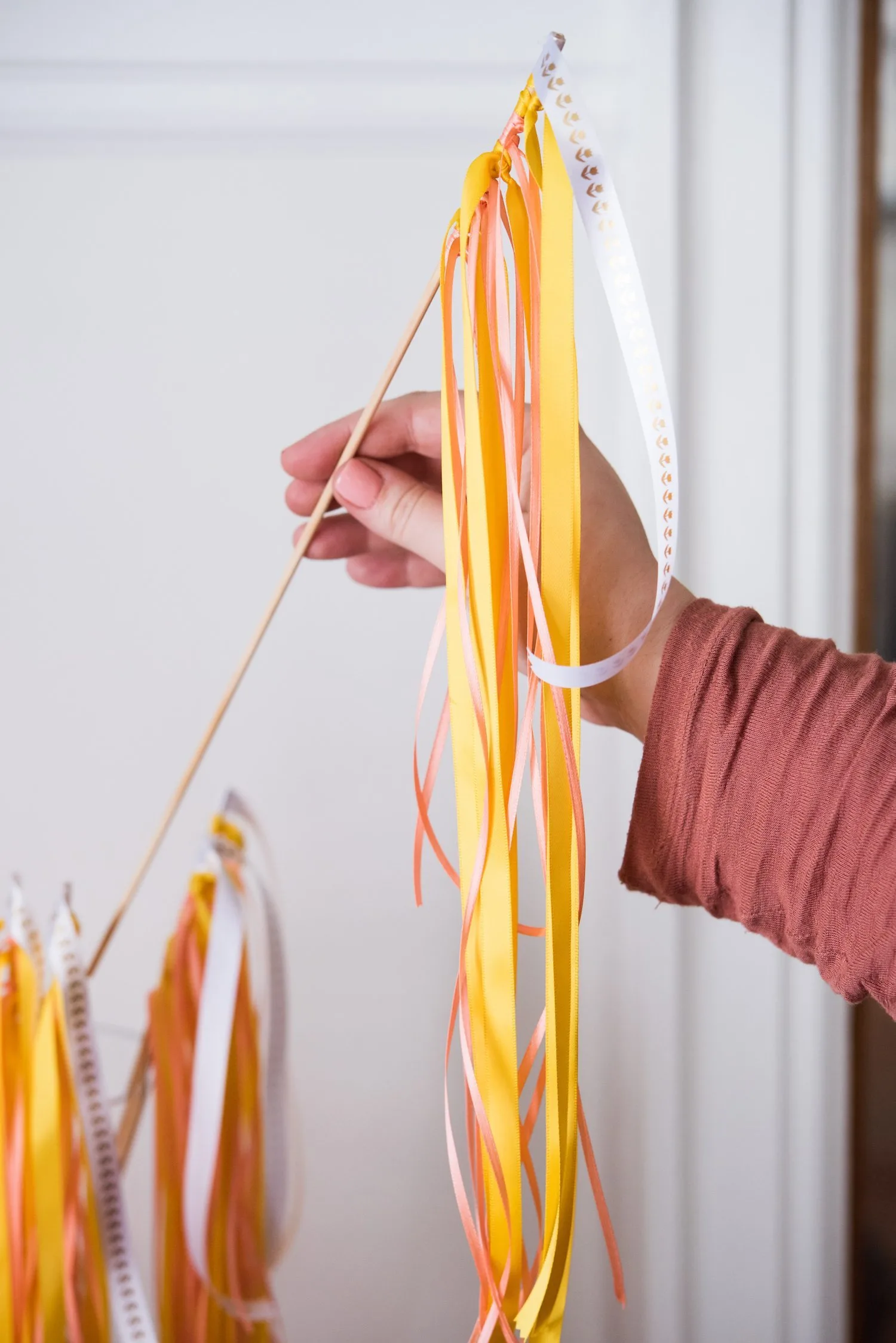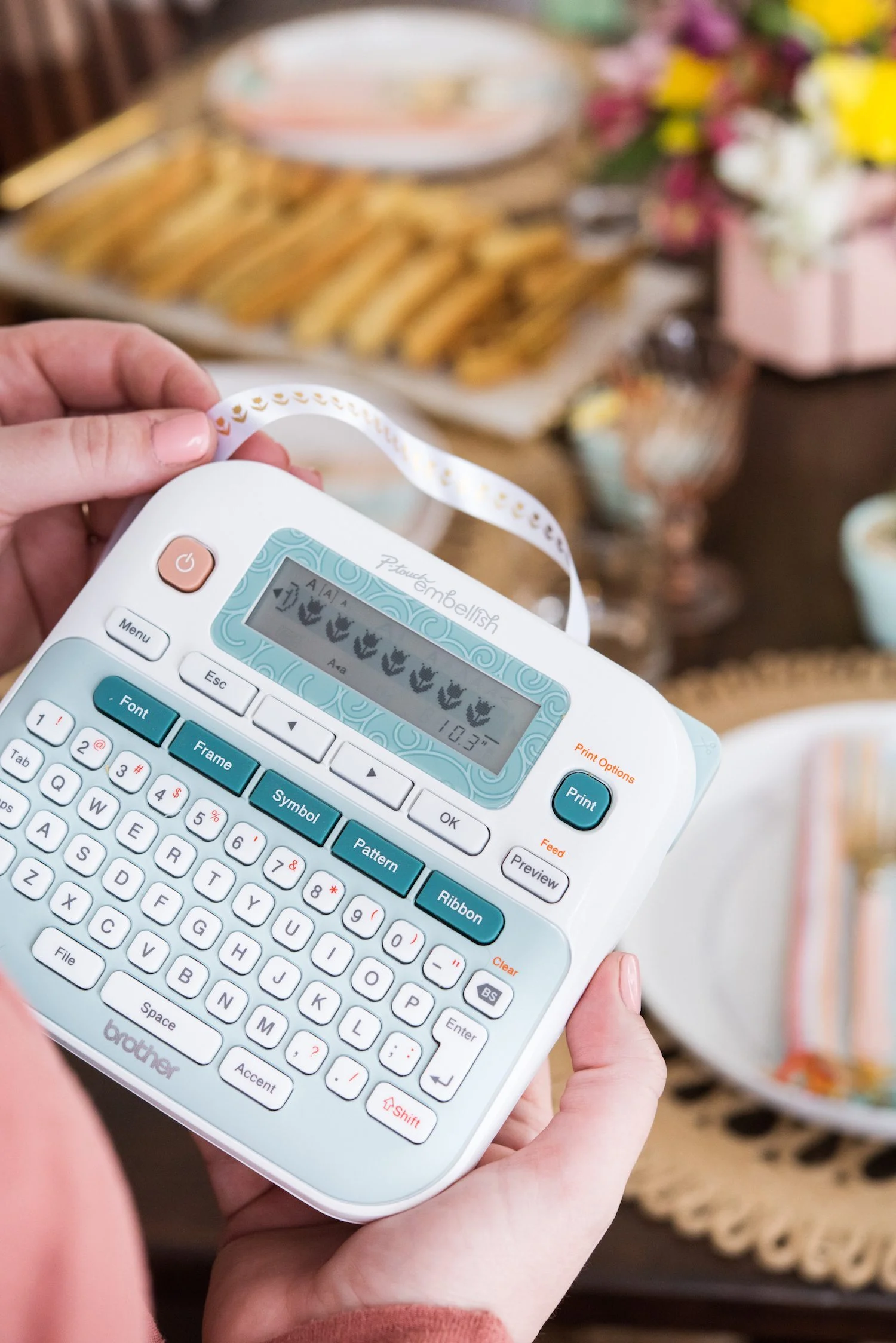 For the kiddos at your brunch, why not make ribbon wands? They look pretty sitting together in a tall vase and are so fun for kids to twirl. I created a long ribbon with a repeating pattern of tulips using the P-touch Embellish, then hot glued each ribbon to the top of a thin dowel cut down to about 12″ in length. I then tied other ribbons that played on the overall color palette of my brunch table along the dowel to create inexpensive but really pretty ribbon wands that took just a few minutes each to make. For the finishing touch, use pinking sheers to trim the ends of your ribbons!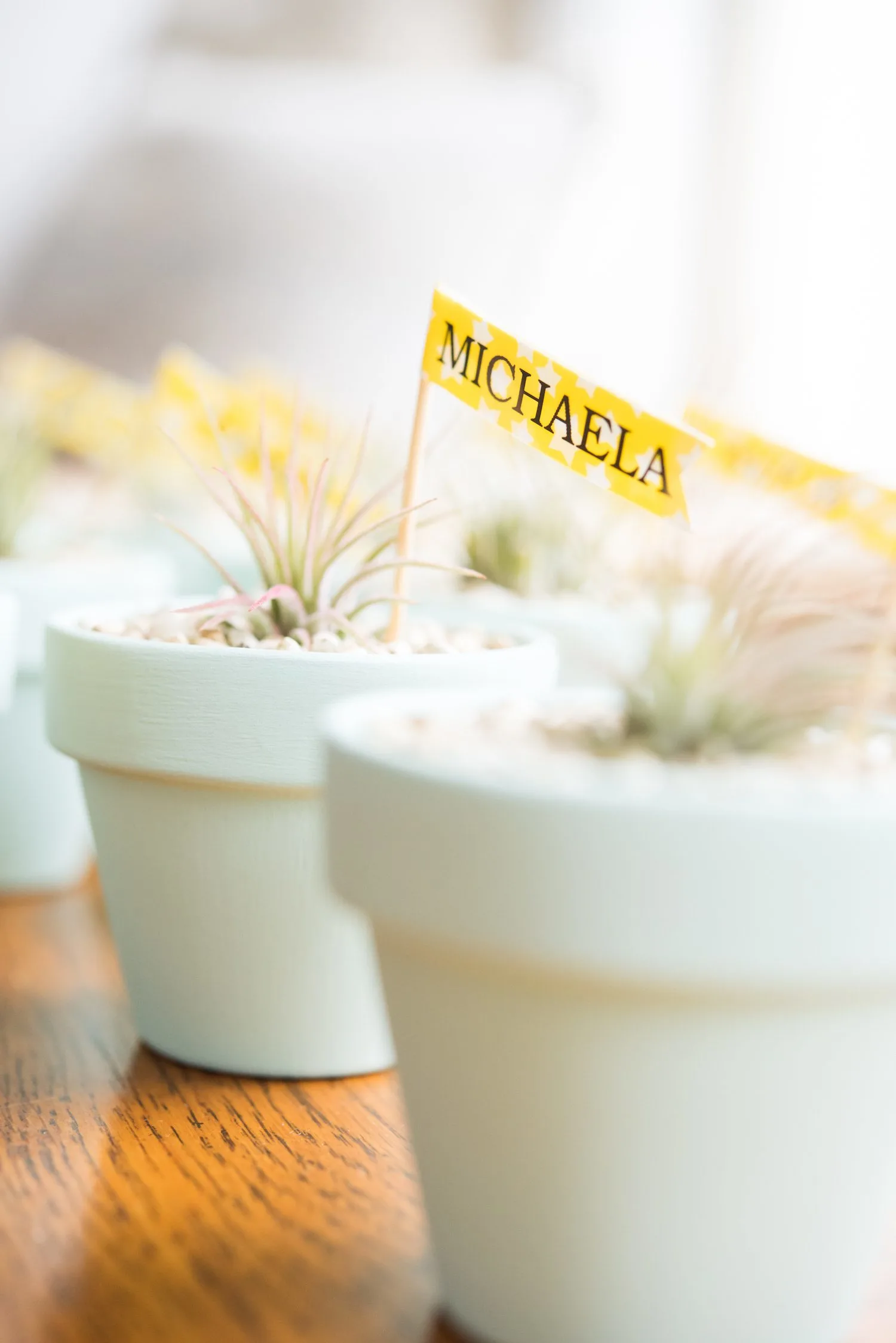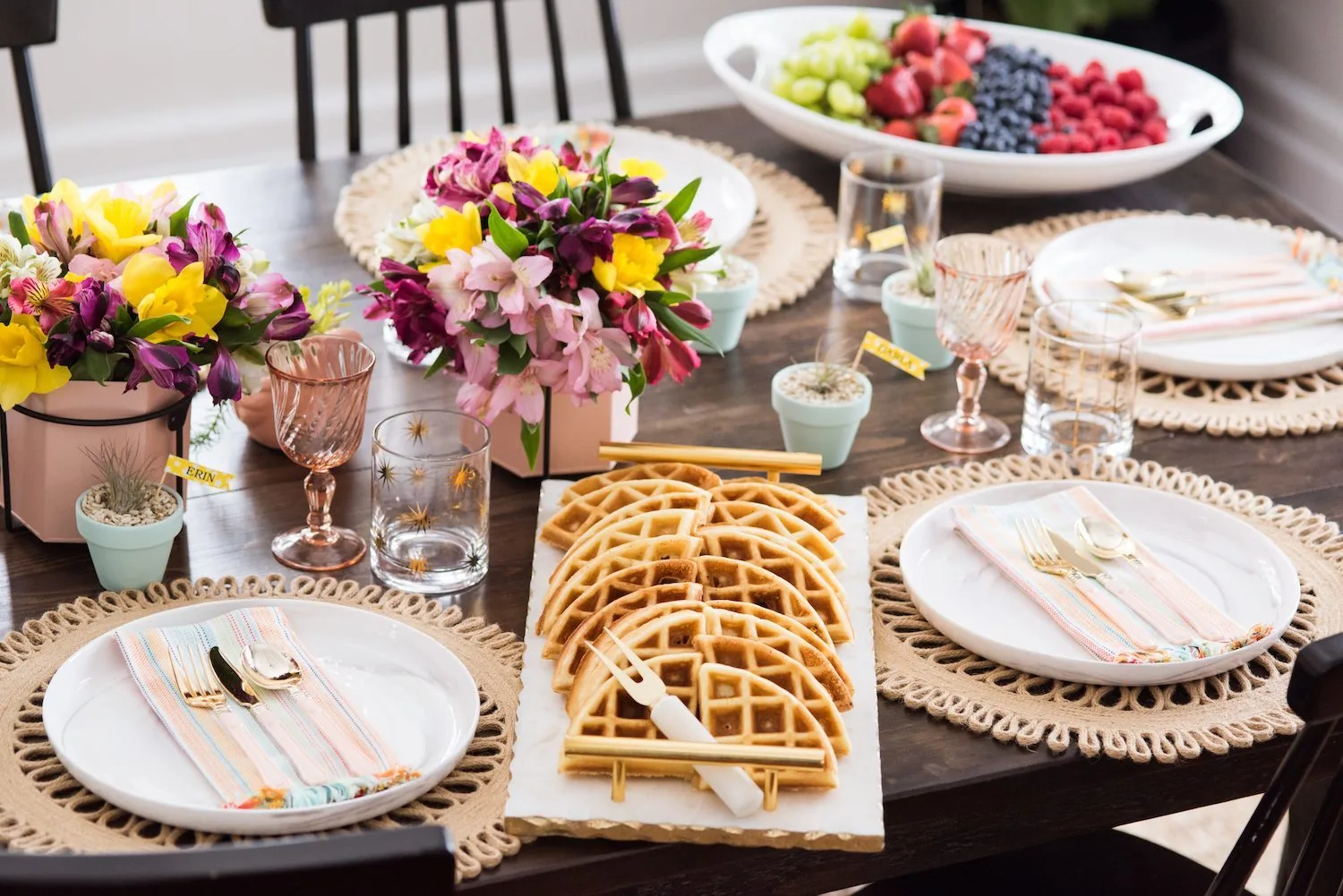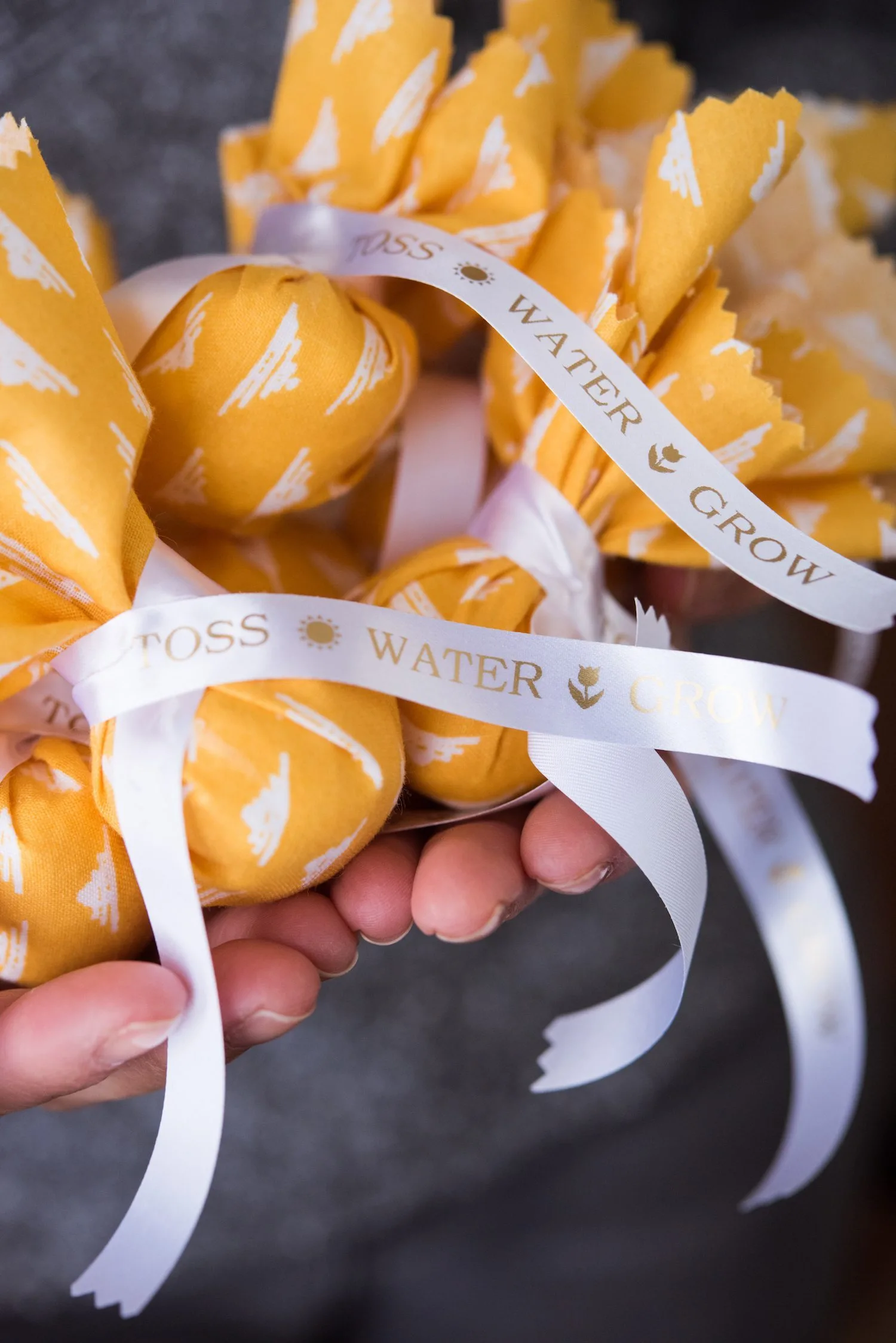 For the main spread, a mini Belgian waffle bar with a variety of toppings and fresh fruit makes brunch quick and easy. Add in a quiche you can prep the night before or a big batch of scrambled eggs and you've got the menu covered. Presentation is everything, so as always I plated all the food on pretty platters and in small bowls on a cutting board. The finishing touch was DIY seed bombs for guests to take home, which is especially fitting for spring. You can buy seed bombs or find tutorials for making your own, then wrap each one up in a piece of colorful fabric. I cut my fabric to roughly 6″ square using pinking sheers to create a cute edge without the need to sew. I then held everything together with ribbons printed with instructions to toss, water and grow using the P-touch Embellish. While you certainly don't need to have favors every time you entertain, sometimes it's just that extra unexpected little detail that really makes people feel loved and appreciated. These were so simple to make and turned out really cute!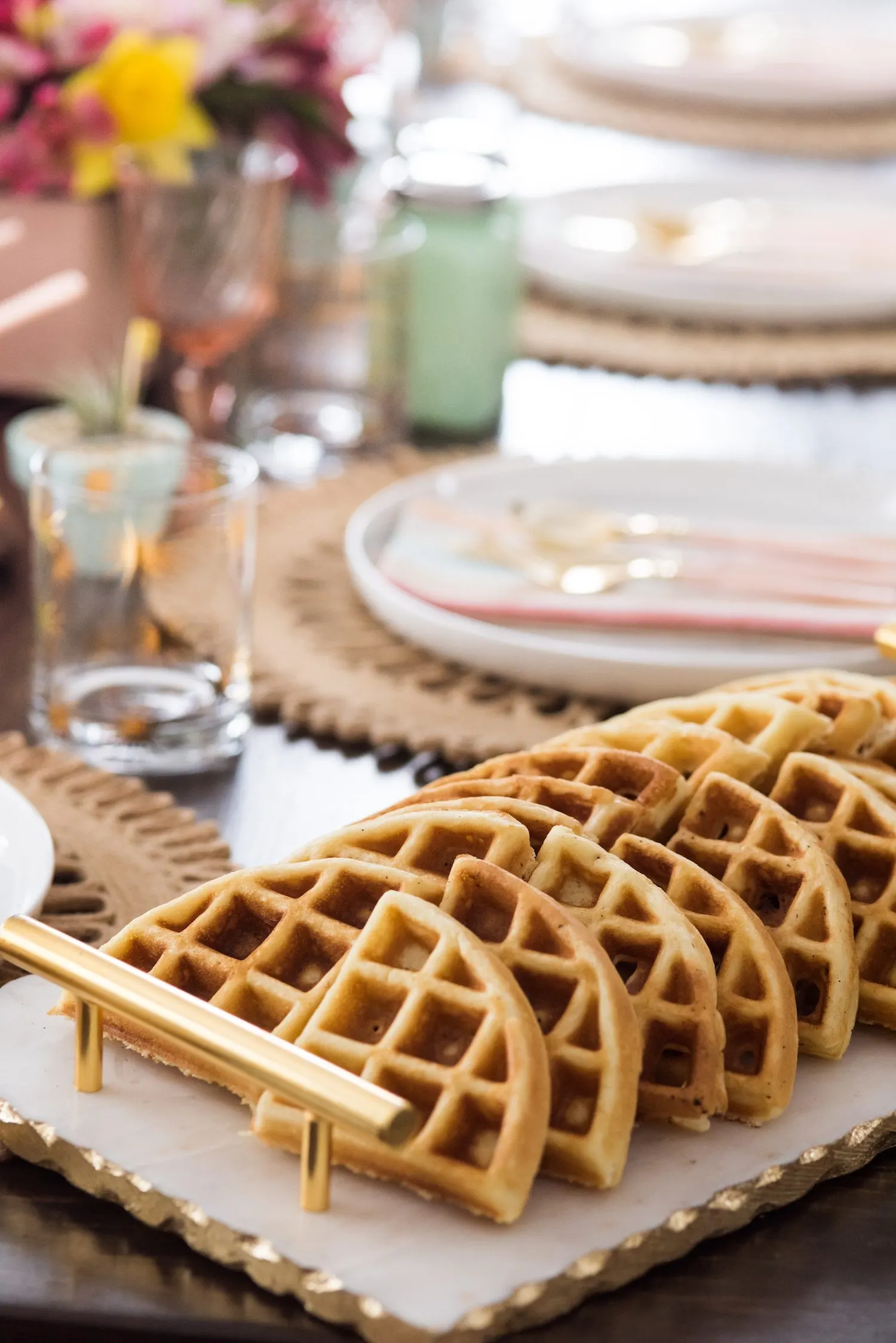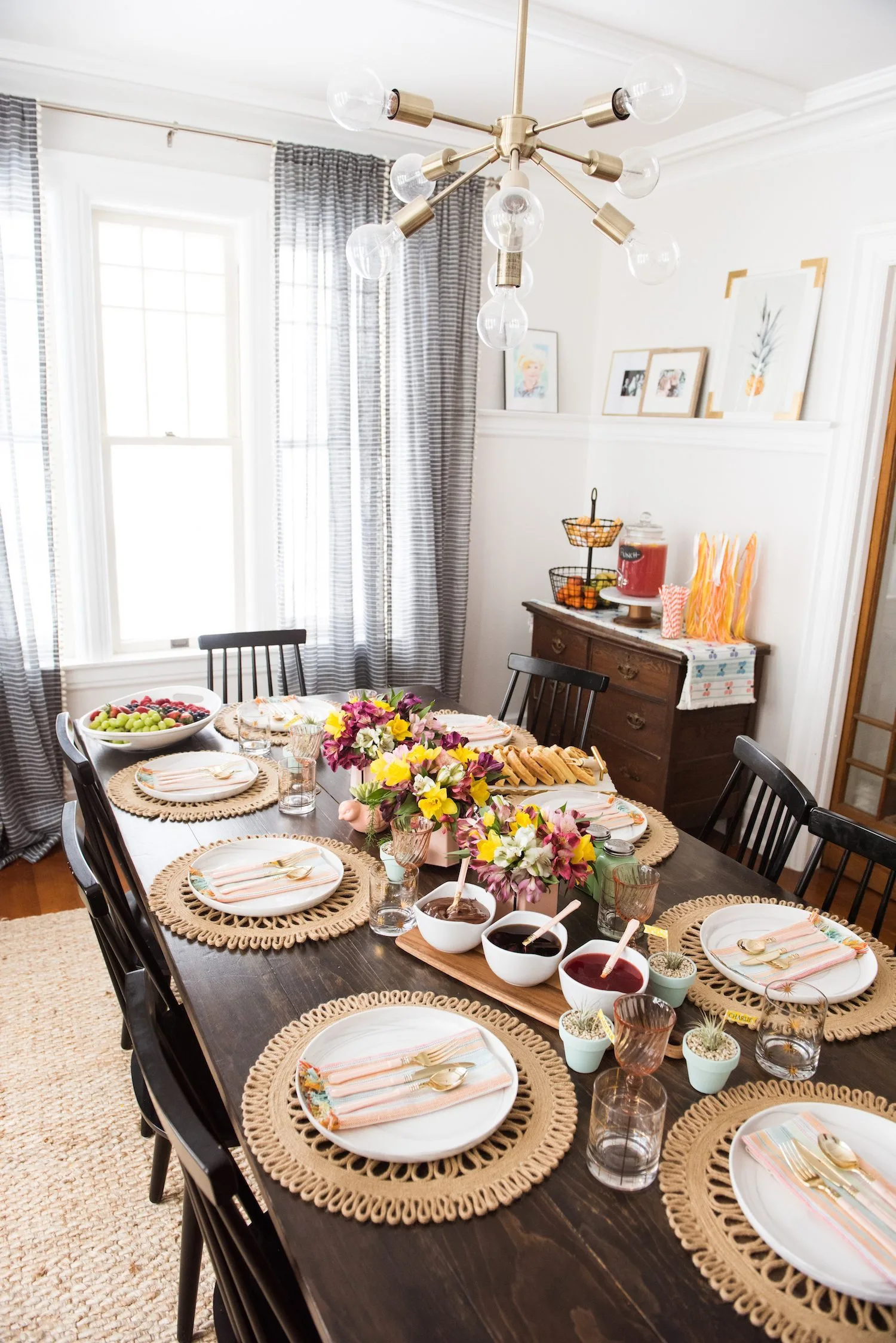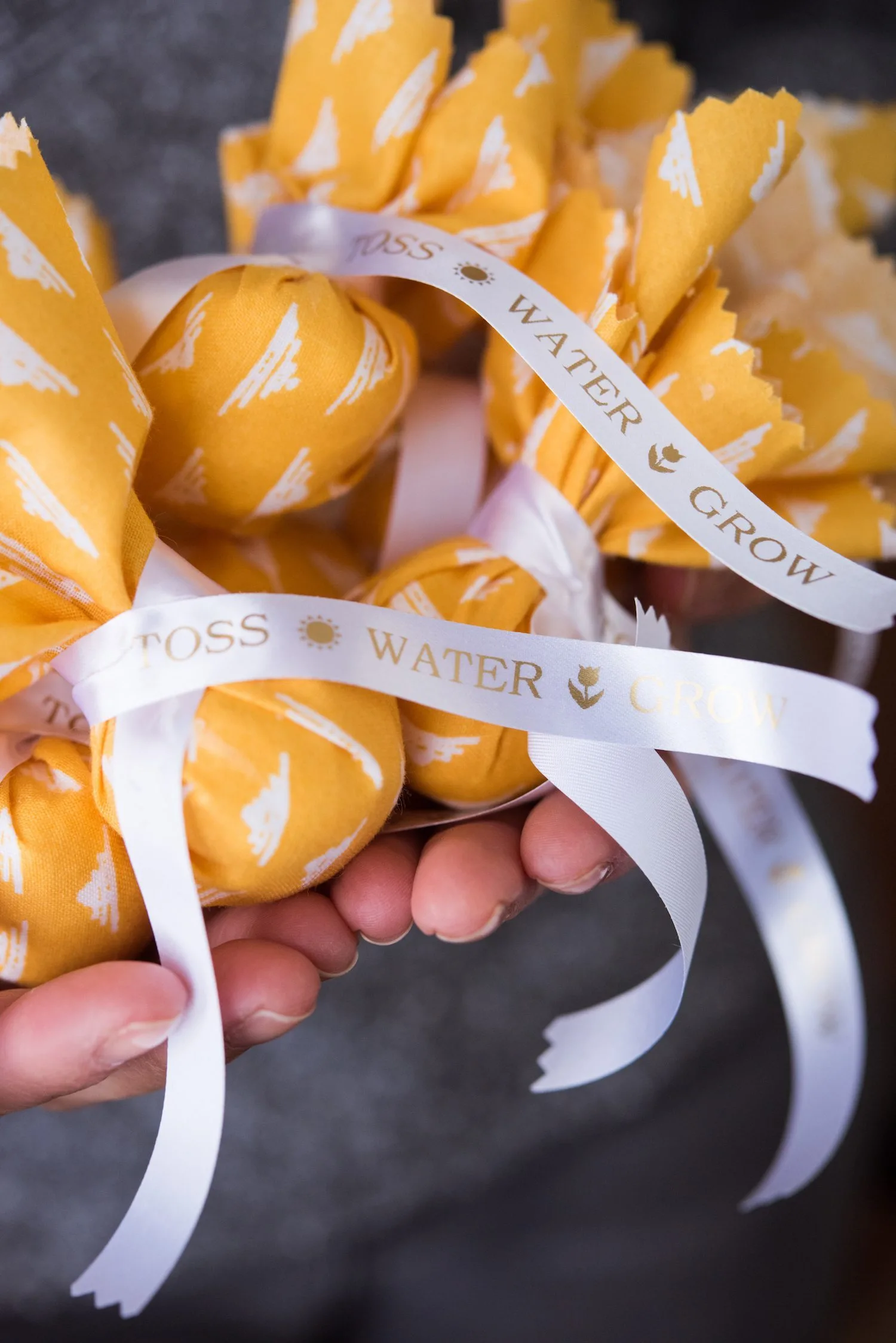 When I'm setting the table for brunch or any kind of party, I always start with the color palette. Here I settled on peach, mint and marigold and then sorted out all the other details. A mix of textures, pretty glassware and inexpensive flowers pull it all together. You guys know how much I love using grocery store flowers by now! They're budget-friendly and so easy to work with, even if you don't think you can arrange flowers. (I promise, you can make something really pretty!) Here's hoping you find the perfect reason to host a spring brunch. If all fails, I think celebrating the return of sunshine is the perfect excuse! (In the meantime, I'll be over here waiting for all the snow to melt.)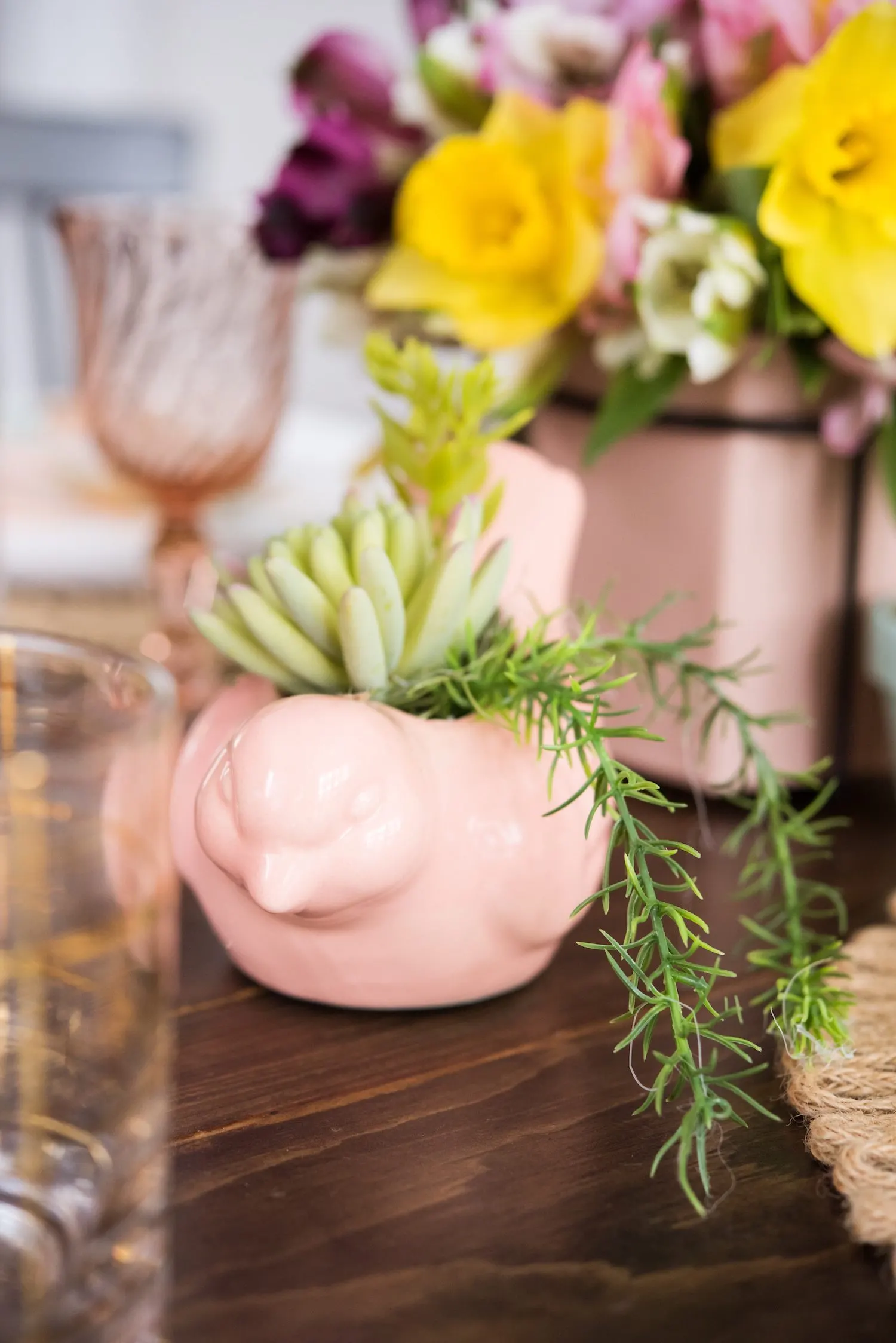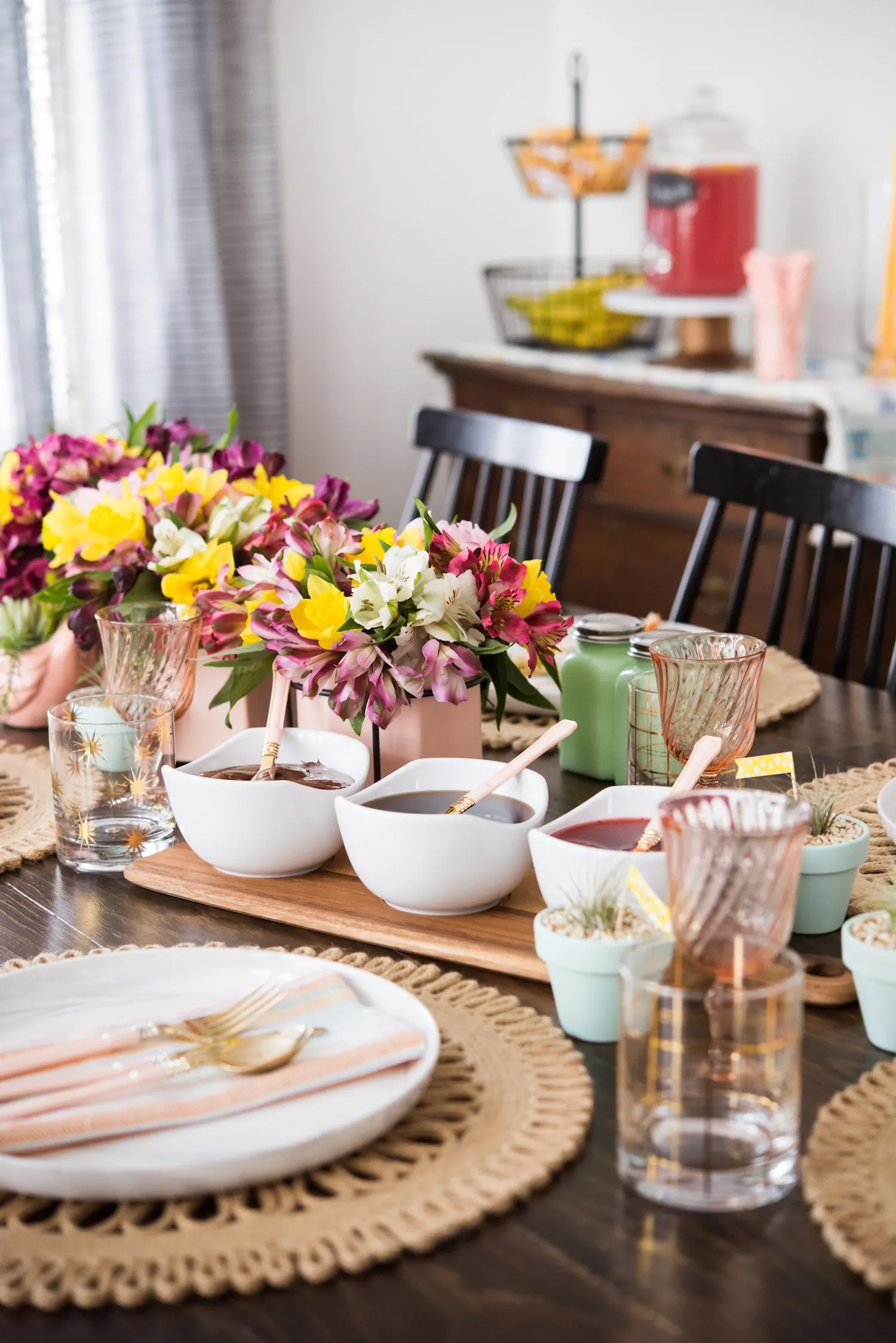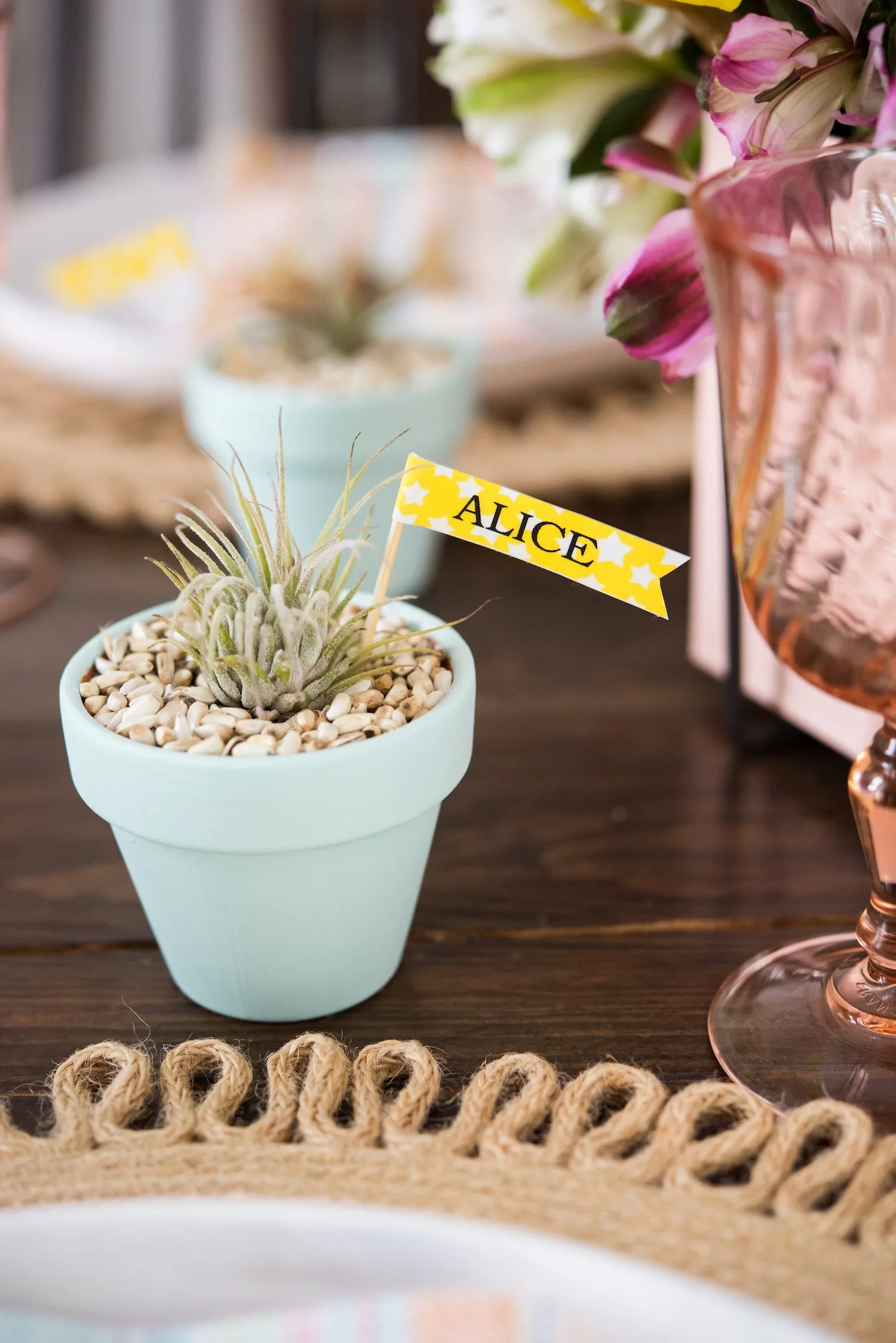 [Art direction + styling by Cyd Converse | Photography by Alice G. Patterson.]
This post was sponsored by P-touch Embellish Ribbon & Tape Printer. Read more about our editorial policies.