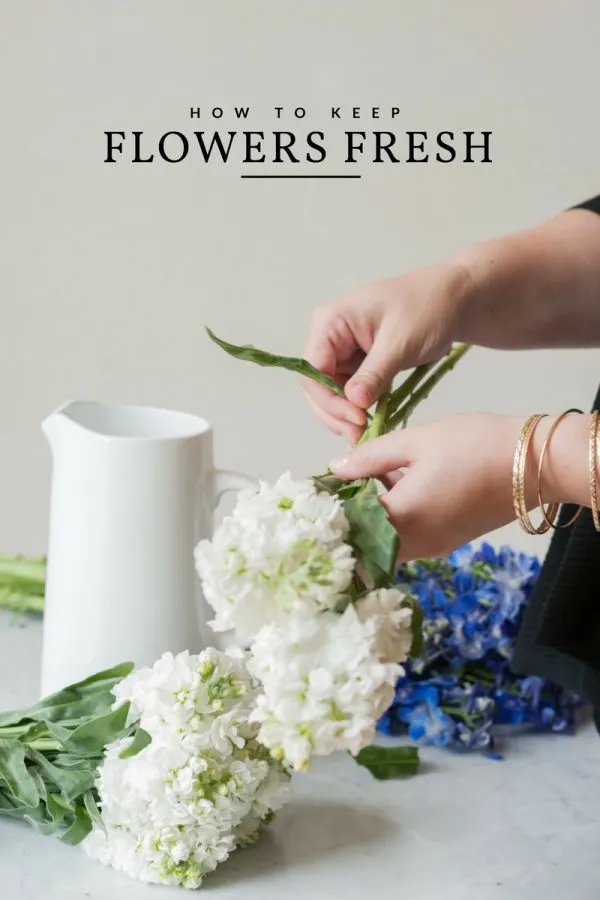 This time of year I almost always have fresh cut flowers around the house. It's almost a little crazy just how happy a big bunch of blooms in the center of the dining room table or tucked on the mantle can make me. Now that the snow is finally gone and the screen doors have been opened up, flowers around the house really drives home that spring vibe and they make me insanely happy. I get a lot of questions from friends about how I take care of cut flowers and I've shared them before here, but it seemed like a good time to revisit my favorite easy tips for how to keep flowers fresh, alive and perky for as long as possible. Any other tricks you can share with me? Fill me in!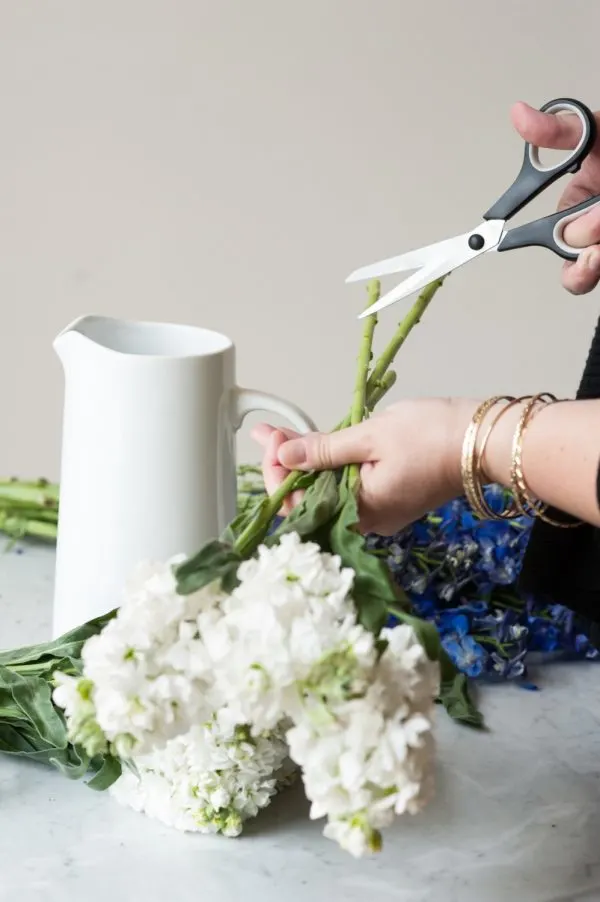 Cut Stems At An Angle
When prepping your flowers and trimming them to size, cut the stems at an angle with a super sharp pair of scissors, clippers or a knife. I often even just use scissors if my floral clippers aren't handy. That's totally fair game! Just be sure they're sharp so they don't crush the step and cut on an angle so they can soak up as much water as possible once they're in a vase. Is cutting them under water necessary? (I think I've heard the one a lot.) Meh, I'm no botanist, but I'd say no. I never do it and it doesn't seem to matter.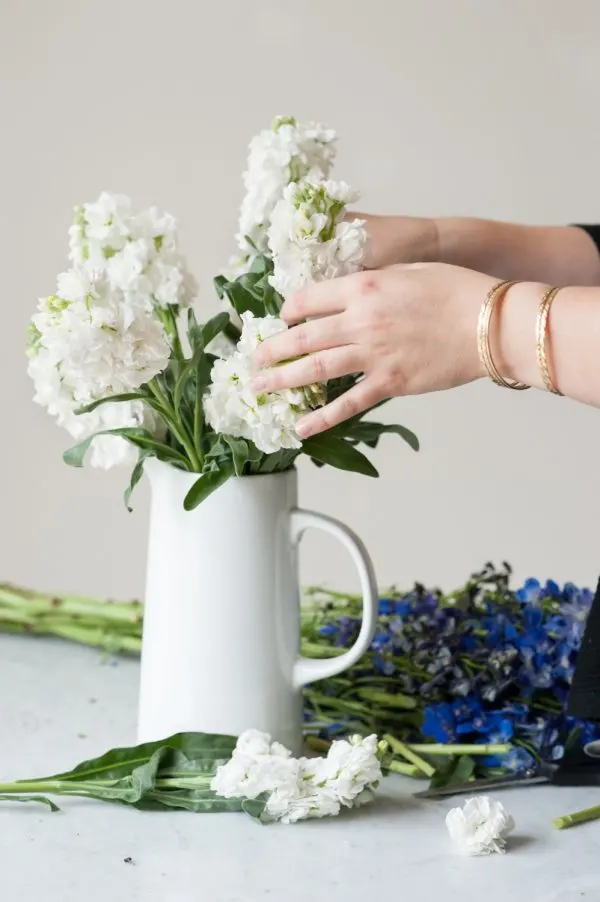 Keep Leaves Above the Water
The first step to keeping your cut flowers fresher longer is making sure that all leaves and greenery are above the water line. Simply put, leaves hanging out in the water will decay quicker, thus muddying the flowers' chances of staying perky and happy. Strip all the leaves from the stems before placing them in your vase and be sure to clean out any leaves that fall. As to whether or not you need those pesky packets of flower preservative? Personally, I never ever use it and my flowers often stay fresh for two or even three weeks, depending on the type of bloom. So you do you, but I skip that and instead make sure that the water is leaf-free.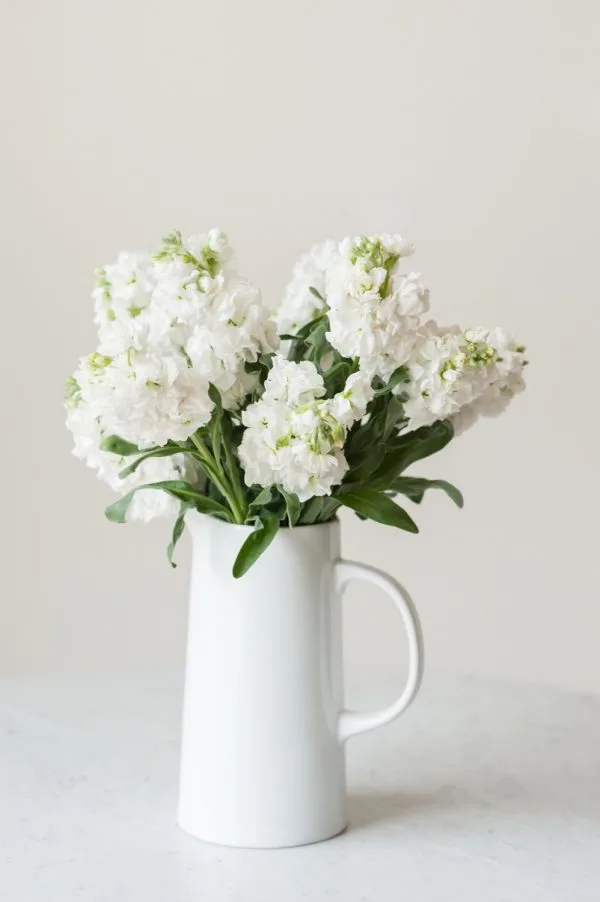 Change the Water Daily
Next up, be sure to change the water in your vase daily. I usually try to just make it part of my morning routine by pulling the flowers out of the vase, dumping the water and giving the vase a rinse with cool water and then filling it before putting the flowers back inside. It only takes a minute at most, but it's a major key in keeping those flowers looking pretty for a good long while. You'll find that after a day or two, the water in your vase will start to look murky. That's the sign that your water definitely needs changing! So to review, clear water = happy flowers. Happy flowers = happy people. See where I'm going with this?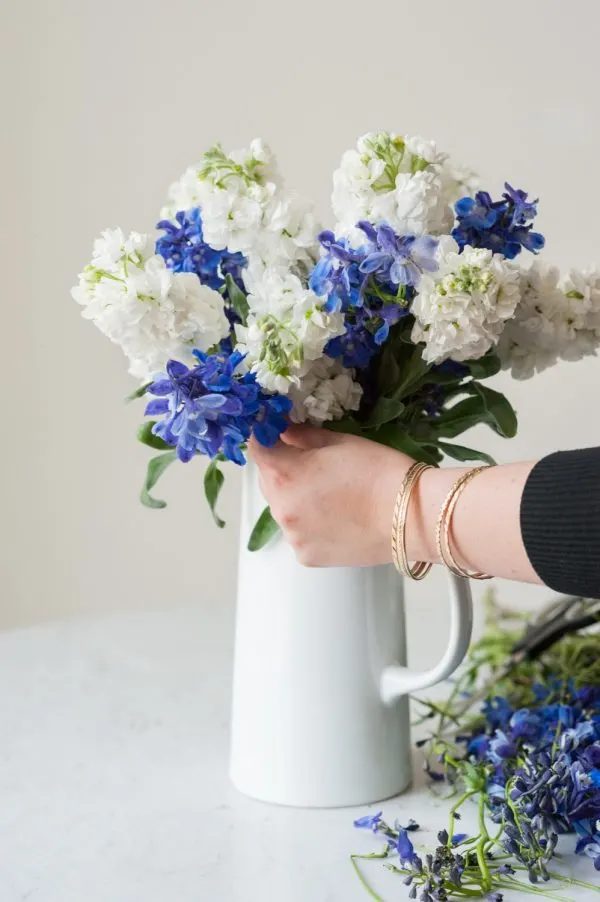 And that's it, friend! Three super simple tips to keeping cut flowers fresh for days or even weeks on end. Cut them with something sharp on an angle. Keep the water free of leaves at all times. Change the water daily. I used to be hardcore about the flower food preservative packets, the cutting under water and all those other things you hear are necessary, but I swear by clean water. I think it's the number one key to keeping those beauties looking fresh and happy. That said, I'd love to hear your tips so fill me in! Oh, and don't miss my tips for how to care for a fiddle leaf fig and keep it alive and happy, too.

[Art direction by Cyd Converse | Photos by Alice G. Patterson for The Sweetest Occasion.]