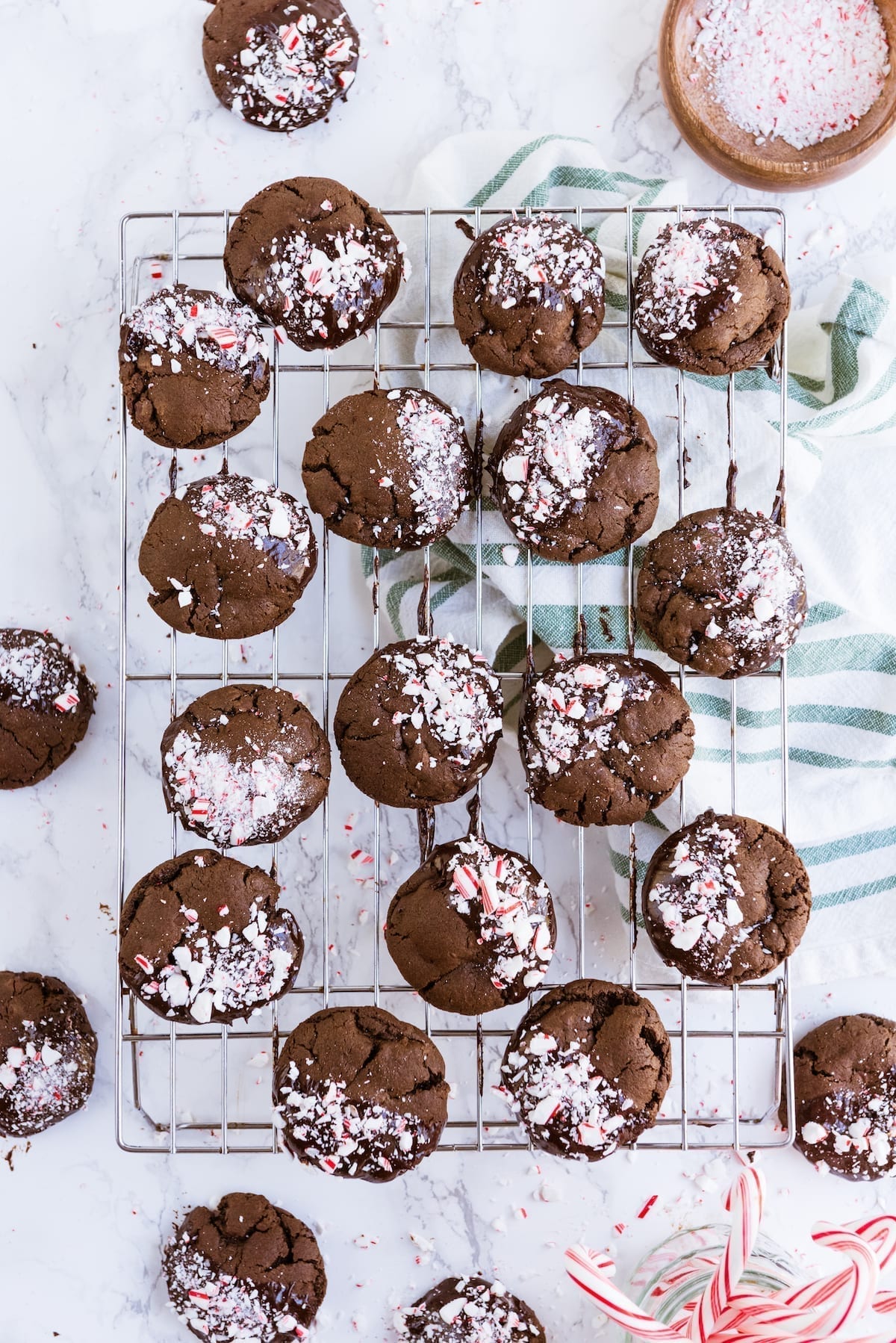 It's cookie exchange day, friends! Every year my blogger besties and I host a virtual cookie exchange, going so far as referring to ourselves as the Christmas Cookie Squad. In short, below I've linked up every single Christmas cookie recipe you could possibly want this season, perfect for hosting or bringing to your own cookie exchange parties. I'm jumping into the game with these fudge dipped double chocolate peppermint cookies. They are melt in your mouth good and worth the tiny bit of effort it takes to crush up some candy canes! Join in the fun on Instagram with our hashtag #christmascookiesquad!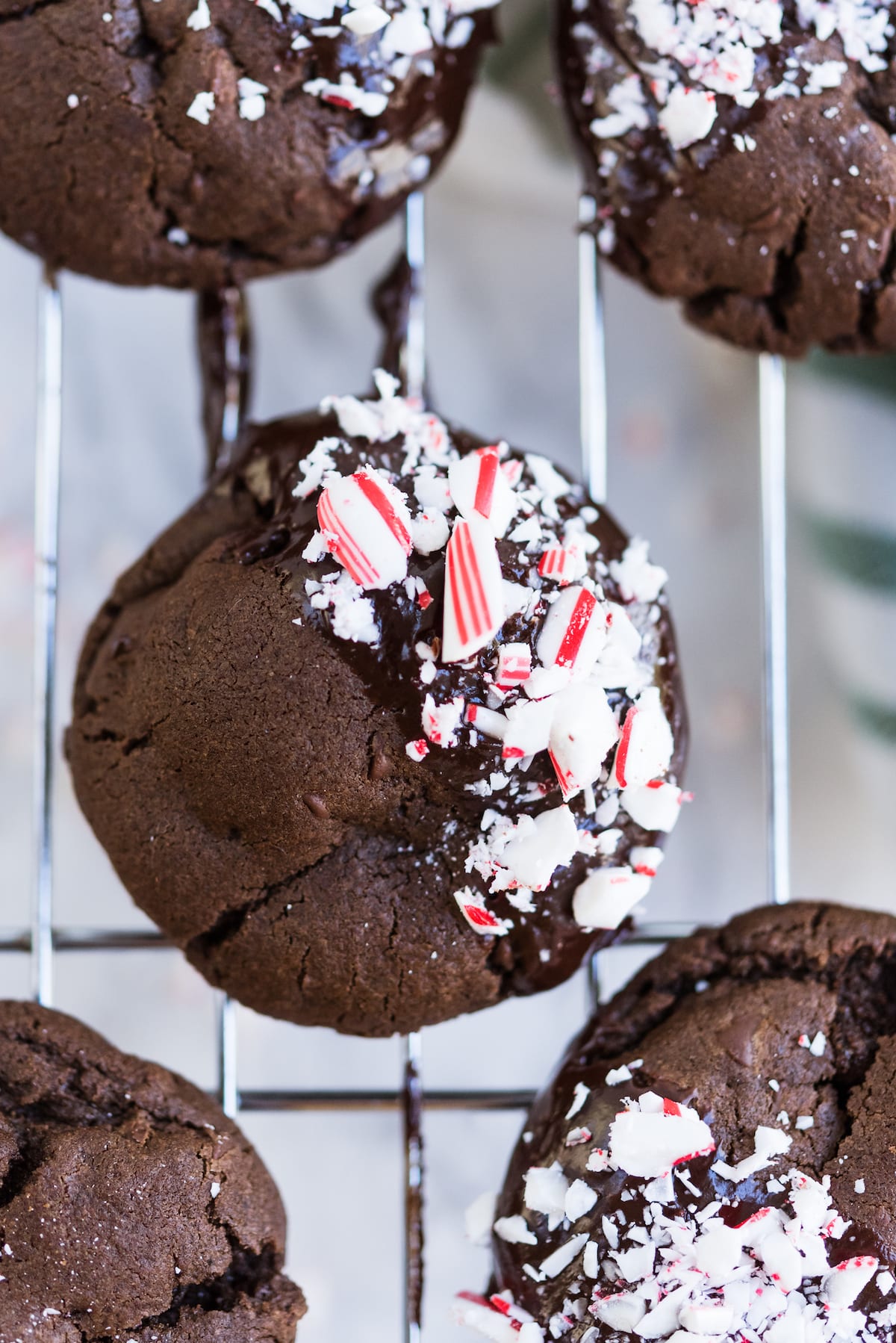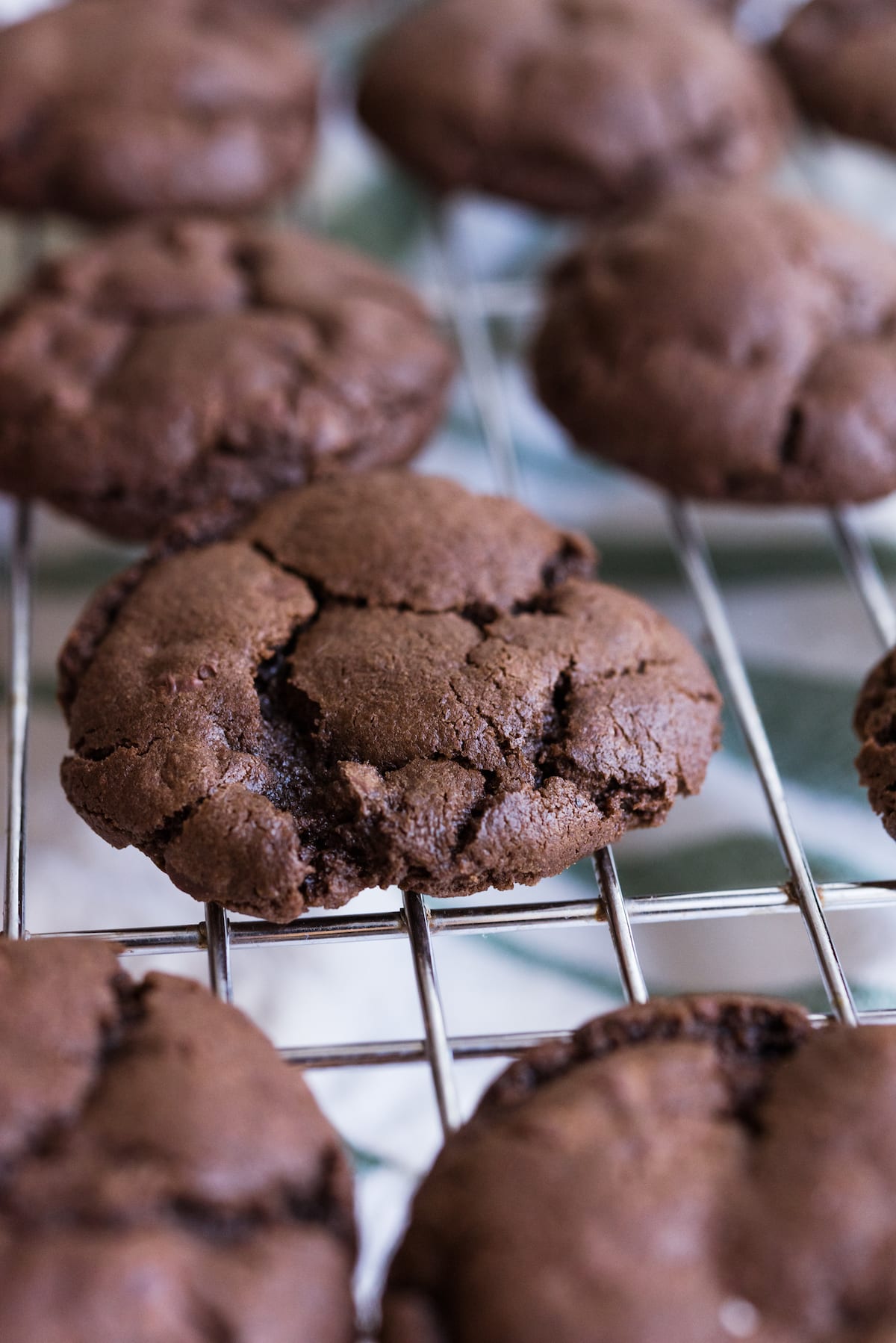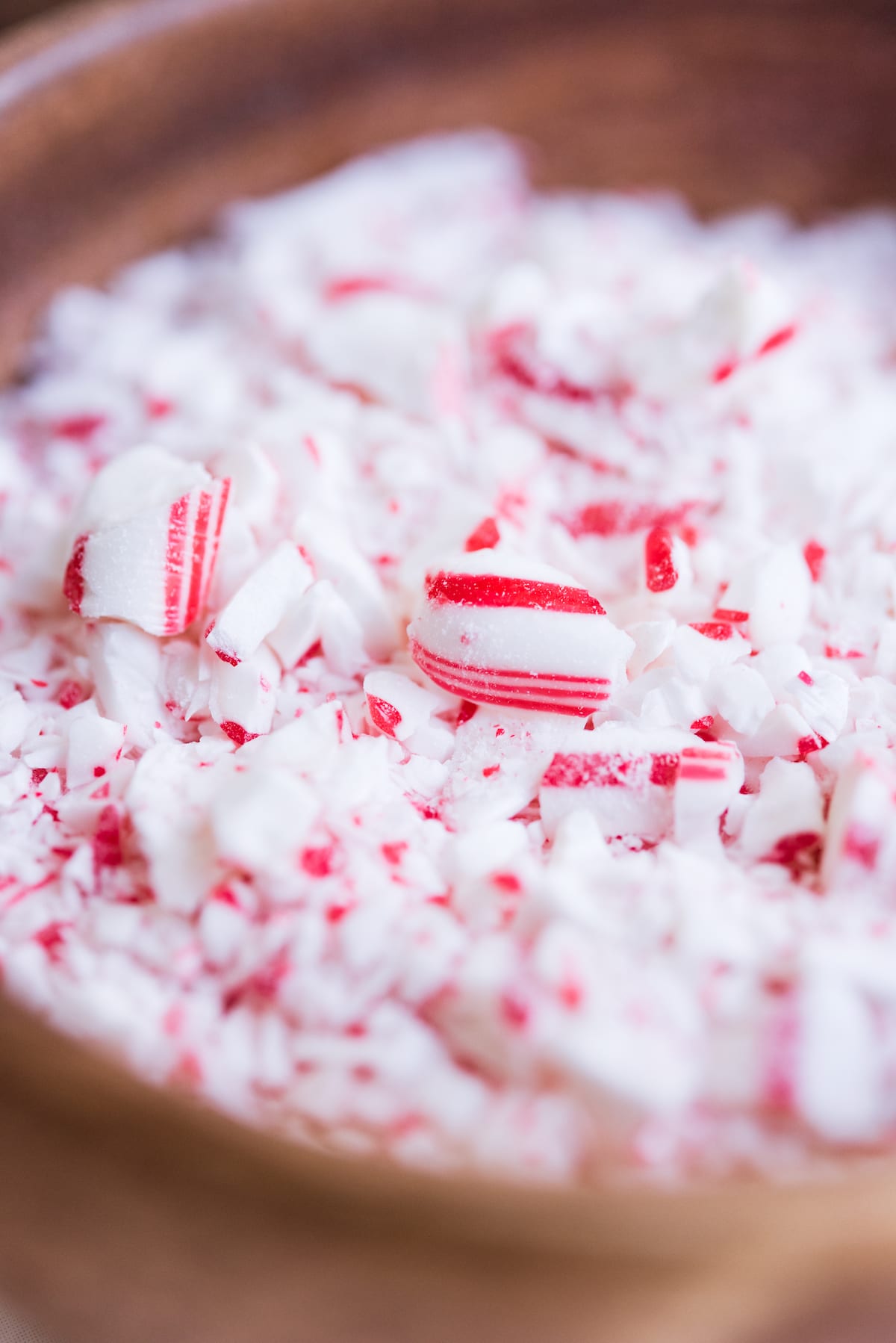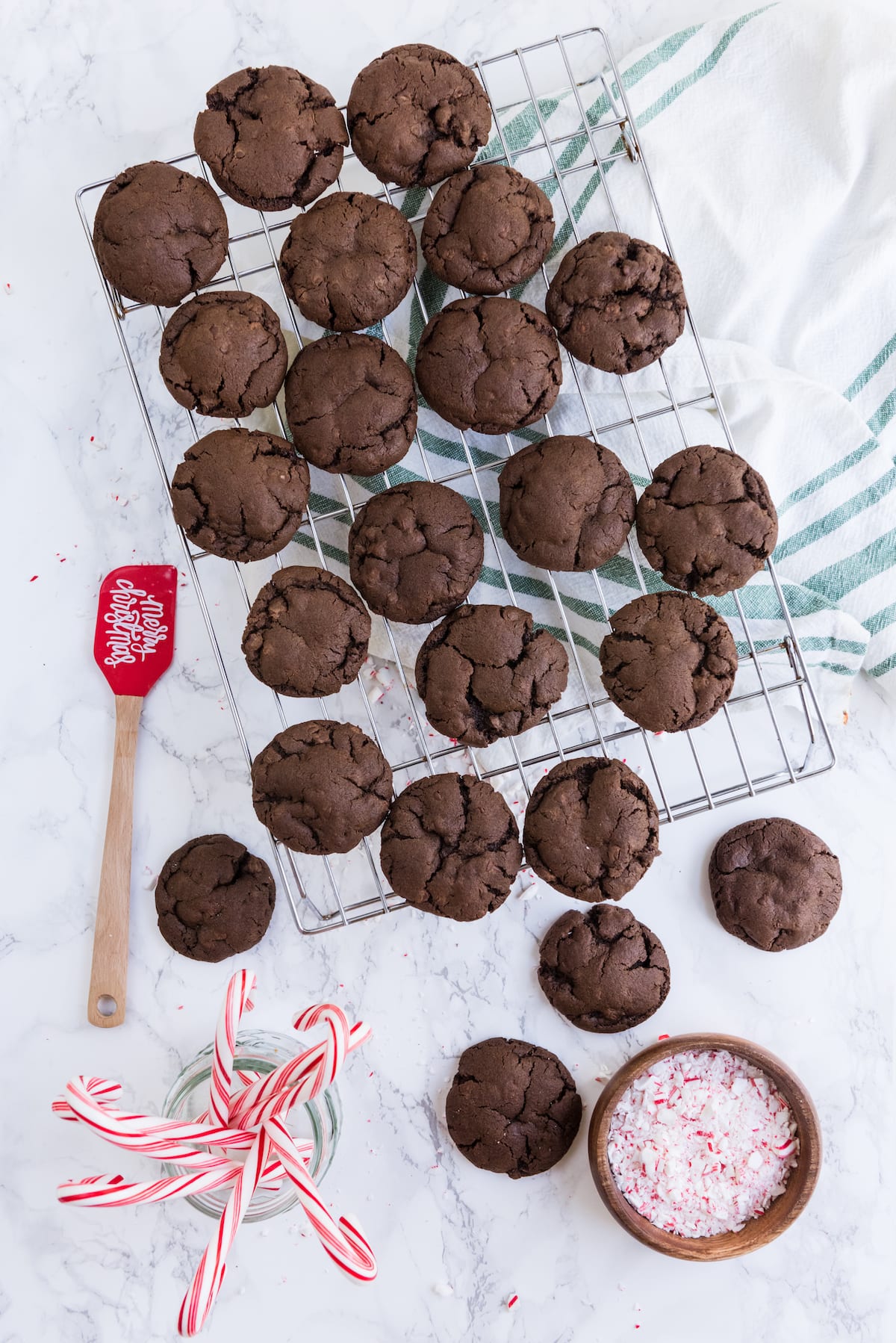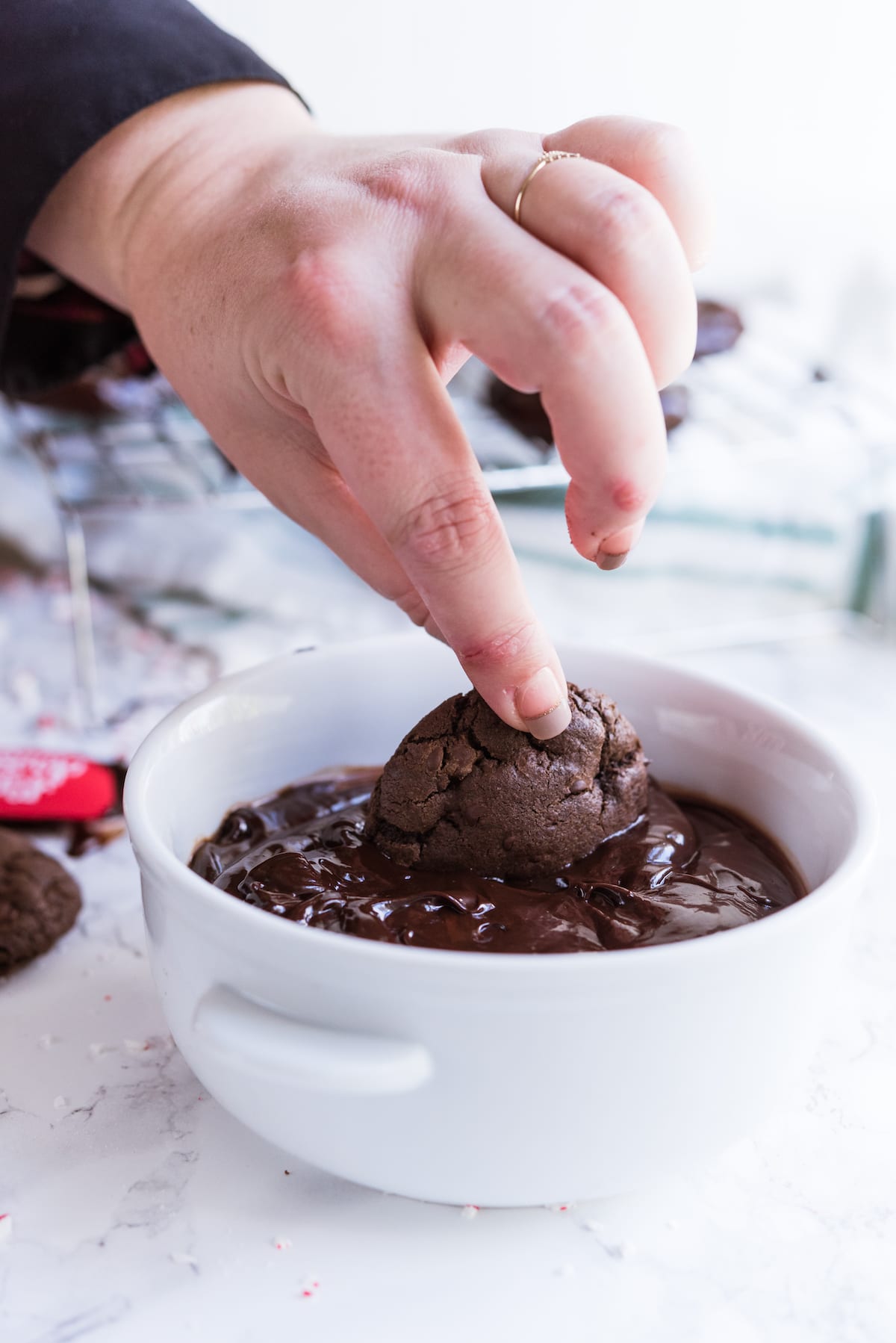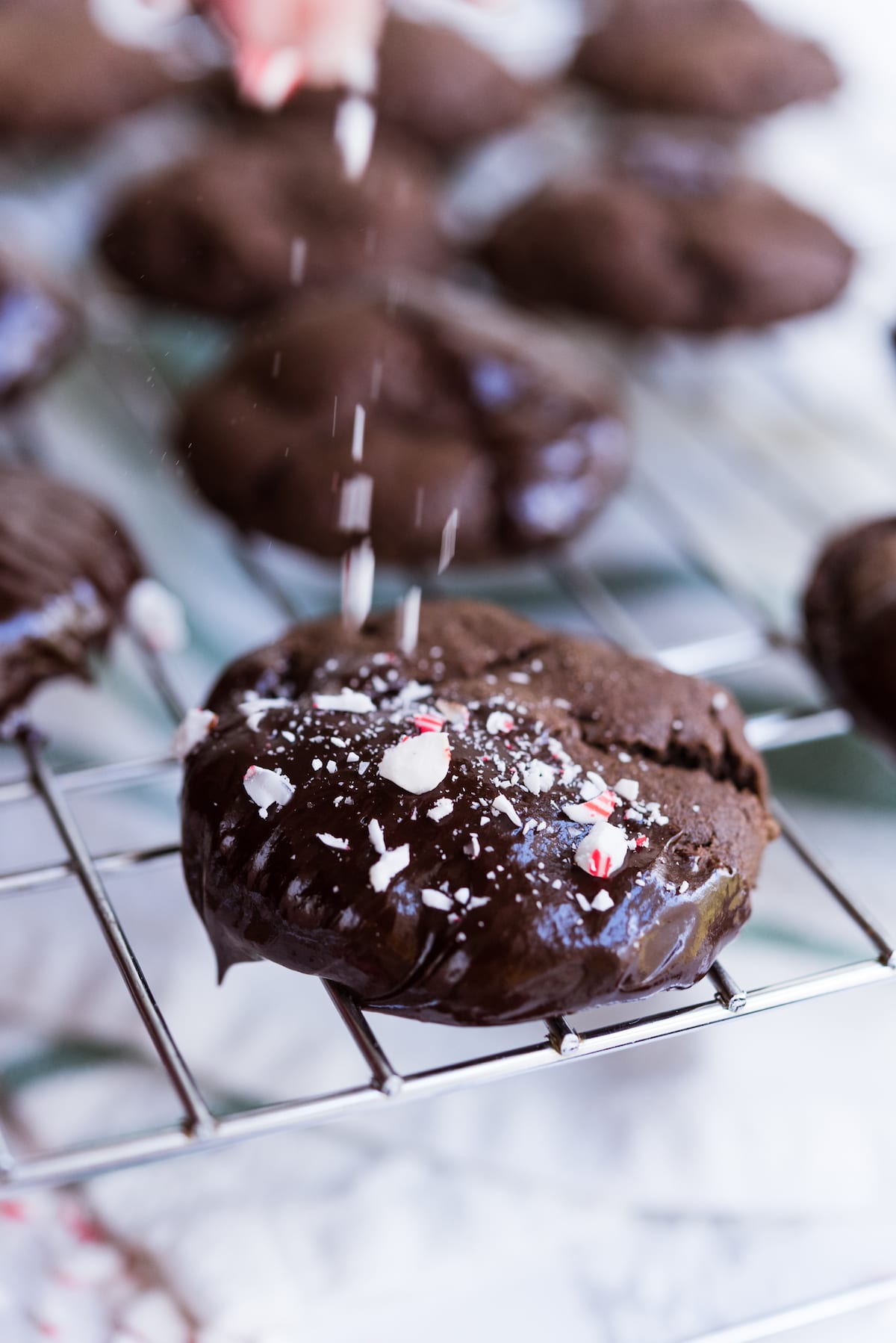 This recipe is pretty straight forward, but make sure to leave time to chill the dough! The texture of these cookies totally depend on that time in the fridge. If it's easier, chill the dough overnight and then bake the cookies off in the morning. Or you can prep the dough over your morning coffee and bake when you're home for work, whatever works best for you! The result is a picture perfect cookie your friends will beg for every year.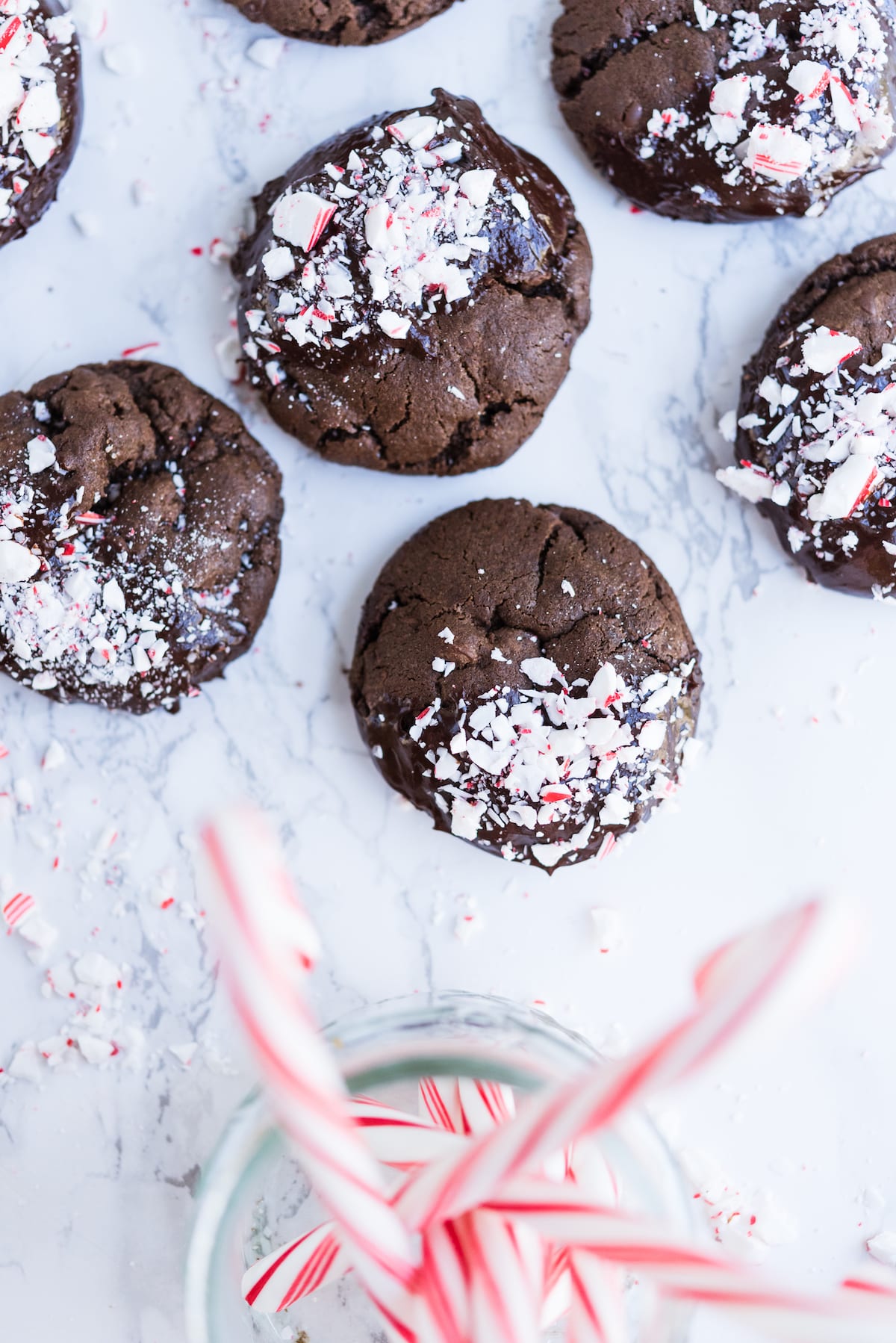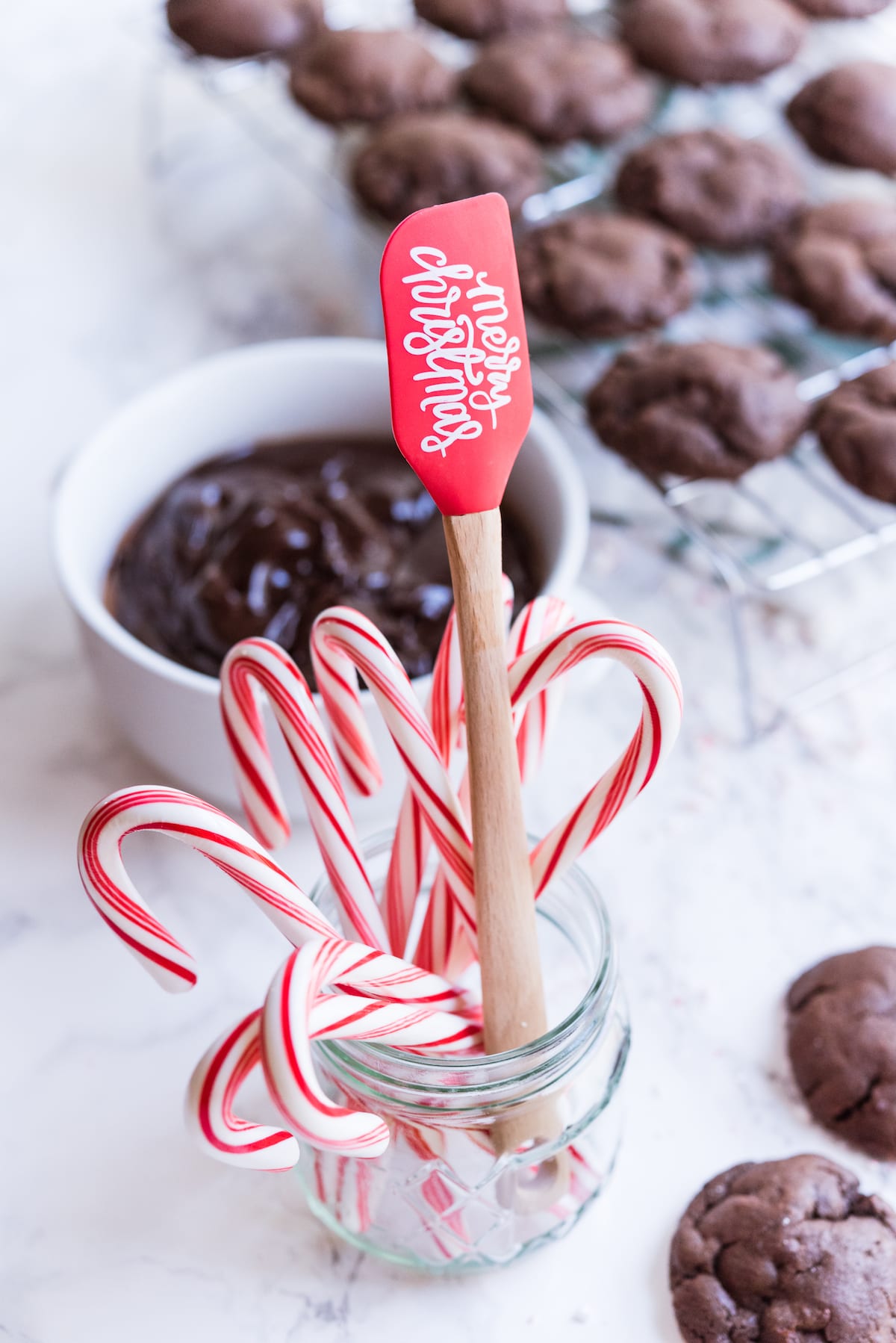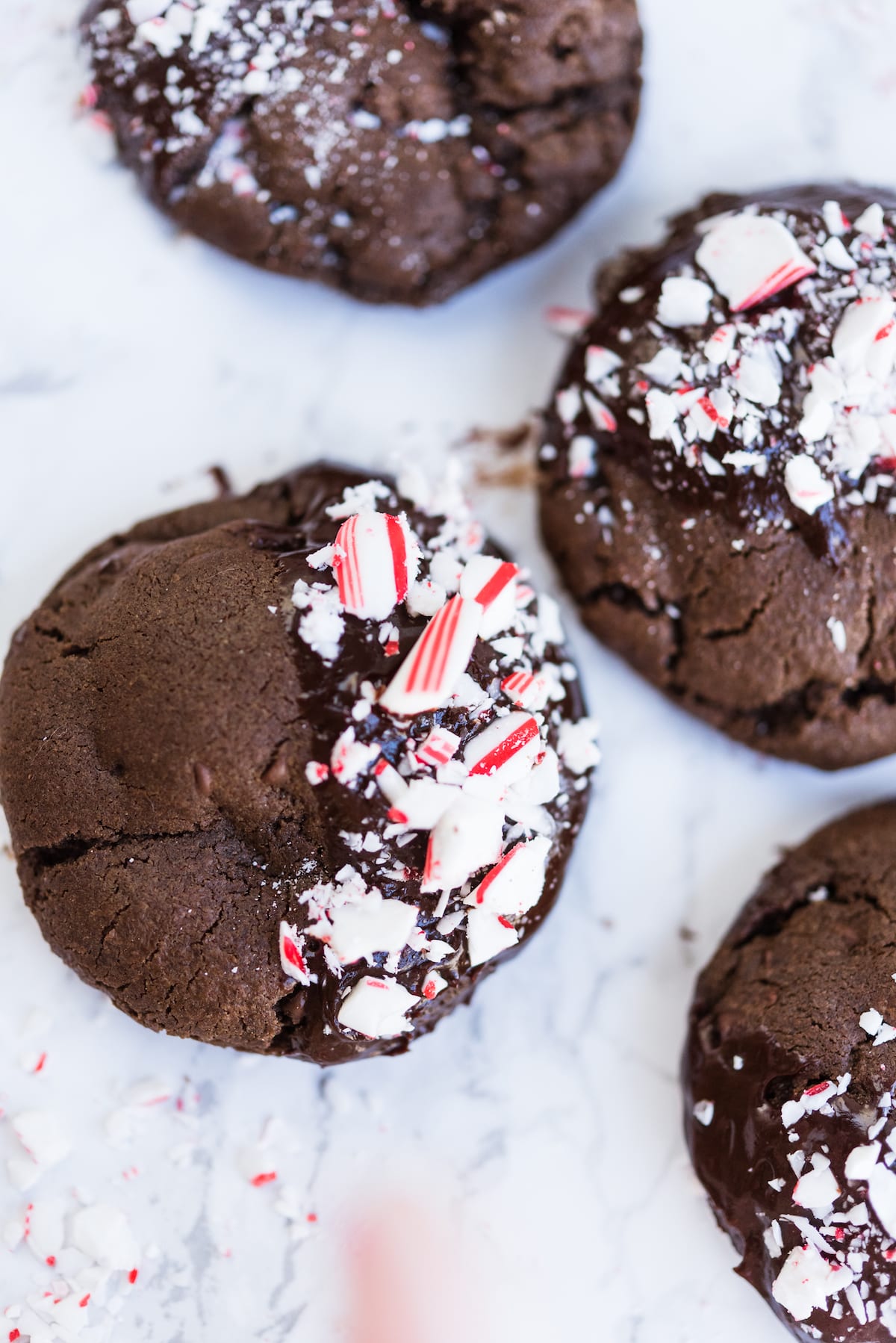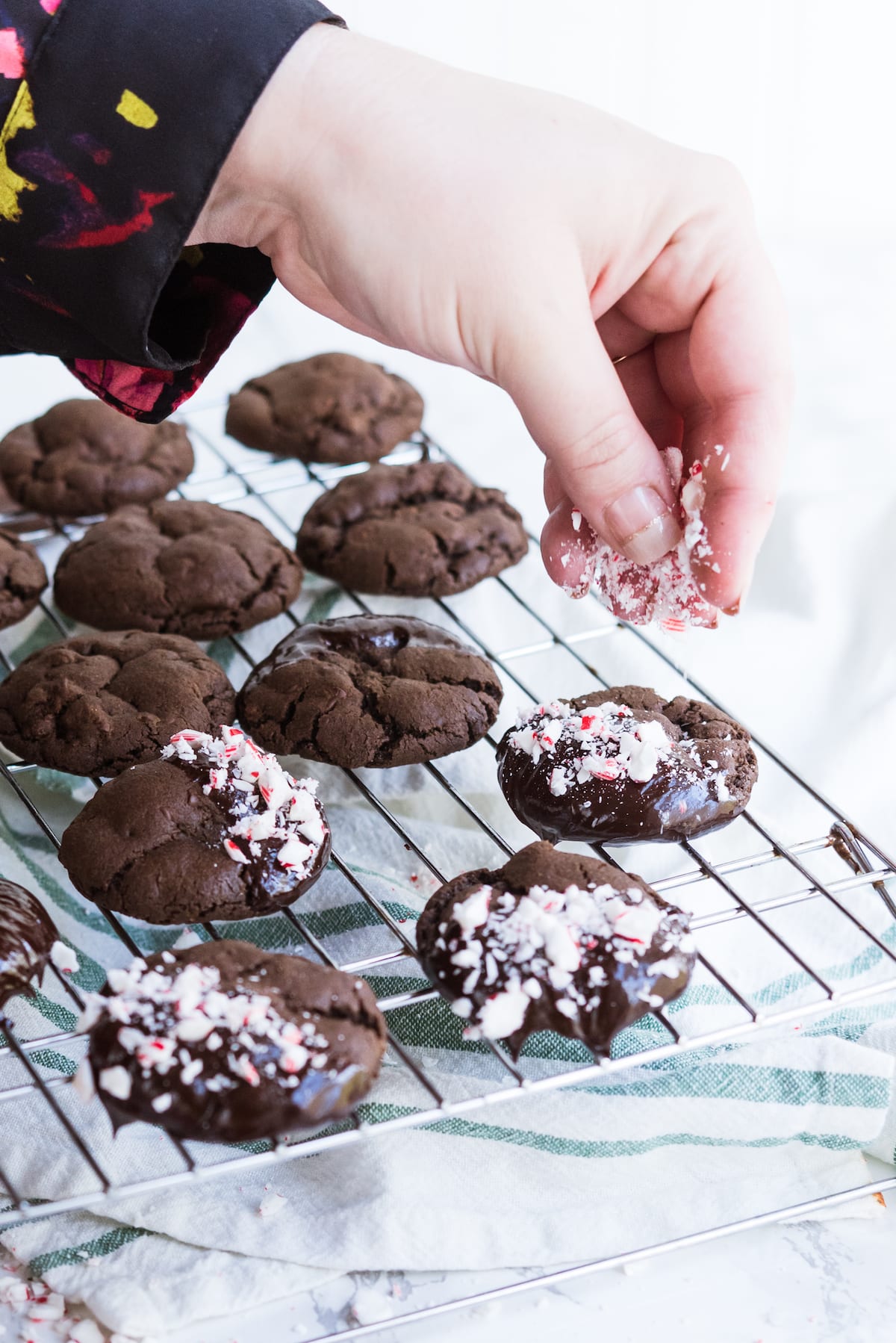 These are the cookies that are perfect for gifting your co-workers, bringing to the family Christmas party or packaging up to give your postal worker or UPS and Fedex drivers! You can download cute [and free!] printables to go along with them here, here or here! Keep scrolling for the recipe and all the cookie exchange recipe links, too!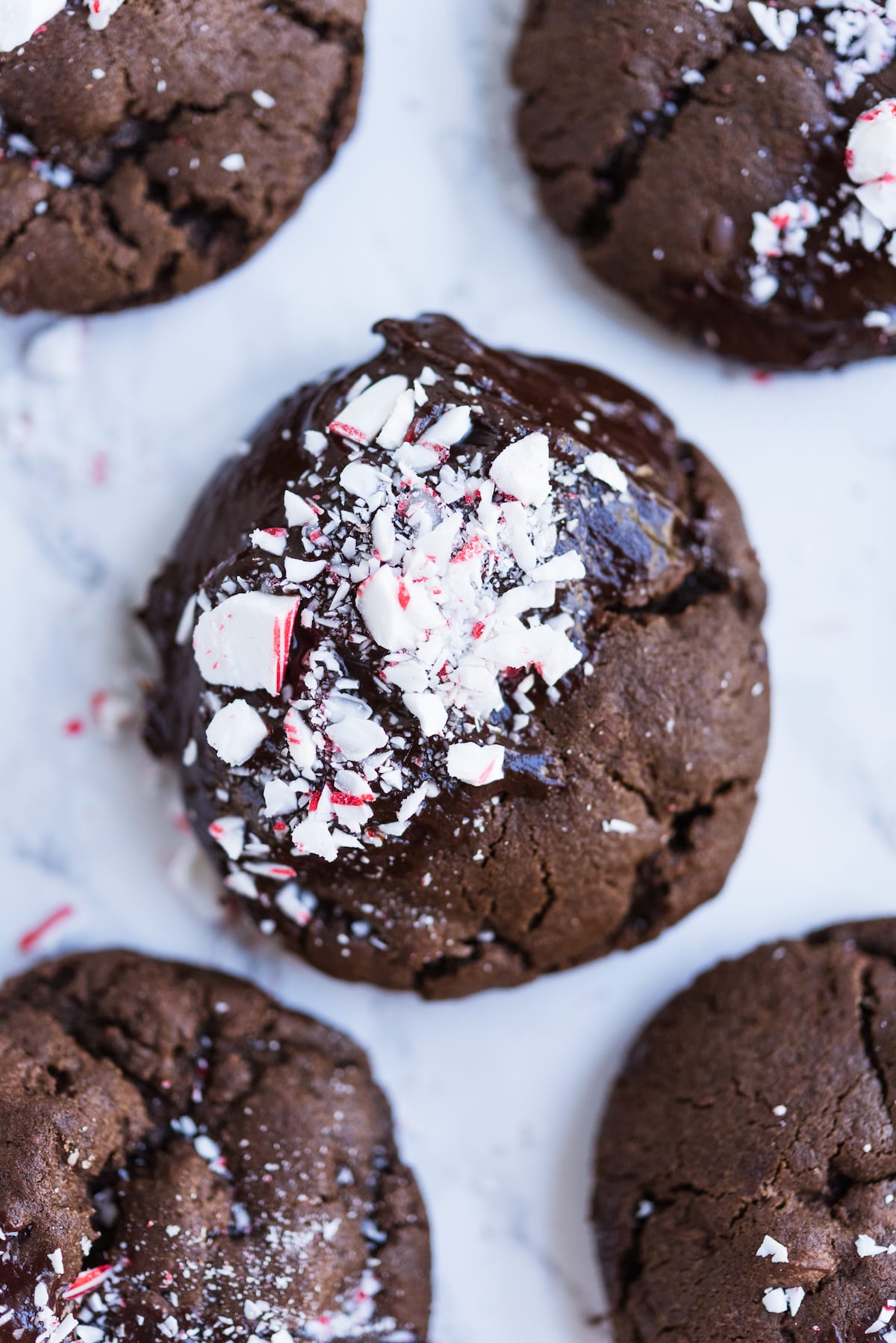 Christmas Cookie Squad Exchange 2018
Latte Joy Espresso Cookies from Julie Blanner
Classic Frosted Cutout Sugar Cookies from Freutcake
Mini Gingerbread Alphabet Cookies from Lovely Indeed
Gingerbread Egg Nog Cookie Sandwiches from Paper & Stitch
Christmas Sprinkle Cookie Cups from Inspired By Charm
Iced Vanilla Bean Sugar Cookies from Pizzazzerie
Chocolate Linzer Cookies from The Effortless Chic
Mac Hack: Decorating Store-bought Macarons For The Holidays from Proper
How to Make Holiday Wreath Meringue Macarons from Sugar & Cloth

Fudge Dipped Double Chocolate Peppermint Cookies
Ingredients
For the Cookies
1 cup unsalted butter, room temperature
1 cup granulated sugar
1 cup packed brown sugar
2 large eggs, room temperature
1 tablespoon pure vanilla extract
1 tablespoon peppermint extract
2 cups all-purpose flour
1-1/2 cups unsweetened natural cocoa powder
2 teaspoons baking soda
¼ teaspoon salt
2 cups mini milk chocolate chips
For the Fudge Ganache
8 oz dark chocolate morsels
1 cup heavy cream
6 large candy canes, crushed
Instructions
For the Cookies
In a large bowl or the bowl of stand mixer fitted with a paddle attachment, cream butter until creamy
Add the granulated sugar and brown sugar and beat until creamy and fluffy
Add in eggs, vanilla and peppermint extracts and beat on high until combine
In a second mixing bowl, whisk together flour, cocoa powder, baking soda and salt
With the mixer on slow, gradually add dry ingredients into the wet ingredients
Add the chocolate chips on high speed, resulting in a thick, slightly sticky dough
Cover dough tightly with aluminum foil or plastic wrap and chill for 3 - 4 hours, or overnight
When ready to bake, preheat oven to 350°
Remove dough from the refrigerator and allow to warm slightly to room temperature, 20 - 30 minutes
Use a cookie scoop to scoop and roll balls of dough, about 1.5" in size
Place on a baking sheet about 2" apart
Bake for 8 - 9 minutes (cookies will be slightly puffy when they're done)
Allow cookies to cool five minutes before dipping in the fudge
For the Fudge Ganache
Place dark chocolate morsels in a heat safe mixing bowl.
Pour heavy cream into a small saucepan and heat over medium heat until hot and just barely boiling.
Carefully remove heavy cream from the stove and pour over chocolate. Let sit for 3 - 4 minutes without stirring.
Whisk together heavy cream and chocolate until silky and smooth.
Add brandy or liqueur (if using) and whisk again until combined well.
Use right away or refrigerate. Ganache will thicken as it cools to room temperature.
To Assemble
Dip cooled cookies in fudge ganache
Sprinkle crushed candy canes over the ganache
Refrigerate for 5 - 10 minutes to help ganache set
[Art direction by Cyd Converse | Photos by Alice G. Patterson.]