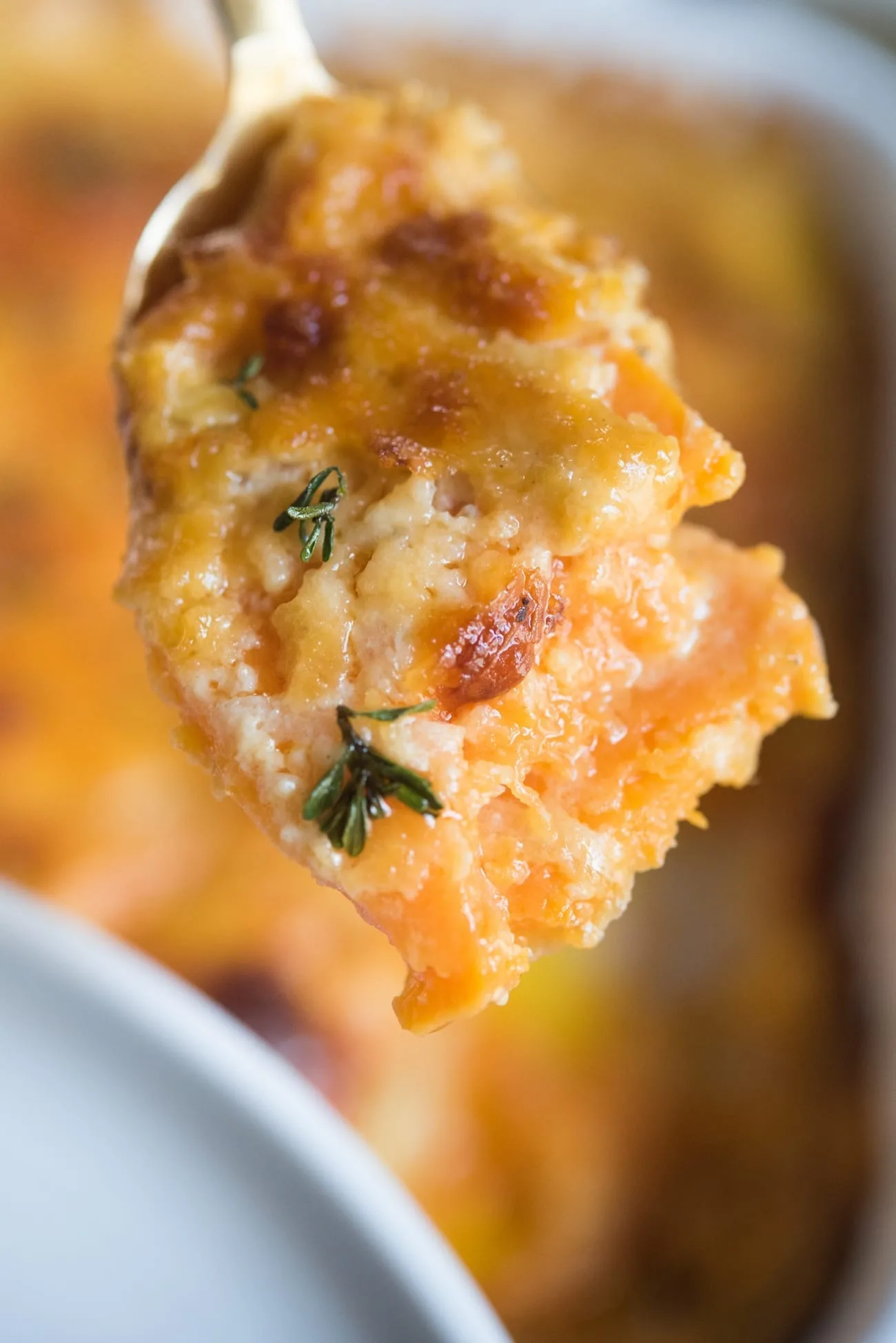 As a vegetarian I tend to love Thanksgiving sides best of all. Have you tried my vegetarian stuffing yet?! It's insanely good. But these? These scalloped sweet potatoes are epic. They're creamy and the right blend of salty and sweet from the mix of cheeses and sweet potatoes. Best part is, you can prep them the night before and just pop them into the oven when it's time.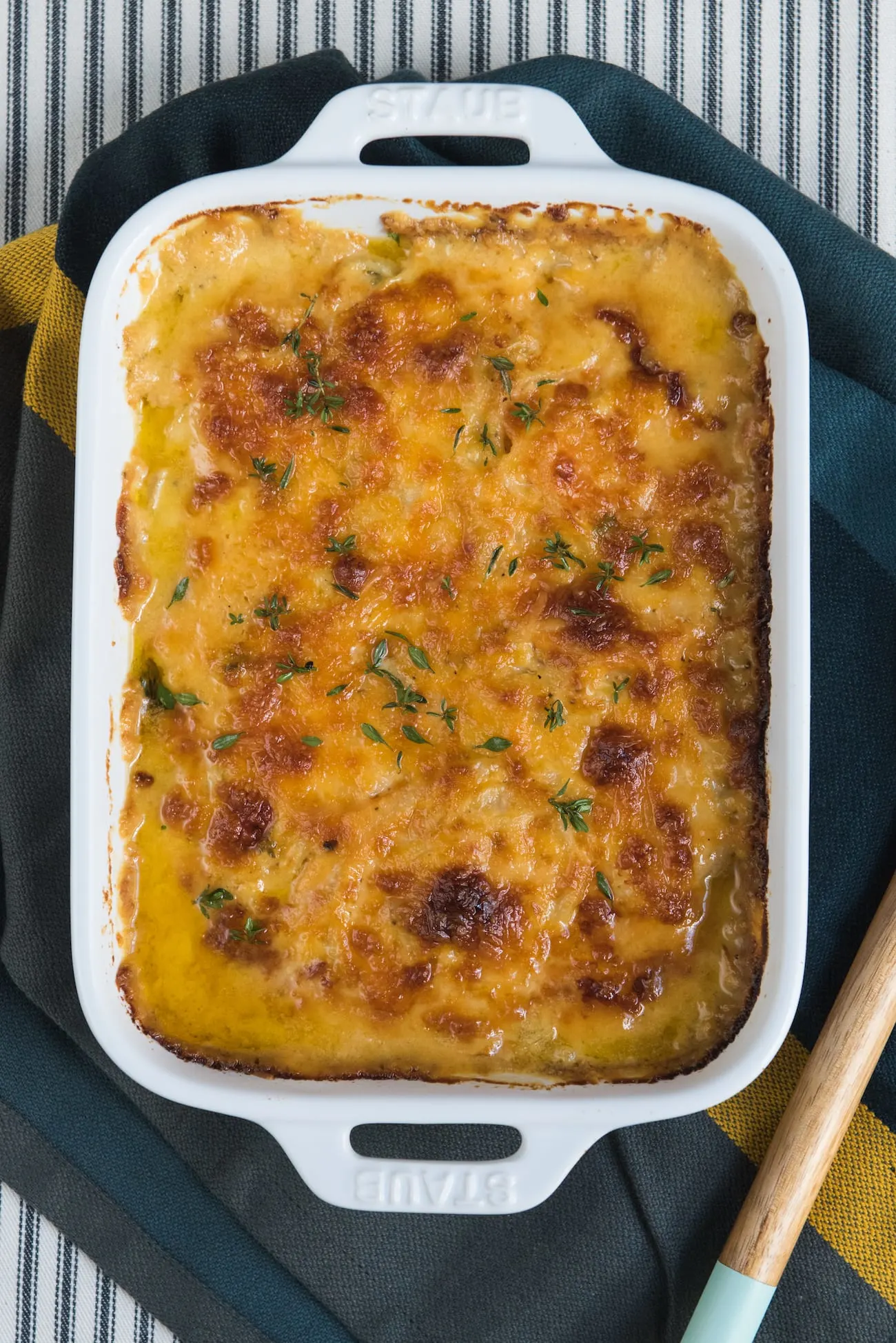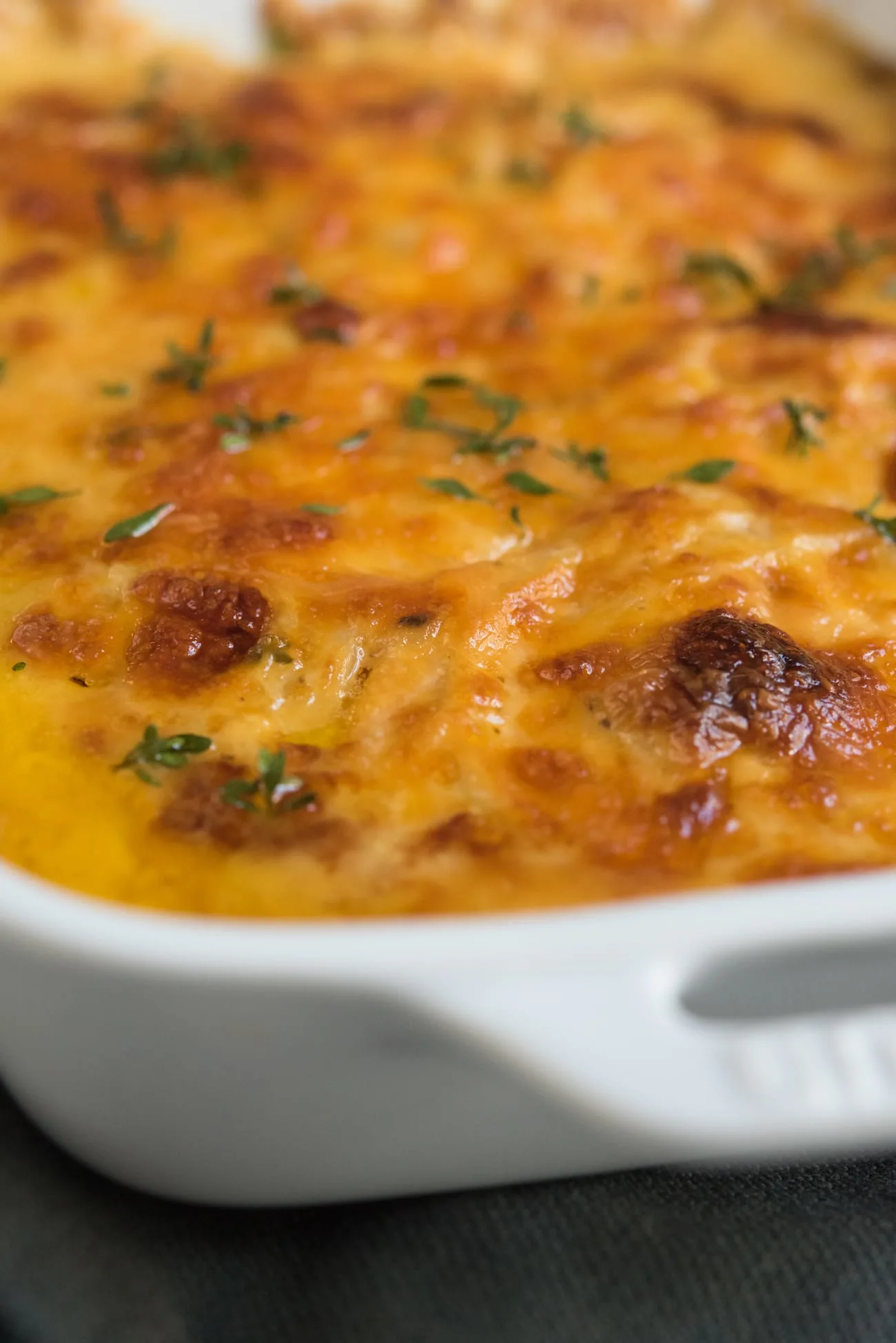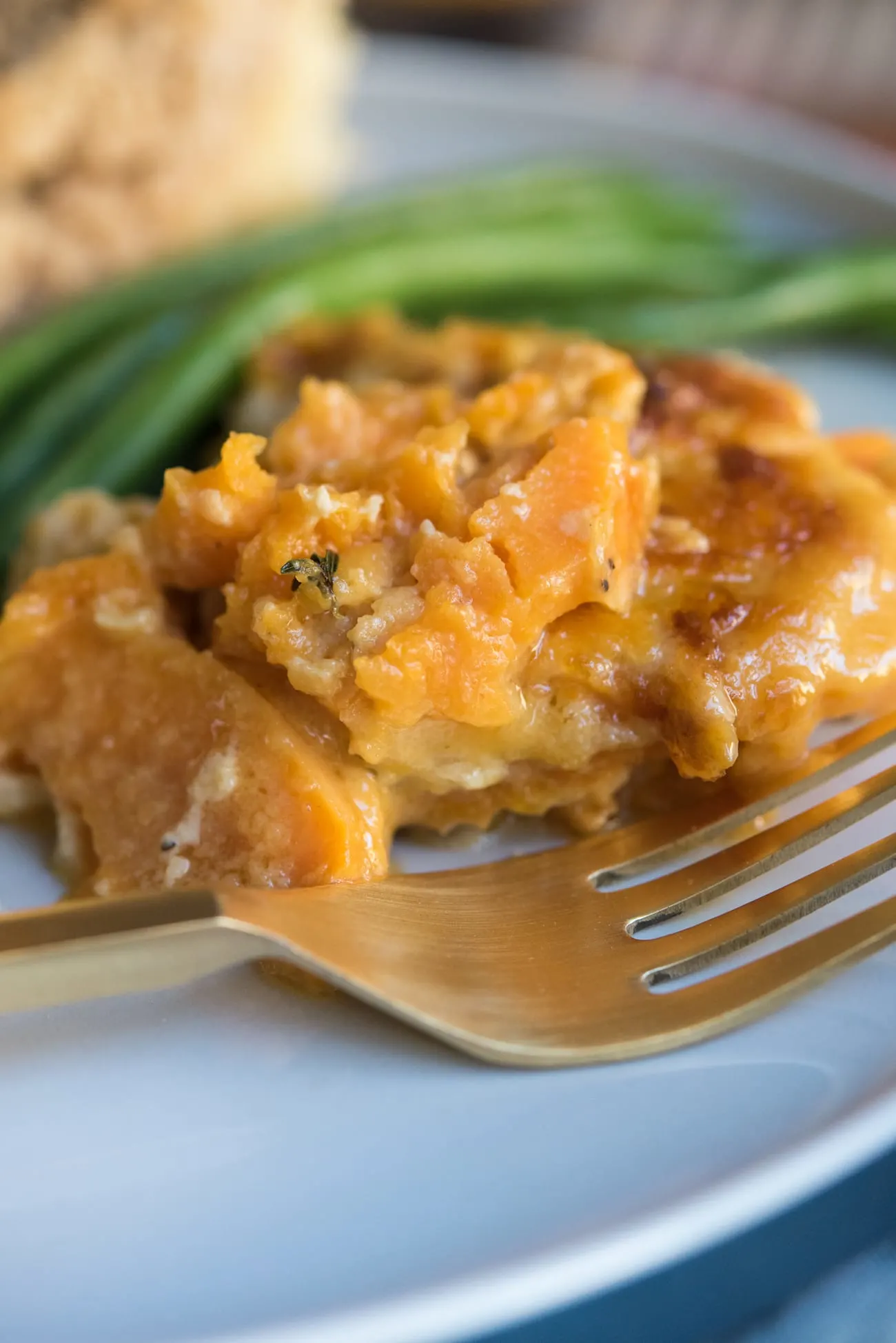 Being fully aware of just how good they are, seeing the photos of these potatoes again is almost making me drool. Once I nailed the recipe on these I made about three more batches over the course of the next week, because I kept craving them. Oops! If you're wondering, why yes. Yes they do make the most amazing breakfast potatoes, too.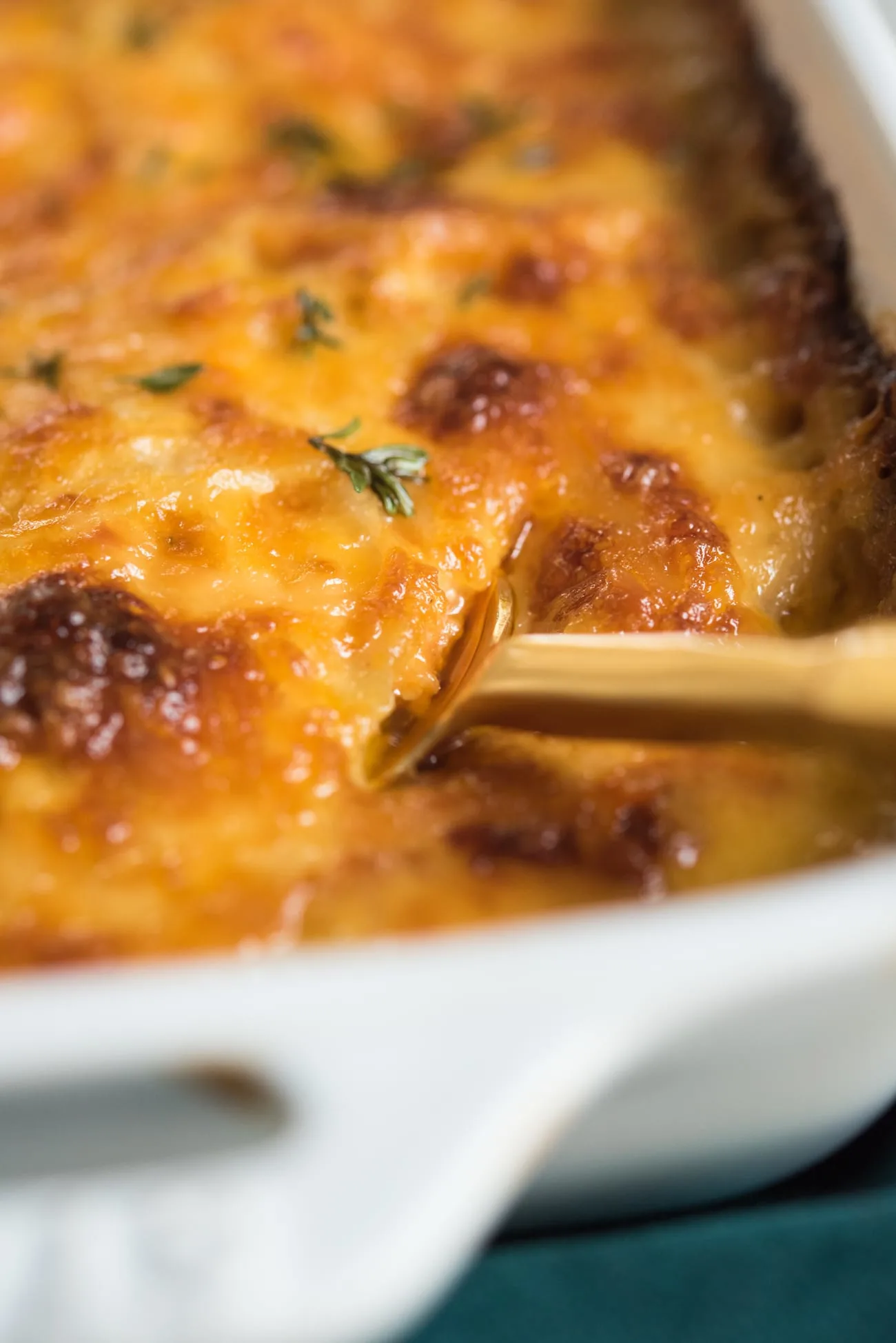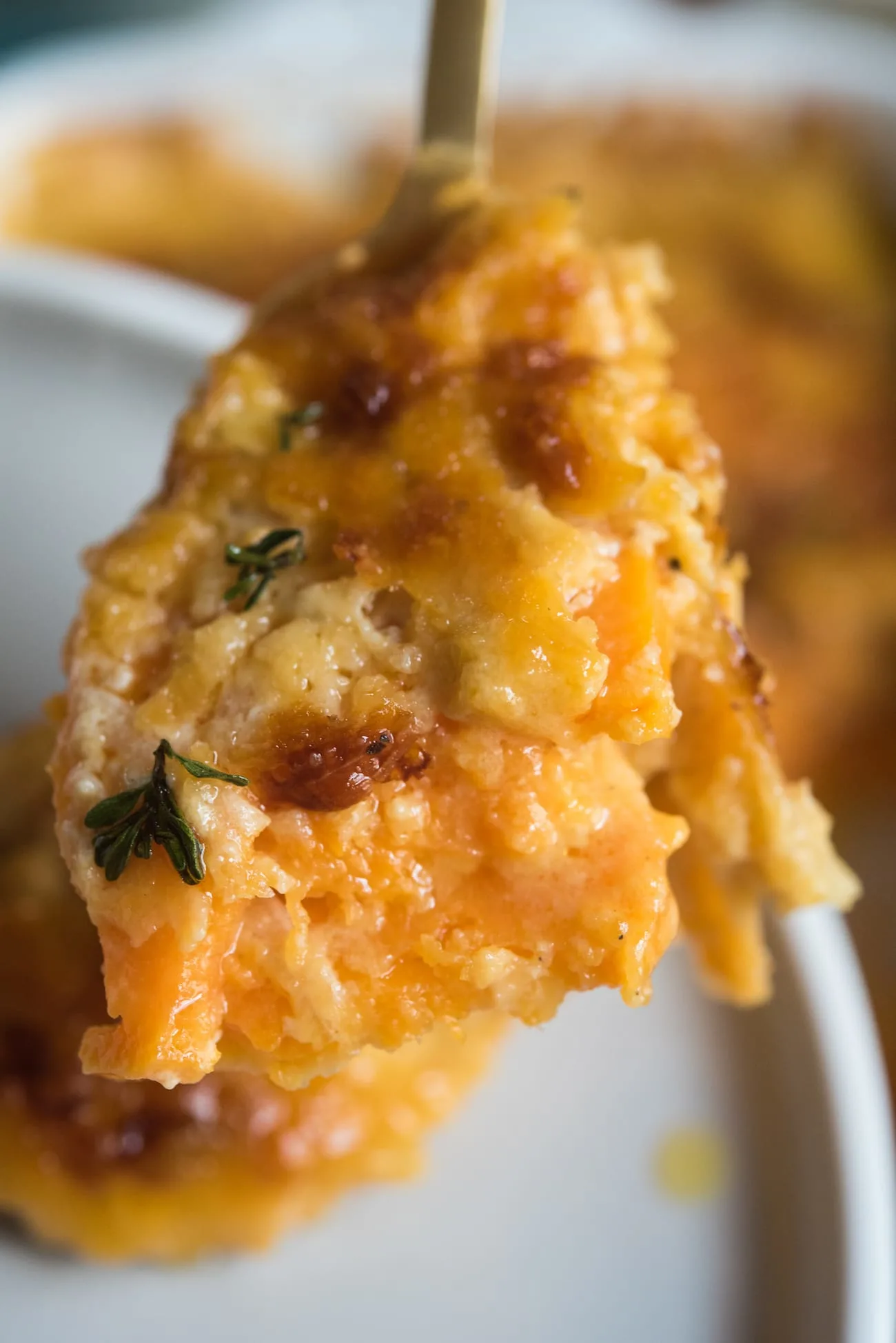 If you want to prep these the night before, refrigerate them and then put them in a cold oven and bring them to temperature versus putting the cold dish into a preheated oven. While not likely, sometimes when you put a cold dish into a hot oven it can cause a dish to burst, so allowing it to warm slowly along with the oven takes that out of the equation. I'll be making a double or triple batch of these myself come Wednesday!
Scalloped Sweet Potatoes
Ingredients
4 medium sweet potatoes, peeled and sliced into ⅛-inch rounds
3 tablespoons butter
1 small onion, thinly sliced
4 garlic cloves, minced
3 teaspoons fresh thyme leaves
½ cup shredded American cheese
½ cup shredded Swiss cheese
½ cup shredded extra sharp cheddar
½ cup heavy cream
½ cup whole milk
Salt and pepper
Instructions
Preheat oven to 400°
Melt butter in a large skillet over medium-high heat.
Add onion and sauté until translucent.
Add garlic and sauté for 1 - 2 minutes
Slowly whisk in heavy cream, milk, salt, pepper, and 2 teaspoons of thymeContinue cooking for an Simmer until slightly thickened, about five minutes
In the meantime, lightly grease a 9x13-inch baking pan and toss cheeses in a small mixing bowls to combine
To assemble, spread half of the sliced sweet potatoes in an even layer on the bottom of the pan.
Top with half of the onion cream mixture, then half of the cheese mixture
Repeat by topping evenly with the remaining potatoes, then the second half of the onion cream mixture and the rest of the cheese mixture
Cover with aluminum foil and bake for 20 minutes
Uncover and continue baking uncovered for around 30 minutes, until bubbly and the sweet potatoes are fork tender
Garnish with remaining thyme before serving
[Art direction + recipe by Cyd Converse | Photos by Alice G. Patterson.]