These chewy oatmeal chocolate chip cookies are one of my favorite cookie recipes of all time! I've been making these cookies for over 15 years and have totally perfected this oatmeal chocolate chip cookie recipe. You will love them!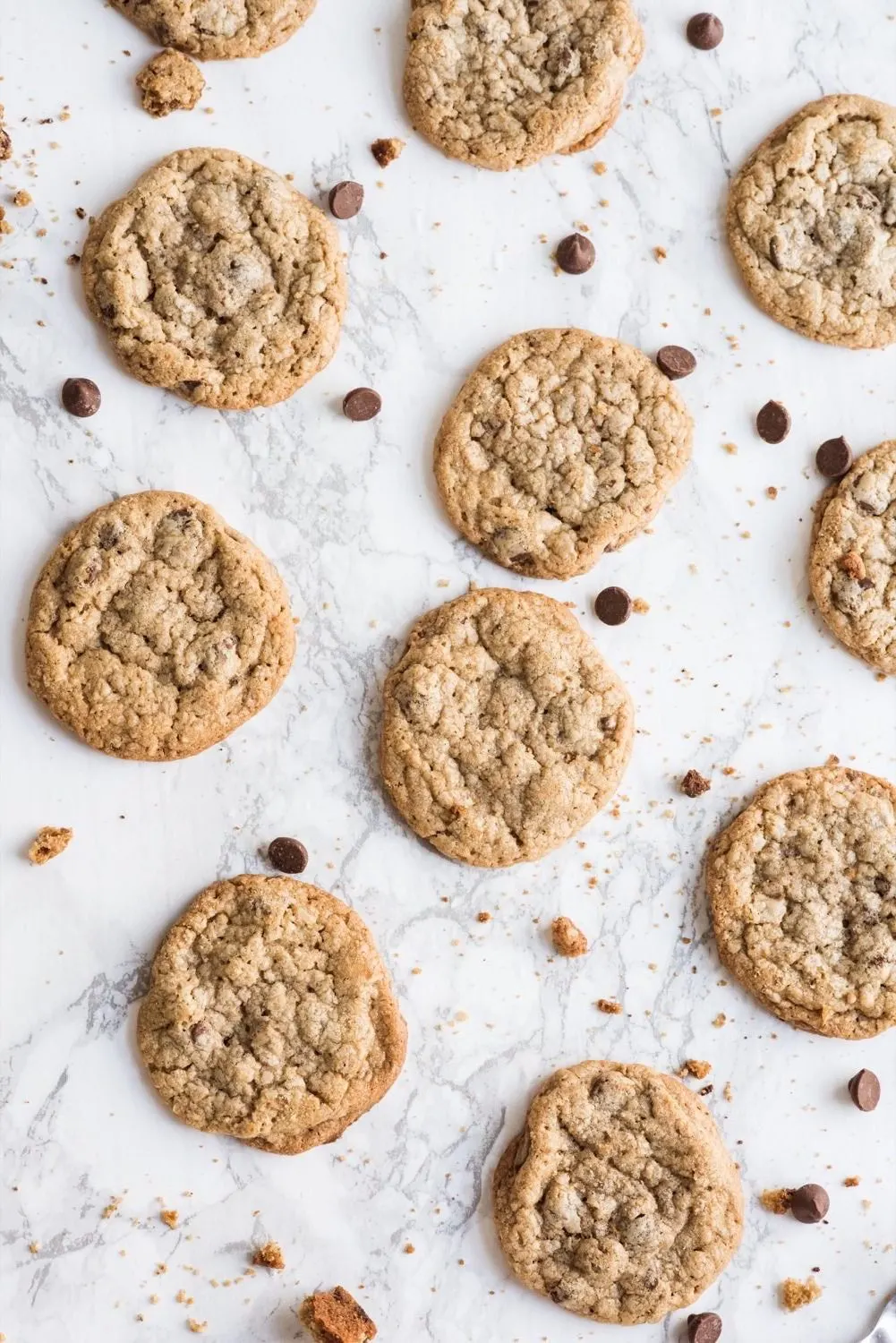 This oatmeal chocolate chip cookie recipe and I go way back. To my cold, drafty college apartment and one of the very first runs of the KitchenAid stand mixer my stepmother had gifted me for Christmas. (The one that still sits on my kitchen counter to this day!) But there is good reason I've been making these chewy oatmeal chocolate chip cookies all these years – they are crazy delicious!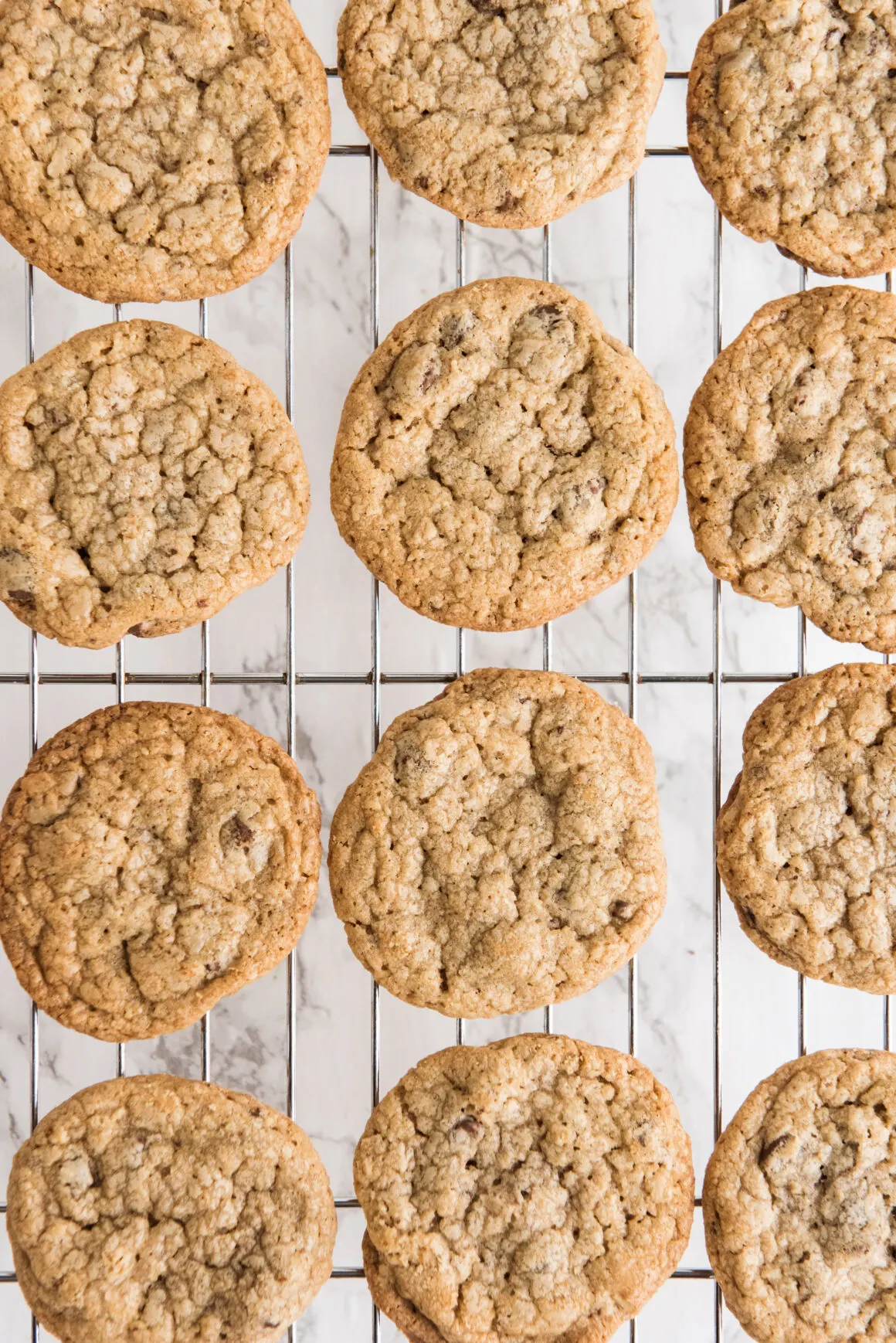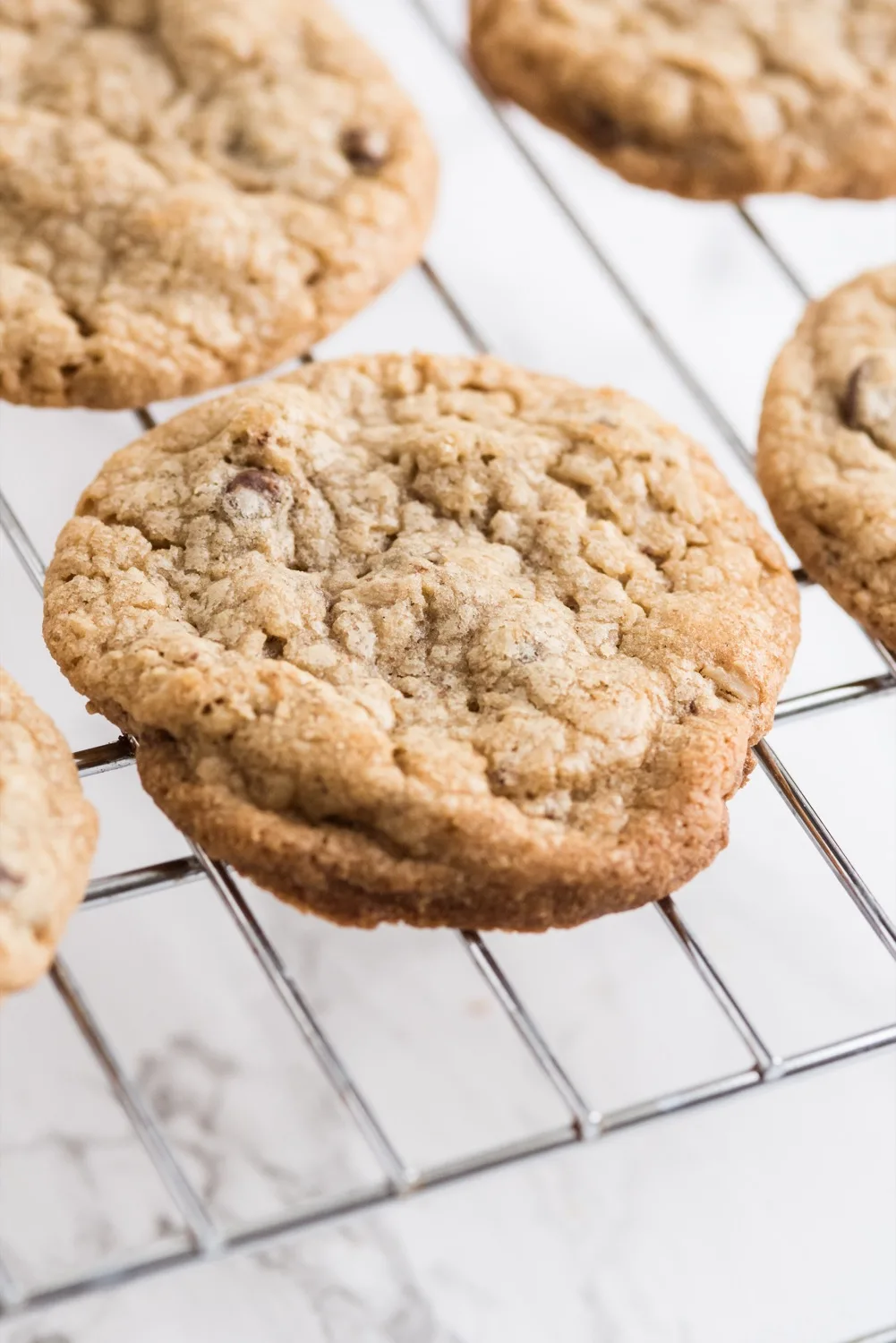 Humbly yet boldly I make the assertion that these are the best oatmeal chocolate chip cookies you will ever eat. I have played and tweaked with this recipe until it's damn near utter perfection. These cookies are every so slightly crispy around the edges and chewy in the center, an incredible texture that comes from the addition of the oats.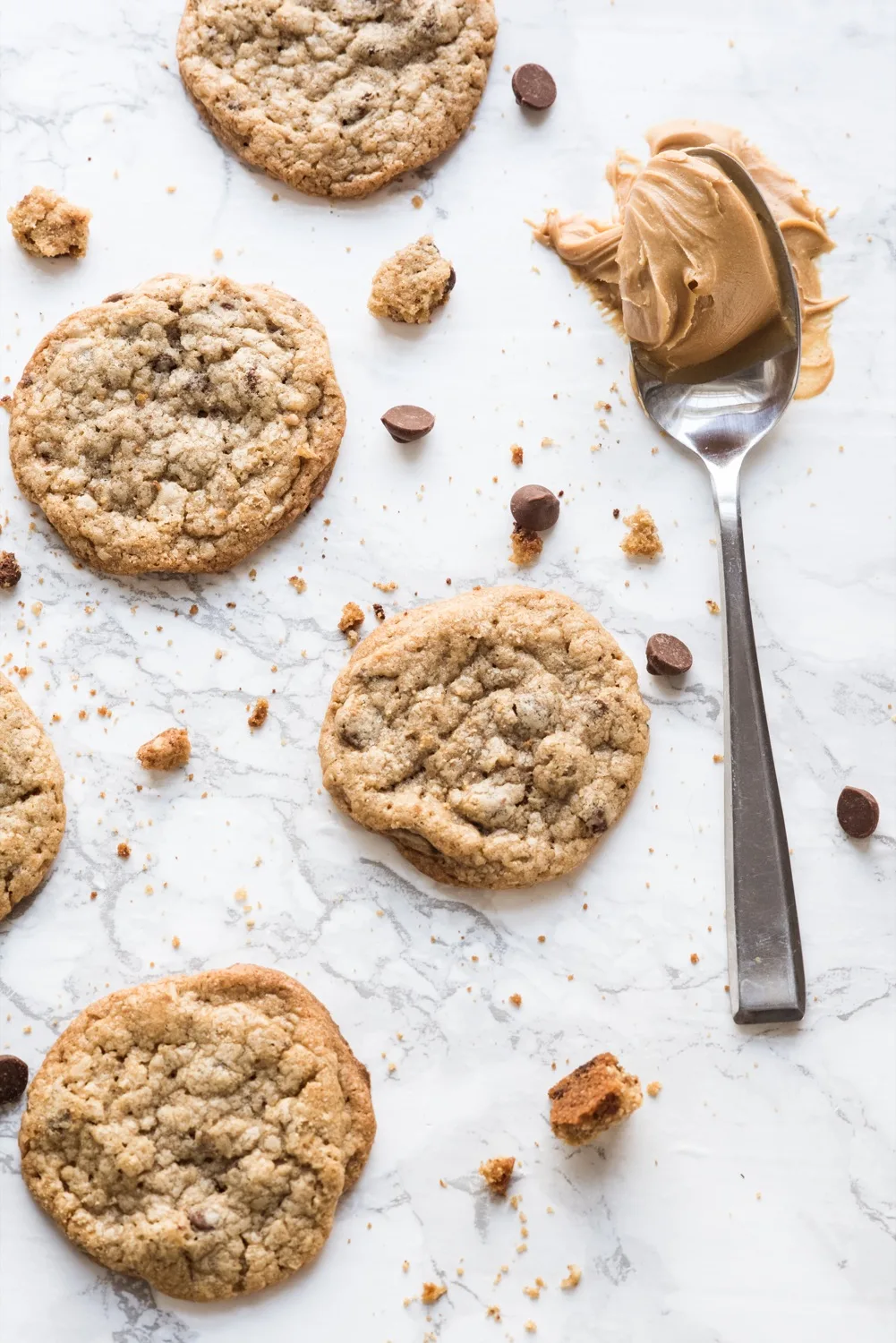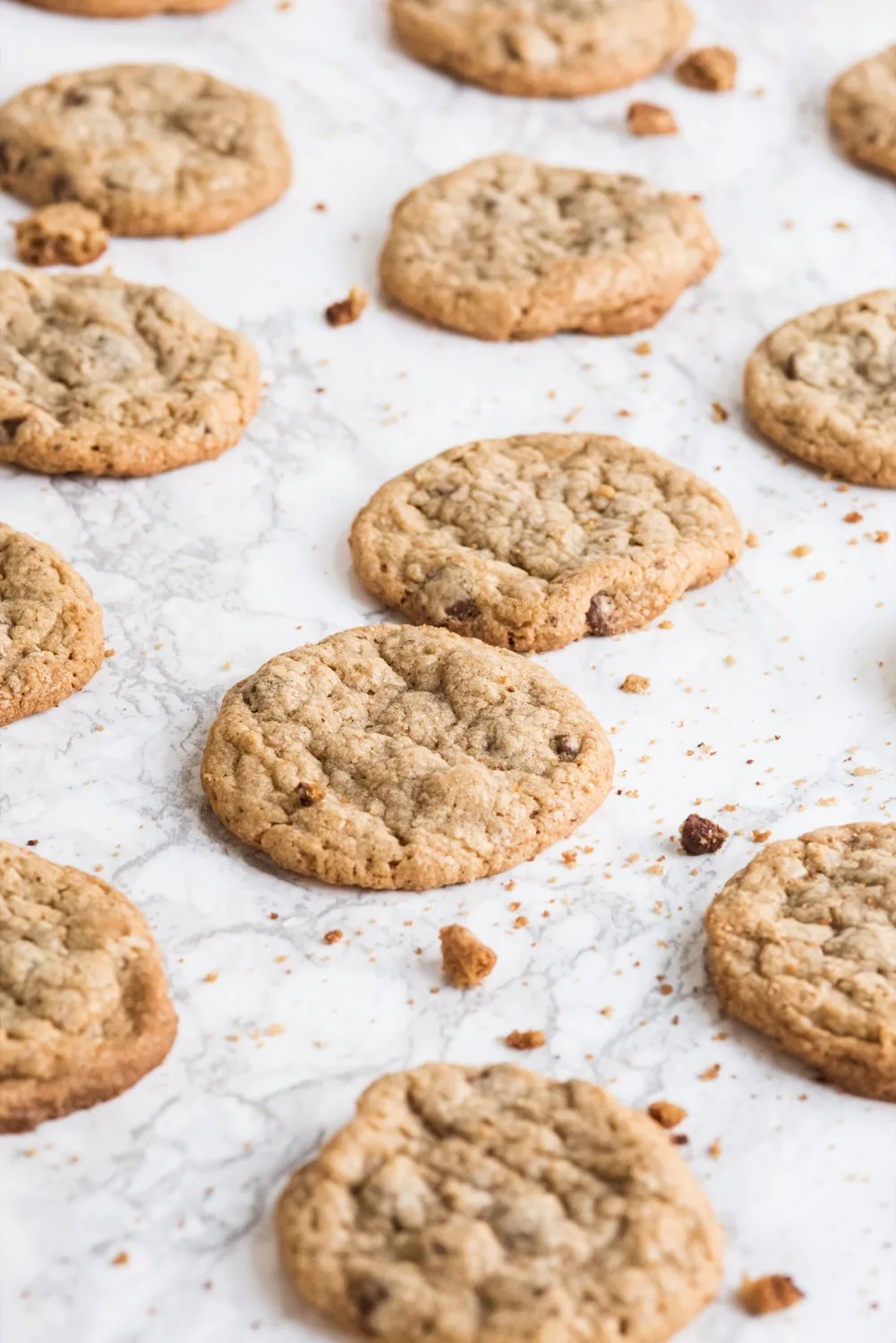 I make these oatmeal chocolate chip cookies with a hint of peanut butter, but it is easily skipped if you are being mindful of a peanut allergy or just don't have any handy. The key is to not add so much that the peanut butter overwhelms things, but rather just enhances the other flavors. Just talking about them makes me want to bake another batch!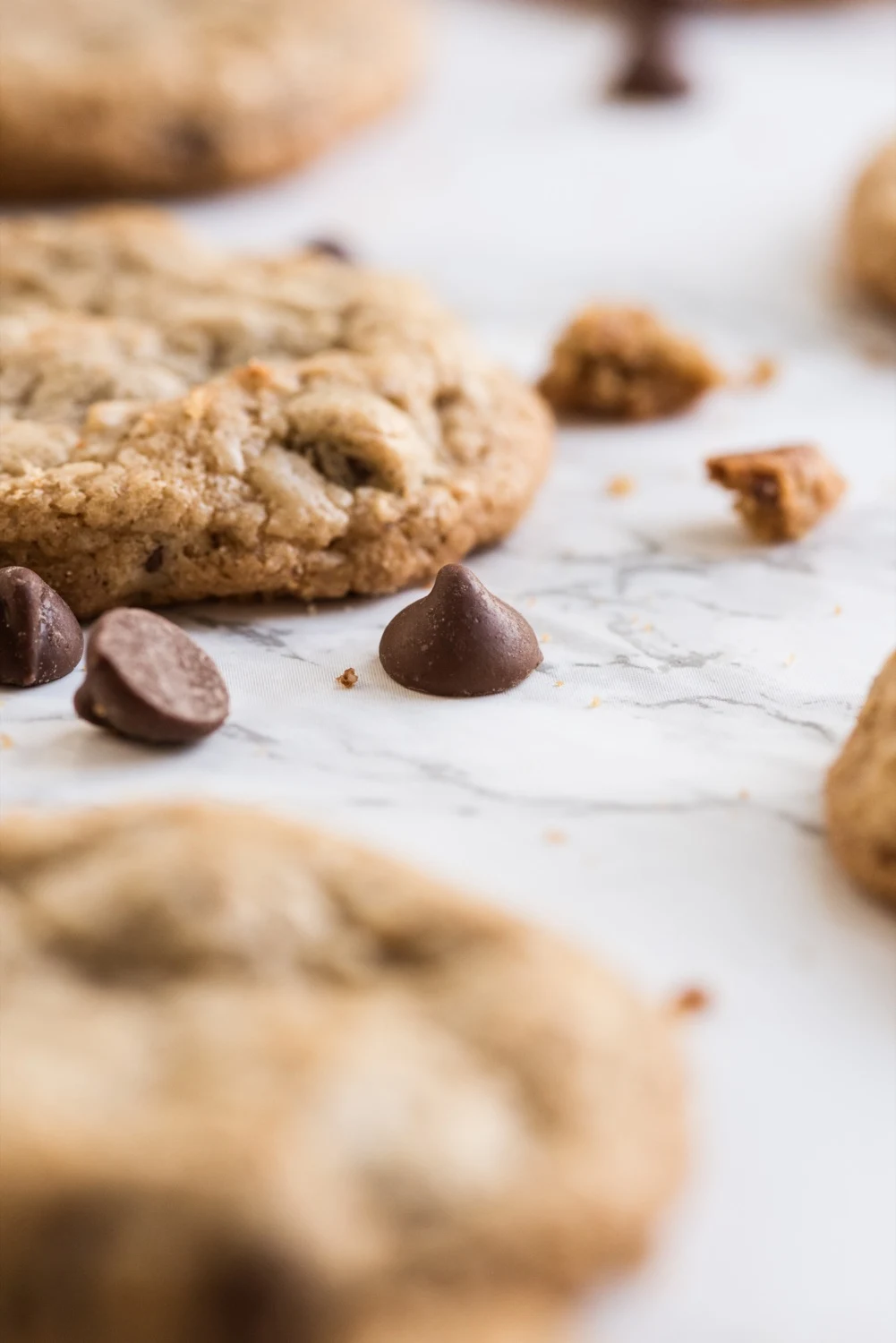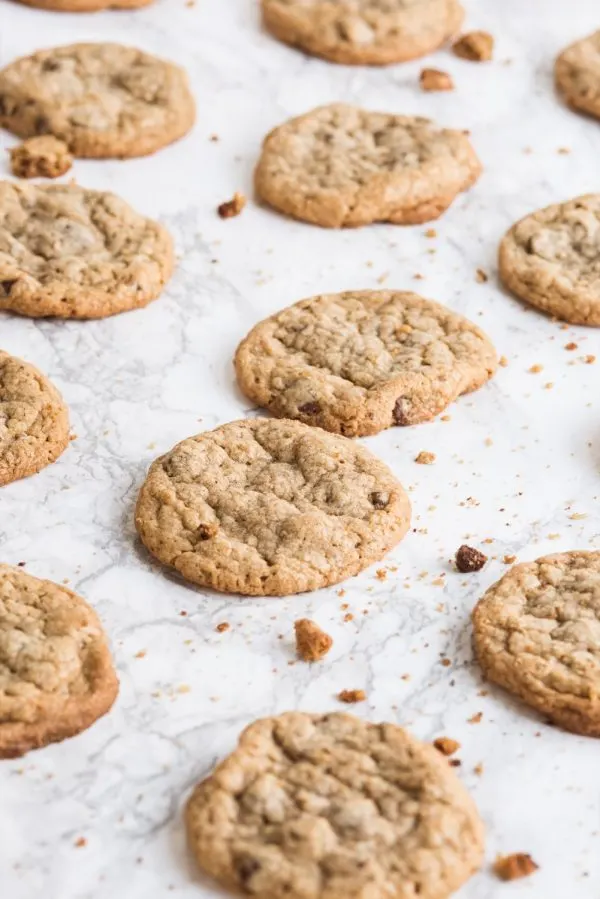 Ingredients for Chewy Oatmeal Chocolate Chip Cookies:
Flour – All purpose flour
Baking soda – Make sure to measure precisely
Butter – Softened or beaten until soft
Eggs – I always use large eggs when baking
Brown sugar – I prefer light brown sugar for cookies, but either light or dark will work
White sugar – Basic granulated white sugar
Vanilla – A good quality vanilla is always a great idea
Oats – Rolled or quick oats will both work, but I prefer rolled
Chocolate chips – I like semi sweet in this recipe, but use the chocolate you like best
Peanut butter – The peanut butter is optional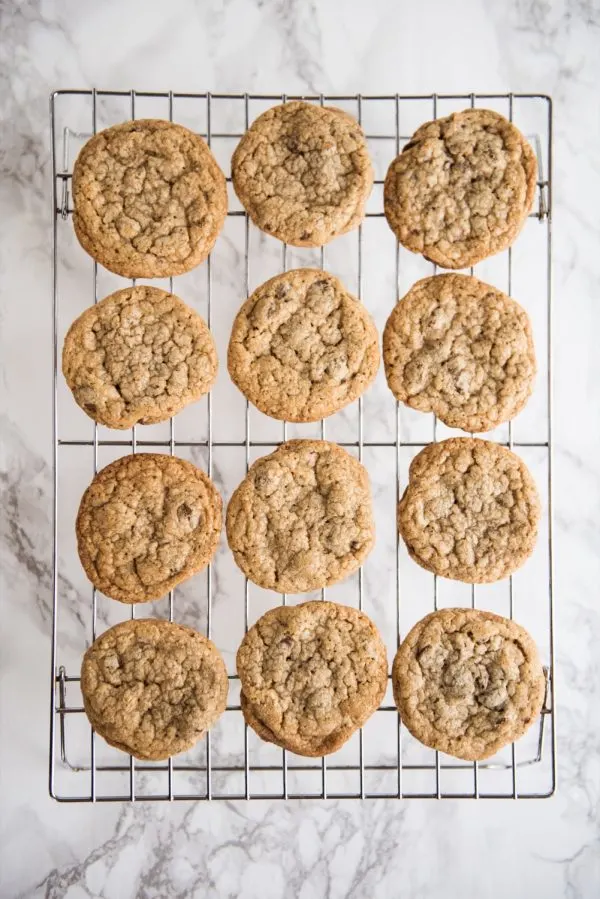 These are both a very simple cookie, perfect for baking on a Saturday afternoon just because, and a serious crowd pleaser worthy of baking for parties or bringing to a friend who's had an especially crappy week. These are your everyday cookies and your special occasion cookies. These are your celebration cookies and your "ugh, he's such a jerk" cookies. You're going to love them and so is everyone you know. Cross my heart.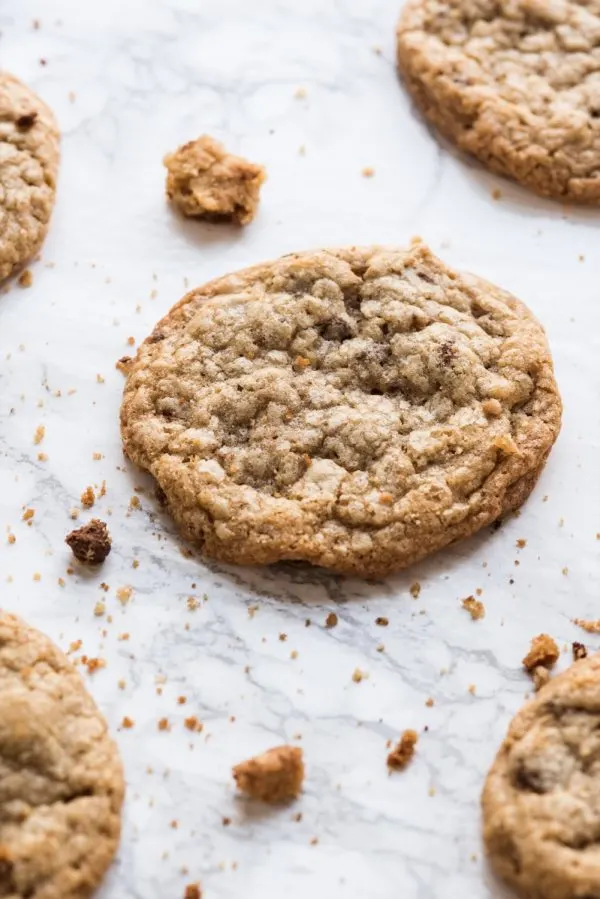 How to Make Chewy Oatmeal Chocolate Chip Cookies
Cream together the butter, eggs and vanilla. This recipe works best with softened butter (meaning butter a room temperature), but if you didn't think to take the butter out of the fridge in time you can simply put it into the bowl of your stand mixer and beat it until smooth before creaming with the eggs and sugar.
Combine the flour and baking soda in a separate mixing bowl. I like to quickly mix them with a whisk to help combine them before adding to the wet ingredients.
Add the dry ingredients into the wet ingredients a bit at a time until combined. The dough will be very stiff!
Mix in the oats until just mixed into the dough, then add the chocolate chips and peanut butter and combine.
Scoop onto a cookie sheet in evenly sized scoops, then use two fingers to smoosh the scoop down into a bit of a puck shape (see the video above)
Bake until the edges are slightly golden and the centers look slightly puffed up.
Place on a baking rack to cool before enjoying!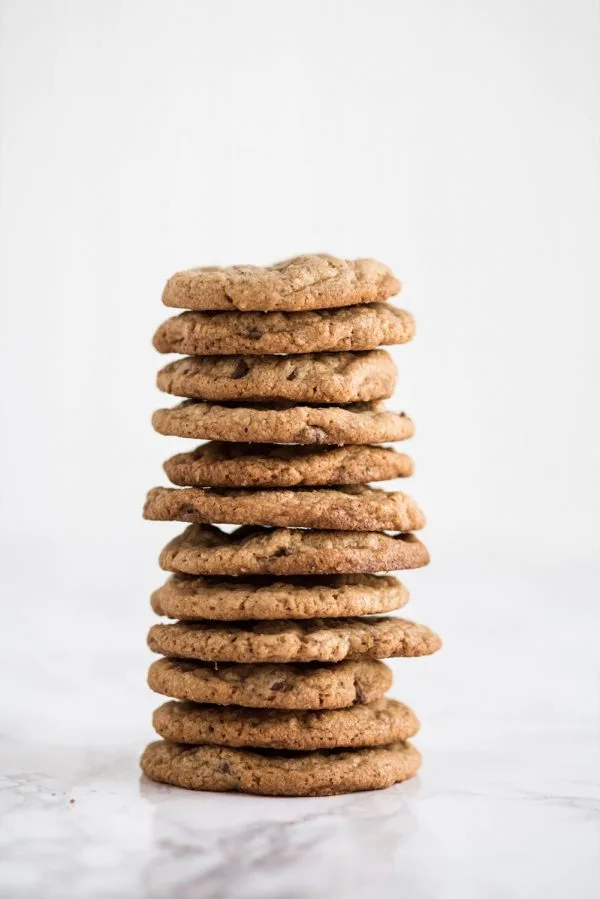 Can You Freeze Oatmeal Chocolate Chip Cookies?
Yup! You sure can. This cookie freezes very well when placed in the freezer in an airtight packaging. The last even longer in the freezer when vacuum sealed! To thaw them I simple pull out the number I want and allow them to come to room temperature on the counter after removing the packaging so they don't get moist from condensation while thawing out.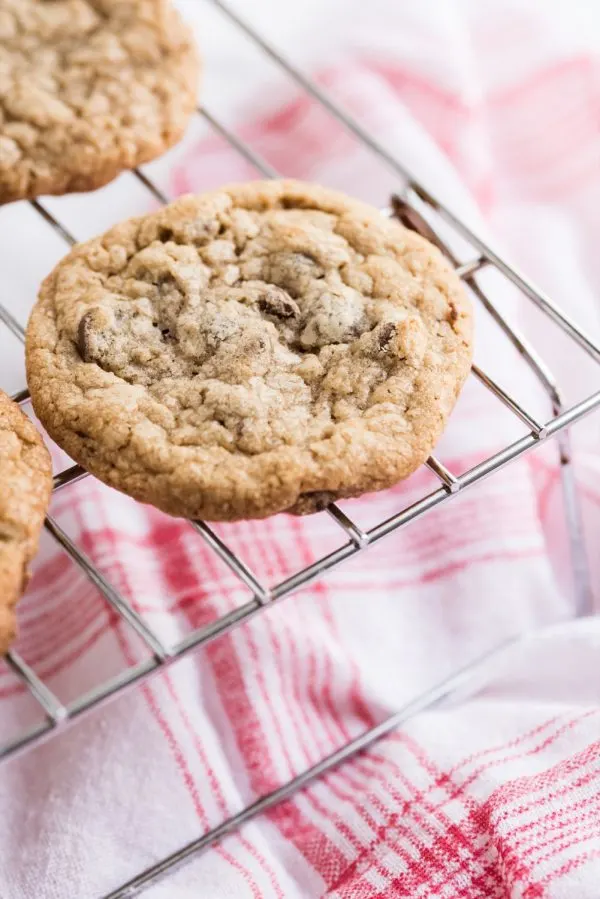 More of the Best Chocolate Chip Cookie Recipes: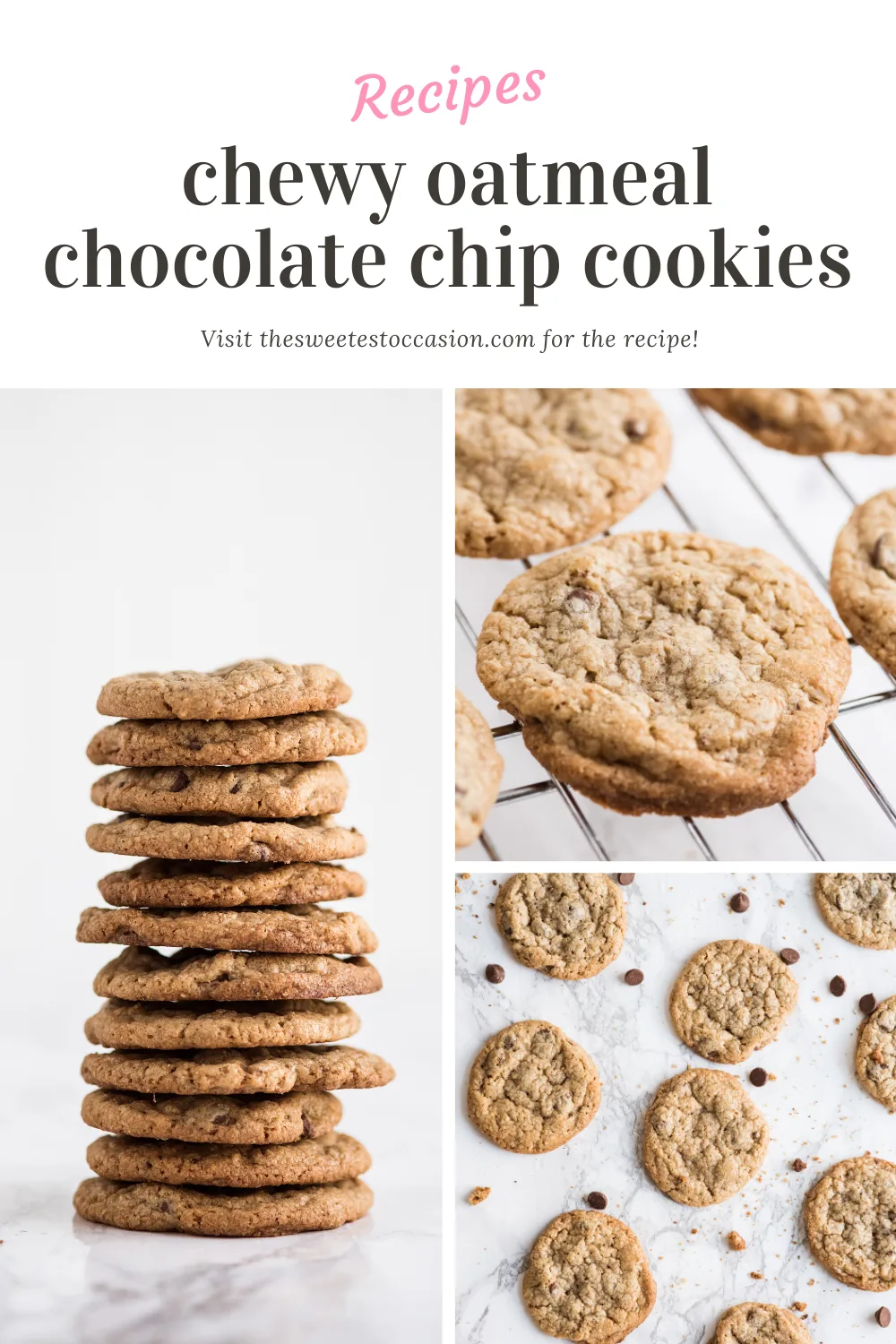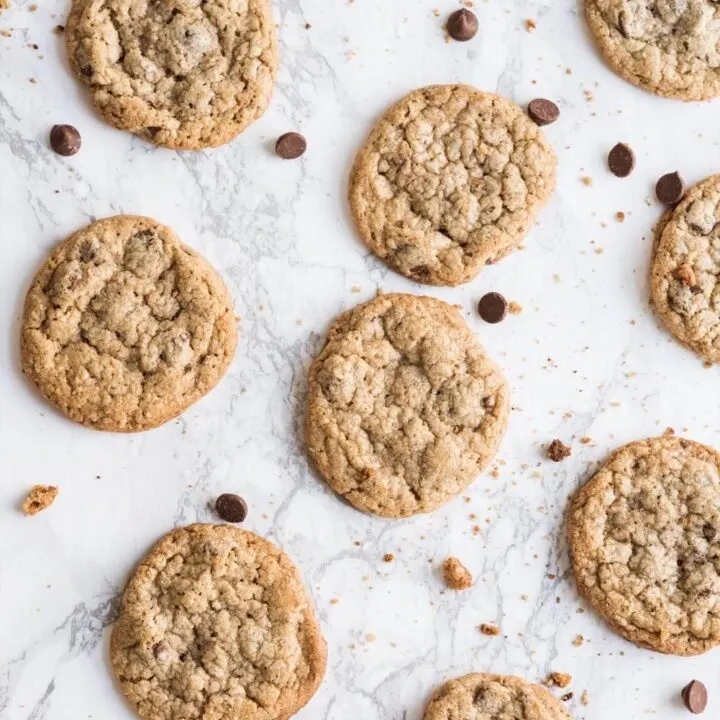 Chewy Oatmeal Chocolate Chip Cookies
Yield: 36 cookies

Prep Time: 15 minutes

Cook Time: 12 minutes

Total Time: 27 minutes

These chewy oatmeal chocolate chip cookies are slightly crispy around the edges, but soft and chewy making them the best oatmeal chocolate chip cookies you'll ever have!
Ingredients
2 cups of all purpose flour
1-1/4 cups packed brown sugar
1 cup white sugar
2 large eggs
1 cup butter, softened
2 teaspoon vanilla
1 teaspoon baking soda
2 cups oats (rolled or quick oats)
2 cups chocolate chips
2 tablespoon peanut butter (optional)
Instructions
Preheat oven to 350° then sift together flour and baking soda.
In a separate bowl or the bowl of a stand mixer, cream together butter, eggs, sugars, and vanilla.
Combine dry ingredients and wet ingredients by adding the flour mixture to the sugar and butter mixture a bit at a time. The dough will be very stiff.
Add oats until well combined, then add chocolate chips and peanut butter.
Drop onto an ungreased baking sheet. For best results, use a cookie scoop to measure an equal amount for each cookie, and form the dough into slightly flattened puck-like shapes on the tray before placing in the oven.
Bake for 9 – 12 minutes or until golden around the edges.
Allow to cool slightly, then remove to a baking rack to continue cooling.
Notes
While many chocolate chip cookies are best eaten warm, these chewy oatmeal chocolate chip cookies have an even more incredible texture when enjoyed at room temperature!

[Recipe + styling by Cyd Converse | Photos by Alice G. Patterson.]