This easy homemade playdough recipe is super simple to make and uses very basic household ingredients like flour and salt. This awesome DIY playdough recipe also allows you to make whatever color you want without staining your hands!
Our little Em is an OG playdough fan. Well, as OG as you can be at four years old, right?
We first made homemade playdough a couple of years ago because this kid can sit for hours on end rolling and building until her imagination is exhausted.
Here we're sharing our favorite easy homemade playdough recipe – it's so simple to make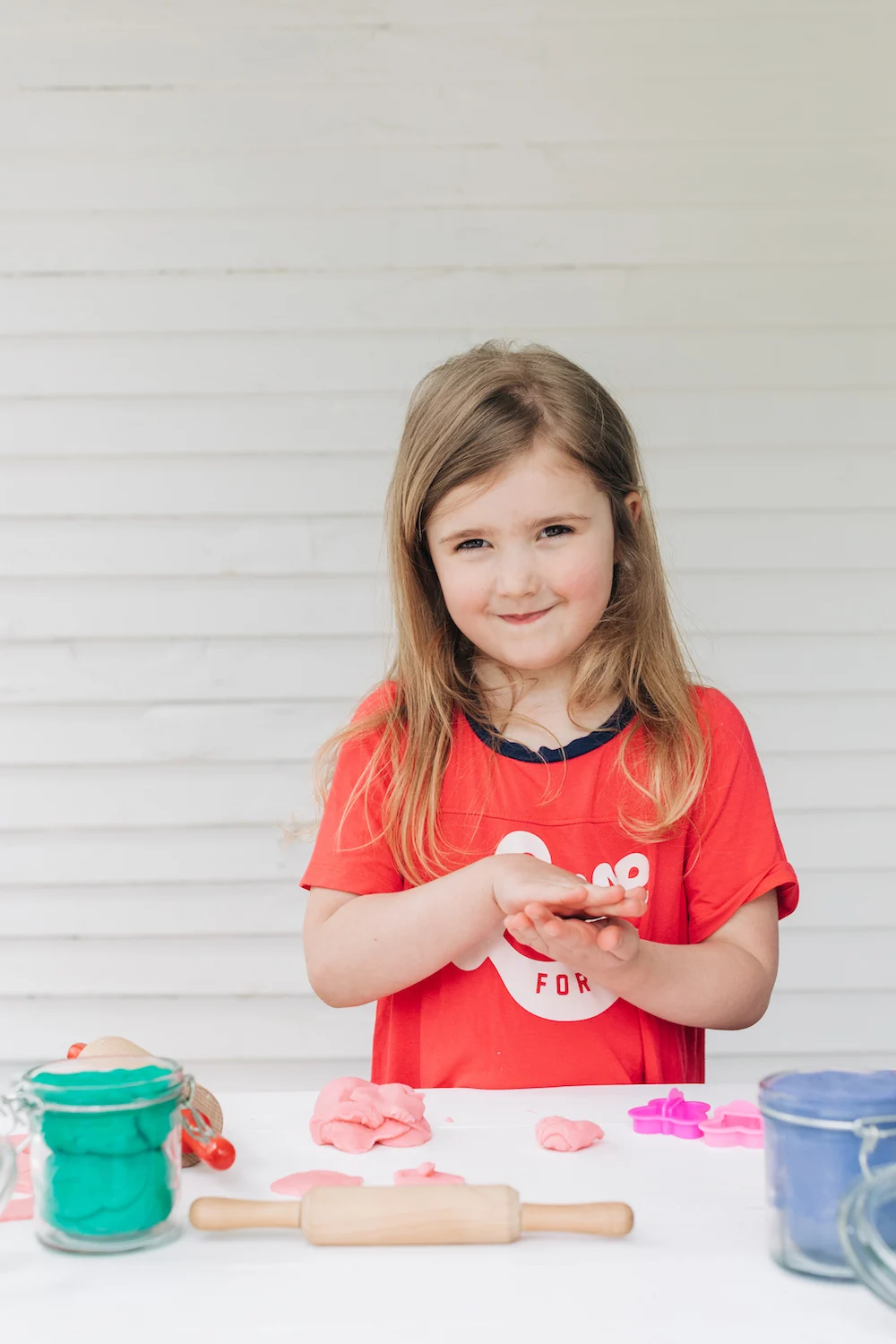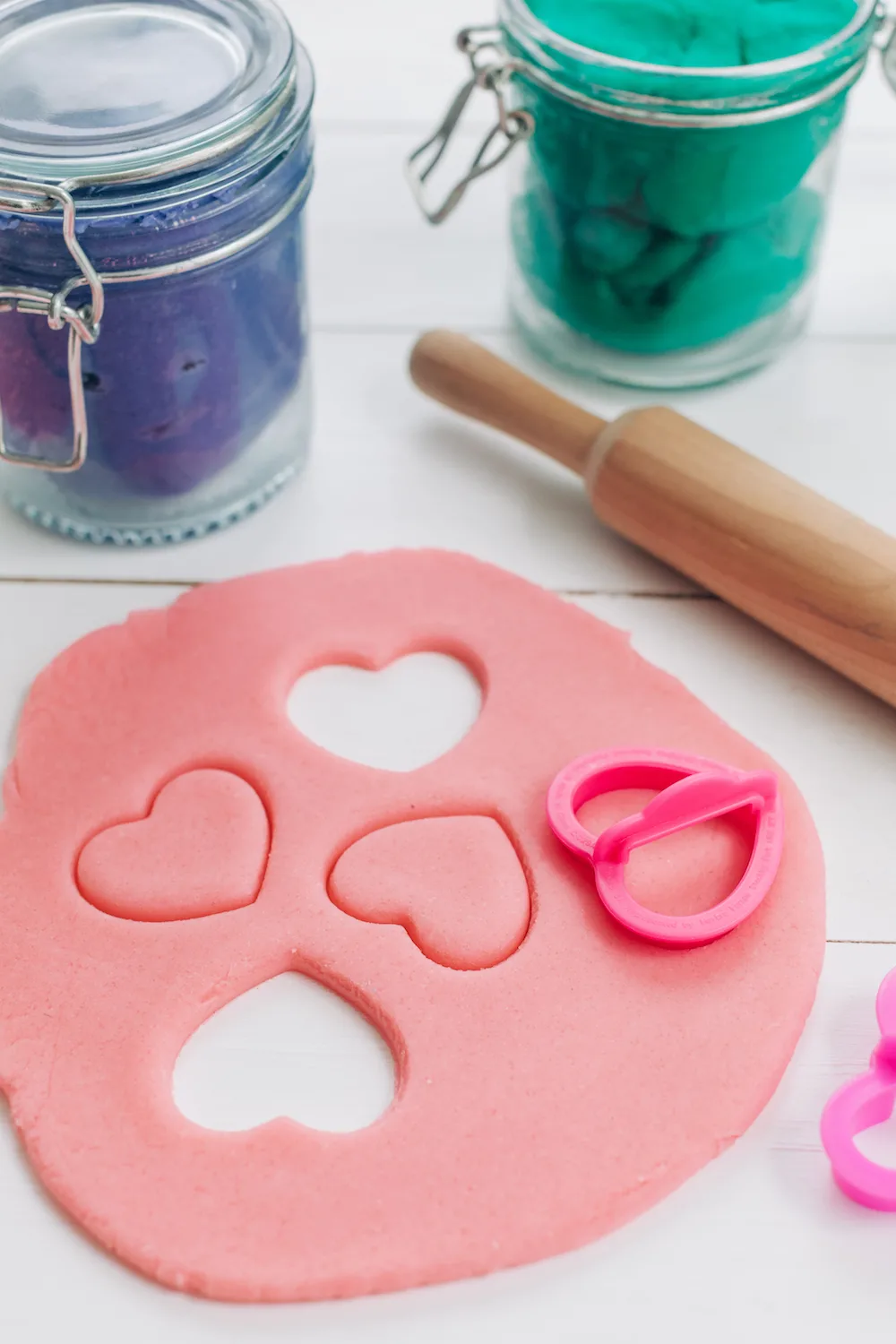 Easy Homemade Playdough
There are a lot of different methods for making homemade playdough, and all the ones we've tried pretty much result in a totally legit playdough. That said, with all of our experimenting we've landed on this one as our favorite for a couple of reasons.
Em likes that it is "so soft and smooth," and she's spot on. The texture of this playdough is amazing.

I love that this method allows you to make any color playdough you'd like without staining your hands! In this method you add the food coloring to the water, versus into the completed playdough so it all gets mixed in before you get to the kneading part – I share more on that below.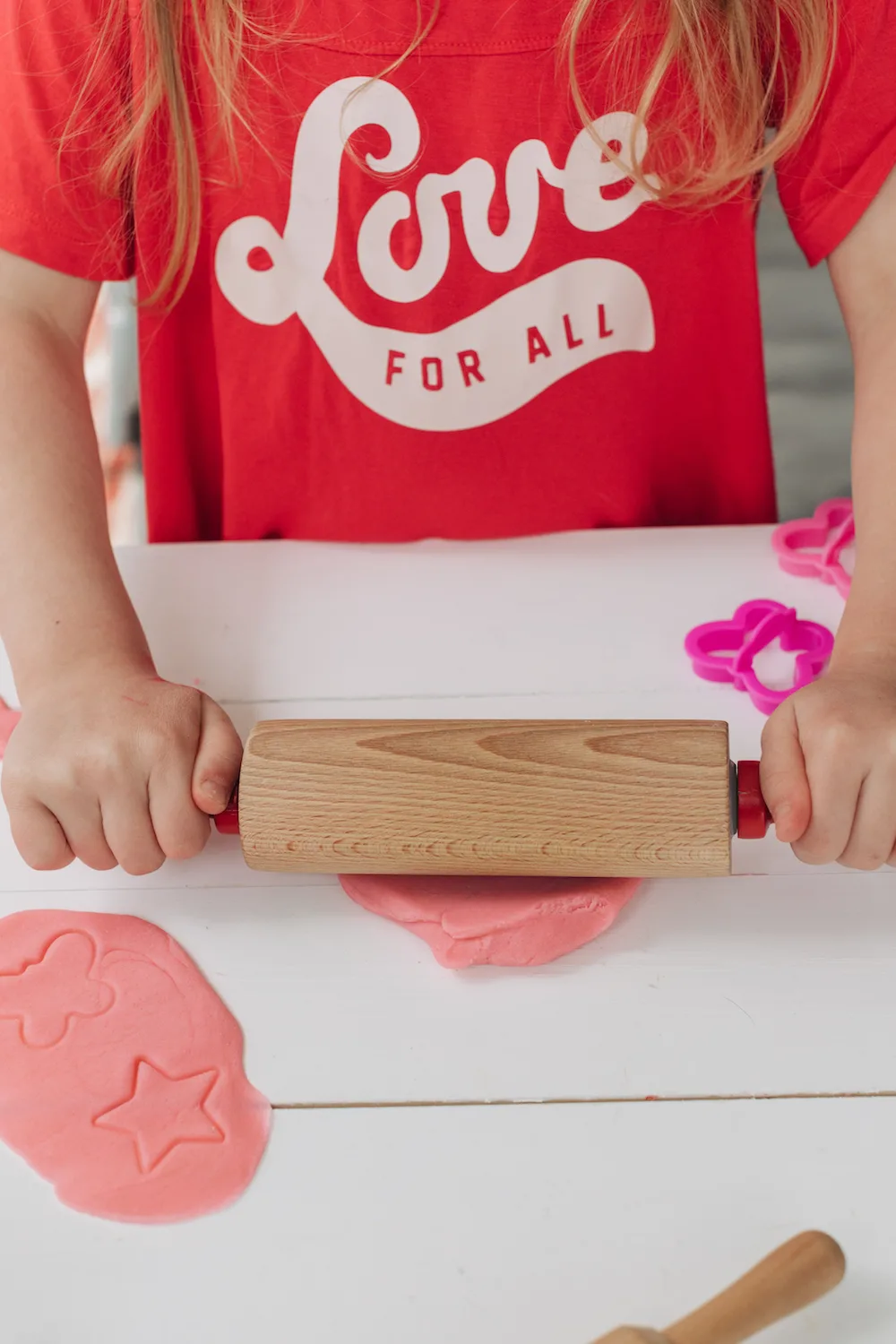 Homemade Playdough Ingredients:
Flour – all purpose flour, no need to sift
Salt – Basic table salt works great
Cream of tartar – I keep cream of tartar on hand for lots of different crafts and recipes
Vegetable oil – Any kind of veggie or canola oil
Water – Tap water at room temperature
Food coloring – Whatever colors you'd like to use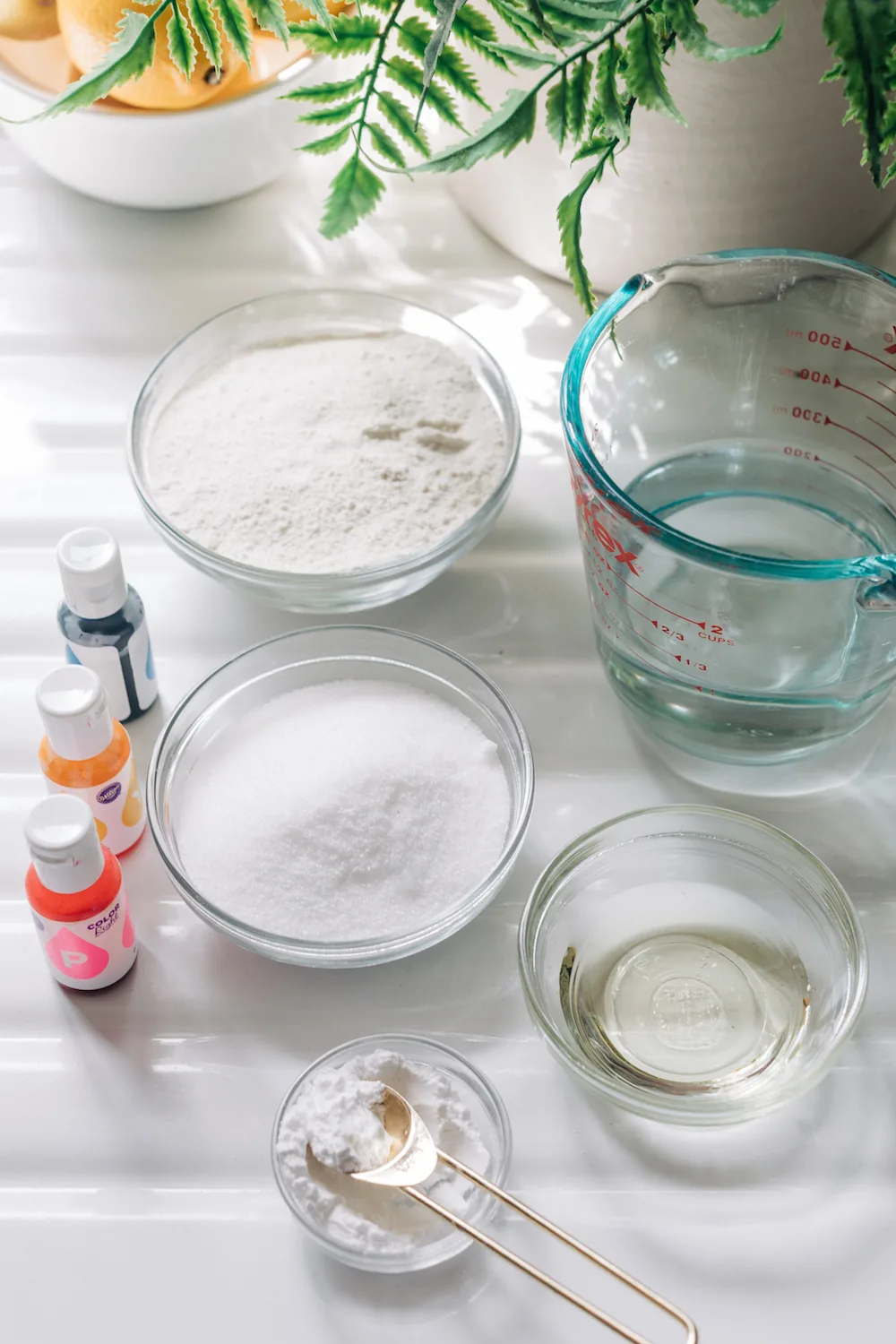 How to Make Homemade Playdough
To help show you just how easy it is to make handmade playdough, the kiddos helped me make a quick video showing the process. You'll also find step by step instructions and a printable how-to card below, plus some of my tips and tricks for the best homemade playdough ever.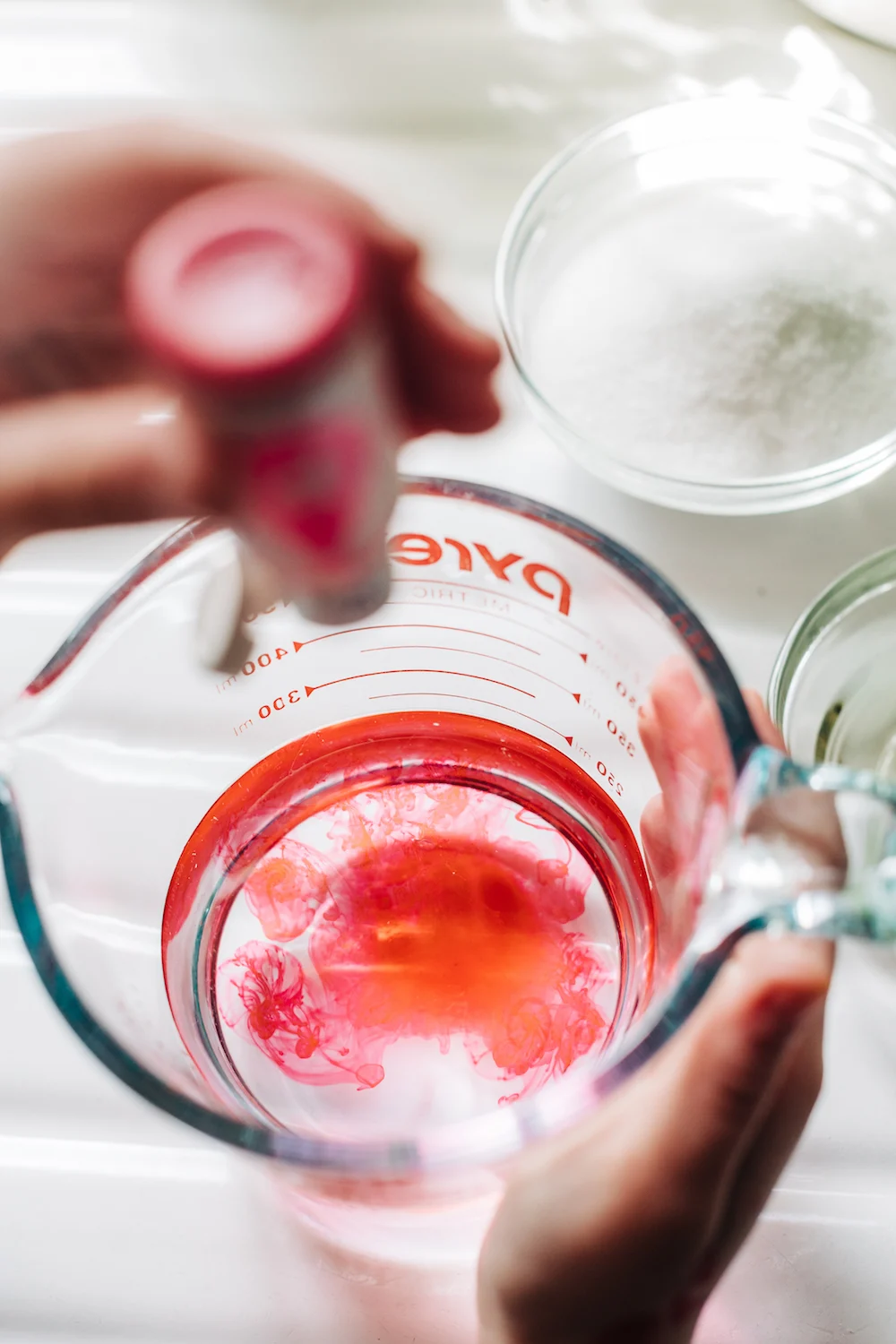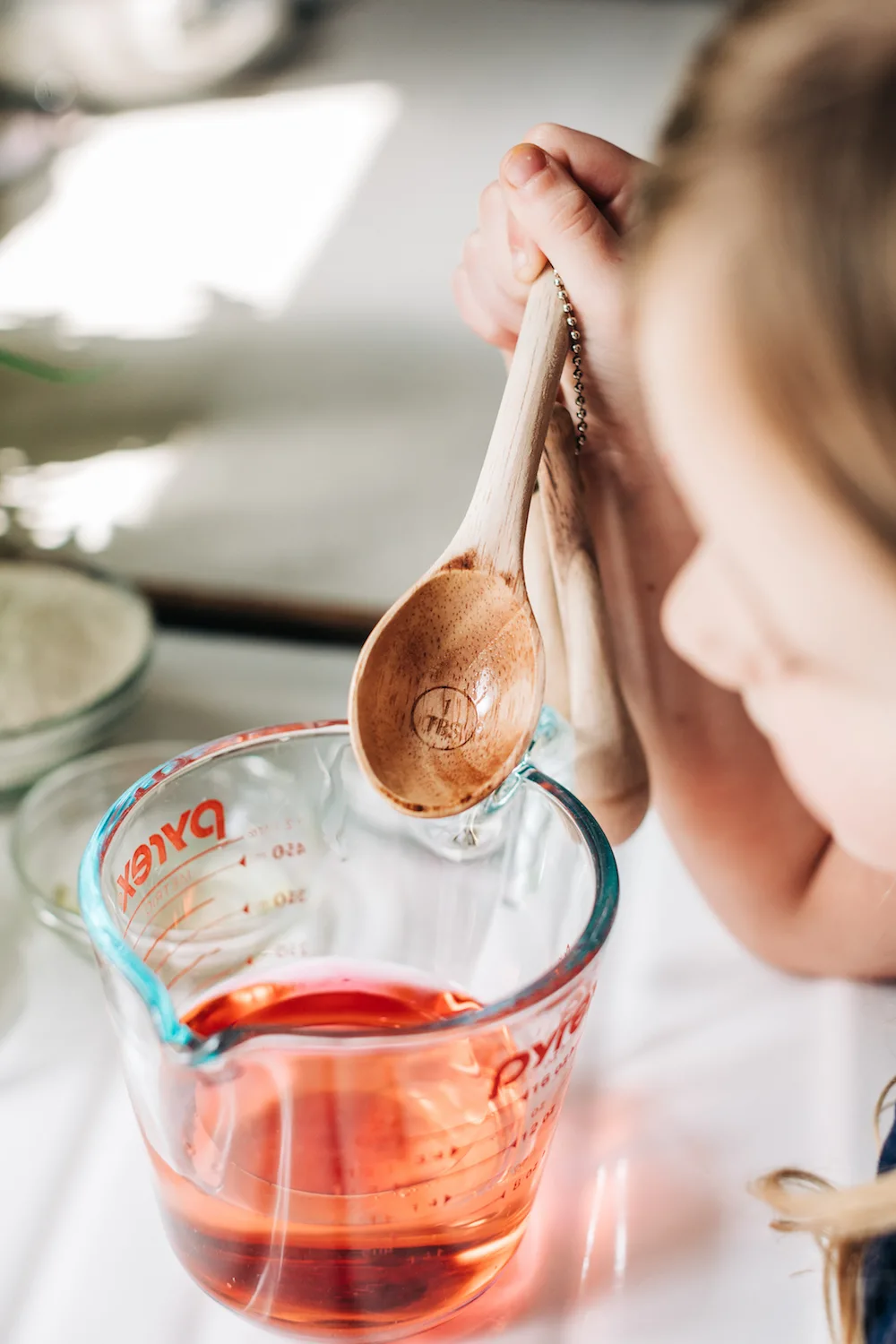 1. Begin with room temperature tap water. This recipe does not require boiling the water first! Then add whatever food coloring you'd like to your desired color.
Add vegetable oil to the water and food coloring and whisk to combine. Transfer the water/oil/food coloring mixture to a pot.
This part is fun for little hands to help with, too! Alternately, you can add the veggie oil to the water first and then the food coloring. The order isn't important for this part.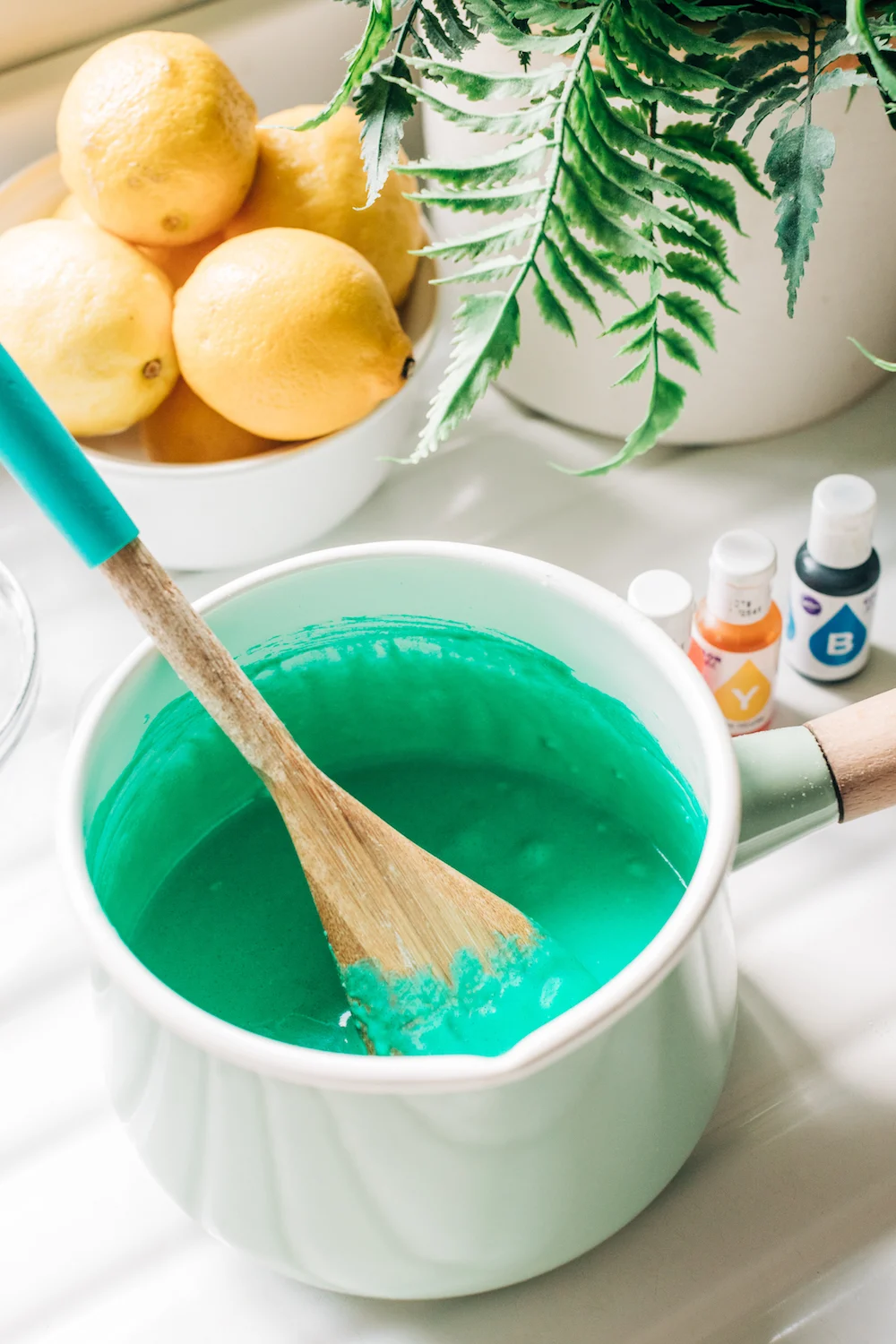 2. Combine the dry ingredients in a bowl and quickly mix together. Add the dry ingredients to the pot with the wet ingredients and mix well to combine. Some lumps are ok!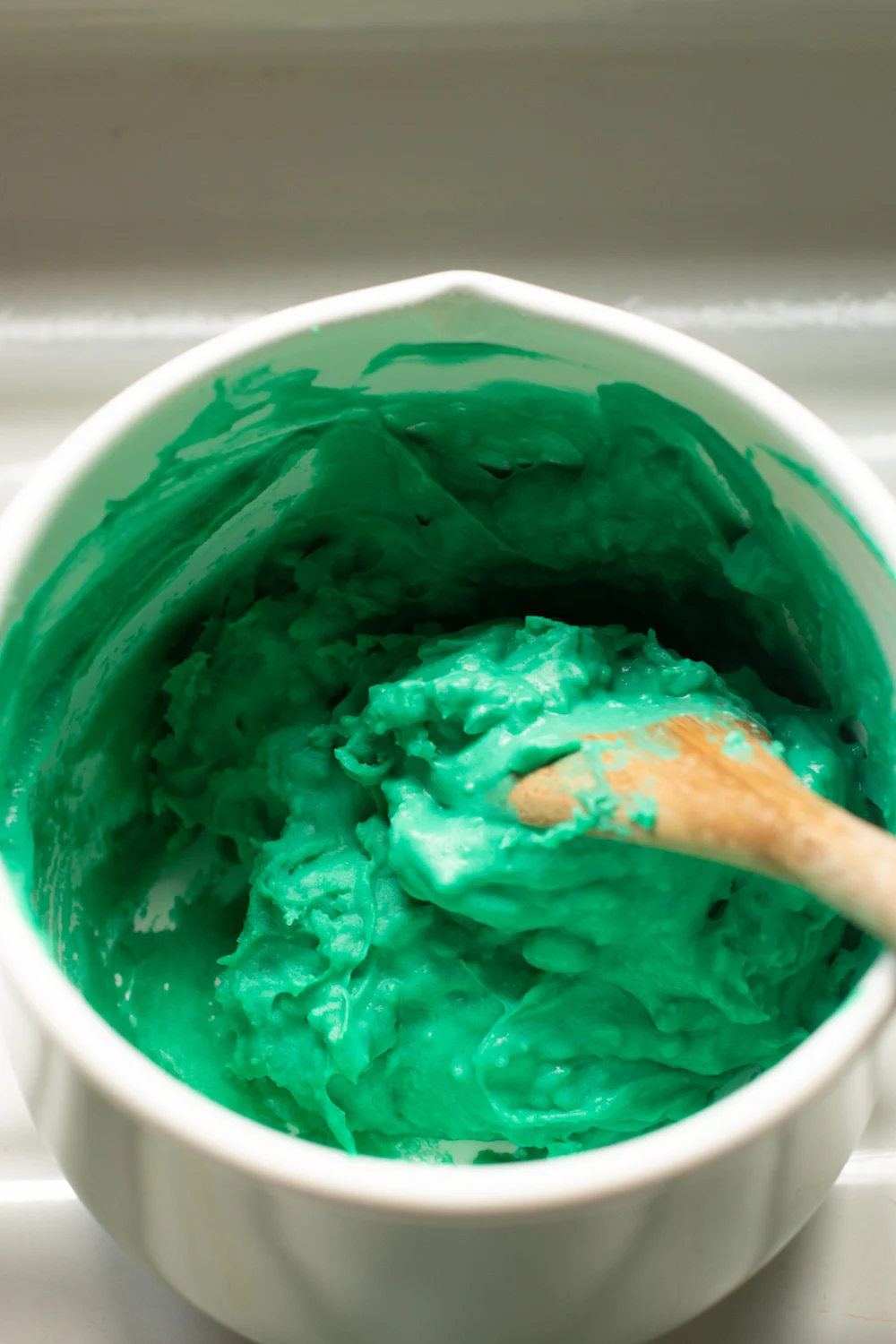 3. Cook everything over medium heat until it gets thick and gooey and starts to form into a ball. This timing will vary, but it's generally around 5 to 6 minutes. Stir regularly, or constantly, as it cooks. It will get thick and hard to stir!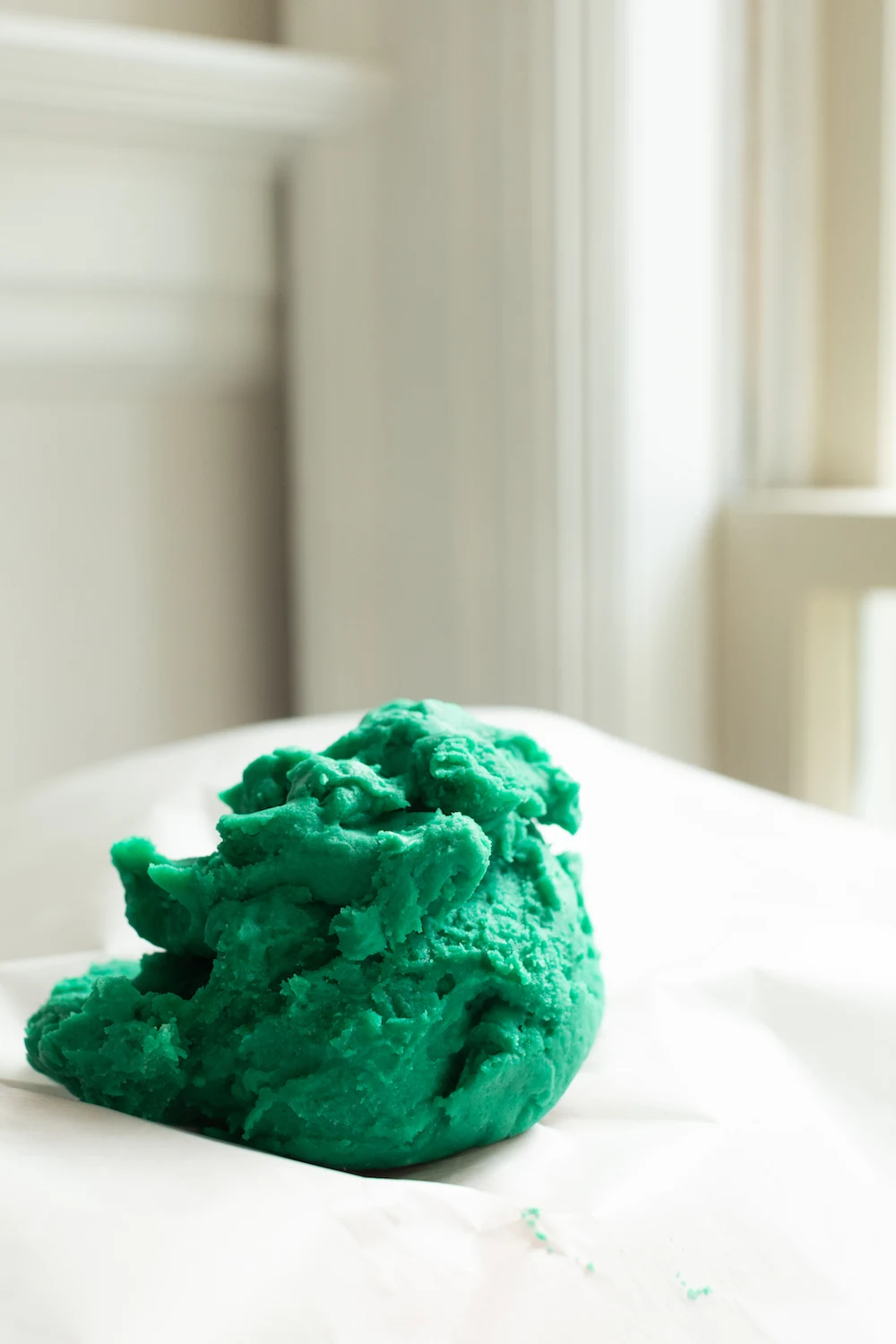 4. When the dough is looking dried out and has mostly formed into a ball, carefully turn it out onto parchment paper or a clean counter. It will be quite warm so don't let the kiddos touch it just yet. Allow it to cool for a few minutes before moving to the last step.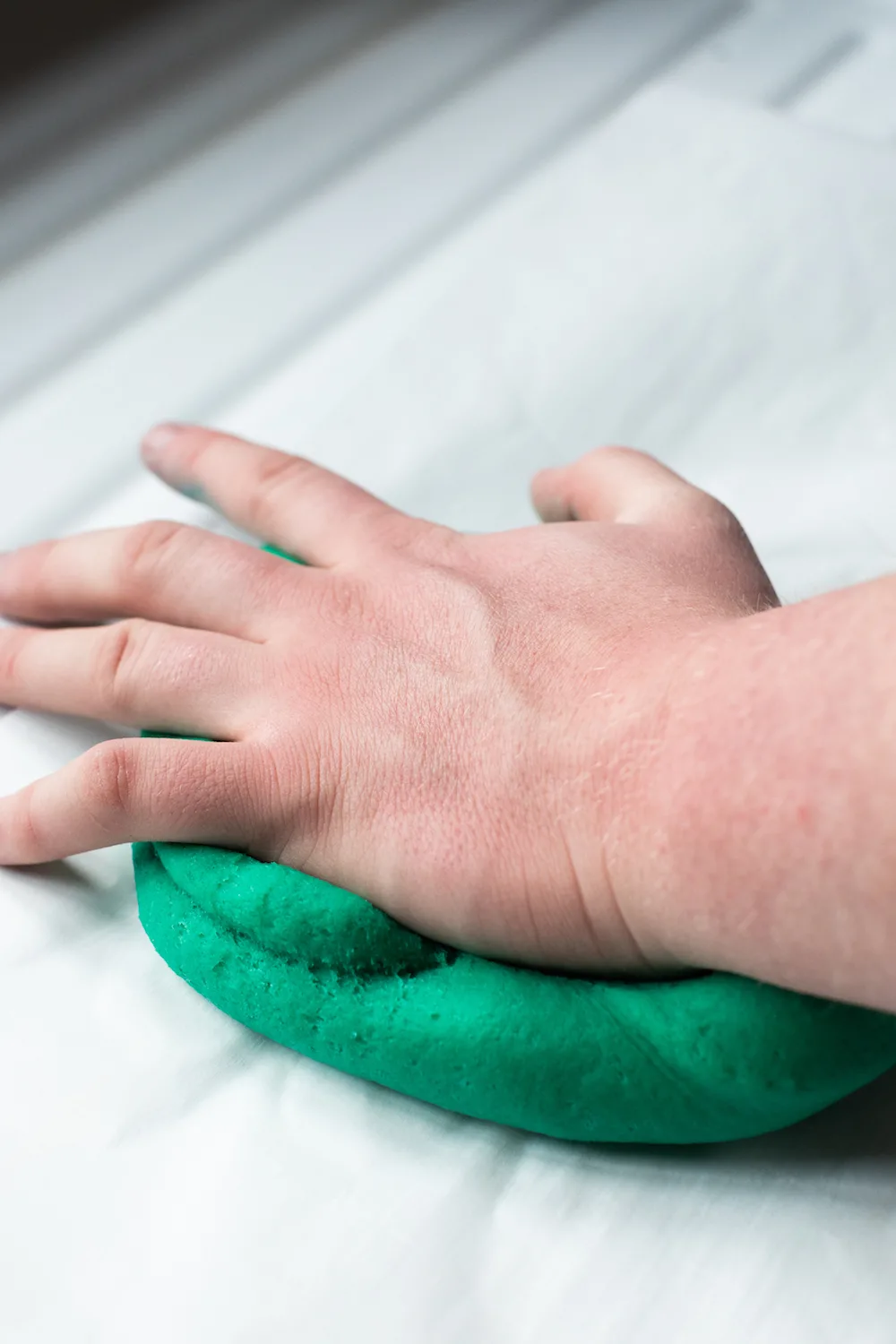 5. After cooling slightly so it's just warm to the touch, knead the dough for five minutes. I like to set a timer and actually find it therapeutic! This is a great sensory activity for kids, too.
As you knead the dough will smooth out and get really soft and then it's ready for playtime!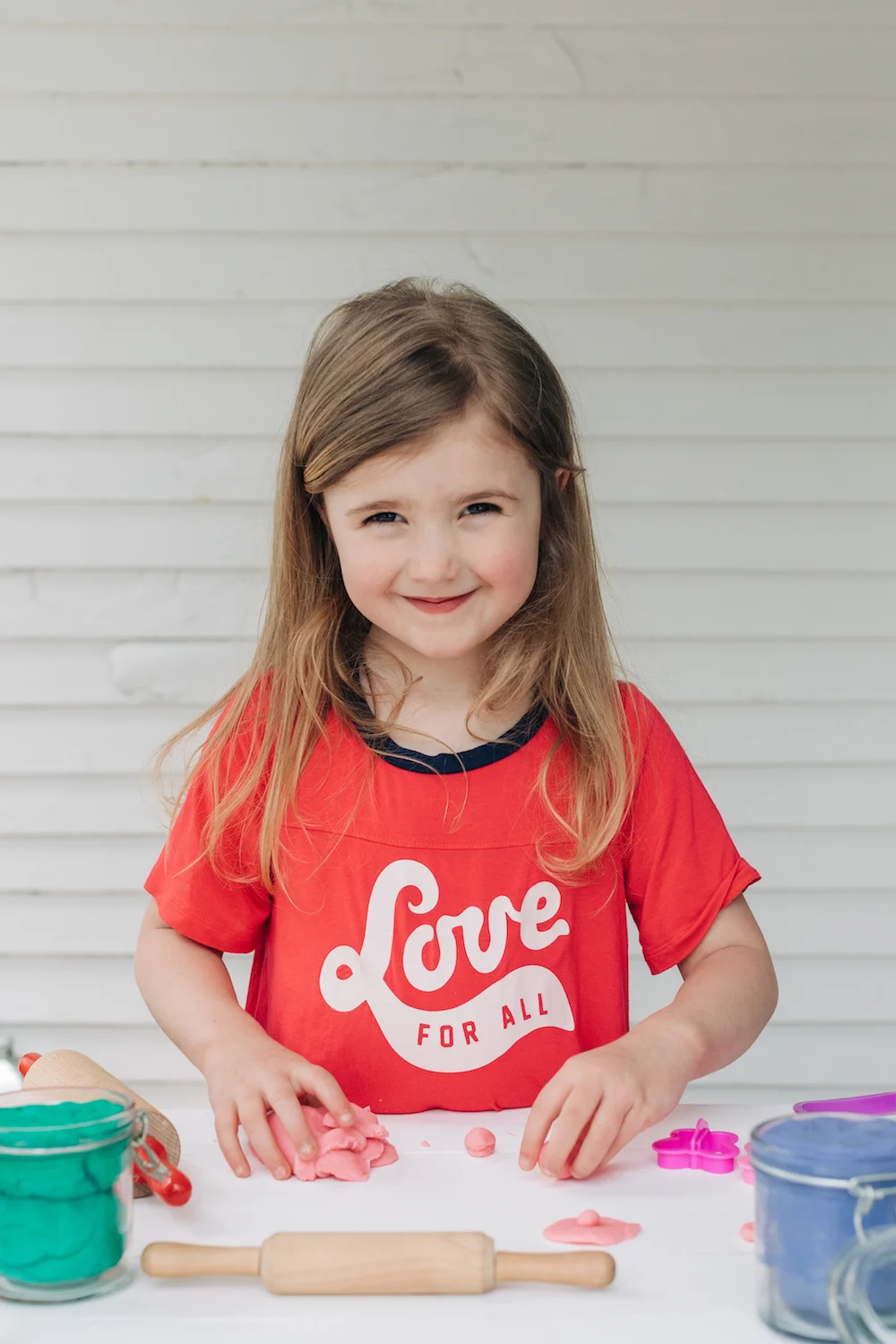 How to Store Homemade Playdough
Homemade playdough should be stored in an airtight container so it will last as long as possible. We like to store ours in mason jars, but any kind of container with a tight lid would work great like a plastic food storage container or a glass bowl with a fitted lid.
Alternately, we will roll each color into a ball and then wrap it in parchment paper before placing in a Ziploc bag, squeezing out as much air as possible and then sealing.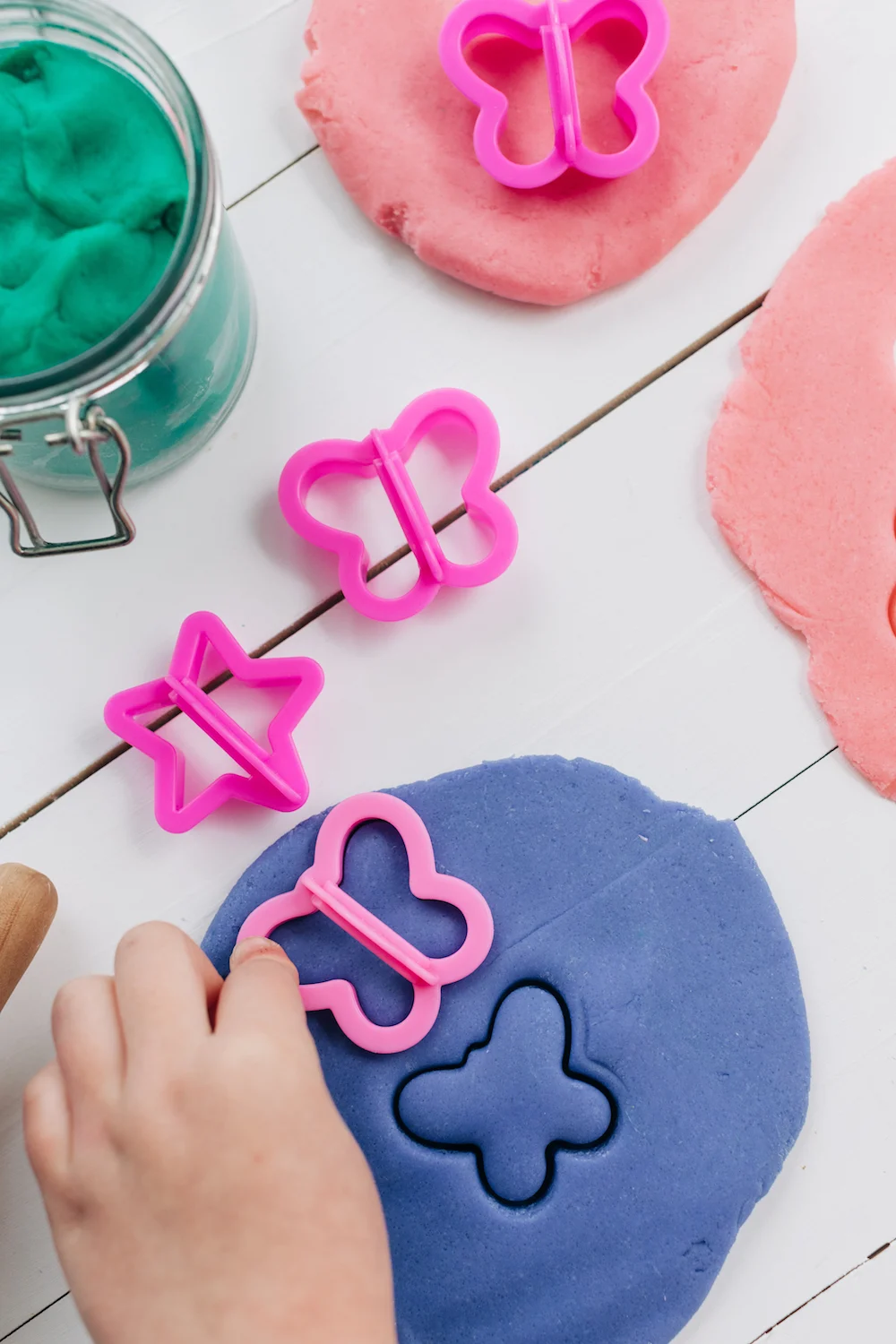 How Long Does Homemade Playdough Last?
Good news! Homemade playdough can keep for up to two to three months if stored properly! A lot of this will depend on how often it's getting used. With how much Em loves and uses playdough, I would say the average in our house is about a month.
When we make it, I often plan to make a few batches so we get a bunch of playdough in a few different colors since we're not making it that frequently.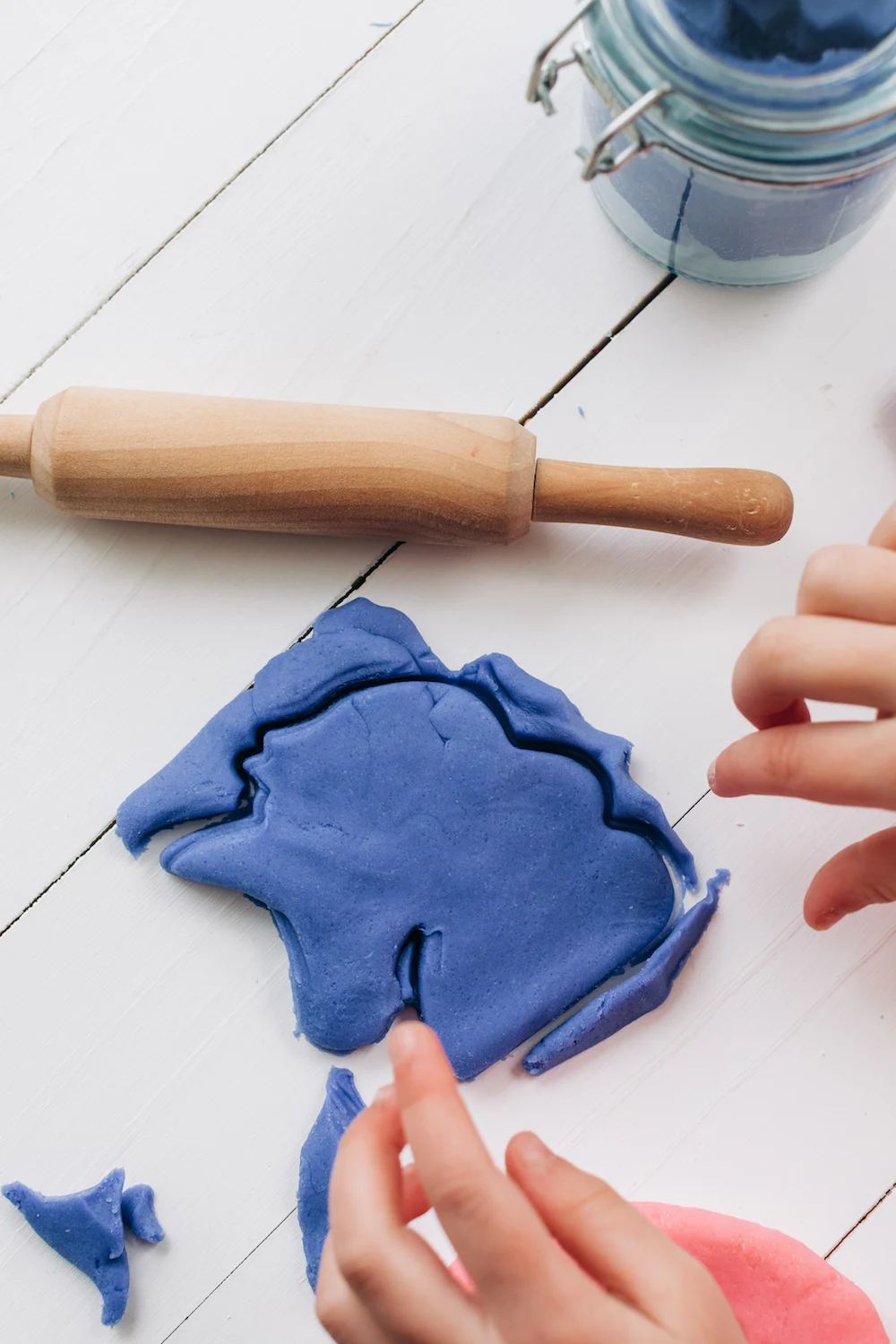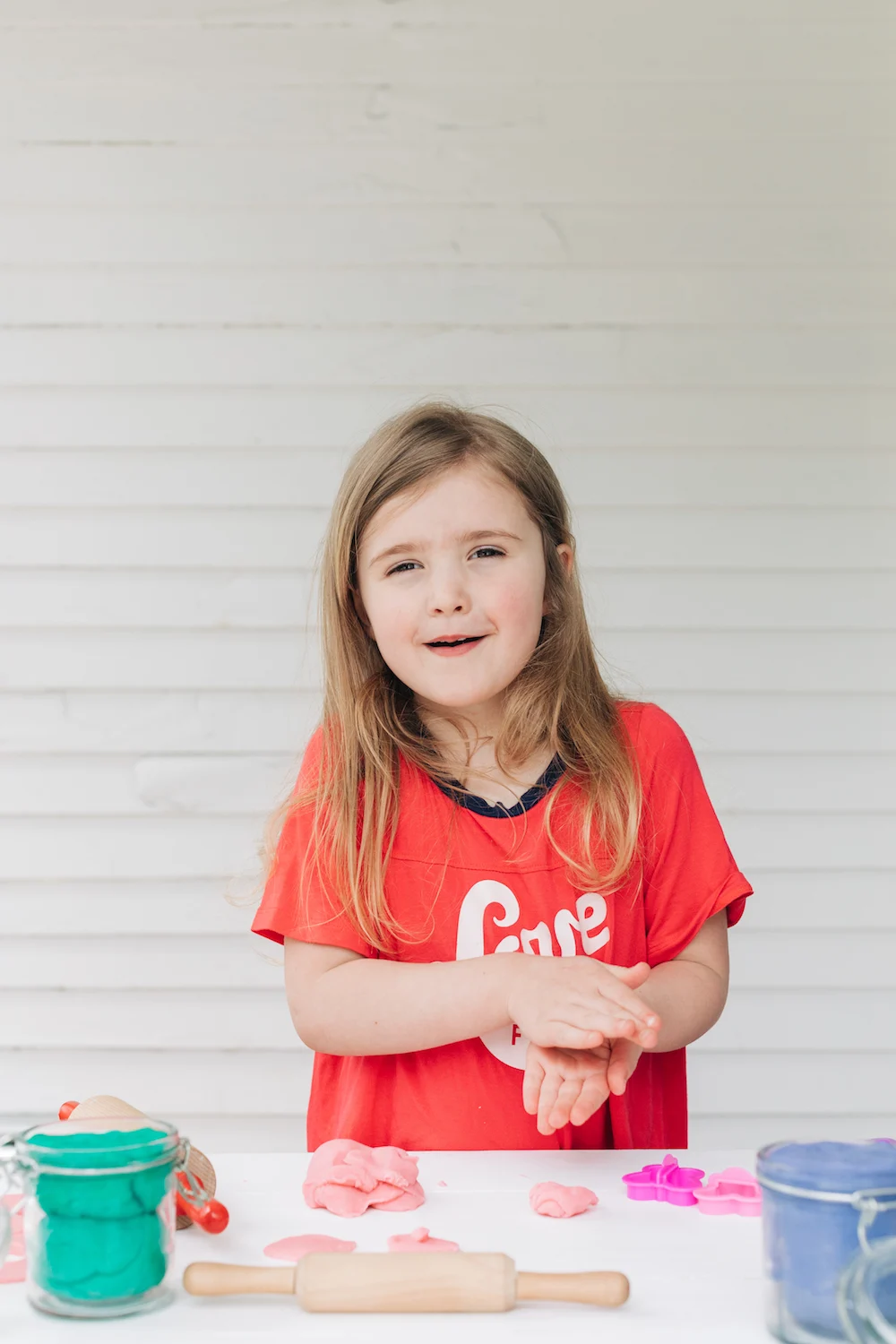 More Homemade Playdough Recipes to Try:
Looking for more fun ideas to do with kids? Check out my best tips for baking with kids and my favorite chocolate chip cookie recipe!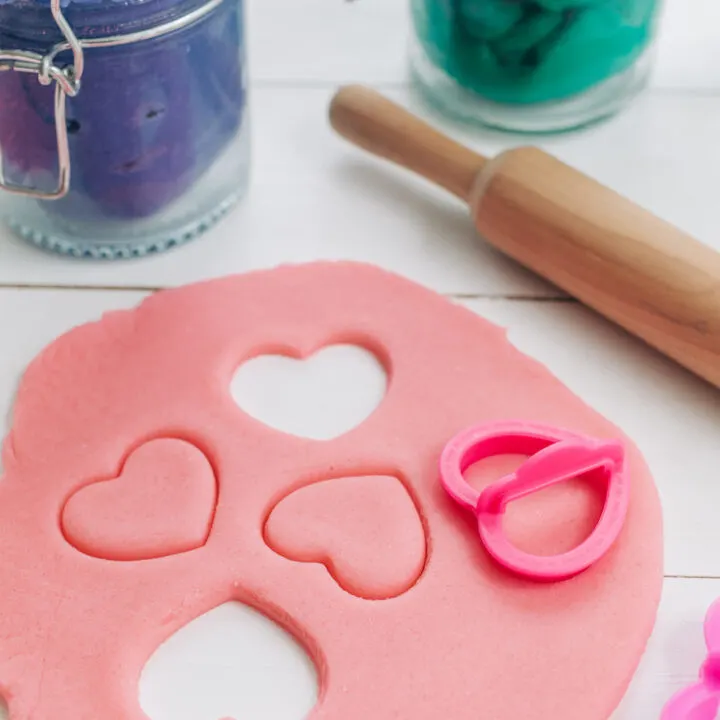 The Best Homemade Playdough Recipe
Yield:
1lb of homemade playdough
This easy homemade playdough recipe is super simple to make and uses very basic household ingredients like flour and salt.
Materials
1 tablespoon vegetable oil
1 cup water
Food coloring
1 cup flour
1/2 cup salt
2 tsp cream of tartar
Tools
Mixing bowl
Whisk
Wooden spoon
Measuring cups and spoons
Medium saucepan
Parchment paper
Mason jars or other air tight container
Instructions
In a mixing bowl or large measuring cup combine water, vegetable oil and food coloring to suit your desired color preference. Whisk well to combine.
In a separate mixing bowl combine flour, salt and cream of tartar and quickly mix.
Pour wet ingredients into a saucepan.
Add dry ingredients to the saucepan and mix until well combined. Some lumps are expected.
Place over medium heat and stir regularly while cooking until thick and formed into a ball. The dough will be dry and hard to stir when it's ready. This usually takes 5 to 6 minutes.
Turn dough out onto parchment paper and allow to cool until warm but no longer hot.
Knead the dough for five minutes. It will become very smooth and soft in texture and then it's ready to play.
When not in use, store in an airtight container or a plastic storage bag.
Notes
This homemade playdough will keep for up to two to three months when stored in an airtight container or plastic food storage bag.