This red potato salad recipe is the way my mom has made potato salad my whole life! It is loaded with egg and the crunch of cucumber and celery with a whole lot of dill. This is a classic potato salad recipe you'll revisit again and again!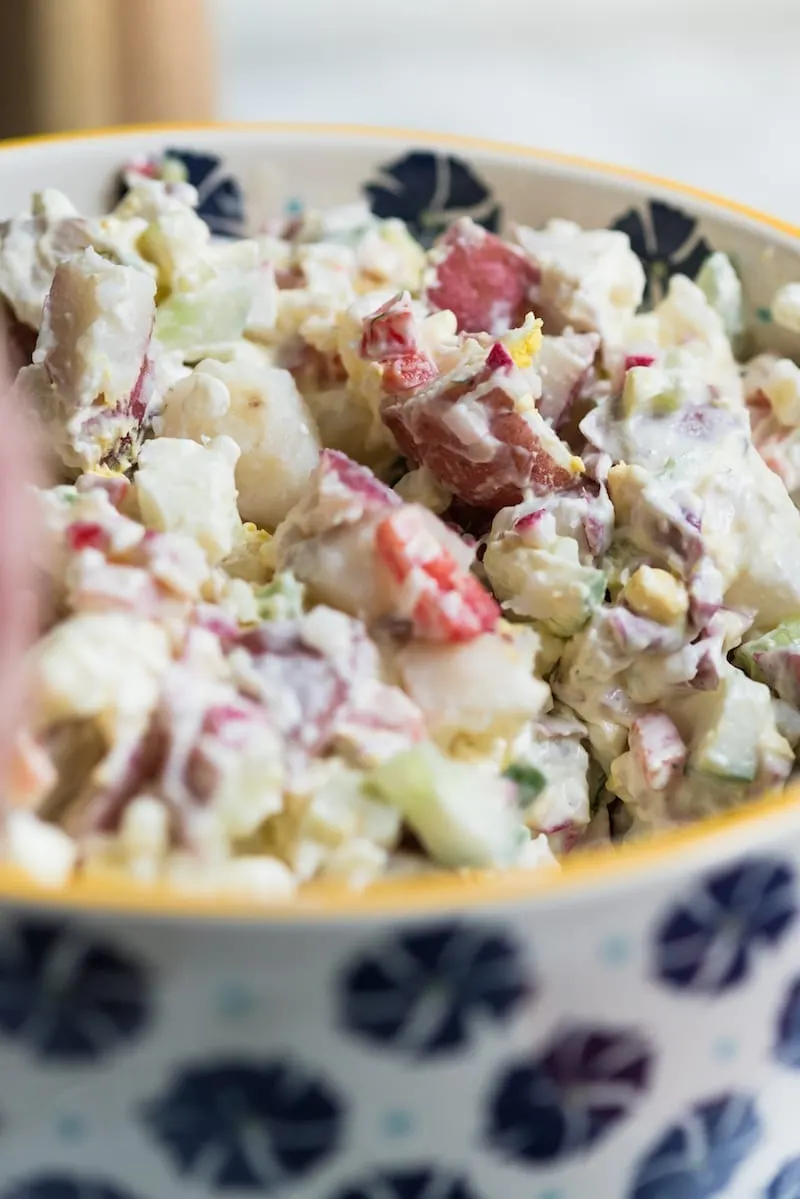 Bob and I are both partial to a good potato salad recipe. It's our go-to picnic food all summer, and we make it a bunch of different ways. This red potato salad recipe might just be our ultimate favorite. It is the classic potato salad recipe you need right now.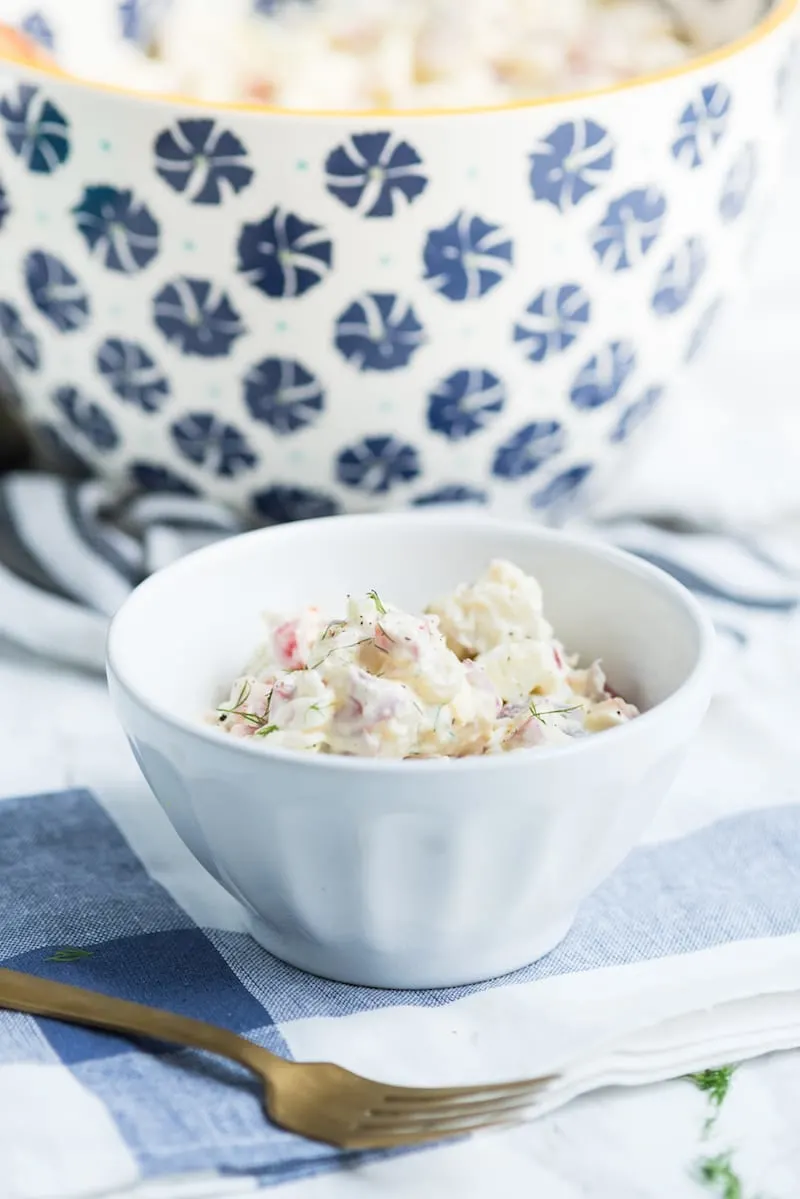 The Best Red Potato Salad Recipe
You can make potato salad a lot of different ways, of course. Our default is a red potato salad with the skins left on to preserve all that extra flavor. I like to add in lots of crunchy veggies for great texture. Not a speck of mustard. I'm not against mustard in potato salad, it's just not my favorite way to make it – but this! This way is so so good.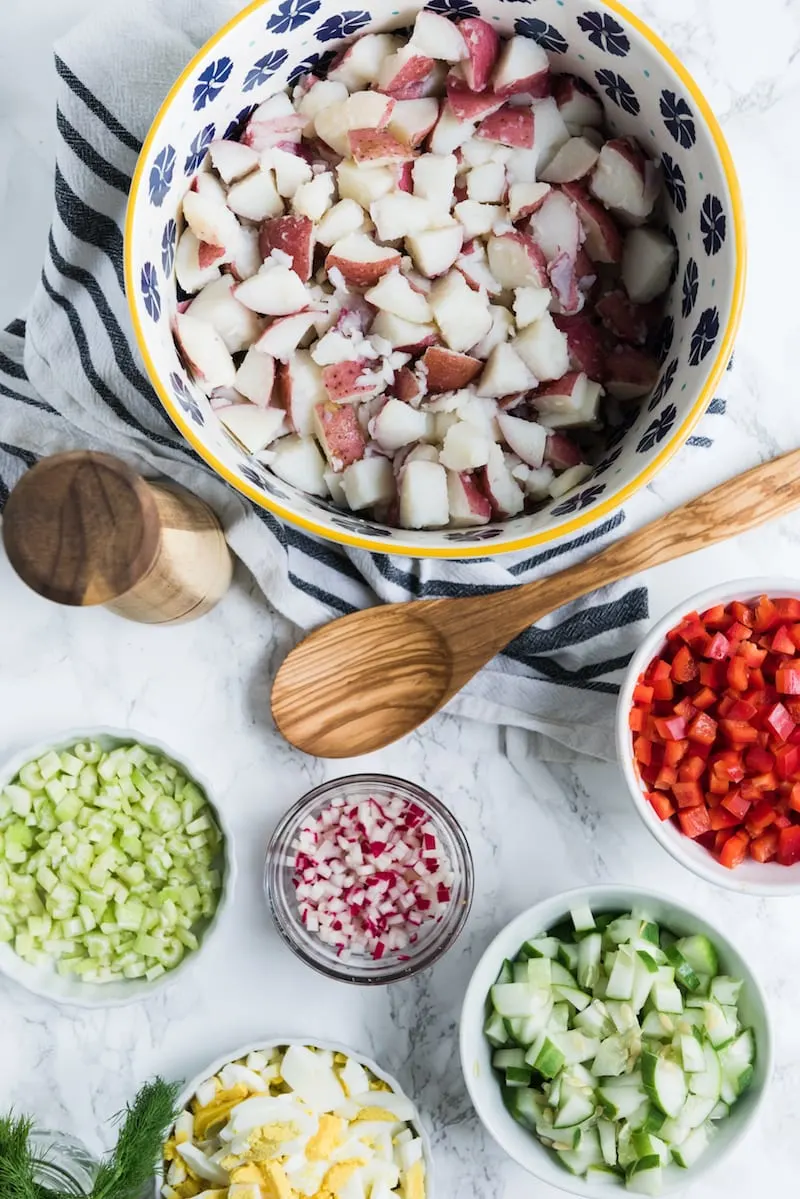 Ingredients for Red Potato Salad
Red potatoes – I like to leave the skins on for maximum flavor, cube then boil
Celery – Diced pretty small so it's not overwhelming
Cucumbers – Mostly deseeded (or use seedless cucumber)
Hard boiled eggs – Red potato salad begs for hard boiled eggs
Radishes – A few radishes finely minced add so much flavor
Bell pepper – I like the sweetness of using orange, yellow or red bell peppers
Mayo – Skip the eggs and use vegan mayonnaise and make this a vegan potato salad
Salt – I love a good quality sea salt here
Black pepper – No salad is complete with a bit of freshly cracked black pepper
Dill – Fresh is always preferable to me, but dried will also work
(You can scroll down for the complete recipe!)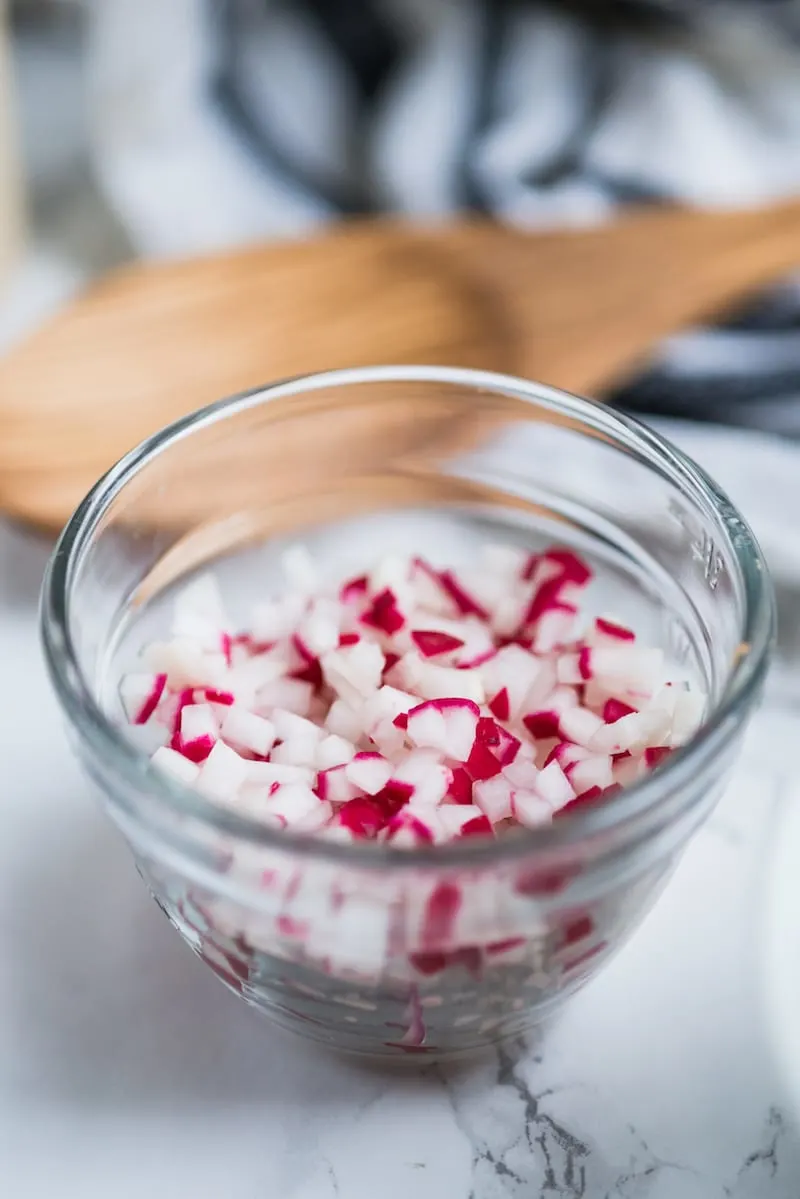 How to Make Red Potato Salad
Start with cleaning, cubing and boiling red potatoes until fork tender. While that's happening you can work on chopping veggies and boiling eggs. Allow the potatoes to come to room temperature before mixing the salad.
Finely chop the radishes, just in case you hit one with a tiny bit of spicy. Nobody is trying to make (or eat) a spicy potato salad. But the flavor of radishes is so good!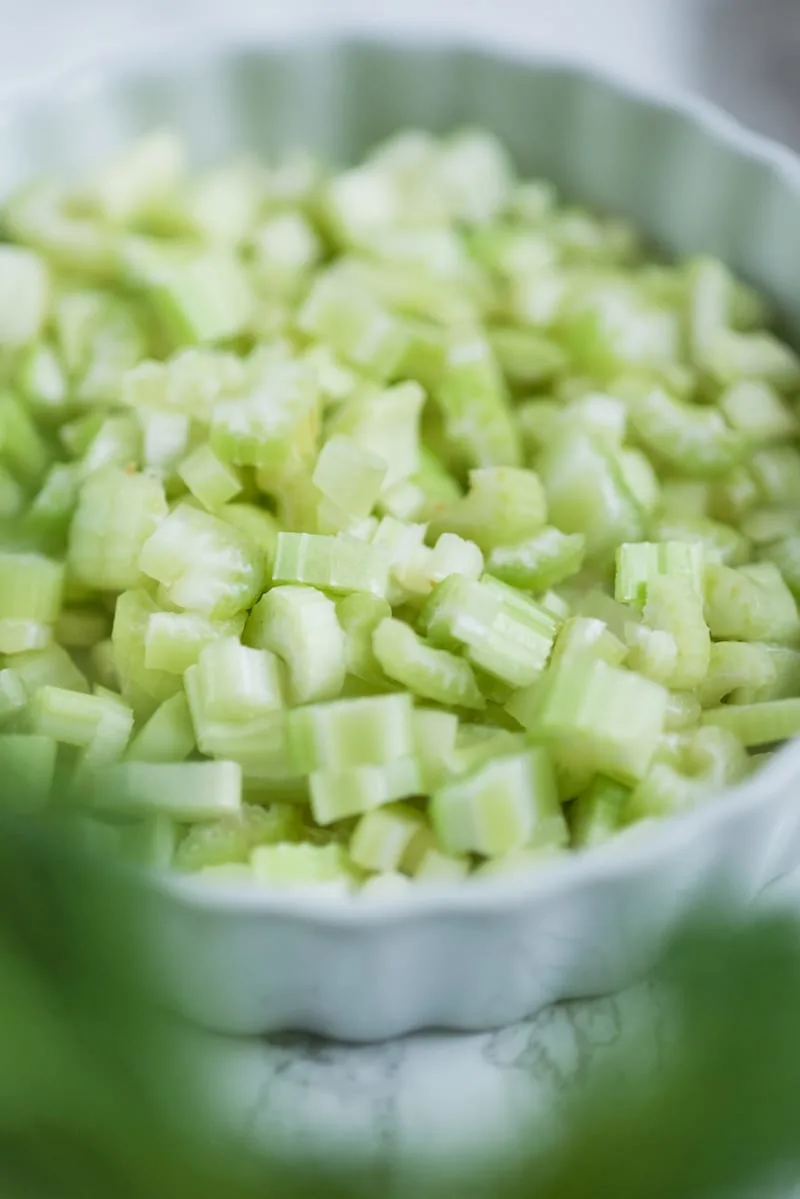 Then add celery. Bob's dad hates onions, so his family skips onion in salads such as this, so it's just how Bob is accustomed to eating potato salad. Adding celery adds that extra crunch and flavor, but in a non-oniony kind of way.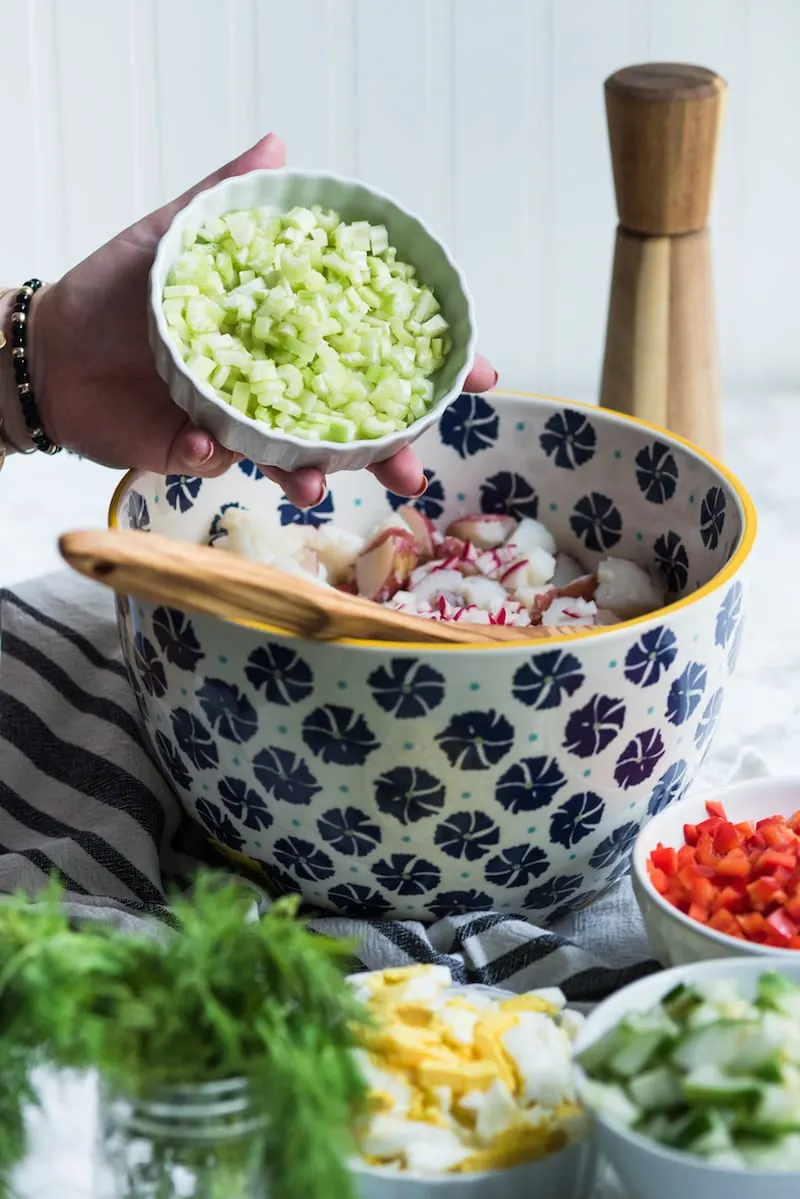 Next, bell peppers! I love bell peppers, but usually avoid green ones in this red potato salad. I like the sweeter profile of yellow, red or orange. Either work well in this salad or use a combination of whatever you have on hand.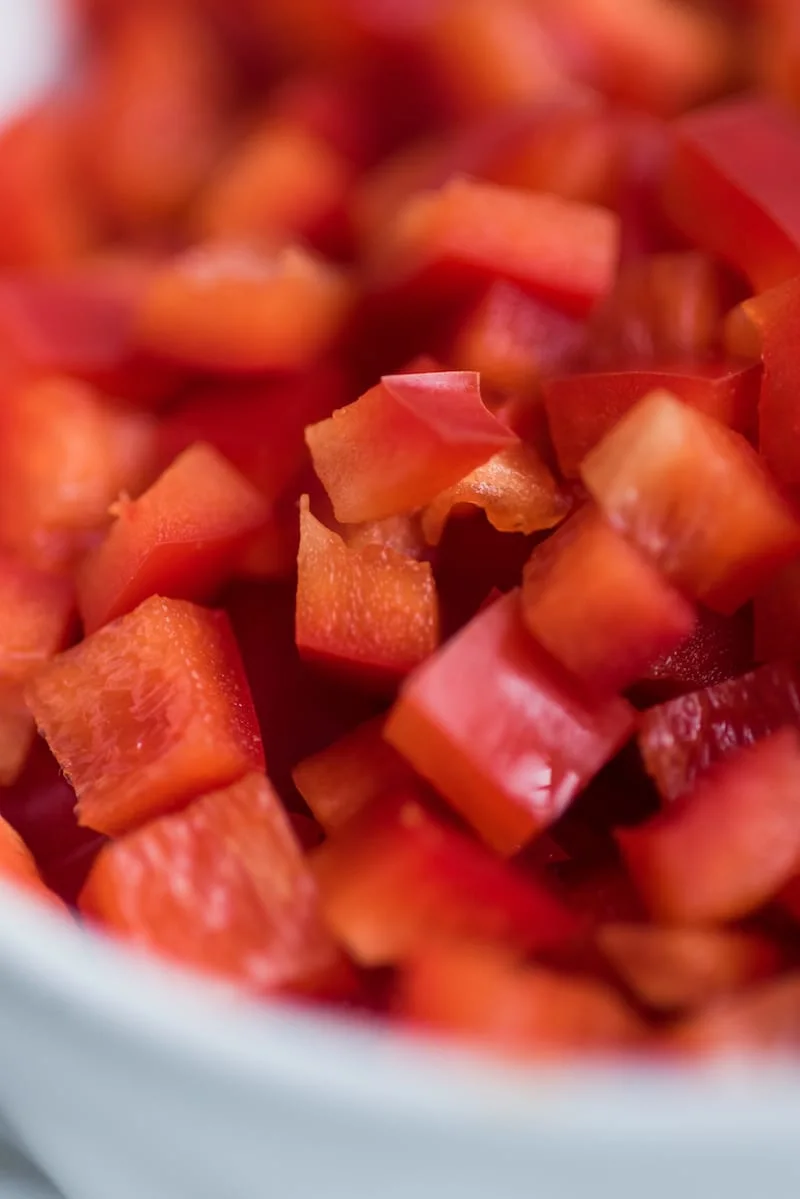 Fresh dill is a must! I pull ours straight from our herb garden outside our kitchen. If you don't have an herb garden, a little planter packed full of dill on a windowsill will make your summer salad recipes shine!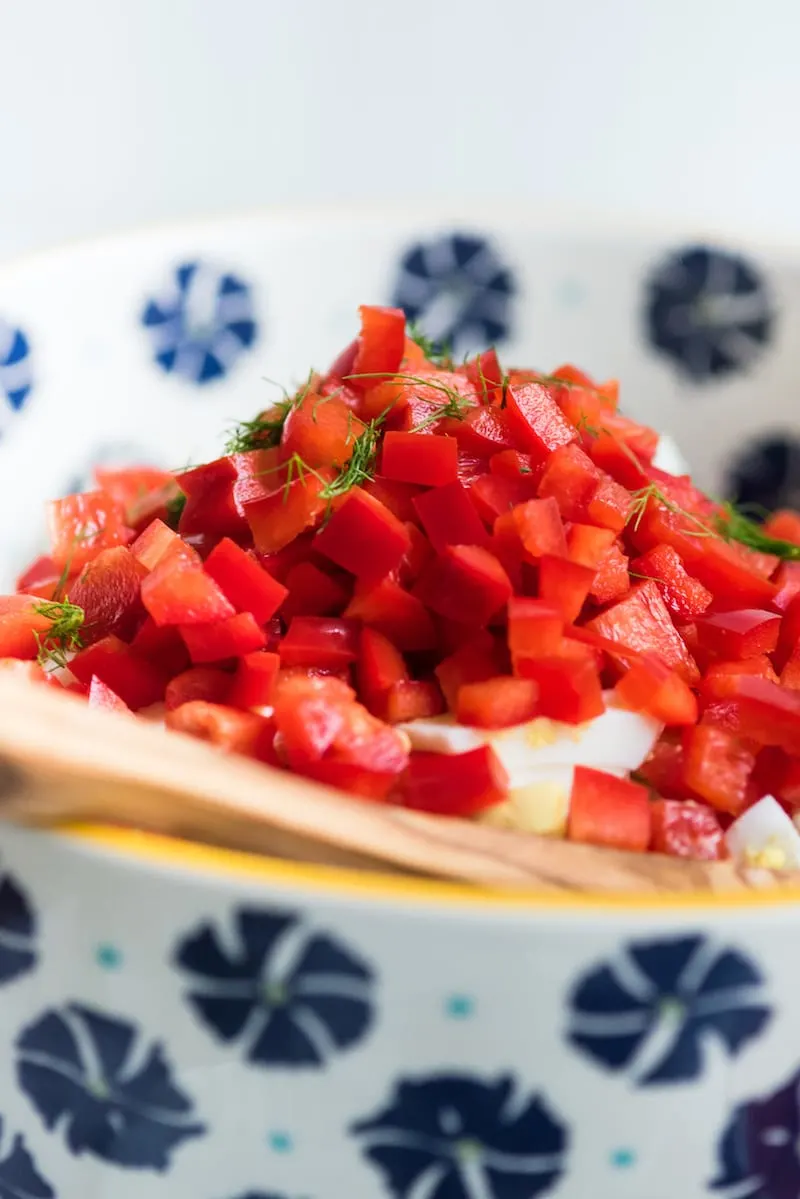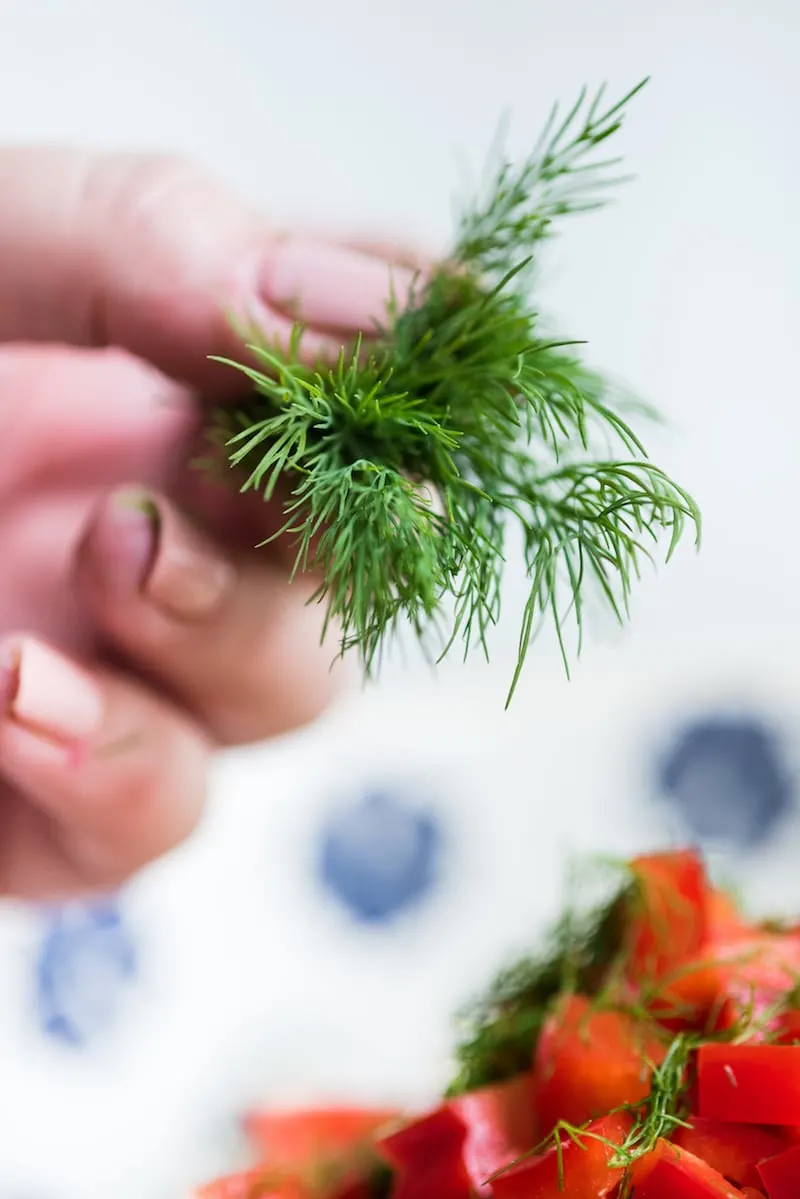 Now we talk mayo. I love the stuff, let's be honest. But don't mess up this salad with any mustard! It's a hard pass on that one. I don't hate a mustard potato salad, mustard just has no place here.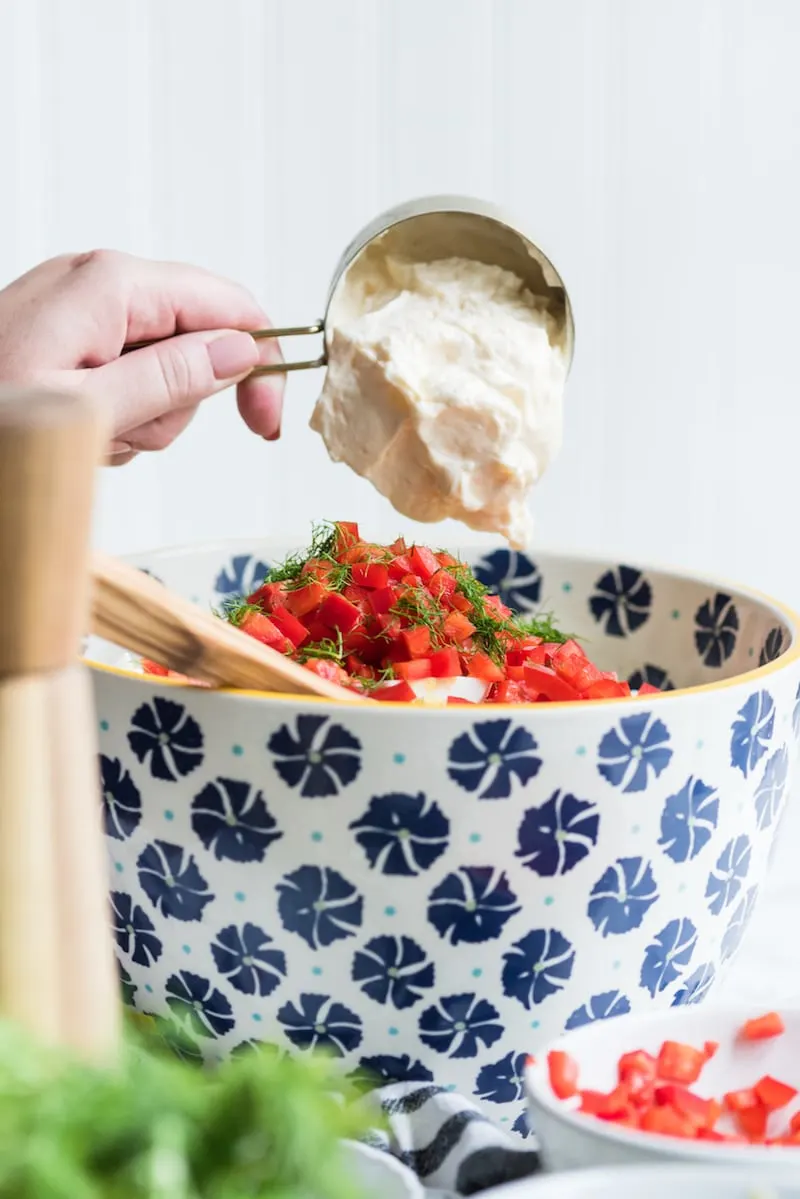 With this red potato salad, I season with freshly cracked black pepper and coarse sea salt. I just think it adds a little extra punch to the flavor! Season a bit at a time, taste test and add more if needed. Nobody likes an overly salted or too peppery salad.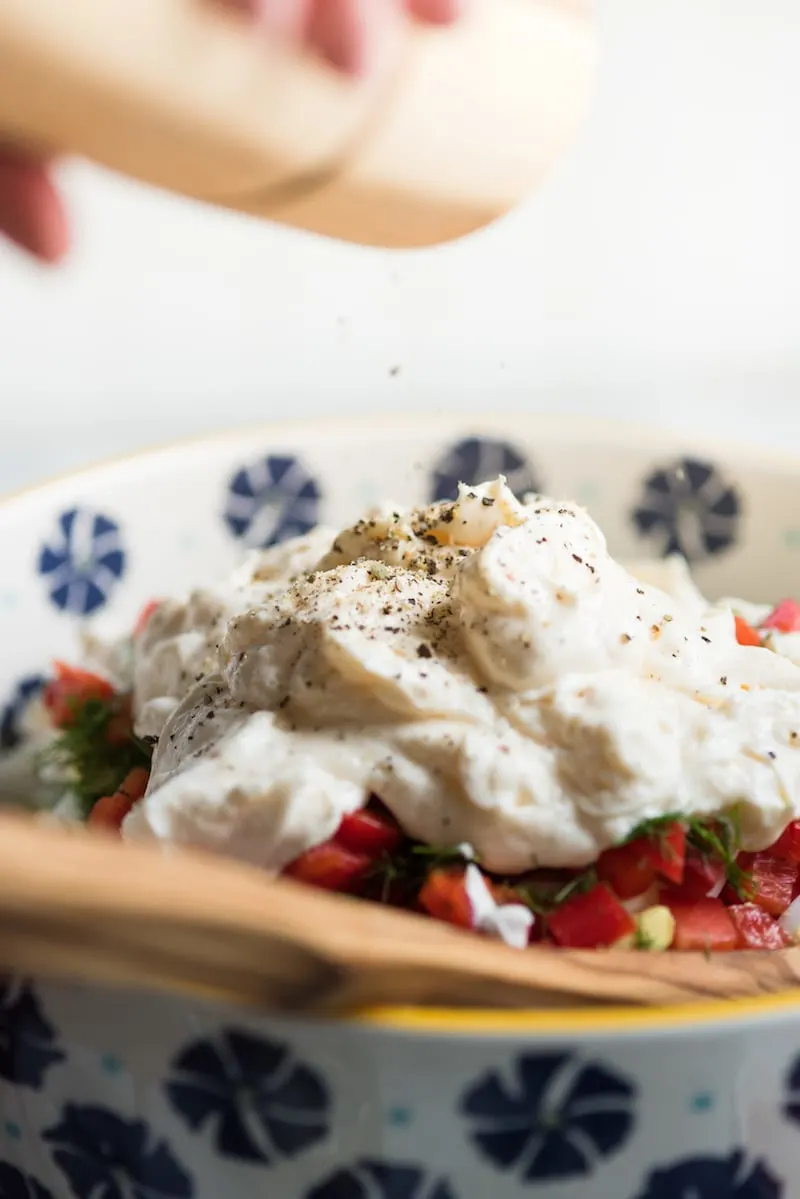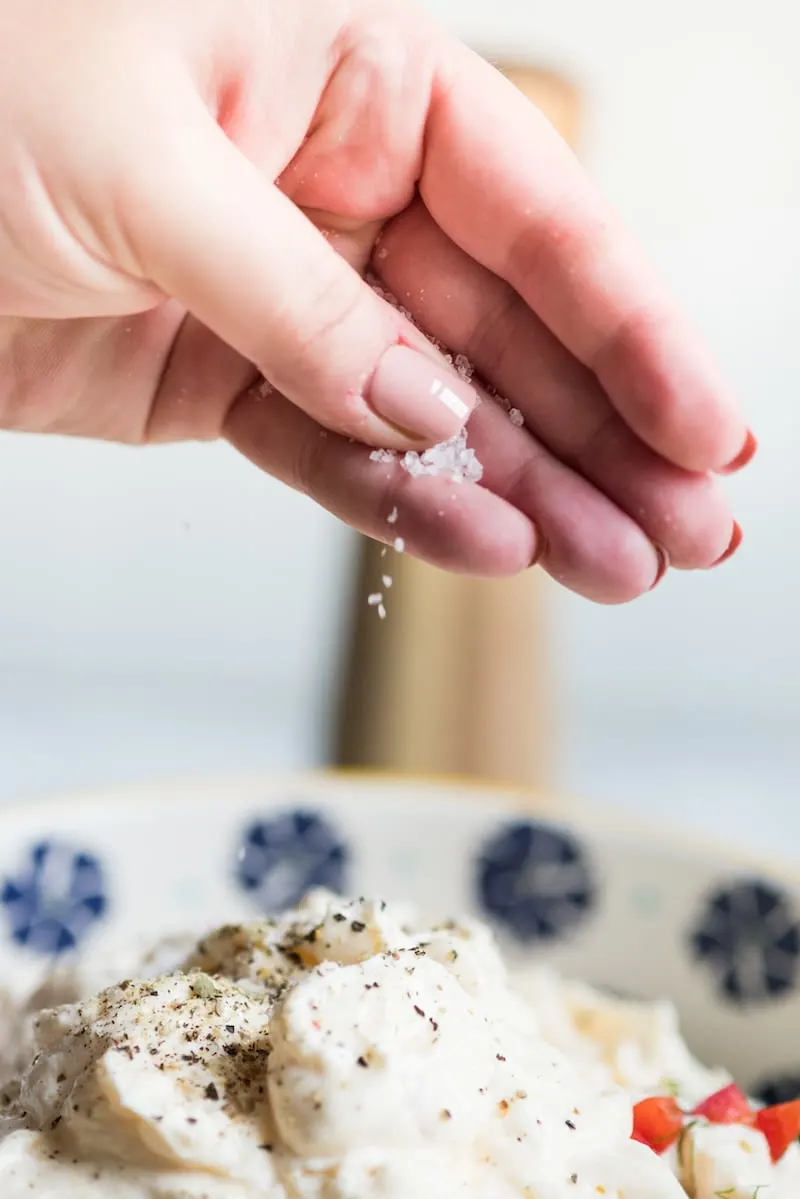 I like to use a large wooden spoon or a wide rubber spatula to mix up my potato salad. Fold all the ingredients together to combine, but be sure not to mash up the potatoes. (This is why room temperature potatoes work best!)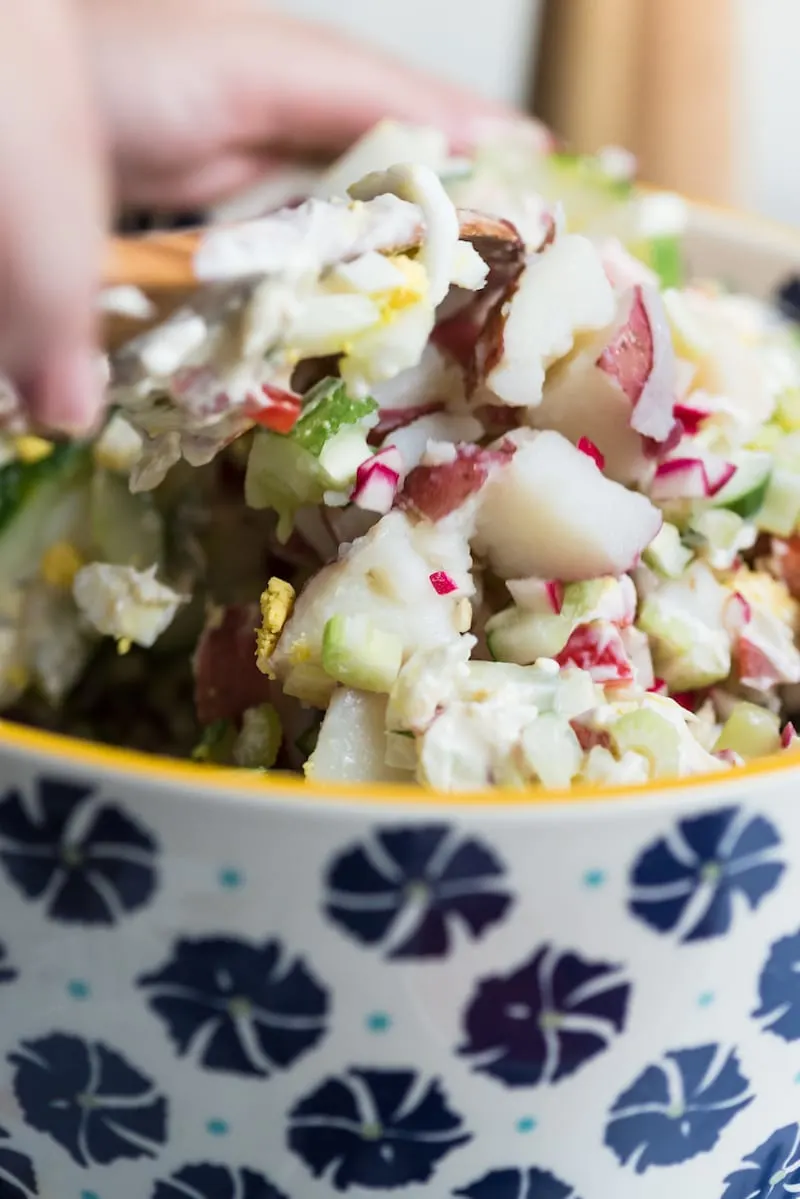 Tips for Making this Red Potato Salad Recipe:
If you want to prep your potatoes in advance, refrigerate them after boiling but allow them to come to room temperature before mixing your salad
Alternately you can let the potatoes cool, assemble the salad and then refrigerate to serve the next day
Try to cube your potatoes as close to the same size as possible – it will help them to cook evenly
If you prefer onion, you can add a bit of yellow, white or red onion and either omit or keep the celery
I like the texture best when the additional veggies are all chopped smaller than the potatoes so the potatoes stay the star of the show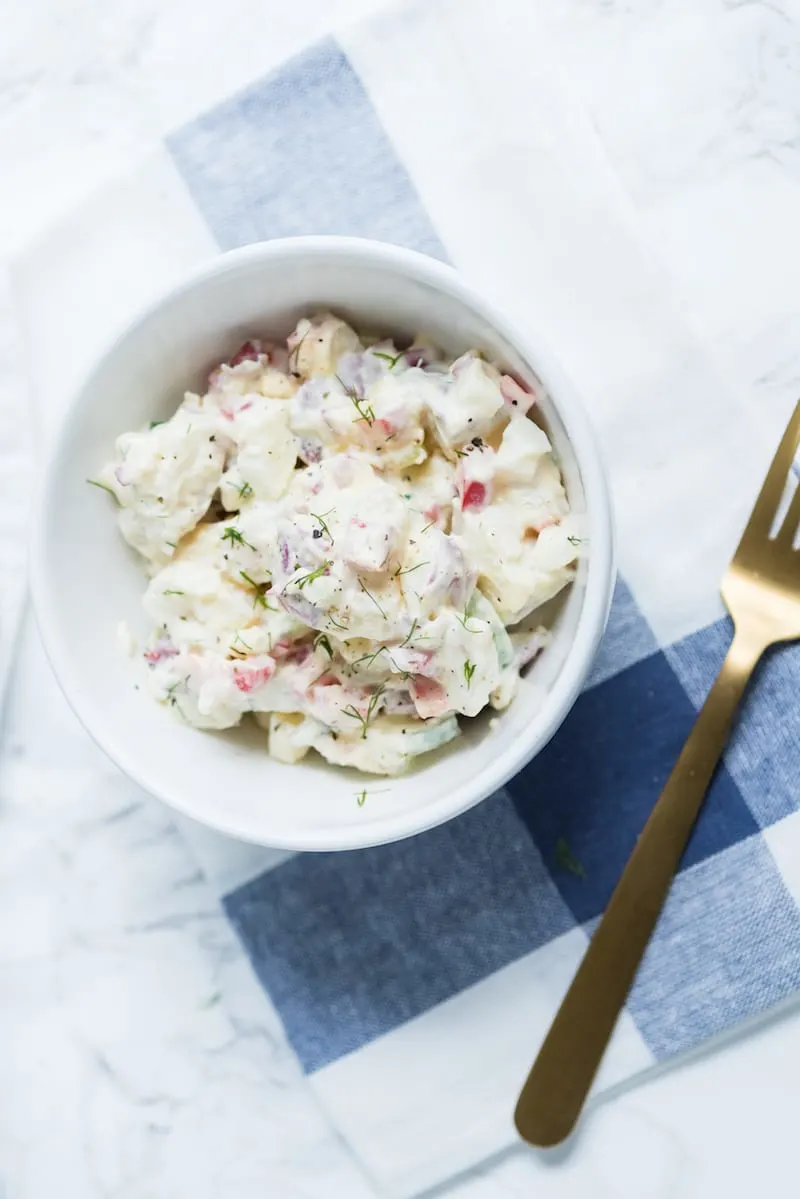 How Long Does Potato Salad Last?
This red potato salad tastes best when eaten within 2 days. That said, it will keep for 3 to 4 days, covered, in the fridge. Be mindful if you're serving on a hot day not to leave it outside of the fridge for more than an hour or two or it may spoil and nobody is looking for a side of food poisoning at a summer picnic.
What to Serve with Red Potato Salad: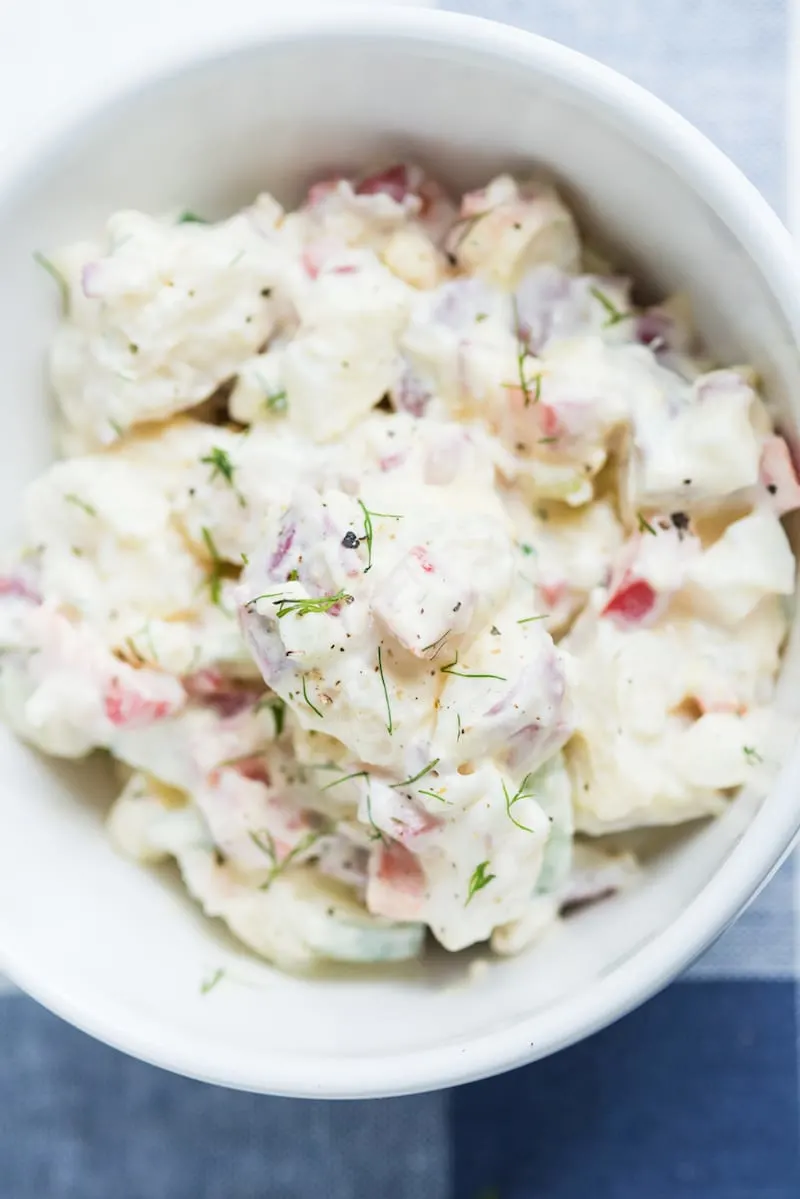 More of the Best Potato Salad Recipes: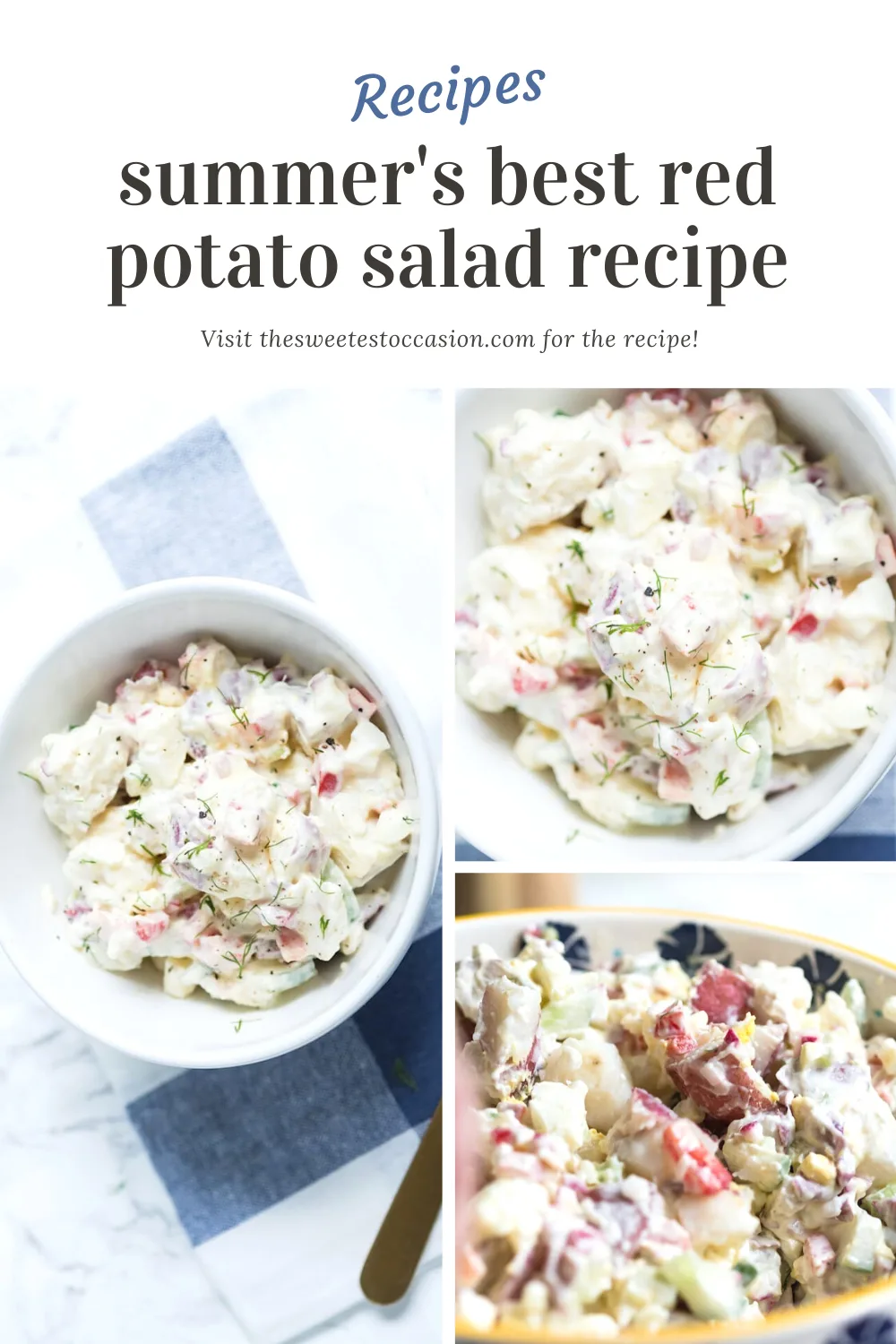 [Recipe + styling by Cyd Converse | Photos by Alice G. Patterson.]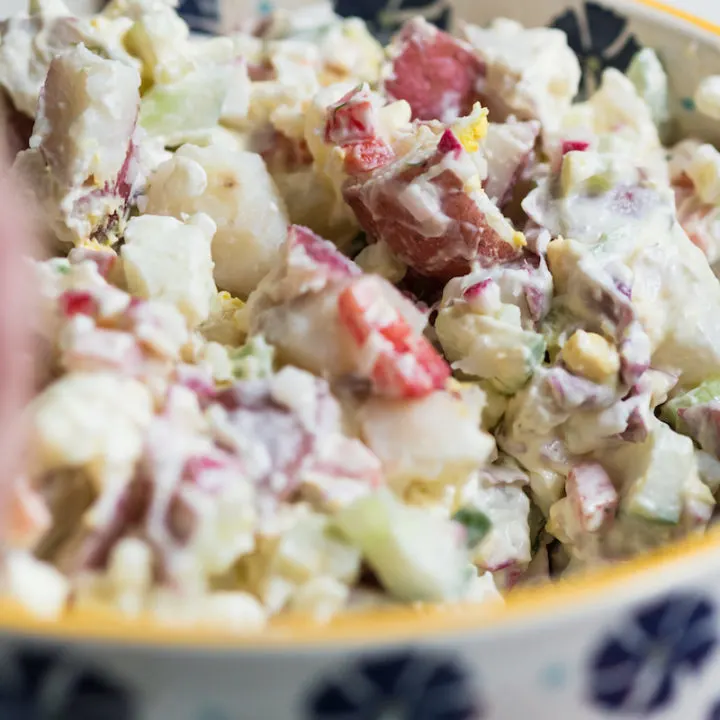 The Best Red Potato Salad Recipe
Yield: 24

Prep Time: 20 minutes

Cook Time: 20 minutes

Total Time: 40 minutes

This red potato salad recipe is loaded with egg, cucumber and celery with a whole lot of dill - a classic potato salad recipe you'll make again and again!
Ingredients
5 lbs red potatoes
1/2 red bell pepper
1 English cucumber
2 radishes
4 eggs
3 celery stalks
3 cups mayo
3 tablespoons fresh dill
Salt and pepper to taste
Instructions
Begin by washing and cubing potatoes into roughly 1/2" cubes
Add potatoes to a large stock pot and fill with water; boil over medium-high heat for 15 - 20 minutes or until fork tender but not mushy
Drain potatoes and rinse gently with cool water to stop the cooking then allow them to cool fully to room temperature
In the meantime, finely dice red bell pepper, English cucumber, radishes, eggs and celery
In a large mixing bowl, combine potatoes, red bell pepper, English cucumber, radishes, eggs and celery with the mayo
Roughly chop fresh dill; season with salt and pepper to taste and then mix to combine
Notes
This red potato salad turns out the best when mixed while the potatoes are at room temperature. Allow them to cool before mixing or, alternately, prep and refrigerate the potatoes in advance and the mix the next day after the potatoes warm to room temperature.
My Favorite Summer Picnic Recipes