These mini strawberry pies are made in a muffin tin making them easy to bake and perfectly portioned for dessert. Make these mini strawberry pies with store bought dough or your favorite homemade dough recipe!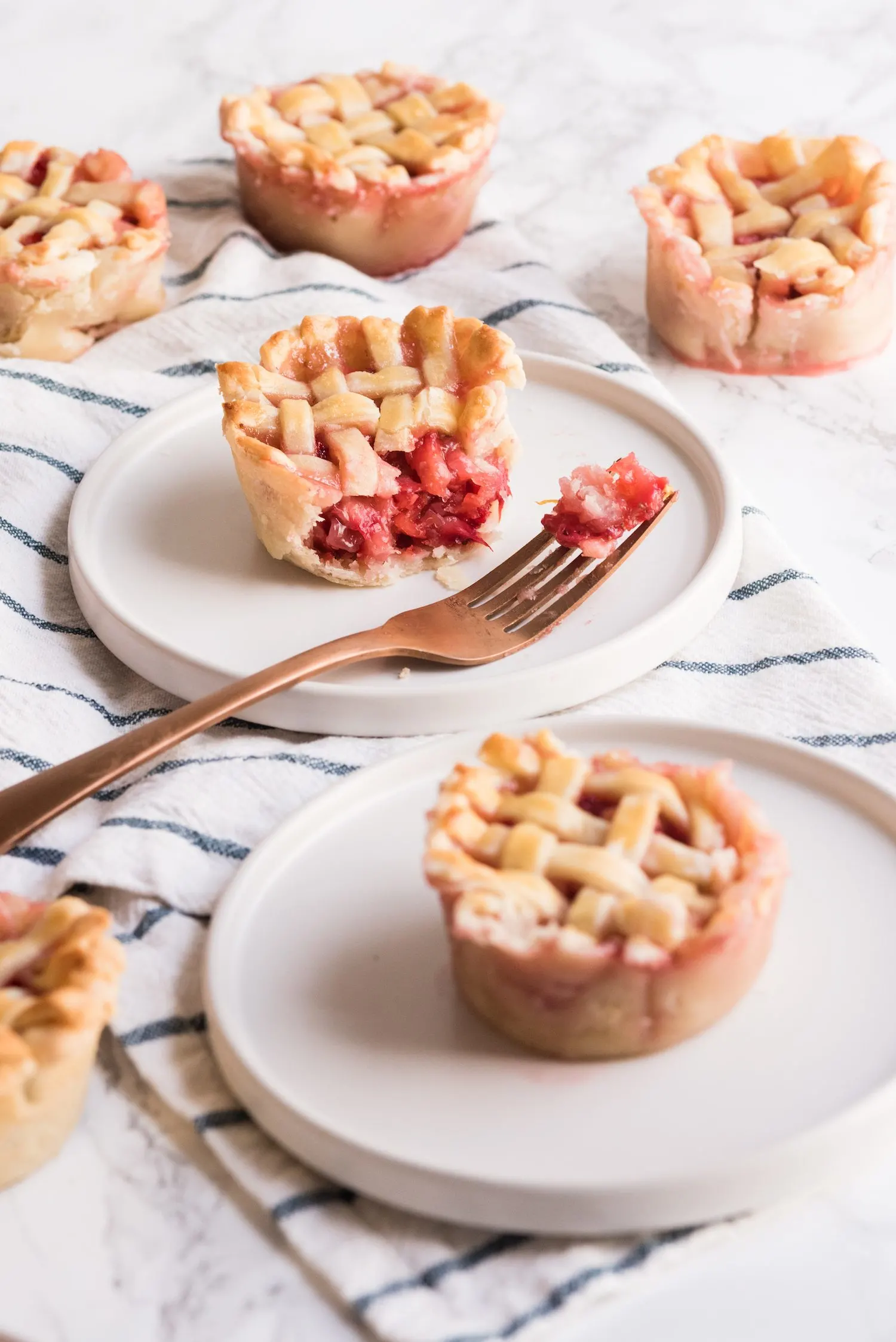 Making Simple Mini Strawberry Pies
These darling mini strawberry pies were totally inspired by my childhood. A few miles down the road from where my grandfather lived when I was a kid, there was a u-pick farm with a big strawberry patch where he'd take me every summer. The farm has since closed, but not before I was able to take Em there when she was just six or seven months old to pick berries and gleefully smash them all over her face.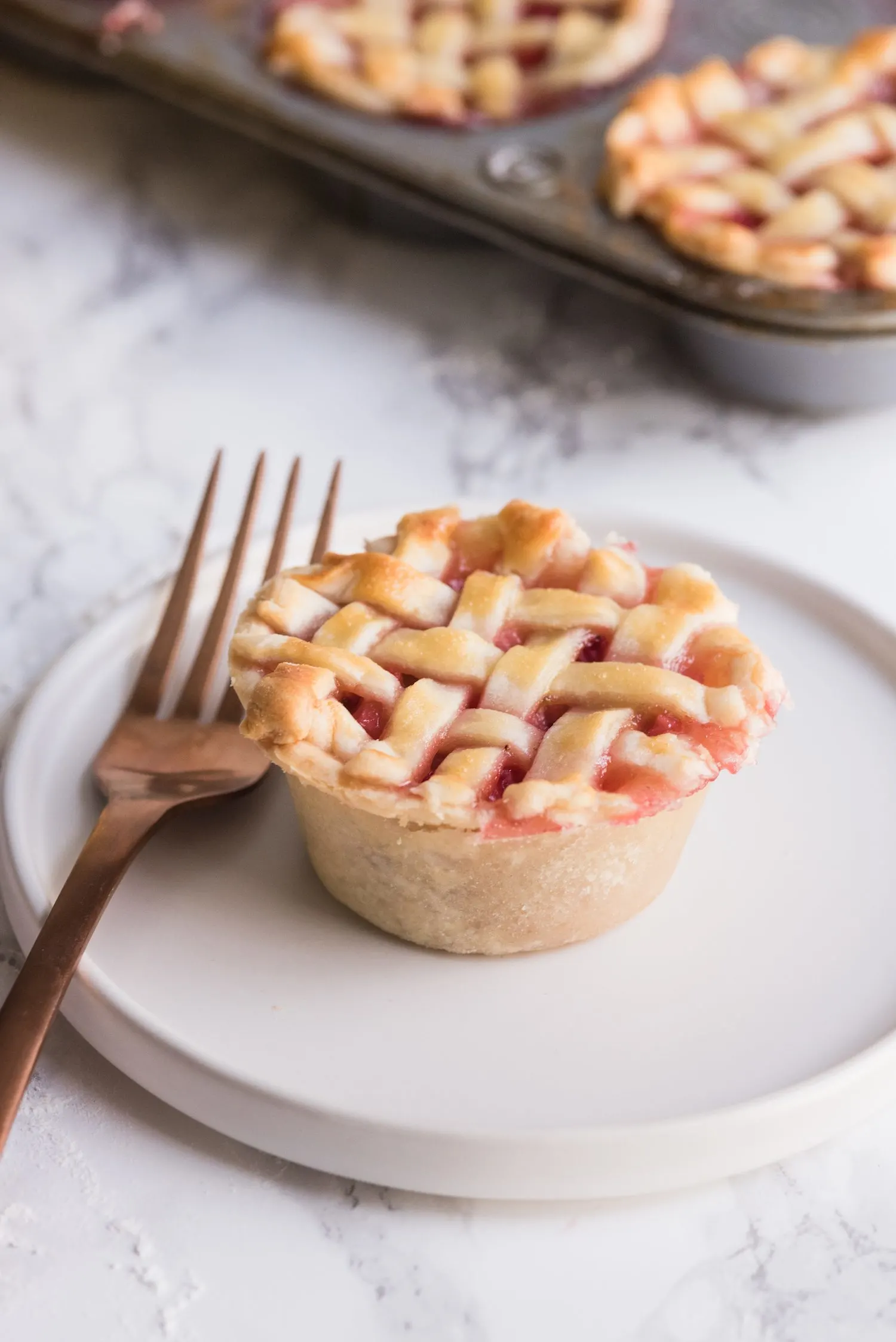 Strawberry season has always held a special kind of magic for me and I'm sure that farm is partially why. So I thought we should make strawberry pies! Mini pies in a muffin tin, because tiny things are adorable and because, duh. Who doesn't want their own little pie?!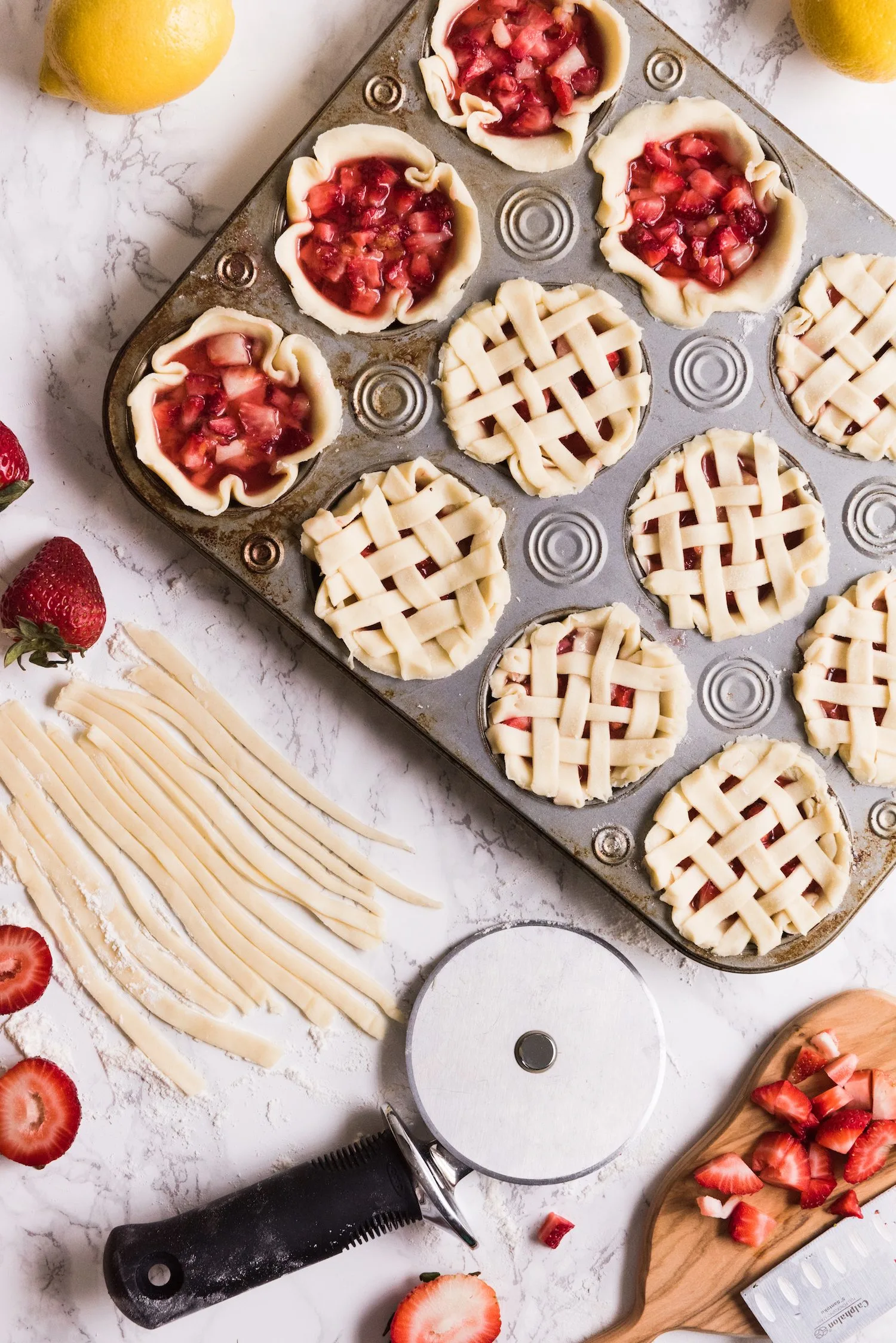 Ingredients in Mini Strawberry Pies:
Refrigerated pie dough – For this recipe I am making mini strawberry pies with store bought dough to show how easy this recipe can be! If you love making homemade pie dough (which I very often do), please feel free to substitute your favorite homemade pie dough recipe.
Chopped strawberries – It's key to use fresh strawberries for this strawberry pie recipe. Source them locally if you can for maximum flavor!
Sugar – White, granulated sugar helps to sweeten the strawberries and make the super yummy pie filling.
Vanilla extract – Whenever possible use a high quality vanilla extract. You'll taste the difference!
Lemon zest + juice – Again, fresh lemons are best here! When creating as simple recipe like this, attention to fresh ingredients imparts far more balance and depth to the flavor.
Cornstarch – Cornstarch helps to thicken the strawberry pie filling and keeps it from running all over the place.
Egg – A quick egg wash helps to give a nice golden hue to the pie crust for your mini strawberry pies.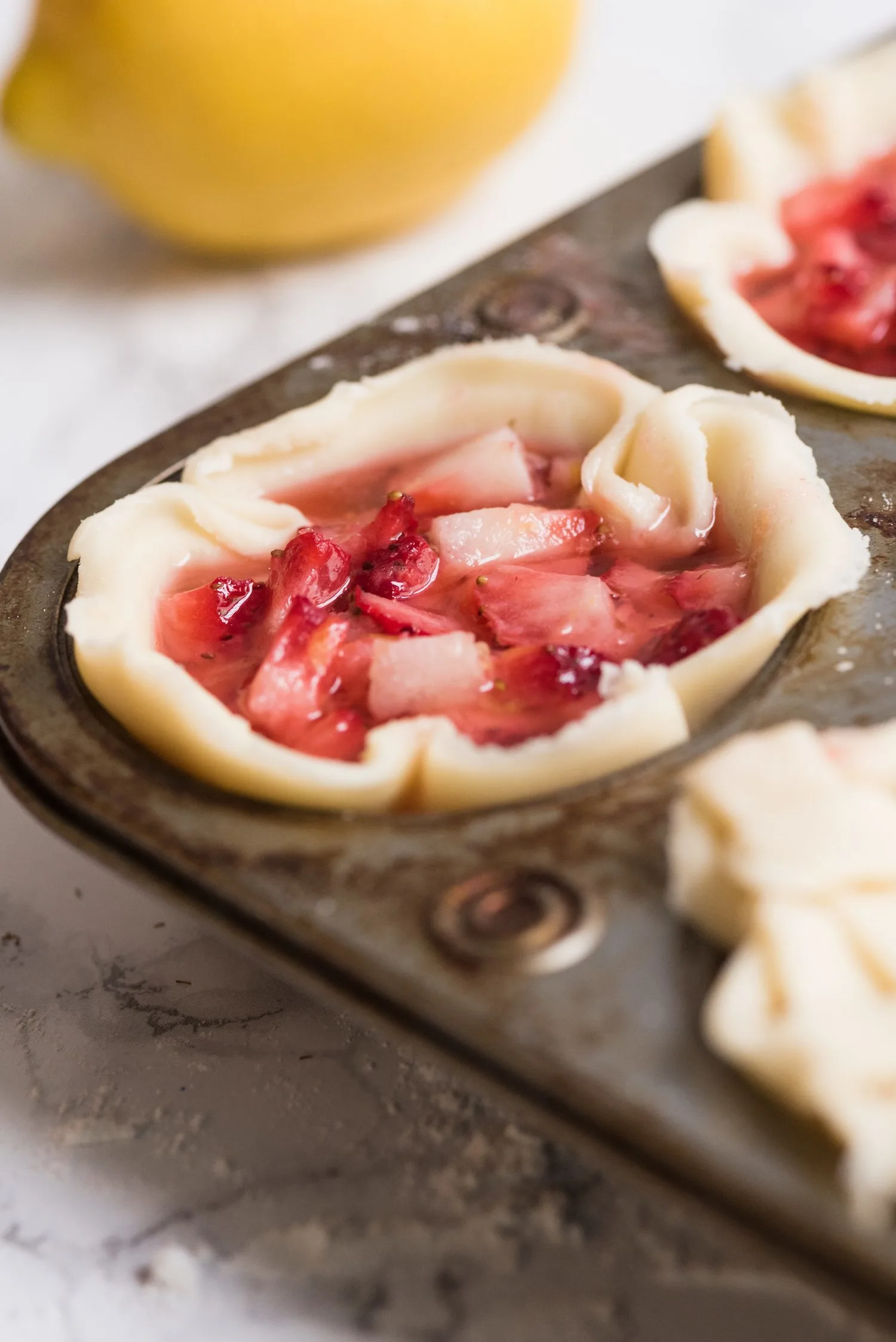 How to Make Mini Strawberry Pies
We're using pre-made store bought dough for our pies today, friends, and I don't want to hear any complaints! I love making pie dough, but I don't always have time to wait for the chilling and all of that, and the chilled dough from the store has come a long way.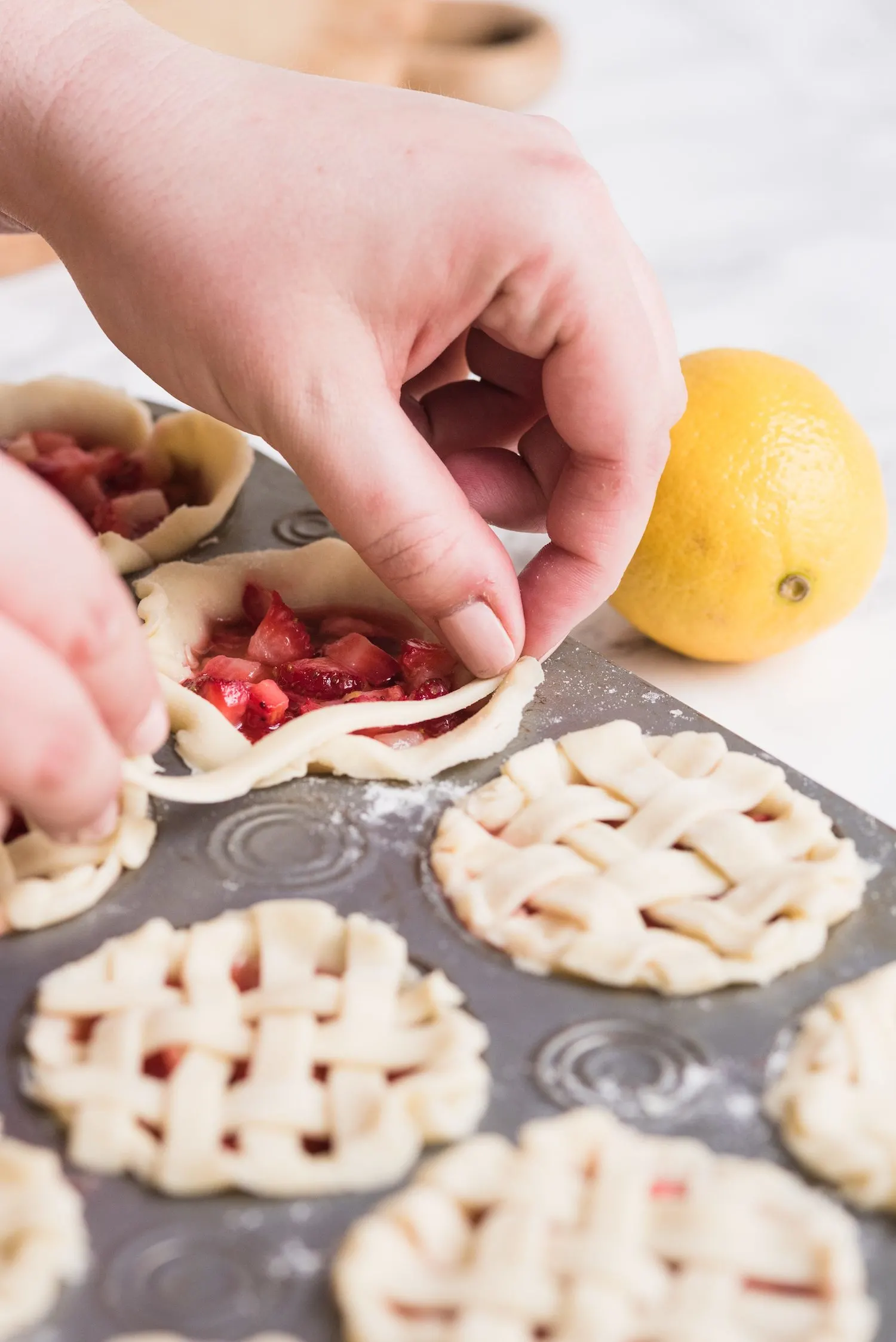 For my mini pies, I decided to give them all a basketweave top. It's super easy, but it can take a little bit of time, so if you're not into all of that, no worries! If you're into the weaving, use a pizza or pastry cutter to quickly cut strips of dough.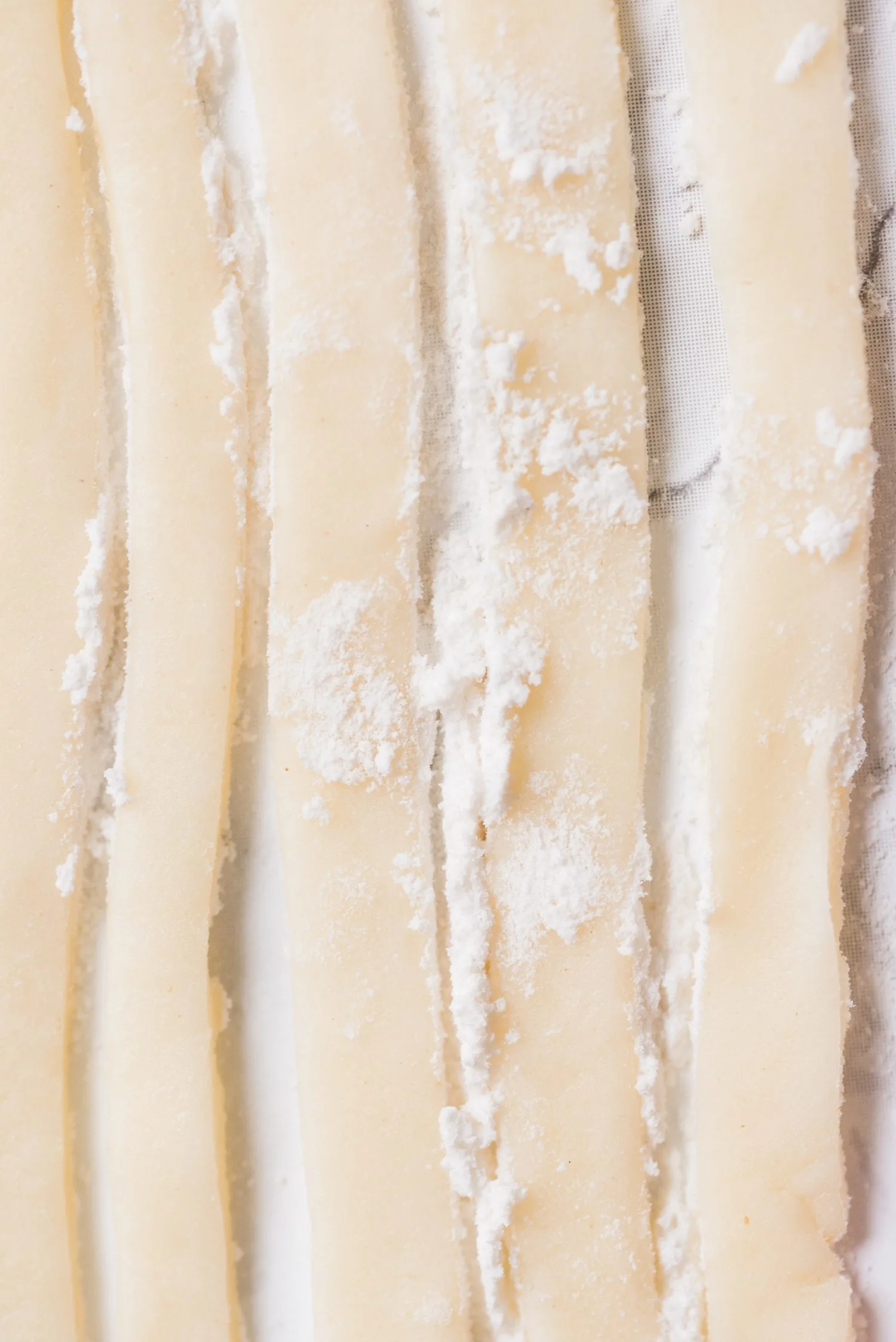 If you want to skip the weave, simply use a cookie cutter or a glass or jar to cut out a circle of dough. Top your pie, then snip a few vents into the top of your pie so they don't explode and make a mess while baking.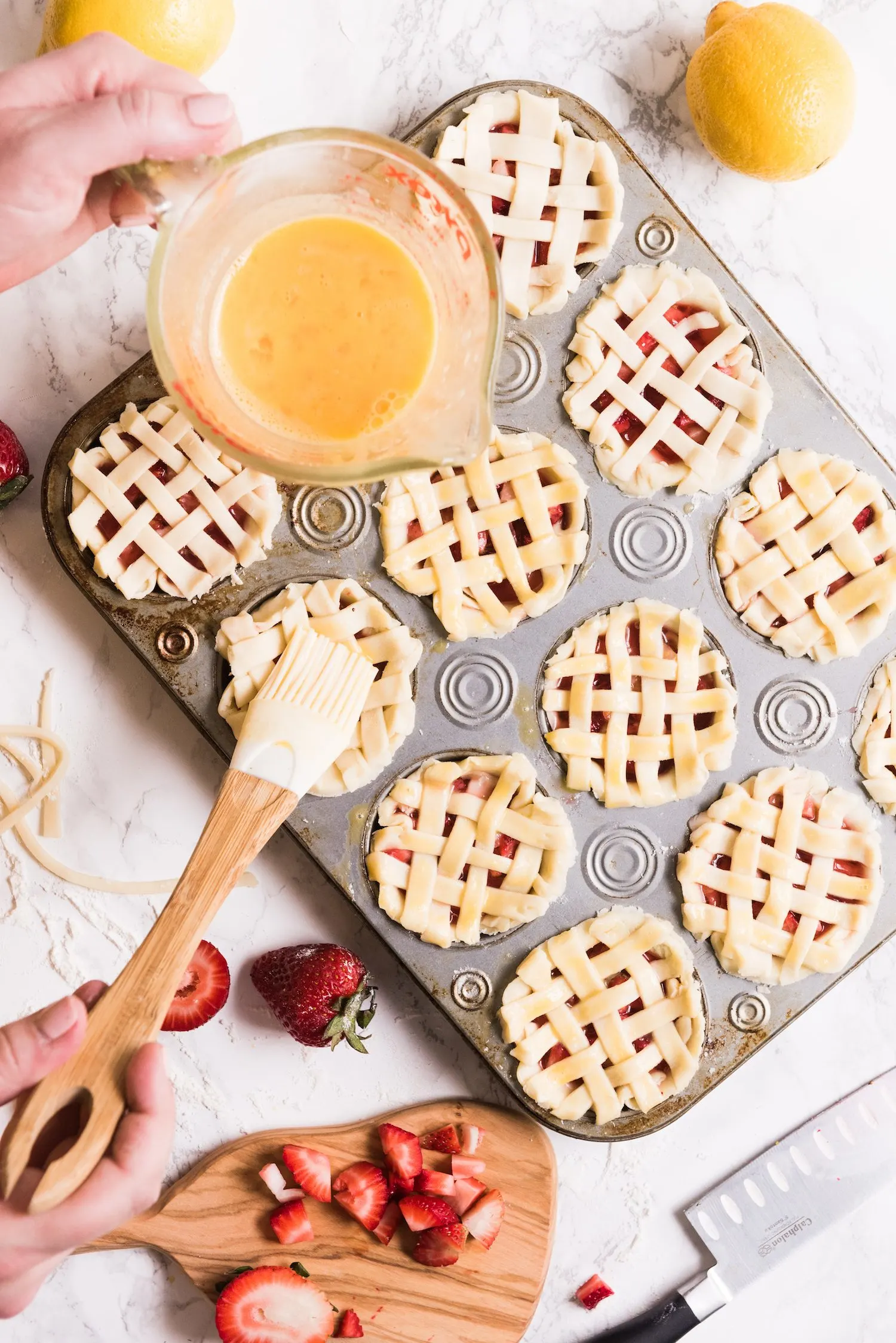 Next, use an egg wash across the tops of your mini pies to help them bake up to a nicely golden color. This will give the pie crust the tiniest bit of crispiness necessary to make them even more delicious.
Once removed from the oven, transfer your muffin tin of mini pies to a wire baking rack and let the pies cool. That bubbly filling will be super hot! They won't be able to be eaten right away and could burn your tongue so let them cool for at least an hour before serving.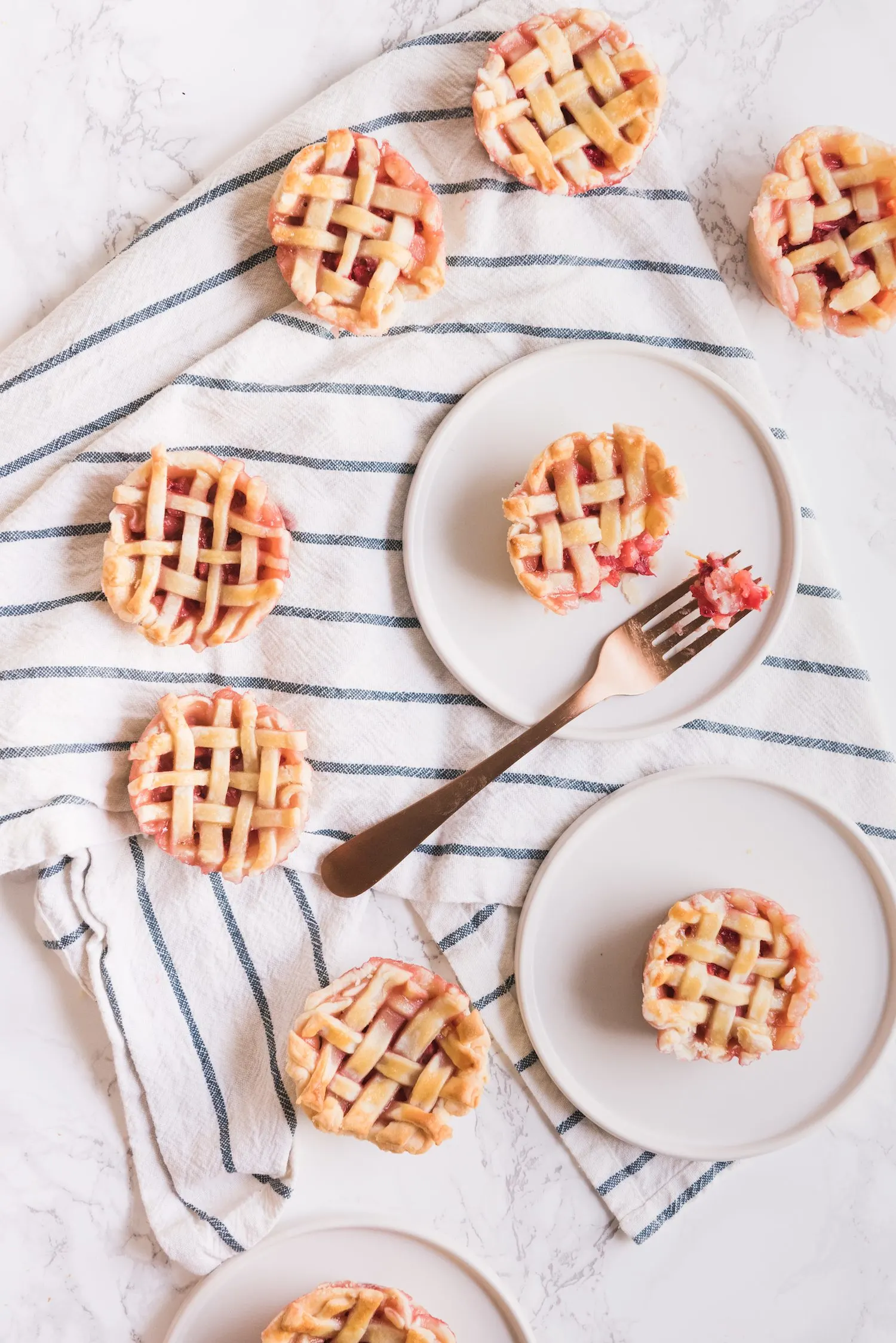 When it comes time to serve this mini strawberry pies are perfect on their own, but even tastier if you top them with whipped cream and/or a few chunks of fresh strawberries. A little extra lemon zest on top never hurt anybody either!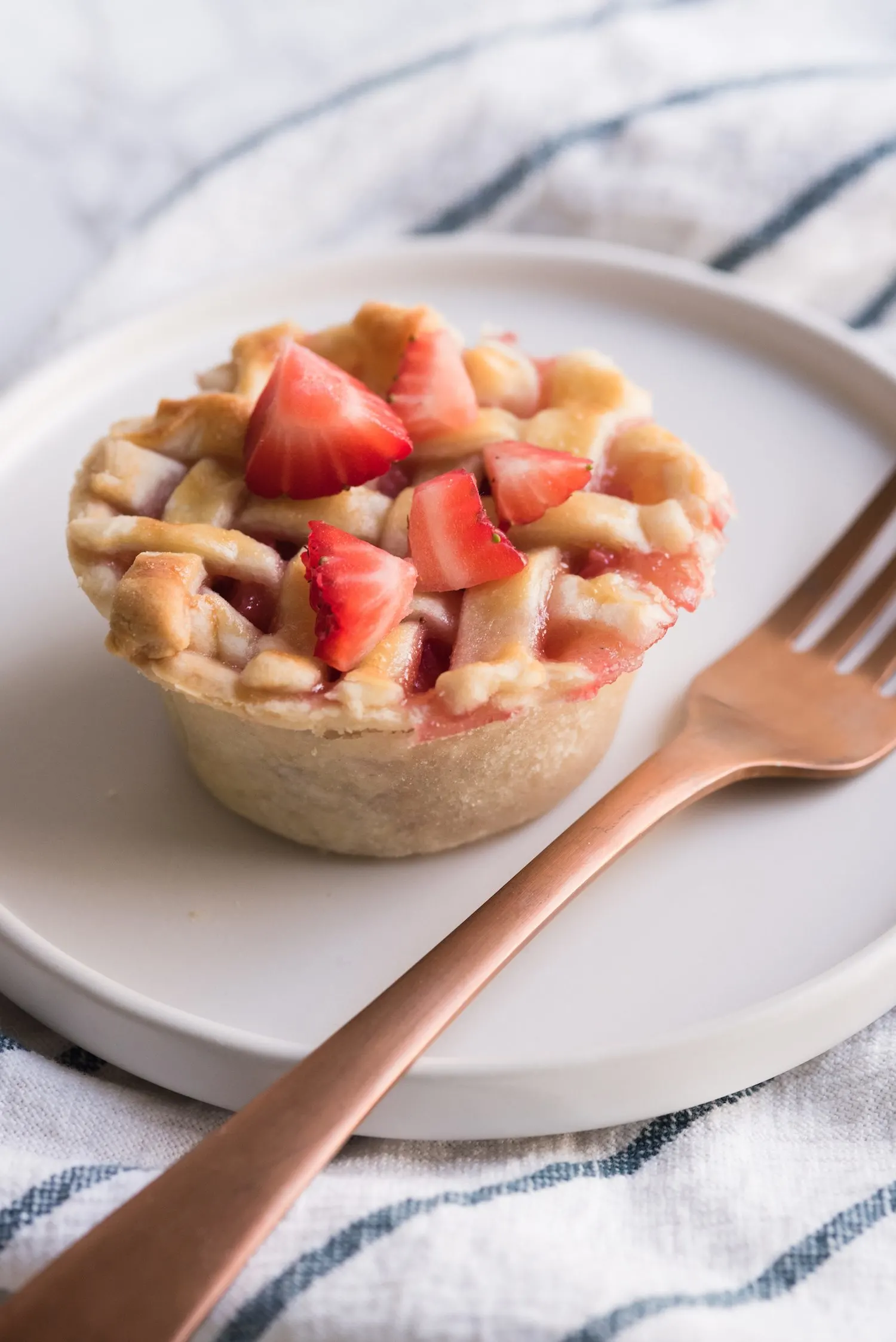 These mini strawberry pies are a classic summer pie recipe. They're great for parties, summer celebrations or making on any day that you need a burst of fresh summery flavor by the way of a great strawberry pie. Enjoy!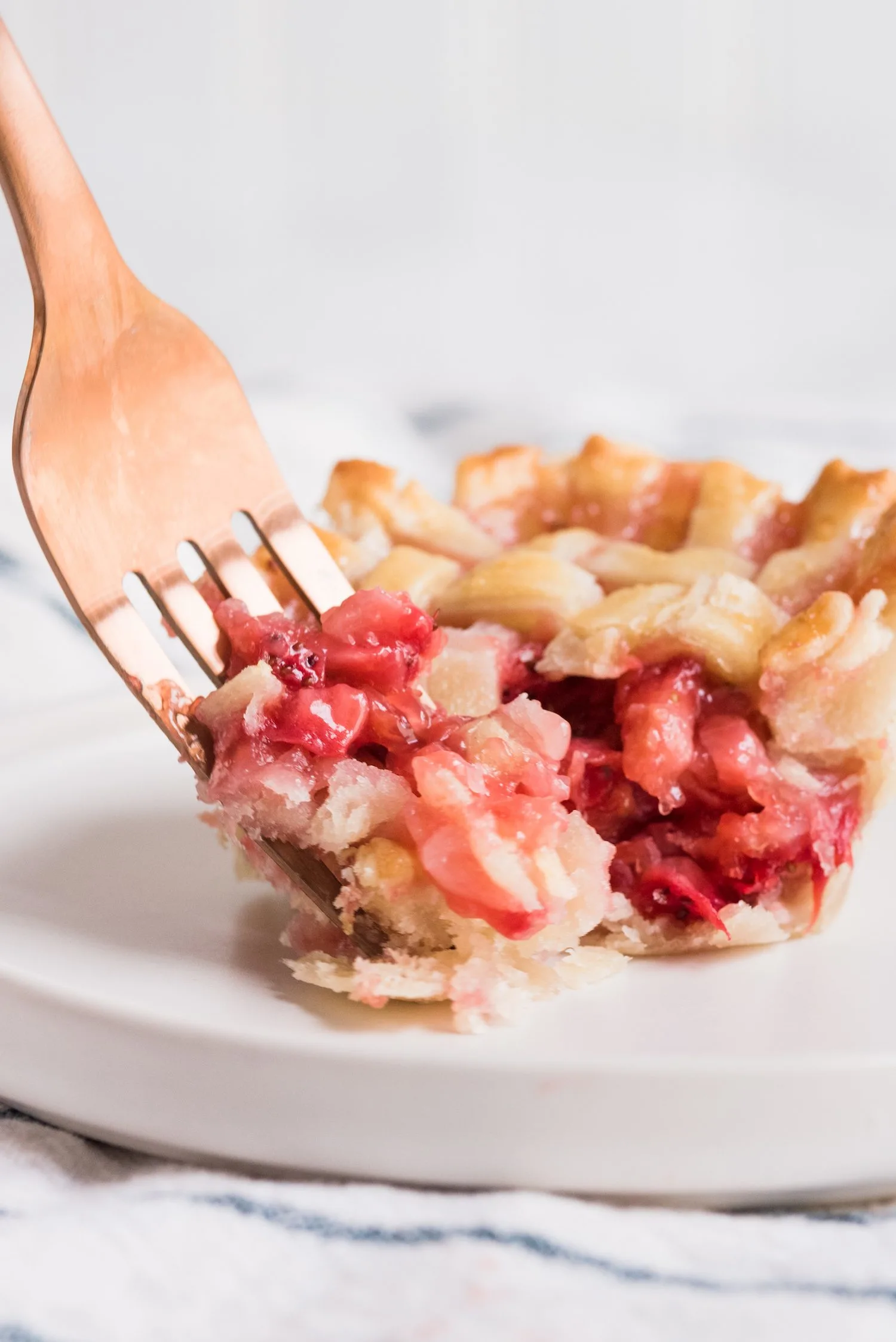 Looking for More Awesome Strawberry Recipes?
Try these other strawberry desserts, strawberry cocktails and even savory fresh strawberry recipes: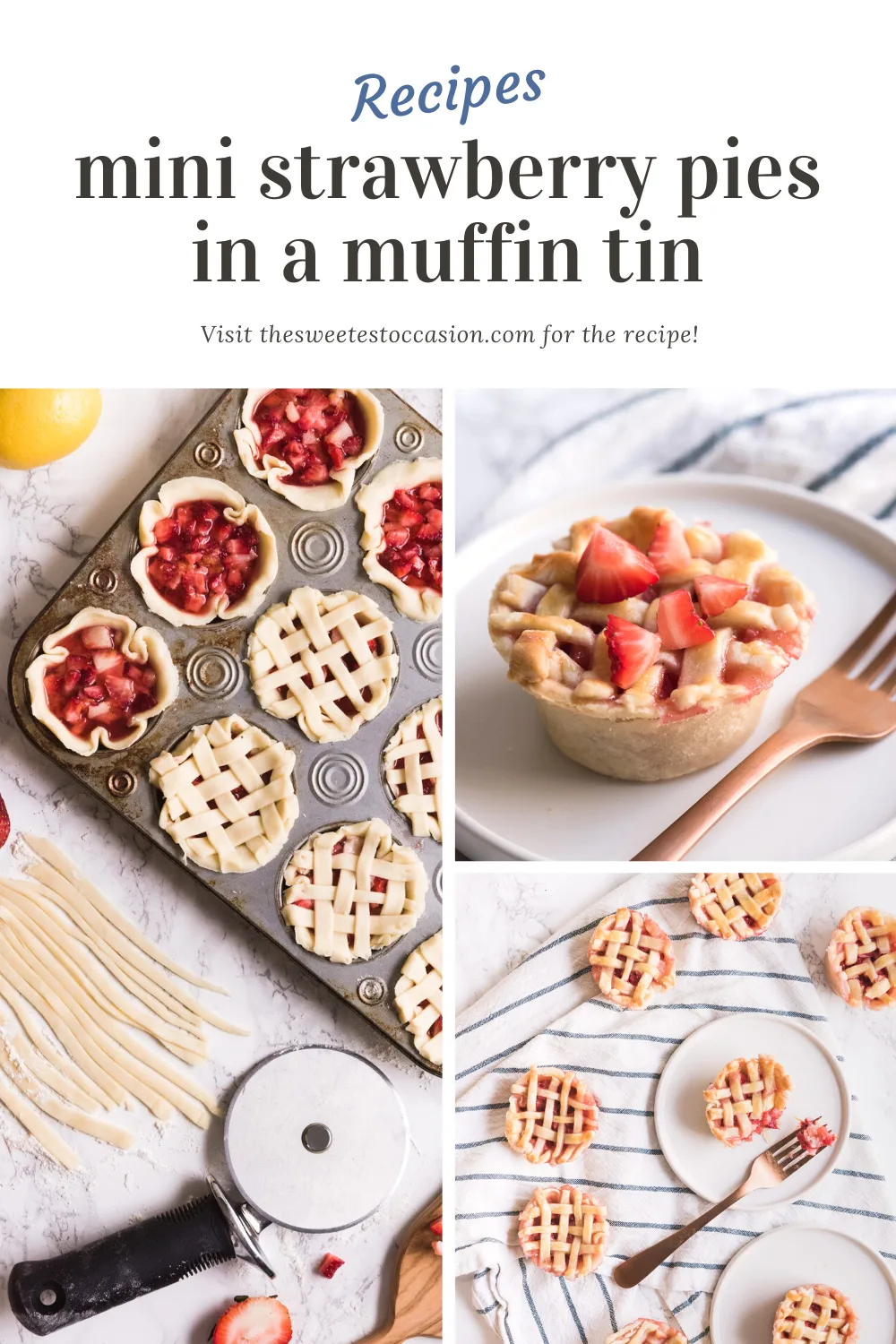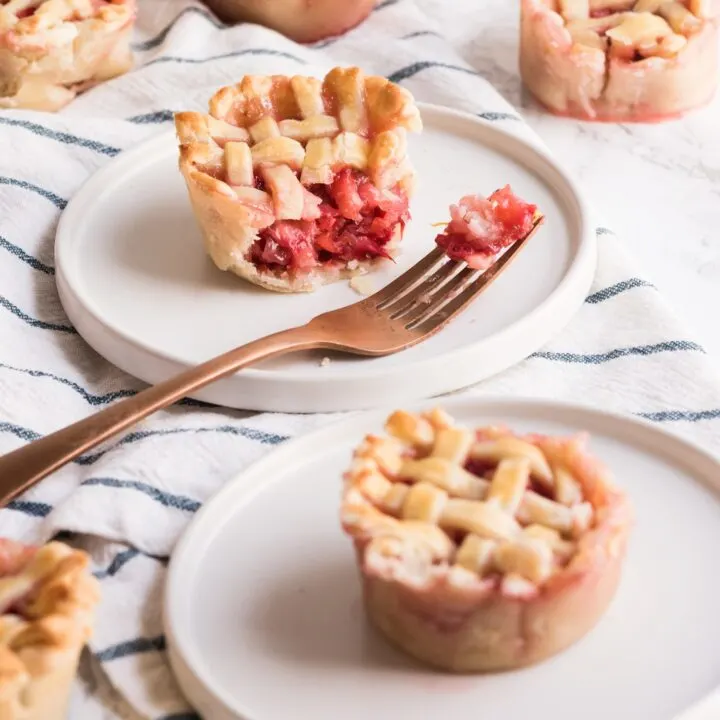 Mini Strawberry Pies in a Muffin Tin
Yield: 12

Prep Time: 25 minutes

Cook Time: 30 minutes

Total Time: 55 minutes

These mini strawberry pies are made in a muffin tin making them easy to bake and perfectly portioned for dessert. Make these mini strawberry pies with store bought dough or your favorite homemade dough recipe!
Ingredients
2 packages refrigerated pie dough
3 cups chopped strawberries
3/4 cup sugar
1 tablespoon vanilla extract
Zest + juice of half a lemon
3 tablespoons cornstarch
1 egg, beaten
Instructions
Preheat oven to 350° and remove dough from the fridge to warm to room temperature
Spray all the cups of a muffin tin with non-stick baking spray
Unroll dough and use a glass, jar, or cookie cutter to cut out circles of a size that will fit into each muffin cup
Combine strawberries, sugar, vanilla, lemon, zest and cornstarch in a mixing bowl
Fill each crust 3/4 full with strawberry mixture
Top with pie crust (either make a basketweave top or use a full top and pierce or cut to vent)


Lightly brush the top of each mini pie with egg wash
Bake 30 - 35 minutes or until golden and filling is bubbling. Remove from the oven, place muffin tin on a wire baking rack and let cool for at least 1 hour before serving.
Notes
Serve topped with a bit of whipped cream and/or a few chunks of fresh strawberries for extra strawberry flavor!

[Art direction, recipe + styling by Cyd Converse | Photos by Alice G. Patterson.]