This post was sponsored by SOLA®. Thank you for
supporting the sponsors that help make The Sweetest Occasion possible!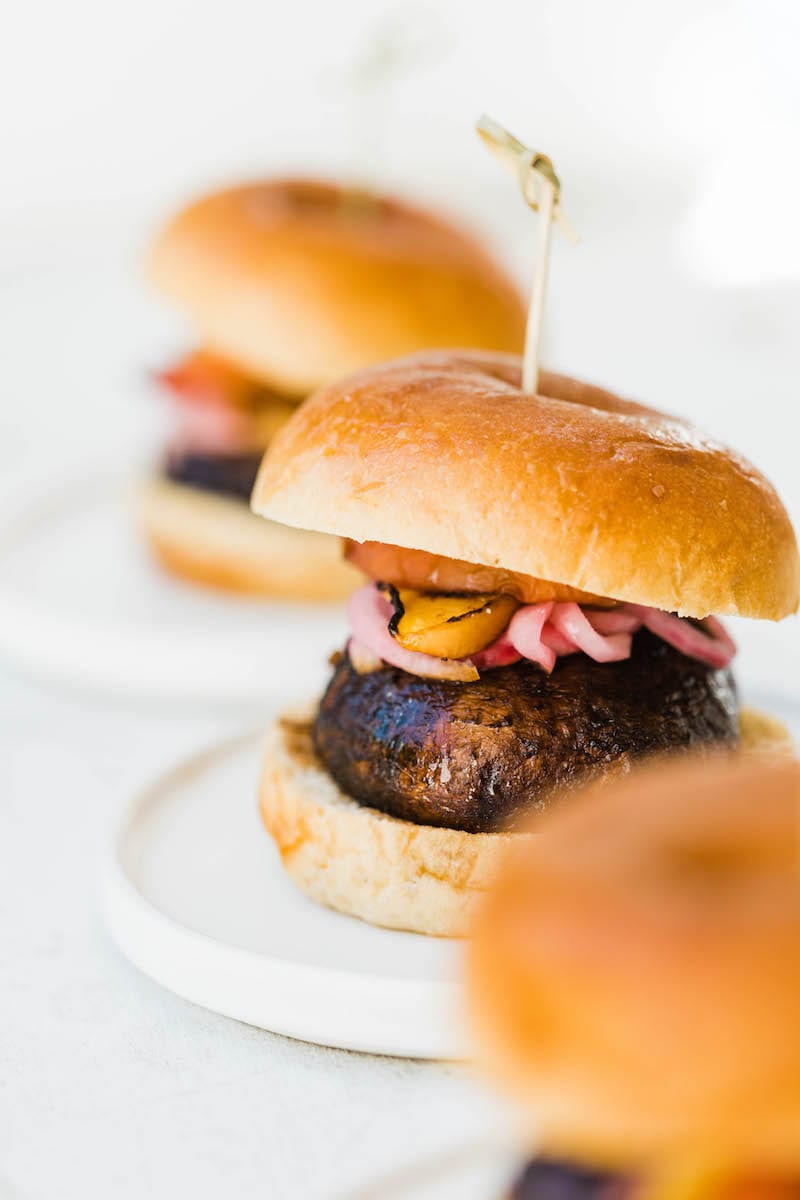 There's a restaurant here in our little city where they serve the most amazing portobello burger. It's so good that it inspired me years ago to starting grilling portobello burgers at home. Today I'm teaming up with SOLA® to share what might just be the perfect summer grilling recipe – my portobello burgers topped with grilled peaches and pickled red onions!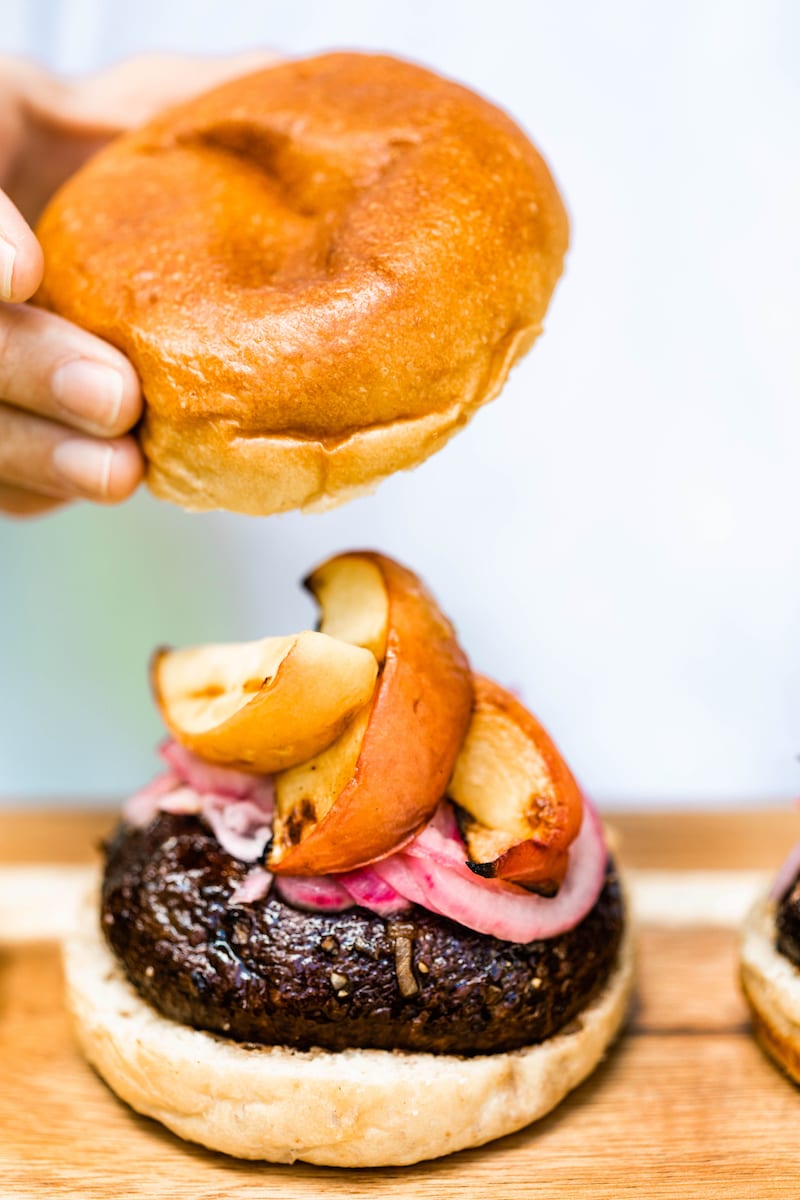 As it turns out, SOLA® low-carb bun make the perfect complement to these portobello burgers. They're soft, fluffy and totally remind me of a classic brioche bun, only with a low-carb approach that renders them entirely keto-friendly. If you're living that keto life (or like me and just try to keep your carbs in check generally) you will absolutely love these buns. (You can use the code 15SWEETEST on their website for 15% off, too!)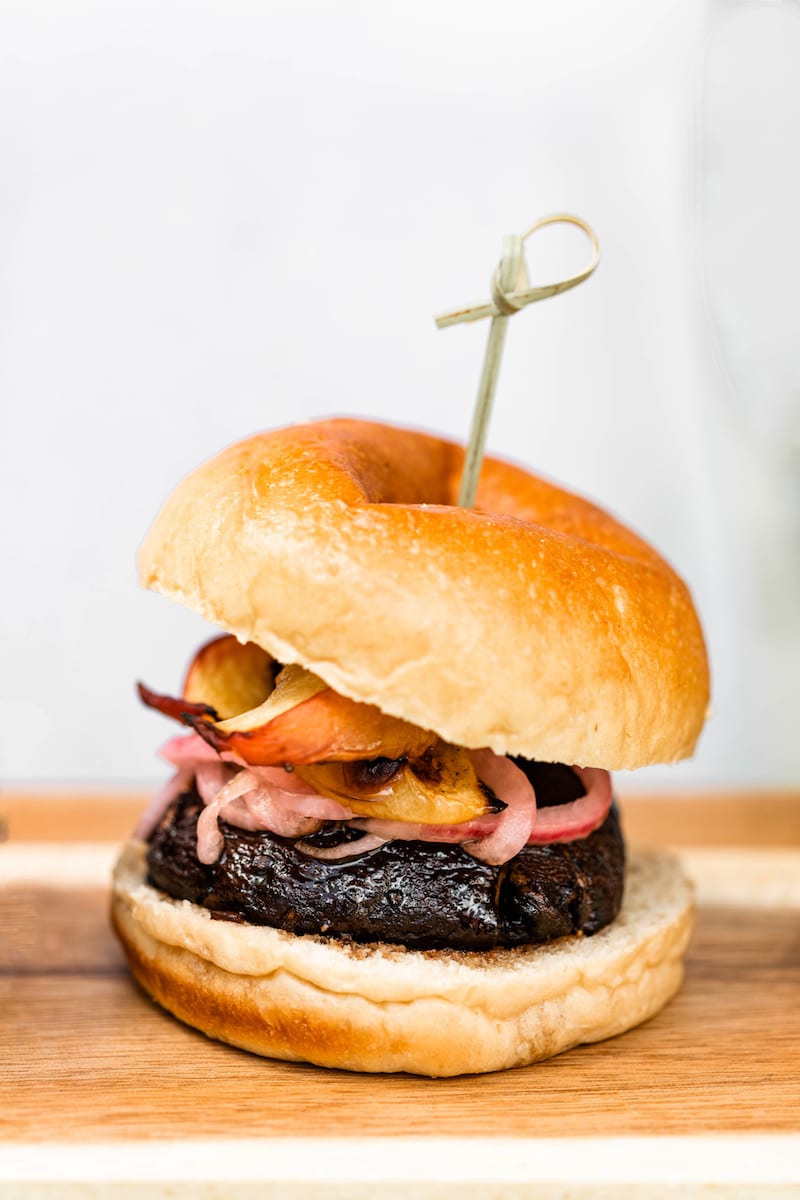 How to Grill Portobello Burgers
After much experimentation, it is my strongly held belief that the best portobello burgers are those that are nicely marinated and then slowly grilled over medium heat for 20 or so minutes. You want them nice and tender with all of the extra flavor cooked right in. Below you'll find my easy five-ingredient marinade to get you started!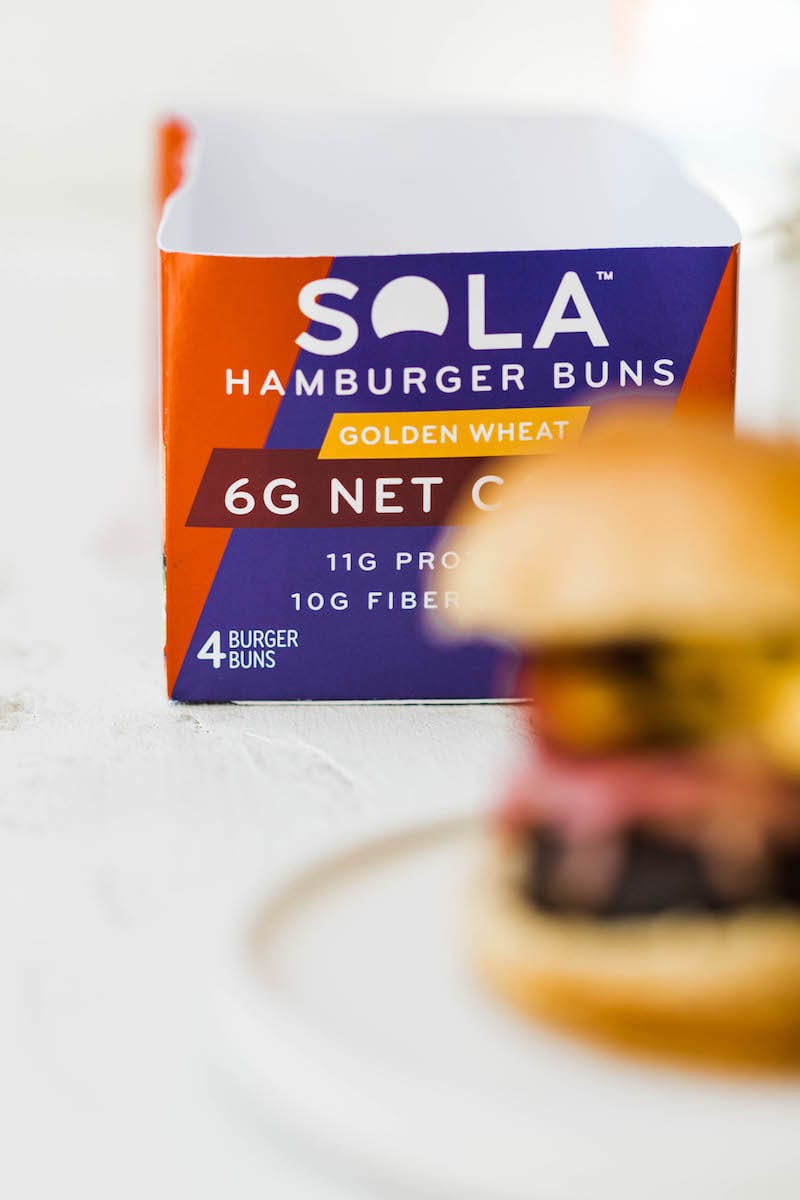 I like to marinade my portobello mushrooms for at least an hour or two before cooking. During the week you can prep them before you head out to work, or even the night before. On the weekend I tend to let them marinade in the afternoon while we're doing yard work or sipping cocktails.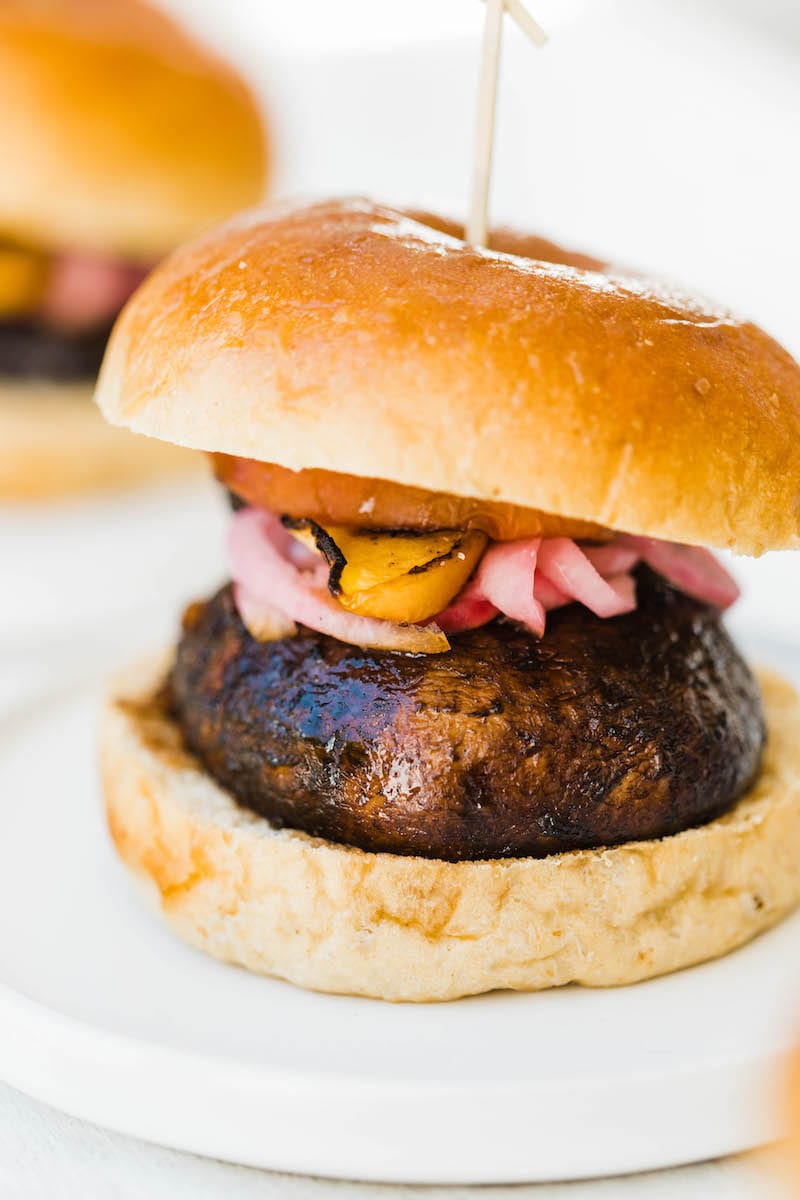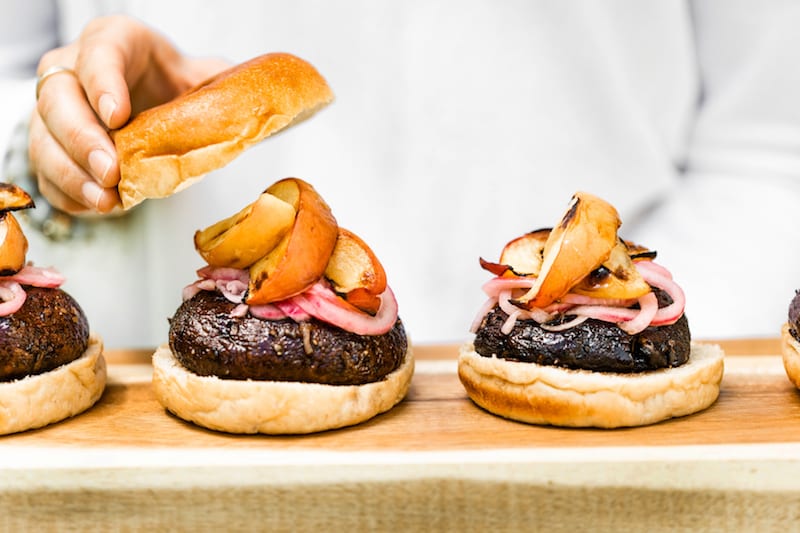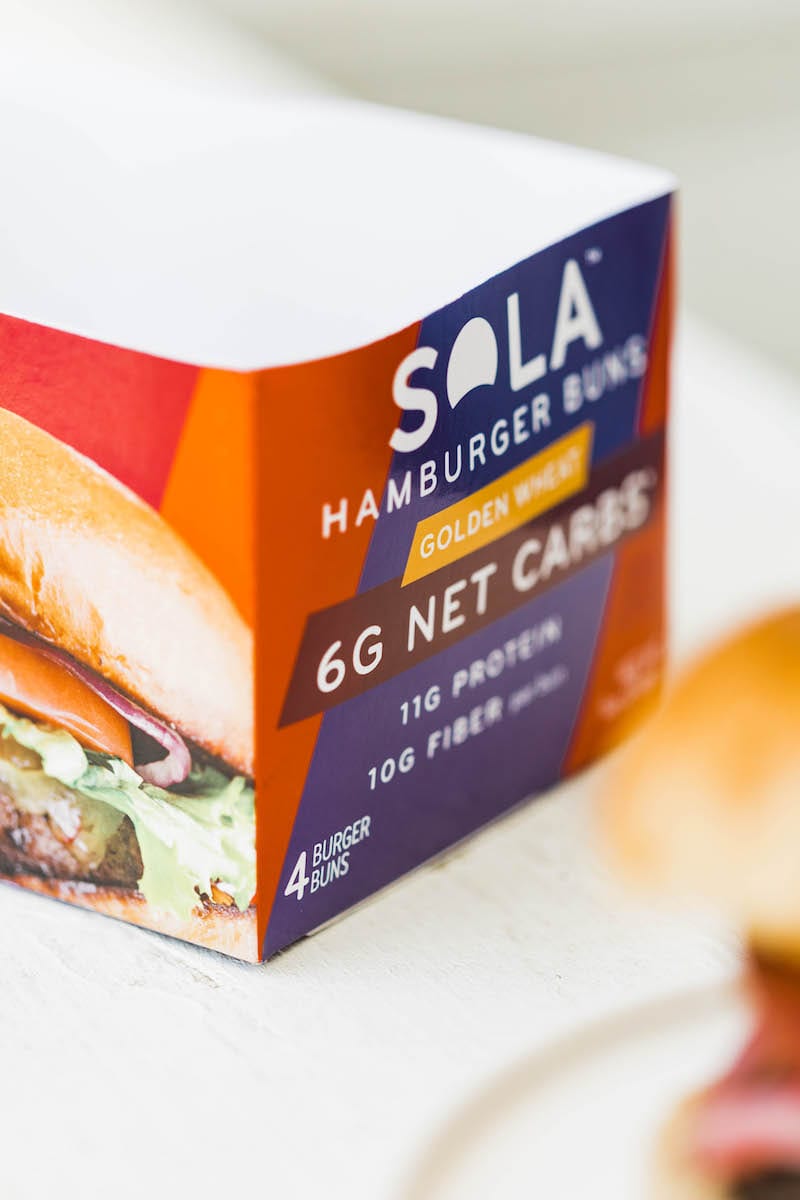 Our family is crazy about the SOLA hamburger buns, too! They have an amazingly soft texture and pack an incredible 11g of protein and 10g of fiber to just 6g of net carbs. They're a seriously tasty alternative to your typical buns for your anything but typical burger recipes this summer.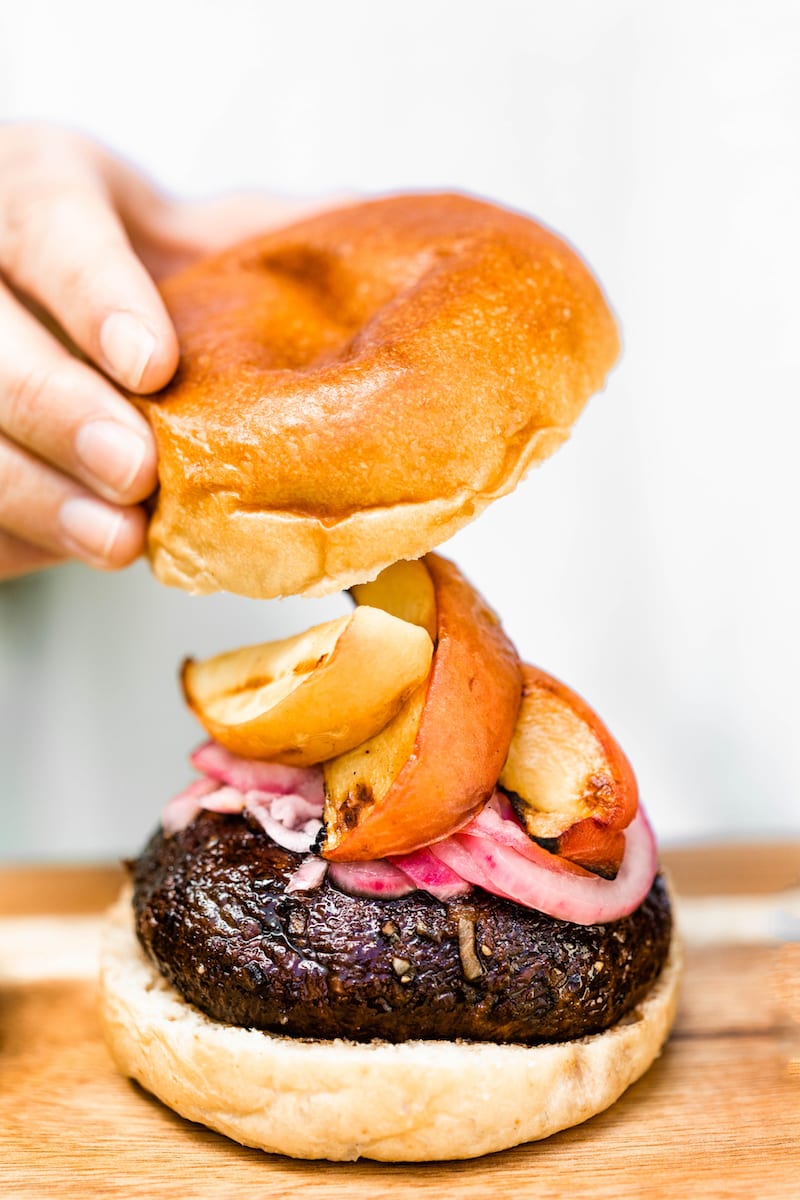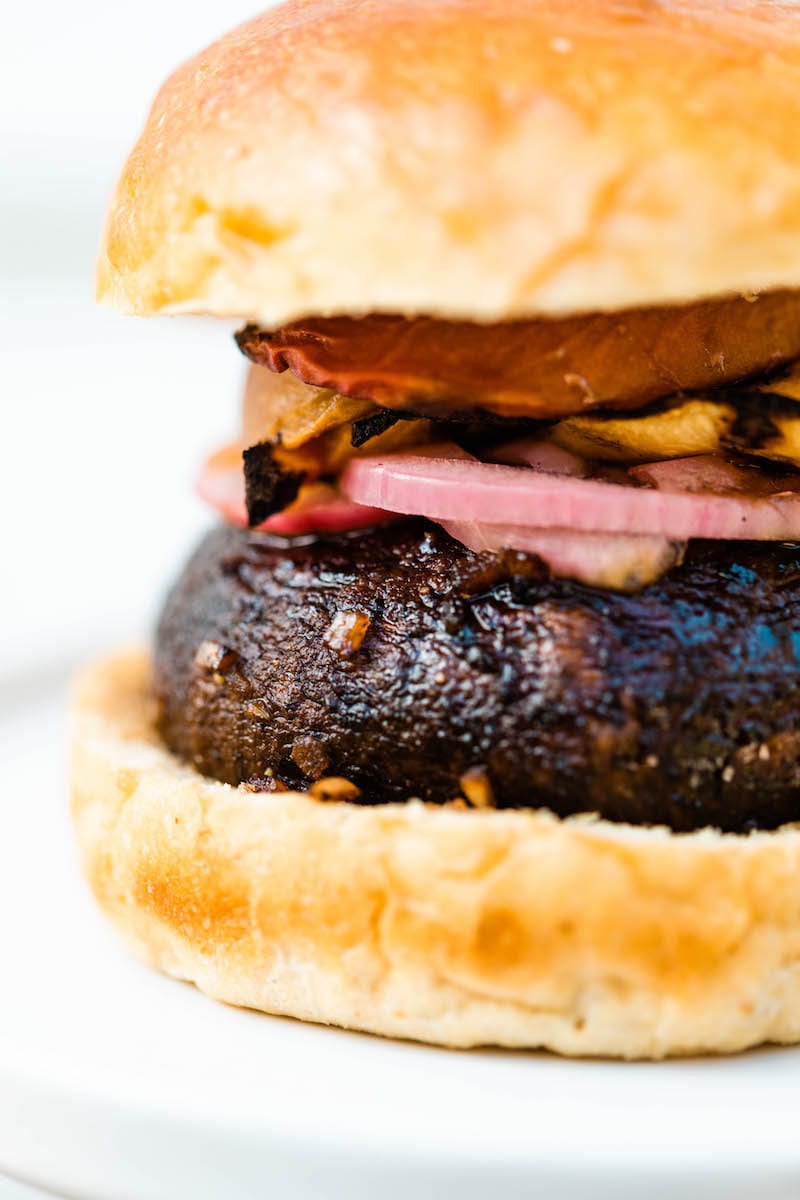 I had some people kind of question me on the grilled peaches the first time I made them. Don't question me, friends! They are sensational. Lightly sprayed with olive oil and grilled right alongside the portobellos, they turn into something seriously melt-in-your-mouth magical.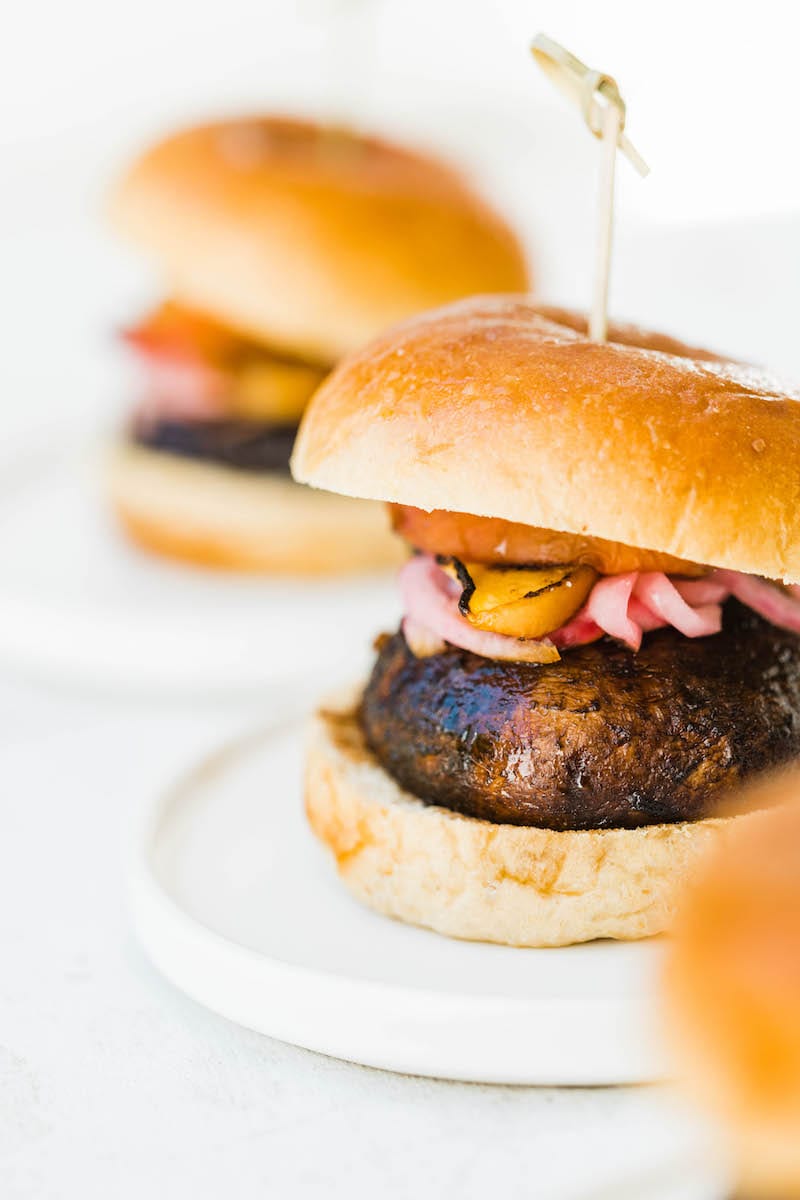 I hope you give these portobello burgers a try! If you do, don't forget to share with me on Instagram where you can also follow SOLA for more great recipe ideas, promos and more. Don't forget! Use use the code 15SWEETEST to snag 15% off your order. Bon appetite!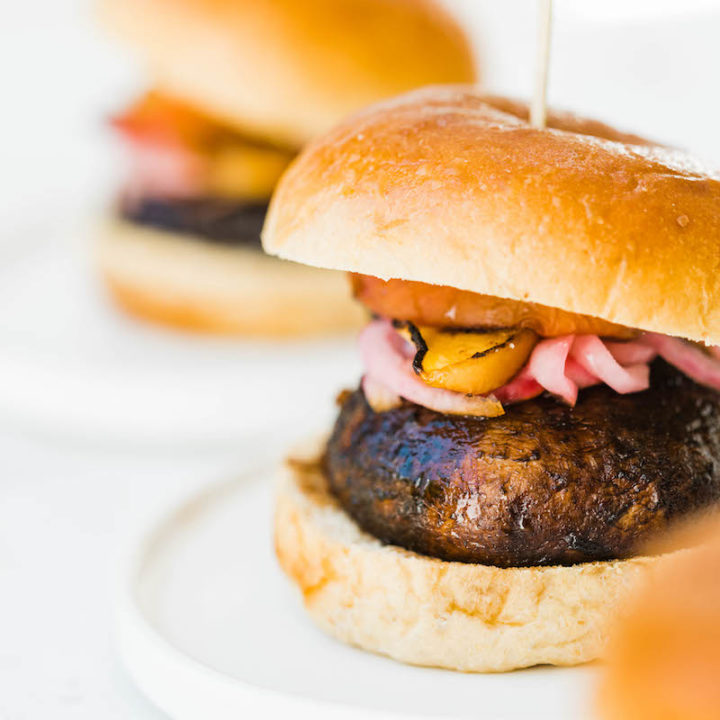 Portobello Burgers with Grilled Peaches
Easy grilled portobello burgers topped with grilled peaches and quick pickled red onions! The perfect summer grilling recipe for weeknight dinners or weekend parties.
Ingredients
4 medium portobello mushrooms
1/2 cup olive oil
1/4 cup balsamic vinegar
1 tablepsoon dried minced onion
1/2 teaspoon paprika
1/4 teaspoon fresh cracked black pepper
2 peaches
Pickled red onions (see below for recipe link)
4 SOLA® low-carb buns
Spray olive oil
Instructions
Place cleaned portobello mushrooms in a single layer in a shallow bowl and set aside
In a small bowl whisk together olive oil, balsamic vinegar, dried minced onion, paprika and black pepper. Drizzle over top of the portobello mushrooms and set aside.
Slice peaches into approximately 1/2" thick wedges. Spray lightly with spray olive oil.
Transfer portobello mushrooms and peach wedges to a pre-heated grill over medium heat.
Grill both mushrooms and peaches for 20 - 25 minutes or until soft and tender flipping halfway through.
Assemble burgers by placing a grilled portobello on a

SOLA® low-carb bun. Layer pickled red onions on top, then top with grilled peaches.

Other ideas for toppings include arugula and goat cheese.
Notes
Follow my pickled red onions recipe for finishing off your perfect portobello burgers! I like to pickle my onions overnight or for at least 3 to 4 hours before serving. Enjoy!