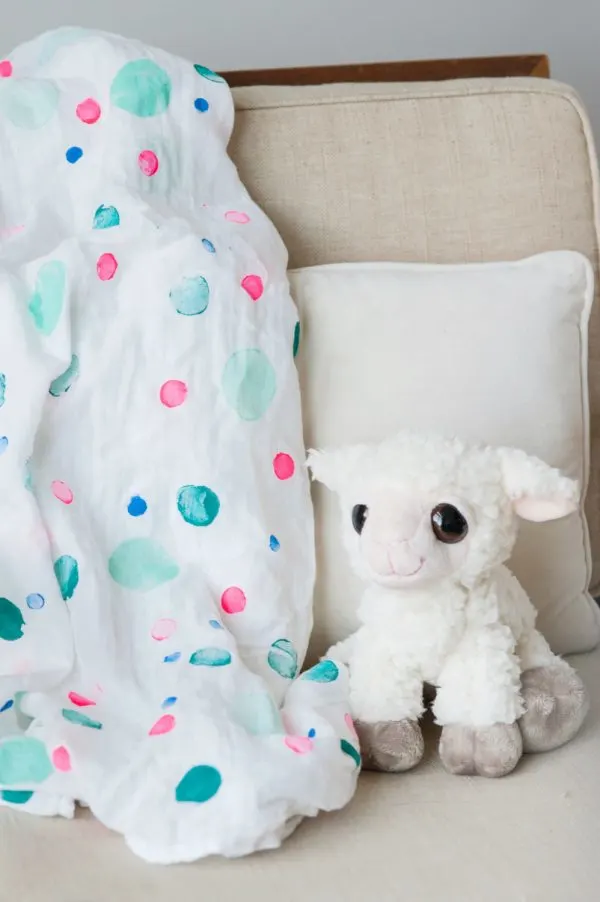 With the arrival of our little bebe seemingly right around the corner, I've decided it's probably time for me to speed up my thought process with regards to preparing a nursery and just preparing in general. Because I know this little nugget will be the baby of the family, I'm trying to be really careful about buying too much or acquiring too much stuff, just to phase out of it super quickly and have it go to waste. All of that said, I can't resist getting my hands a little paint-covered for essentially all of life's occasions, so a baby is no different. One of my oldest friends is due with her fourth (and final) baby within just a few days of me, so while neither one of us wants to load up on excessive stuff, I thought making a pretty yet practical polka dot swaddle blanket or two might just be in order.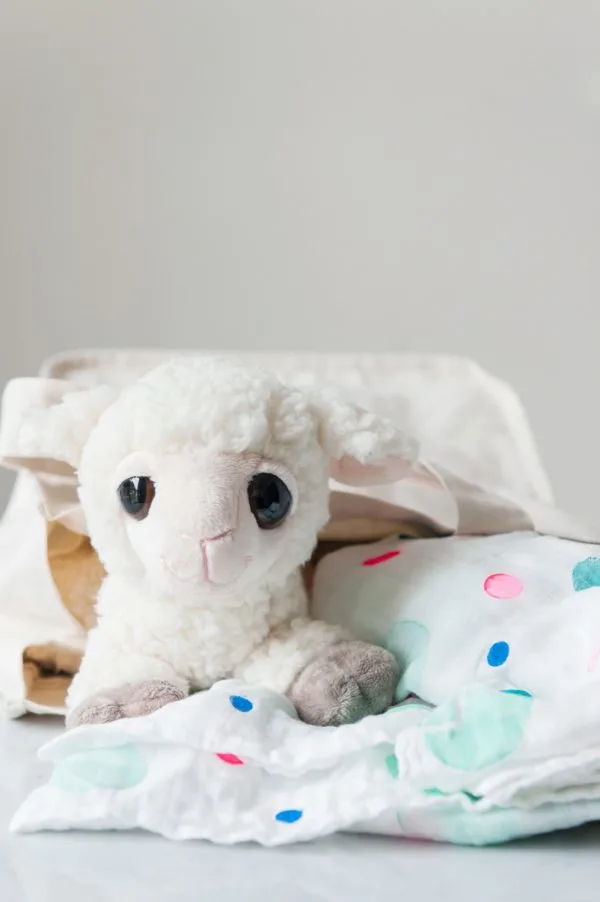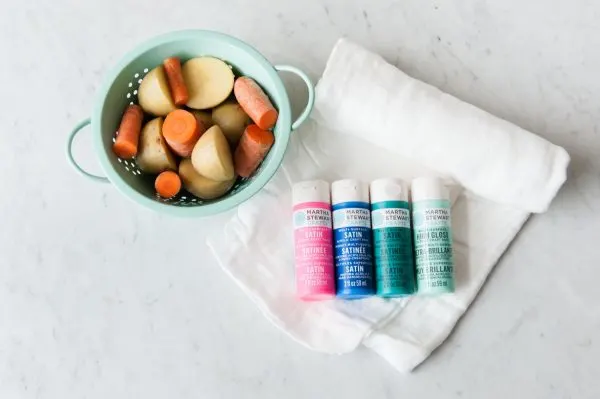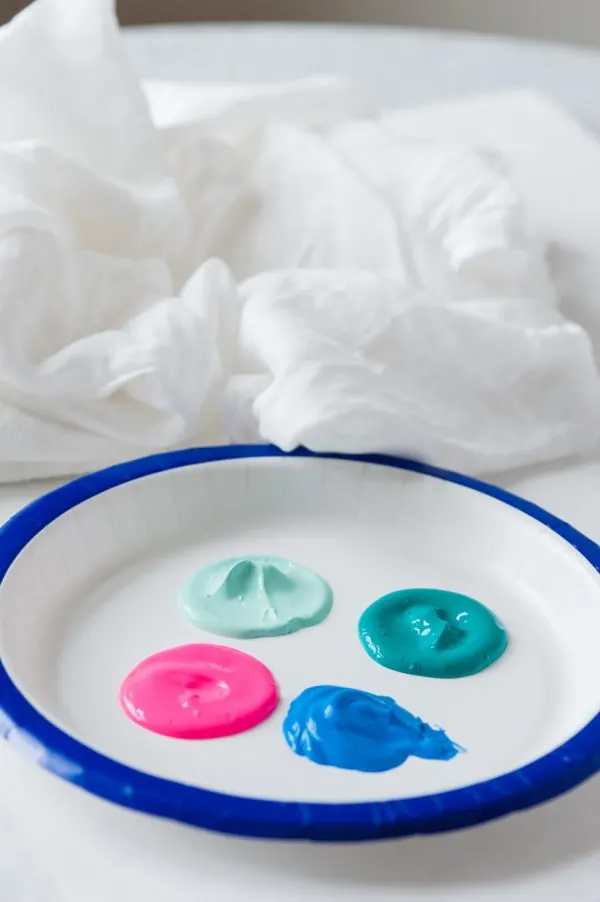 Plain white muslin swaddle blankets (I used these ones)
Craft paints in 3-4 assorted colors
Potatoes and carrots (yes, vegetables)
Paring knife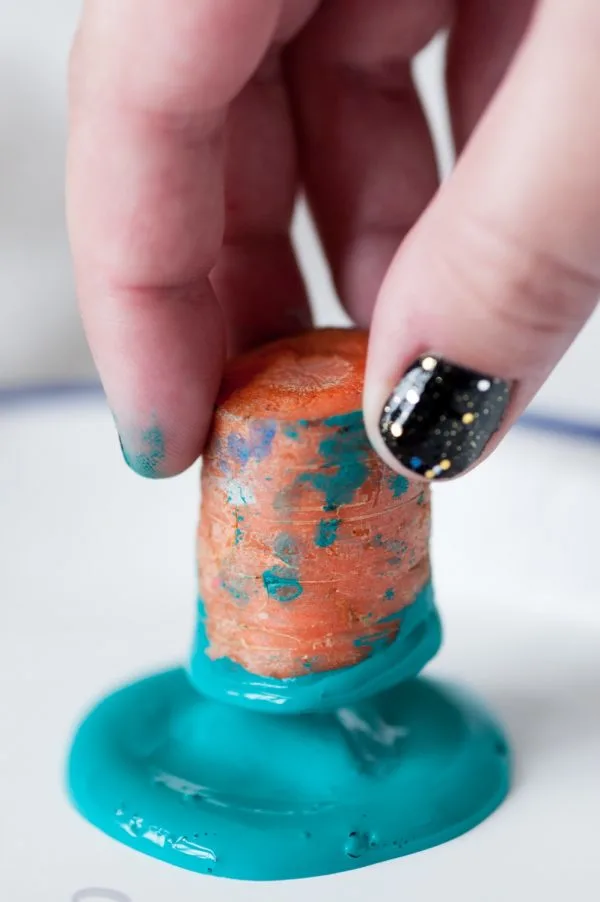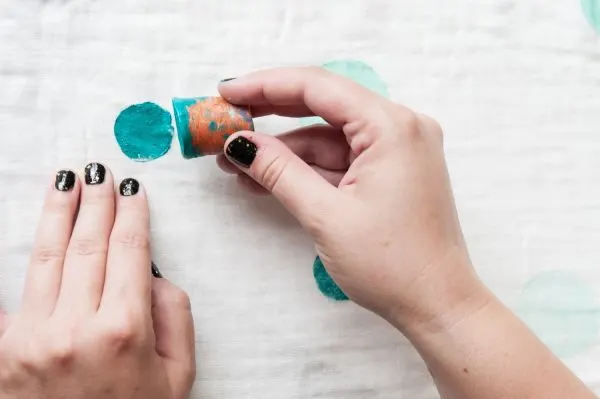 This is such an easy project and would make an amazing shower gift even if you're not expecting a little one yourself! We're talking simple white muslin swaddle blankets, your favorite colors of paint (basic craft paint will do the job), potatoes and carrots. Yes, we're raiding the veggie bin and going old school with a little potato stamp action today, friends! To get started, wash and dry your swaddle blankets per the care instructions. I went with these bamboo and cotton swaddles, which are super soft and lovely. Squirt a bit of each paint onto some kind of paint palette. I used a paper plate because that's how fancy I am. Carefully mix a little bit of water in with each color just to thin the paint slightly. Then it's time to start stamping!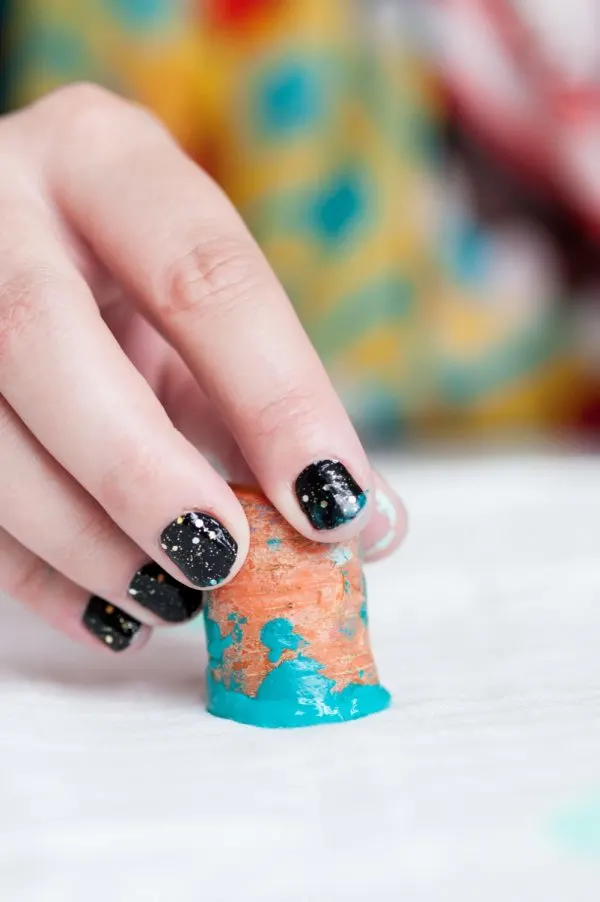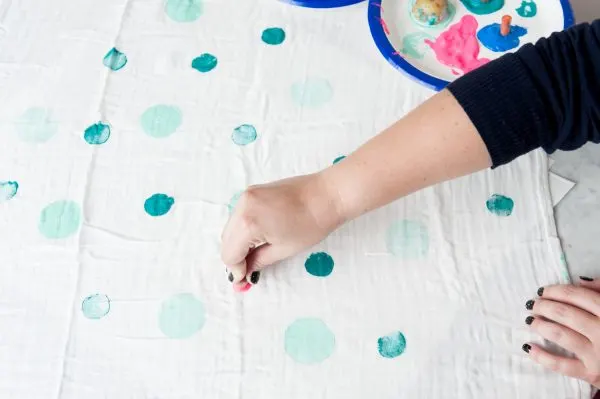 I washed, patted dried and chunked up several different sizes of potato and carrot with my paring knife, intentionally wanting to create little stamps of different diameters to get a bit of variety in my polka dots. What's so awesome about stamping with veggies? Well, they are super inexpensive for one (so no need to invest in expensive craft supplies if you're just making a blanket as a gift but aren't a huge crafter) and, for two, the natural shape lends itself to creating perfectly imperfect polka dots. Once your veggies are cut up, make sure your blanket is spread out flat on a protected work surface (the paint might bleed through a bit) and then it's just a simple process of dipping into the paint, dabbing off the excess and stamping polka dots all over!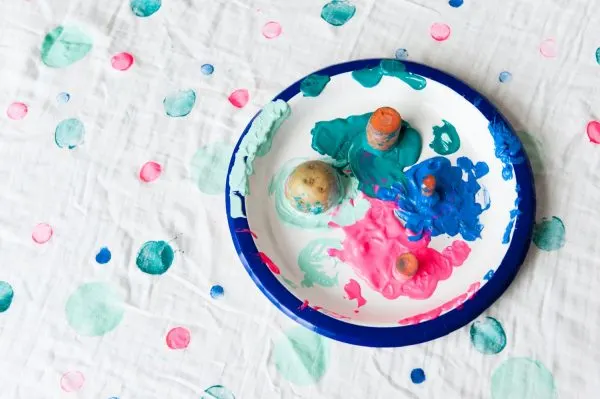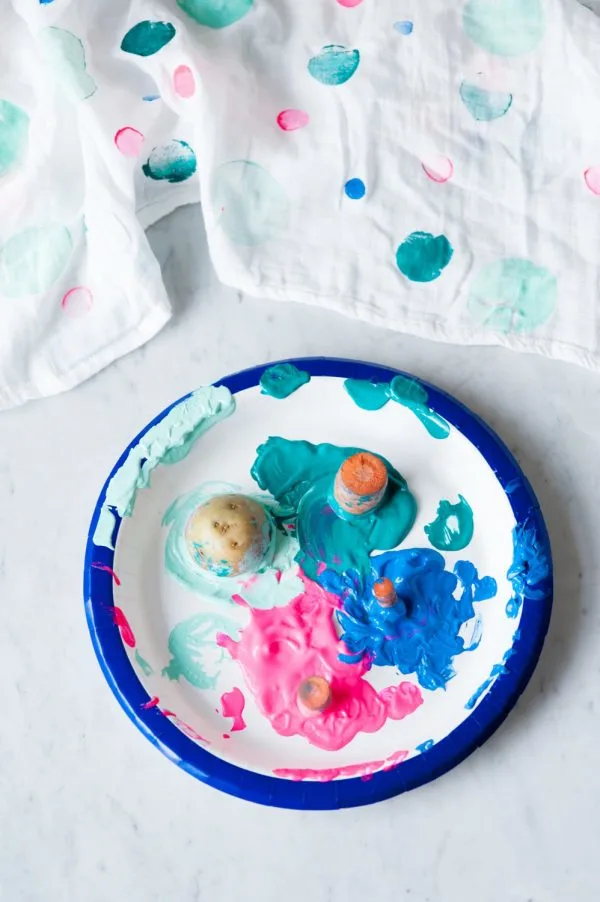 Once you have a distribution of polka dots that makes you happy, you're done! Hang your blanket to dry (for a few hours at least) and it's ready to use. The craft paint works great on fabric, but may feel a bit stiff in areas with more paint coverage. To help remedy that, use less paint while you're stamping. I prefer the softer, slightly weathered look that gives anyway, but it's up to you. For gift giving, I'd roll up the blanket and tie it with a pretty ribbon. You can customize it to the colors of the new baby's nursery or just pick colors you love. Either way, these are really easy to make and really really cute! (Also, holy crap I'm having a baby in t-minus ten weeks or so. Eeek!)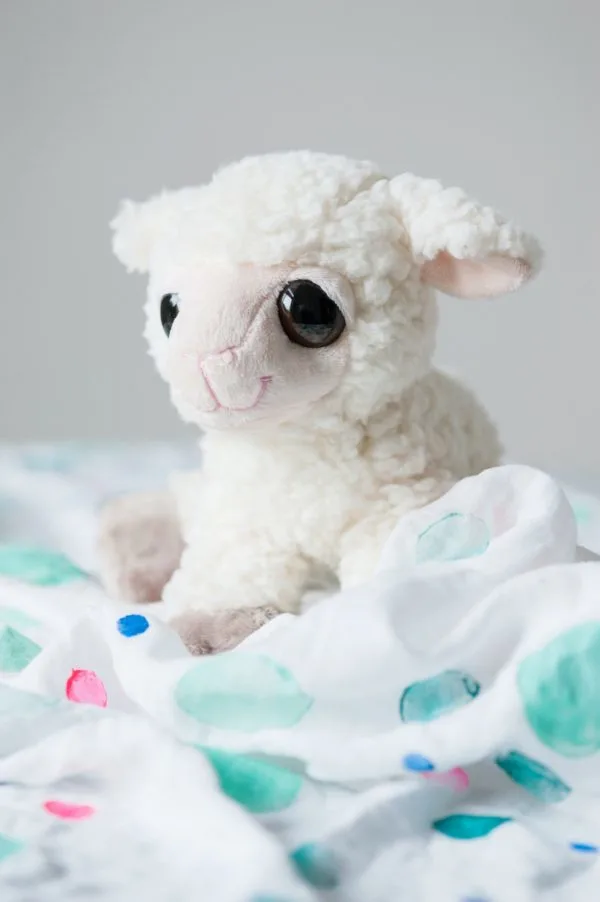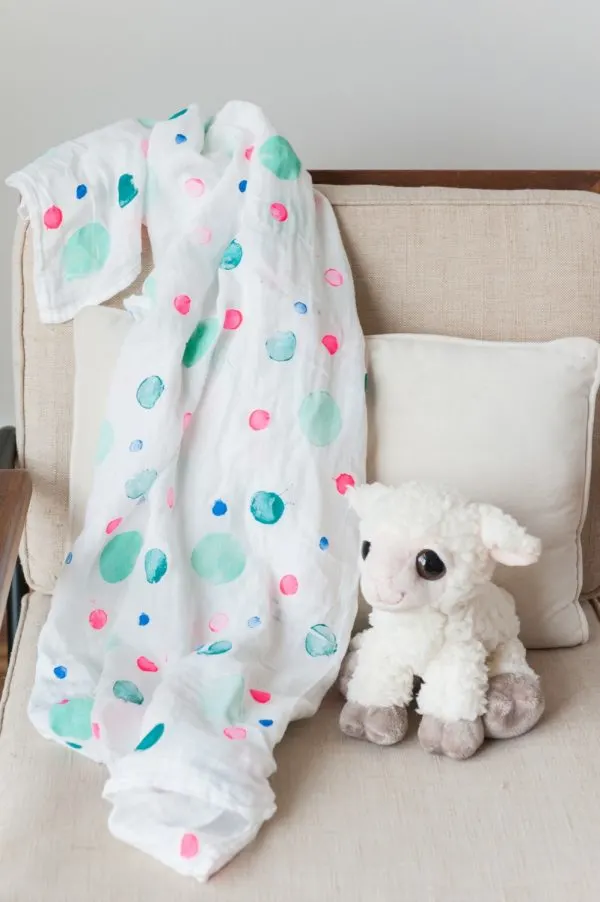 [Art direction + styling by Cyd Converse | Photos by Alice G. Patterson for The Sweetest Occasion.]
The fine print: Please link with love! As with all of our posts, DIY projects featured on The Sweetest Occasion may not be copied, distributed or reproduced without express written permission. Love and links are always appreciated! If you'd like to share a maximum of 1 – 2 images from this post, please link to this post directly for the DIY tutorial and do not include the instructions in your own post. Thanks so much! xoxo