This post was sponsored by the National Peanut Board.
I received compensation for this post but all opinions and content are mine.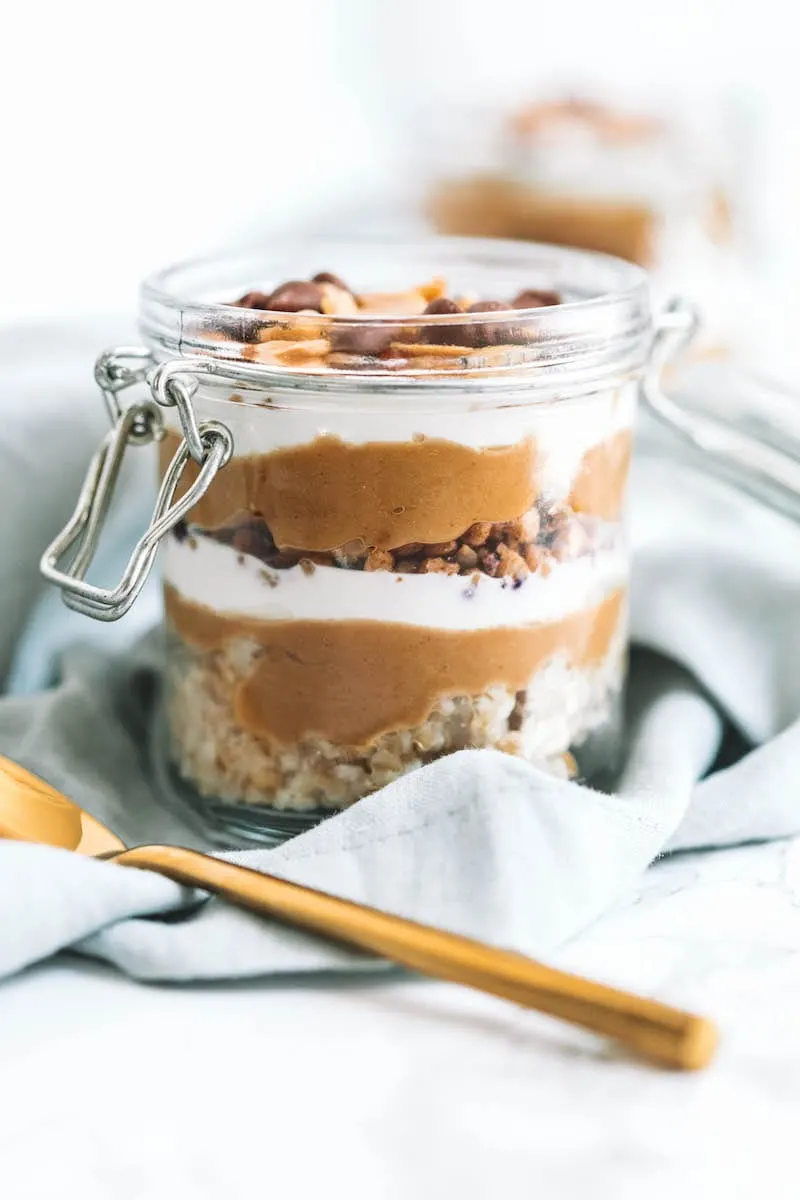 I started making layered breakfast parfaits recently and, friends, let me tell you. They are giving me life! Today I am sharing these insanely delicious peanut butter breakfast parfaits, which you can make ahead for the week and grab on the go. Basically, these are the perfect summer breakfast! No heating up the kitchen, plus they're loaded with protein and seriously delicious.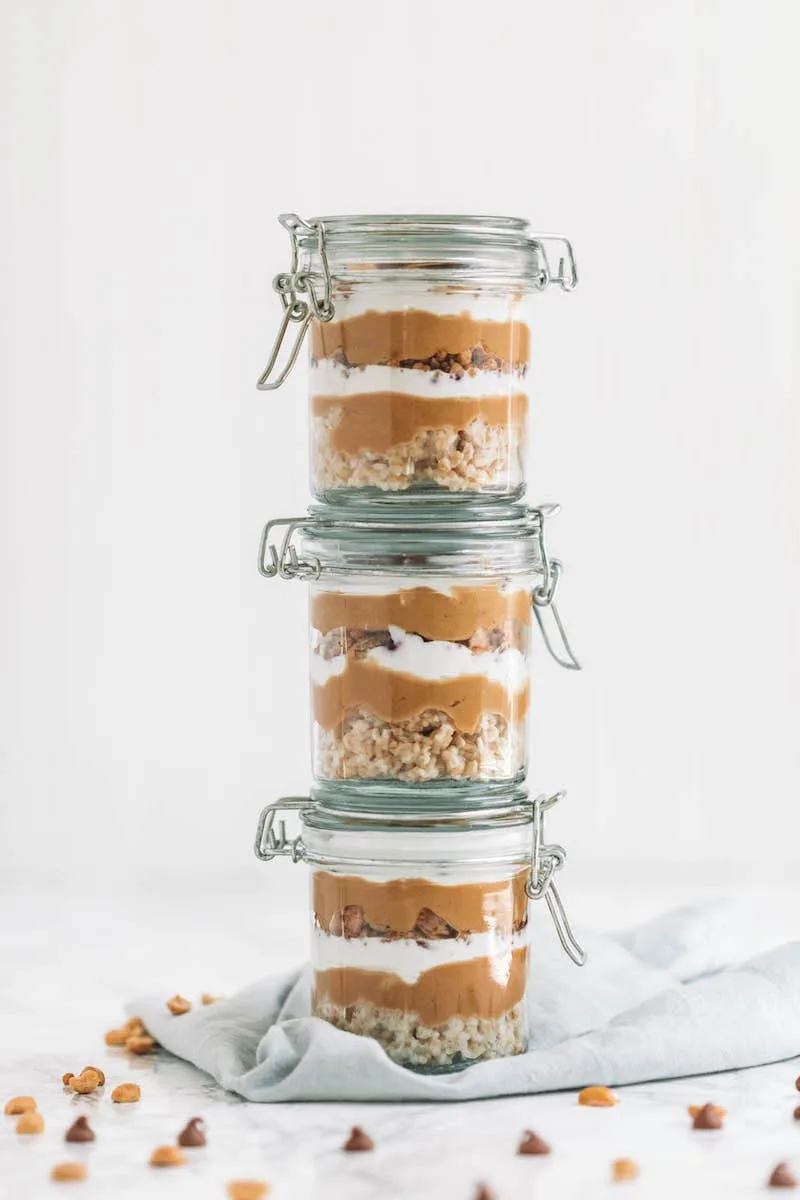 While insanely tasty, these breakfast parfaits are also super nutrient dense. The peanut butter alone packs eight powerful grams of protein and two grams of filling fiber in each two-tablespoon serving. (And you'll get about double that in one parfait!) Add in steel cut oats and plain Greek yogurt, and you've got a protein power house to jump start your morning.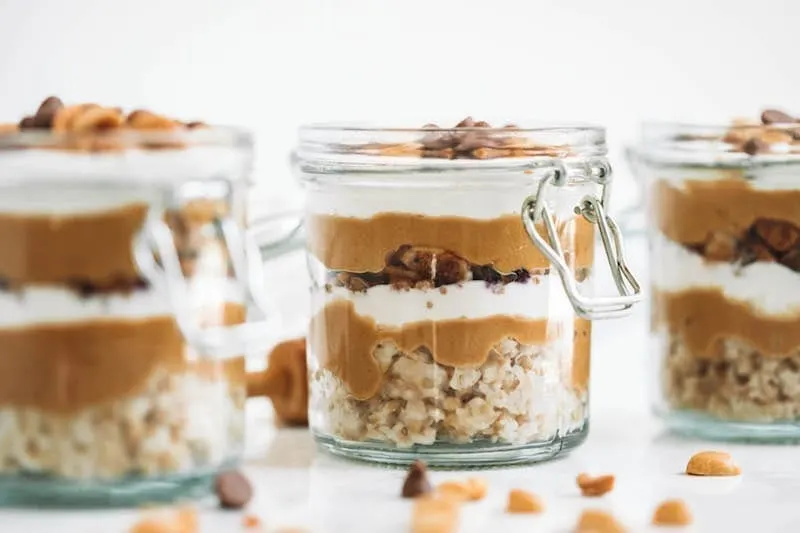 How to Make Breakfast Parfaits
I like to use a base of steel cut oats for my parfaits. I like steel cut versus rolled since they hold up a bit better to the layers of peanut butter and Greek yogurt without turning to mush. It's just a textural preference so you can totally use whichever kind of oats you prefer.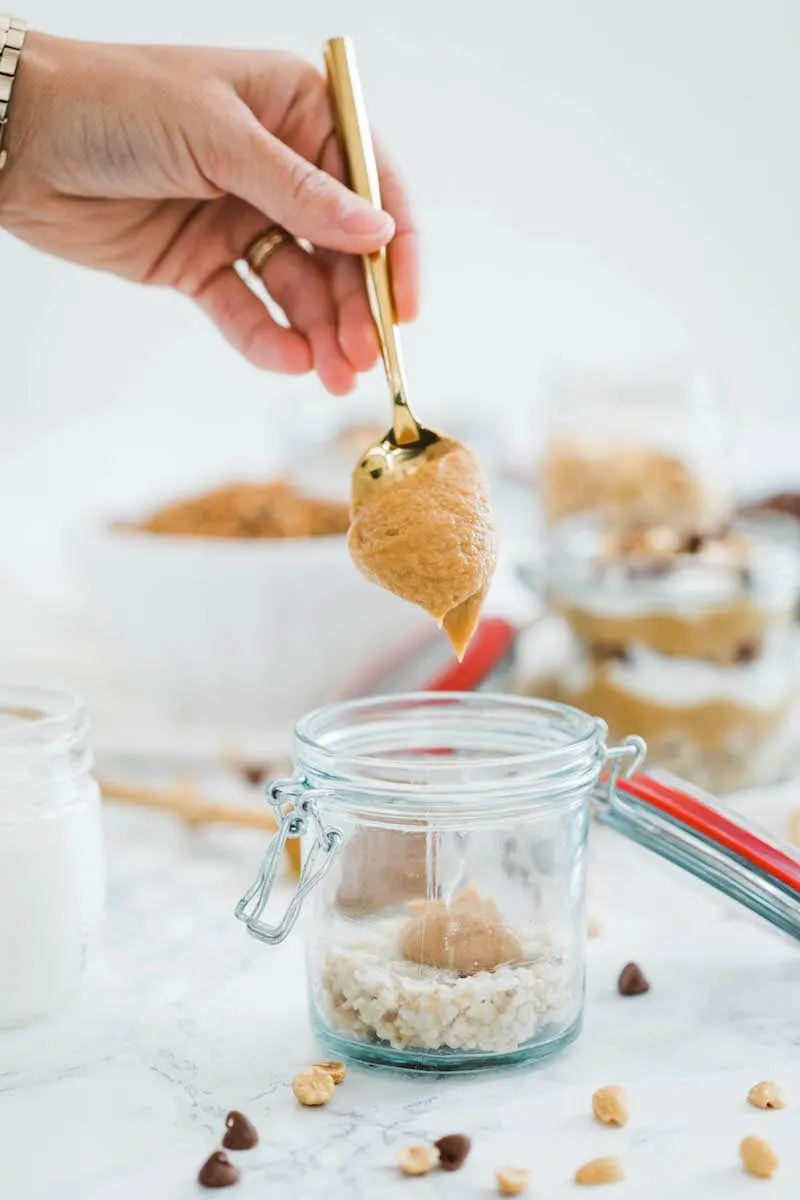 On top of the oats, a couple tablespoons of my super easy peanut butter sauce. (Scroll below for the recipe!) Then plain Greek yogurt, granola, more peanut butter, more yogurt and then a sprinkling of roasted peanuts and chocolate chips on top. I will eat these all day long. (And maybe I have!)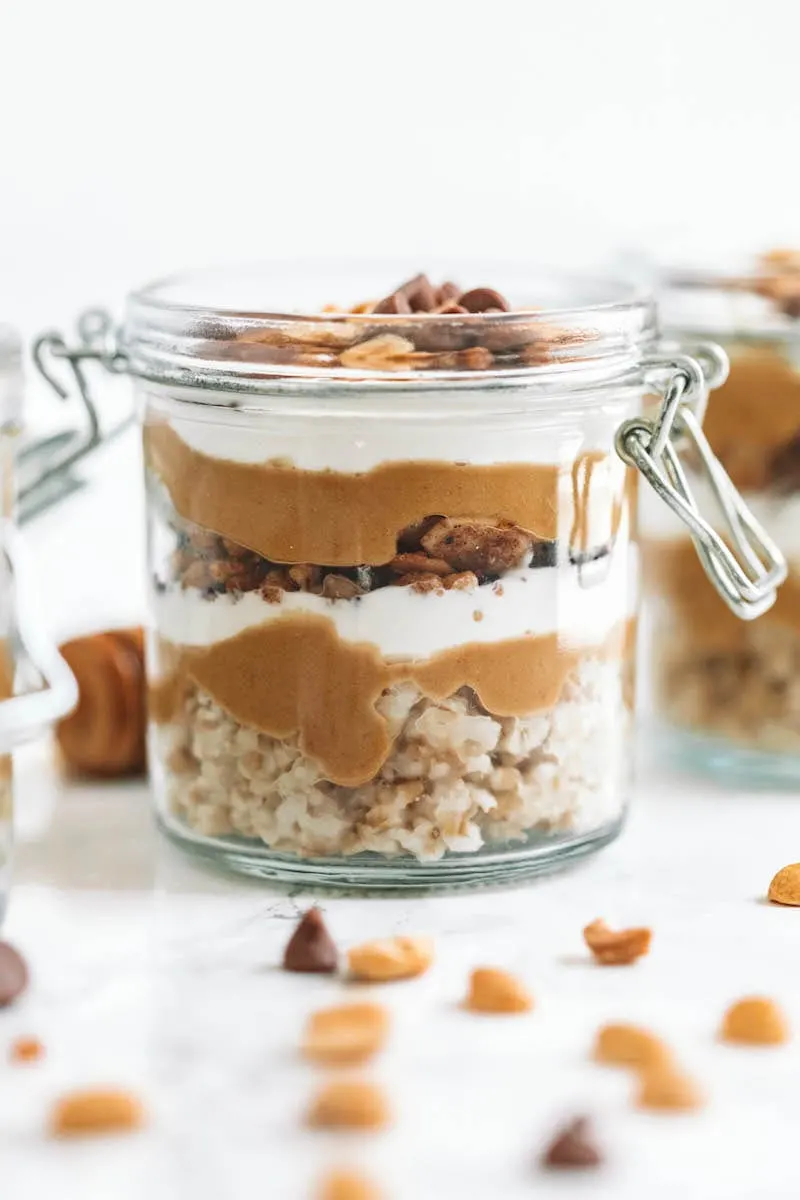 Use whichever variety of granola you like, the idea is just to add a little texture and crunch in the mix. The pièce de résistance in this recipe, far and away, is the peanut butter sauce. It's a simple blend of your favorite creamy peanut butter, honey and water to create the smoothest texture. It's just enough sweetness to be perfect, which is why I use plain Greek yogurt instead of something that is sweetened here.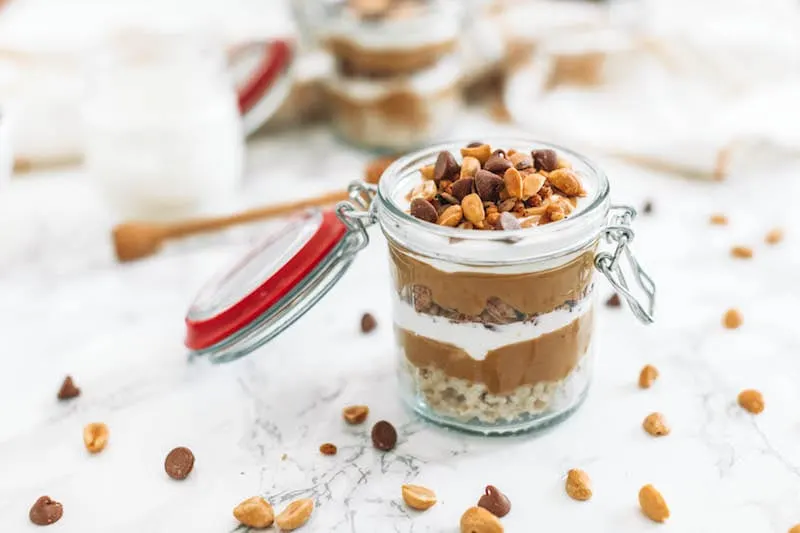 You can make these at the beginning of the week, or enough for a few days at a time. They'll keep nicely all week in the refrigerator with no issues. I got huge thumbs up from the husband, the toddler and the teenagers so these are a sure hit!
For more peanut butter recipes, head here. And make sure to check out my easy no-bake homemade peanut butter cups, too!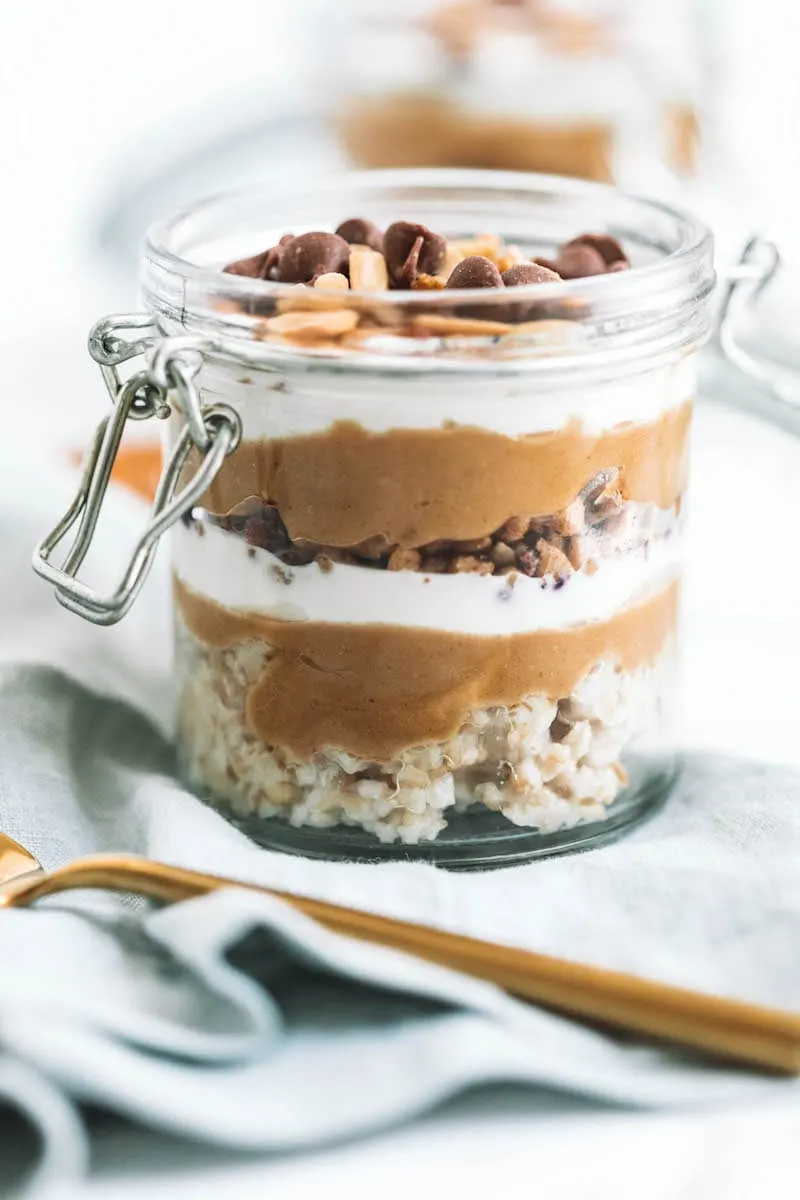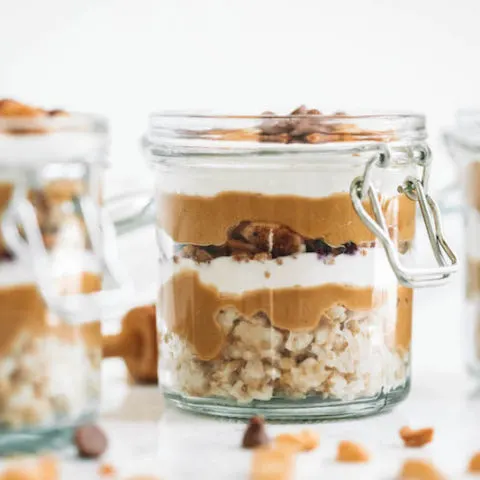 Peanut Butter Breakfast Parfaits
Easy protein-packed peanut butter breakfast parfaits make a quick and delicious make ahead breakfast option!
Ingredients
2 cups cooked steel cut oats
1 cup creamy peanut butter
1/2 cup honey
3 - 4 tablespoons water
1 cup plain Greek yogurt
1 cup granola
1/4 cup chocolate chips
1/4 cup dry roasted peanuts
Instructions
Begin by making the peanut butter sauce. Combine peanut butter, honey and water in a blender or food processor and blend until smooth. Add additional water one tablespoon at a time if necessary until creamy and the consistency of a thick sauce.
In the bottom of a small jar, place 1/2 cup of steel cut oats. Layer 2 tablespoons of peanut butter sauce on top, followed by 2 tablespoons of Greek yogurt then 1/4 cup of granola followed by 2 more tablespoons of peanut butter sauce and finally another 2 tablespoons of Greek yogurt.
Sprinkle 1 tablespoon of chocolate chips and 1 tablespoon of peanuts on top.
Repeat for each of your parfaits. These measurements should give you 4 parfaits perfectly portioned for one individual serving.
Refrigerate for up to one week.
[Recipe, styling + photos by Cyd Converse for The Sweetest Occasion.]
This post was sponsored by the National Peanut Butter Board. I received compensation for this post, but all opinions are my own. Read more about our editorial policies.