Happy Friday, friends! We're less than a day away from Valentine's Day and I'm squeezing in one final last minute Valentine's Day gift idea! This may be about the easiest DIY "project" ever, but it's also super cute and fun, which makes it perfect for a friend, a neighbor or that person you're just starting to date. You know the one. You've been hanging out, you've been on a few dates, but you're not really at the diamond jewelry-mushy-card stage just yet. All you need to get started is a little intel into your valentine's favorite cocktail and you're already halfway there! (Oh, and want to know a little secret? These bad boys will only run you about $5 each. Love that!)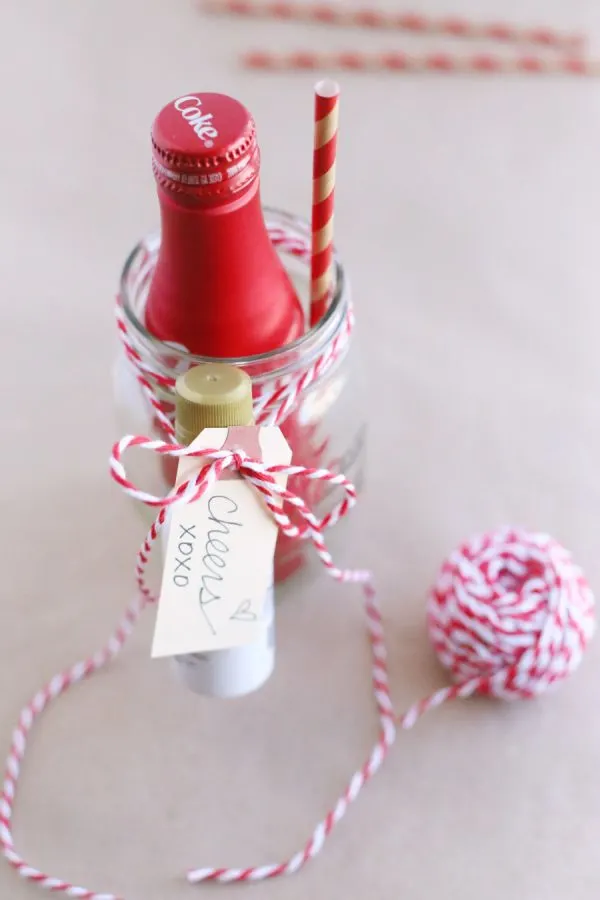 Today we're talking DIY cocktails to go! With the booze, the mixer, a mason jar for sipping, and a paper straw, you have everything you need here for a perfect cocktail, other than the ice. I think this idea is genius! Lest that should sound like I'm getting busy with tooting my own horn, I will share that I received one of these sweet mason jar cocktail gifts at a holiday party this year and I thought it was such a fun little gesture that I just had to make some for a few friends for Valentine's Day. And then I thought I'd share them with you so you can do the same! Cool? Cool.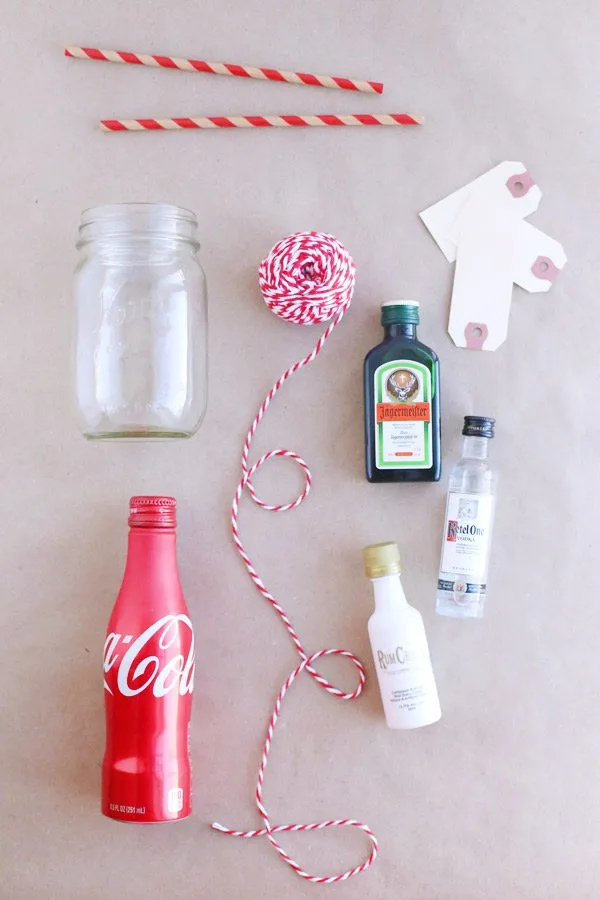 Mason jars
Baker's twine (or ribbon)
Mini liquor bottles
Shipping tags
Striped straws
Mixers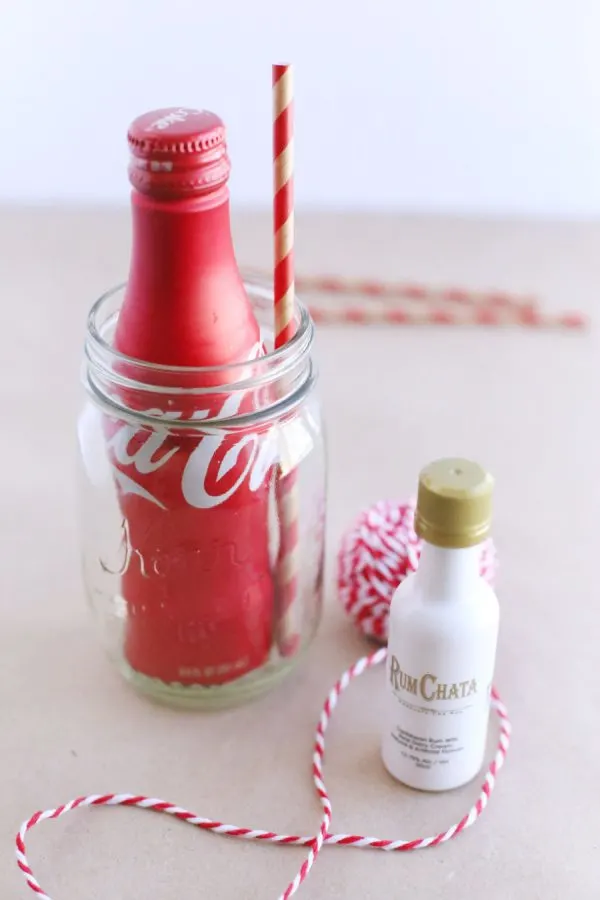 Are you ready for this? Because it's a little involved and I don't want to lose you. (Also, I'm fluent in sarcasm if you didn't catch on.) Start by tucking a bottle or can of mixer in each mason jar. Just a note that you'll need a wide mouth mason jar if you want to use standard sized cans, otherwise you'll need to get slimmer cans or bottles. I made a Jager Bomb with a can of Red Bull, a Rum Chata and Coke with a little mini bottle of Coca-Cola, and a vodka tonic using a mini bottle of Kettle One and a bottle of Fever-Tree tonic. Wrap your baker's twine, jute twine or ribbon around the mouth of the jar a few times, then wrap each end around the neck of the booze bottle a few times and securely tightly with a knot. Make sure the twine has enough length to leave fairly long ends.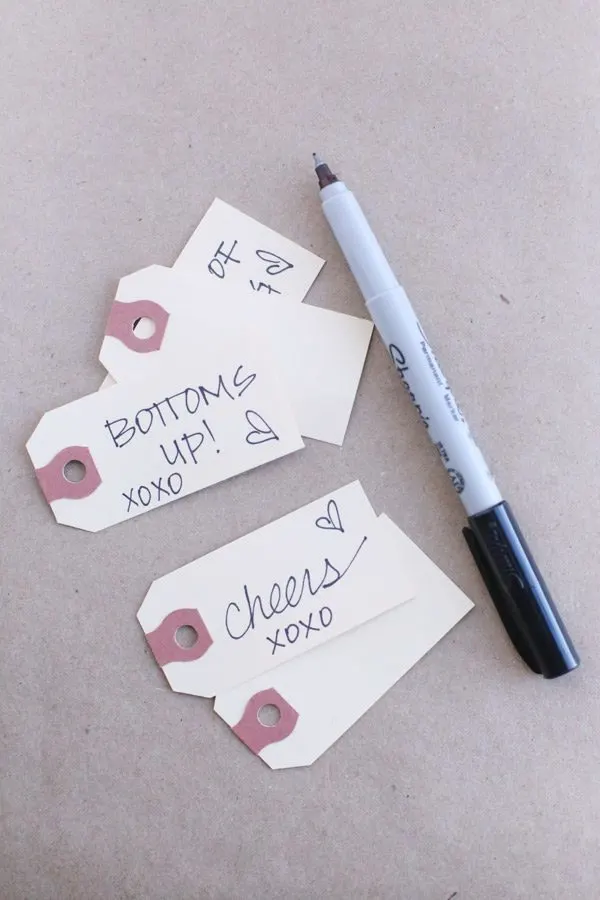 Pen a little note on a small shipping or gift tag. It can be sweet or, like mine, it can be cheeky. Then slip the ends of your twine through the shipping tag, tie it in a cute little bow and trim the ends to the length you like. Stick a paper straw in the mason jar alongside the mixer and that's it. Bottoms up and happy Valentine's Day! xoxo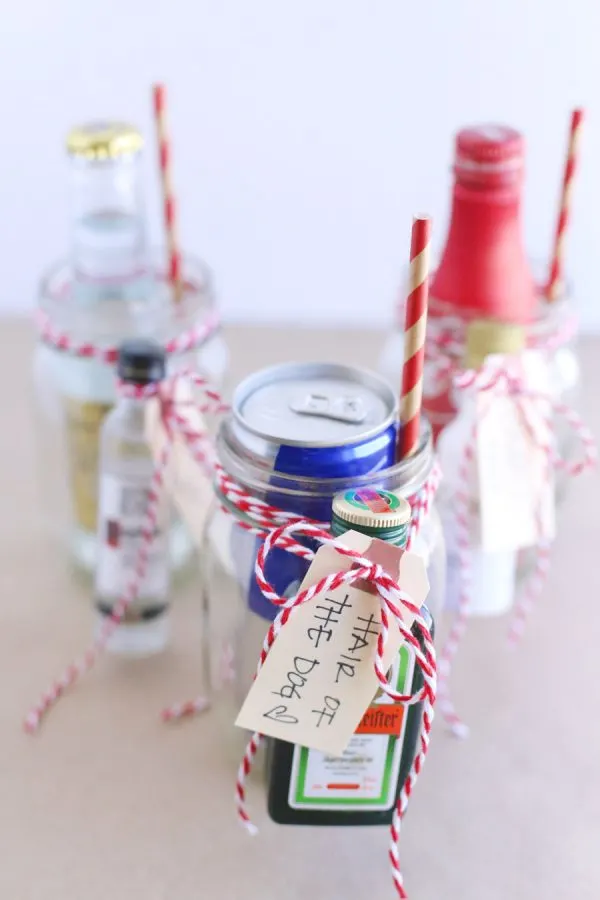 [Design, styling + photos by Cyd Converse for The Sweetest Occasion.]