As I sit down to write this post, I'm thinking long and hard this morning about how much I hate complaining about the cold. I try really hard not to do it, because obviously my complaining is not going to make it any better. Whining doesn't miraculously make spring arrive! That said, when I woke up a few hours ago, the real temperature was -25° with a windchill right around -40°. I promptly rolled myself into a blanket burrito and spent an extra hour lying in bed avoiding the day. On Friday, our town had the coldest recorded temperature in the entire United States (including Alaska) and I am pretty sure it has been over two weeks since we've seen temperatures above zero. So while I am going to refuse to complain, I am not too proud to admit that I probably won't leave pajama pants today and that I will guaranteed be drinking as much coffee as I can get into my system, purely in an effort to stay warm.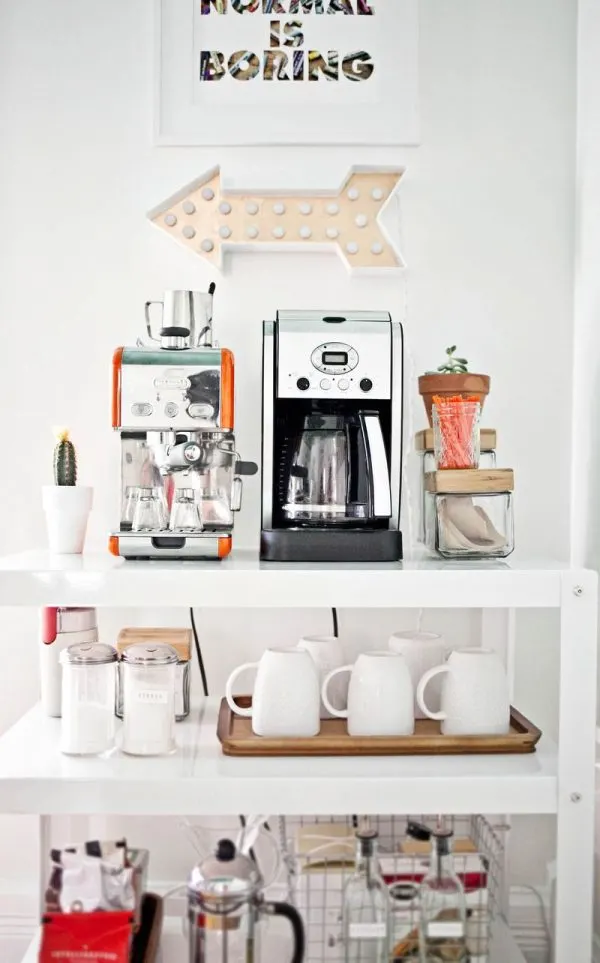 All of that is a long winded way of saying I am really starting to love the idea of having a coffee cart in our house! B and I are both coffee lovers and between our drip maker, our Nespresso, our French press and our pour over coffee carafe, we actually own a slightly insane quantity of coffee-related paraphernalia. We have a full bar set up in the house, so why not a coffee station, too? I need to mull over if it would make sense for us to do so, but in the meantime, this pretty little cart stocked full with all the keep-warm necessities, is serving as my inspiration. I also love this idea for entertaining or for hosting weekend visitors, even if you don't have space for it permanently, because nothing makes guests feel more welcome than self-serve coffee with all the requisite accoutrements.
Get more inspiration as well as tips for creating a coffee cart over at A Beautiful Mess. They keep a fully stocked coffee cart at the ready in their studio for their staff, so that no one runs short on caffeine during the day. (You can also see more of their offices and studio spaces here.) On that note, I'm going to go refill my cup and then get back to painting! I have another project for Valspar in the works that I'll be sharing soon, so today I'm going to beat the cold by staying inside and getting my paint on. Wherever you are, I hope you're cozy and warm!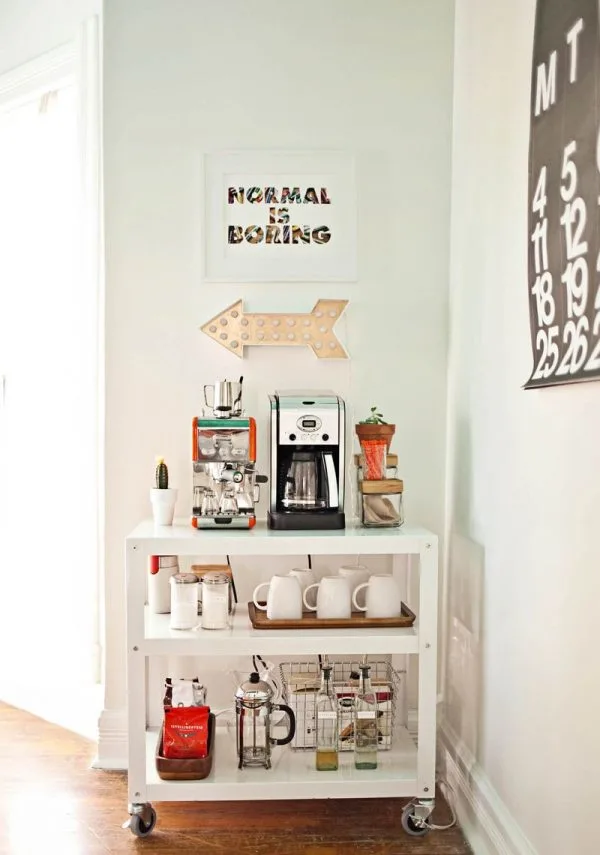 [Photos from A Beautiful Mess.]