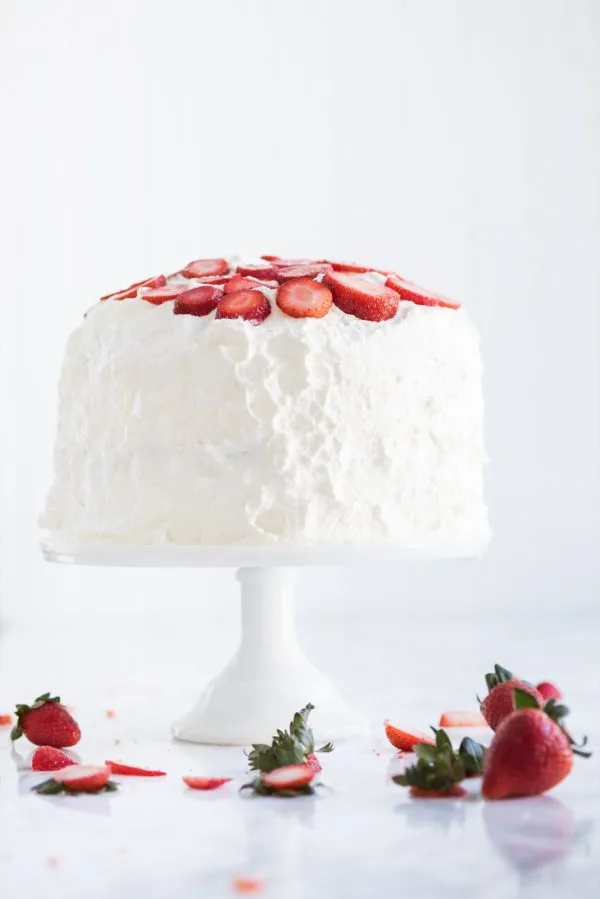 Hey, friends, it's my birthday week! On Saturday (which, yes, is April Fools' Day) I'll be turning 34. (That happened fast!) That day will also mark the 28th year that my mother has made me the same birthday cake. As she tells it, my sixth birthday was the first time I had a party with some of my little friends from school and she wanted to make a really special cake. She knew I loved strawberries so she decided to make a strawberry poke cake, since apparently poke cakes were all the rage back in the 80s. Who knew? Since then she's made me this cake every single year, even when I haven't lived in the same city, even if it's a week before or a few weeks after my actual birthday. This past week my mom came over and spent an afternoon with Alice and I to show us how to make my official, traditional birthday cake so that I, in turn, can share it with you. So here it is! Featuring a little cameo from my mom, or at least in her hands, in her official hand modeling debut. She's such a good sport.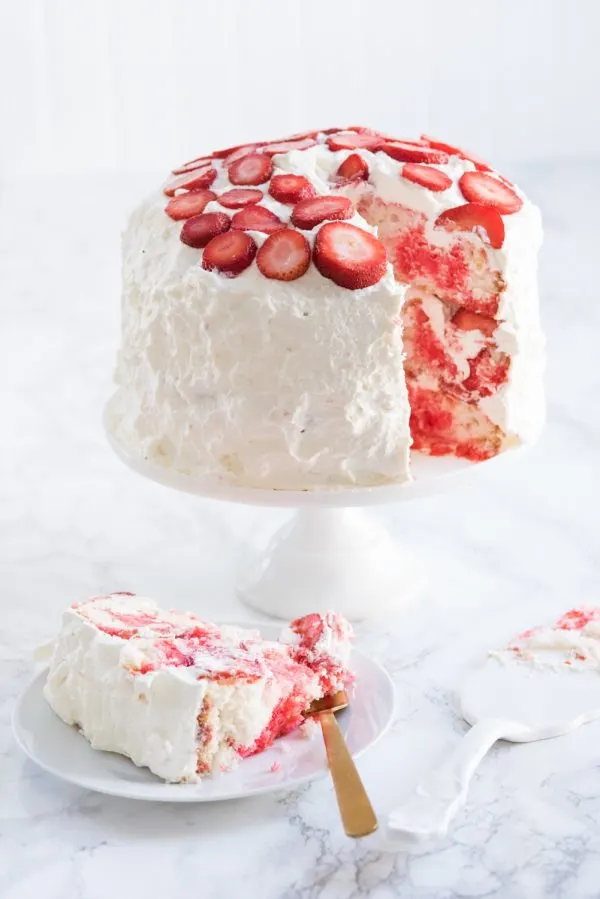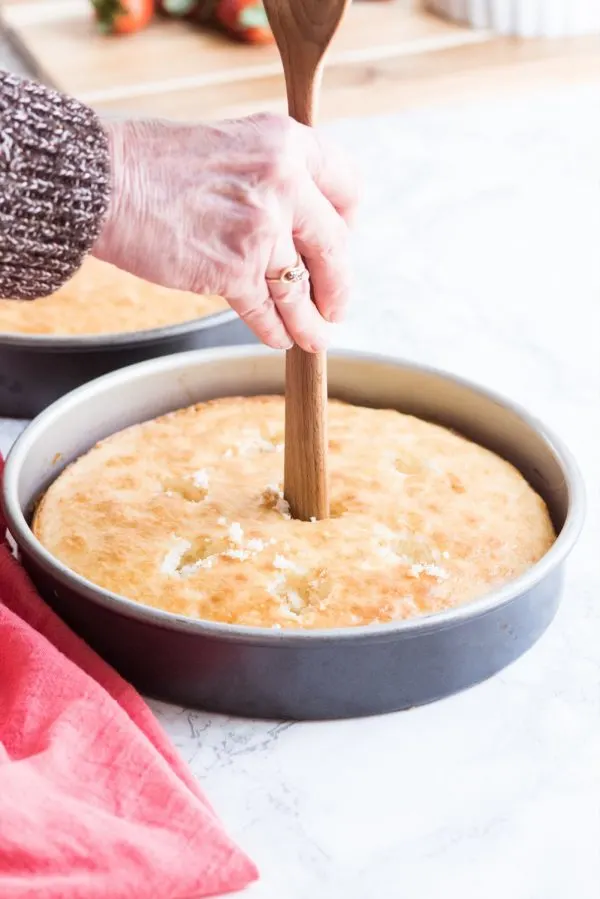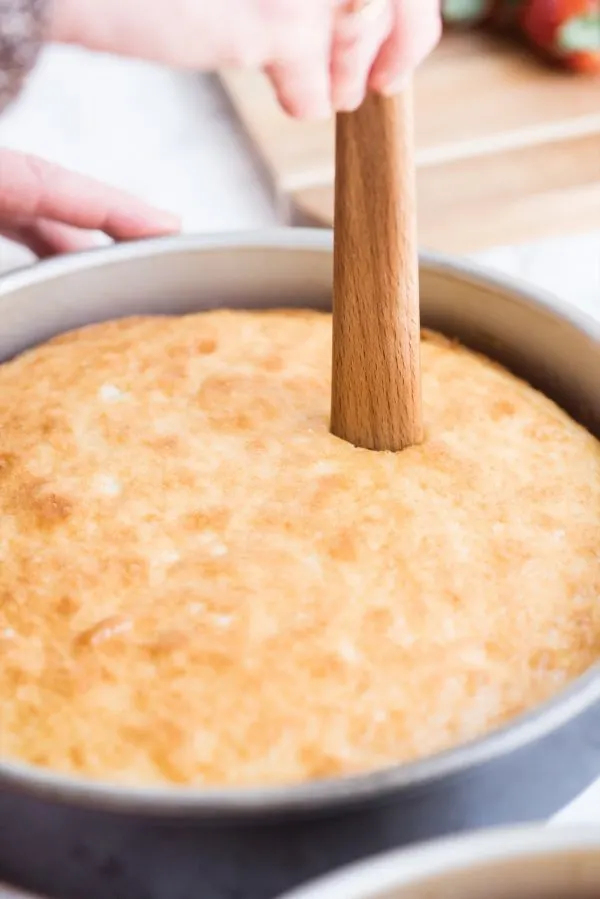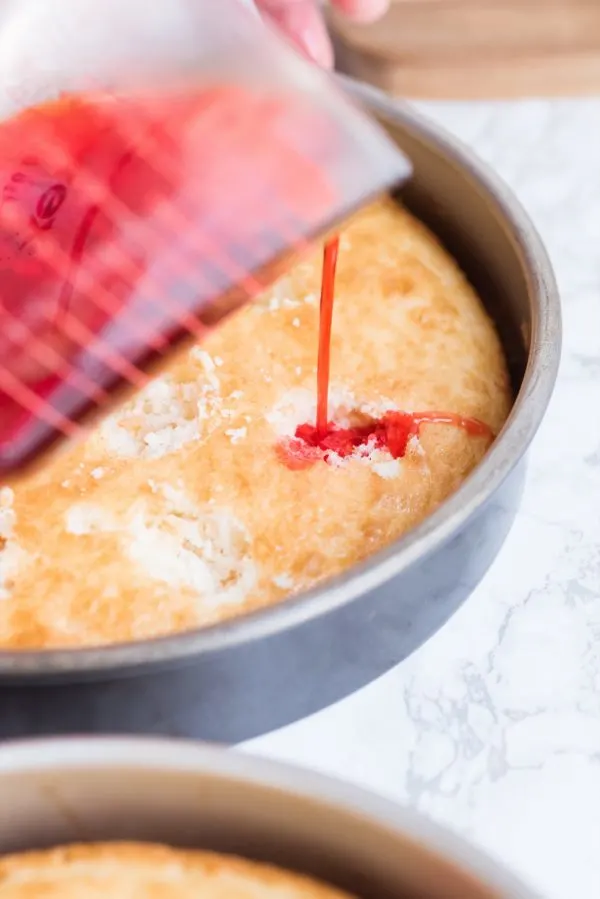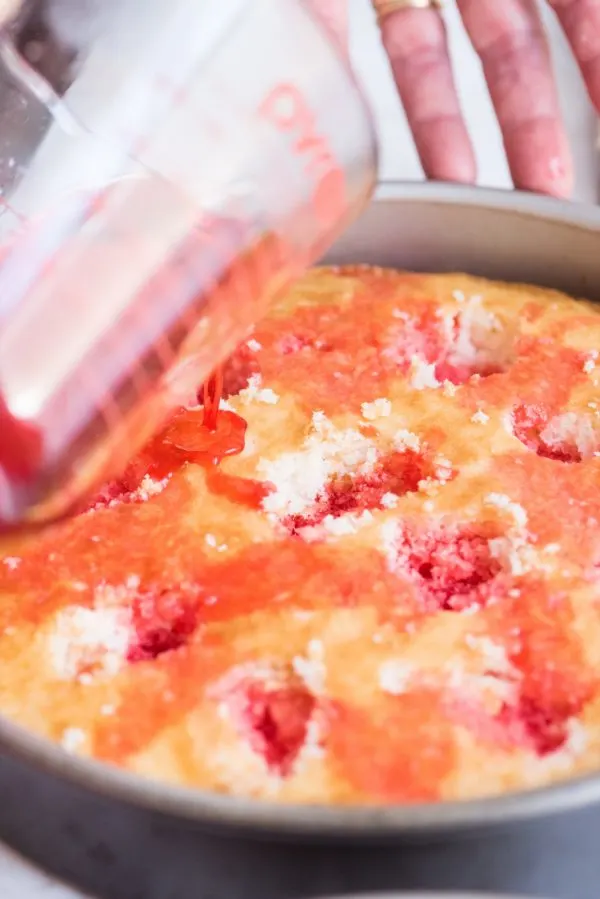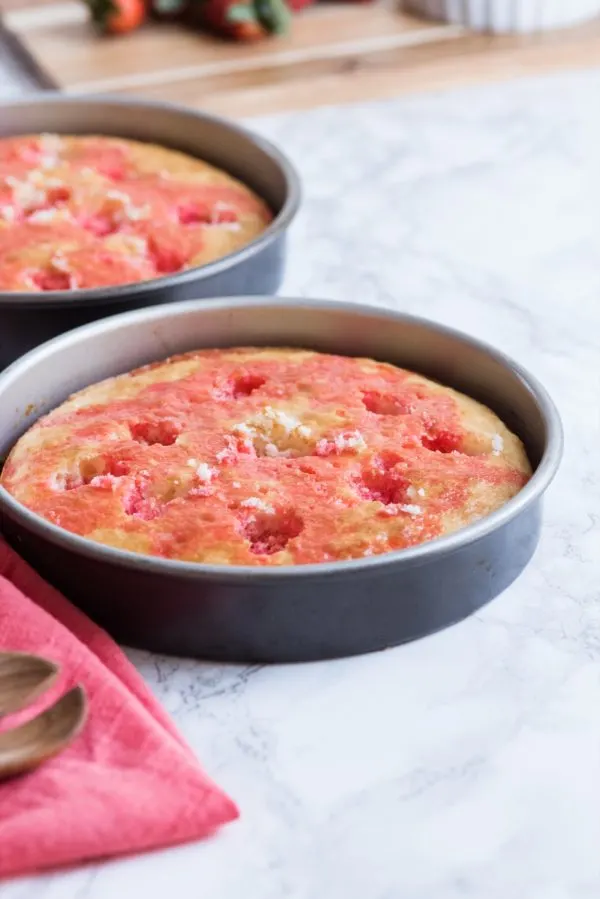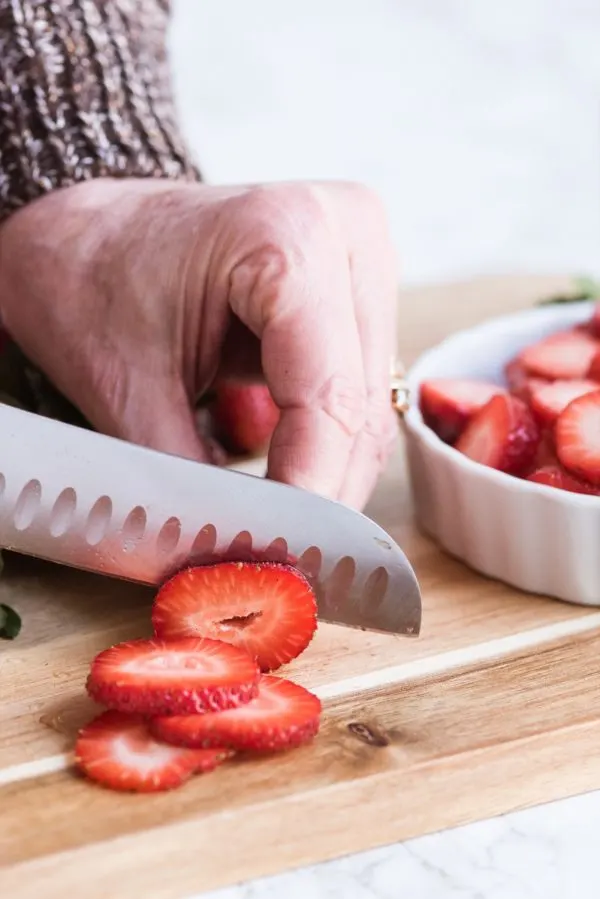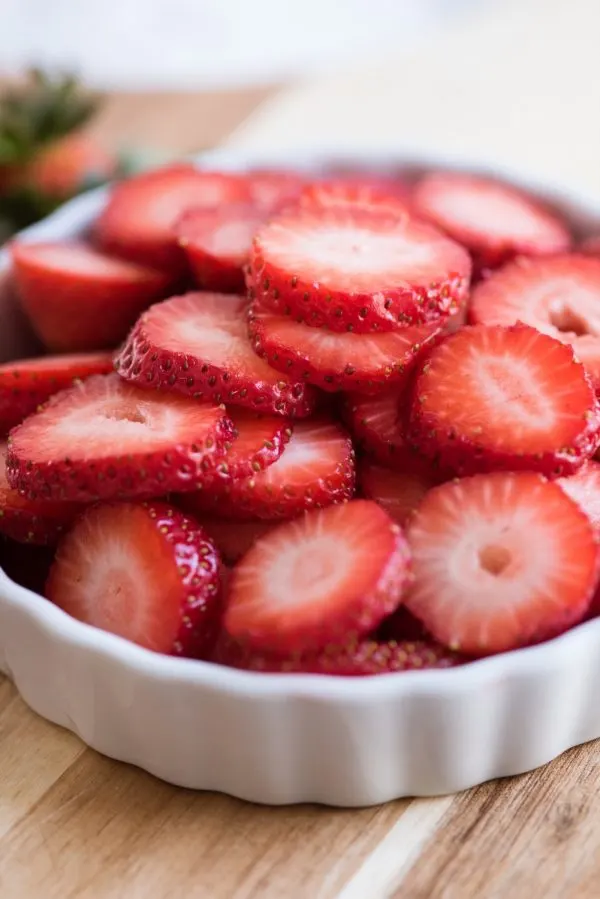 The basis of this cake is as simple as can be. Simple white cake made from a box mix. Yup, that's right, a box mix. It's then poked with a wooden spoon, drizzled with strawberry gelatin and allowed to refrigerate for at least a few hour or overnight. When assembled, it's layers of cake, fresh berries and homemade whipped cream that ever so simply come together to make one of the most delicious cakes you've ever tasted. It's surprisingly light, even more so than strawberry shortcake. And if you love berries, this is as good as it gets. There's a reason that come March I start daydreaming about my birthday cake. There's also a reason why I've adapted my own tradition of making my favorite people birthday cakes each and every year. With today as the kick-off, I'm going to be sharing a bunch of my favorite birthday cake recipes with you in the coming months so you can treat someone you love, too!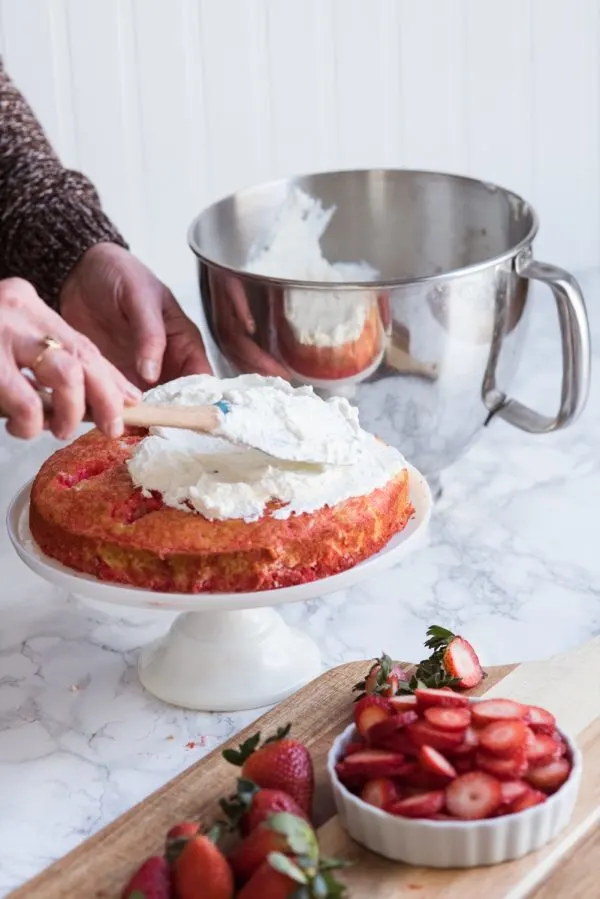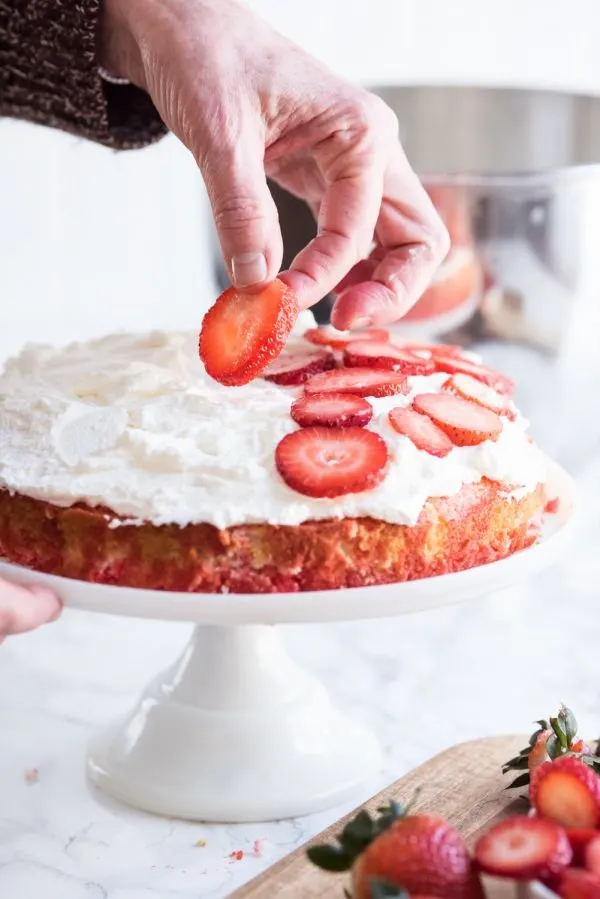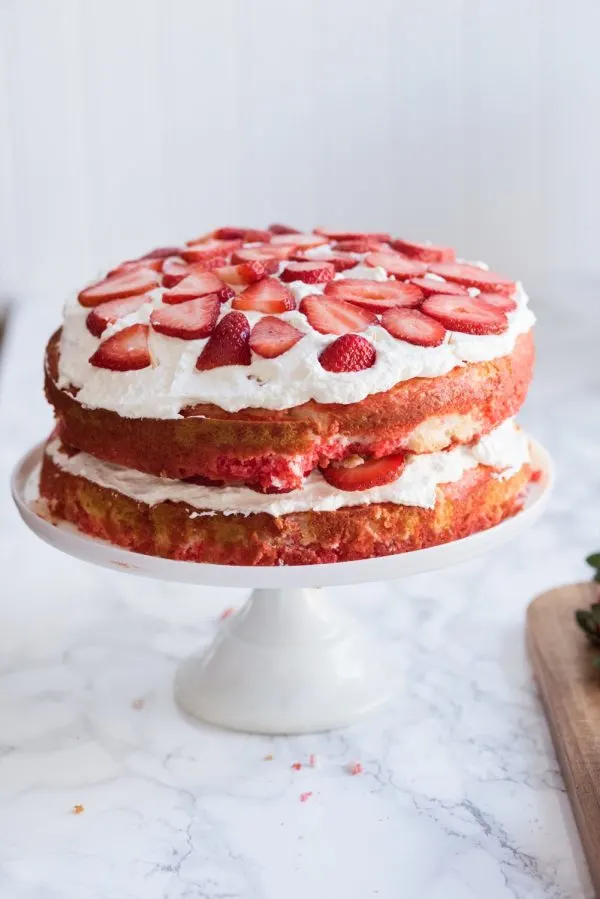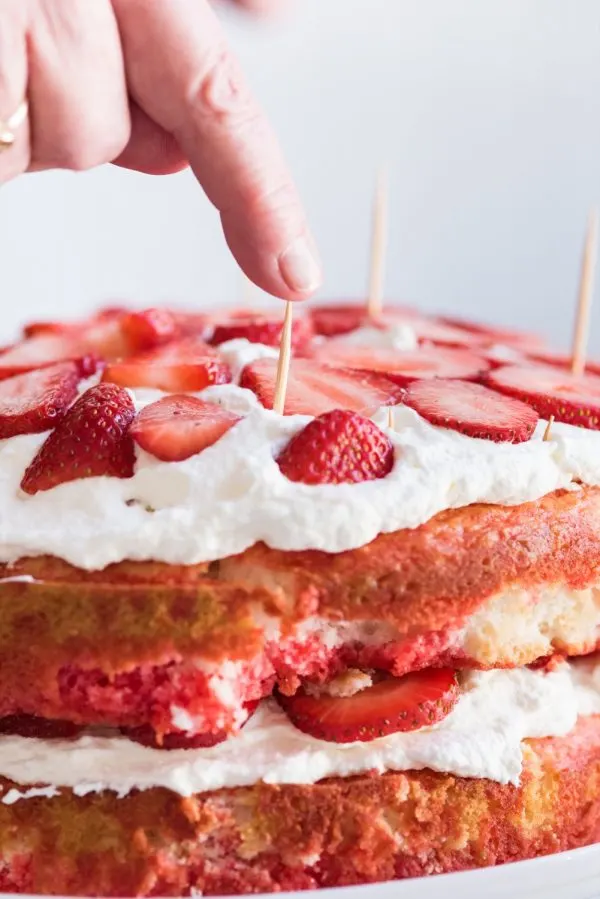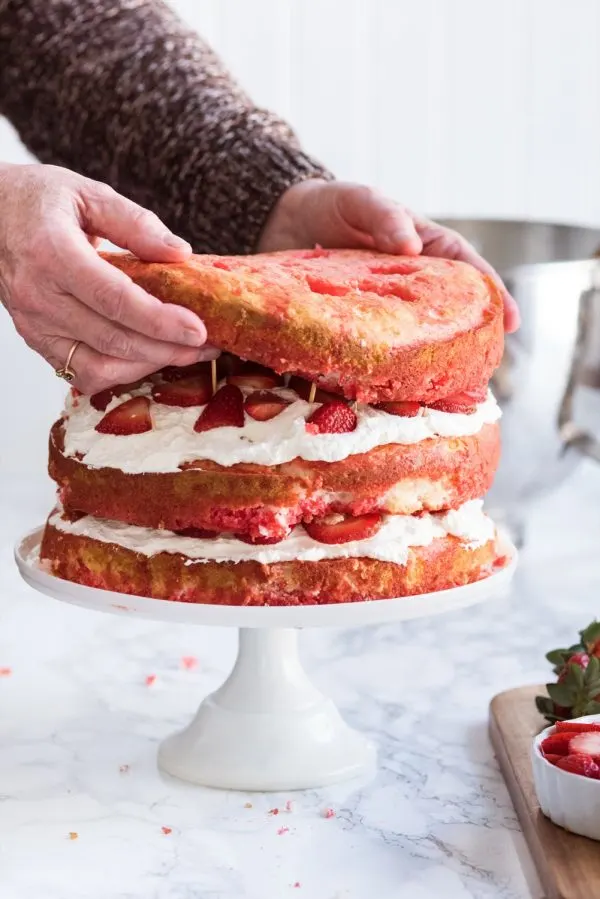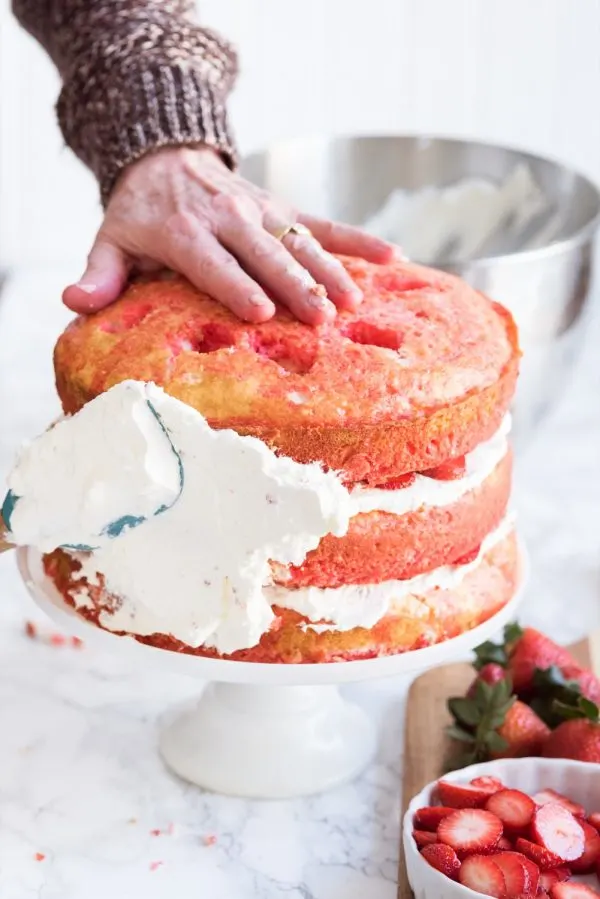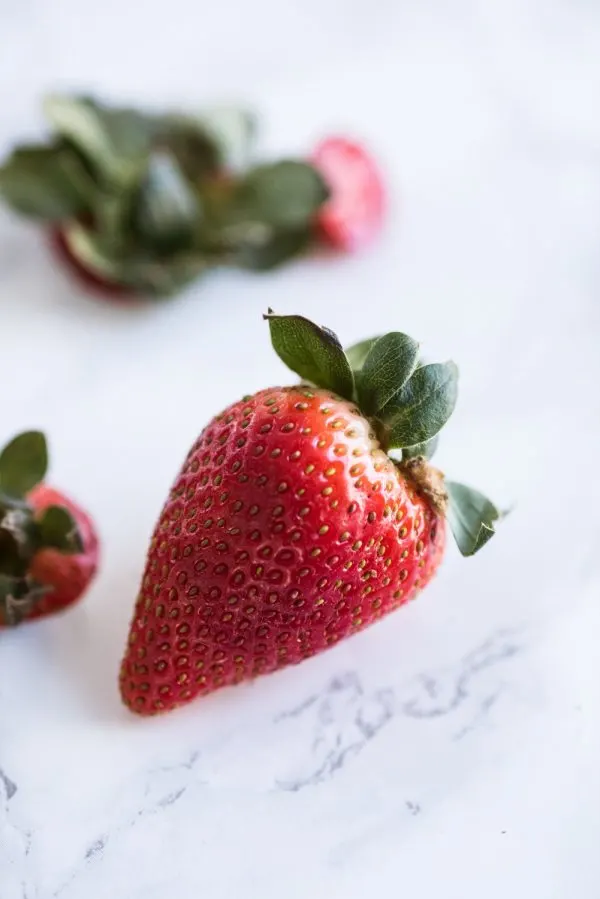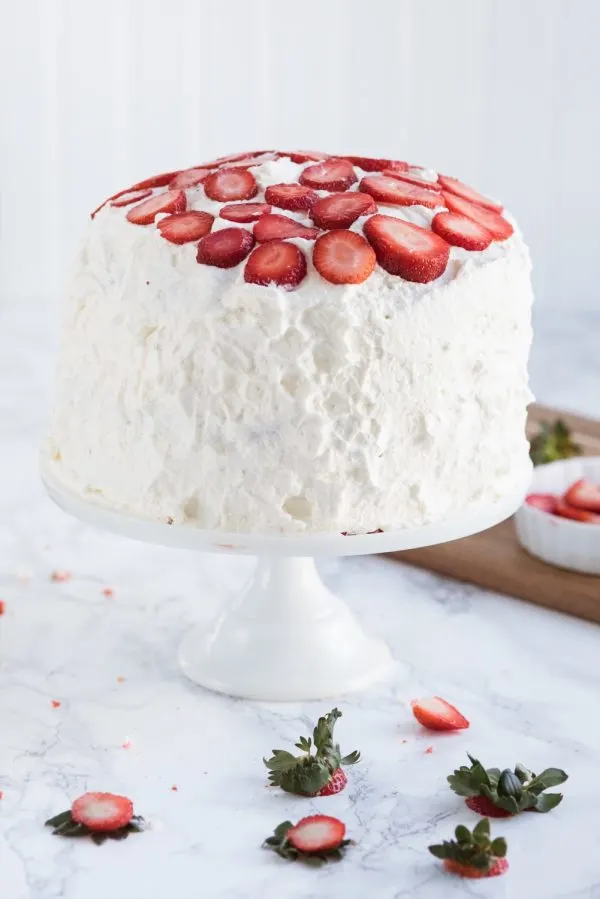 Strawberry Poke Cake with Berries + Cream
Ingredients
For the Cake
2 white cake box mixes
6 large egg whites
⅔ cups vegetable oil
2 cups water
6 ounces strawberry gelatin mix, unprepared
1 pint fresh strawberries, sliced
Toothpicks (for stabilizing)
For the Whipped Cream
2 cups heavy cream
½ cup sugar
2 teaspoons vanilla extract
Instructions
For the Cake
Preheat oven to 350°
Prepare cake mix to the box instructions then pour into three greased and floured 9″ cake pans lined with parchment paper.
Bake for 25 – 27 minutes or until a toothpick inserted comes out clean and the cakes spring back to the touch.
Leave the cakes in the pans and allow them to cool until room temperature.
In the meantime, prepare gelatin mix according to the package instructions then allow it to cool to room temperature as well.
Once completely cool, use the handle of a round spoon (or similar) to poke 8-10 holes in each cake layer.
When the gelatin mix is cool, drizzle it over top of the cakes, then transfer them to the fridge and refrigerate for at least four hours or overnight.
To assemble, layer each cake, top with whipped cream, add a layer of sliced strawberries and then repeat, using toothpicks between layers as necessary to add stability.
For best results, refrigerate before serving and keep the leftovers chilled as well.
For the Whipped Cream
Combine all ingredients in the bowl of a stand mixer or in a large mixing bowl.
Using the stand mixer with the whisk attachment or a hand mixer, beat on high for 3 – 5 minutes or until soft peaks form. For best results, make the whipped cream just prior to assembling the cake.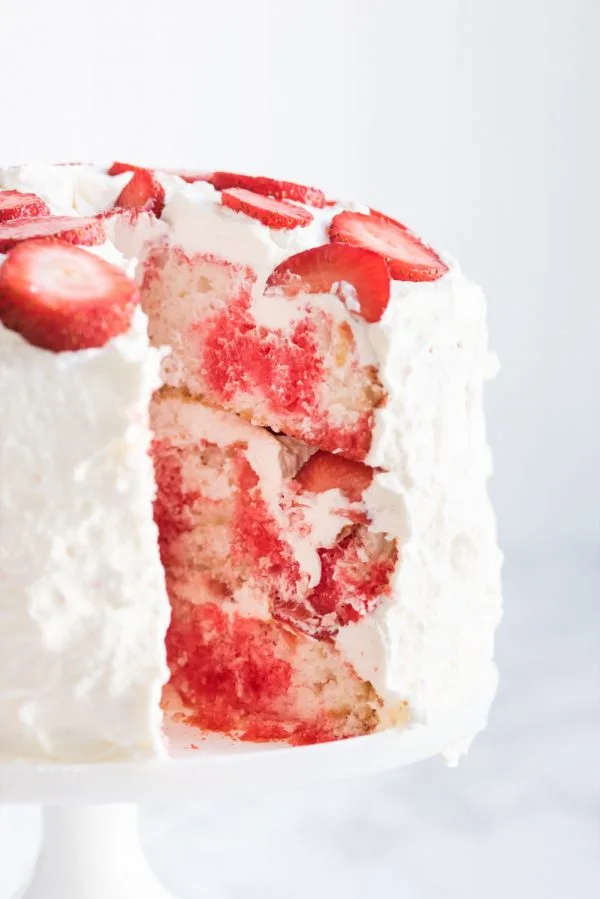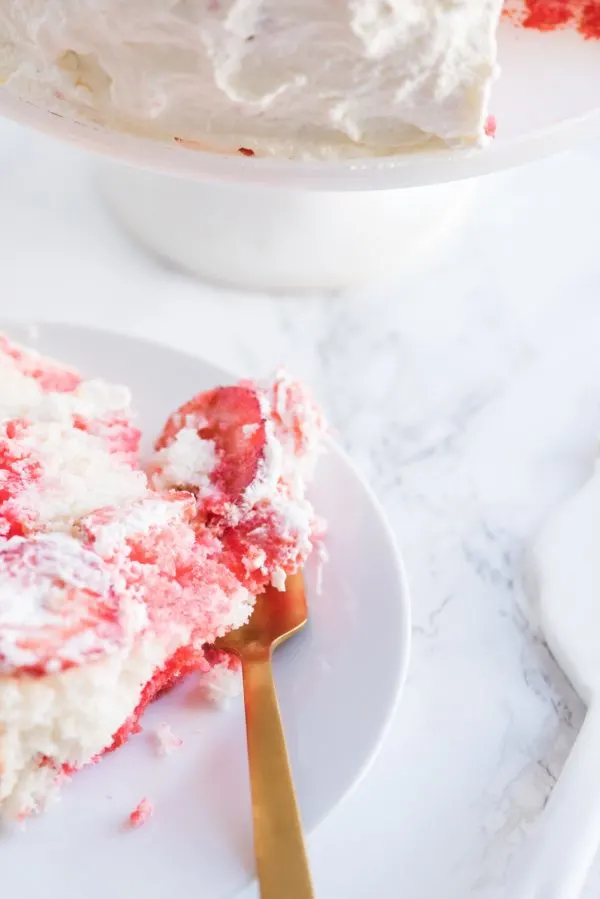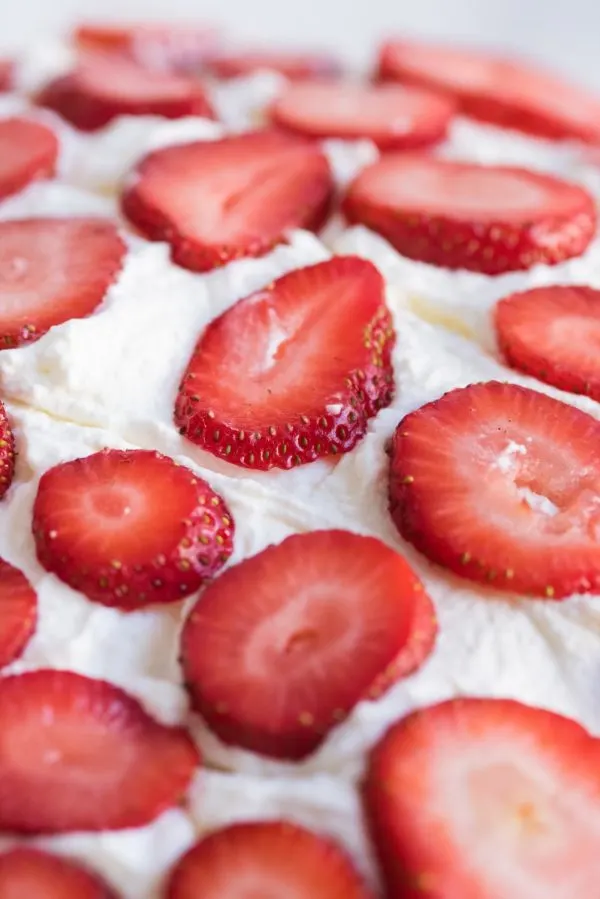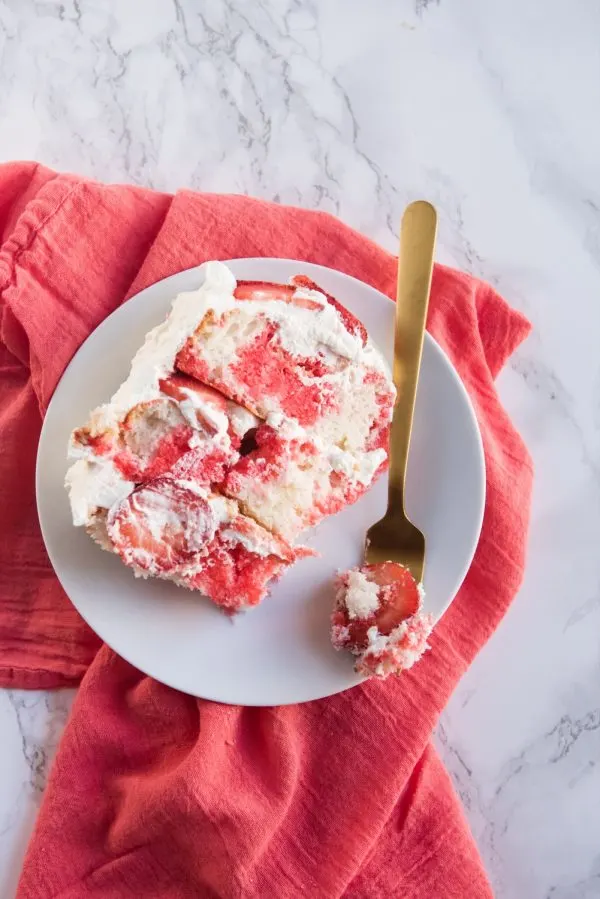 [Art direction by Cyd Converse | Recipe by my mommy | Photos by Alice G. Patterson.]