This post was sponsored by BISSELL. Thank you for supporting
the sponsors that help make The Sweetest Occasion possible!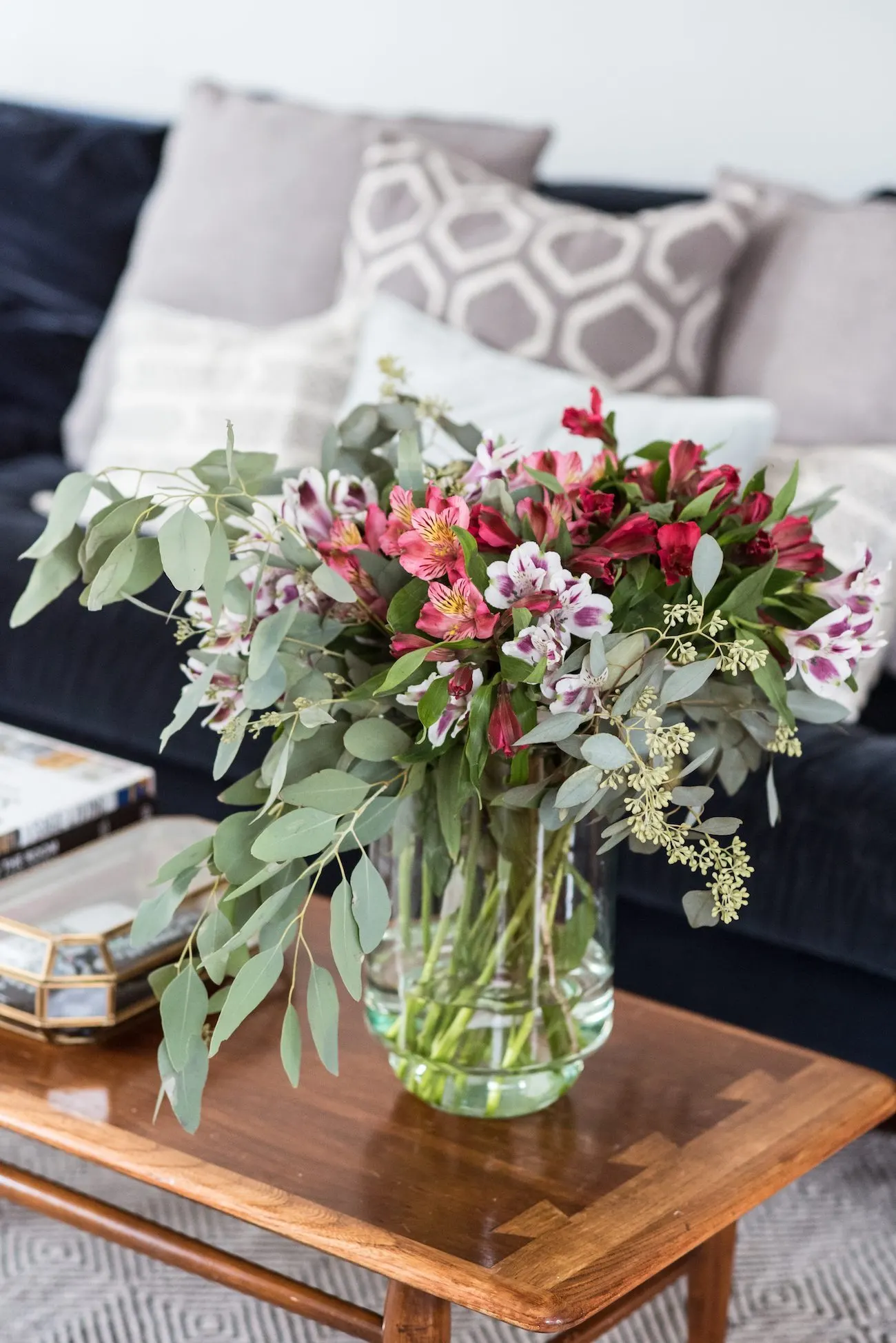 Ready or not, 'tis the season for celebrations and gatherings aplenty! Also known as, my very favorite time of year. From impromptu guests popping in for holiday cocktails to full fledged dinners complete with the in-laws, chances are your house sees more action over the last couple months of the year than the rest of the year combined. We entertain at least a couple times a month all year long and even for us the holiday season is bustling. To help you get you ready for all that merriment, today I've teamed up with BISSELL to share my tips for how to prep your home for the holidays! After years of always scrambling and feeling stressed when friends and family were set to arrive, I've finally settled on a handful of habits that make opening our home to loved ones feel so much more enjoyable. Have anything to add to the list? Chime in below – I always love new tips!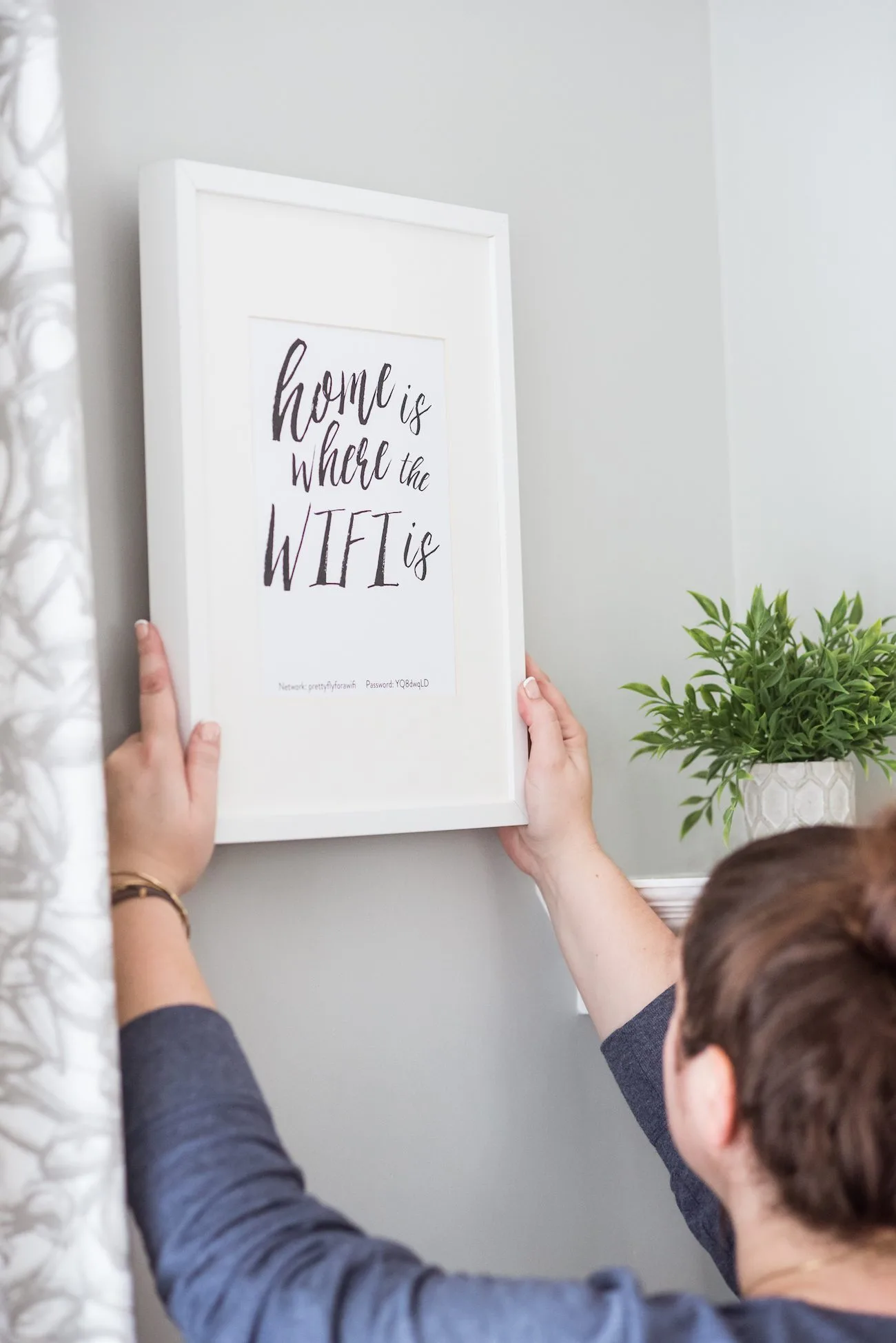 Have your wifi info printed and available so you can easily share passwords with visitors. Inevitably at every social occasion these days there's a flurry of photo taking and sharing, so I love providing an easy way for friends to navigate to and connect to our wireless network without having to stop what I'm doing every few minutes to give someone else a password. For overnight visitors, this is especially nice since they won't have to rack up their data while they're checking email from their home away from home. This "Home is Where the WiFi Is" sign is a free printable that you can download here, then just edit the PDF with your network information before printing and hanging in a couple different spots around the house. I love having one in the living room and another wherever guests are sleeping.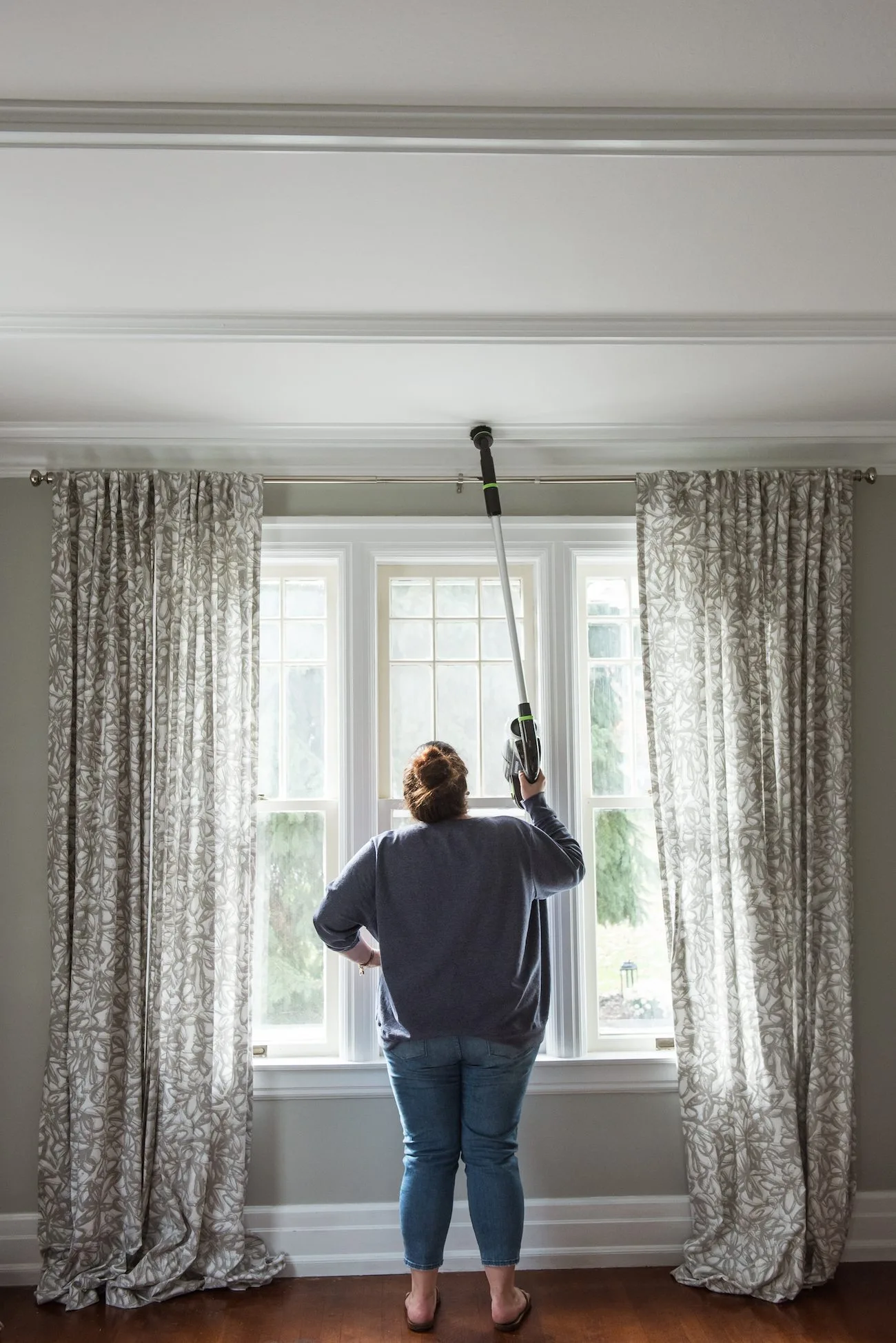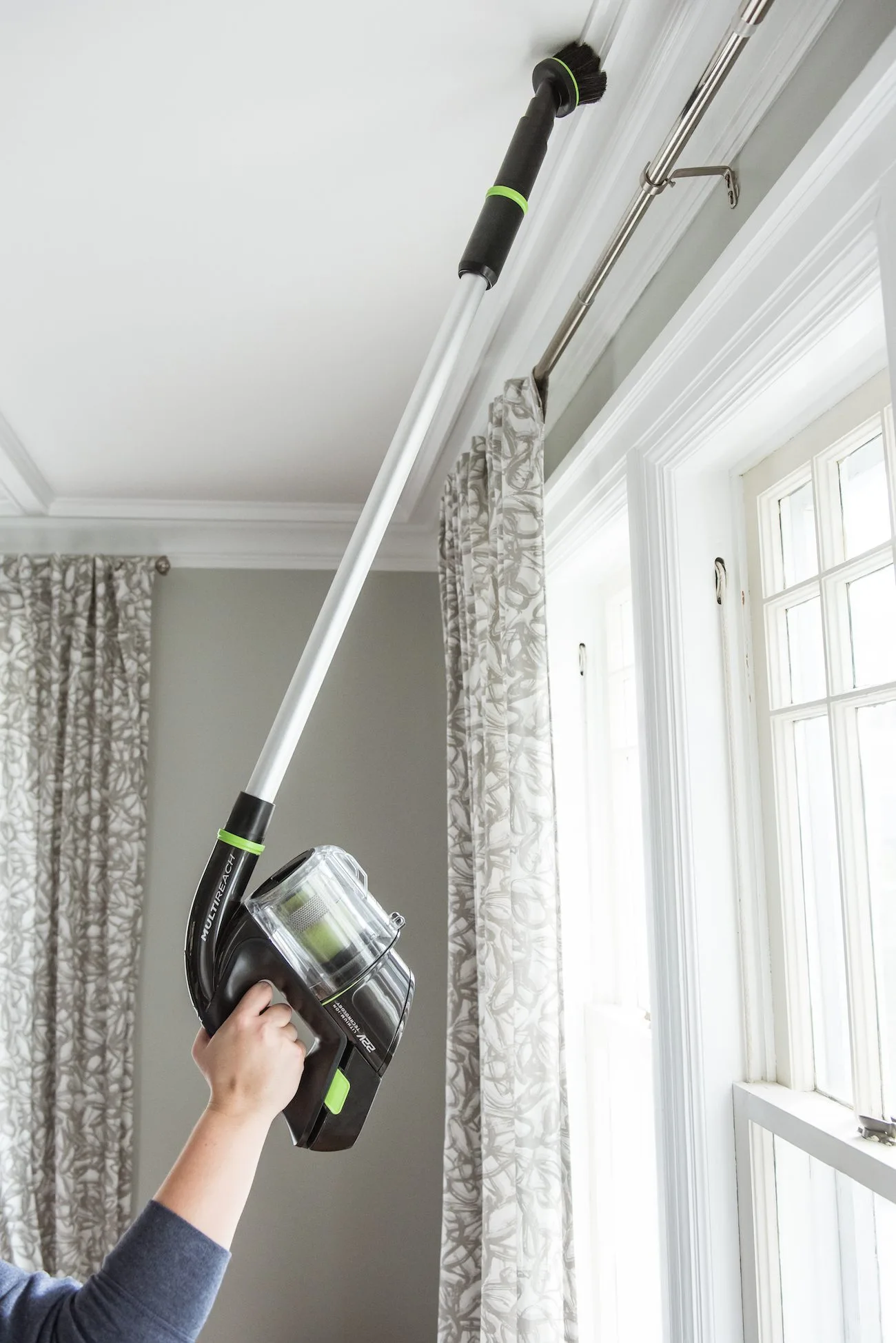 Deep clean all the baseboards and crown molding before the holiday season kicks off. Listen, nothing makes me feel more stressed out than feeling like my house is grimy or dusty. A couple weeks before your first party is scheduled or the first set of visitors is due to arrive, spend a bit of time deep cleaning things like baseboards, crown molding, mantles and railings. We all know that I delegate a lot of the serious cleaning around our house to our housecleaner who comes once a week. (Frankly, that's how this full-time work from home mommy stays sane!) That said, I love the new BISSELL Multi Reach Cordless Vacuum for making these kinds of cleaning jobs a breeze. It's lightweight at under five pounds and the dusting brush makes cleaning all those nooks and crannies a cinch. Having all those little areas fresh and clean will also make your house feel ready for visitors!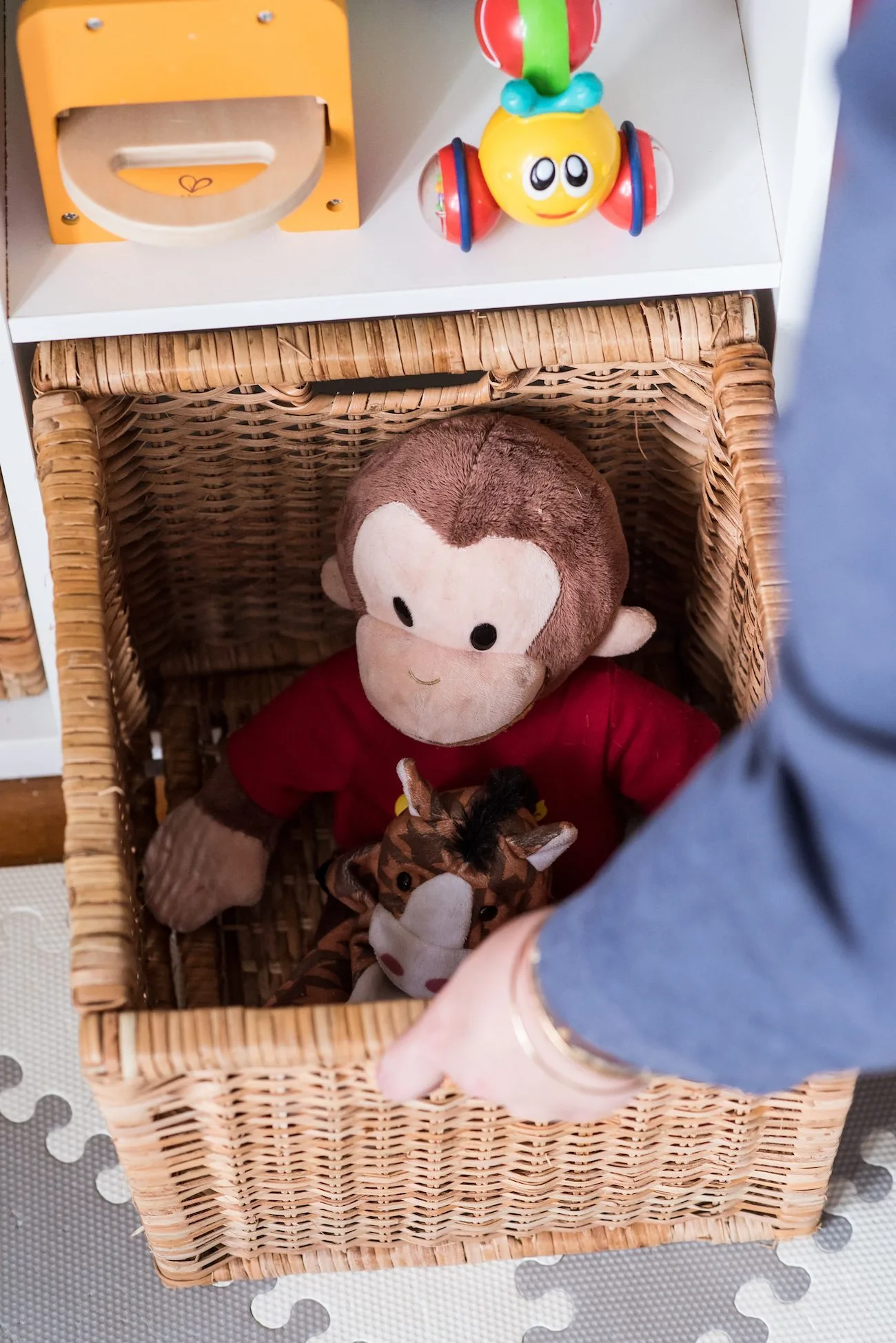 Do quick daily clean ups of toy clutter. I swear by this practice in our everyday life and when other moms ask me how our house manages to look tidy, this is my number one tip! Going through once or even twice a day for 10 to 15 minutes and tucking away toys and returning clutter piles to their intended locations makes it so much easier to prepare for guests, because you aren't spending two hours sorting blocks and dolls before you even get to the real cleaning. Having lots of cute baskets, bins and tote bags to hold toys makes it easy to do and it takes another thing off your to-do list when you're preparing for your parents arriving for a holiday weekend.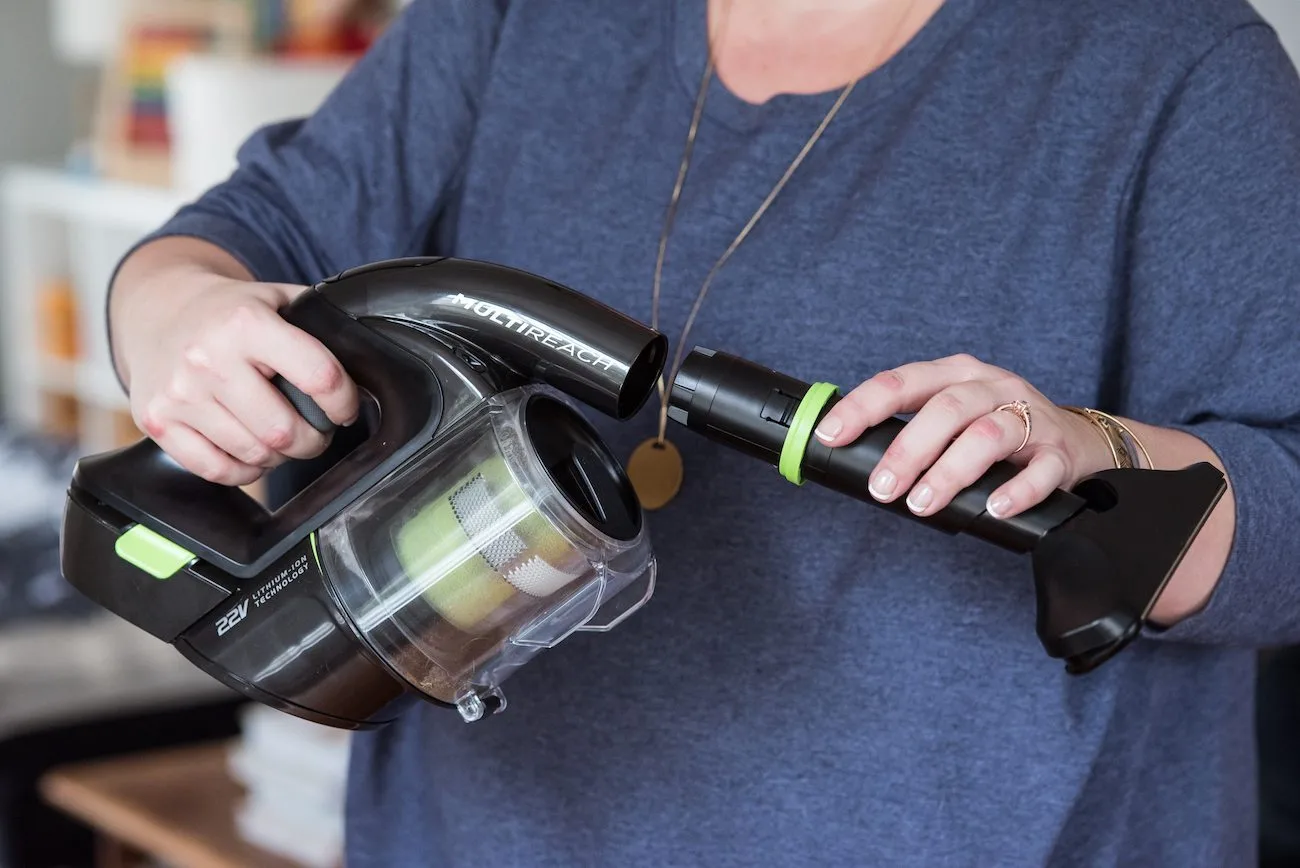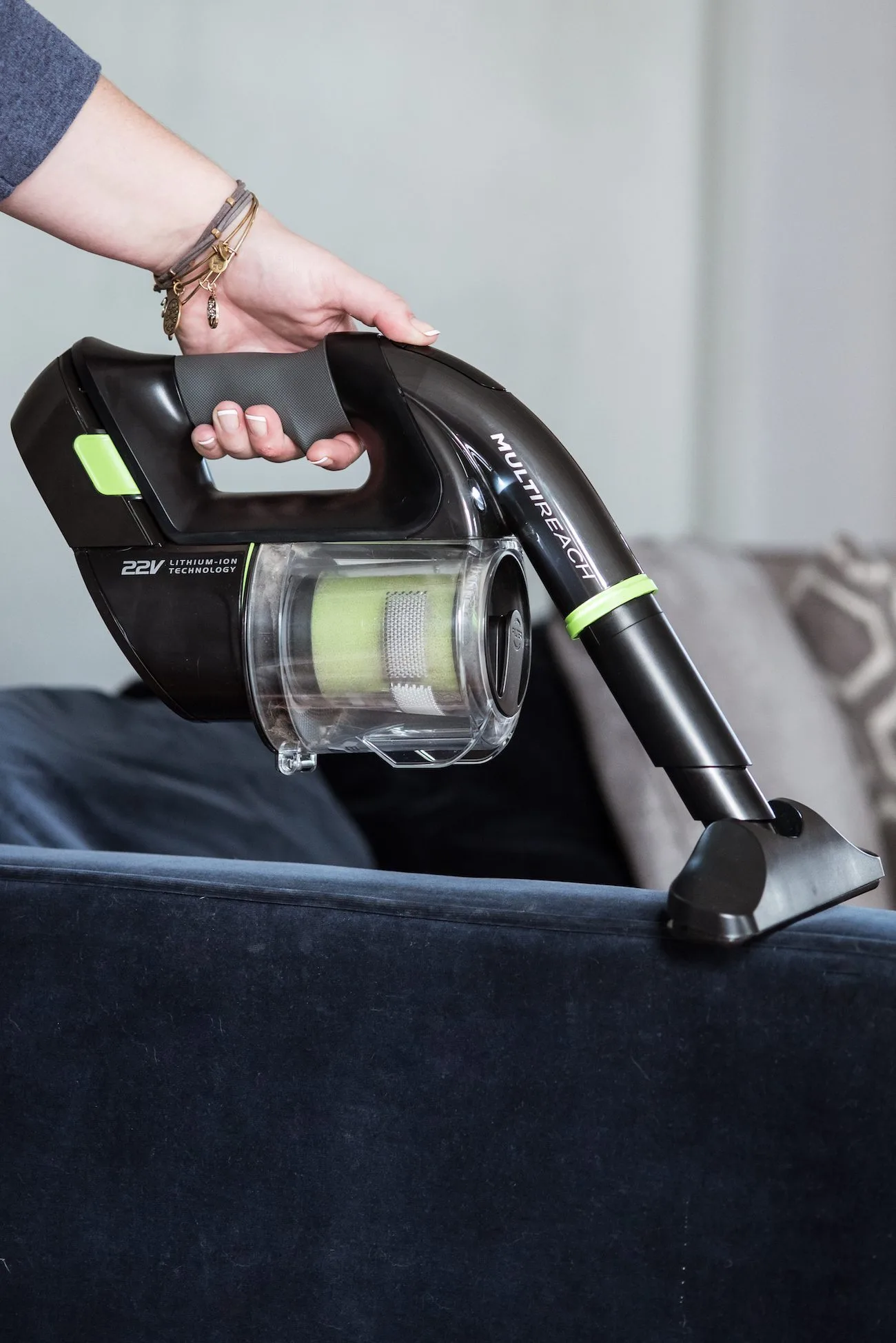 Stay on top of pet hair. If you have pets, you know that pet hair is a very real part of life. It's pretty much impossible to escape, but most of us probably figure that it's worth the trade off, even if it can be totally aggravating at times. This tip goes along with the idea of picking up clutter daily – to keep things more manageable, stay on top of pet hair daily or every other day whenever possible. As you guys know, we have a navy blue velvet sofa and a very light-haired yellow labrador retriever and even though she doesn't get on furniture, her hair still somehow ends up all over the sofa. With the BISSELL Multi Reach Cordless Vacuum I can quickly click on the upholstery attachment and vacuum the sofa in just a few minutes. Because it's cordless and compact with up to 20 minutes of run time per charge, it's the perfect tool for this kind of job where otherwise I'd have to lug a heavy vacuum around just to suck up some dog hair from my pretty velvet cushions.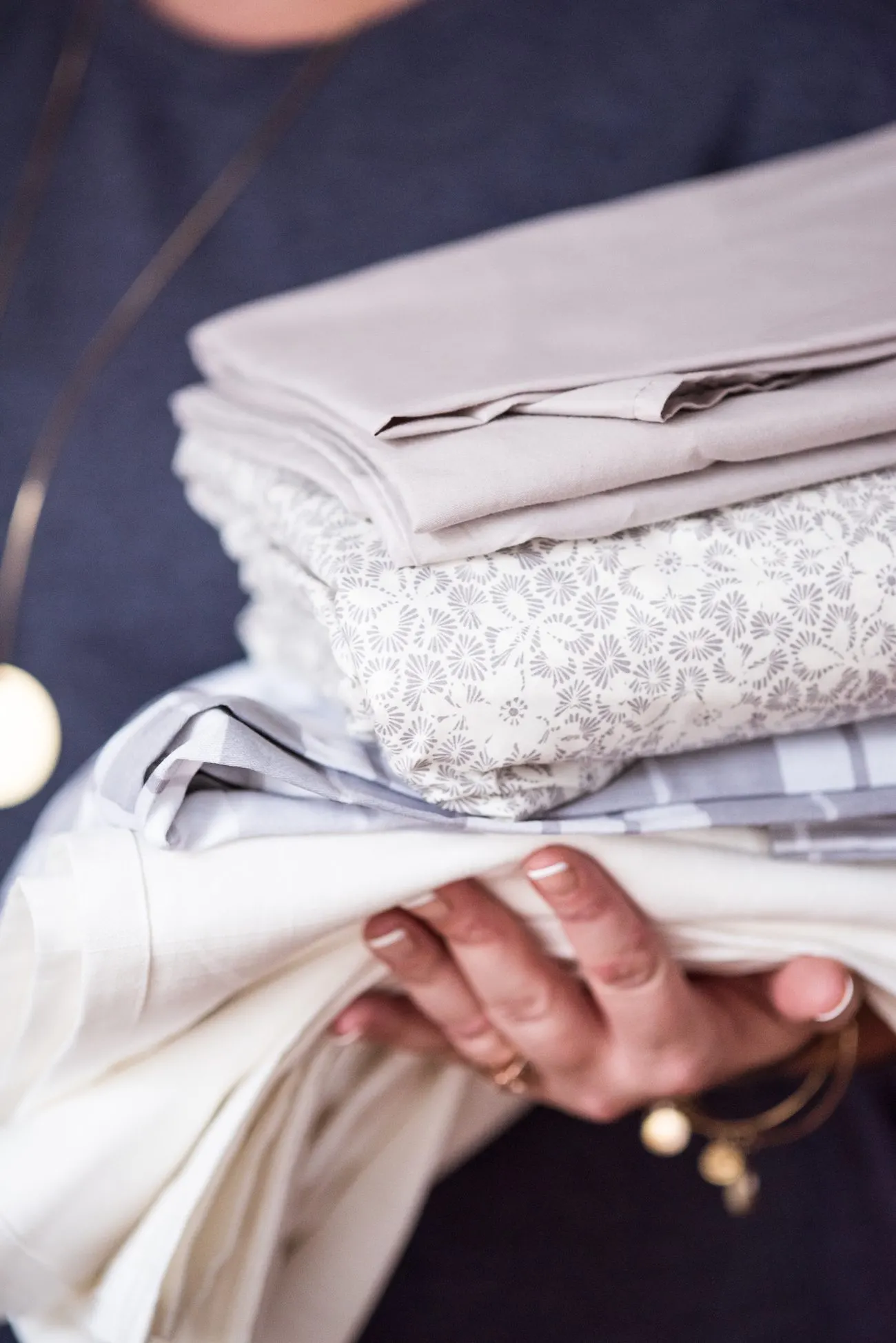 Clean and fold all the extra bedding. Even if you aren't scheduled to have overnight visitors, plans can change during the holidays so it's always a great idea to freshly clean and fold all your extra sets of sheets and linens at the start of the holiday season. If a family member coming in from out of town needs a place to stay unexpectedly or the kids invite over friends for a Christmas movie slumber party or a buddy just needs to crash after one too many eggnogs, you're set to go with fresh clean linens without having to wonder about where those extra pillow cases ran off to.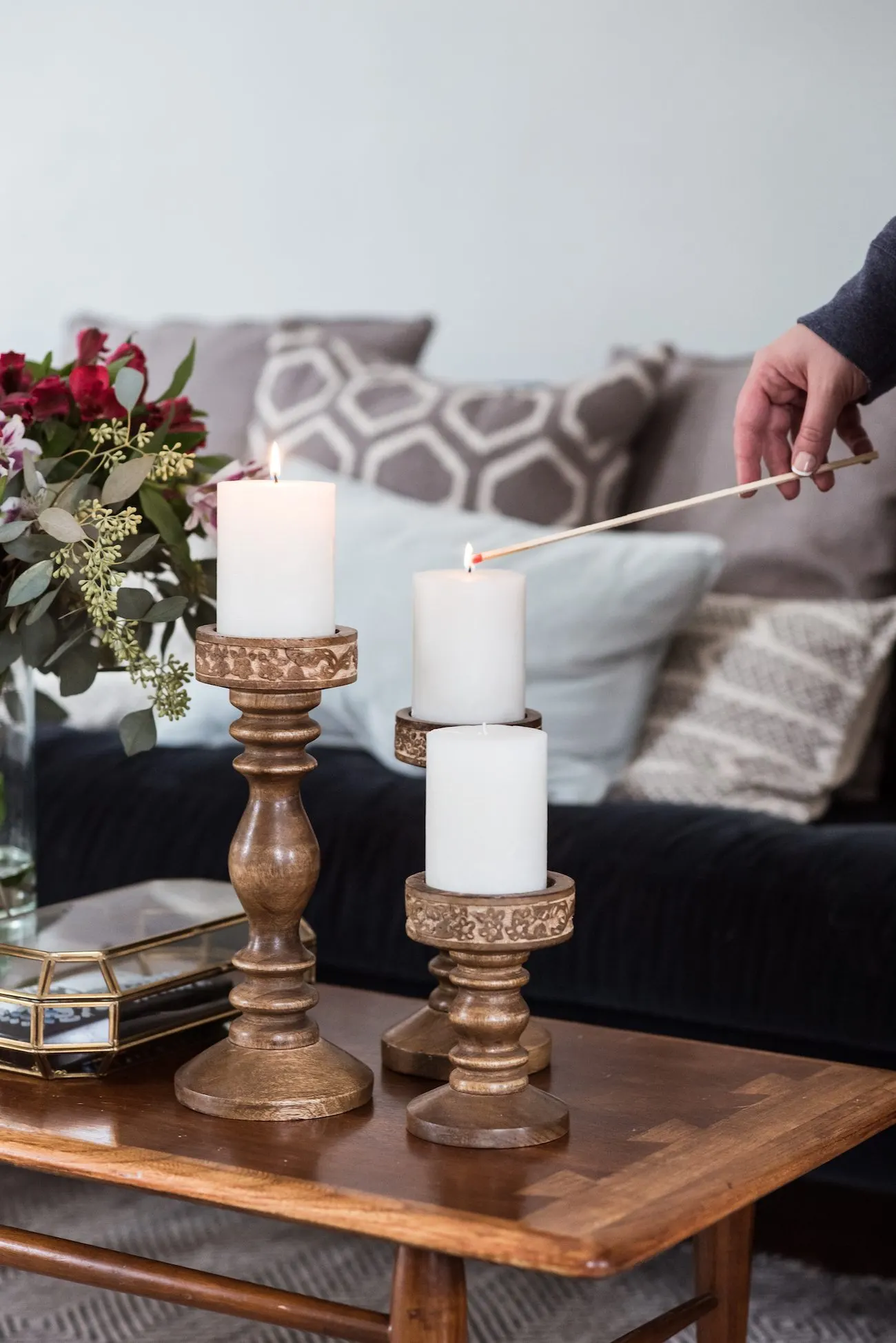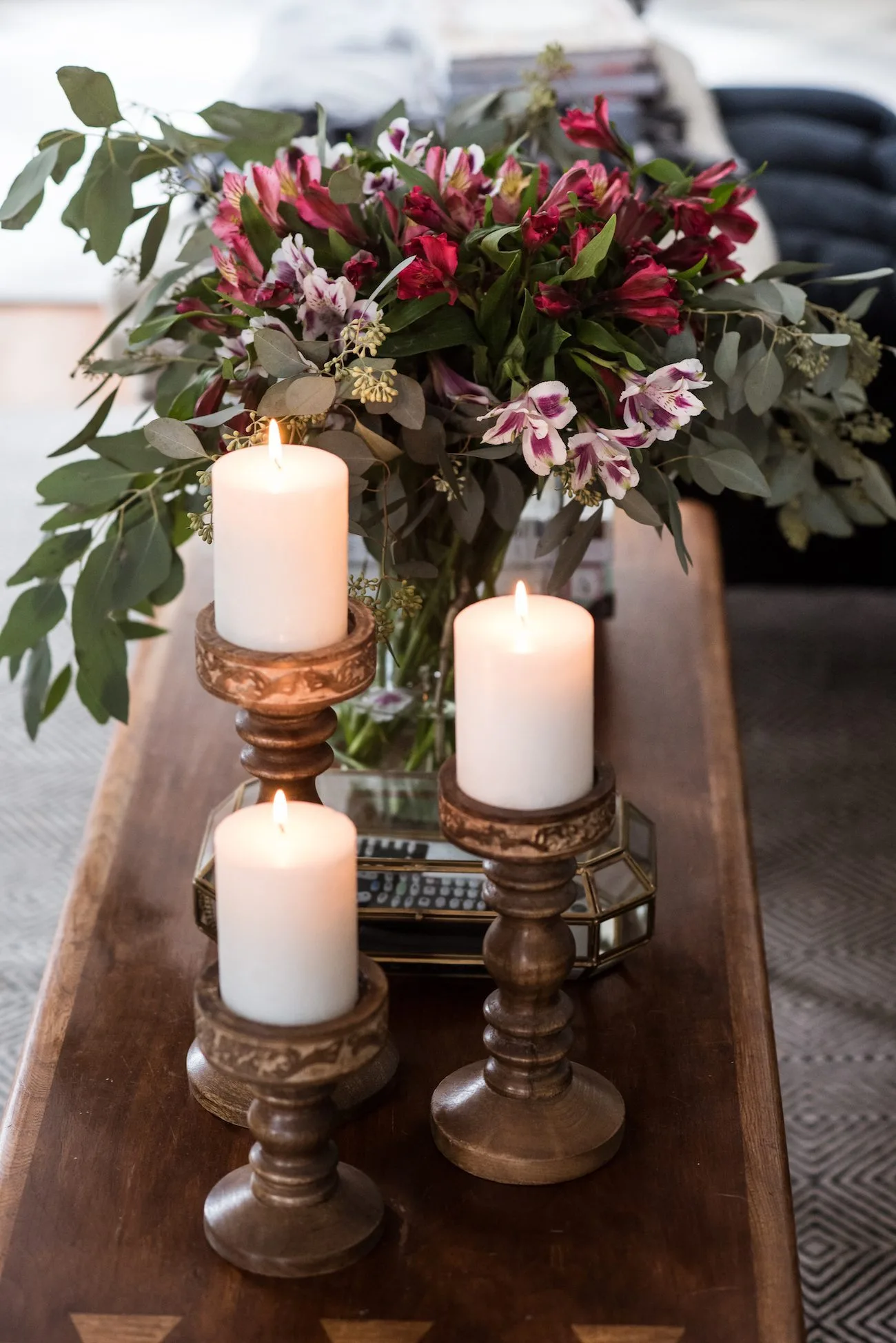 Create a stockpile of good candles for instant ambience. It's one of those little things that makes such a large impact, but you can never ever underestimate the power of candlelight to transform a room. It adds instant warmth and coziness, which is basically what we're all striving to achieve in our homes around the holidays. I like to collect a mix of jar candles, pillar candles and candles in pretty containers that I can sprinkle throughout the house and light about 30 minutes before friends are due to show up. Or, every evening actually. When I find them at a good price I stock up in a ton of fragrances, shapes and sizes and keep them all in a drawer in the foyer so I can grab for them easily when I need to swap out old for new.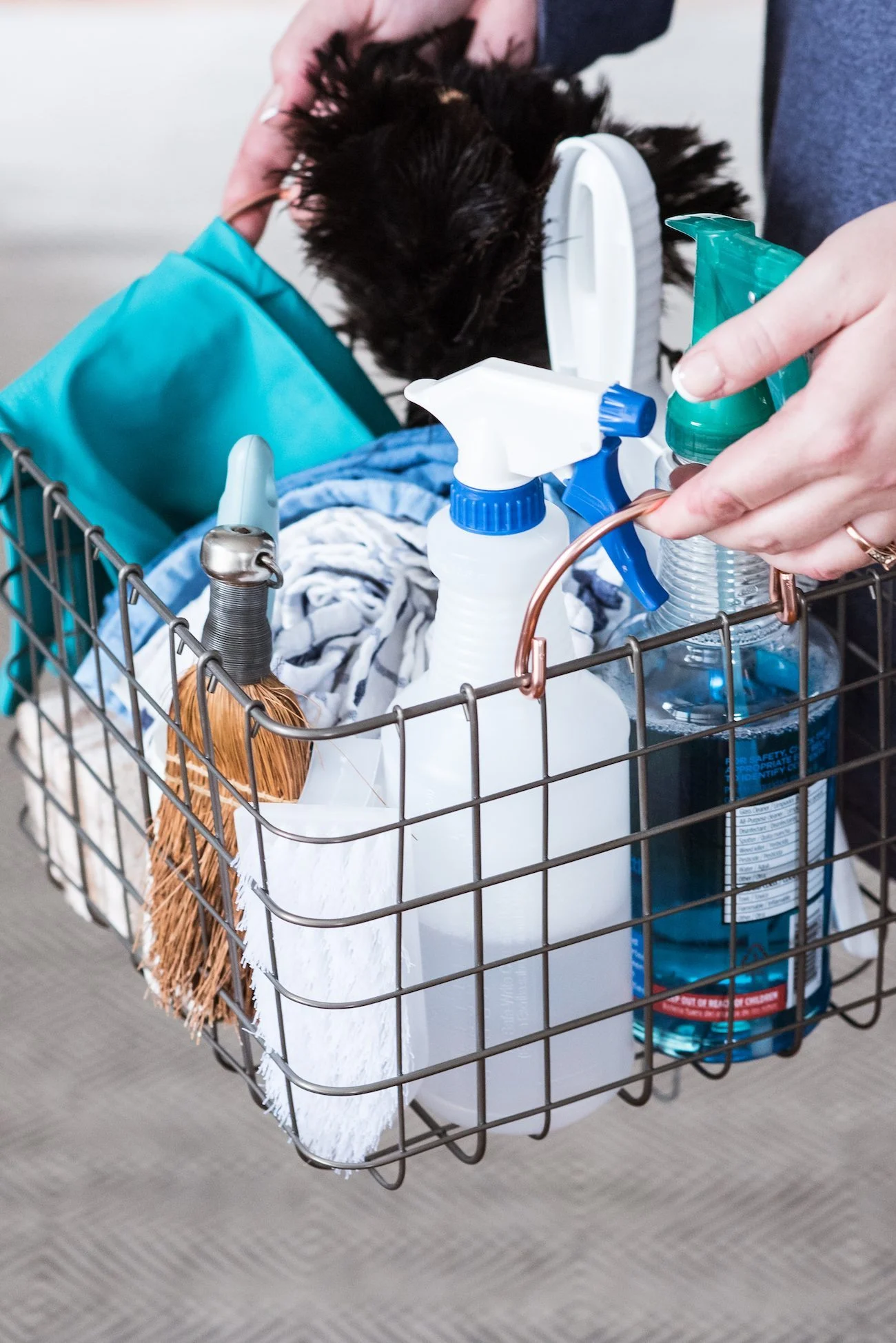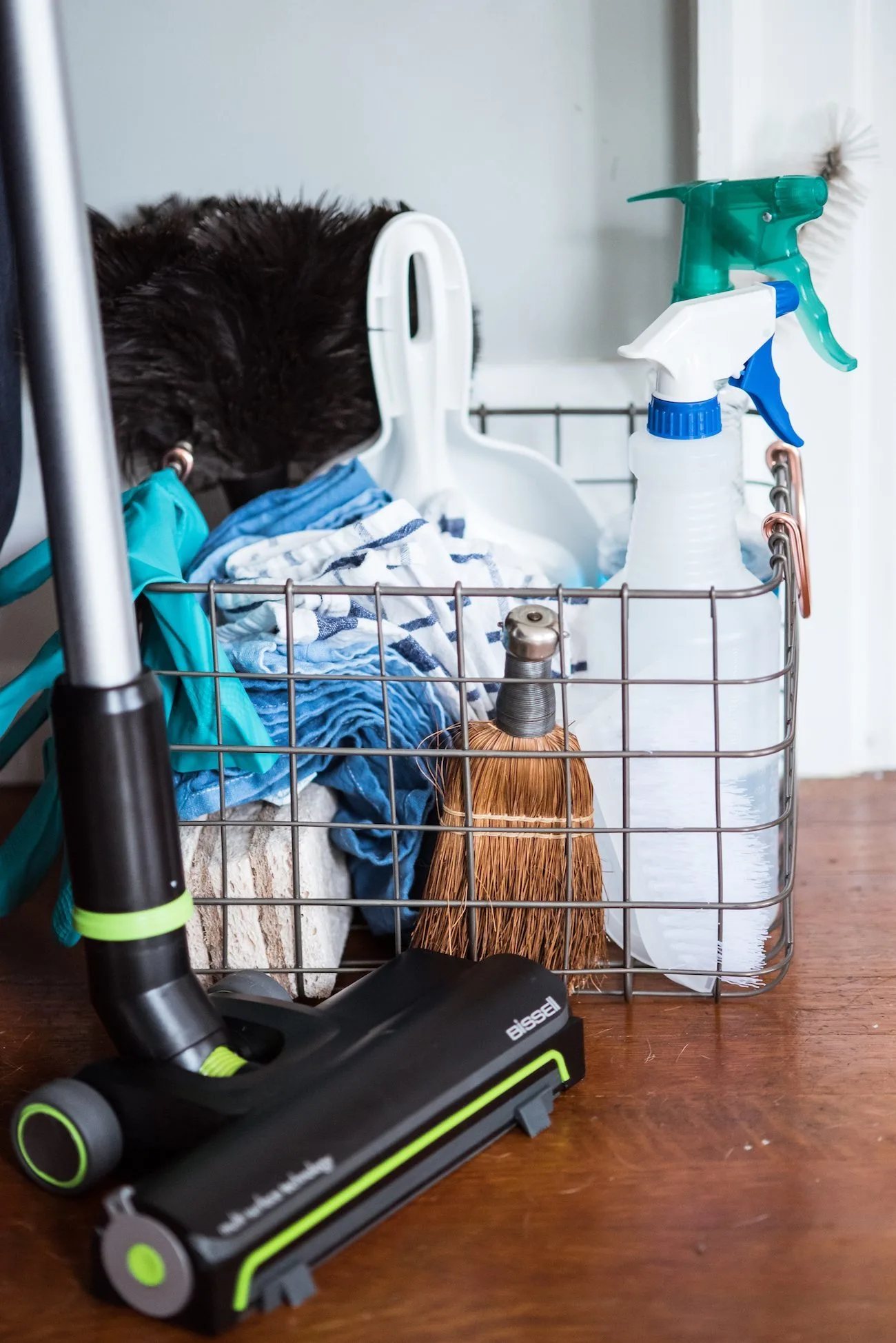 Keep cleaning supplies stocked and readily available for quick clean-up. Messes are inevitable when your home is seeing more traffic than usual, it simply comes with the territory. Having a basket or bin stocked with basic cleaning supplies and things like rags, sponges and a lint roller makes it so much easier to grab what you need when a spill happens or the dog tracks snowy feet through the kitchen. It also makes it easier for eager friends to help you with the clean up while you're plating appetizers or mixing a pitcher of cocktails.
Stock the pantry with baking staples. If you keep a well-stocked pantry, baking a batch of cookies last minute or whipping up a simple appetizer becomes a lot simpler. If you're wondering what to keep on hand, my list of holiday baking pantry essentials is a good place to start! This will also give you everything you need to make things like biscuits or great homemade pancakes for easy brunch fixings when overnight guests happen unexpectedly.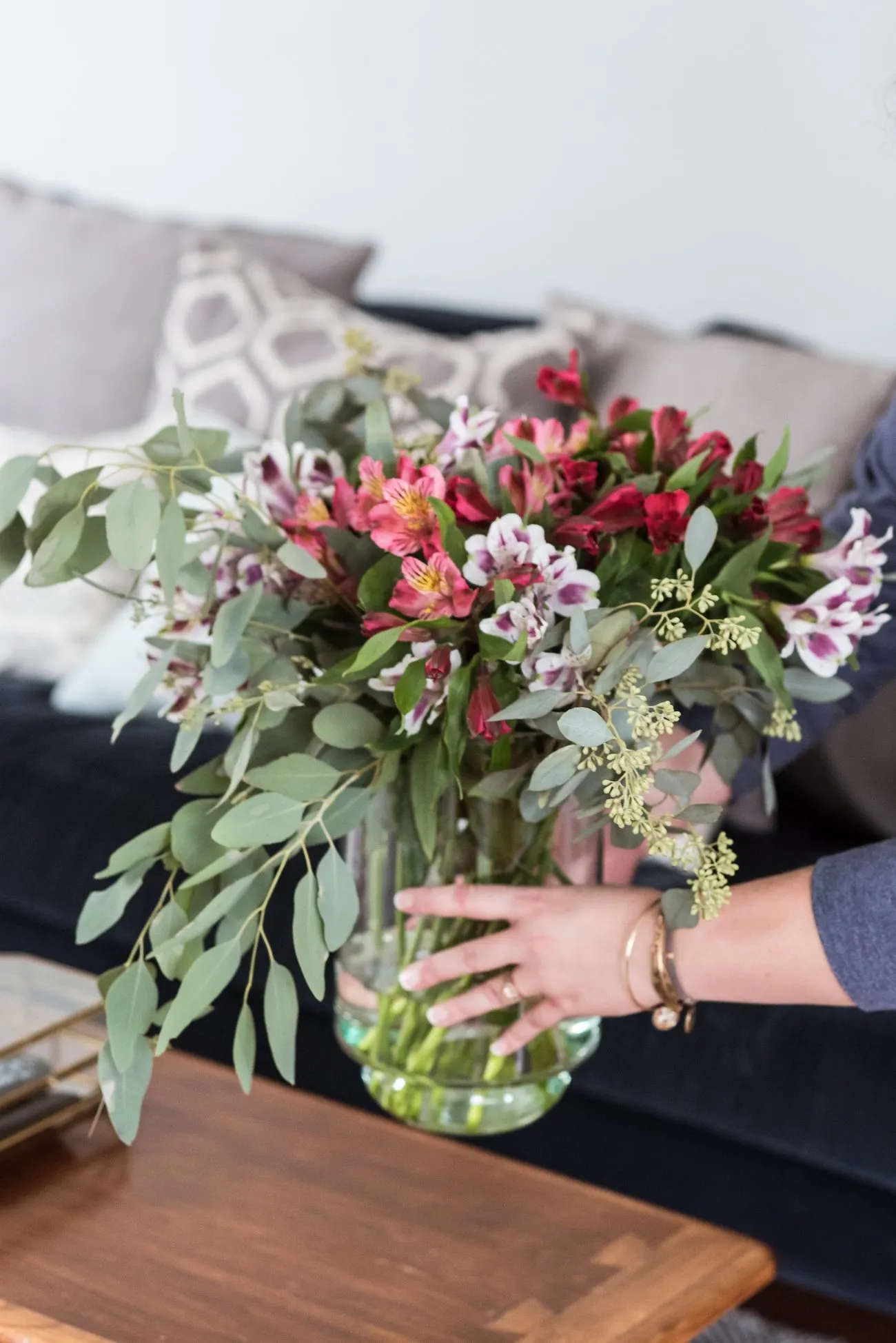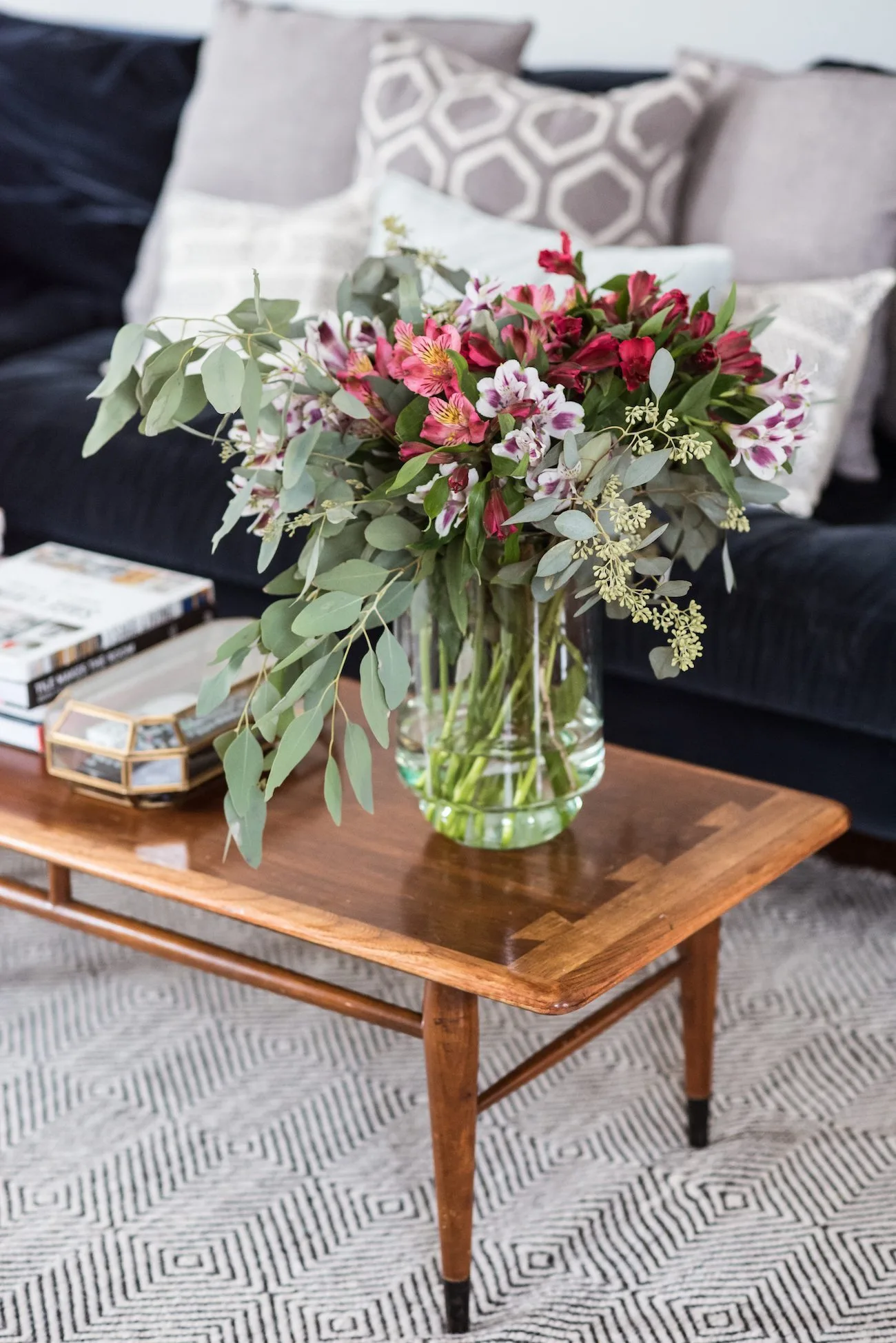 Keep fresh flowers around at all times. Fresh flowers are one of my favorite things to have around the house at all times of the year, but especially during the holiday season. A giant bouquet of flowers on the dining room table or on the coffee table or a little vase next to the bed in the guest room adds so much life and beauty to a home. You guys already know that grocery store flowers are my absolute favorite! You can pick them up in large bunches inexpensively and swap them out weekly with new blooms as they start to wilt. (And yes, these are grocery store flowers!)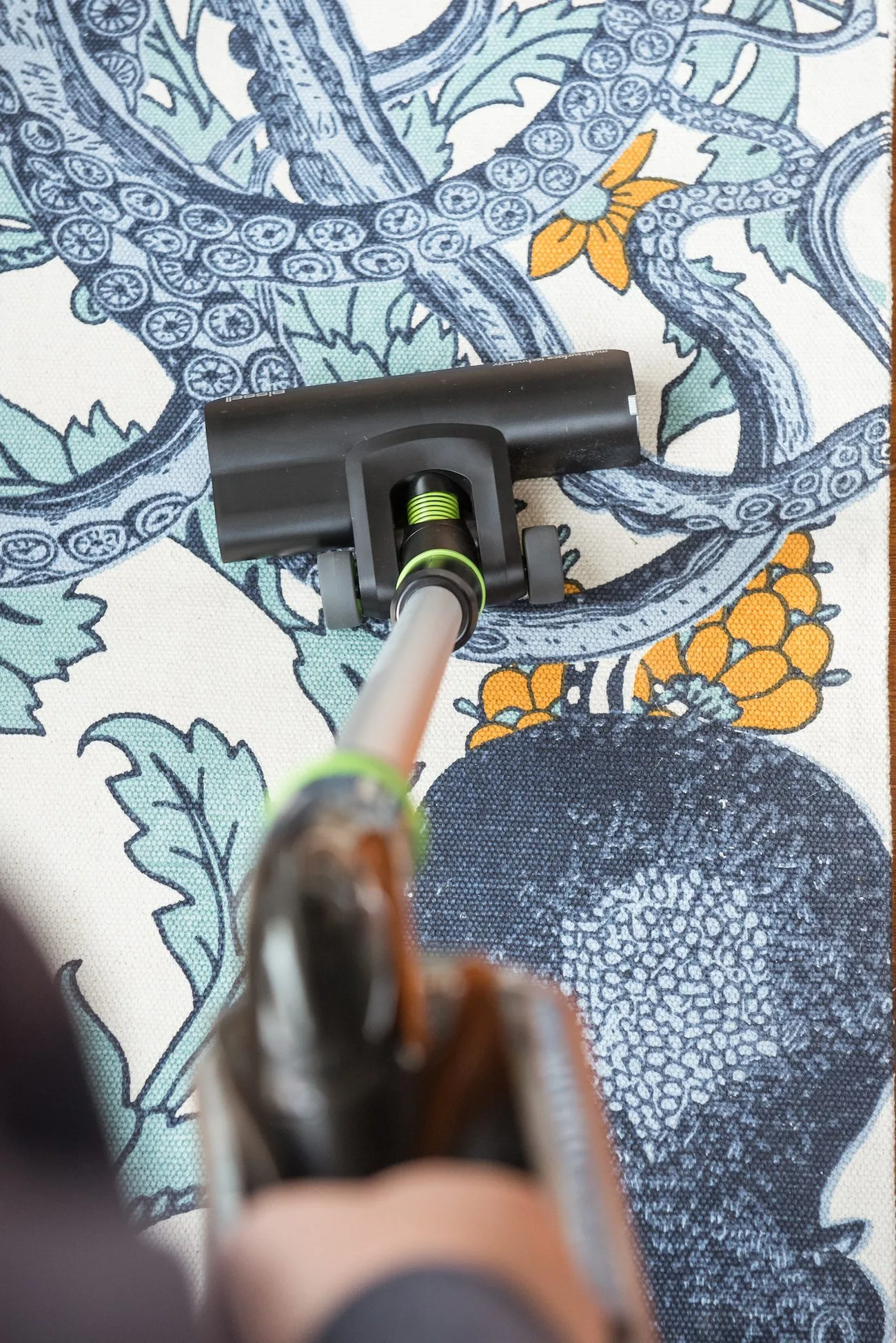 Dust and vacuum daily throughout the season. It might seem a little aggressive, but if you take a few minutes each day to quickly dust your most used furniture pieces and to vacuum high traffic areas, it will go so far to keep your stress levels in check when guests are on the way. It will also give you peace of mind if friends shoot you a text 30 minutes out that they're headed your way with a bottle of wine. The powerful portability of the BISSELL Multi Reach Cordless Vacuum make it perfect for quickly cleaning up messes (which happens about 100 times a day in a house with a toddler) and for staying on top of vacuuming your area rugs and stairs and all those other hard to get to spots throughout your house.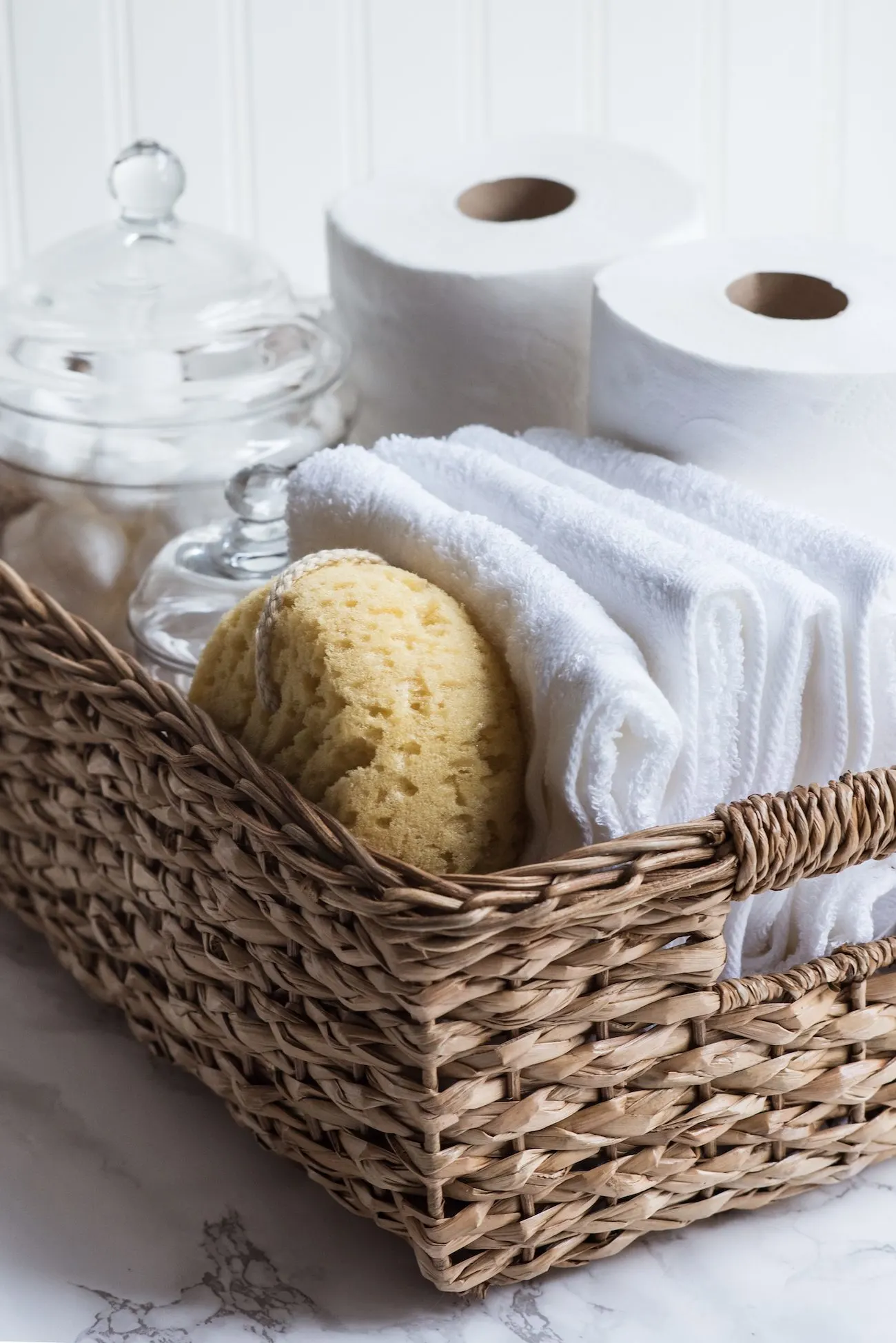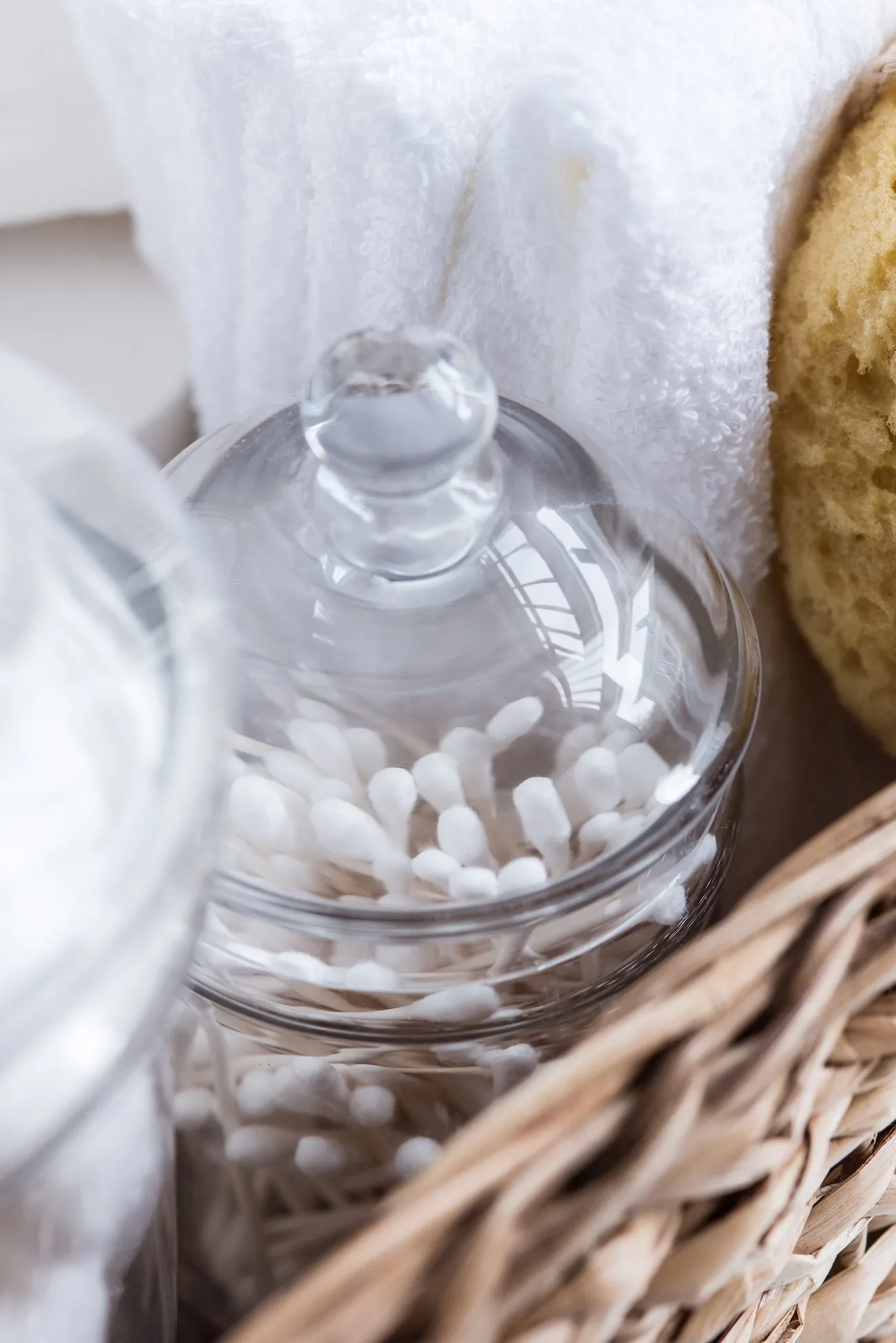 Put together a basket of bathroom essentials and toiletries. There's nothing I hate more than having to frantically run after hand towels or toilet paper for guests in the middle of a party, even more so because I know guests hate having to bug you for those kinds of things while you're mixing and mingling. Pulling together an assortment of bathroom essentials like toilet paper, tissues and towels along with basic toiletries like cotton swaps and cotton balls and tucking everything into a pretty basket is a super sweet hostess touch that friends will be grateful for, but perhaps best of all, so will you!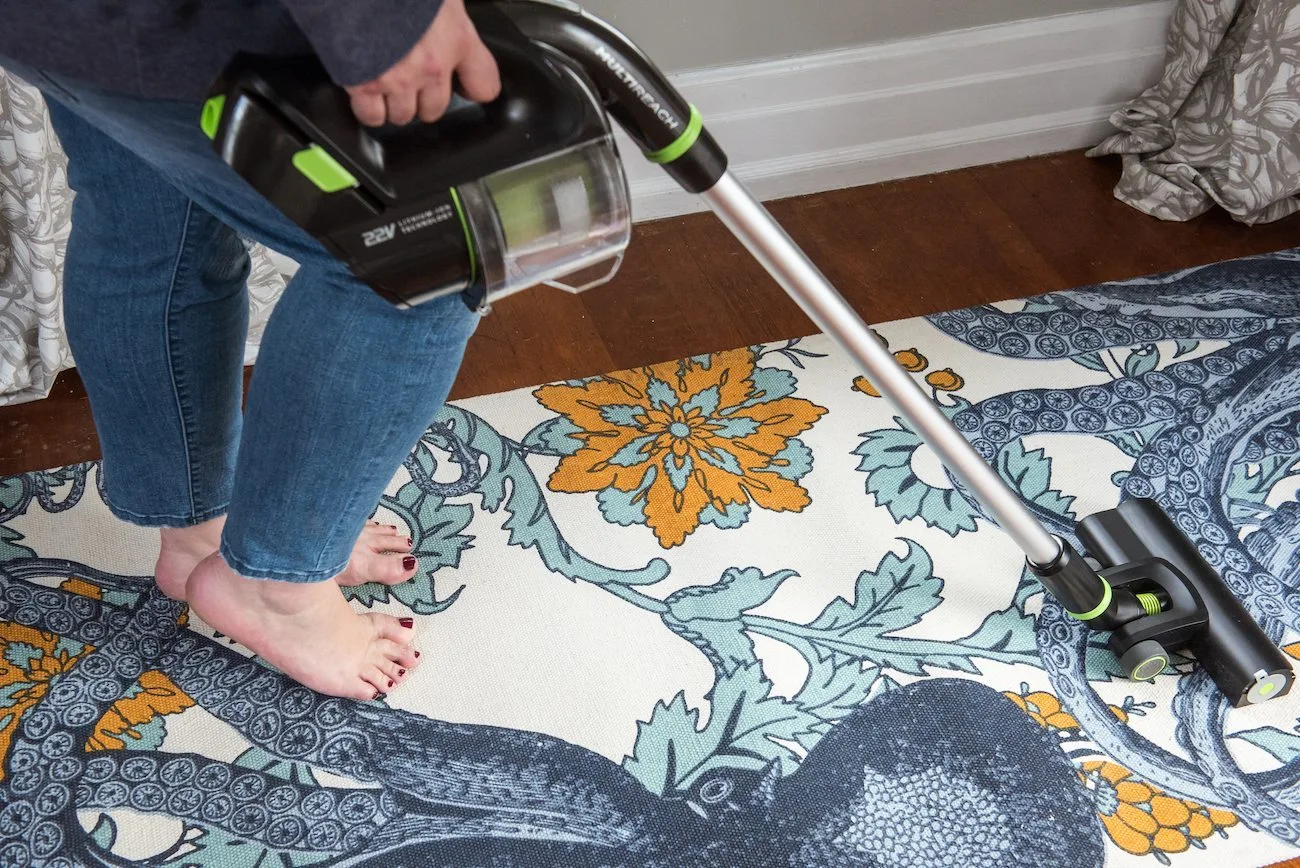 So, anyone else prepping the house for lots of guests over the next several weeks? We kicked the holiday season off last weekend with a Christmas crafternoon (see what I did there?) for a bunch of our neighbor ladies and some of our moms. Next week it'll be a huge Thanksgiving dinner for over 20 people followed the next day by a 2nd birthday party for Emerson. Bring it on, holiday season! I love it so so much.
[Art direction by Cyd Converse | Photos by Alice G. Patterson.]

This post was sponsored by BISSELL. I received compensation for this post, but all opinions are my own. Read more about our editorial policies.