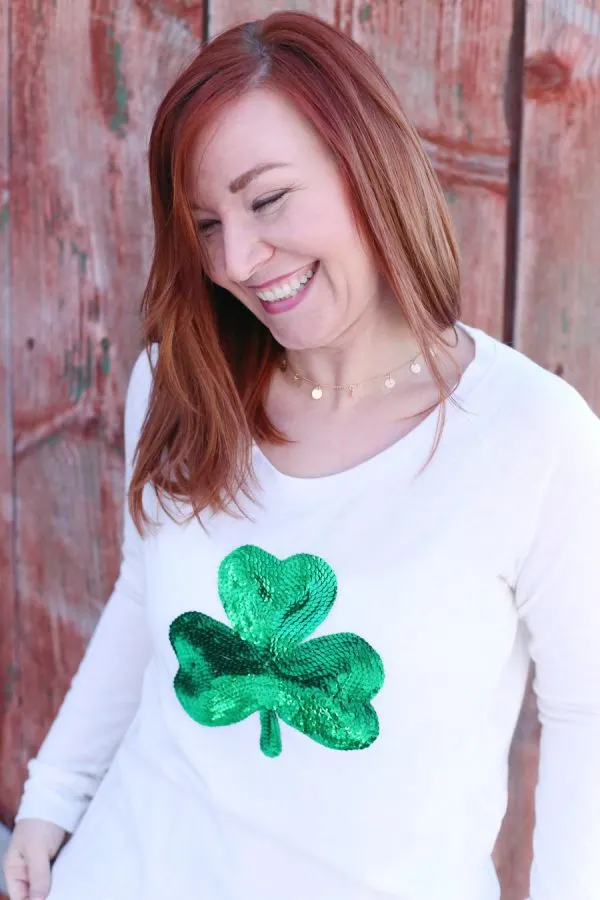 An alternate title for this post could be, "Isn't My Best Friend Super Pretty?" or "That Time I Finally Made a Sequin Shamrock Shirt." In all seriousness, this is a project I had on my list of things to do last year before St. Patrick's Day, but then we moved at the beginning of March and life got crazy for a while and it just didn't happen in time to make the cut. (As it goes when you move, right?) So, as I do, I kept it on the spreadsheet I keep handy with lists of ideas for posts, recipes and DIY projects, and this year there was no stopping me. I was making a DIY sequin shamrock shirt. So here we are with what may just be the single cutest way to show a little Irish pride (or wanna-be Irish pride) this St. Patrick's Day. But really though, my best friend is super pretty, don't you think?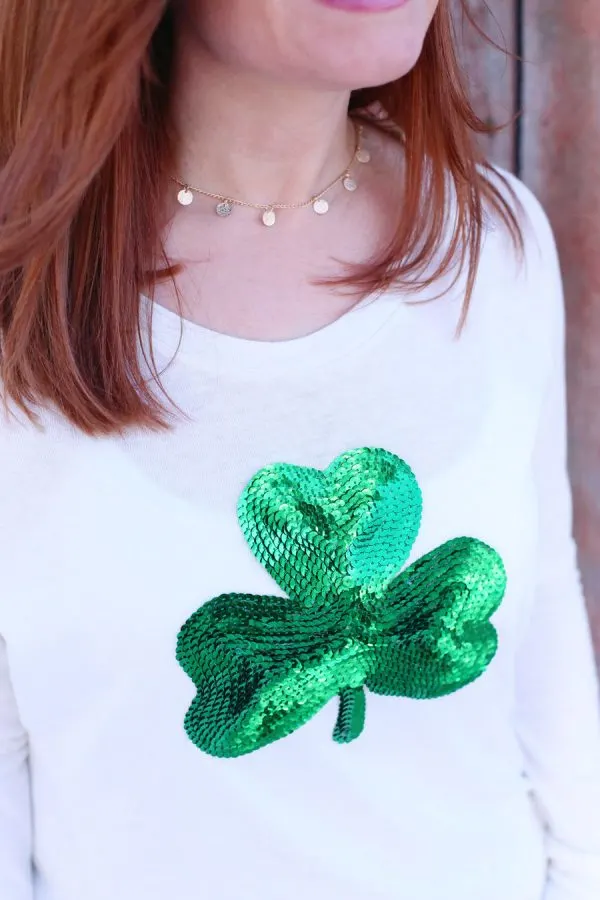 Here's the deal with this shirt. It's going to take you a little time to make this happen, but the technique is super simple. Even the most novice of crafters can pull this one off. Plus, you can switch it up by using this idea to jazz up a plain white tee, an oversized slouchy sweatshirt, or baby tee that's a bit more fitted. Pair it with jeans, maybe throw a cute blazer or cardigan over top and add a bit of gold jewelry. Because, you know, leprechauns and gold and St. Patrick's Day and all of those things go hand in hand. Don't hold back! Just go all in with this one.

Shirt or sweatshirt (I used this one)
Green sequin trim (5 – 6 yards, I used this trim)
Shamrock template (download here)
Card stock
Scissors
Fine point marker
E-6000 adhesive (or similar)
Begin by downloading the shamrock template and printing it onto card stock. Carefully cut out the shamrock shape and trace it onto your fabric using a fine point marker. I like to keep another piece of card stock or cardboard inside the shirt to keep the marker from bleeding through at this stage or the glue later on. Don't worry if your lines aren't 100% perfect as they'll soon by covered up. Also, your card stock and marker do not need to be green, I was just keeping on theme while I was crafting away.
Next up, run a small bead of the E-6000 along a short section of your shamrock outline. Follow behind by gently placing and pressing your sequin trim onto the bead of adhesive. Be warned that E-6000 is a super strong adhesive and with it comes a very noxious odor so work in a well-ventilated area. If you're pregnant or bothered by strong adhesive smells, opt for a different glue, just make sure it's permanent and appropriate for fabric. Continue working in this fashion until you've completed the outline. Then snip off the trim before beginning the second row of sequins. I overlapped each consecutive row of sequins over the last one slightly to help prevent any fabric from showing through between the sequins. This is the part that takes a little time, but it's a very simple process. I worked in small sections and just stayed patient so everything would up nice and neat and professional looking.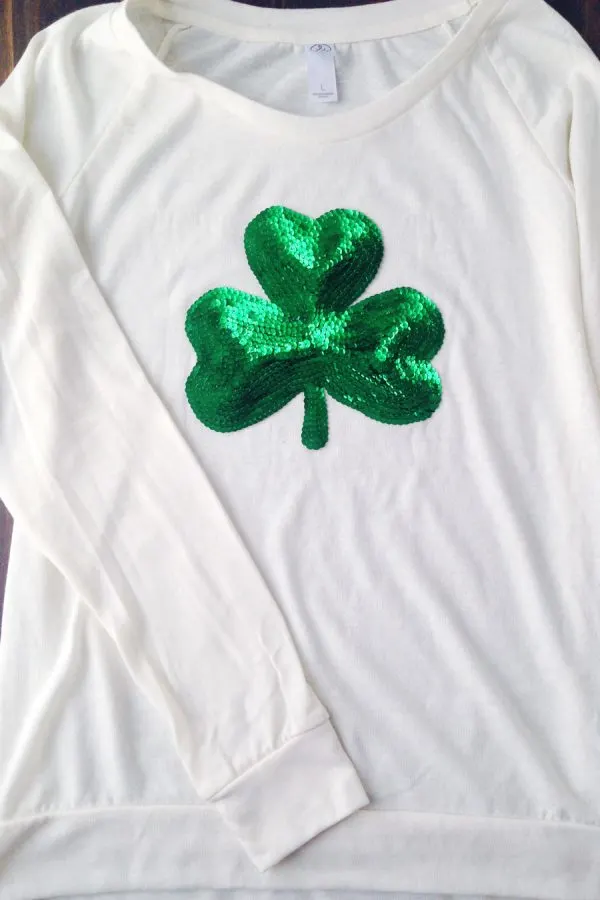 When you're all done, you'll have a rockin' bedazzled shamrock shirt that is super snazzy. Let it dry a few hours or overnight ideally before wearing. I haven't yet had a chance to test my shirt by washing it, but technically the E-6000 should allow you to wash this with no problem. To be safe, I would suggest spot treating and hand washing and laying it flat to dry. Other than that, you're ready for an evening of drinking green beer or simply just equipped to avoid any pinching come St. Patrick's Day! Don't forget, if you make this or any other projects or recipes from The Sweetest Occasion, be sure to use the hashtag #thesweetestoccasion on Instagram and let me see!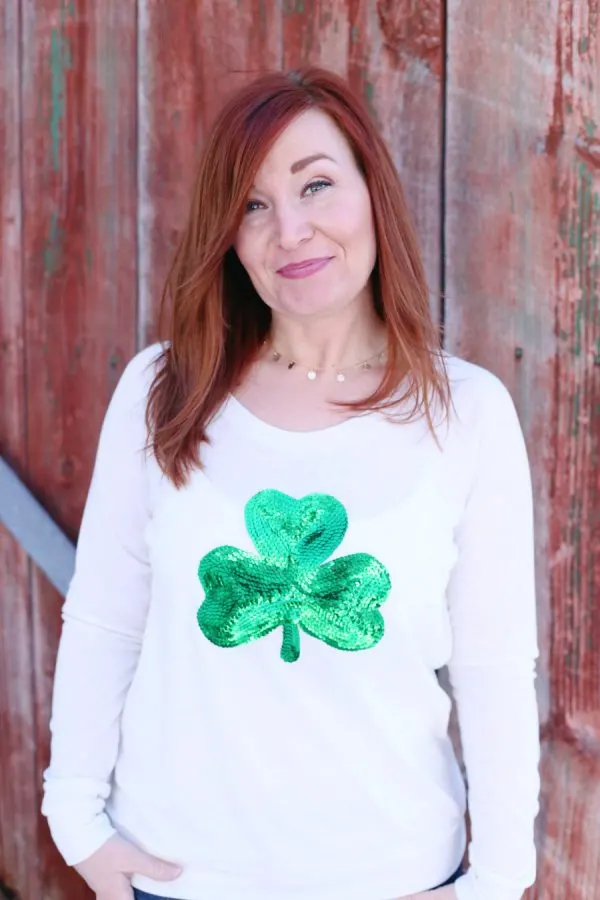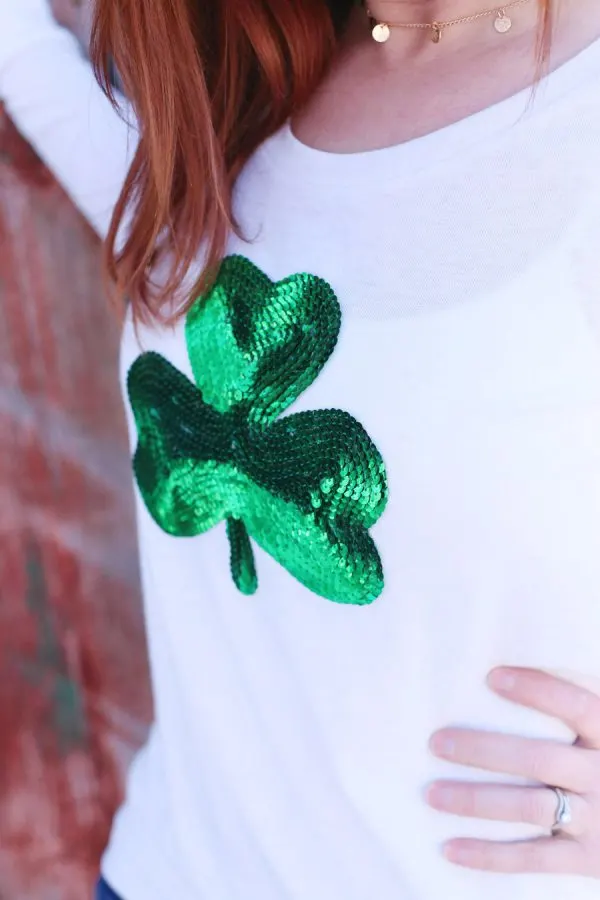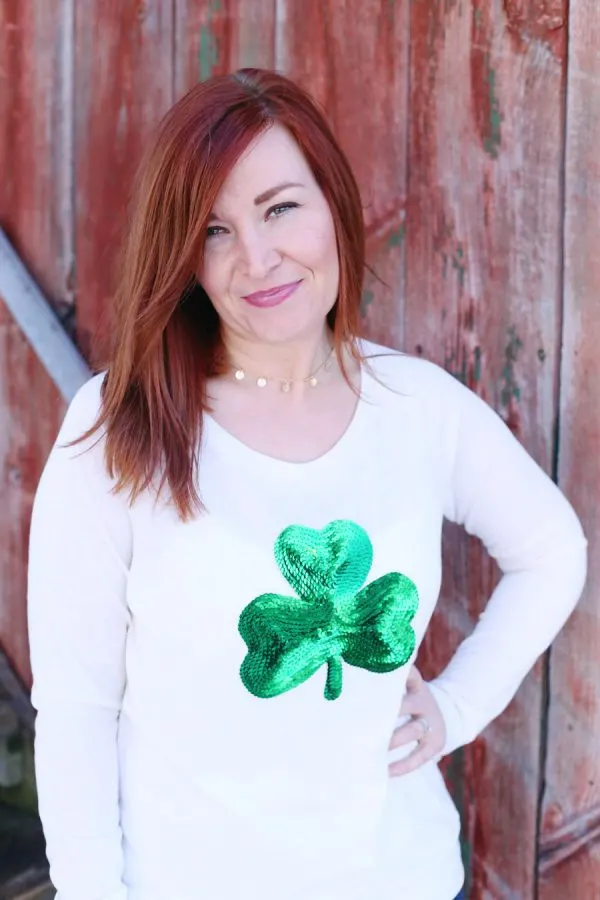 [Photos by Cyd Converse for The Sweetest Occasion.]