This post was sponsored by Valspar. Thank you for supporting the sponsors that so
generously help The Sweetest Occasion keep on keepin' on!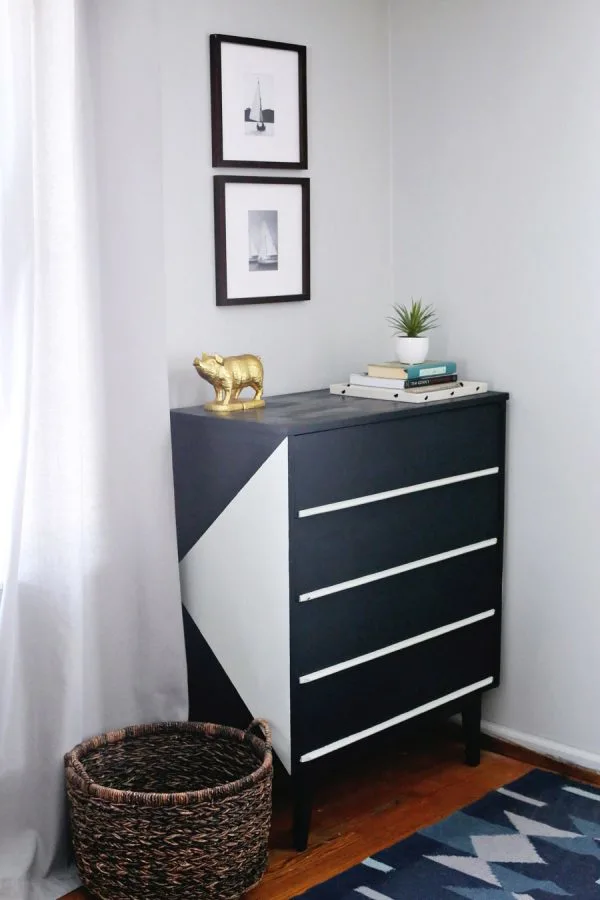 Remember a few weeks ago when Valspar challenged me to head off to the flea market and find a fixer in need of a makeover? Well, over the last several days I've been hard at work painting and waxing and making the piece I picked up into something super cool. I love how it turned out! I used Valspar's new chalky finish paint (which is available at Lowe's) in the colors Boot Black and Moonstone Ring to create a modern, color blocked look that makes the most of the dresser's clean, mid-century modern lines while giving new life to an old piece that was pretty beat up. (Also, by "pretty" beat up, I meant to say very.)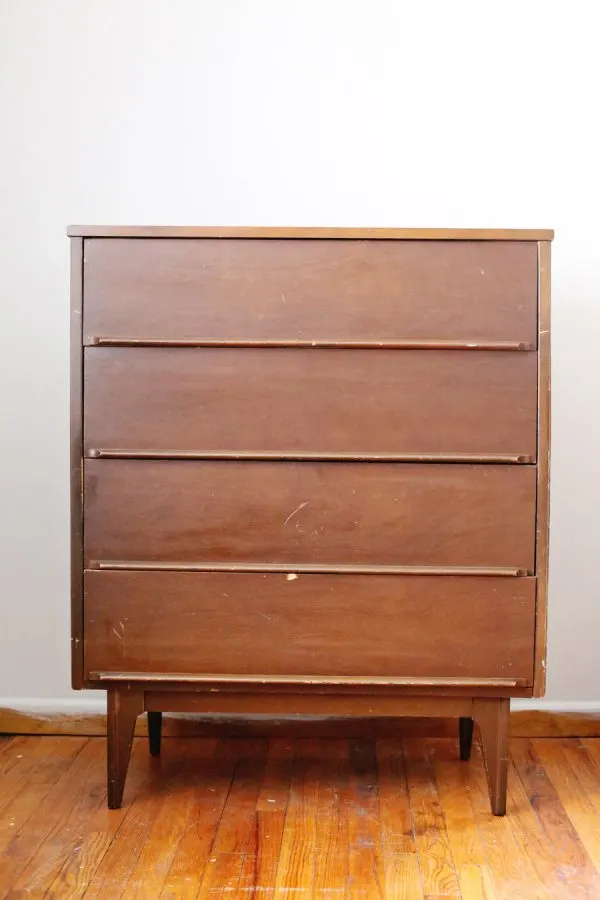 To remind you, here is a look at the piece before I started work. While originally I had intended to save some of the wood finish, I saw once I got working that the dresser was in rougher shape than I had originally realized. To get started, the first thing I did was wood glue down a few areas that were pulling up and I also used wood filler to smooth out a few areas that were really banged up. From there, everything got a thorough light sanding and then I scrubbed the whole dresser down with kitchen cleaner, followed by a second cleaning with soap and water. (Just like with painting our front door, I like to use the kitchen cleaner first because it has a built-in degreaser that helps breaks down any oils on the wood and allows the paint to adhere really well.)
Once everything was patched up, cleaned and completely dry, I got to work painting! Using my favorite short 2″ angled paint brush, I brushed on two coats of the chalky finish paint in Boot Black. I did play around with a roller, but as is typically the case when it comes to me and painting furniture, I found I preferred to just work with the brush. The chalky finish paint starts with a super matte finish and the consistency is a little different as you're working with it, so my advice is to just brush it on in long, even strokes and don't overwork the paint too much, just let the paint do the work for you and you'll end up with a gorgeous finish!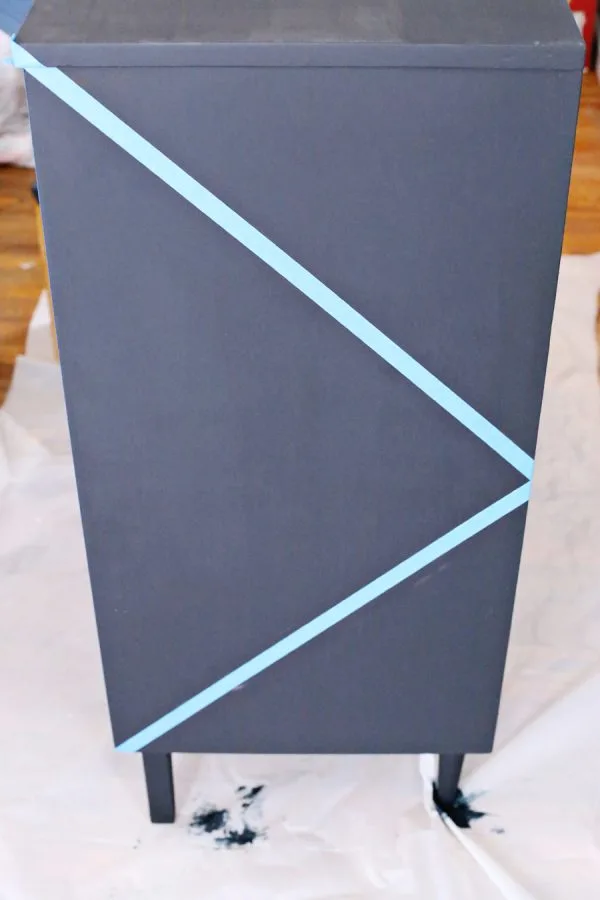 Once the base color was completely dry, I went back in to block out where I wanted to lay down the second color. Inspired by a couple of different area rugs we have in our house, I decide on a half diamond color block along the side panels. To lay it out, I simply measured to find the center point along the back edge of the panel and then ran a piece of tape from either front corner to my mark. So easy! I also decided to add the accent color to the built-in drawer pulls so I taped those off as well. Then I painted the Moonstone Ring chalky paint right over top of the black paint, applying three light coats. The final step was to seal everything with the clear sealing wax which you'll find at Lowe's alongside the paint, making it so easy to just pop in to your local store and pick up all the supplies at a price that's super affordable compared to other chalk paints on the market. To finish everything up, I applied the wax with a clean brush, much like the paint, then removed the excess with a clean, lint-free cloth. I worked in small sections, letting the wax sit for just a minute or two before wiping it off. The end result is a very cool finish that I think adds so much character to a dresser that might have otherwise ended up in a trash heap!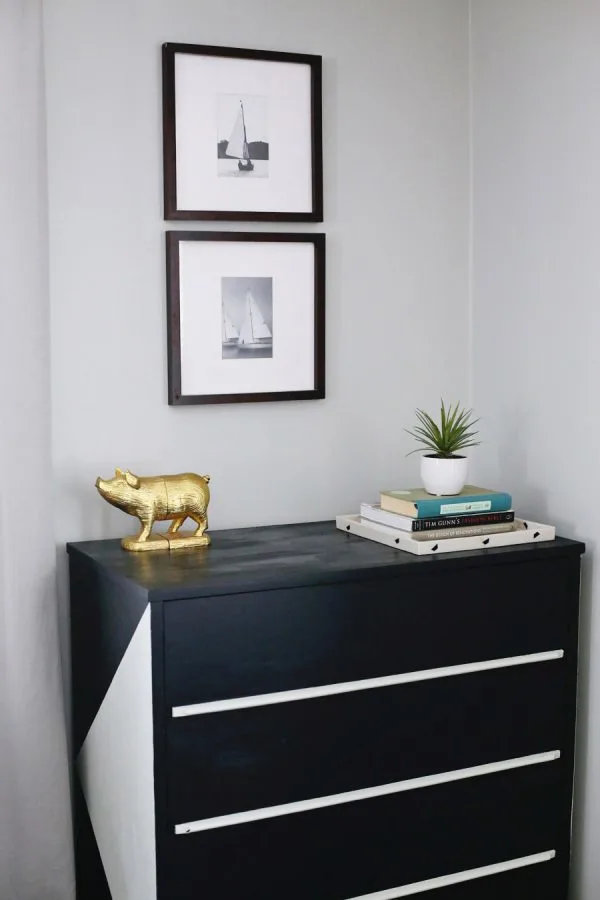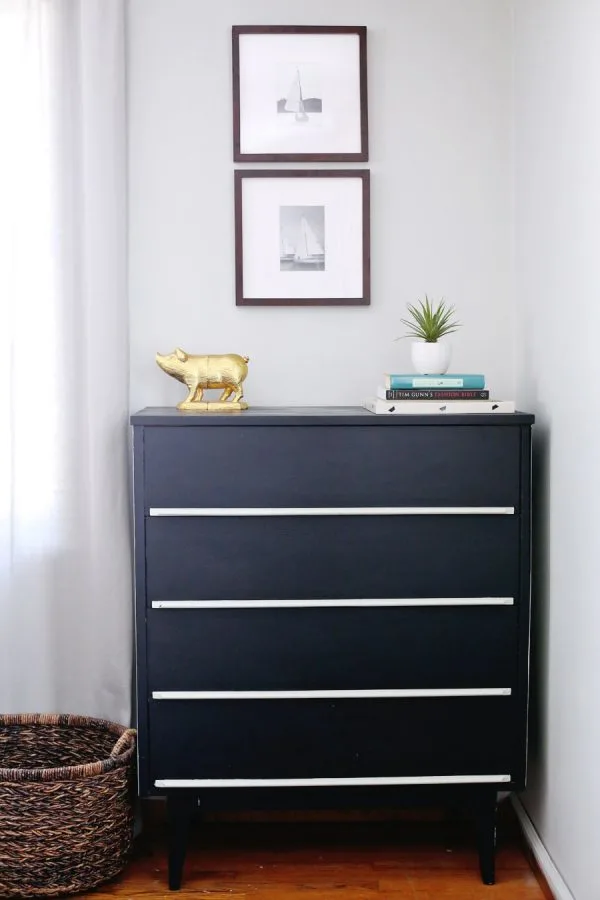 I had so much fun tackling this flea market fixer challenge and it reminded me how much I really do love making over furniture. As we all know, most of the furniture in our house is thrifted or vintage, and I think it's so much more interesting to have a home full of collected pieces that are spruced with a little DIY love versus just plunking down a bunch of furniture from a showroom. I've been painting furniture since I moved into my first college apartment and this dresser is just the latest project. Anyone else feeling inspired to go find your own flea market fixer now?

[Photos by Cyd Converse for The Sweetest Occasion.]
Sources –
Chalky finish paint in Boot Black and Moonstone Ring by Valspar (available nationwide at Lowe's) | Linen curtains from Target (similar) |Rug from West Elm | Basket from Target | Pig bookends from CB2 | Tray from Target (sold out) | Sailing prints from HomeGoods

This post was sponsored by Valspar. Read more about our editorial policies.